Thug Life is a new meme coin that's generating a lot of buzz among crypto investors. It brings together many threads of the ongoing meme coin hype, including fan-favorite memes and an encouragement for investors to 'thug up' and hold crypto.
After selling out its $2m presale, Thug Life is set to launch its first exchange listing today (17 July) at 6:00pm CET., and many investors are wondering whether it could be the next meme coin to explode. In our Thug Life price prediction, we'll take a look at the short-term and long-term potential of $THUG.
Thug Life Price Prediction – Overview
End of 2023: Thug Life sold out its presale in less than 3 weeks. That signals a lot of investor enthusiasm behind this token. Based on this interest, we predict Thug Life will reach a price of $0.0025 by the end of the year.
End of 2024: Thug Life may experience the same lull in activity that has happened to many successful meme coins one year after launch. As a result, we predict a slight decline in price in 2024 to $0.0015 before a resurgence in 2025.
End of 2025: Thug Life plans to list on multiple centralized and decentralized exchanges, and to burn $THUG tokens after the community is well-established. That could help send $THUG to a price of $0.0050 by the end of 2025.
End of 2030: There's a lot of uncertainty in predicting a long-term price for $THUG, since it's not clear how lasting this meme will be. In line with other analysts, we predict $THUG could produce a 10x gain, corresponding to a price of $0.0070.
Thug Life Price History
The Thug Life presale launched on June 28 and reached $100,000 in $THUG token sales within 48 hours. In under 3 weeks, the presale sold out and met its hard cap.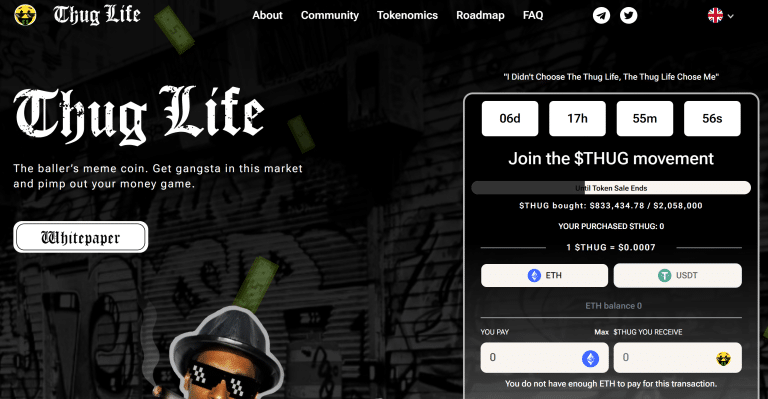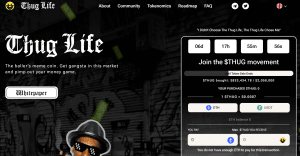 The project has a total supply of 4.2 billion coins, of which 70% (2.94 billion $THUG) are allocated for the presale. The project's liquidity will be locked for 3 months after launch.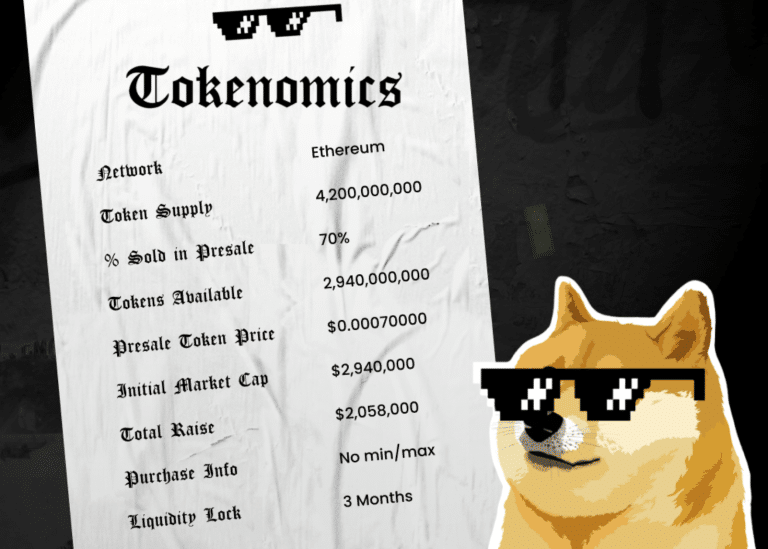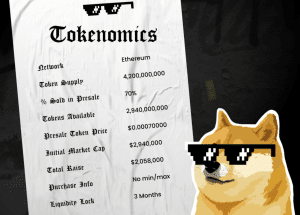 There are no minimum or maximum purchase limits for investors during the Thug Life presale.
Thug Life Price Prediction 2023
Thug Life is well-timed to take advantage of the current bull market around meme coins.
In the last several months, meme coins have been red-hot. Pepe gained more than 10,000% in May and briefly surpassed both Dogecoin and Shiba Inu in trading volume. Following on the heels of Pepe, meme coins like SpongeBob Token, Pepe 2.0, and Arbdoge AI have all had explosive runs.
Investors' interest in meme coins shows no signs of waning. Other meme coins currently in presale, including Wall Street Memes, have attracted a huge amount of investment and massive social media followings.
Thug Life, despite being only 10 days old, has already raised more than $830,000 in token sales. It's also gained more than 3,600 Twitter followers and 1,750 subscribers on Telegram.
All of these factors suggest that Thug Life could be the next crypto to explode after launch. The project has the potential to see immense trading volume and spiking demand after it lists on exchanges.
With that in mind, our Thug Life price prediction suggests a price of $0.0025 by the end of 2023. That is a 257% gain from the token's presale price of $0.0007.
Thug Life Price Prediction 2024
Successful meme coins often hit a short-lived peak, then decline in price for some time before surging again. This was the case for Dogecoin, Shiba Inu, and Pepe.
So, it's likely that 2024 may represent a lull in price action for Thug Life. The project will no longer be brand new, but it can retain a core community of investors who heed the call to 'thug up' and hold onto their $THUG tokens.
We predict that continued support from these investors will keep the $THUG price from falling far off its 2023 price. However, long-term investors will still need to be prepared for a period of falling prices.
Based on our analysis, we forecast a price of $0.0015 by the end of 2024. This is a 60% decline from our predicted 2023 price, but still represents a more than 100% gain from the ICO price.
Thug Life Price Prediction 2025
Going into 2025, $THUG could experience a resurgence that sends the token to new highs. This could be helped in part by the project's team burning $THUG tokens. A token burn is scheduled for Phase 3 of the Thug Life roadmap, although the size of the burn has not yet been declared.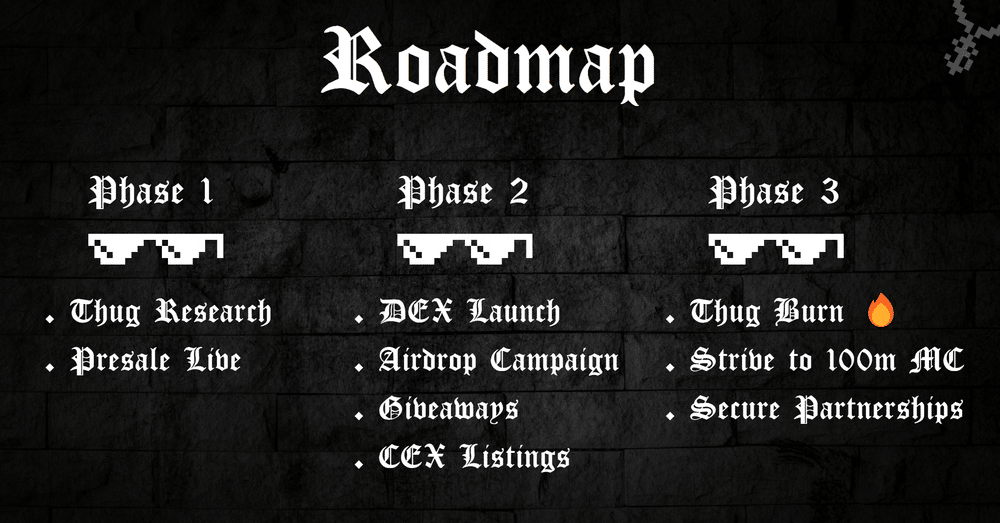 Considering these factors, we predict that $THUG will reach a price of $0.0050 by the end of 2025. That's a 100% increase from the predicted price at the end of 2023 and would represent an overall gain of 615% for Thug Life presale investors.
Thug Life Price Prediction 2030
Making long-term predictions about any meme coin is difficult. The meme coin market is notoriously volatile and the success of a meme depends on the degree to which the community embraces it.
That said, crypto analysts like Jacob Crypto Bury have predicted that Thug Life could produce 10x returns for investors. That would equate to a price of $0.0070 by the end of the decade. Jacob Crypto Bury's reasoning is laid out in a recent video:
To achieve this potential, Thug Life will likely need to expand its roadmap. The project could create additional demand for $THUG tokens by creating a DAO, introducing staking or other token rewards, or qualifying $THUG token holders for exclusive giveaways.
If $THUG achieves a price of $0.0070, the token will have a market cap of $29,400,000. This is still well below the project's goal of a $100 million market cap, suggesting it could have room to run beyond 2030.
Thug Life Potential Highs and Lows
There's a lot of uncertainty in making price predictions for meme coins. Certain meme coins resonate extraordinarily well with the crypto community and take off to a degree that few investors could see coming. Other highly promising cryptos that seem poised to explode fail to gain traction.
So, it's important for investors to think about potential highs and lows around each price prediction. The table below summarizes our predicted highs and lows for $THUG.
| | | |
| --- | --- | --- |
| Year | Potential High | Potential Low |
| 2023 | $0.0050 | $0.0007 |
| 2024 | $0.0060 | $0.0010 |
| 2025 | $0.0075 | $0.0020 |
| 2030 | $0.0120 | $0.0028 |
It's also important to keep in mind that meme coins can be highly volatile. Some tokens, like Pepe (PEPE), produced 10x returns in a matter of days, but then fell back to earth just as quickly. Investors in Thug Life and other meme coins need to be ready for the ups and downs.
What is Thug Life?
Key Points on Thug Life
Thug Life is a meme coin featuring the shiba inu, Pepe, and other memes.
It has more than 3,600 Twitter followers and 1,750 Telegram subscribers.
The $THUG presale has sold out after meeting its $2m hard cap.
Thug Life is a brand-new meme coin that's looking to build on the hype created by Pepe, SpongeBob Token, ArbDoge AI, and others.
Thug Life's message to investors is to 'thug up.' That is, the project encourages them to hold onto crypto tokens like $THUG and ignore the wild fluctuations of the crypto market.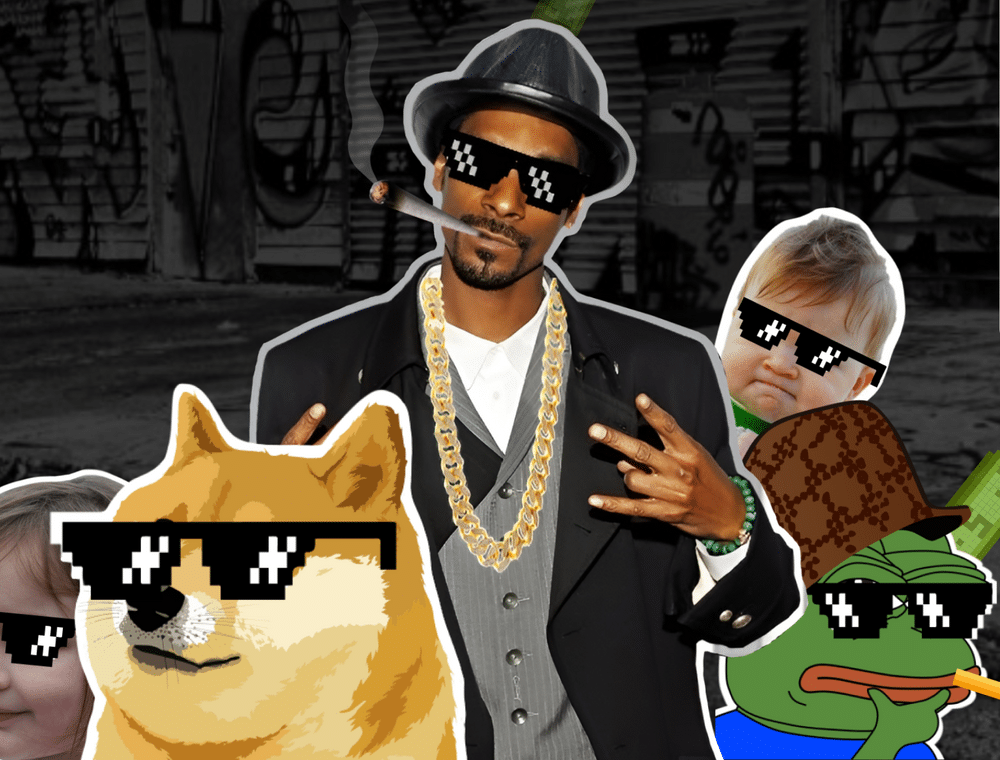 The project also seeks to create a welcoming and fun community for investors who missed out on explosive tokens like Pepe or who were left holding the bag when promising crypto tokens collapsed. It aims to bring investors together in the pursuit of big wins and to laugh at the losses that come with crypto investing.
Thug Life has attracted a broad following on social media thanks to its memes. The project has attracted more than 3,600 followers on Twitter and more than 1,750 subscribers on Telegram.
What Factors Affect the Thug Life Price
The price of the $THUG token is determined by several factors. Many of these are the same factors that influence the price of other major meme coins.
Community Support
The value of a meme coin depends first and foremost on the strength and support of its community. The more people that believe in a meme coin, the higher the price will go. This is how tokens like Dogecoin, Shiba Inu, and Pepe all made runs to the moon.
So, the more individuals that buy and hold $THUG, the more likely it is that the project will perform well after launch.
Meme Coin Bull Market
The broad buying frenzy around meme coins going on in the crypto market right now is a good thing for Thug Life. Investors are actively searching for the next big meme coin, making them more likely to buy $THUG.
The bull market shows no signs of slowing down, which is promising for Thug Life. However, investors should keep an eye on overall sentiment around meme coins. A downturn in enthusiasm for meme tokens could harm Thug Life ahead of its ICO.
Supply and Demand
Ultimately, the price of $THUG is determined by the balance between supply and demand. The token supply is fixed, so an increase in demand could send the price of $THUG shooting higher.
It's important to note that the Thug Life team has scheduled a burn of $THUG tokens for the future. That would reduce the available token supply and could have a very significant, positive impact on the price.
Is Thug Life the Best Crypto to Buy in 2023?
Thug Life could be one of the best crypto to buy in 2023. The token has generated a huge amount of interest from investors, traders, and analysts. It's also raised more than $830,000 in just the first 10 days of its presale.
Our price prediction suggests that $THUG could return more than 250% by the end of the year. While this isn't a guarantee, the Thug Life presale represents a chance to buy a crypto with high upside potential.
Over the long-term, we predict that Thug Life will continue to gain value. This is in line with analyst estimates that $THUG could produce 10x returns. While these long-term predictions are highly uncertain, there's a lot for investors to like about Thug Life.
How to Buy Thug Life Presale
Check out our guide on how to buy Thug Life once the token is live on exchanges.
Conclusion
Thug Life is a highly promising meme coin with the potential to deliver significant returns for early investors. The project is well on its way to selling out its presale and could hold one of the most explosive ICOs of 2023.
Investors who want to buy $THUG ahead of the ICO need to hurry. The presale is already more than 40% sold out and could reach its hard cap sooner than expected.
FAQs
Is Thug Life a good investment?
How much is the Thug Life presale?
What will Thug Life price be in 2025?