One of the many ways in which investors find new crypto assets for their portfolio is to see what's trending.
As such, this guide reveals the top trending cryptos for 2023. We analyze each trending crypto in full, covering key metrics such as the token's use cases, the project's roadmap, potential upside, and more.
Trending Cryptos to Buy Right Now
We've analyzed the top trending cryptos for 2023 and have compiled a quick-view list below. There should be a project suited to most investor profiles.
Bitcoin Minetrix (BTCMTX) – Trending ERC20 presale offers a new paradigm in BTC cloud mining to make it open to anybody with a MetaMask wallet and $10 to spare. Offers high PoS APY, a low price entry, and a clearly defined use case in a billion-dollar market.
Launchpad XYZ (LPX) – A new crypto that aims to become a hub for people wanting to enter the Web3 ecosystem. It offers a plethora of Web3 content, features, and tools.
yPredict (YPRED) – Next-gen AI-based cryptocurrency and trading analysis platform with staking capabilities. It comes with a subscription-based service that provides expert trading advice.
Chimpzee (CHMPZ) – This green token contributes 10% of its token wallet to animal and wildlife charities. Get P2E rewards, and NFT staking benefits with $CHMPZ tokens.
Wall Street Memes (WSM) – Top trending cryptocurrency of a platform with more than 1 million followers. $WSM has raised over $25 million and has seen interaction from none other than Elon Musk. This presale is now finished and the token is live on exchanges.
BTC20 (BTC20) – Replicating the tokenomics of Bitcoin, BTC20 is an eco-friendly version of the cryptocurrency, as it offers a staking mechanism. $BTC20 is priced at $1 throughout the ongoing presale.
Fetch (FET) – Network Using AI and Automation to Back P2P Applications
Ankr (ANKR) – Blockchain Nodes For Web3 Building
SushiSwap (SUSHI) – Popular Decentralized Exchange and Automated Market Maker
We've analyzed the above-mentioned top trending cryptocurrencies in full and investors can find out about each project in the next section.
Full Analysis of the Trending Crypto Coins to Watch in 2023
It's important for investors to carry out their own research. However, we've looked at the utility of each token, the roadmap, the market cap, and much more when ranking these top trending crypto projects.
As such, reading our full analysis of each project should reduce the research time necessary when searching for top trending crypto coins in 2023.
1. Bitcoin Minetrix ($BTCMTX) – Top Trending Crypto Democratizes BTC Mining & Offers High APY Rewards
Bitcoin Minetrix ($BTCMTX) is a recently launched project that provides easy BTC mining over an Ethereum-powered smart contract framework.
The result is a mechanism of mining BTC rewards in a manner that is simple, affordable, and eco-friendly.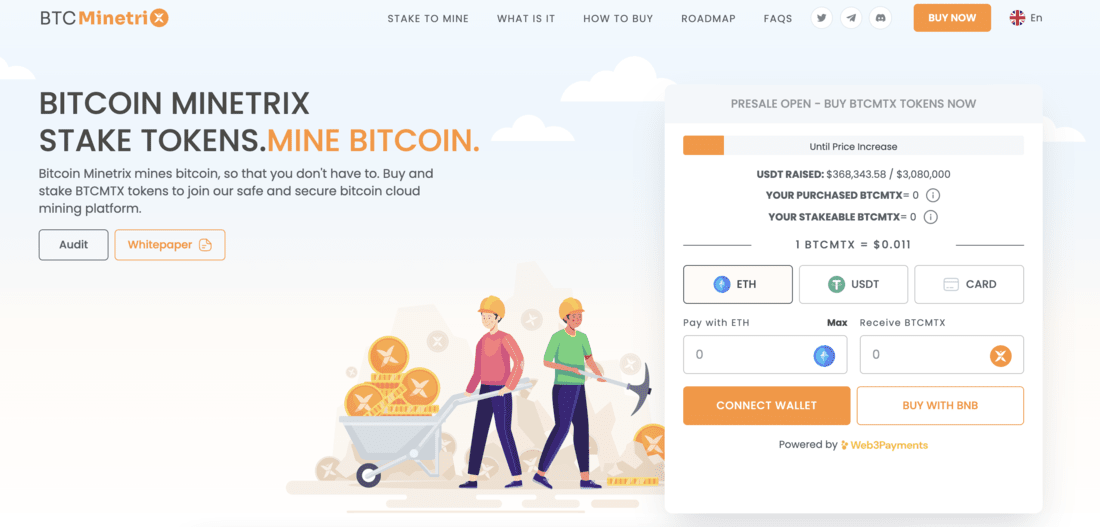 It further puts the power and control back into the hands of the users, where they have control over the entire mining operation through an intuitive dashboard.
The Bitcoin cloud mining industry suffers from hacks and scams. And even legitimate providers do not offer the unique stake-to-mine design that has been introduced with Bitcoin Minetrix, with a tiny $10 upfront investment.
It is a new concept that could be a hit among retail investors. The project raised over $100k within hours of its launch and provides an APY that is nearly 2,000%, but this yield is likely to come down considerably as more people stake their tokens.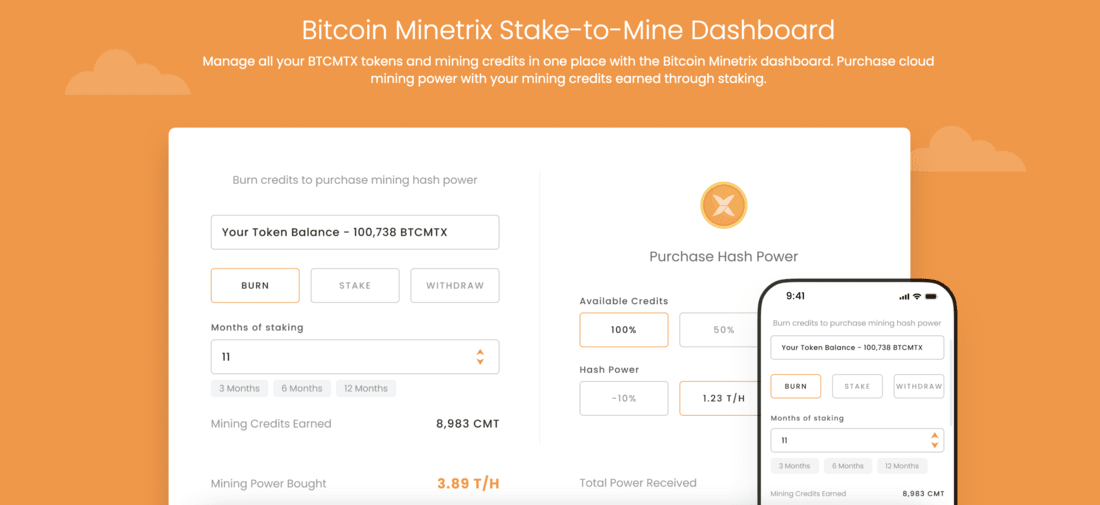 Investors in this project have three means of ROI. The first is direct price appreciation. The second is staking the BTCMTX token. And the third is the burning of BTC cloud mining credits in return for BTC.
Staking rewards accrue even during the presale, while the burning of cloud credits can take place after presale completion. This campaign has undertaken a third-party smart contract audit from Coinsult, and no issues were located. It also has a well-thought-out roadmap and a 10-stage presale, with incremental price increases at each stage.
The initial price is $0.011 while the final stage price is $0.0119. Early investors will benefit from both higher yields and a lower price entry. 2.8 billion of the 4 billion supply is available in the presale.
Some analysts recommend this as a 10x coin, and it does tick a lot of boxes – high APY, low price entry, utility value, and a new method of BTC mining, a billion-dollar industry.
Plus, bitcoin-themed coins are doing well this year, even those that do not provide utility value in a clearly defined market.
This is a trending crypto for many reasons with great potential.
For more info, check out the Twitter and Telegram socials, as well as the Bitcoin Minetrix Whitepaper.
| | |
| --- | --- |
| Presale Started | September 2023 |
| Purchase Methods | USDT, ETH, BNB |
| Chain | Ethereum |
| Hard Cap | $32 Million |
| Min Investment | $10 |
| Max Investment | None |
2. Launchpad XYZ (LPX) – Novel Crypto and Platform for Anyone Interested in the Web3 Ecosystem
Launchpad XYZ is a novel cryptocurrency and Web3 platform that aims to make everything Web3 more approachable to the broader masses. It offers a comprehensive set of tools to help you succeed in the Web3 world.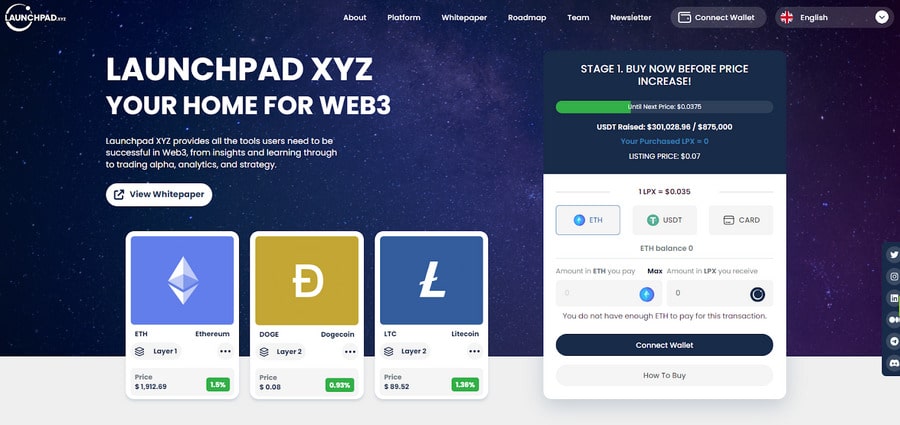 Even though there are plenty of platforms that offer various Web3 tools and content, Launchpad XYZ wants to be the pioneer, all the while being user-friendly.
Once the platform is fully launched, you'll also get access to additional features, including NFT support, a decentralized exchange, a Web3 wallet, Web3 presales, a P2E and metaverse gaming hub, and even a trading terminal. Feel free to read through the project's whitepaper for more information. It's an absolute must-read for every potential investor.
All of this is only being announced now, as the project is still in the early stages. Currently, it's in the presale phase, selling its ERC-20 token called $LPX. The total supply is set at one billion tokens, with only 25% being allocated to the presale. The soft cap is $5 million, while the hard cap is set at $12.5 million. The price aligns with similar, more complex platforms — it starts at $0.035 in Stage 1 and ends at $0.07 at launch.
At the time of writing more than $1.5 had already been raised. If you want to join, you can buy the tokens with ETH, USDT, or a credit card. If it's still early for your taste, follow the Telegram channel to learn more about the project.
| | |
| --- | --- |
| Presale Started | April 2023 |
| Purchase Methods | USDT, ETH, Transak |
| Chain | Polygon |
| Hard Cap | $12.5 million |
| Min Investment | None |
| Max Investment | None |
3. yPredict (YPRED) – Next-Gen AI-Based Crypto and Trading Analysis Platform
yPredict is a new cryptocurrency and next-gen platform offering trading research and analysis to paying members through a subscription-based model.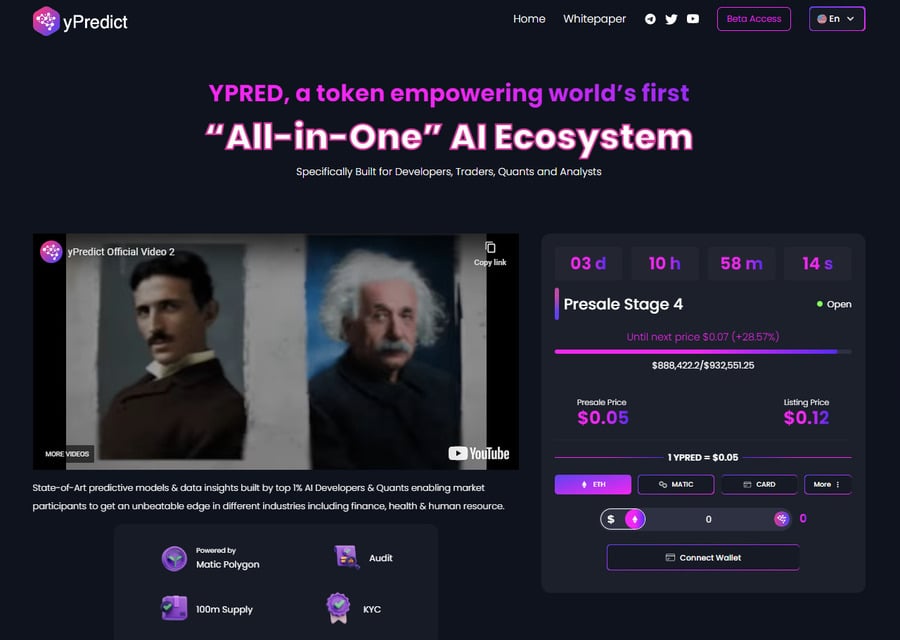 According to its whitepaper, yPredict is also an ecosystem bringing together various AI and ML experts, traders, and quantitative financial analysts. Through a subscription, you can access predictive marketplace trends, data-driven insights, and analytic metrics, which come from tested and proven models and industry experts.
The main features include a marketplace, trading terminal and related tools, and staking pools. Together, they aim to attract both AI/ML developers and traders.
The platform operates on the YPRED token based on Polygon (MATIC) and features both utility and staking capabilities. In this case, the APY is kept consistent and lucrative through a constant influx of new platform subscriptions.
The token's primary utility is accessing the yPredict ecosystem and analytics platform. You can also use it to pay for predictive models on the yPredict marketplace, where you can also receive more by voting.
At the moment, you can purchase the YPRED token through its presale. The starting price was $0.036 per token, while the listing rate is expected to be $0.12. Up to 80% of the total token supply is offered in the presale, or specifically, 80 million tokens. The rest is kept for liquidity, treasure, and development. The hard cap for the presale is $6,507,511, while the soft cap has already been met.
The presale consists of eight stages, with the token's value increasing by 202% from start to finish. More than $3.7 million has been garnered so far from the presale. Follow the Telegram community to stay in the loop.
| | |
| --- | --- |
| Presale Started | February 2023 |
| Purchase Methods | ETH, MATIC, USDT, BNB, Card |
| Chain | Polygon |
| Hard Cap | $6,507,511 |
| Min Investment | 200 $YPRED |
| Max Investment | None |
4. Chimpzee – Earn Various P2E and Staking Rewards with this Charity-Token
Chimpzee (CHMPZ) is a revolutionary cryptocurrency platform that wants to protect animals and help fight the battle against climate change.

This inspiring cryptocurrency platform has already helped plant over 20,000 trees in Guatemala. Moreover, it has donated $15K to the WILD Foundation to protect elephants. With $CHMPZ, the native token, Chimpzee will generate further profits to distribute to charities.
From the total token supply of 200 billion, 10% will be used as a charity wallet. Investors can use $CHMPZ tokens on the Chimpzee online store to purchase merchandise. A part of the profits earnt from this store will be distributed to charities.
For investors, Chimpzee offers various earning opportunities. With your tokens, you can buy and stake NFT passports. The Diamond NFT passports, the rarest NFT, can be staked to earn an APY (Annual Percentage Yield) of 20%.
You can also use these NFTs in a play-to-earn environment to win $CHMPZ tokens and special rewards. Another way to generate funds is by trading NFTs on the trade-to-earn NFT marketplace. Those who trade get a portion of the trading fees the platform generates as passive income.

Holding the exclusive Diamond or Gold NFT passports will lead to even higher passive income. Currently, on presale, $CHMPZ is priced at $0.001 per token. By the time the token lists on exchanges, the price will hike to $0.00185.
The presale has already managed to raise over $1.3 million. Read the Chimpzee whitepaper and join the Telegram channel to learn more about this cryptocurrency.
| | |
| --- | --- |
| Token symbol | CHMPZ |
| Total supply | 200 Billion |
| Presale supply | 40 Billion |
| Network | Ethereum (ERC20) |
| Purchase methods | ETH, USDT, Credit Card |
5. Wall Street Memes – Overall Top Trending Meme Token, Raised Over $25M During Now-Finished Presale
One of the best trending tokens right now is $WSM, the native token of Wall Street Memes. Currently, the $WSM token is available to buy on major exchanges after successfully completing its presale.
However, the Wall Street Memes platform has existed on Instagram and Twitter for the past few years. Unlike other meme coins which have had to build a loyal following, Wall Street Memes already has a following of over 1 million.
In fact, the creators of this platform launched their own NFT project, Wall St Bulls, in 2021. Within 30 minutes of the first NFT drop, 10,000 Ethereum-based NFTs were sold out. This goes to show the popularity of the platform.
A community-focused project, Wall Street Memes is distributing 100% of the token supply for the public. Half of the 2 billion token supply has been allocated for the presale, which will consist of 30 rounds.
During stage 1, $WSM was priced at only $0.025 per token. Currently, the token is available to buy at $0.0337 in the final stage.
Since the presale started, Wall Street Memes has raised more than $25 million. The presale hard cap target is set at more than $30 million.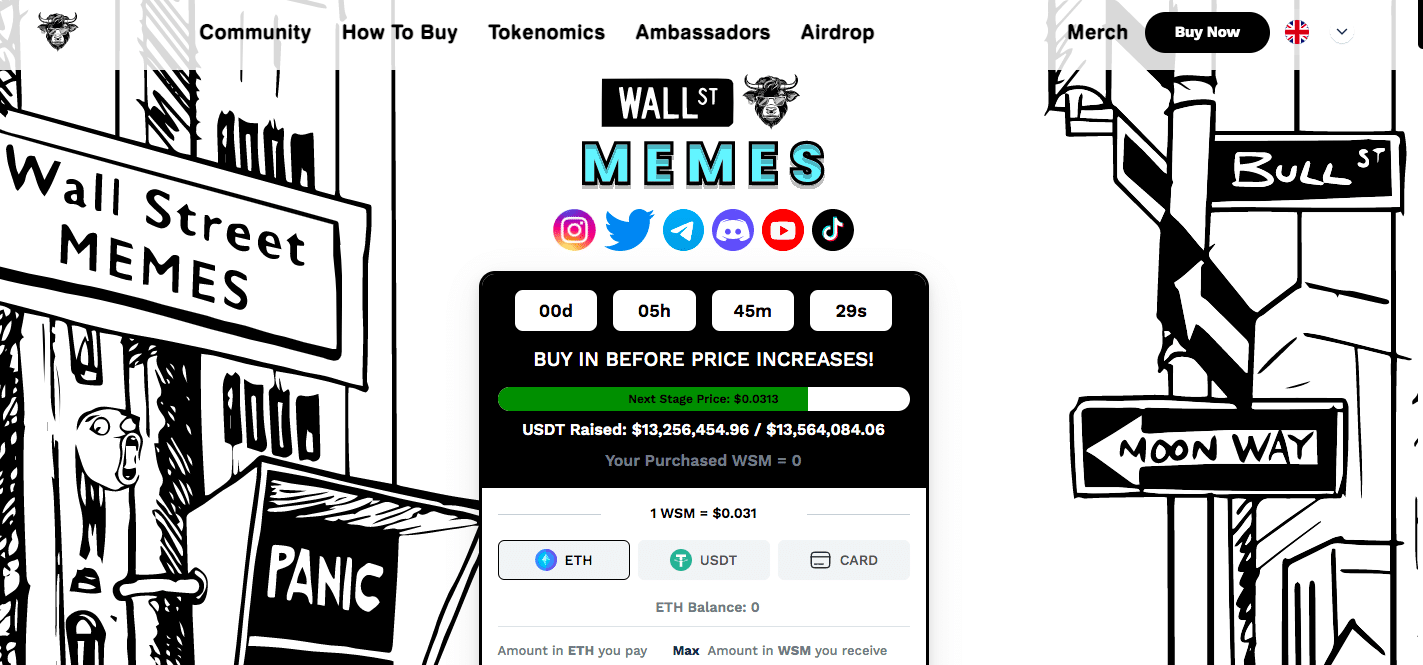 Another 30% of the token supply will be allocated as community rewards, while the remaining 20% will be used to maintain DEX and CEX liquidity.
To gain more information on this popular cryptocurrency meme token, join the Wall Street Memes Telegram channel.
| | |
| --- | --- |
| Hard cap | $30,577,000 |
| Total tokens | 2,000,000,000 |
| Tokens available in presale | 1,000,000,000 |
| Blockchain | Ethereum Network |
| Token type | ERC-20 |
| Minimum purchase | 100 tokens |
| Purchase methods | USDT, ETH, BNB, Bank Card |
6. BTC20 – A More EcoFriendly Version of Bitcoin, this ERC-20 Token Offers Staking Benefits
BTC20 ($BTC20) is trending due to its similarities with the Bitcoin blockchain. Just like Bitcoin, BTC20 will have a 21 million maximum token supply.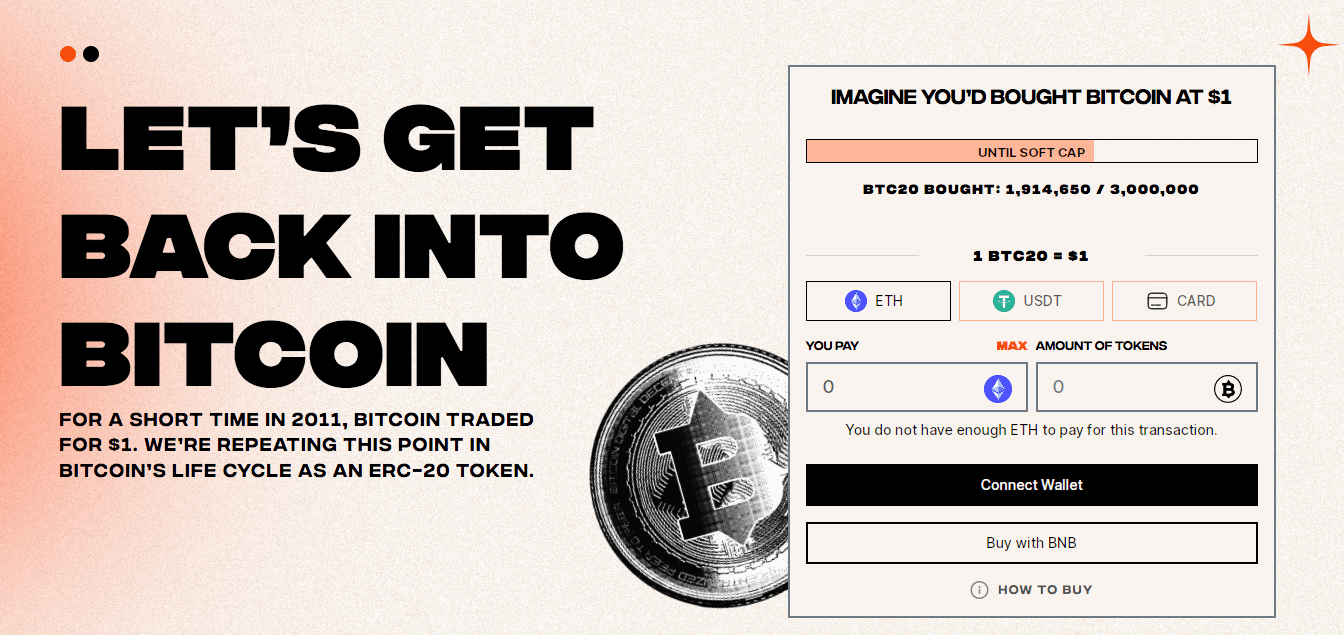 While over 6 million tokens have been allocated for the presale, the remaining will be locked and gradually released over a 120-year vesting period. This is similar to Bitcoin's tokenomics. However, BTC20 has been built on the Ethereum blockchain, which is an energy-efficient and sustainable option compared to Bitcoin.
Since Ethereum made the switch to the Proof-of-Stake (PoS) network, $BTC20 can now be staked on the ecosystem. Through the staking mechanism, one can gradually receive passive income on BTC20. After each block is validated on the blockchain, staked token holders will receive free $BTC20 tokens.
Thus, token holders can secure the platform and earn rewards in return. Through the ongoing token presale, BTC20 will distribute 6.05 million tokens. Notably, all tokens are priced at $1, paying homage to when Bitcoin was priced at this level back in April 2011.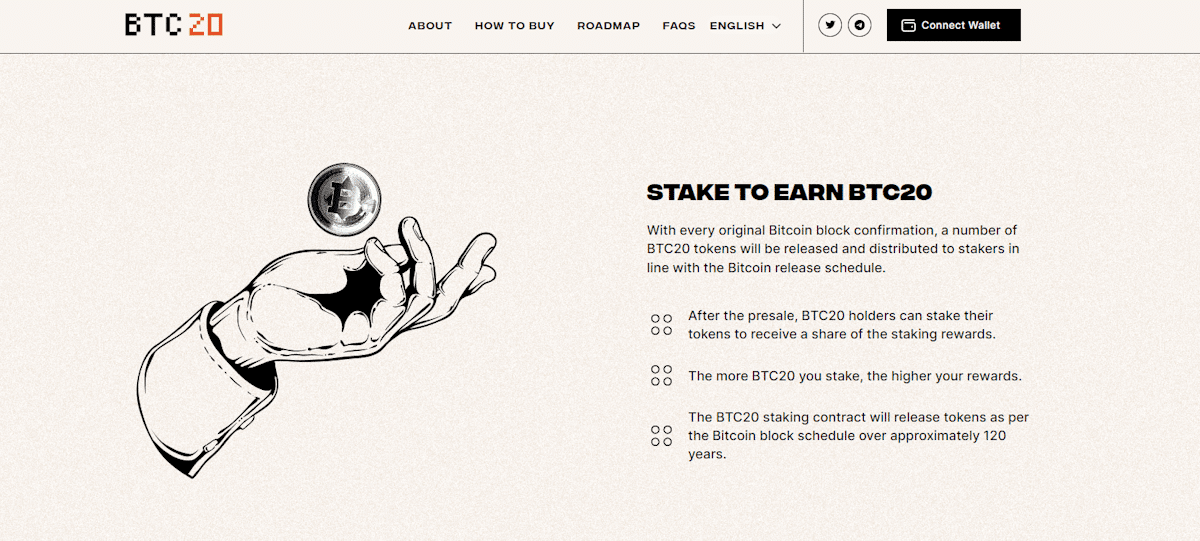 Since the remaining tokens will be gradually unlocked, 100% of the token supply has been reserved for the public. The gradual release of the tokens can help make $BTC20 a valuable investment since a limited number of coins will be available in the market.
Since the presale started, BTC20 has already collected over $1.9 million. To learn more about this cryptocurrency, go through the BTC20 whitepaper and join the Telegram channel.
| | |
| --- | --- |
| Hard Cap | $6,050,000 |
| Total Tokens | 21,000,000 |
| Tokens available in presale | 6,050,000 |
| Blockchain | Ethereum Network |
| Token type | ERC-20 |
| Minimum Purchase | NA |
| Purchase with | ETH, BNB, USDT, Bank Card |
7. Fetch (FET) – Network Using AI and Automation to Back P2P Applications
The blockchain initiative powered by AI (artificial intelligence) is called Fetch.ai. This platform offers a totally decentralized and permissionless environment. FET sets itself apart from competing platforms for a variety of reasons.
This is because the Fetch network has use cases in a broad range of applications and sectors. This covers decentralized banking, supply chains, commodities exchanges, autonomous AI-based travel agencies, smart homes and cities, traffic and railway systems, and more.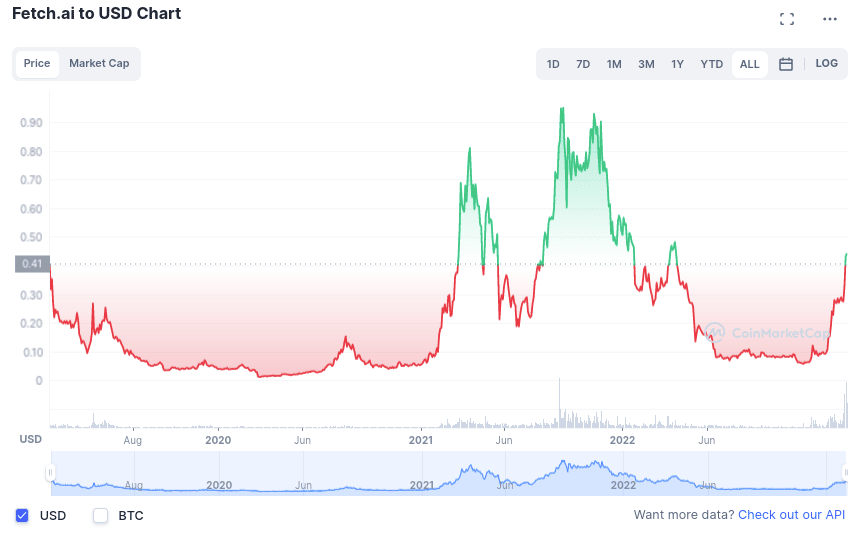 The FET protocol has also benefited from real-world case studies. For example, Bosch Research and Fetch collaborated in 2019. In 2021, a node was put on the FET test network by the company. Bosch aimed to further its investigation into machine learning techniques with the goal of better detecting equipment faults.
The market capitalization of Fetch at the time of writing is over $373 million.
8. Ankr (ANKR) – Network of Blockchain Nodes For Web3 Building
Ankr is a cross-chain infrastructure built on blockchain technology. It supports dApp development and staking. With regards to the DeFi space and the creation of dApps, the project hosts several protocols.
This might not be the most trending cryptocurrency, however, it is perhaps one of the most well-known DLT (distributed ledger technology) projects in the DeFi industry. Its goal is to advance the mass adoption of web3. ANKR is a utility token, and it has several uses throughout the ecosystem.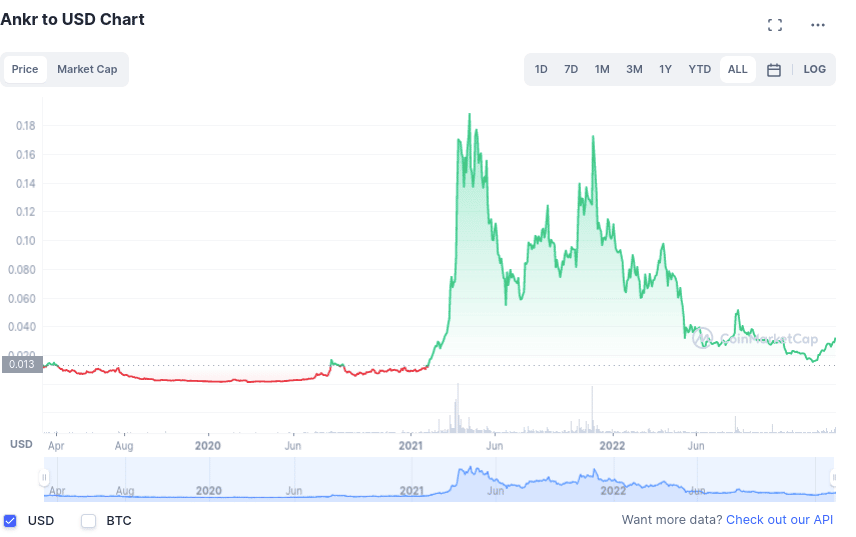 This token is a means of payment for gaining access to ANKR network services such as protocol and dApp deployment. Along with voting on recommendations for governance, ANKR can be staked. ANKR is limited to a total of 10 billion tokens. As of writing, ANKR has a market cap of over $310 million.
9. SushiSwap (SUSHI) – Popular Decentralized Exchange and Automated Market Maker
In late 2020, SushiSwap, a decentralized marketplace, was launched. The platform is backed by SUSHI, which has been one of the top trending cryptos on social media platforms many times. Being one of the few DEXs that adopt the AMM (automated market maker) liquidity methodology, the SushiSwap platform is well-known.
The DeFi market, which includes platforms like SushiSwap, is projected to be worth USD 398.77 billion by 2031, growing at a compound annual growth rate (CAGR) of nearly 46%.
SushiSwap is a piece of software built on the Ethereum framework. It attempts to inspire a network of users to run a marketplace where investors may purchase and exchange digital assets with ease. SushiSwap employs a network of liquidity pools to do this. This is similar to methods employed by the likes of Uniswap.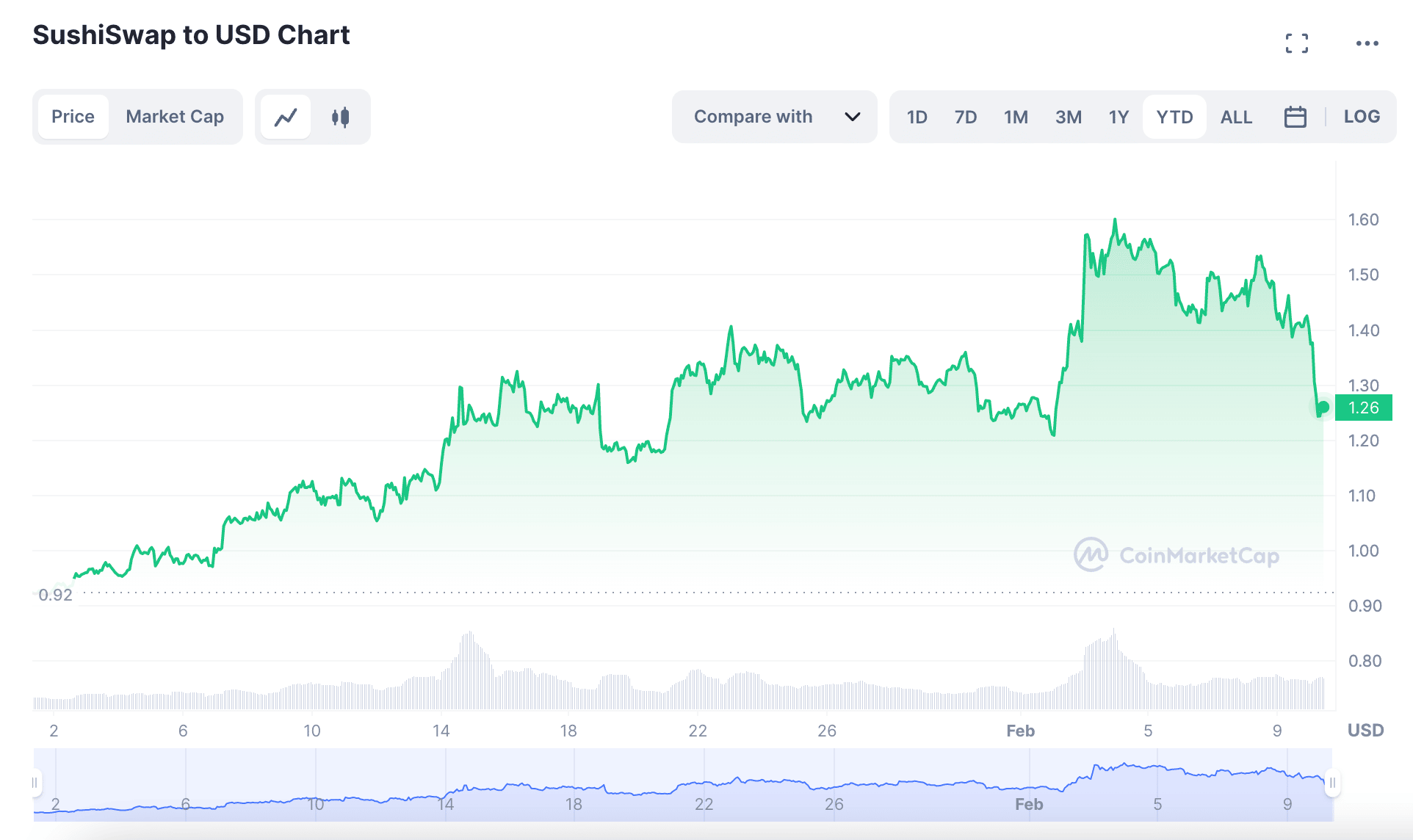 Investors first encrypt their assets using smart contracts. Following this step, dealers buy and sell cryptocurrencies from the pools, exchanging one token for another. They provide liquidity by linking their crypto wallet to the platform's farming software, in addition to securing two assets in a smart contract.
Tips to Consider When Searching for the Most Trending Cryptocurrencies in 2023
There are many ways to pin down the top trending cryptocurrency now. However, in the interest of narrowing down the search for investors, we've listed the most common avenues below:
Reddit
Finding trending crypto on Reddit is easier than ever, as there are numerous groups on this topic with huge communities.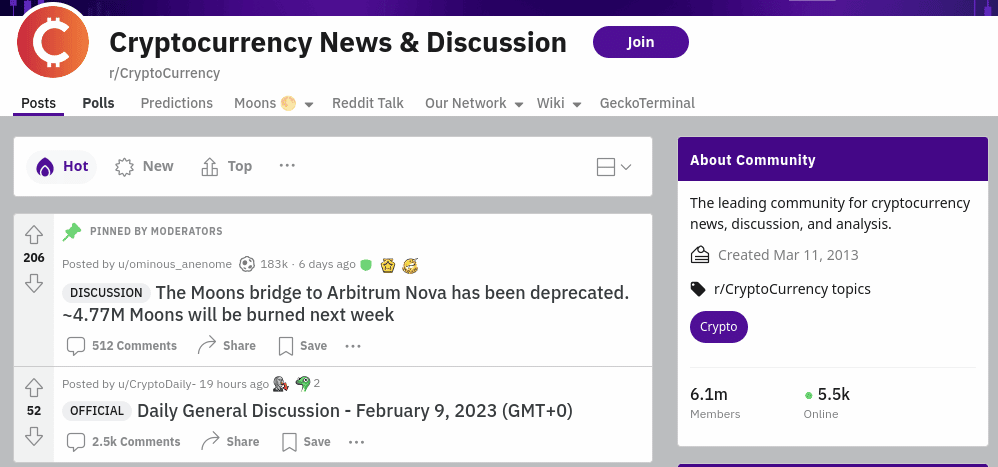 For example:
r/CryptoCurrency –

This subreddit group was formed in 2013. It is one of the most popular groups about digital assets and has 6.1 million members as of writing. This is where traders and investors gather to share and catch up on market news, new trending cryptos, analysis, and more.

r/CryptoMoonShots – This group has 1.9 million members and was created in 2017. This subreddit mainly focuses on projects that have the potential to be the top trending cryptos of the future. That is to say, the community talks about low market cap and new crypto assets that are likely to explode.
Investors can also type things such as 'most trending crypto' into the Reddit search bar. This will bring up a range of posts that are relevant to the search phrase in question.
Join a Discord Channel
There are numerous crypto-centric channels on Discord. Top trending cryptos represent one of the most talked-about topics among users of the platform.
As such, this can be a good place to start learning about upcoming ICO announcements, NFT airdrops, the top trending cryptocurrency now, and many other specialized areas of the sector.
Some of the most popular channels for finding top trending cryptocurrencies are Jacob Crypto Bury, Axion Crypto-Community, and Cryptohub, but there are many others.
Subscribe to Crypto-Specific YouTube Channels
Another popular starting point for finding a top trending cryptocurrency to trade today is YouTube.
For instance:
YouTubers carry out thorough research on the most trending crypto or those with the potential to blow up

The YouTuber then passes their analysis on to their subscribers by creating an informative video

A great example is the aforementioned market commentator

Jacob Crypto Bury

Jacob has a highly popular channel that boasts 11 thousand subscribers as of writing

This YouTuber was among the first cryptocurrency influencers to post a video about the potential of Tamadoge

Tamadoge went on to raise over $19 million during its presale
That said, investors should exercise caution before implementing any of the material in these channels into their strategy.
This is not meant to be financial advice. Nonetheless, YouTube channels are very useful for learning about top trending cryptocurrencies for 2023. It's then up to the investor to carry out their own research.
Check Cryptos Trending on Twitter
Twitter has over 330 million active monthly users and is becoming an increasingly popular way to find new trending cryptos for 2023.
There are other advantages of finding projects to invest in this way.
See below:
Most new cryptocurrency projects, including those in the midst of a presale campaign, create a Twitter account

As such, Twitter becomes a place to spread awareness about new cryptocurrencies

This is in addition to keeping the growing community of investors informed

Many top trending cryptos also announce airdrops and competitions on Twitter

The

AiDoge Twitter account

already has more than 26,000 followers and is constantly releasing news about the project and cool new memes, making every tweet more exciting.
Another way to find cryptos trending on Twitter is to subscribe to an analytics platform. Some offer social and on-chain analysis. These can be great when looking to build the best crypto portfolio allocation.
This will invariably entail the platform using AI to scan sites like Twitter and Reddit to gauge social sentiment and look for actionable signals.
Conclusion
In summary, we've analyzed the top trending crypto coins for 2023. We looked at various options, covering gaming platforms with playable NFTs, P2E projects, an EV charging incentive with carbon credit rewards, and more.
We concluded that Bitcoin Minetrix is one of the top trending crypto projects to watch in 2023. It provides high yields, has achieved excellent smart contract audit results, is competitively priced, and provides a new paradigm in BTC mining to make it accessible to the masses.
FAQs
Which crypto coins are trending right now?
Where can I find trending crypto coins?