One of the many ways in which investors find new crypto assets for their portfolio is to see what's trending.
As such, this guide reveals the top trending cryptos for 2023. We analyze each trending crypto in full, covering key metrics such as the token's use cases, the project's roadmap, potential upside, and more.
11 Trending Cryptos to Buy Right Now
We've analyzed the top trending cryptos for 2023 and have compiled a quick-view list below. There should be a project suited to most investor profiles.
AiDoge ($AI) – Overall best-trending crypto to follow in 2023. The project combines AI technology and memes in a new and unique way.
Ecoterra (ECOTERRA) – Eco-friendly crypto offering recycle-to-earn rewards. It boasts an AI-powered platform with a large database of registered recyclable products for which you get rewards.
yPredict (YPRED) – Next-gen AI-based cryptocurrency and trading analysis platform with staking capabilities. It comes with a subscription-based service that provides expert trading advice.
DeeLance (DLANCE) – A trending crypto blockchain-based platform with the potential to transform the freelance economy. It aims to connect freelancers and employers through decentralized Web3 architecture.
Launchpad XYZ (LPX) – A new crypto that aims to become a hub for people wanting to enter the Web3 ecosystem. It offers a plethora of Web3 content, features, and tools.
RobotEra (TARO) – Metaverse Game With Tradable Robot NFTs and Digital Land
Tamadoge (TAMA) – P2E Project Developing a Library of Arcade Games
Lucky Block (LBLOCK) – Crypto Casino With Instant Payouts and Anonymous Accounts
Fetch (FET) – Network Using AI and Automation to Back P2P Applications
Ankr (ANKR) – Blockchain Nodes For Web3 Building
SushiSwap (SUSHI) – Popular Decentralized Exchange and Automated Market Maker
We've analyzed the above-mentioned top trending cryptocurrencies in full and investors can find out about each project in the next section.
Full Analysis of the Trending Crypto Coins to Watch in 2023
It's important for investors to carry out their own research. However, we've looked at the utility of each token, the roadmap, the market cap, and much more when ranking these top trending crypto projects.
As such, reading our full analysis of each project should reduce the research time necessary when searching for top trending crypto coins in 2023.
1. AiDoge ($AI) – Overall Best Trending Crypto to Watch Right Now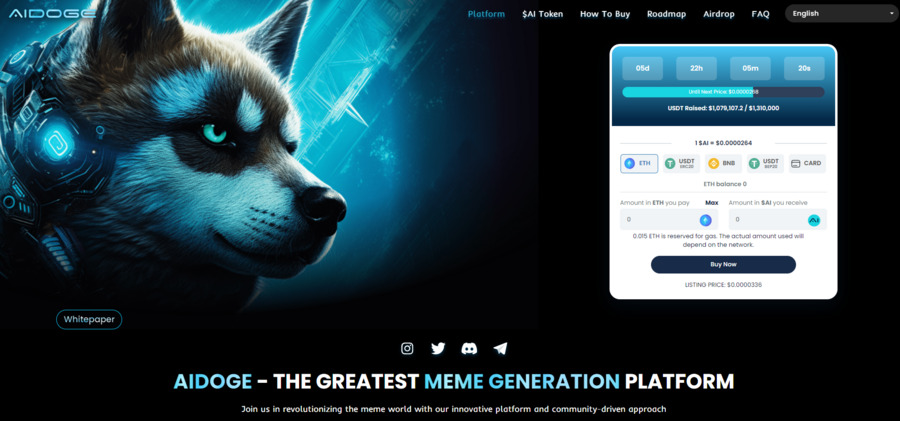 AiDoge is a meme-generation cryptocurrency platform with AI elements allowing users to generate memes using written prompts. It also features a vote-to-earn mechanism for voting on memes. The top memes receive prizes in the form of AiDoge's native crypto — $AI token. Moreover, voters also get small rewards, as shown in the AiDoge whitepaper.
Additionally, holders can stake part of their assets and get proportional daily rewards — the more they stake, the more they earn. They also receive access to premium features like participation in the platform's governance.
Due to these factors, this crypto stands out in the meme coin market and beyond. It combines two niches, meme and AI, in a way no other crypto has done before. Others, such as SingularityNET, Pepe Coin, and The Graph, feature either one or the other.
There are other coins, like ArbDoge AI, that try to be like AiDoge, but they lack the real utility aspect only AiDoge has.
It has already generated a lot of hype, with as much as $1.3 million raised in the first week of the presale. Due to all of this, we believe it deserves the highest spot on our list, making it a good choice if you want to invest in a promising coin.
More than that, similar projects have already witnessed a lot of success, so if you've missed the likes of Wojak and Pepe Coin pumps, AiDoge could be your next big opportunity.
Naturally, this is still a risky investment, as the price can reach the moon or plummet to zero after the presale. With such projects, it is impossible to be certain, so you must think things through before acting.
The good news is that AiDoge stands out among similar tokens for all the reasons we've already described, especially due to its actual utility.
The founders are unknown, as they've decided to stay anonymous, just like most other meme coin creators. However, this rarely means anything, and there's always a chance they'll decide to make themselves known.
$AI, the native cryptocurrency of the platform, is an ERC-20 token made on the Ethereum network and is currently in the presale phase, with the price set at $0.0000268 at the time of writing. As the project has 20 presale stages, each increasing the token's value, the price will eventually reach $0.00003360. The total number of tokens in the presale is set at 500 billion, and the hard cap value is $14,900,000.
You can purchase the token through the official site using fiat (credit card) and cryptos like ETH, USDT, and BNB. Everyone can buy as little as 38,461 $AI with any of these methods.
To get the latest scoop on the platform, check the official Telegram channel to see what the fans are writing.
| | |
| --- | --- |
| Presale Started | April 2023 |
| Purchase Methods | ETH, USDT, BNB, credit card |
| Chain | Ethereum |
| Hard Cap | $14,900,000 |
| Min Investment | 38,461 $AI |
| Max Investment | None |
2. Ecoterra (ECOTERRA) – Eco-Friendly Crypto Offering Recycle-to-Earn Rewards
The climate crisis is one of the most pressing concerns of the 21st century and Ecoterra has become a trending crypto because it offers users a way to fight back.
The project has developed a novel concept – Recycle-to-Earn – to help fight global warming, with users earning rewards simply for recycling materials and securing its place as a long-term crypto project to watch.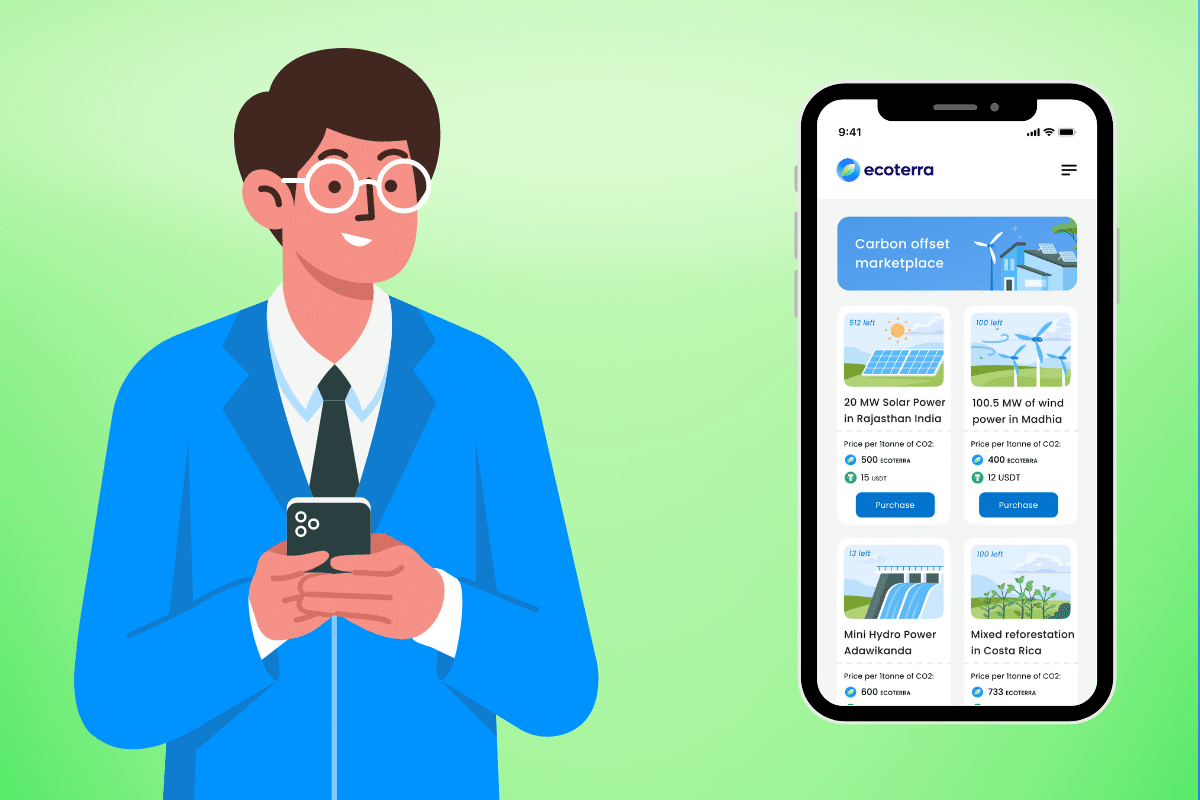 It is extremely simple to earn with Ecoterra. Users take recyclable materials such as plastic bottles or cardboard boxes to a Reverse Vending Machine (RVM) – found in supermarkets globally – scan the barcode and deposit them.
Ecoterra will have assigned a value to each item and then distributes ECOTERRA tokens as a reward for recycling.
The tokens can then be sold on an exchange, held as an investment or staked to generate a passive income. Importantly, Ecoterra also allows users to spend their ECOTERRA to further fight the climate crisis through its Carbon Offset Marketplace.
That can be by directly funding eco-friendly projects such as tree planting or by purchasing verified carbon credits, which remove CO2 from the atmosphere.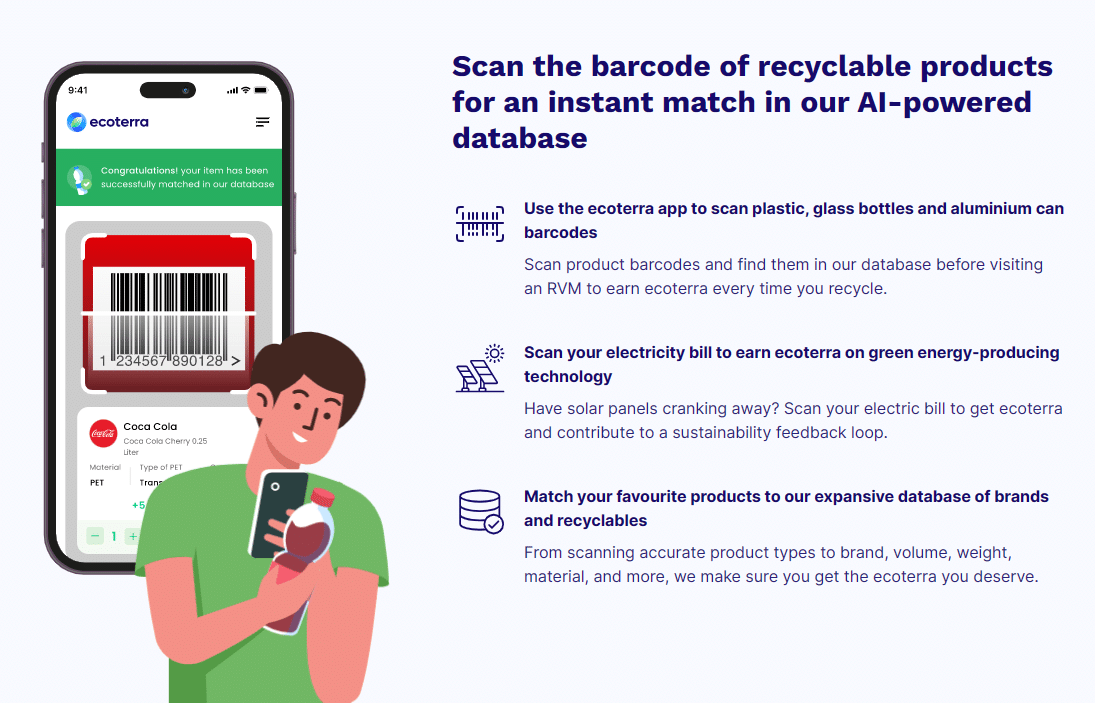 The project also has a recycled materials marketplace, which will connect firms and individuals with recyclers, while the mobile app tracks every action and offers further rewards – such as NFTs – once certain milestones are hit.
Ecoterra, which has been developed by a doxxed and KYC-verified team, has already partnered with Ahold Delhaize – a multi-billion dollar supermarket chain – and affiliated with major brands such as Dr Pepper, Vittel, Heineken and San Pellegrino.
The ECOTERRA presale is in stage 1, with tokens on sale for $0.004, with the price increasing by 150% in stage 8 to $0.01. Tokens are offered with no vesting period and 1 billion (50% of max supply) are available to purchase.
For more information, read the Ecoterra whitepaper or join the Telegram group.
| | |
| --- | --- |
| Hard Cap | $6,700,000 |
| Total Tokens | 2,000,000,000 |
| Tokens available in presale | 1,000,000,000 |
| Blockchain | Ethereum Network |
| Token type | ERC-20 |
| Minimum Purchase | $10 |
| Purchase with | USDT, ETH, Bank Card |
3. yPredict (YPRED) – Next-Gen AI-Based Crypto and Trading Analysis Platform
yPredict is a new cryptocurrency and next-gen platform offering trading research and analysis to paying members through a subscription-based model.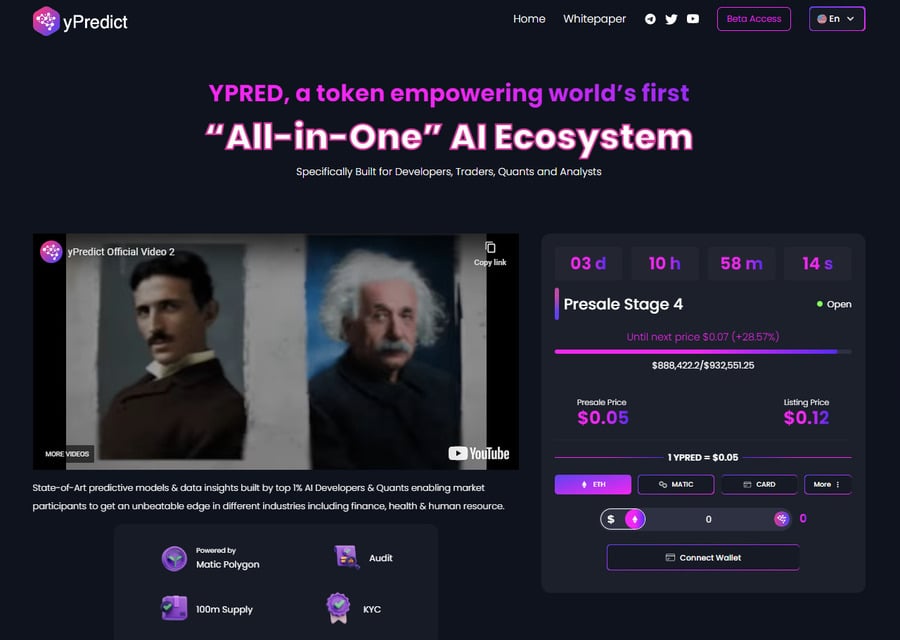 According to its whitepaper, yPredict is also an ecosystem bringing together various AI and ML experts, traders, and quantitative financial analysts. Through a subscription, you can access predictive marketplace trends, data-driven insights, and analytic metrics, which come from tested and proven models and industry experts.
The main features include a marketplace, trading terminal and related tools, and staking pools. Together, they aim to attract both AI/ML developers and traders.
The platform operates on the YPRED token based on Polygon (MATIC) and features both utility and staking capabilities. In this case, the APY is kept consistent and lucrative through a constant influx of new platform subscriptions.
The token's primary utility is accessing the yPredict ecosystem and analytics platform. You can also use it to pay for predictive models on the yPredict marketplace, where you can also receive more by voting.
At the moment, you can purchase the YPRED token through its presale. The starting price was $0.036 per token, while the listing rate is expected to be $0.12. Up to 80% of the total token supply is offered in the presale, or specifically, 80 million tokens. The rest is kept for liquidity, treasure, and development. The hard cap for the presale is $6,507,511, while the soft cap has already been met.
The presale consists of eight stages, with the token's value increasing by 202% from start to finish. More than $880,000 have been garnered so far from the presale. Follow the Telegram community to stay in the loop.
| | |
| --- | --- |
| Presale Started | February 2023 |
| Purchase Methods | ETH, MATIC, USDT, BNB, Card |
| Chain | Polygon |
| Hard Cap | $6,507,511 |
| Min Investment | 200 $YPRED |
| Max Investment | None |
4. DeeLance (DLANCE) – Top Trending Crypto to Transform Freelance Economy
DeeLance has become one of the top trending cryptos in the space because it will transform the world of recruiting.
The newly launched project, which is in the first stage of its presale, will increase the earning potential of freelancers as well as make the whole recruitment process more transparent, secure and efficient.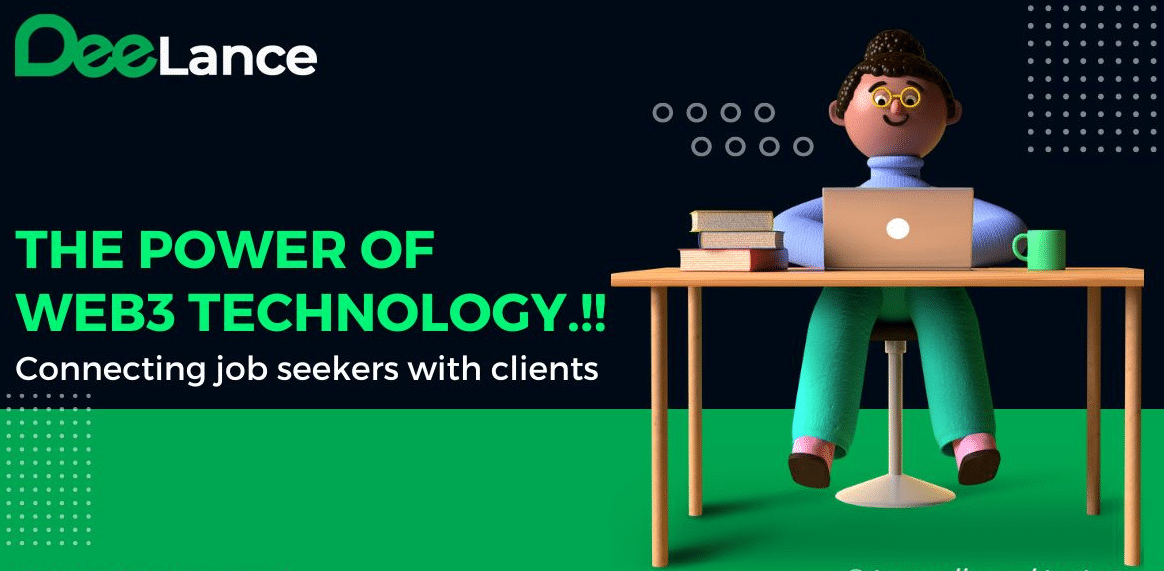 DeeLance is promising lower fees and commissions than its leading Web2 rivals and will cut out intermediaries and utilize blockchain technology to help both sides of the freelance economy.
This most promising cryptocurrency is also building its own metaverse where users can network and collaborate on projects, advertise their services or purchase metaverse plots of land and build offices to hold meetings.
The platform will work with a visible feedback score, allowing freelancers to avoid bad actors and recruiters to quickly and easily find high-quality candidates.
Once work has been set, funds will be held in secure escrows and released immediately when the work is done to the agreed specification – payment in DLANCE tokens will also eliminate currency exchange fees and ensure payment is near-instant.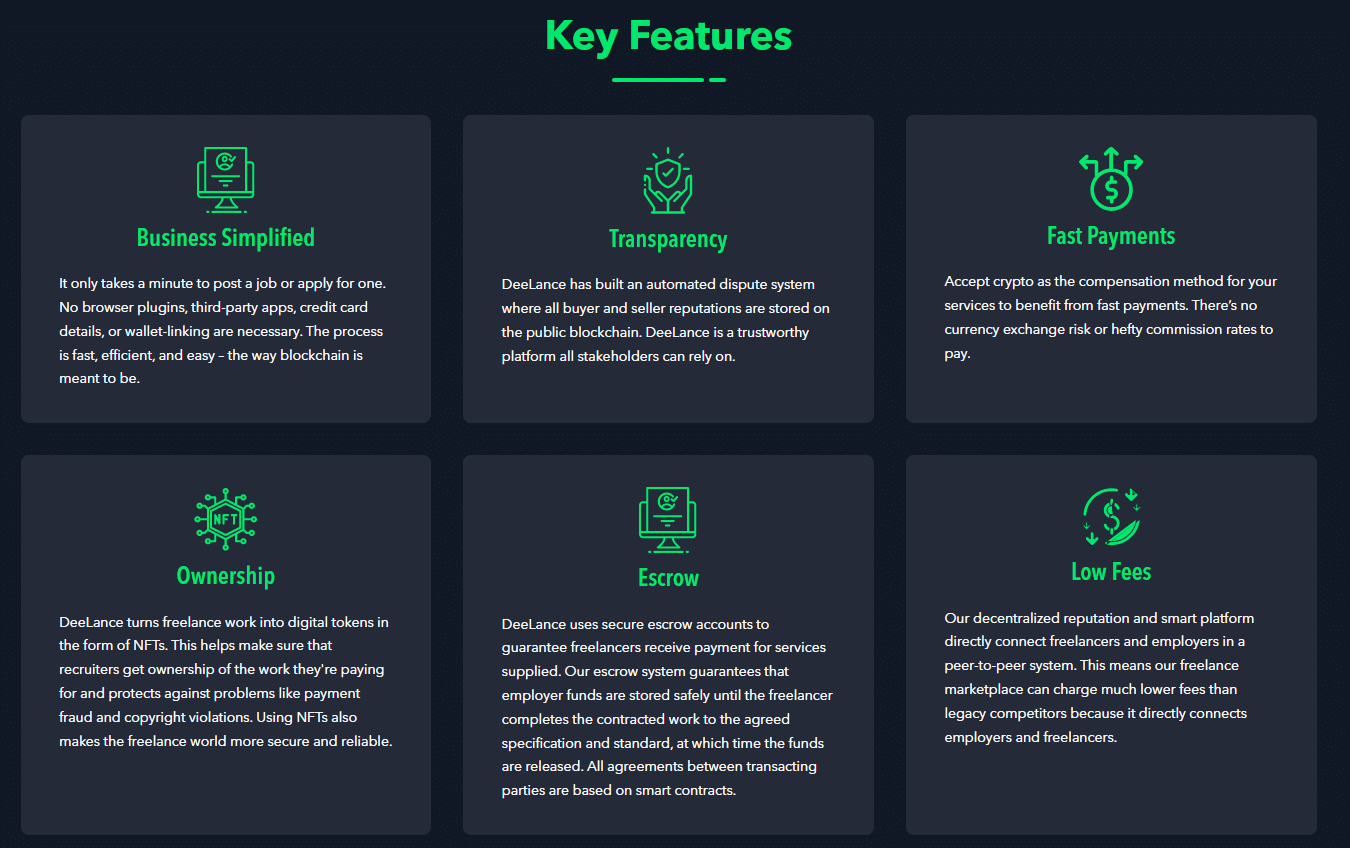 Completed work is then converted into NFTs and housed on the blockchain to ensure there are no copyright or payment fraud issues.
As well as payments, DLANCE is used as a currency in the metaverse. Tokens are currently on sale for $0.025 during stage 1 but will increase to $0.035 in stage 6.
The doxxed and KYC-verified team has made 30% of the 1 billion supply available during the presale with no vesting period.
More information can be found on the DeeLance Telegram group.
| | |
| --- | --- |
| Hard Cap | $6,800,000 |
| Total Tokens | 1,000,000,000 |
| Tokens available in presale | 300,000,000 |
| Blockchain | Ethereum Network |
| Token type | ERC-20 |
| Minimum Purchase | $10 |
| Purchase with | USDT, ETH, Card |
5. Launchpad XYZ (LPX) – Novel Crypto and Platform for Anyone Interested in the Web3 Ecosystem
Launchpad XYZ is a novel cryptocurrency and Web3 platform that aims to make everything Web3 more approachable to the broader masses. It offers a comprehensive set of tools to help you succeed in the Web3 world.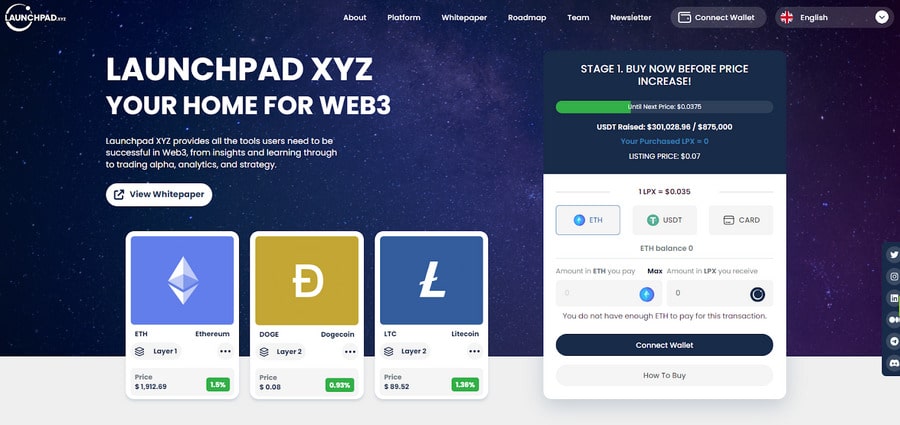 Even though there are plenty of platforms that offer various Web3 tools and content, Launchpad XYZ wants to be the pioneer, all the while being user-friendly.
Once the platform is fully launched, you'll also get access to additional features, including NFT support, a decentralized exchange, a Web3 wallet, Web3 presales, a P2E and metaverse gaming hub, and even a trading terminal. Feel free to read through the project's whitepaper for more information. It's an absolute must-read for every potential investor.
All of this is only being announced now, as the project is still in the early stages. Currently, it's in the presale phase, selling its ERC-20 token called $LPX. The total supply is set at one billion tokens, with only 25% being allocated to the presale. The soft cap is $5 million, while the hard cap is set at $12.5 million. The price aligns with similar, more complex platforms — it starts at $0.035 in Stage 1 and ends at $0.07 at launch.
At the time of writing, the project was still in its infancy, but more than $300,000 had already been raised. If you want to join, you can buy the tokens with ETH, USDT, or a credit card. If it's still early for your taste, follow the Telegram channel to learn more about the project.
| | |
| --- | --- |
| Presale Started | April 2023 |
| Purchase Methods | USDT, ETH, Transak |
| Chain | Polygon |
| Hard Cap | $12.5 million |
| Min Investment | None |
| Max Investment | None |
6. RobotEra (TARO) – Metaverse Game With Tradable Robot NFTs and Digital Land
The RobotEra presale is in full swing. The token that powers this P2E multiverse platform, TARO, is among the top trending cryptos in 2023.
The team behind this project has drawn inspiration from Sandbox to create an ecosystem that includes in-game rewards, a unique metaverse, battles, communities, NFTs, and more.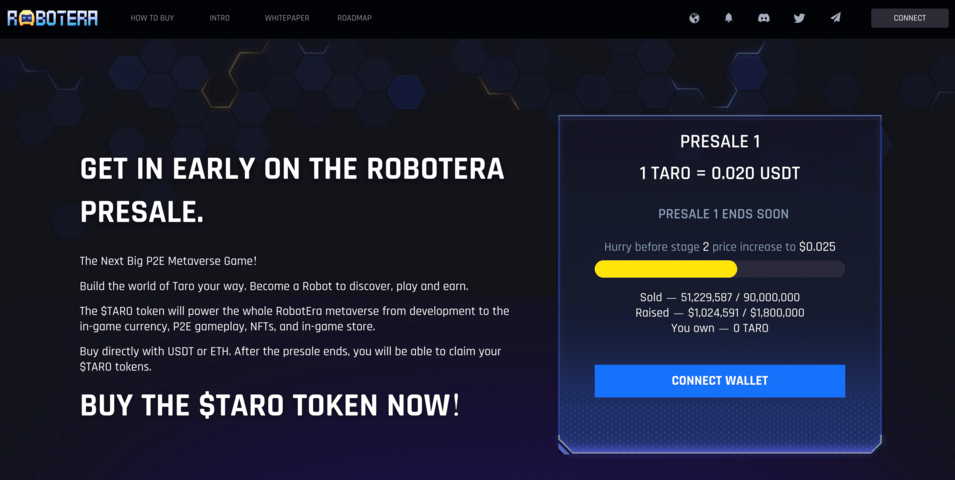 TARO serves as currency in this multiverse and can be used to buy real estate that's been minted into NFTs. As such, gamers can take care of their own land, build on it, mine minerals, search for resources, and more.
According to the team, players will also be able to use the RobotEra editor to create land and companions. Moreover, all players will be incarnated as their own Robot NFT character. Both these and the companions can be traded or rented out to other players for an extra income.
There will be many different areas in the RobotEra metaverse, which can be explored to find rewards. This alternate universe will eventually feature concert venues so that players can organize and partake in events. They will also be able to submit their own art to the RobotEra metaverse, which will be displayed in the museum.
| | |
| --- | --- |
| Presale Started | Q4 2022 |
| Purchase Methods | ETH, USDT |
| Chain | Ethereum |
| Min Investment | 1,000 TARO |
| Max Investment | None |
7. Tamadoge (TAMA) – P2E Project Developing a Library of Arcade Games
Some of the top trending cryptocurrencies of all time have been meme tokens. Some meme tokens now have utility, and Tamadoge is at the forefront of this. TAMA tokens power the Tamadoge ecosystem. Its presale sold out ahead of schedule and raised over $19 million in late 2022.
Tamadoge is a fun P2E platform that revolves around NFT pets, the metaverse, and AR (augmented reality). The team is working on a portfolio of arcade games that offer players multiple chances to earn rewards. The first arcade game released was Super Doge.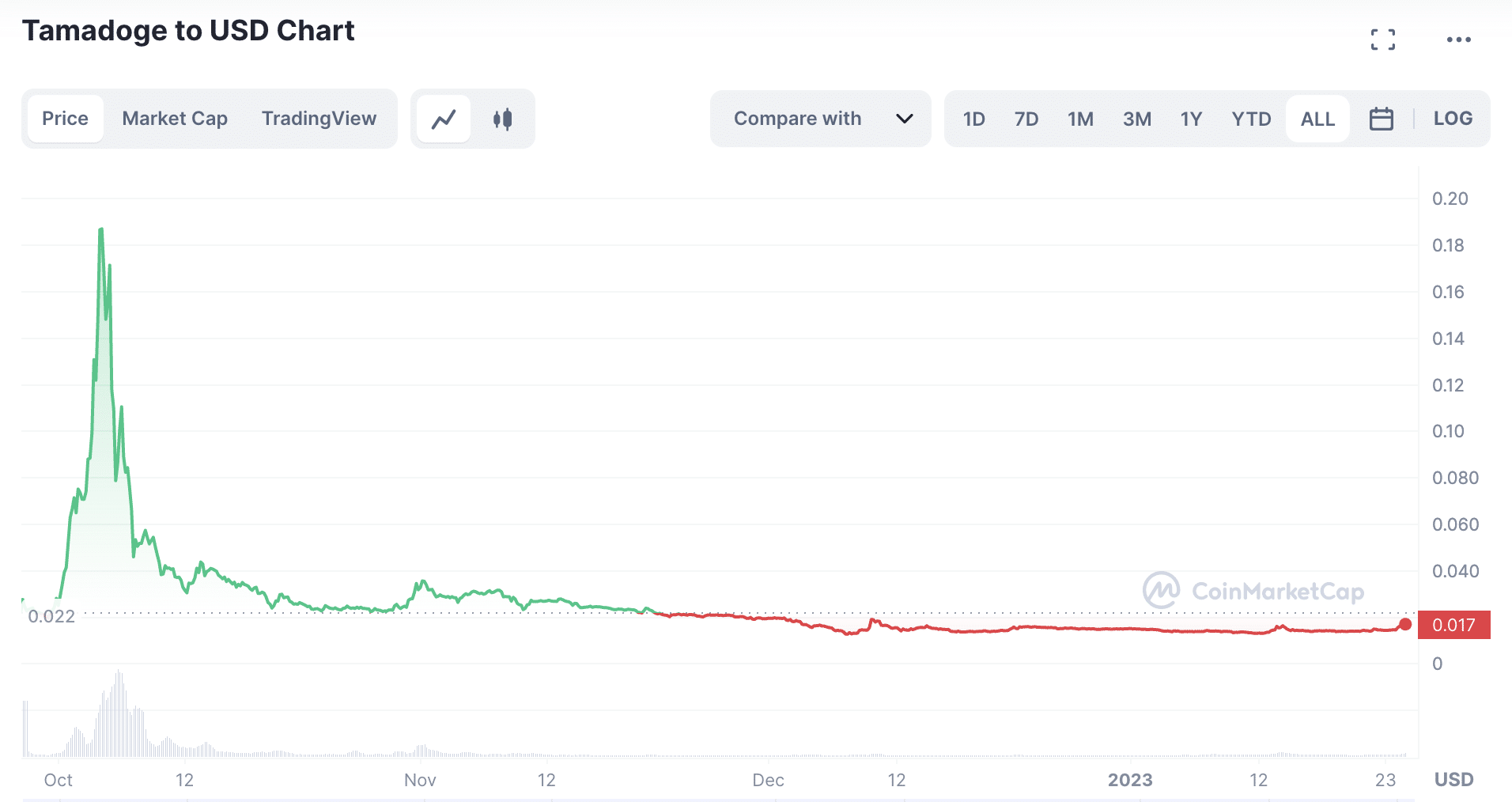 This was closely followed by Rocket Doge, which resembles old platform games of years gone by such as Super Mario Bros. The games Tamadoge has released so far are colorful and engaging. Players can also buy credits in order to partake in the Tamadoge P2E competition.
As of writing, gamers can buy 100 credits per 600 TAMA tokens. Players can also purchase different NFTs in order to ramp up their pet's abilities and powers. Tamadoge players can check the leaderboard every month to see where they place. Those who rank highly win more rewards. The market cap of TAMA at the time of writing is around $21 million.
8. Lucky Block (LBLOCK) – Crypto Casino With Instant Payouts and Anonymous Accounts
Lucky Block is a growing blockchain casino with a diverse sportsbook. The platform has zero withdrawal limits, and even better, it offers instant payouts. The token that backs Lucky Block is LBLOCK, one of the top trending cryptos in 2022.
This is because, after the Lucky Block presale reached its conclusion, the digital currency made history by becoming the quickest to reach a $1 billion market cap. The casino itself is popular because it accepts an array of cryptocurrencies and processes deposits instantly.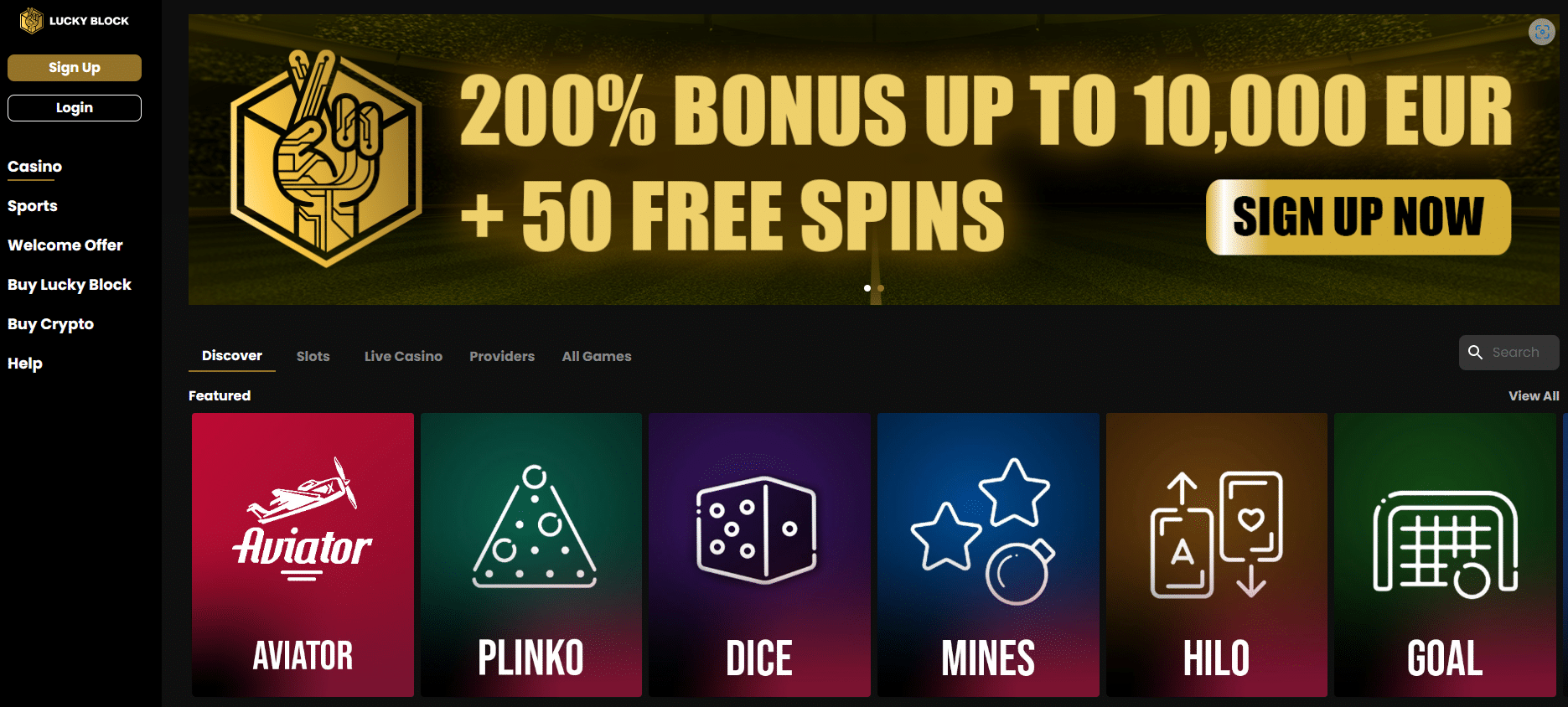 Not only that, but players can access the casino anonymously as there's no KYC process to complete when registering. We found a huge range of sports to bet on, such as soccer, tennis, basketball, lacrosse, and others. This casino also offers esports, so that players can bet on the outcome of video games.
As with any top trending crypto project in the casino space, there are also thousands of gambling games to play. This comprises everything from table and dice games to slots and live casino titles. Eligible new players can claim 15% cashback after seven days on net losses.
9. Fetch (FET) – Network Using AI and Automation to Back P2P Applications
The blockchain initiative powered by AI (artificial intelligence) is called Fetch.ai. This platform offers a totally decentralized and permissionless environment. FET sets itself apart from competing platforms for a variety of reasons.
This is because the Fetch network has use cases in a broad range of applications and sectors. This covers decentralized banking, supply chains, commodities exchanges, autonomous AI-based travel agencies, smart homes and cities, traffic and railway systems, and more.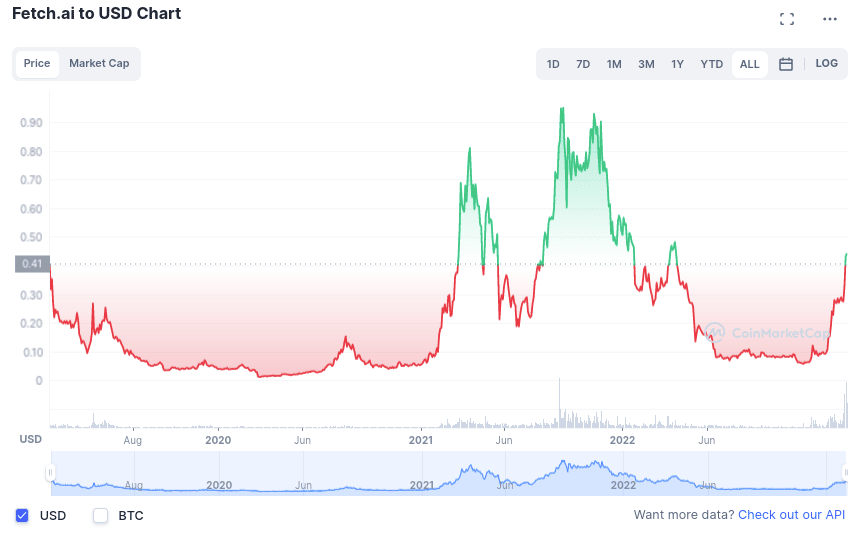 The FET protocol has also benefited from real-world case studies. For example, Bosch Research and Fetch collaborated in 2019. In 2021, a node was put on the FET test network by the company. Bosch aimed to further its investigation into machine learning techniques with the goal of better detecting equipment faults.
The market capitalization of Fetch at the time of writing is over $373 million.
10. Ankr (ANKR) – Network of Blockchain Nodes For Web3 Building
Ankr is a cross-chain infrastructure built on blockchain technology. It supports dApp development and staking. With regards to the DeFi space and the creation of dApps, the project hosts several protocols.
This might not be the most trending cryptocurrency, however, it is perhaps one of the most well-known DLT (distributed ledger technology) projects in the DeFi industry. Its goal is to advance the mass adoption of web3. ANKR is a utility token, and it has several uses throughout the ecosystem.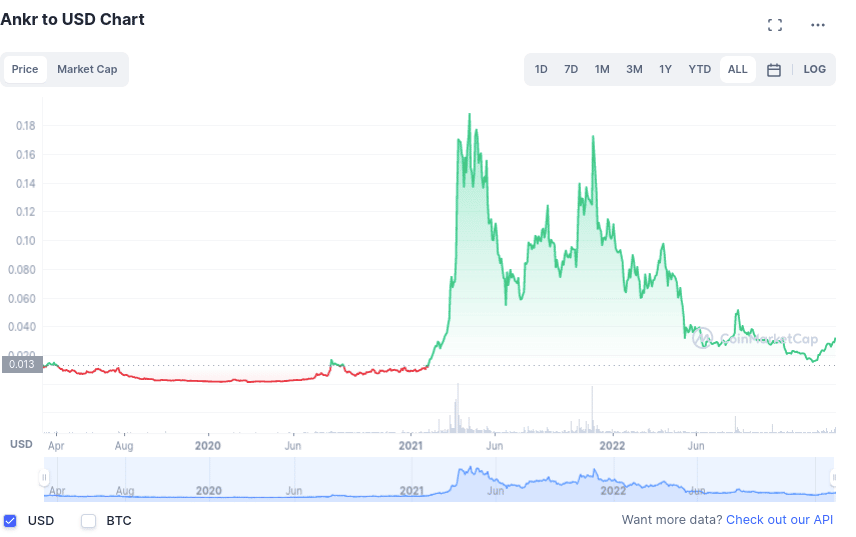 This token is a means of payment for gaining access to ANKR network services such as protocol and dApp deployment. Along with voting on recommendations for governance, ANKR can be staked. ANKR is limited to a total of 10 billion tokens. As of writing, ANKR has a market cap of over $310 million.
11. SushiSwap (SUSHI) – Popular Decentralized Exchange and Automated Market Maker
In late 2020, SushiSwap, a decentralized marketplace, was launched. The platform is backed by SUSHI, which has been one of the top trending cryptos on social media platforms many times. Being one of the few DEXs that adopt the AMM (automated market maker) liquidity methodology, the SushiSwap platform is well-known.
The DeFi market, which includes platforms like SushiSwap, is projected to be worth USD 398.77 billion by 2031, growing at a compound annual growth rate (CAGR) of nearly 46%.
SushiSwap is a piece of software built on the Ethereum framework. It attempts to inspire a network of users to run a marketplace where investors may purchase and exchange digital assets with ease. SushiSwap employs a network of liquidity pools to do this. This is similar to methods employed by the likes of Uniswap.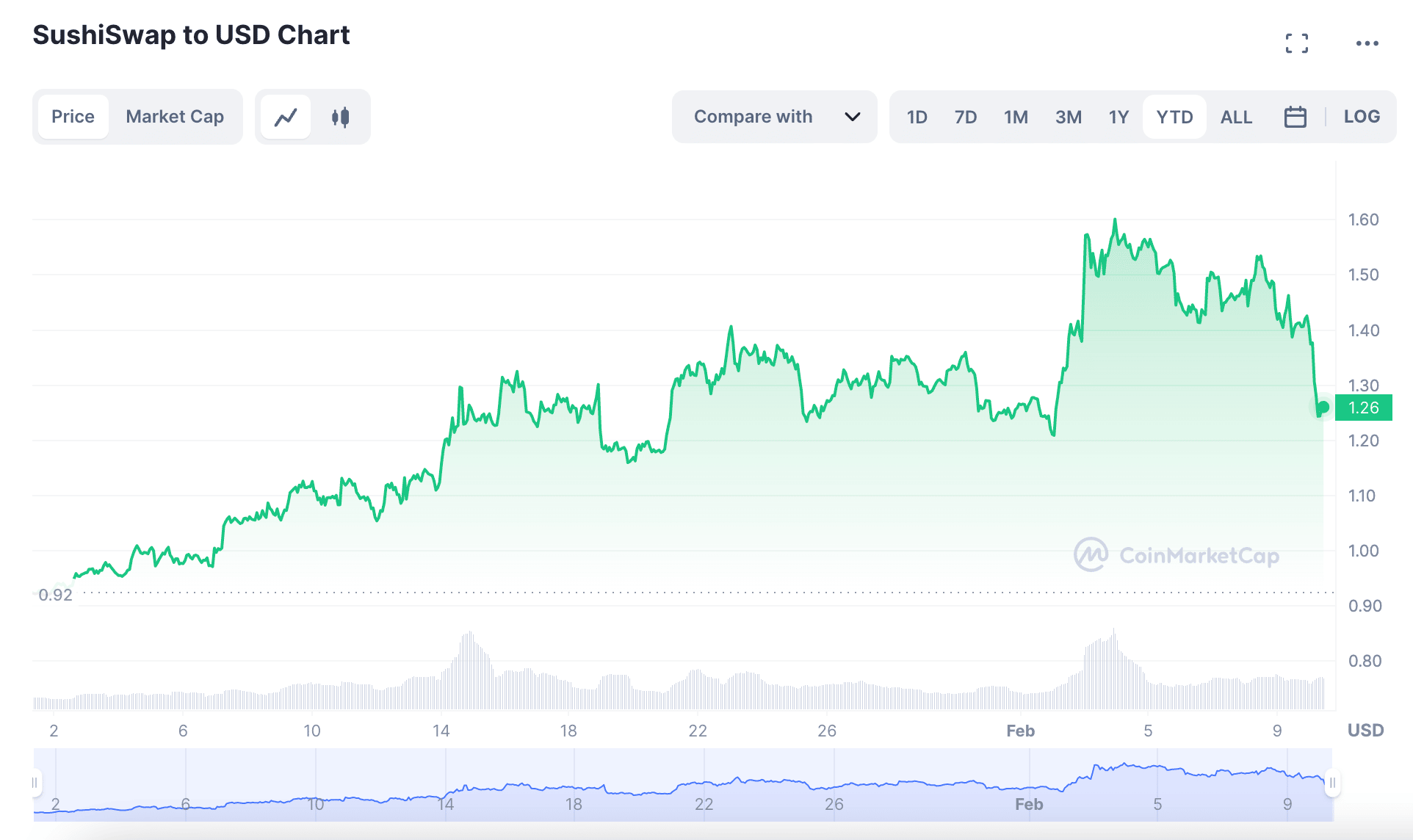 Investors first encrypt their assets using smart contracts. Following this step, dealers buy and sell cryptocurrencies from the pools, exchanging one token for another. They provide liquidity by linking their crypto wallet to the platform's farming software, in addition to securing two assets in a smart contract.
Tips to Consider When Searching for the Most Trending Cryptocurrencies in 2023
There are many ways to pin down the top trending cryptocurrency now. However, in the interest of narrowing down the search for investors, we've listed the most common avenues below:
Reddit
Finding trending crypto on Reddit is easier than ever, as there are numerous groups on this topic with huge communities.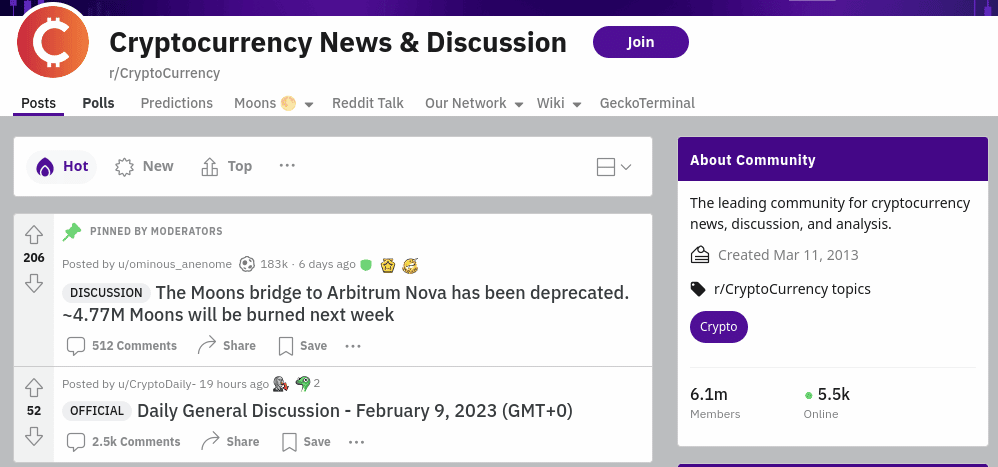 For example:
r/CryptoCurrency –

This subreddit group was formed in 2013. It is one of the most popular groups about digital assets and has 6.1 million members as of writing. This is where traders and investors gather to share and catch up on market news, new trending cryptos, analysis, and more.

r/CryptoMoonShots – This group has 1.9 million members and was created in 2017. This subreddit mainly focuses on projects that have the potential to be the top trending cryptos of the future. That is to say, the community talks about low market cap and new crypto assets that are likely to explode.
Investors can also type things such as 'most trending crypto' into the Reddit search bar. This will bring up a range of posts that are relevant to the search phrase in question.
Join a Discord Channel
There are numerous crypto-centric channels on Discord. Top trending cryptos represent one of the most talked-about topics among users of the platform.
As such, this can be a good place to start learning about upcoming ICO announcements, NFT airdrops, the top trending cryptocurrency now, and many other specialized areas of the sector.
Some of the most popular channels for finding top trending cryptocurrencies are Jacob Crypto Bury, Axion Crypto-Community, and Cryptohub, but there are many others.
Subscribe to Crypto-Specific YouTube Channels
Another popular starting point for finding a top trending cryptocurrency to trade today is YouTube.
For instance:
YouTubers carry out thorough research on the most trending crypto or those with the potential to blow up

The YouTuber then passes their analysis on to their subscribers by creating an informative video

A great example is the aforementioned market commentator

Jacob Crypto Bury

Jacob has a highly popular channel that boasts 11 thousand subscribers as of writing

This YouTuber was among the first cryptocurrency influencers to post a video about the potential of Tamadoge

Tamadoge went on to raise over $19 million during its presale
That said, investors should exercise caution before implementing any of the material in these channels into their strategy.
This is not meant to be financial advice. Nonetheless, YouTube channels are very useful for learning about top trending cryptocurrencies for 2023. It's then up to the investor to carry out their own research.
Check Cryptos Trending on Twitter
Twitter has over 330 million active monthly users and is becoming an increasingly popular way to find new trending cryptos for 2023.
There are other advantages of finding projects to invest in this way.
See below:
Most new cryptocurrency projects, including those in the midst of a presale campaign, create a Twitter account

As such, Twitter becomes a place to spread awareness about new cryptocurrencies

This is in addition to keeping the growing community of investors informed

Many top trending cryptos also announce airdrops and competitions on Twitter

The

AiDoge Twitter account

already has more than 26,000 followers and is constantly releasing news about the project and cool new memes, making every tweet more exciting.
Another way to find cryptos trending on Twitter is to subscribe to an analytics platform. Some offer social and on-chain analysis. These can be great when looking to build the best crypto portfolio allocation.
This will invariably entail the platform using AI to scan sites like Twitter and Reddit to gauge social sentiment and look for actionable signals.
Conclusion
In summary, we've analyzed the top trending crypto coins for 2023. We looked at various options, covering gaming platforms with playable NFTs, P2E projects, an EV charging incentive with carbon credit rewards, and more.
We concluded that AiDoge is one of the top trending crypto projects to watch in 2023. The team is developing a one-of-a-kind meme crypto platform with AI-driven meme-generation capabilities.
The presale has already raised more than $1.38 million in barely a few weeks.
FAQs
Which crypto coins are trending right now?
Where can I find trending crypto coins?