Tradecurve is a hybrid all-in-one trading platform that aims to revolutionize its industry by addressing common issues faced by exchanges, such as limited accessibility, lack of transparency, and high trading costs.
The platform's native token, $TCRV, is currently on presale. This article outlines the potential price trajectory of $TCRV from 2023 to 2025 while guiding buyers on purchasing the token in a few simple steps.
Tradecurve Price Prediction: A Quick Overview
Here's a quick overview of Tradecurve's ($TCRV) price forecast:
2023: Tradecurve's roadmap for 2023, including platform enhancements and listings on Uniswap, CoinMarketCap, and CoinGecko, is expected to bolster its market presence. Increased user adoption and platform utility could push $TCRV's price to around $0.072 by year-end.
2024: The unveiling of the Tradecurve MT4 Platform and listing on a Centralized Exchange (CEX) could amplify Tradecurve's reach and utility, potentially driving up the demand and price of $TCRV. A target price of $0.15 by the close of 2024 seems plausible.
2025: With the planned launch of a Trading Academy and further CEX listings, Tradecurve aims to attract more users and increase $TCRV's accessibility. Coupled with AI and algorithmic trading integrations, these developments could lead to $TCRV reaching an impressive $0.4 level.
Tradecurve: Redefining Hybrid Trading
Tadecurve is an all-in-one trading platform engineered to transform the way we trade. Built on the blockchain, this platform offers a seamless fusion of the finest aspects of centralized and decentralized exchanges.
What sets Tradecurve apart is its trading accessibility. It targets a pain point in the current trading ecosystem – the restricted access to varied asset classes, making it difficult for traders to diversify their portfolios and seize lucrative market opportunities.
Tradecurve breaks these barriers by offering a unified platform for trading across diverse markets – cryptos, stocks, forex, commodities, indices, and more, all under one roof.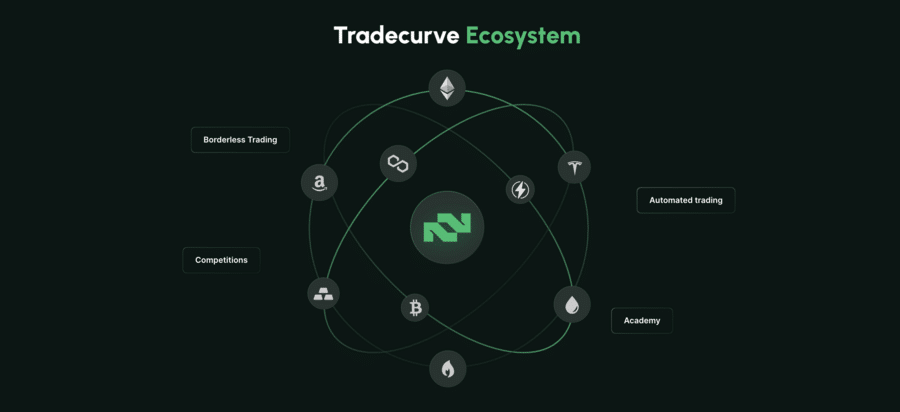 Often, potential traders are kept at bay due to high minimum deposits, rigid regulations, and strict KYC requirements. Tradecurve aims to democratize access to trading platforms, catering to a wide user base regardless of their financial backgrounds.
The provision of distributed liquidity and non-custodial storage offers an edge in security and cuts down trading costs significantly. The smart contract has also been audited, with the report accessible on the website.
Another key feature of Tradecurve is its simplicity. Users can register with just an email address, connect their crypto wallets, and they're ready to navigate through thousands of different markets.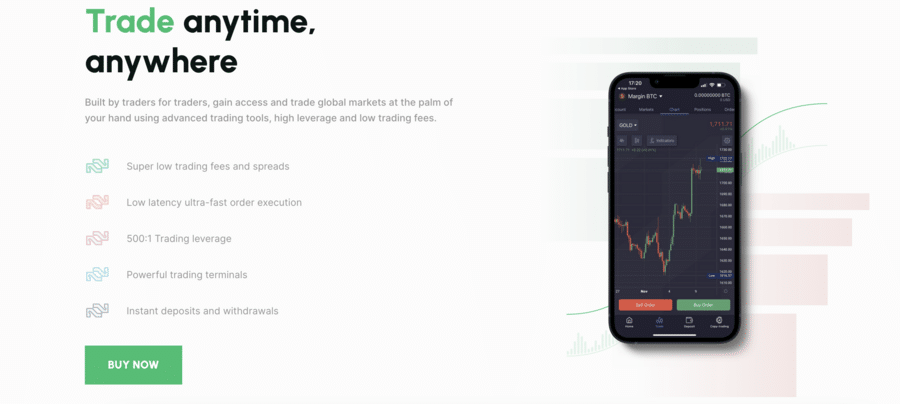 Furthermore, Tradecurve places a strong emphasis on transparency. This ensures fair pricing and eliminates doubts regarding market fairness, asset security, and trade execution accuracy.
The platform is poised to enrich the trader's journey with advanced trading tools and educational resources, including algorithmic trading systems integrated with AI and social trading.
Tradecurve Price Forecast
Tradecurve's native token, $TCRV, currently sells at a presale price of $0.015. 
Moreover, with the subsequent stage price set at $0.018, early buyers can take advantage of the progressive price increases across the presale stages.
TCRV Price Prediction: 2023
Tradecurve's plan for 2023 is filled with promising developments that could boost its market presence and, consequently, the price of its token.
In particular, stages 1 and 2 of the roadmap are dedicated to expanding the platform's reach and improving its functionality. This includes listing on Uniswap, CoinMarketCap, and CoinGecko, launching the Tradecurve platform, and kick-starting the development of the Trading App for IOS & Android.
As more users become aware of and join Tradecurve, the demand for $TCRV could increase, positively affecting its price.
Furthermore, the launch of the platform and the trading app could enhance the user experience, enticing more people to use the service and pushing the token's price higher. Given these factors, the price of $TCRV could reach $0.072 by the close of 2023.
TCRV Price Prediction: 2024
The year 2024 presents more opportunities for growth for Tradecurve. Stage 3 of the roadmap highlights the launch of the Tradecurve MT4 Platform and a listing on a Centralized Exchange (CEX). Both events could significantly improve Tradecurve's reach and utility.
The MT4 Platform would offer more advanced trading capabilities, drawing experienced traders to the platform and potentially causing an increase in the demand and price of $TCRV.
A listing on a CEX would make $TCRV more accessible to a wider audience, further driving up its price. As a result, a range of $0.15 seems plausible for $TCRV by 2024's close.
TCRV Price Prediction: 2025
Tradecurve's plans include launching a Trading Academy and listing more listings on Tier-1 exchanges.
The Trading Academy could attract more users to the platform, particularly those interested in improving their trading skills, thereby boosting the demand for $TCRV. More CEX listings could substantially increase $TCRV's exposure and accessibility, fueling its price increase.
Moreover, Tradecurve's integration of AI and algorithmic trading systems is a feature that would undoubtedly attract both novice and seasoned traders.
From a relatively long-term perspective, if the platform successfully achieves its roadmap objectives, $TCRV could continue to gain momentum. In this scenario, a rise to the $0.4 level is conceivable.
How to Buy Tradecurve ($TCRV) in 4/5 Simple Steps
Buying Tradecurve ($TCRV) tokens is simple if you follow these simple steps:
Register 
Head to the Tradecurve platform and click 'Buy Now.' Register your details using an email address or phone number and specify the crypto you intend to use for the purchase. The platform accepts multiple cryptos.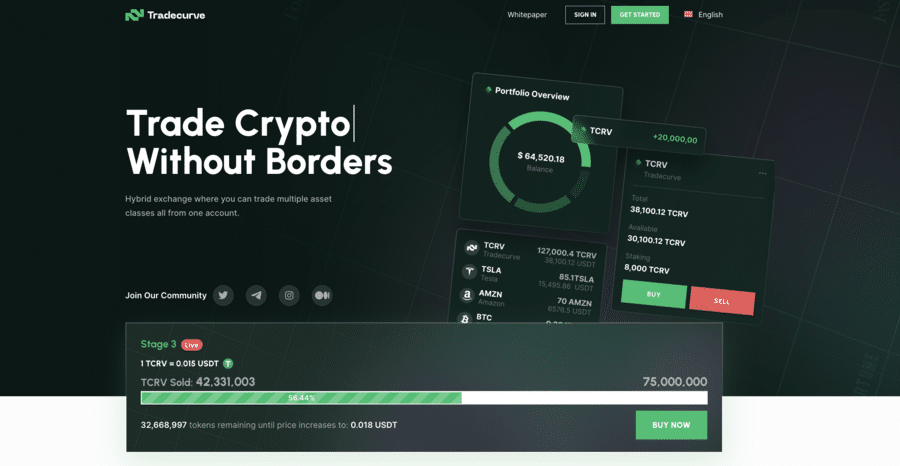 Once registered, you will access your dashboard. Search for the 'Buy TCRV token' button and click it.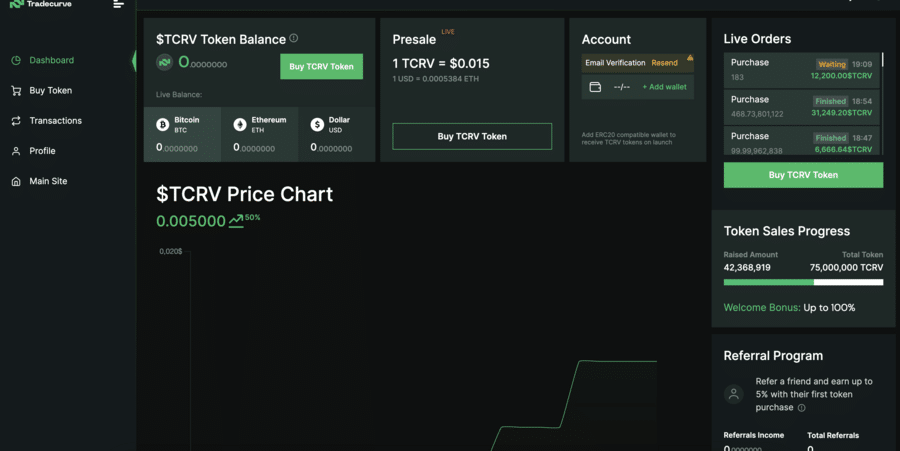 Check the Pricing & Select the Payment Currency
You will then be redirected to a screen displaying the current price of the $TCRV token. For example, at the time of writing, it's valued at $0.015. 
The first step outlined on the screen is to choose the crypto you'll be paying with. You can choose from options like ETH, BTC, DOGE, USDT, etc.
Determine the Purchase Amount 
The next step asks you to input the amount you're willing to spend. A convenient calculator assists in determining the equivalent amount of $TCRV tokens you'll receive based on your input and chosen currency.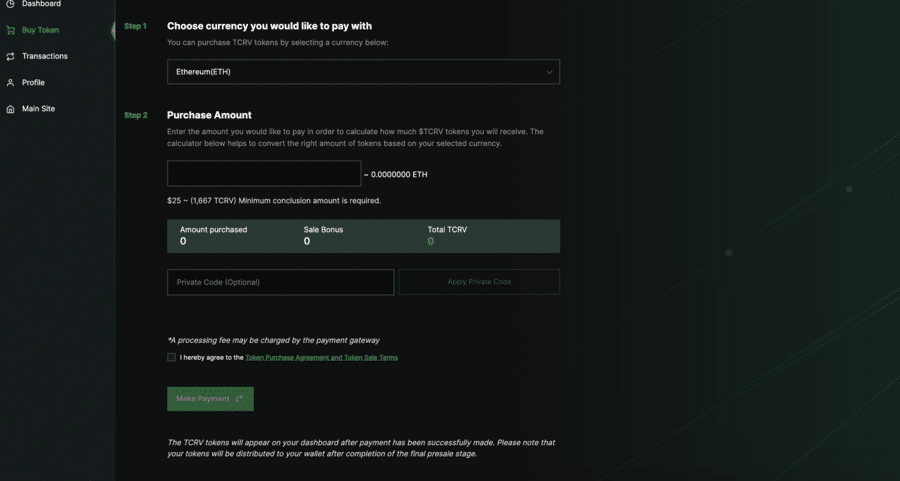 Note that the minimum transaction is $25, and the maximum per transaction is capped at $250,000.
Confirm the Purchase 
Once you agree to the terms, hit 'Make Payment' to finalize your $TCRV token purchase.
Key points to remember: 
Tokens will be automatically airdropped to your wallet at the end of the presale, following the project's vesting schedule, to maintain the floor price of $TCRV. 

Once the presale concludes, token holders can claim their $TRCV tokens from the website, which will be vested over four months, delivering 25% of monthly tokens.
Conclusion
Tradecurve is an innovative trading platform that simplifies and makes the trading process accessible to everyone. Its unique mix of advanced trading features and a strong commitment to security and community trust helps the platform stand out.
Interested in other high-potential crypto projects? Explore our best crypto presales page for various promising platforms in the crypto landscape.
FAQs
Should I buy the $TCRV token?