With meme coins once again exploding in popularity, investors are seeking the next big meme coin to cash in on.
One of the most popular new coins is Turbo. In this Turbo price prediction, we break everything down so you can decide whether it is worth buying.

Turbo Coin Price Prediction 2023-2030
End of 2023: Based on the historical price action of meme coins, we expect Turbo's price to consolidate at support before breaking into new all-time highs. Our Turbo price prediction estimates a price of $0.0028 by the end of 2023.
End of 2024: The combination of the Bitcoin halving and Turbo's total supply already in circulation means demand could outweigh supply; therefore, our Turbo price prediction estimates Turbo could reach $0.004 by the end of 2024.
End of 2025: Considering Turbo's early success, ability to build a community and that 2025 will be the bull market peak, our Turbo price prediction forecasts Turbo to hit $0.0052 by the end of 2025.
End of 2030: Since meme coins provide no utility, it is difficult for them to be sustainable long-term. However, if Turbo can sustain itself, we expect it to be one of the top meme coins, potentially reaching $0.0067 by the end of 2030.
Turbo Price History
Turbo launched on May 4 as a Pepe meme coin alternative. Despite a relatively flat first 24 hours, the launch came in a timely manner, as on May 5, Binance announced it would list Pepe and Floki in its "innovation zone".
The news sent meme coins into a frenzy, with Turbo climbing from its launch price of $0.00064 to $0.003049 within 48 hours of its launch. Things were looking up for Turbo, but shortly after, the meme coin market crashed, with Pepe, Floki Turbo and many more plummeting in price.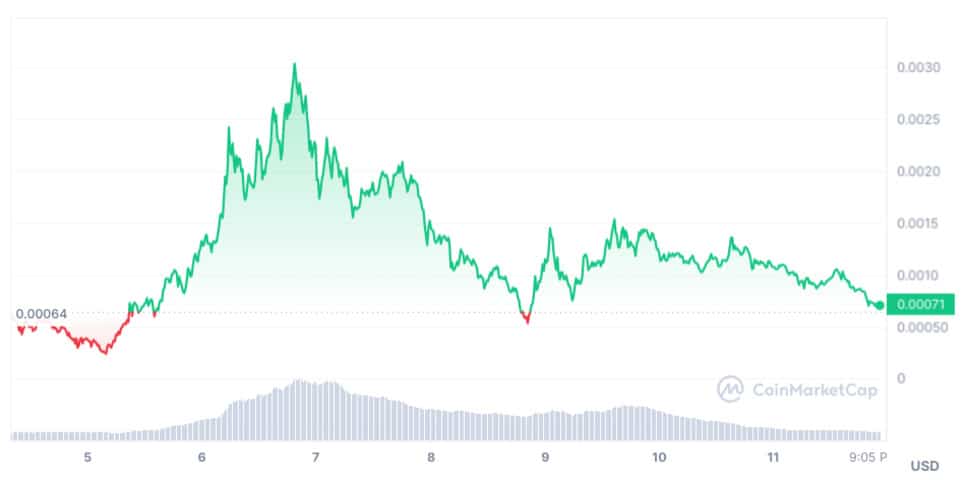 Turbo capitulated on May 9 around its May 4 support of around $0.00054, following which the price bounced. However, it remains to be seen if the bounce is a dead cat bounce or whether Turbo will retake its highs.
The coin is currently down 77% from its highs five days ago, signalling many holders had low convictions and purchased it for short-term gains.
Tokenomics
Turbo has a total supply of 69,000,000,000 which are all currently in circulation. The token's price puts Turbo's market cap at $48,239,572. When writing this, there are over 17K Turbo holders, which is a reasonably diluted token distribution, but still quite a way off Pepe with 111K.
The new generation of meme coins has done things differently than previously. Most meme coins had high token emissions that would release over several years, with Dogecoin not having a capped supply at all.
However, Turbo and other new meme coins were released via a stealth launch, with all tokens available immediately. This is an essential factor that we will come back to when considering its long-term price since there will not be any drastic future supply shocks.

What is a stealth launch?
A stealth launch is where a developer releases a coin without any prior marketing or hype. The goal is to build excitement following the launch when the coin is already on the market, hoping that investors will purchase quickly to avoid missing out on the low price.
A stealth launch works in contrast to a presale launch, where the developers aim to raise funds before launching the token to assist with project developments.
Turbo Price Prediction for 2023
With the ongoing global economic difficulties, it seems unlikely that Turbo could reach new ATHs this year. While it is not out of the question, new ATHs would mean Turbo would have to reclaim over a $200 million market cap.
Although this is not impossible, low-utility meme coins have difficulty sustaining a high price, particularly during choppy or poor market conditions. For example, we could look at the Dogelon Mars chart below.
The coin launched in the last bull market in April 2021. It was immediately touted as one of the best altcoins, taking the industry by storm and amassing a considerable price less than one month after its launch. However, similarly to recent meme coins, the price plummeted, and it has failed to reclaim its ATH since.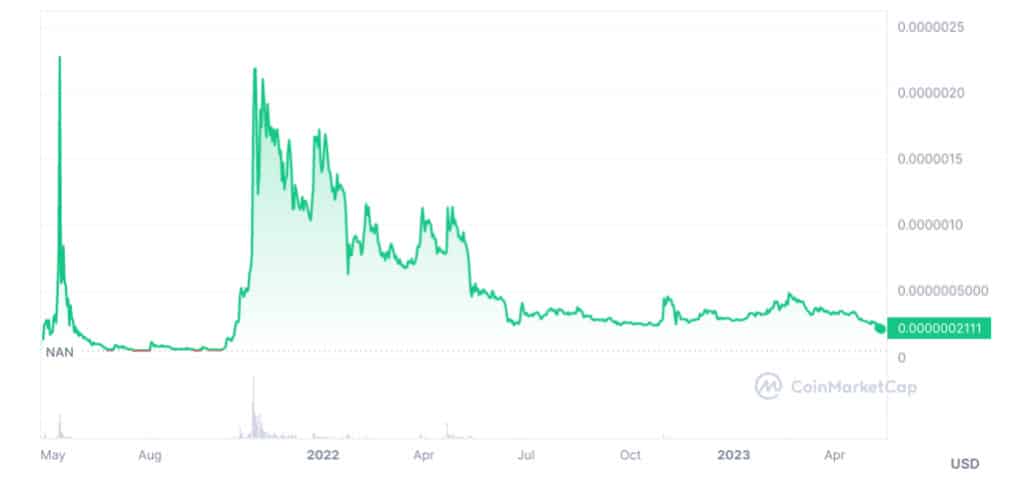 In the last 24 hours, Dogelon Mars has traded over $2.4 million in volume, showing there is still demand for the coin, and it will likely rise with the rest of the market.
Moreover, Dogelon Mars is currently at a market cap of $116 million, over double Turbo.
With this in mind, we believe Turbo will be able to sustain enough demand to carry it through 2023 without the price collapse, but the lack of utility may cause it to struggle to break its ATHs. Nonetheless, with the Bitcoin bull market around the corner, Turbo could finish the year strong. Therefore, our Turbo price prediction estimates a price of $0.0028 by the end of 2023.
Turbo Price Prediction for 2024
Looking ahead to 2024, we can expect Turbo to move in line with more established meme coins considering the strong start it has gotten off to.
Despite still being in its infancy, Turbo has fostered a Twitter following of over 36K and regularly receives over 100 likes on each tweet. The project has also gained over 9K Discord members, attesting to the ability of the Turbo founding team to grow a community.
This is an important factor in the meme coin space, as the price is driven by hype and community size rather than utility. However, meme coins are also the most high-risk for that reason, with many being rug pulls.

What is a rug pull?
A rug pull is when a project's founding team "pulls the rug" from under a crypto project- effectively dumping their coins and leaving after raising hype. There are two forms of rug pull – hard and soft rug. Hard rugs generally occur in the first days, but soft rugs can play out over months.
Expert analysts from Standard Charted found Bitcoin could hit $100,000 in 2024. This prediction aligns with the upcoming Bitcoin halving, which has historically caused a bull market.
If a bull market breaks out in 2024, we will likely see Turbo climb with the rest of the market; considering its quick rise to notoriety, our Turbo price prediction estimates Turbo could reach $0.004 by the end of 2024.
Turbo Price Forecast for 2025
Looking at the Turbo whitepaper, it states, "No set roadmap. No promises. Anything could happen." While this may lead readers to believe the project has no long-term plans, their actions beg to differ.
The Turbo Twitter account recently tweeted that the control of Turbo will be handed over to a council. However, the exciting thing about Turbo is that it uses ChatGPT for decision-making relating to the project.
The tweet described how they consulted with ChatGPT to decide on the size of the council.
Building on this collaboration, in our quest for effective governance, we consulted with Chat-gpt. It recommended a 5-9 member council – a size that balances diverse perspectives with swift decision-making. This strikes the sweet spot between representation and efficiency. pic.twitter.com/NcDayloE9p

— Turbo 🐸 (@TurboToadToken) May 11, 2023
Creating a council is seemingly the first step in Turbo joining the list of coins with long-term potential.
If Turbo's council is successful, we could see the coin move towards adding value for holders. They could go in the direction of Dogecoin by encouraging it to be used for payments, in the direction of Shiba Inu, by developing a blockchain ecosystem with Turbo as the main utility token, or in a totally new direction.
Providing Turbo's elected council has the project's best interests at heart, our Turbo price prediction forecasts that Turbo could reach $0.0052 by the end of 2025.
Turbo Price Prediction for 2030
It is worth mentioning one of the statements on the Turbo roadmap once again: "Anything could happen."
This could prove positive or negative, but despite the efforts to decentralise and future-proof the project, the fact of the matter is there are over 8000 cryptocurrencies on the market. Many take problem-solving approaches and provide value from the get-go, whereas Turbo offers little value or use cases.
Therefore, Turbo's current $43 million market cap could be an overvaluation. While utility is not the only metric to determine a coin's value, it is worth considering as the coin could easily plummet in price since it holds no intrinsic value.
However, we have seen countless meme coins reach multi-hundred million or even billion-dollar market caps, so it would certainly be possible for Turbo to do the same.
The steps towards a sustainable governance model and the project's ties with AI lead us to believe there is potential for Turbo to improve, making it stand out as one of the best cryptos to watch.
With that in mind, our Turbo price prediction estimates Turbo could reach $0.0067 by the end of 2030.
Potential Highs & Lows of Turbo Crypto Price
Meme coins are one of the most unpredictable asset classes on the market. Moreover, we often see meme coins evolve into utility tokens over time. On the other hand, many meme coins cannot bounce back after their first dump. With this in mind, we have given our estimated potential highs and lows for the Turbo token price below.

| | | |
| --- | --- | --- |
| Year | Potential High | Potential Low |
| 2023 | $0.0028 | $0.0002 |
| 2024 | $0.004 | $0.001 |
| 2025 | $0.0052 | $0.0025 |
| 2030 | $0.0067 | $0.0001 |
What is Turbo Coin Used For?
We have listed some of the primary uses for the Turbo coin below.
Speculation
With a market cap of over $40m million, Turbo presents an opportunity for investors to speculate on a small-cap meme coin with a solid community. Many investors will diversify between multiple small-cap meme coins, taking a "spray and pray" approach.
On the other hand, the Turbo coin can also be used for short-term trading. Traders can use tools like Dex Screener to get an overview of the coin's price action and trading volume and use this info to speculate on its future price.
Since meme coins are the most volatile cryptos, traders can enter and exit multiple trades daily, even without using leverage.
Governance
With Turbo currently moving the project from a centralised team to council-led, holding Turbo tokens will likely give holders a say on the project's direction. However, the project is Chat GPT powered, receiving instruction from the chatbot on the next steps for the project.
Therefore, it is yet to be seen how much control Turbo holders will have or how much of the project's direction is dictated by Chat GPT.
Join a Community
The reason meme coins are so explosive in price is that they have such large and engaged communities behind them. Once the price begins to move, it is easy for the community to rally behind the coin.
Therefore, holding the Turbo crypto will make holders a part of the community, where they will likely join the Discord and Telegram as well as keep up to date with the project's news and community events. It also means they can form connections with other holders and participate in social media "raids", which could help them grow an online presence.
What Factors Influence the Turbo Coin Price?
With meme coins being so volatile, many factors can affect their prices. However, we have listed some of the most impactful ones below.
Sentiment
Generally, if one of the top meme coins pumps or dumps, other meme coins follow. In other words, sentiment around meme coins can significantly affect their prices.
For example, if they are unhappy with a change to the project, the lack of conviction can cause many holders to "paper hand", quickly dumping their tokens. However, if a positive change is coming up, such as the transition of Turbo to council-led, this could cause bullish sentiment and investors to rally behind the coin.
Simply put, meme coins are highly sensitive to sentiment since most investors seek short-term gains.
Developments
Some top cryptos that started as zero-utility meme coins, like Shiba Inu and Dogecoin, eventually evolved into legitimate protocols with real use cases.
This is because, in order to establish themselves as long-term cryptos, meme coins must separate themselves from the competition.
Therefore, Turbo's ability to develop beyond a zero-utility meme coin could significantly impact whether or not it sees long-term success or eventually collapses to $0.
Fear of Missing Out (FOMO)
Since the price on meme coins is hype-driven, the key influencer to price is FOMO. Investors often flock to the new meme coins following so they do not miss explosive gains. Media and community coverage are also among the primary factors leading to FOMO.
Things like features in online news sites, social media influencer mentions and social media raids by the community are all drivers of FOMO.
This can be seen following Binance announcing they would list Pepe; following this, the Pepe price rallied, with investors aiming to be the coin before the Binance listing so they wouldn't miss out on gains following its listing.
Broader Market Conditions
Although meme coins can pump while the rest of the market performs poorly, these pumps are usually swiftly corrected. However, sustained pumps generally come when the rest of the crypto markets perform well. On the other hand, we have seen that meme coins perform poorly in a bear market, evident in Dogecoin, currently down from 90% its bull market highs, and Shiba Inu, also down 90% from its.
Other Analysts Turbo Price Forecasts
We have gathered Turbo price forecasts from the web and compared them below.

According to cryptobullsclub.com, Turbo will have a minimum price of 0.00956022354 and a maximum price of 0.00796685295 by the end of 2023.
Cryptobullsclub

Based on the BTCC Turbo token price forecast, Turbo could reach a maximum price of $0.0062 and a minimum price of $0.0036 by the end of 20233.
BTCC

Telagon predict a possible low of $0.00068 and a possible high of $0.0022 by the end of 2023.
Telagon

Digitalcoinprice.com forecasts that Turbo's minimum price to be $0.000690 and its maximum price to be $0.00167 by the end of 2023.
Digitalcoinprice.com

Gate.io's Turbo price prediction estimates a possible low of $0.0003702912 and a possible high of $0.0011417312 by the end of 2023.
Gate.io

Is Turbo the Best Crypto to Buy Today?
While meme coins have been performing well the past couple of weeks, they are the category of most high-risk cryptos. When looking for the best cryptos to buy, investors should look towards coins with utility and the ability to solve real-world issues. These values are often found in the most promising cryptocurrencies like Ethereum, Injective Protocol and Polkadot.
However, the cryptos we mentioned are already at multi-hundred million and billion-dollar valuations. And the chances are, if you are reading this, you are looking for cryptos with the highest upside potential.
With that in mind, there are currently two presale cryptos which have been taking the industry by storm, providing utility, and both have under $10 million valuations. However, as with any investment, they are not "sure-bets" and still carry risks.
AiDoge – New AI-Driven Meme Coin Platform That's Raised Over $7.5m
Due to its price exposure to meme coins, AiDoge has been widely covered as one of the best private sales in recent weeks. The project is a self-proclaimed meme coin, but based on our analysis, we see it more as a utility token that leverages the virality of meme coins.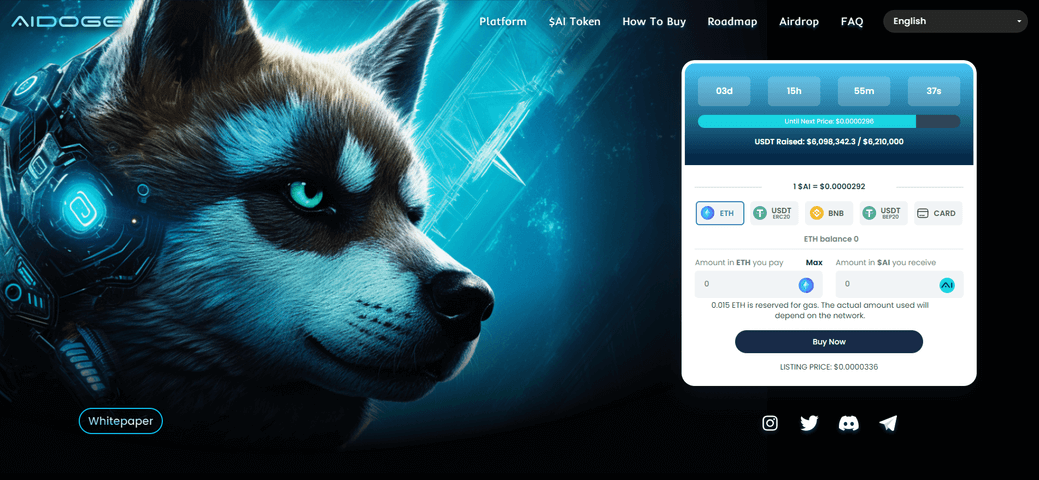 AiDoge is an AI-powered meme generation platform where users can create up-to-date and captivating memes with text-based prompts.
The project also features a staking mechanism where users can stake their tokens to receive passive rewards and gain access to the platform. Moreover, the token also has a capped supply. Considering these two factors, the token will be in short supply, mainly as demand grows for the platform.
There are several exciting developments on the AiDoge roadmap, cementing its long-term potential; some of these include minting memes as fractional NFTs, a public wall for community memes and $Ai rewards for the best-performing meme creators on the platform.
Providing the roadmap is developed, we could see users flock to the AiDoge platform, in turn boosting demand for the token.
AiDoge is currently in it round 10 of 20 in its presale. The current price is $0.0000296, but the price will incrementally increase each round until its IEO, which is priced at $0.0000336.
yPredict – New Crypto Analytics Platform Powered by AI Technology & LPX Token
yPredict is a blockchain marketplace allowing users to buy and sell predictive models that predict future crypto market prices using AI and machine learning technology. The platform will connect crypto traders with data scientists and quants to enable the trustless and borderless transacting of these AI models.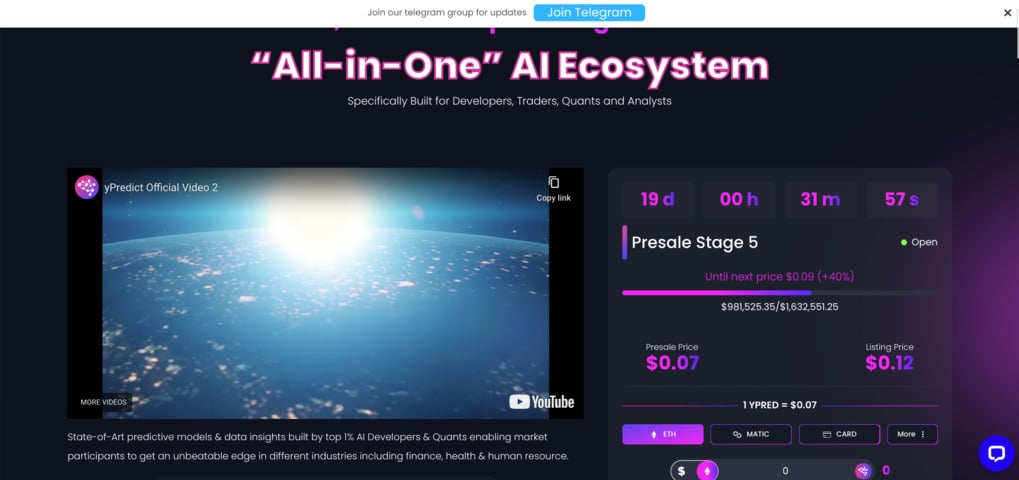 According to the yPredict whitepaper, crypto markets lose their predictability due to institutional traders' use of algorithmic trading bots, making it near impossible for retail traders to succeed in the short term.
However, through AI subscription services, traders can access high-quality, accurate signals that allow them to compete with institutional players. Moreover, the platform has a trading terminal to enable instant execution of the signals.
Overall, yPredict provides an actionable solution to the issue of algorithmic trading bots making day trading unprofitable for the average trader through the use of AI. Therefore, many investors have been flocking to the presale, with it raising $970K so far.
The yPredict presale price is currently $0.07. In 19 days, the round will end, and there will be three more rounds before the IEO, which will be priced at $0.12.
Conclusion
With Turbo moving towards becoming council-led, it certainly is one of the most promising new meme coins. However, meme coins with no utility have no intrinsic value and are purely hype-driven. This makes meme coins more riskier than other asset classes.
On the other hand, AiDoge takes the community element of meme coins and adds real utility. In this regard, AiDoge could prove better than Turbo since it will be less volatile.
FAQs
What will Turbo's price be in 2024
Is Turbo a good investment?
How much is Turbo currently worth?