Binance is one of the best-known crypto exchanges in the world, not to mention the biggest by trading volume. As such, investors are frequently looking for new coin listings on the platform.
In this guide, we rank the overall best new Binance listings for 2023.
12 Potential New Binance Listings to Invest in Now
First, investors will see an overview of the new and upcoming Binance listings. Some are among the new cryptocurrency released on Binance in 2023.
We've also included crypto projects that have the potential to be featured on Binance after their respective presale campaign has concluded.
Bitcoin ETF Token (BTCETF)

– A new presale cryptocurrency, Bitcoin ETF Token offers staking rewards based on events around the Bitcoin Spot ETF approval. Currently, $BTCETF is being offered through ten presale rounds – after which it will be listed on cryptocurrency exchanges. Over $2 million has already been raised.

Bitcoin Minetrix (BTCMTX) – Potential Binance listing offers utility value by targeting the BTC cloud mining market using Ethereum, in a new stake-to-mine ecosystem. Offers PoS APY of 130% at the present time, and presale sold around $4.5 million in just six weeks.
Meme Kombat (MK) – A new idea to bring all memes together for blockchain-assisted combat with multiple betting options and 400% APY. More than $2.25m raised so far, with Season One featuring 11 of the world's most popular memes, and the founder has been doxxed, which Binance might look upon favorably.
Wall Street Memes (WSM) – Exciting meme token with a large online presence of more than a million social media followers. Tweeted at by Elon Musk and also offering staking rewards, it has just launched the WSM Casino offering a 200% welcome bonus and 200 free spins.
eTukTuk (TUK) – This upcoming presale token offers several earning opportunities to token holders, and helps TukTuk drivers from developing economies keep 400% additional income. More than $275k raised in the presale and 750% staking APY.
Green Bitcoin (GBTC) – Offers a less energy-intensive crypto alternative. Its unique 'Gamified Green Staking' system incentivizes community engagement and offers high APRs.
Scorp Token (SCORP) – The $SCORP token is used to function this crypto-based casino and sports betting platform. Earn staking rewards by joining this token presale, which has raised $2m.
Launchpad XYZ (LPX) – Web3-focused platform with NFT DEX, presale marketplace, trading terminal and alpha signals Telegram group. Investors can buy LPX tokens through an ongoing presale, which has raised around $2 million.
yPredict (YPRED) – Pioneering trading analytics platform using Artificial Intelligence. Includes AI-driven analysis, price prediction models, a trading terminal, pattern recognition tools & more. Over $5 million raised in its presale.
Magic (MAGIC) – Utility Token of a Gaming and NFT Ecosystem
Rocket Pool (RPL) – Decentralized Protocol Based on Ethereum for Liquid Staking
Aptos (APT) – Proof of Stake Blockchain For Decentralized Software and Smart Contracts
Analyzing the Most Likely Upcoming Binance Listings This Year
All of the projects we talk about in detail below have huge upside potential.
As we touched on, our analysis includes new cryptocurrency released on Binance in 2022, those listed in 2023, and projects we think could be added to the platform in the coming months.
1. Bitcoin ETF Token (BTCETF) – Overall Best Cryptocurrency Candidate for a Potential Binance Listing
Bitcoin ETF Token (BTCETF) is a new ERC-20 token that has recently started its presale campaign. While $BTCETF is still on round one of a ten-stage presale, the cryptocurrency has the potential to be listed on the Binance exchange.
Not only has Bitcoin ETF Token gotten off to a strong start through the presale – but investors can also earn huge staking yields. Furthermore, Bitcoin ETF Token will burn 25% of its token supply in the long term, which will lead to more scarcity and potentially increase the token's value.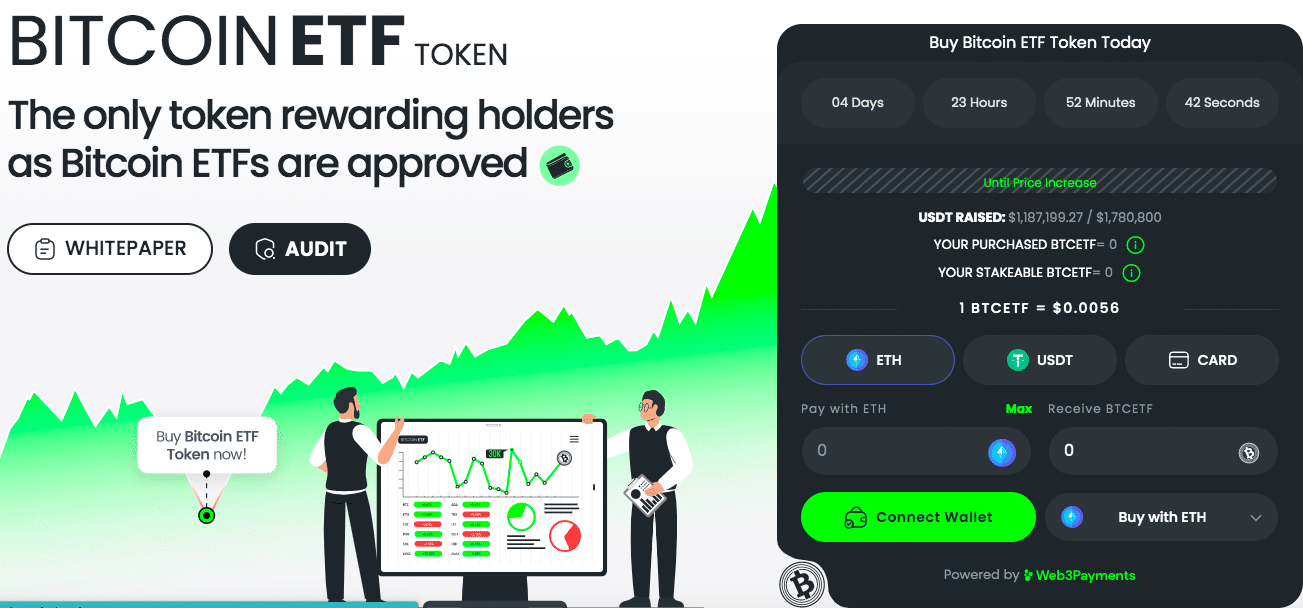 Bitcoin ETF Token speculates on the potential arrival of a Bitcoin ETF – and will reward investors depending on the ETF's progress. Upon reaching 5 of its predetermined milestones, Bitcoin ETF Token will burn 5% of its token supply. These include:
SEC approving the first Bitcoin ETF

The release of the first Bitcoin ETF

Bitcoin ETF Token crossing $1 billion in assets under management

$BTC reaching a price of $100K

$BTCETF reaching $100 million in trading volume
In the long term, Bitcoin ETF Token will burn a quarter of its token supply. Bitcoin ETF Token will also charge a 5% trading tax – which will reduce by 1% after the completion of each milestone. As the milestones are achieved, Bitcoin ETF Token will also distribute staking rewards to investors.
25% of the 2.1 billion token supply will be distributed through staking rewards. Another 40% are being allocated through the ongoing presale. In total, 840 million tokens will be allocated across ten rounds. The price will surge from $0.0056 to $0.0068 by the end of the presale.


In only over a week since the presale launched, Bitcoin ETF Token has already raised over $2 million. A successful conclusion to the presale will make $BTCETF a contender for being listed on Binance. Thus, interested investors can buy the tokens now, before the price potentially explodes.
For more information on this new cryptocurrency, go through the Bitcoin ETF Token whitepaper and join the Telegram channel.
| | |
| --- | --- |
| Hard Cap | $4.956 Million |
| Total Tokens | 2.1 Billion |
| Tokens available in presale | 840 Million |
| Blockchain | Ethereum Network |
| Token type | ERC-20 |
| Minimum Purchase | N/A |
| Purchase with | USDT, ETH, BNB, MATIC and Card |
2. Bitcoin Minetrix – Potential Binance Token Offers BTC Cloud Mining
Bitcoin Minetrix ($BTCMTX) is offering a new solution to BTC cloud mining, with an Ethereum framework that combines staking with mining. This is the world's first stake-to-mine ecosystem, and this is an idea that could be very well received.
The presale has now raised over $4.5 million in just eight weeks with the current staking APY at 130%. It has also undertaken a third-party smart contract audit from Coinsult, with stellar results – this could well be looked upon favorably by the Binance review panel.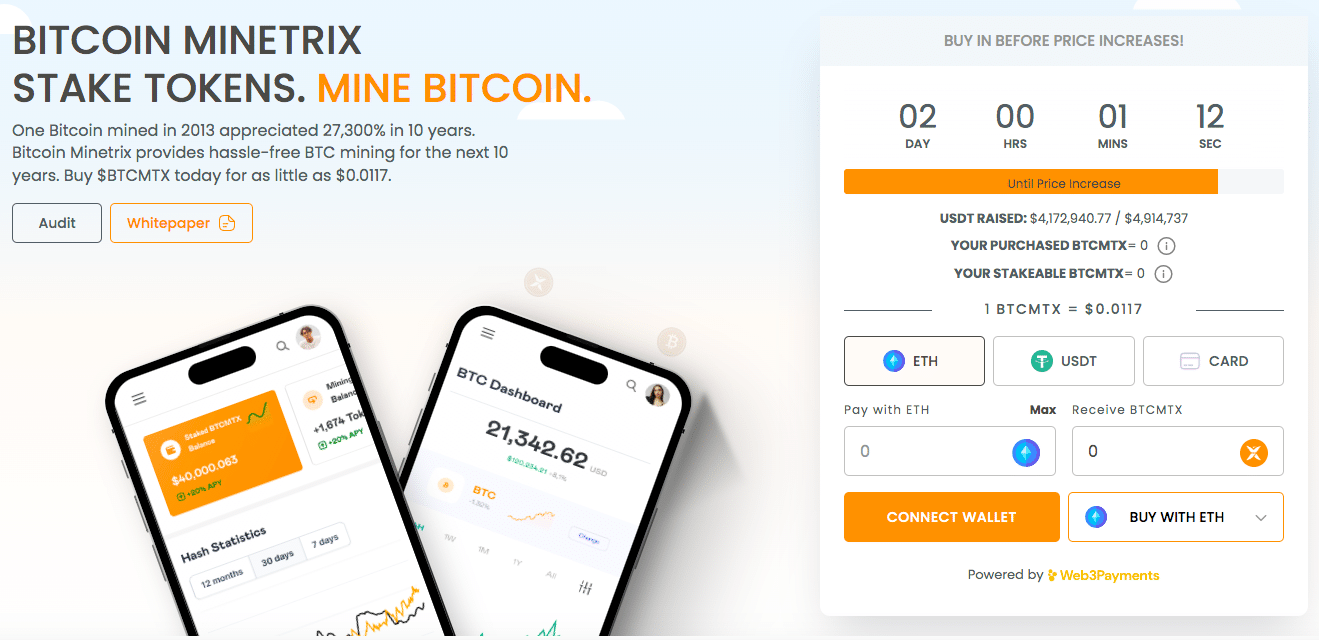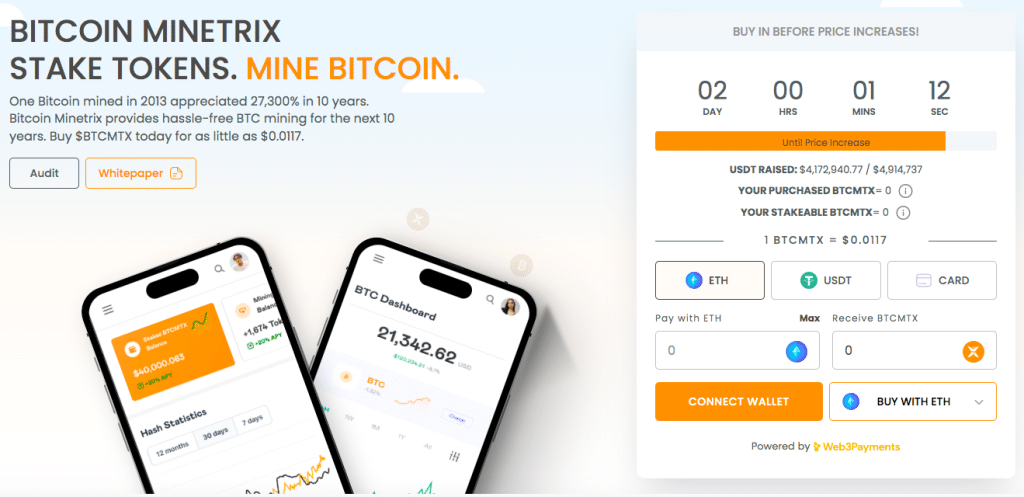 Through Bitcoin Minetrix, users stake their $BTCMTX tokens for cloud mining credits, which are then burned in return for BTC. This is achieved through a unified interface where users can manage their entire mining operation.
This includes daily, weekly, and monthly BTC rewards, as well as essential metrics like 'Mining Credits Earned' and 'Mining Power Bought'. This helps them to manage their finances. A mobile application will add to this convenience, though it will be released at a later date.
While there are alternative BTC cloud mining platforms, the industry is rife with scams and users do not retain full control. Even legitimate companies have high upfront costs and do not provide a comparable level of control and convenience as compared to Bitcoin Minetrix. The ecosystem is also powered by Ethereum, which is far more eco-friendly than Bitcoin's proof-of-work architecture.
Bitcoin mining is not really viable to the public at the present time. It is too expensive and requires too much labor and expertise to get right. It's also damaging to the environment. Bitcoin Minetrix has solved this with a new solution in an eco-friendly manner. It puts the control and power back in the hands of the users.
Bitcoin Minetrix ticks many boxes and might just see a Binance listing upon presale completion. It's a transparent project with a demonstrable use case and real utility value. And it could open up the Bitcoin mining market, once again, to the public at large.
For further details, consult the official Whitepaper. The Twitter and Telegram socials are useful as additional sources of information.
| | |
| --- | --- |
| Presale Started | September 2023 |
| Purchase Methods | USDT, ETH, BNB |
| Chain | Ethereum |
| Hard Cap | $32 Million |
| Min Investment | $10 |
| Max Investment | None |
3. Meme Kombat (MK) – Exciting Meme Project with Staking and Wagering
Meme Kombat ($MK) is a brand new presale with a different take on the meme coin industry. Instead of being based around a single icon, Meme Kombat has made the decision to bring them all together and let them battle it out.
Spectators have a variety of betting options to wager on the outcomes, as well as side betting opportunities and earn 400% APY by staking the native $MK token – more than $2.25 million has now been raised in the presale.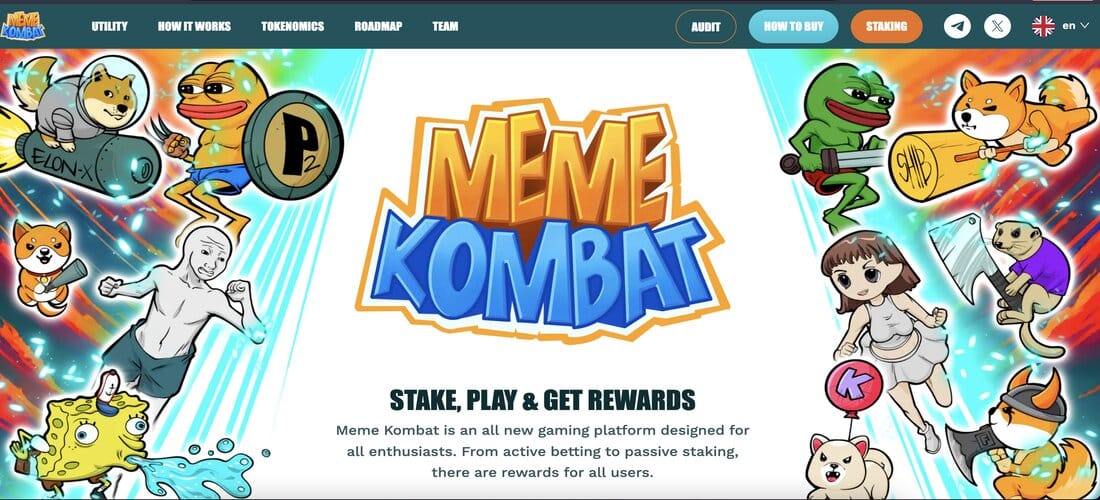 The first season of the Meme Kombat Battle Arena features eleven of the world's most notorious meme tokens – Pepe, Pepe 2, Milady, Kishu, Mong, Shiba, Sponge, Wojack, Doge, Floki, and Baby Doge.
The campaign has created visually appealing replicas using cutting-edge AI-rendering, sticking close to the original traits and attributes while enhancing them considerably. Season two will likely feature the addition of more memes and combat styles.
Spectators have a variety of ways to bet on outcomes, the major ways being P v P, P v Game, and direct betting. Just like in traditional betting, events will have different odds depending on who is fighting who, and users can research the individual attributes of each meme.
It is also possible to engage in side bets for a more nuanced and dynamic experience. Fight outcomes are processed on-chain for transparency and automatic rewards distribution, with results and outcomes immutable, fair and secure.
The idea to bring all memes together is a novel one, and sets it apart from the majority of other presales. The fact that the founder has been publicly doxxed is another, as it is quite rare for a project founder to disclose his/her identity.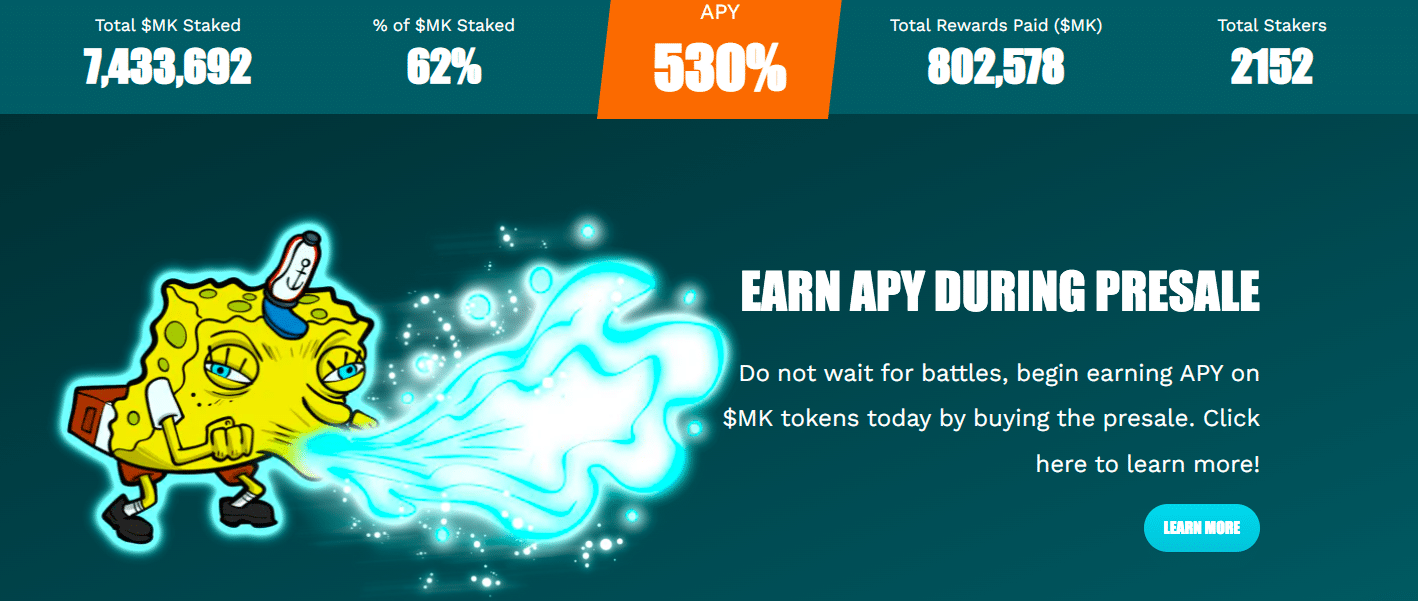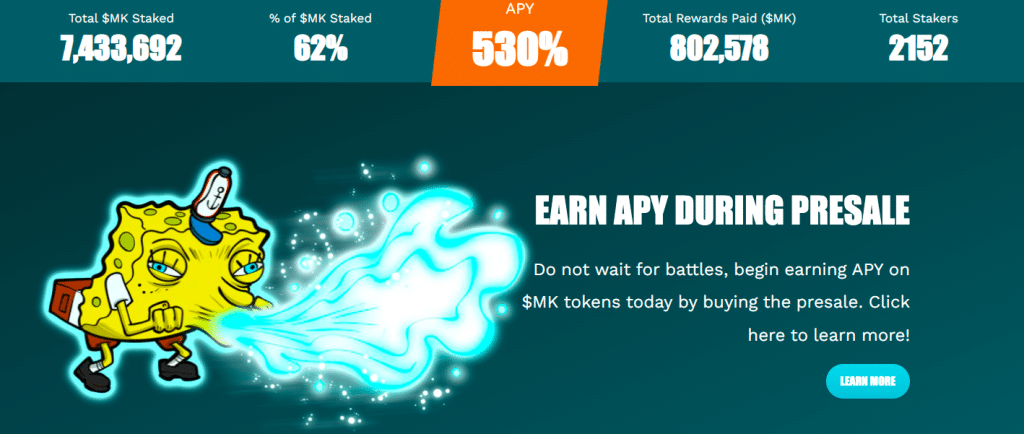 This is testimony to the integrity of the project, along with the fact that it has undergone a smart contract audit on its code.
Binance might look more favorably on this project due to the fact that the founder is known, and many other meme-based presales have successfully listed on the exchange.
We could definitely see a listing after the hard cap finishes. The total hard cap for this project is $10 million, with 60 million $MK tokens available at $0.214.
Stay tuned to Telegram and Twitter for further alerts and updates, and remember to read the Whitepaper, for a full understanding of the risks and rewards of this ERC20 project.
| | |
| --- | --- |
| Hard Cap | $10,000,000 |
| Total Tokens | 120,000,000 |
| Tokens available in presale | 60,000,000 |
| Blockchain | Ethereum Network |
| Token type | ERC-20 |
| Minimum Purchase | $5 |
| Purchase with | USDT, ETH, BNB |
4. Wall Street Memes (WSM) – High-Potential Meme Coin and Crypto Casino
Navigating the world of cryptos can be challenging, especially when identifying promising tokens that could soon land on major platforms such as Binance. However, the Wall Street Memes ($WSM) token is one potential contender that's been turning heads.
The project enjoyed one of the best crypto presales of 2023 – raising $25 million – before launching on multiple exchanges. It is already one of the largest meme coins around, trailing only Dogecoin, Shiba Inu, and Pepe in 24hr trading volume, and has now added utility by launching the Wall Street Memes Casino.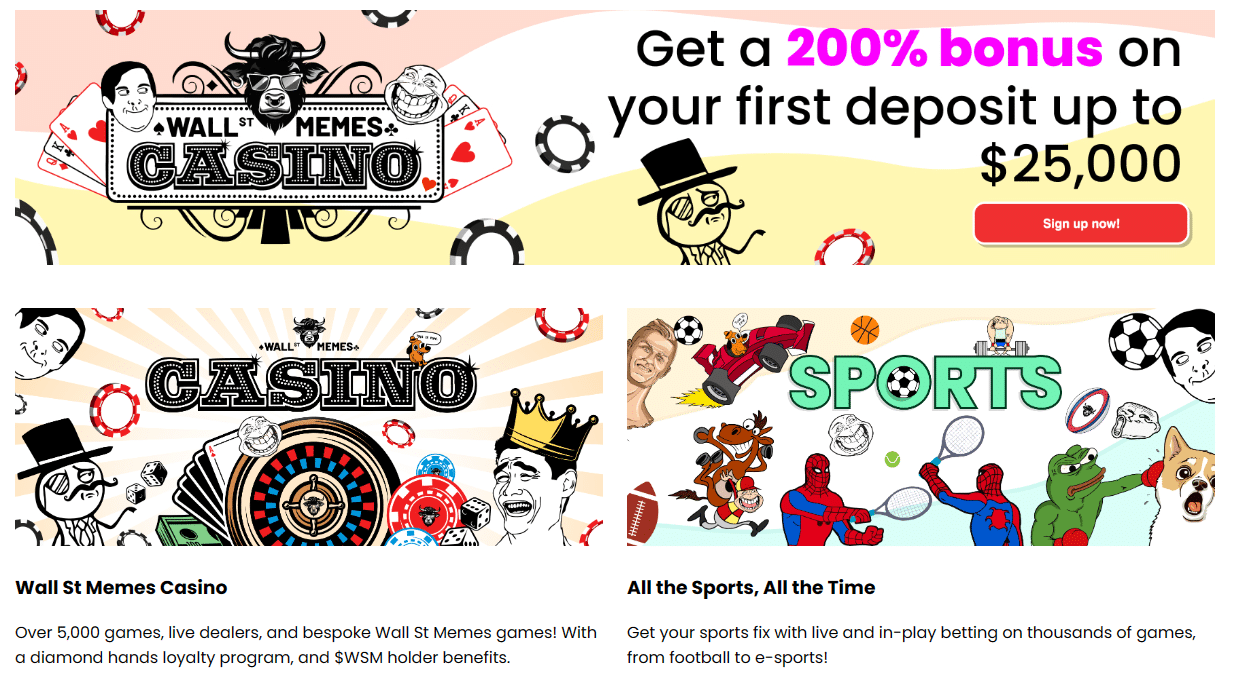 Powered by Telegram, players can join the casino anonymously and securely through the messaging app and earn a 200% matched first deposit bonus. Thousands of slots, live dealer tables and sports betting is available, while those who deposit $WSM to play earn an extra 200 free spins.
Wall Street Memes could be one of the biggest tokens in the next crypto bull run as it is backed by a strong community across multiple social media channels boasting over a million people. While a Binance listing has not yet been confirmed, the world's largest crypto exchange will certainly have been monitoring its performance given the huge trading volume.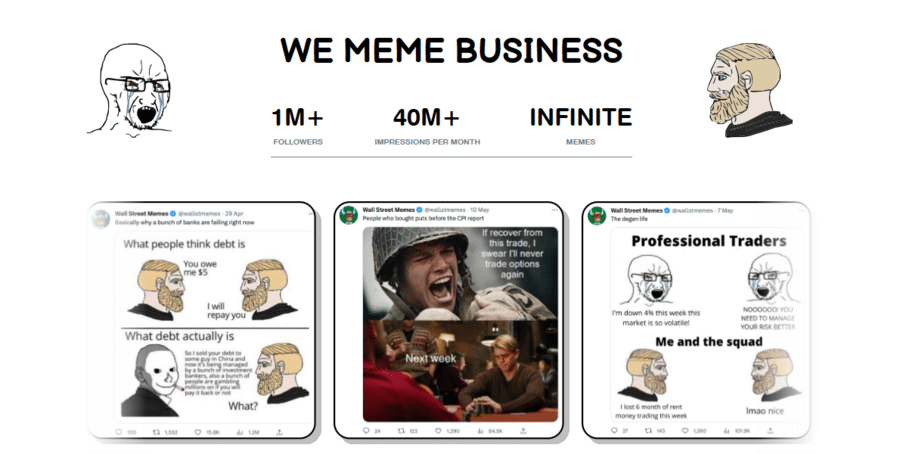 Wall Street Memes also offers huge staking rewards, with a current APY of 40%. The huge uptake in the staking pool – where almost 500 million tokens (close to 25% of the max supply) have been locked inside – also signals the huge investor trust in the potential future of the token.
For the latest news on $WSM, consider joining the Wall Street Memes Telegram community.
5. eTukTuk (TUK) – Cardano-Based Crypto to Revolutionize TukTuks
$TUK is the native cryptocurrency of eTukTuk, which is built on the Cardano blockchain. With the token, users can earn an APY (Annual Percentage Yield) via power staking, and TukTuk drivers can make payments at EV charging stations.
The project has already raised more than $275k and is offering over 750% staking APY at the time of writing.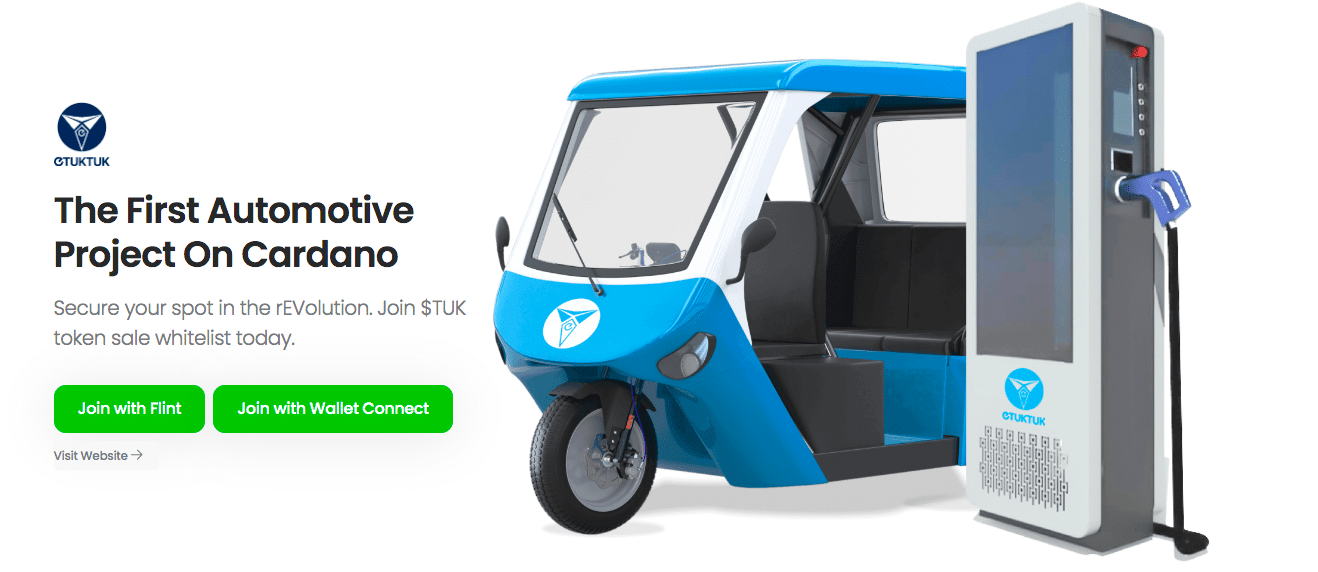 As eTukTuk helps TukTuk drivers adopt more sustainable forms of vehicles, such as zero-emission vehicles (ZEVs), other players will also be able to profit. For instance, eTukTuk will take the help of territory partners, who will play a role in operating essential equipment when developing Electric Vehicle Supply Equipment (EVSE).
Once the first few charging stations are set up, drivers will be able to make payments on the drivers app, by using $TUK. A part of the transaction revenue created will be shared with the territory partners.
Similarly, a portion of each transaction will be shared through a staking pool to staked token holders. As of now, $TUK is about to begin its token presale. Due to the use cases the token offers, it has the potential to raise millions with the initial coin offering. Afterward, the platform will hope to be listed on top crypto exchanges such as Binance.
Furthermore, the platform plays an integral role in reducing carbon emissions and air pollution since current TukTuk drivers from developing economies use on-renewable vehicles such as Internal Combustion Engines (ICEs).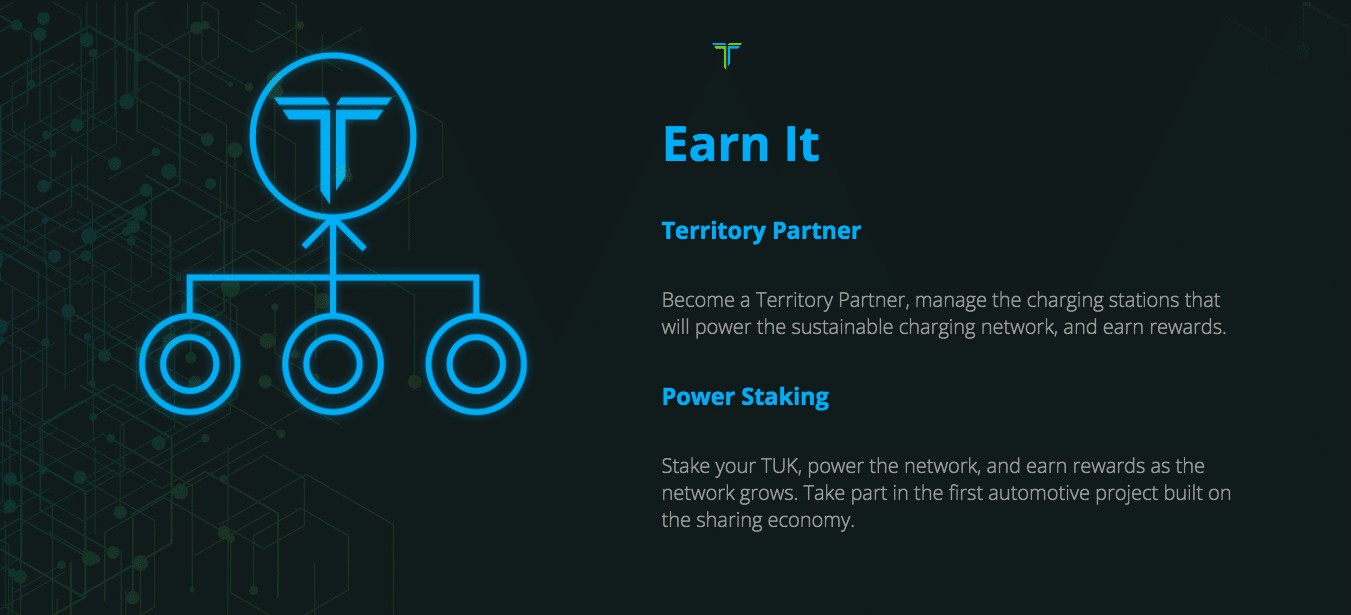 The eTukTuk whitepaper states that with their platform, TukTuk drivers will be able to save 400% income. Currently, interested readers can apply for the token whitelist and get guaranteed access to the presale. $TUK will have a total supply of 2 billion tokens.
For regular updates on this cryptocurrency project, join the eTukTuk Telegram channel.
6. Green Bitcoin (GBTC) – A Unique Eco-Friendly Crypto with Gamified Staking Mechanism
Green Bitcoin ($GBTC) is an innovative, eco-friendly ERC-20 token with a uniquely rewarding staking model.
The project leverages the Proof of Stake mechanism, offering a significantly greener alternative to Bitcoin's energy-intensive Proof of Work system.
Currently, in its public presale phase, $GBTC tokens are available at $0.33 each, with this price expected to rise to $0.6 at the time of listing on exchanges.
The presale is structured in stages, each featuring a gradual increase in token price, offering early buyers an immediate upside.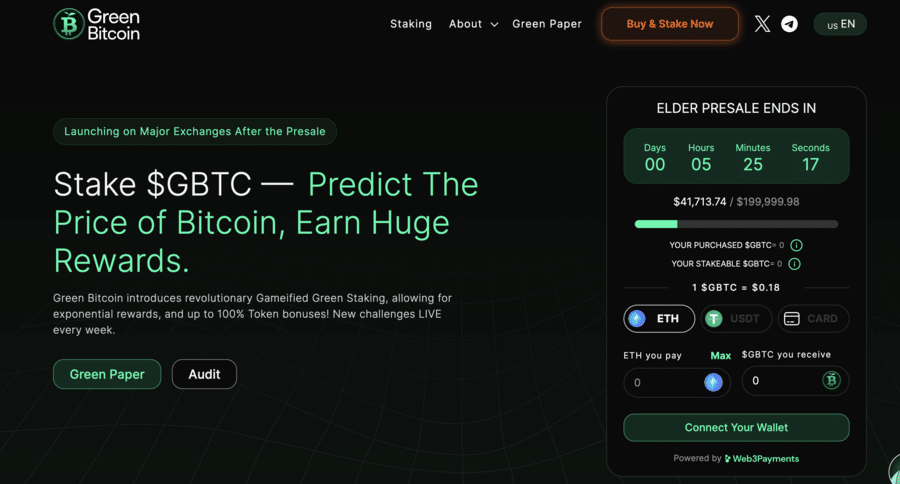 Innovative 'Gamified Green Staking' Model
Green Bitcoin introduces the 'Gamified Green Staking' system, allowing users to earn rewards by predicting BTC's price movements.
This feature enables passive income and encourages both short-term and long-term community engagement. Early stakers benefit from higher APRs, although these rates will decrease as more tokens are staked.
The allocation of $GBTC tokens is carefully planned to support different aspects of the project:
Presale: 40%

Staking Rewards: 27.50%

Marketing: 17.50%

Liquidity: 10%

Community Rewards: 5%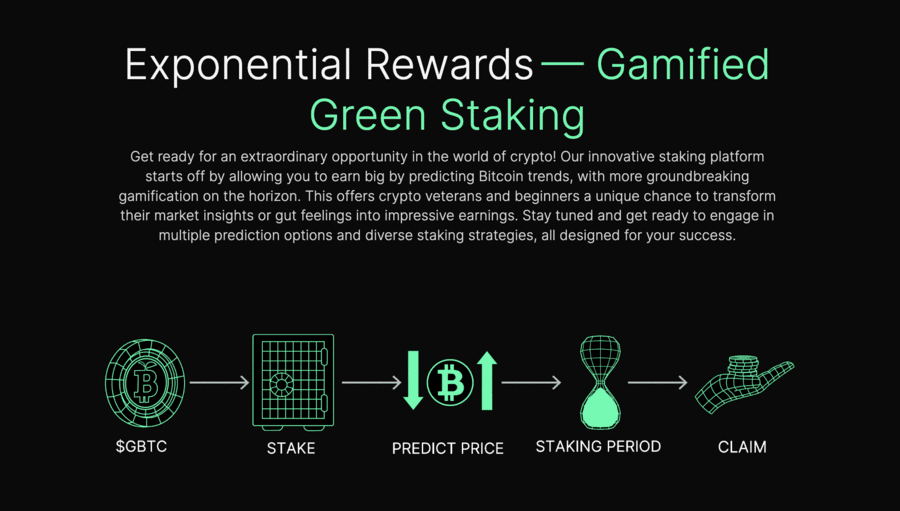 Per the Green Bitcoin whitepaper, the platform plans to progress through four main phases, starting with a token presale and listing their tokens on top-tier exchanges.
The next steps include activating staking rewards, a price prediction feature, and improving the prediction game.
Green Bitcoin maintains an active community presence, mainly through its Telegram channel, offering a platform for updates, discussions, and insight.
| | |
| --- | --- |
| Total Tokens | 21 Million |
| Tokens available in presale | 8,400,000 GBTC |
| Blockchain | Ethereum Network |
| Token type | ERC-20 |
| Minimum Purchase | None |
| Purchase with | USDT, ETH, Card |
7. Scorp Token (SCORP) – Crypto-Based Casino and Sports Betting Platform
Scorp Token ($SCORP) is pioneering the crypto casino space by offering multiple use cases to investors. The Scorpion casino token will be used to generate staking benefits, offer free credits, and engage in multiple casino games.
The Scorpion casino allows members to engage in more than 210 casino games and 160 live games. Games are offered by the top software providers, including Evolution, Play N Go, and EGT. The available games include Blackjack, Poker, Live Casino games, and slots.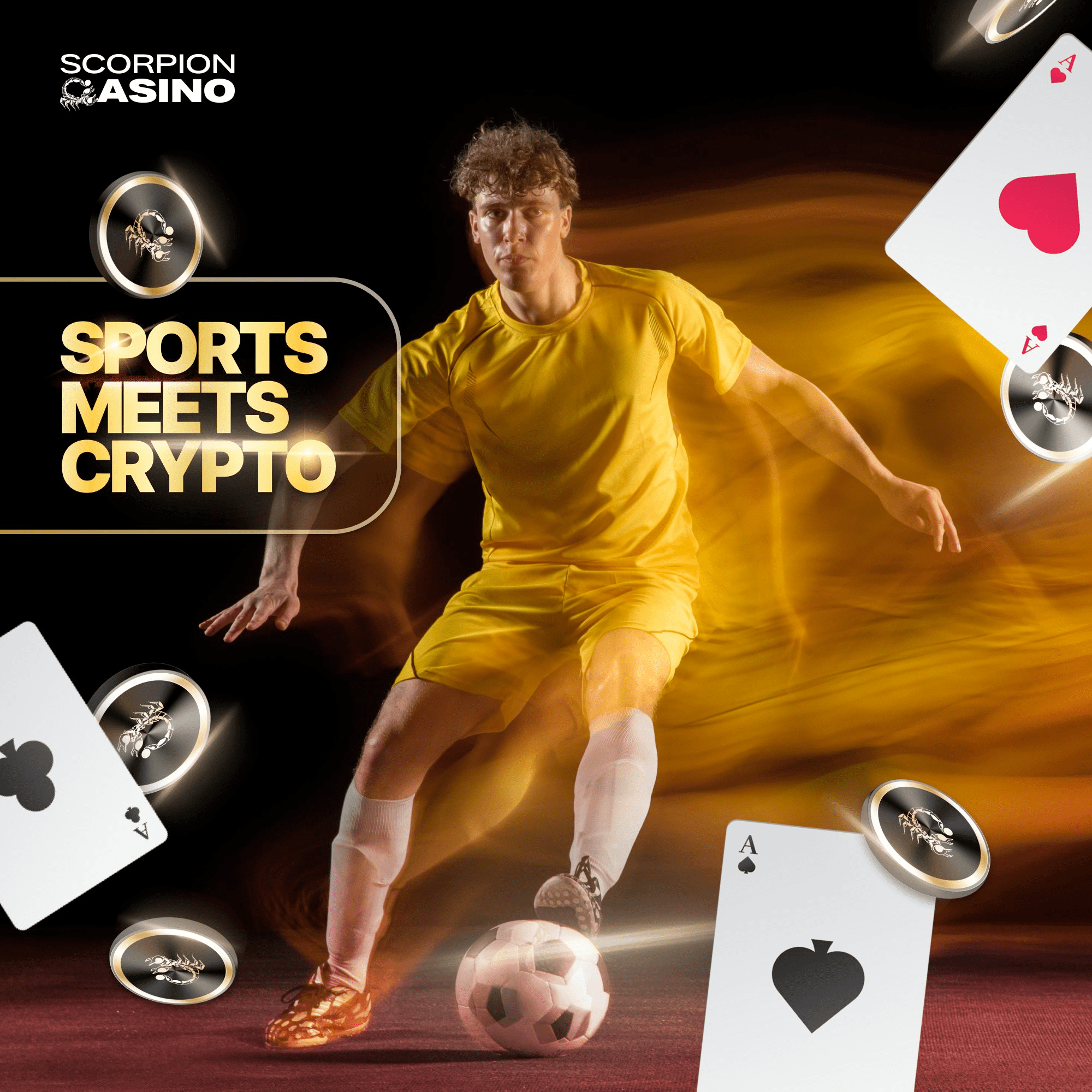 The platform also offers a sportsbook, through which 35+ sports betting markets can be accessed. By purchasing $SCORP during the token presale, holders can receive up to 40% free credits on the casino section.
Furthermore, one can stake $SCORP and earn daily passive income from a staking pool. For each sell transaction, Scorpion Casino collects a 10% fee. 2% of the fee is used towards the passive income pool. 1% of the fees will be collected will be burnt as well.
The SCORP token has a total supply of 1 billion, 480 million tokens of which have been allocated for the ongoing presale. Since the start of the presale, the platform has raised more than $2m.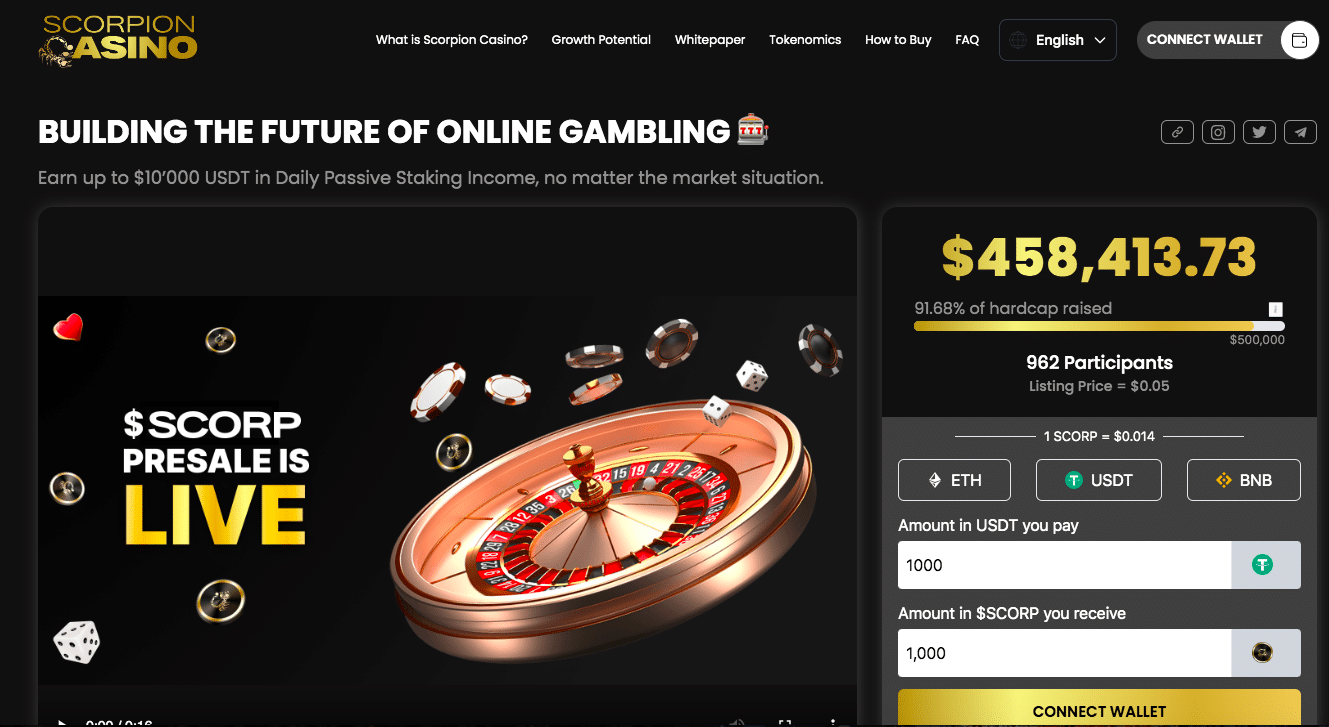 Currently, the token is priced at only $0.014. The listing price is set at $0.05 per token. Presale investors can also have an opportunity to win from a $250K giveaway pot.
Holders will also be able to leverage $SCORP on the platform's affiliate commissions reward system. Stay updated with all the new platform developments by reading the Scorpion casino whitepaper and joining the Telegram channel.
| | |
| --- | --- |
| Token symbol | SCORP |
| Presale supply | 200,000,000 SCORP |
| Token type | BEP-20 |
| Payment methods | ETH, USDT, BNB |
| Listing price | $0.05 |
8. Launchpad XYZ (LPX) – Innovative Web3 Ecosystem with an Array of Useful Tools & Features
Another exciting project that many believe could be listed on Binance soon is Launchpad XYZ. Launchpad XYZ's team aims to onboard the next 10 million Web3 users and empower them to maximize their returns by offering an "all-in-one" digital assets ecosystem.
Currently, the Web3 environment remains fragmented and intimidating, making it difficult to navigate for newcomers. Moreover, digital asset investors often need to use two (or more) platforms when purchasing cryptocurrencies and NFTs, which slows down the process.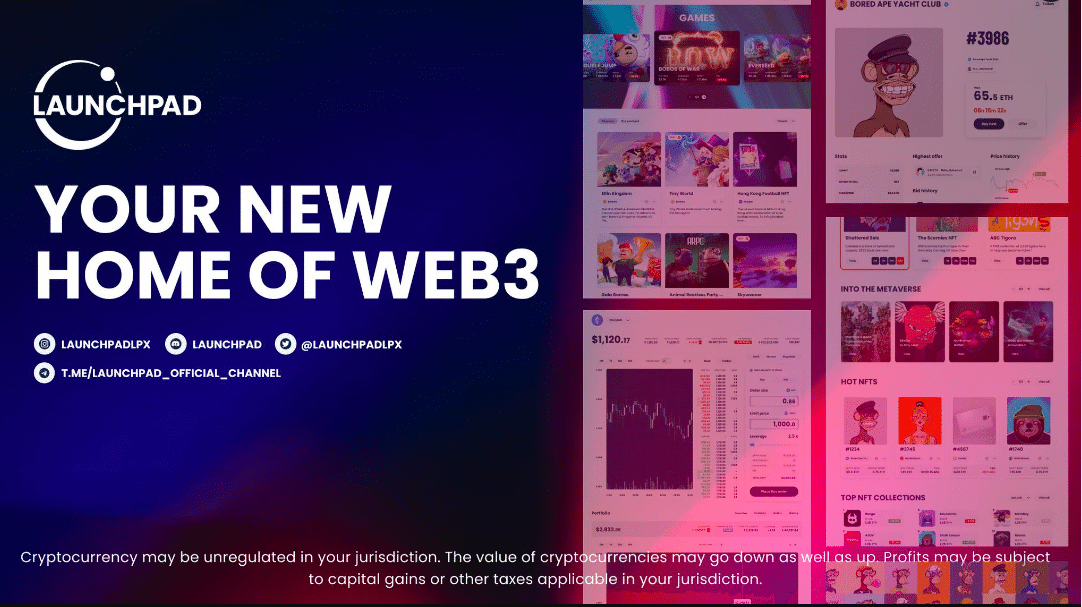 Launchpad XYZ aims to solve these issues by offering everything Web3 users might need in one handy platform. Built using the Ethereum blockchain, Launchpad XYZ's dashboard will include a custom-built NFT decentralized exchange (DEX), fractionalized assets marketplace, metaverse experience library, crypto presales marketplace, and more.
As noted in the project's whitepaper, the LPX tokens will make all these features possible. Launchpad XYZ users will require LPX to pay for trading fees, list NFTs on the NFT DEX, and play P2E games – ensuring tokens are always in demand. One of its main features is a Telegram alpha signals group, which recently made a 7,000% call on LINQ.
The total supply of LPX will be one billion tokens, with 25% of these tokens (250 million) reserved for presale investors. Those who invest in LPX can stake their tokens to access stellar benefits, including guaranteed NFT whitelists and discounts on trading fees.
Like all presale cryptos, there is an element of risk that investors must be aware of – which is natural given how early Launchpad XYZ is into its lifecycle. However, this risk can also present unique growth opportunities that aren't possible with larger coins.

Early investors can now buy Launchpad XYZ tokens (LPX) through the presale, comprising ten total stages. Each stage will have 6.25 million LPX allocated, although the token price is scheduled to increase between stages – meaning the earliest investors are rewarded with lower price points.
More than $2 million has been raised in the presale so far. Interested parties can learn more by checking out the official Telegram channel.
| | |
| --- | --- |
| Presale Started | April 25th, 2023 |
| Purchase Methods | ETH, USDT, Credit/Debit Card |
| Blockchain | Ethereum |
| Minimum Investment | 100 LPX |
| Maximum Investment | N/A |
9. yPredict (YPRED) – Unique AI-Powered Analytics Platform for Crypto Investors
yPredict is a brand-new crypto analytics platform built using the power of the Polygon blockchain. The yPredict ecosystem will bring together artificial intelligence (AI) experts, financial quants, traders, and investors under one roof – allowing everyone to exchange ideas and make effective capital allocation decisions.
The development team at yPredict aims to provide easy access to data-driven crypto insights and advanced analytical metrics that are often reserved for institutional investors.

Moreover, the team also plans to create a pathway for AI experts to develop price prediction models and easily monetize them.
As such, the yPredict ecosystem will contain several valuable features designed to benefit all stakeholders. These features include a market predictions platform, an analytics dashboard, a custom-built trading terminal, and a prediction model marketplace.
Per the yPredict whitepaper, this latter feature will enable traders to "subscribe" to AI-powered trading models created by industry experts. This is where YPRED comes in, which is yPredict's native token used to pay for the platform's tools and services.
YPRED holders can also access yPredict's analytics platform for free and stake their tokens to earn substantial yields. The total supply of YPRED will be fixed at 100 million, helping maintain the token's value over time.

Early investors can buy yPredict tokens through the project's presale, which will have eight stages in total. Currently, the token is priced at $0.11 but will rise by 20% to $0.12 in the final stage – the presale has raised around $5 million.
As with all presale cryptos, investors need to be aware of the risks involved with these projects, which include high volatility and limited liquidity. However, investors can keep updated with the project's growth and have their queries answered by joining the official Telegram channel.
| | |
| --- | --- |
| Presale Started | February 13th, 2023 |
| Purchase Methods | ETH, MATIC, Credit/Debit Card |
| Blockchain | Polygon |
| Minimum Investment | 25 $YPRED |
| Maximum Investment | N/A |
10. Magic (MAGIC) – Utility Token of Gaming and NFT Ecosystem
At the end of January, Magic was among the new Binance listings announced in 2023. MAGIC is the utility token of Treasure, which is an NFT ecosystem based on Arbitrum. MAGIC provides functionality and enables metaverse projects to connect with market participants.
In the Treasure marketplace, referred to as Trove, MAGIC serves as the medium of exchange. As such, players can use it as currency when trading, buying, or selling NFTs. Players are also able to develop NFTs that they can take ownership of, as such, they can create assets that have real-world value.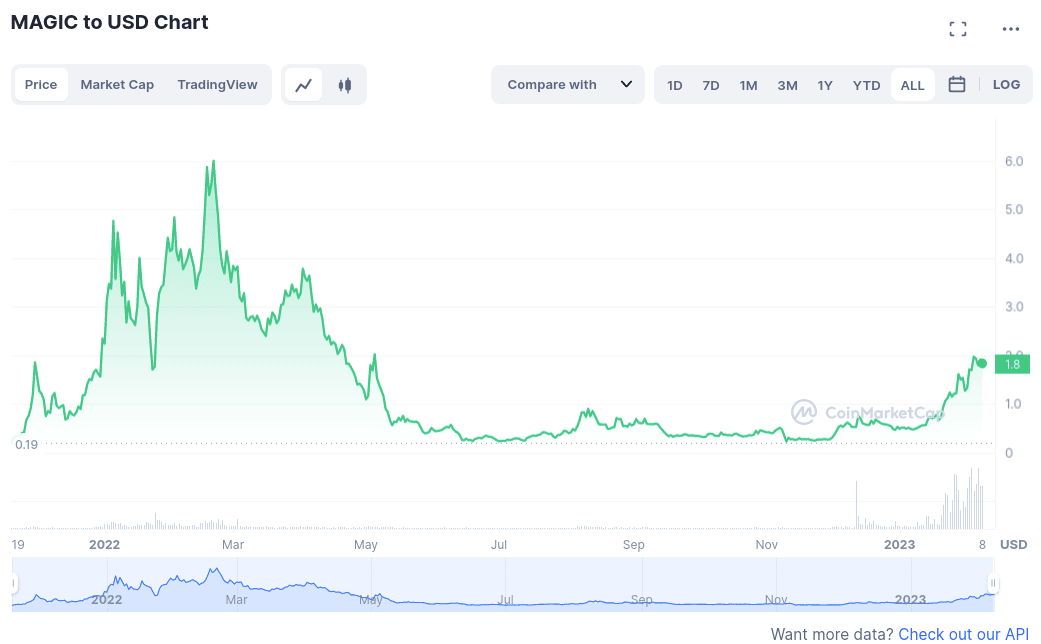 MAGIC tokens can be staked in Trove as well. The Treasure DAO is made up of MAGIC stakeholder owners, and they are in charge of managing and voting on the project. As well as being included in Binance new crypto listings, this asset is also available on cross-margin on the exchange. This means MAGIC is now a borrowable asset on the Binance platform.
The market cap of MAGIC as of writing is over $380 million.
11. Rocket Pool (RPL) – Decentralized Protocol Based on Ethereum for Liquid Staking
Binance new coin listing Rocket Pool has been added to the Convert service and its token RPL has plenty of potential. RPL was added to Binance in January 2023, the token powers the liquid staking platform, Rocket Pool.
Specifically, this platform allows investors with all levels of experience to easily stake ETH tokens with low fees. Because smart contracts are so functional, Rocket Pool's trustless architecture is very effective. The crypto investors' and traders' operating nodes are the backbone of the system.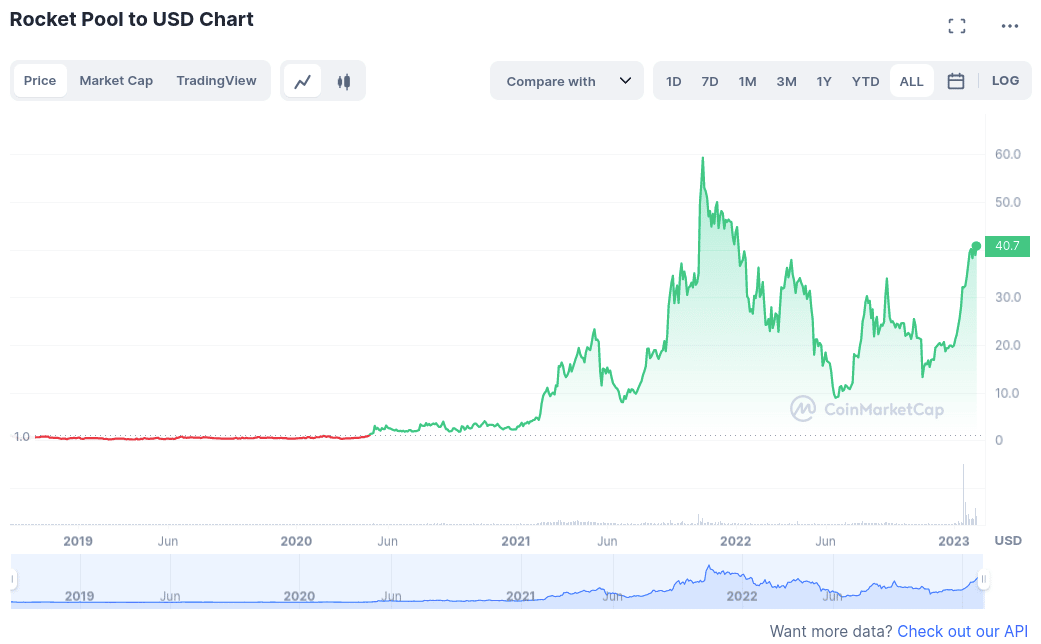 In addition to pool stakes, the platform enables independent node operators and Staking as a Service (SaaS) providers to make gains. They can do this by becoming a member of Rocket Pool and running nodes in return for rewards. Rewards are offered in ETH and RPL. As of writing, RPL has a market cap of $410 million.
12. Aptos (APT) – Proof of Stake Blockchain For Decentralized Software and Smart Contracts
A project called Aptos was a new cryptocurrency released on Binance in 2022. The Aptos ecosystem's native coin is called APT. The core concepts of the Aptos proof-of-stake blockchain are dependability, scalability, upgradeability, and safety.
Its ultimate goal is to provide a comprehensive blockchain solution that promotes rapid adoption of web3 to the masses. Investors who buy APT tokens and opt to lock them up can earn an income by staking them. Additionally, Aptos intends to create a DApp ecosystem with an emphasis on fixing real-world issues.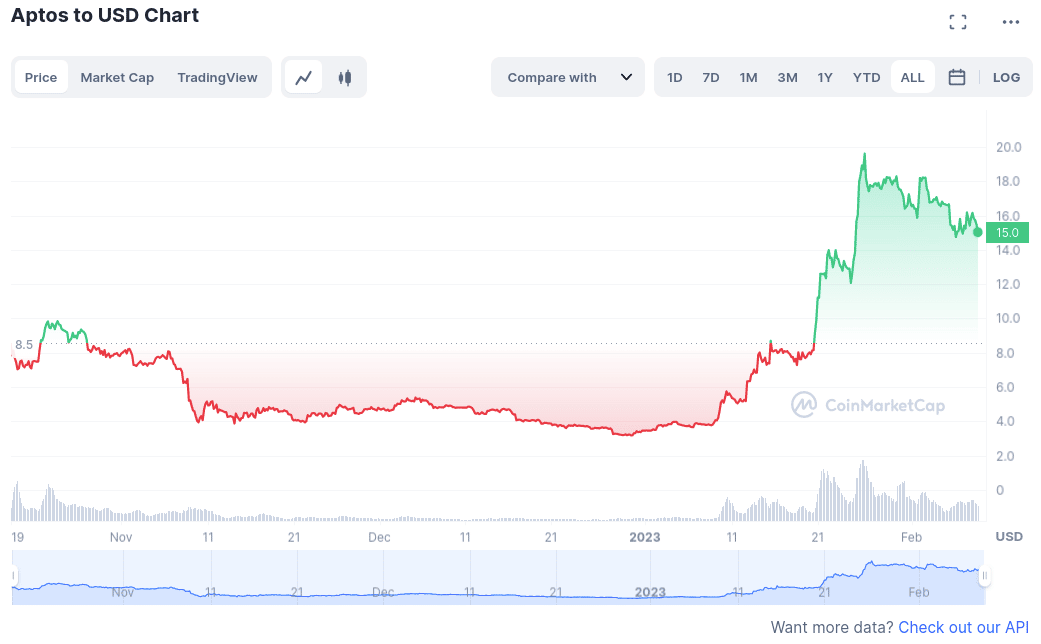 With cutting-edge concepts in the areas of performance optimization, consensus processes, smart contract designs, and system security, the project is well-positioned to be at the forefront of shaking up the layer 1 sector by creating more economic value. The market capitalization of APT as of writing is about $2.4 billion.
How Often Does Binance Add New Cryptocurrencies?
Numerous cryptocurrency projects are vying for listings on Binance, due to its huge audience of investors. A Binance listing is also thought to be a step towards wider acceptance due to this huge user base.
With so many cryptocurrencies emerging on a daily basis, at Binance, new coins are added frequently. The Innovation Zone and the Launchpad are two of the first places investors can look for new Binance listings.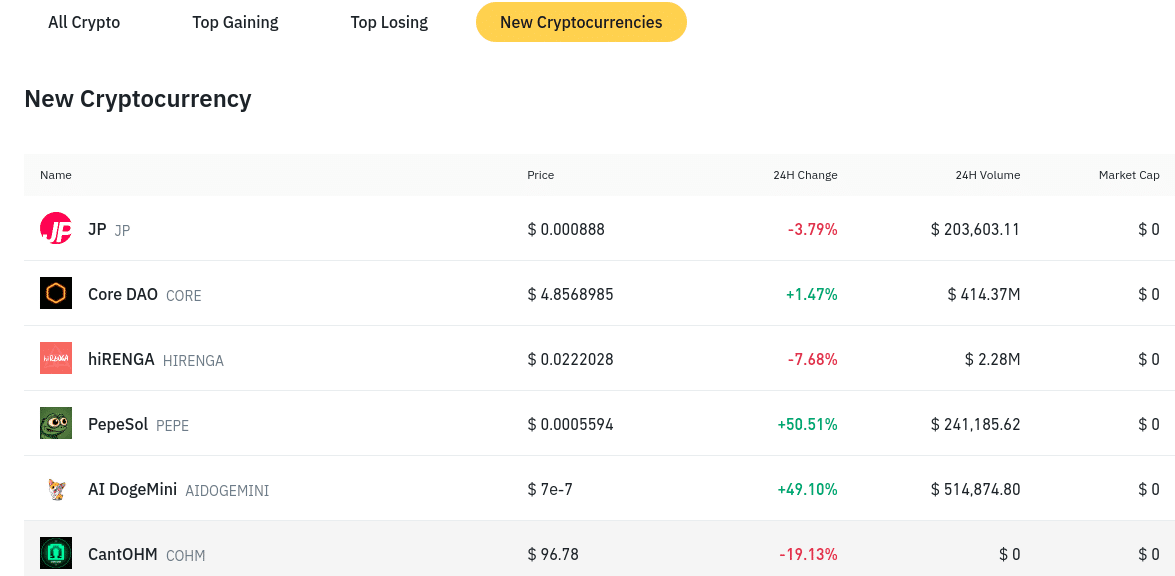 It's difficult to forecast which cryptocurrency Binance will add and when. After all, this exchange frequently announces the next Binance listings just hours before trading starts. It was also announced recently that Binance will stop sterling transfers which follows on from the USD ban which came into action last month.
Why Investing in Upcoming Binance Listings Can Generate Returns
There are many reasons investors search for the best new coins on Binance.
With millions of active users, Binance is one of the most well-known exchanges globally:
The high growth potential of Binance new coin listings is one of the primary factors in its popularity.
That is to say, when Binance lists a crypto project, oftentimes, it is still in the early phases of development.
Due to the fact that Binance has the biggest daily trading volume of any exchange, tokens listed there reach a huge audience.
For instance, as of writing, Binance has a 24-hour trading volume of over $23 billion and more than 14 million weekly visits.
As such, the right upcoming Binance listings can offer huge upside potential.
Some of the projects we've talked about today haven't yet been listed. However, those who invest during presale can access a huge discount before they are listed on an exchange like Binance.
How to Find the Next Coins to List on Binance
We've listed common ways to find new cryptocurrency released on Binance below:
Seek out Presales
Projects like Bitcoin ETF Token are still incredibly accessible and cheap throughout their presale campaign. As such, it is an increasingly popular way to invest in cryptocurrencies, prior to a Binance new coin listing.
As well as some of the perks involved with joining a community as an early investor, the presale price is very modest.
As is clear from our previous analysis, each presale stage sees the tokens increase in value.
Not only that, but these crypto tokens will have a listing price
This is inevitably higher than its presale price.
Therefore those who place an order early will see their investment increase in value automatically.
Cryptocurrencies often grow in the days following the listing on an exchange. Investing in presales is a great method to create a diverse portfolio at a low entry price.
Subscribe to Binance New Listings Alerts
Binance has an announcement page with a list of recently validated currencies that is updated on a regular basis. Investors could keep an eye on this page for updates.
The alternative is for traders to subscribe to new listings alerts. In this regard, there are many available through third-party sites.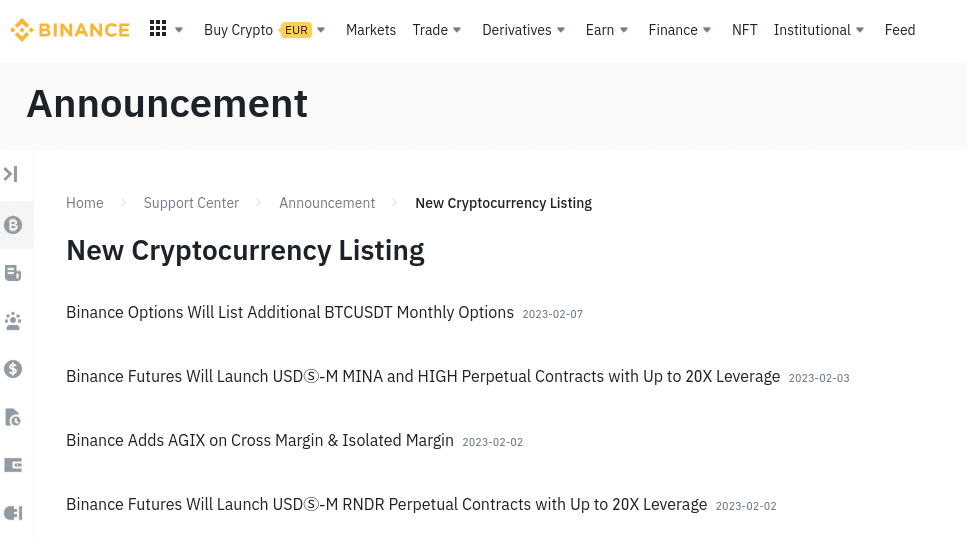 This can save investors from remembering to manually check the exchange each day.
Some offer notifications for specific platforms, and as such investors would receive a specific Binance new listings alert to their email or cell phone each time cryptocurrencies are added.
Conclusion
That concludes this guide on the best new Binance listings for 2023. We've analyzed those that were recently listed as of writing, and also projects that are likely to be added in the very near future.
We like the presale project Bitcoin ETF Token, in particular. It's a new cryptocurrency that offers staking rewards. The cryptocurrency will also burn 25% of its token supply in the long term.
Currently, $BTCETF can be purchased on presale for $0.006 per token, with the price to rise 36% by the tenth and final stage – more than $2 million has been raised in just over three weeks.
FAQs
What new coins are listing on Binance?
How do I find new listings on Binance?
How do I find newly listed crypto?