Binance is one of the best-known crypto exchanges in the world, not to mention the biggest by trading volume. As such, investors are frequently looking for new coin listings on the platform.
In this guide, we rank the overall best new Binance listings for 2023.
15 Potential New Binance Listings to Invest in Now
First, investors will see an overview of the new and upcoming Binance listings. Some are among the new cryptocurrency released on Binance in 2023.
We've also included crypto projects that have the potential to be featured on Binance after their respective presale campaign has concluded.
Wall Street Memes (WSM) – Upcoming Meme Token With Large Online Presence, Tweeted at by Elon Musk and Set For IEO in Q3 2023, Potentially on Tier One Exchanges
AiDoge (AI) – New AI-Powered Ecosystem with Custom-Built Meme Generator. Offers Daily Staking Rewards, Unique Perks, and Uncapped Earnings Potential by Creating Stellar Memes.
Launchpad XYZ (LPX) – Web3-Focused Platform with NFT DEX, Presale Marketplace & Trading Terminal. Investors can Buy LPX Tokens Through an Ongoing Presale at Discounted Price.
DeeLance (DLANCE) – Emerging Platform Redefining the Web 3.0 Recruitment & Freelance Space
Ecoterra (ECOTERRA) – Recycle-2-Earn Cryptocurrency with New Presale Launch
yPredict (YPRED) – Pioneering Trading Analytics Platform Using Artificial Intelligence Technology. Includes AI-Driven Analysis, Price Prediction Models, Trading Terminal, Pattern Recognition Tools & More
Chimpzee (CHMPZ) – Environment-Friendly Crypto Token Offering Multiple Passive Income Opportunities
Doge Rush (DR) – This Presale token allows users to take part in meme-based crypto games and a Competition Platform.
Pikamoon (PIKA) – Pikamoon's Token $PIKA Supports a Pokemon-inspired game, In Which Players Collect in-game NFTs, Items, Upgrades, and More – $PIKA is on Presale Now and Set for Exchange Listings
RobotEra (TARO) –

Rebuild the Multiverse With NFT Robots and Virtual Land

Tamadoge (TAMA) –

Native Token of P2E Ecosystem With Arcade Games and Playable NFTs

Lucky Block (LBLOCK) –

Sports Betting and Casino Platform With 15% Cashback

Magic (MAGIC) – Utility Token of a Gaming and NFT Ecosystem
Rocket Pool (RPL) – Decentralized Protocol Based on Ethereum for Liquid Staking
Aptos (APT) – Proof of Stake Blockchain For Decentralized Software and Smart Contracts
Analyzing the Most Likely Upcoming Binance Listings This Year
All of the projects we talk about in detail below have huge upside potential.
As we touched on, our analysis includes new cryptocurrency released on Binance in 2022, those listed in 2023, and projects we think could be added to the platform in the coming weeks.
1. Wall Street Memes (WSM) – Emerging Community-Focused Meme Token Gaining Traction
Navigating the world of cryptos can be challenging, especially when identifying promising tokens that might soon land on major platforms such as Binance. However, the Wall Street Memes ($WSM) token is one potential contender that's been turning heads.
Wall Street Memes, backed by a strong community across multiple social media channels boasting over a million people, has now branched into the crypto world with its token, $WSM.
This development sprouts from the success of their Wall St Bulls NFT project, which saw a rapid sellout. Currently available for presale, the $WSM token raised an impressive sum of over $1 million USDT within just 4 days since its presale launch.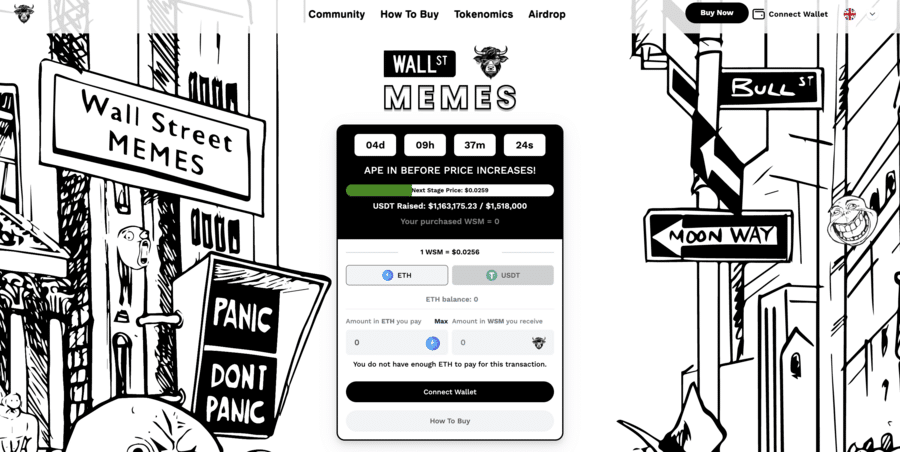 With a robust digital presence and established community ties, Wall Street Memes could see their token listed on top-tier exchanges like Binance. Despite presales bearing certain risks, they also hold immense potential, especially when backed by a supportive community surrounding Wall Street Memes.
The launch of $WSM amidst the ongoing meme coin fever indicates Wall Street Memes' agility to keep up with evolving market trends. The platform also plans an airdrop to mark the beginning of the $WSM presale, allowing holders to win a share of $50k.
Moreover, Wall Street Memes has committed to its supporters by ensuring a community-focused token distribution, with a total supply of 2 billion $WSM, 50% dedicated to the presale.

Emulating the spirit that ignited the GameStop and AMC bull runs of 2021, Wall Street Memes, backed by a million-strong follower base via its Ethereum NFT collection, Wall St Bulls, aims to become a valuable asset.
For the latest news on $WSM, consider joining the Wall Street Memes Telegram community.
| | |
| --- | --- |
| Hard Cap | $30,577,000 |
| Total Tokens | 2,000,000,000 |
| Tokens available in presale | 1,000,000,000 |
| Blockchain | Ethereum Network |
| Token type | ERC-20 |
| Minimum Purchase | 100 tokens |
| Purchase with | USDT, ETH, BNB, Bank Card |
2. AiDoge (AI) – New AI-Powered Meme Coin Project Hosted on Ethereum
Kicking off our discussion of the best new Binance listings for 2023 is AiDoge. AiDoge is a new cryptocurrency platform that combines the power of artificial intelligence (AI) with blockchain technology to create a unique meme-generation experience for users.
The platform does this by offering a cutting-edge "meme generator" that enables users to produce topical and timely memes. This meme generator uses text-based prompts, much like ChatGPT and Google Bard, to streamline the creation process.
Per the whitepaper, users can create any memes they wish in seconds without needing any image-editing experience. These memes can be instantly saved and uploaded to social media sites like Twitter and Reddit, providing a pathway for users to "go viral."
Notably, users must own $AI tokens before being able to use the meme generator. $AI is AiDoge's native ERC-20 and is needed to purchase "credits," which are required each time a user generates a meme. The more $AI tokens someone has, the more credits they can afford – which translates to more meme possibilities.
$AI tokens are also essential to AiDoge's staking protocol. Using this protocol, users can "lock up" their $AI to earn daily credit rewards, which can then be used to create memes. Stakers will also receive unique perks, like limited-time meme templates and entry into meme creation competitions.
The possibilities are endless with AiDoge – which is why it's already being touted as a potential Binance listing in the coming months. However, it's also important to note that AiDoge is in its presale phase, meaning investing in $AI is much riskier than with "established" coins due to its lack of a track record.

Having said that, many of the best crypto presales have produced exponential returns for early investors. This was the case with projects like Tamadoge and Dash 2 Trade – and AiDoge's team will be hoping a similar scenario plays out here.
Interested investors can now buy AiDoge tokens through the presale at a reduced price relative to the eventual listing price of $0.0000336. However, with 25 million $AI allocated to each stage of the presale, investors must act quickly to get involved before prices increase.
Those looking to learn more can join the official AiDoge Telegram channel.
| | |
| --- | --- |
| Presale Started | April 26th, 2023 |
| Purchase Methods | ETH, BNB, USDT, Credit/Debit Card |
| Blockchain | Ethereum |
| Minimum Investment | N/A |
| Maximum Investment | N/A |
3. Launchpad XYZ (LPX) – Innovative Web3 Ecosystem with an Array of Useful Tools & Features
Another exciting project that many believe could be listed on Binance soon is Launchpad XYZ. Launchpad XYZ's team aims to onboard the next 10 million Web3 users and empower them to maximize their returns by offering an "all-in-one" digital assets ecosystem.
Currently, the Web3 environment remains fragmented and intimidating, making it difficult to navigate for newcomers. Moreover, digital asset investors often need to use two (or more) platforms when purchasing cryptocurrencies and NFTs, which slows down the process.
Launchpad XYZ aims to solve these issues by offering everything Web3 users might need in one handy platform. Built using the Ethereum blockchain, Launchpad XYZ's dashboard will include a custom-built NFT decentralized exchange (DEX), fractionalized assets marketplace, metaverse experience library, crypto presales marketplace, and more.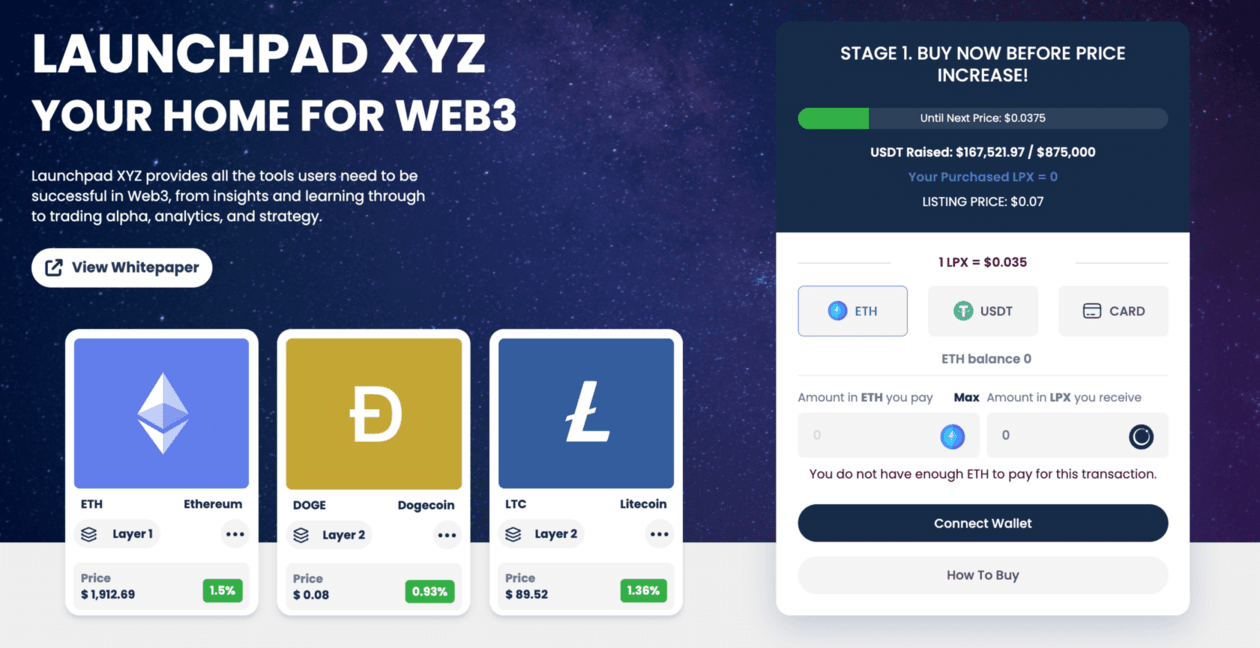 As noted in the project's whitepaper, the LPX tokens will make all these features possible. Launchpad XYZ users will require LPX to pay for trading fees, list NFTs on the NFT DEX, and play P2E games – ensuring tokens are always in-demand.
The total supply of LPX will be one billion tokens, with 25% of these tokens (250 million) reserved for presale investors. Those who invest in LPX can stake their tokens to access stellar benefits, including guaranteed NFT whitelists and discounts on trading fees.

Like all presale cryptos, there is an element of risk that investors must be aware of – which is natural given how early Launchpad XYZ is into its lifecycle. However, this risk can also present unique growth opportunities that aren't possible with larger coins.
Early investors can now buy Launchpad XYZ tokens (LPX) through the presale, comprising ten total stages. Each stage will have 6.25 million LPX allocated, although the token price is scheduled to increase between stages – meaning the earliest investors are rewarded with lower price points.
Interested parties can learn more by checking out the official Telegram channel.
| | |
| --- | --- |
| Presale Started | April 25th, 2023 |
| Purchase Methods | ETH, USDT, Credit/Debit Card |
| Blockchain | Ethereum |
| Minimum Investment | 100 LPX |
| Maximum Investment | N/A |
4. DeeLance (DLANCE) – Emerging Platform Redefining the Web3 Recruitment & Freelance Space
DeeLance, a Web3-driven freelance and recruitment platform, utilizes crypto to revolutionize freelancer payments. With crypto payments, freelancers receive instant compensation and can transform their work into NFTs using DeeLance's marketplace. Moreover, with plans to list on major exchanges from Q2 2023, $DLANCE has a solid upside potential.
The platform's native token, $DLANCE, is now in its second presale round, offering a discounted rate of $0.029 each – by the conclusion of the sixth and final round, tokens will cost $0.048 and rise to $0.055 for the exchange listing.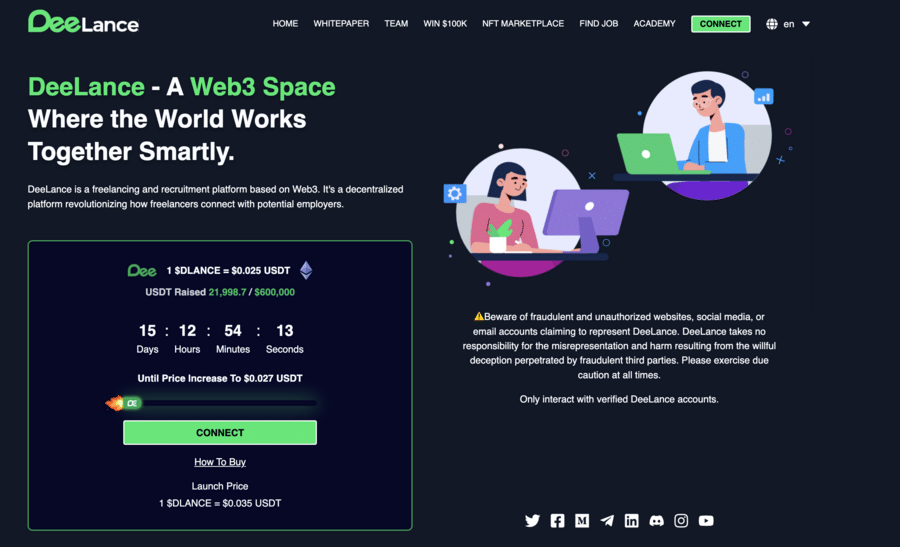 The platform employs an automated dispute system, which records all transactions between freelancers and employers on the public blockchain. This Web3 crypto platform reduces the possibility of fraud during transactions by implementing smart contracts.
Furthermore, DeeLance uses escrow accounts to guarantee that freelancers receive a payment within a specified timeframe. Due to the platform's decentralized nature and reliance on crypto payment methods, it can offer some of the most competitive fees in the industry.
With a minimal 2% charge for employers, DeeLance boasts lower fees than other leading freelance networks. Freelancers on DeeLance can tokenize their work, converting it into NFTs to prevent copyright infringement and ensure seamless transfer of work ownership between the freelancer and employer.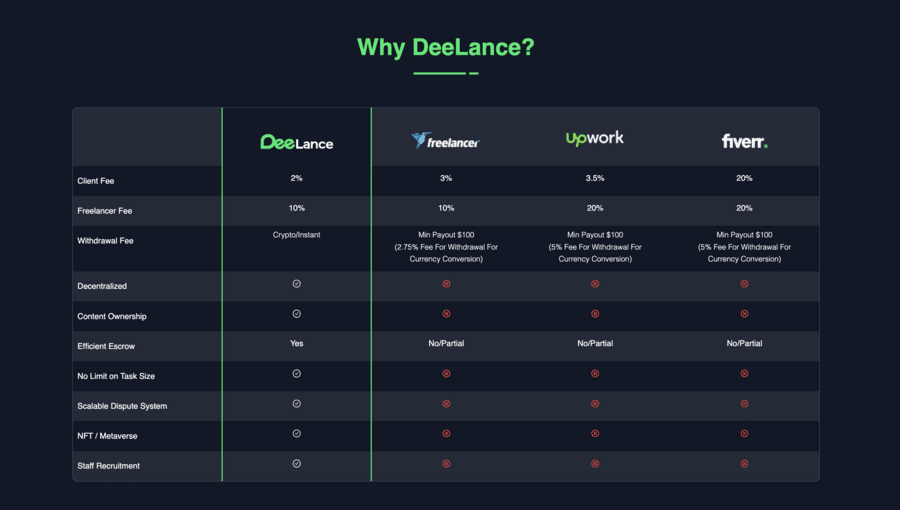 The DeeLance whitepaper highlights the NFT marketplace as a crucial aspect of the project. This marketplace enables members to create, purchase, and sell a variety of NFTs featuring dynamic pricing, popular NFT catalogs, and NFT showcase events.
In addition, DeeLance plans to develop its metaverse, facilitating virtual connections between freelancers and employers in online lobbies and enabling meeting attendance through metaverse offices. Ultimately, DeeLance aims to connect employers with top-tier clients, granting access to exceptional talent pools via the recruitment platform.
For further updates, users are encouraged to join the DeeLance Telegram channel.
| | |
| --- | --- |
| Hard Cap | $6,000,000 |
| Total Tokens | 1,000,000,000 |
| Tokens available in presale | 300,000,000 |
| Blockchain | Ethereum Network |
| Token type | ERC-20 |
| Minimum Purchase | $10 |
| Purchase with | USDT, ETH, Card |
5. Ecoterra (ECOTERRA) – Recycle-2-Earn Cryptocurrency with New Presale Launch
The next cryptocurrency which has the potential to be listed on Binance is $ECOTERRA – the native token of Ecoterra's Recycle-2-Earn ecosystem. Currently available to buy on presale for $0.004, $ECOTERRA will jump by 150% over the course of nine presale rounds.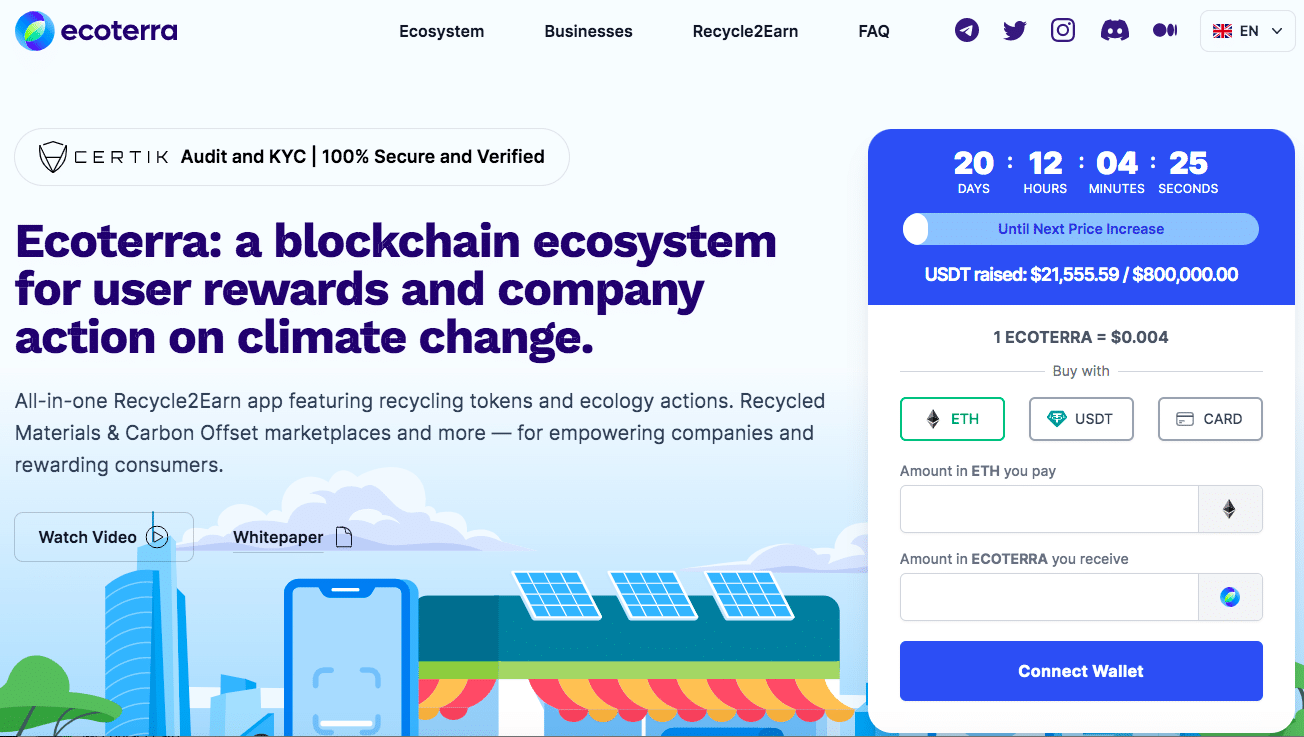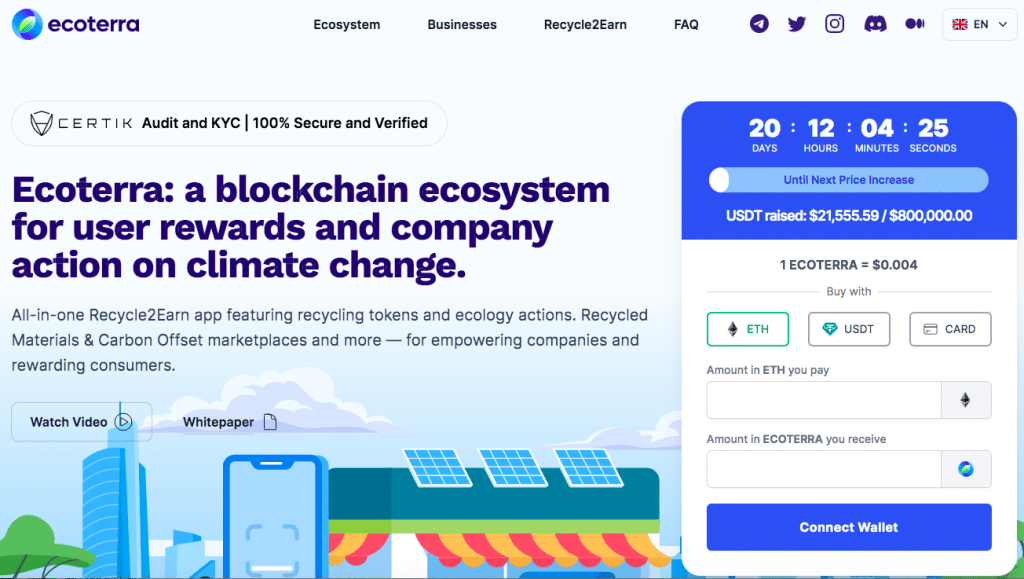 This crypto presale will offer 800 million of the 2 billion $ECOTERRA token supply. After the cryptocurrency presale concludes, Ecoterra plans to list its token on crypto exchanges by Q2 2023. But can Ecoterra be listed on the Binance exchange?
The platform is likely to become popular as it is the first blockchain-based recycling ecosystem that is fighting against the climate crisis. Ecoterra is compatible with any country which facilitates Reversed Vending Machines (RVMs). Through the EcoTerra app, a user can scan and recycle waste using RVMs, and be rewarded with $ECOTERRA tokens.
This project has also formed a strong partnership with Delhaize, one of the biggest supermarket chains in the world. Furthermore, the Ecoterra team has managed one of the top companies in the South East European Region.
As one of the best future cryptos to buy, Ecoterra also offers a carbon offsetting program through which companies and individuals can offset their carbon emissions. Companies can work on their circular economy by tracking their sustainable activities on Ecoterra.
Whenever a company or user recycles waste or offsets emissions, they can track their contributions on an 'Impact Profile' that Ecoterra has developed. This ecosystem will also offer a Recycled materials marketplace, allowing companies to connect with recyclers without going through intermediaries.
Organizations can place orders using $ECOTERRA tokens with the recyclers through this marketplace. For all these sustainable use cases that Ecoterra provides, top exchanges such as Binance may be keen to list the token.
Currently, Ecoterra has raised over $20K through the presale. One can join the Telegram channel and read through the Ecoterra whitepaper to learn more about this cryptocurrency.
| | |
| --- | --- |
| Presale Started | March 29 |
| Purchase Methods | ETH, USDT, Card |
| Chain | Ethereum |
| Min Investment | $10 |
| Max Investment | N/A |
6. yPredict (YPRED) – Unique AI-Powered Analytics Platform for Crypto Investors
yPredict is a brand-new crypto analytics platform built using the power of the Polygon blockchain. The yPredict ecosystem will bring together artificial intelligence (AI) experts, financial quants, traders, and investors under one roof – allowing everyone to exchange ideas and make effective capital allocation decisions.
The development team at yPredict aims to provide easy access to data-driven crypto insights and advanced analytical metrics that are often reserved for institutional investors. Moreover, the team also plans to create a pathway for AI experts to develop price prediction models and easily monetize them.
As such, the yPredict ecosystem will contain several valuable features designed to benefit all stakeholders. These features include a market predictions platform, an analytics dashboard, a custom-built trading terminal, and a prediction model marketplace.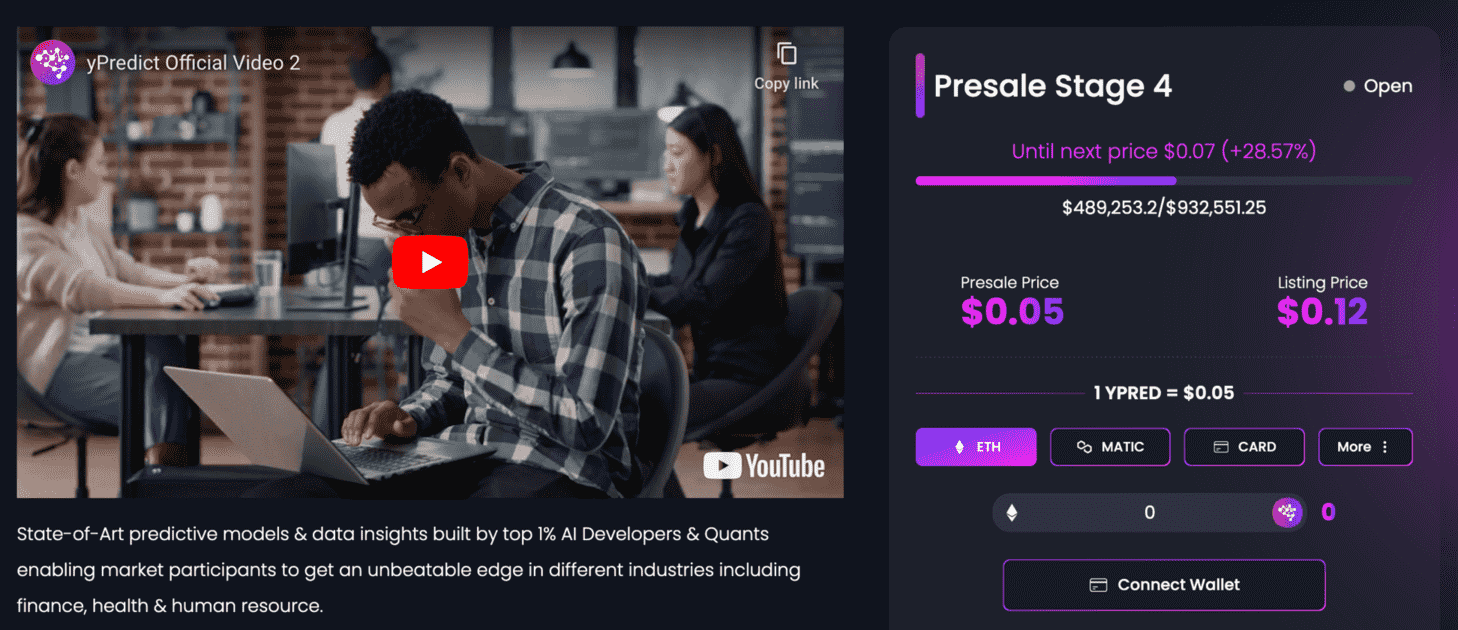 Per the yPredict whitepaper, this latter feature will enable traders to "subscribe" to AI-powered trading models created by industry experts. This is where YPRED comes in, which is yPredict's native token used to pay for the platform's tools and services.
YPRED holders can also access yPredict's analytics platform for free and stake their tokens to earn substantial yields. The total supply of YPRED will be fixed at 100 million, helping maintain the token's value over time.

Early investors can buy yPredict tokens through the project's presale, which will have eight stages in total. Stage 4 is ongoing at the time of writing, with YPRED tokens priced at $0.05 – 140% less than the intended listing price.
As with all presale cryptos, investors need to be aware of the risks involved with these projects, which include high volatility and limited liquidity. However, investors can keep updated with the project's growth and have their queries answered by joining the official Telegram channel.
| | |
| --- | --- |
| Presale Started | February 13th, 2023 |
| Purchase Methods | ETH, MATIC, Credit/Debit Card |
| Blockchain | Polygon |
| Minimum Investment | 25 YPRED |
| Maximum Investment | N/A |
7. Chimpzee (CHMPZ) – Environment-Friendly Crypto Token Offering Multiple Passive Income Opportunities
Chimpzee is a revolutionary token that aims to generate revenue-earning opportunities for investors while helping protect the environment and animals. This platform will allow investors to earn revenue through three platforms by leveraging the $CHMPZ token.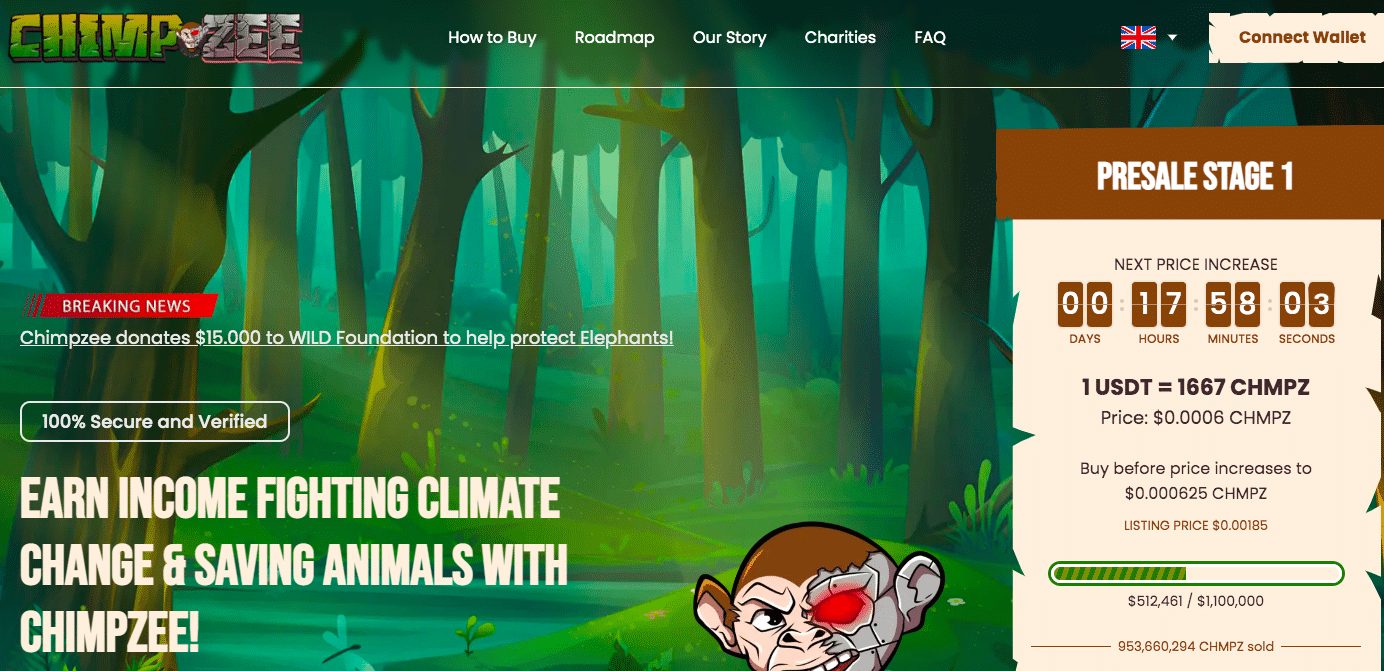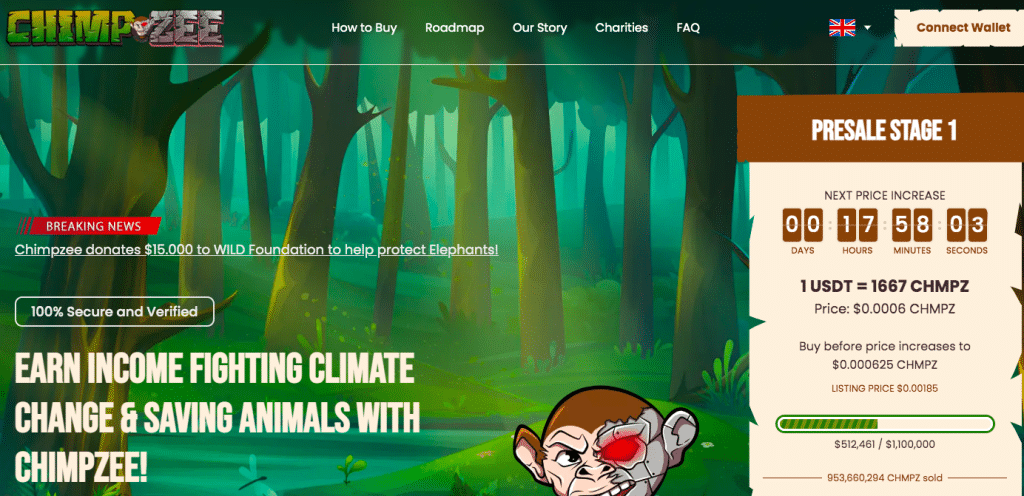 The first platform is the trade-to-earn NFT marketplace. With $CHMPZ, users can purchase their own NFT passport. One can stake the passport and earn up to a 20% APY (Annual Percentage Yield). By trading on the marketplace, members can earn passive income. Chimpanzee will allocate token holders with rewards from the trading fees collected.
The NFT passports can be used in Chimpzee's play-to-earn ecosystem. On the zero-tolerance game, your NFT avatars will fight off forest poachers to protect the environment. The top performers will earn $CHMPZ tokens and premium prizes.
The final ecosystem is the shop-to-earn feature. On Chimpzee's online store, one can purchase merchandise and gear. Every time you make a purchase, you can earn free tokens. Chimpzee will donate a percentage of the revenue to charities.


The platform has already helped plant 1,200 trees around the world. It will also donate $15K to the WILD Foundation to protect elephants. $CHMPZ is available to buy on presale for $0.0006 per token. By the exchange listing, the price will increase to $0.00185. Given that the project has already raised $500K, it may be listed on top-tier exchanges such as Binance.
Read the Chimpzee whitepaper and join the Telegram channel for more updates.
| | |
| --- | --- |
| Token symbol | CHMPZ |
| Total supply | 200 Billion |
| Presale supply | 40 Billion |
| Network | Ethereum (ERC20) |
| Purchase methods | ETH, USDT, Credit Card |
8. Doge Rush (DR) – Presale Token Offering a P2E and Competition Platform
Doge Rush is a new meme cryptocurrency that is providing utility through its ecosystem. The main aim of Doge Rush is to leverage the $DR token to offer revenue-earning opportunities while offering exciting gameplay.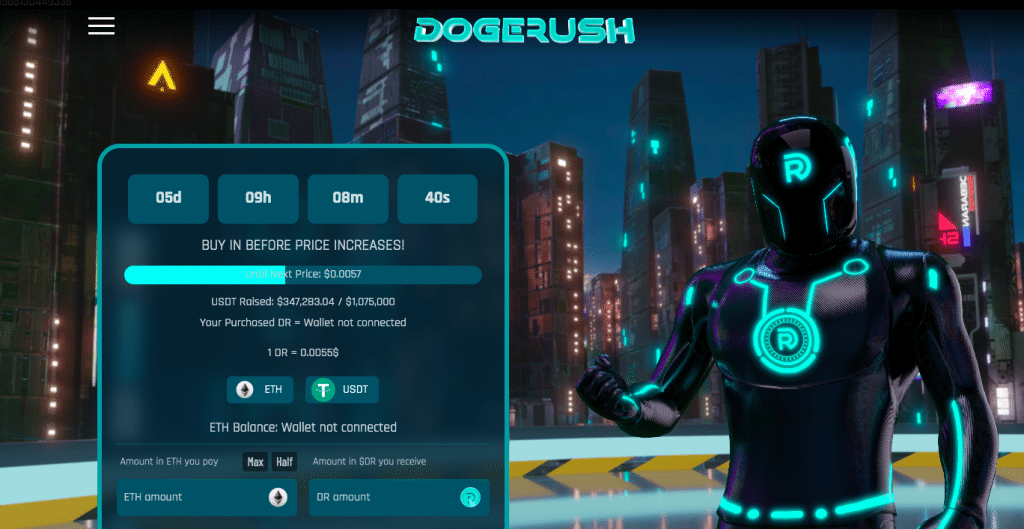 Through the DogeHub ecosystem, users can enter and participate in multiple side-scroller games. These games incorporate popular meme characters, such as Elon Musk and Doge. The games will replicate side-scroller apps such as Subway Surfers, Temple Run, and Sonic Dash.
With your NFT doge avatars, you enter the game and collect coins and earn $DR tokens along the way. All the while, an Elon Musk avatar will be chasing you within the game.
Through the online store, users can purchase NFT skins and upgrade their avatars. Through the DogeWin ecosystem, users can also stand a chance to win free tokens and NFT prizes by taking part in raffles and competitions.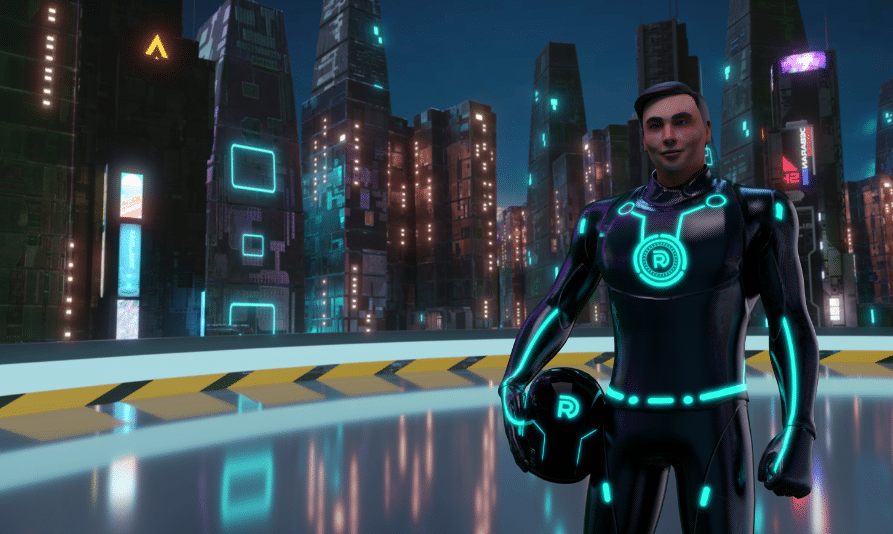 This cryptocurrency token is available to purchase during the presale before the exchange listing takes place. Being one of the few meme tokens to provide utility, it can be listed on top-tier exchanges, which could lead to exponential price increases.
At the time of writing, the $DR token is priced at just $0.0055. By the exchange listing, the price will increase to $0.0099 per token.
Get more information on this cryptocurrency by reading the Doge Rush whitepaper and joining the Telegram channel.
| | |
| --- | --- |
| Presale Started | Q2 2023 |
| Purchase Methods | ETH, USDT |
| Chain | Ethereum |
| Min Investment | N/A |
| Max Investment | N/A |
9. Pikamoon (PIKA) – A P2E Coin Supporting Innovative Metaverse With Innovative Gameplay
Pikamoon is an online RPG game inspired by Pokemon, the legendary anime franchise. In the game, just like in the anime, you need to collect in-game monsters. Afterward, you can use them to embark on adventures or battle against other players. The game will feature an entirely imaginary world set on the fantastic continent of Dreva.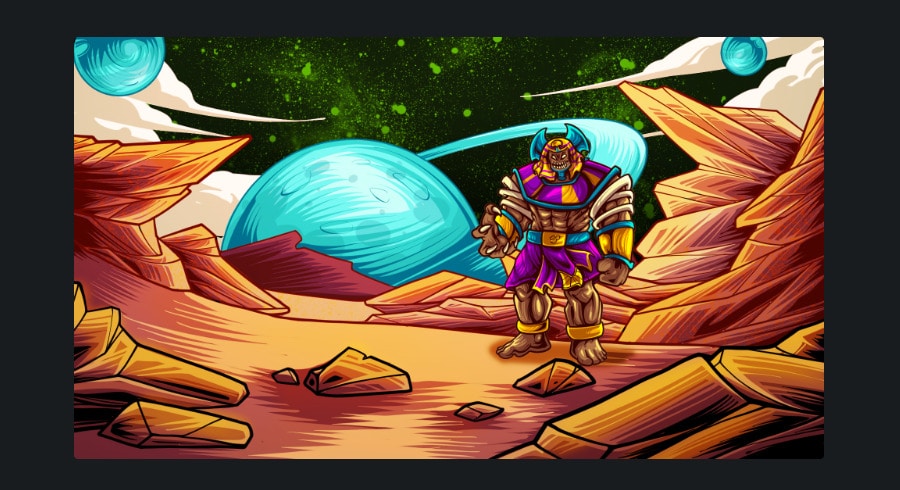 The in-game monsters are actually non-fungible tokens, and those who own $PIKA can receive one free Pika NFT to start their journey. Like many modern games, Pikamoon will incorporate AI to make NPCs and mobs more intelligent and the game more challenging. It will also feature a unique battle system, which will be turn-based and help the most successful players get the recognition they deserve.
Pikamoon is currently in its presale phase. According to the project's whitepaper, the presale will feature three phases, each aiming to sell 5,000,000,000 $PIKA, a total of 15,000,000,000. The maximum supply of $PIKA is capped at 50,000,000,000. In other words, 30% of all coins will be sold in the presale, while the remaining will be used for the liquidity pool, team and advisors, staking rewards, eco-system development, and marketing.
The project has a detailed roadmap, although it's still very early to discuss whether it will stick to it long-term. One thing is sure: the team aims to get $PIKA listed on all relevant exchanges, including Binance. The latest updates and community discussions related to the project can be found in Pikamoon's Telegram group.
| | |
| --- | --- |
| Presale Started | April 2023 |
| Purchase Methods | USDT and ETH |
| Chain | Ethereum |
| Minimum Investment | None |
| Maximum Investment | None |
10. RobotEra (TARO) – Rebuild the Multiverse With NFT Robots and Land
Investors who like sandbox games like Minecraft might consider the RobotEra project. RobotEra allows players to use their imagination, buy and build on digital land, and earn crypto. This is all whilst rebuilding the war-torn planet Taro in the metaverse.
RobotEra's native token TARO hasn't been announced as one of the next Binance listings yet. However, it's already proving to be popular in presale. At the time of writing, the TARO presale is in phase one, and almost 42,000 tokens have been sold already. Tokens can be locked in at $0.020 in phase one, and this will increase to $0.025 in the stage that follows.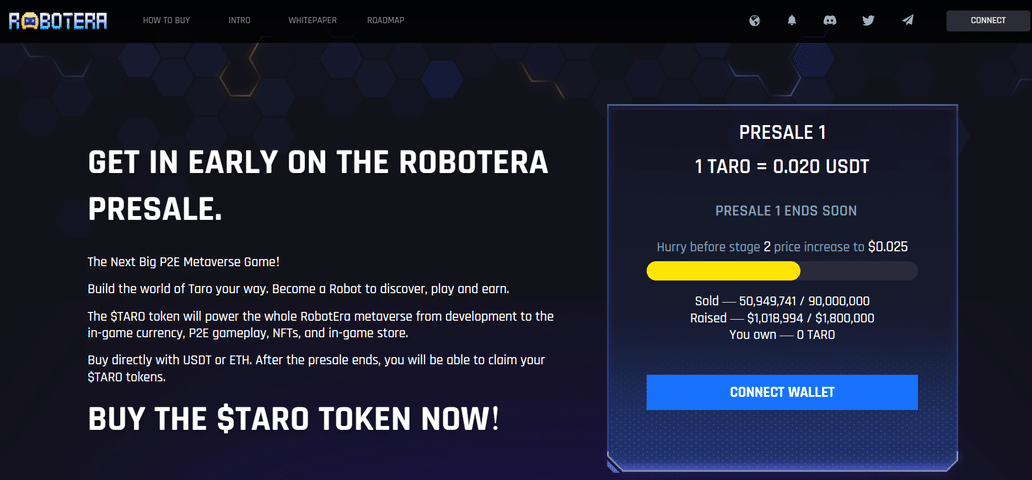 Players can take ownership of each robot character and land parcel they purchase because they are backed by NFTs. As such, players can sell and trade these digital assets. This P2E project will also allow players to create their own NFTs called Robot Companions, which can be rented out to other gamers, or used to construct on land and search for resources.
The RobotEra roadmap includes creating a battle area, releasing the metaverse, developing multi-player capabilities, and launching an NFT gallery. The platform will also incorporate a shared metaverse. This will allow RobotEra players to connect with alternate worlds, theme parks, museums, concert halls, and more.
| | |
| --- | --- |
| Presale Started | Q4 2022 |
| Purchase Methods | ETH, USDT |
| Chain | Ethereum |
| Min Investment | 1,000 TARO |
| Max Investment | N/A |
11. Tamadoge (TAMA) – Native Token of P2E Ecosystem With Arcade Games and Playable NFTs
Tamadoge (TAMA) could be one of the meme tokens to earn the title of best new crypto on Binance in 2023. TAMA isn't just a meme token. This cryptocurrency has utility as it powers the ecosystem and can be used to buy collectible NFT pets.
NFT pets can be minted as puppies on the Tamadoge platform. The player needs to take care of their pet until it reaches adulthood and can then take them to combat against other gamers. Players can strategically choose NFT pets with varying abilities, strength, agility, and more to increase their chances of earning monthly rewards.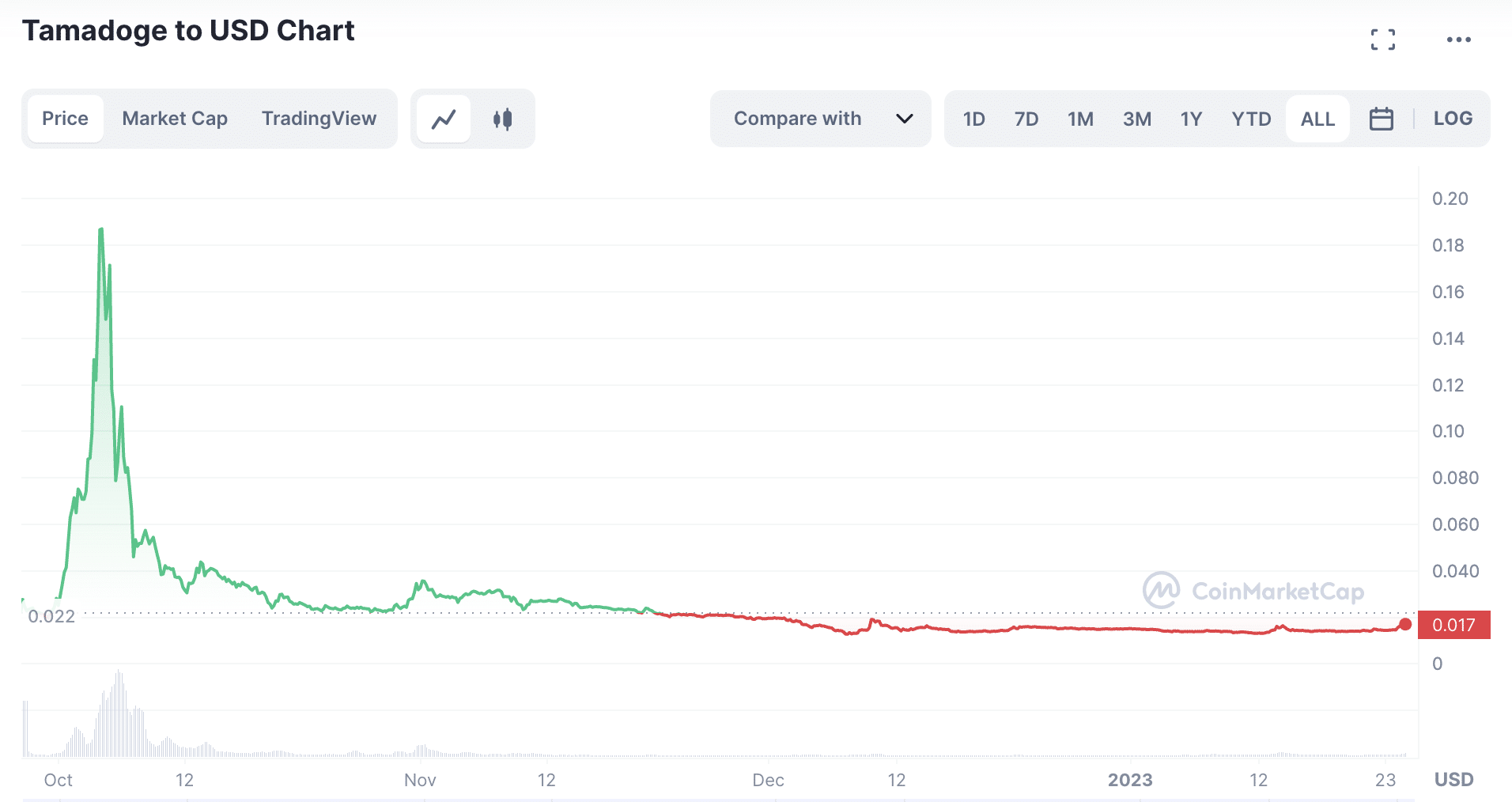 The Tamadoge leaderboard is updated monthly. Players with the highest number of points can claim their share of the prize pool. TAMA tokens are capped at 2 billion and 50% of these were sold during the presale campaign. The Tamadoge AR app will allow players to earn rewards for interacting with their in-game pet.
This might include teaching the pet some tricks or taking them for walks. All pet NFTs will be integrated into the metaverse. This is aptly named the Tamaverse. The latest development in the ecosystem is the P2E Tamadoge arcade library, which also offers plenty of rewards. TAMA's market cap is just $22 million at the time of writing.
12. Lucky Block (LBLOCK) – Sports Betting and Casino Platform With 15% Cashback
The growth of the crypto-centric casino market has been expanding at a rapid rate. Lucky Block serves this market very well and there's no reason it won't be one of the Binance new crypto listings for 2023. In 2022, LBLOCK, the token that powers this casino, became the fastest ever to hit a market capitalization of $1 billion.
Lucky Block gives players the option to deposit and play using any of the 12 supported cryptocurrencies quickly and without any limitations. This includes Bitcoin, Dogecoin, Ethereum, and Binance Coin, to name a few. By being practically immediate, cryptocurrency transactions outperform e-banking services, plus there's no need to finish the KYC process at Lucky Block.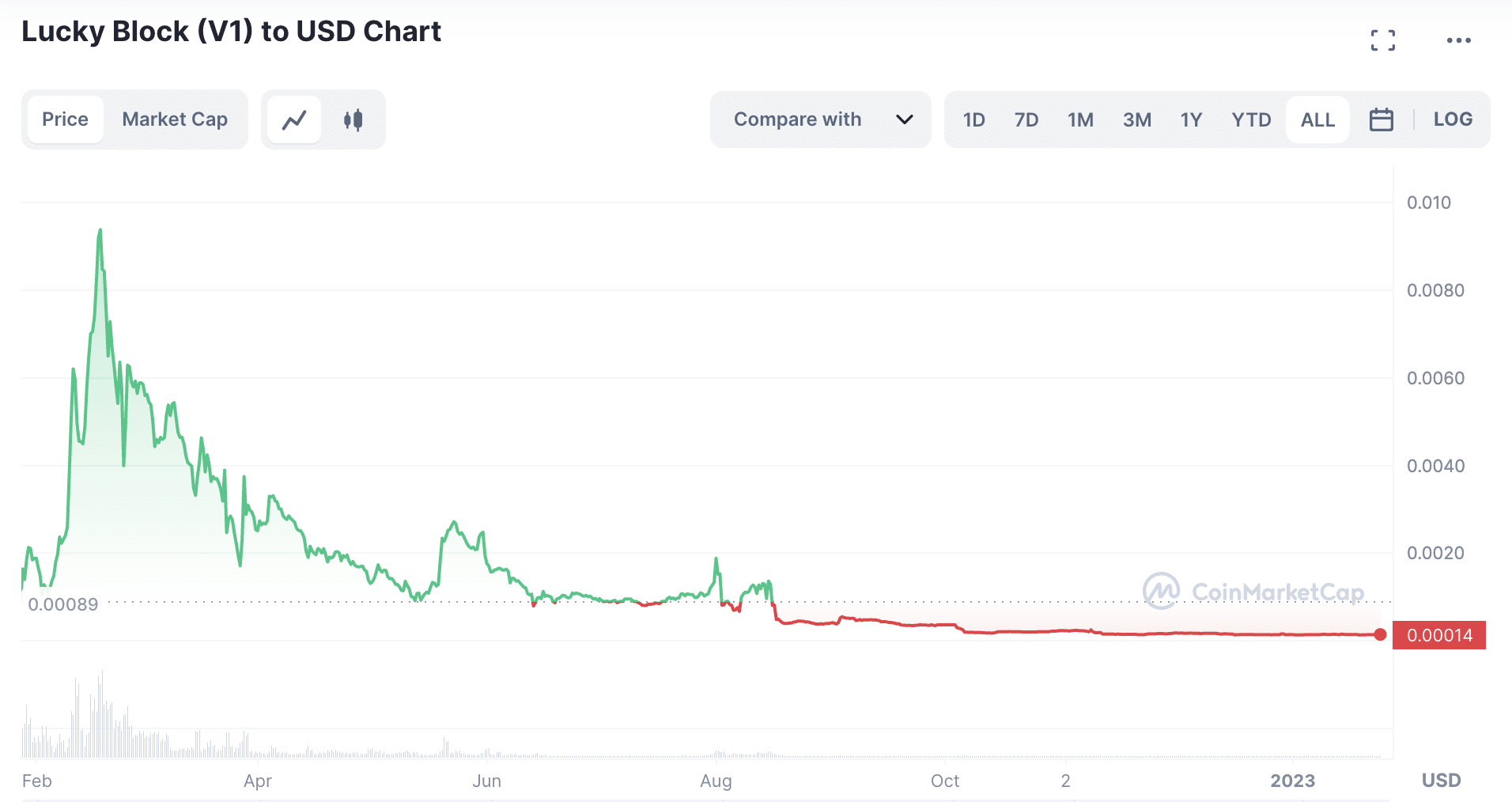 The minimum deposit is only $1 at this crypto casino and sportsbook. Furthermore, those that register and place a bet can claim the welcome bonus of 15% cashback. That is if they have net losses within their first week of joining. There are over 50 sports (including esports) to bet on at Lucky Block, all with very competitive odds.
This crypto casino offers players access to 4,800+ slots, 570+ live dealers, and 190+ table games. There are also 20+ game shows, and almost 30 jackpot titles. Some of the 80+ providers that power the games at Lucky Block casino include Pragmatic Play, Microgaming, Blueprint, NetEnt, Thunderkick, and Wazdan. The market cap of LBLOCK as of writing is around $5 million.
13. Magic (MAGIC) – Utility Token of Gaming and NFT Ecosystem
At the end of January, Magic was among the new Binance listings announced in 2023. MAGIC is the utility token of Treasure, which is an NFT ecosystem based on Arbitrum. MAGIC provides functionality and enables metaverse projects to connect with market participants.
In the Treasure marketplace, referred to as Trove, MAGIC serves as the medium of exchange. As such, players can use it as currency when trading, buying, or selling NFTs. Players are also able to develop NFTs that they can take ownership of, as such, they can create assets that have real-world value.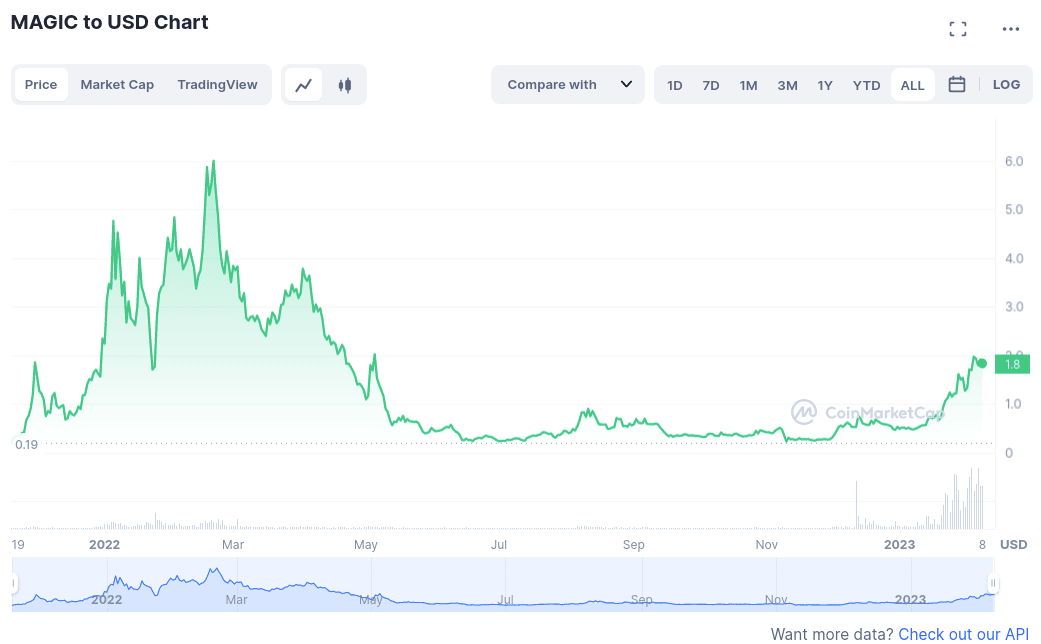 MAGIC tokens can be staked in Trove as well. The Treasure DAO is made up of MAGIC stakeholder owners, and they are in charge of managing and voting on the project. As well as being included in Binance new crypto listings, this asset is also available on cross-margin on the exchange. This means MAGIC is now a borrowable asset on the Binance platform.
The market cap of MAGIC as of writing is over $380 million.
14. Rocket Pool (RPL) – Decentralized Protocol Based on Ethereum for Liquid Staking
Binance new coin listing Rocket Pool has been added to the Convert service and its token RPL has plenty of potential. RPL was added to Binance in January 2023, the token powers the liquid staking platform, Rocket Pool.
Specifically, this platform allows investors with all levels of experience to easily stake ETH tokens with low fees. Because smart contracts are so functional, Rocket Pool's trustless architecture is very effective. The crypto investors' and traders' operating nodes are the backbone of the system.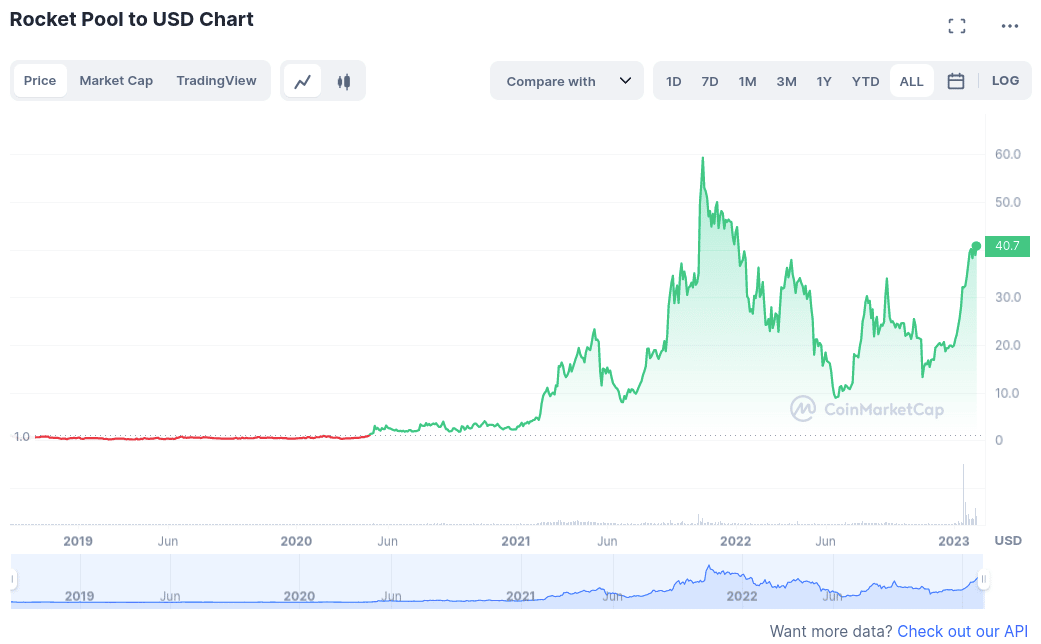 In addition to pool stakes, the platform enables independent node operators and Staking as a Service (SaaS) providers to make gains. They can do this by becoming a member of Rocket Pool and running nodes in return for rewards. Rewards are offered in ETH and RPL. As of writing, RPL has a market cap of $410 million.
15. Aptos (APT) – Proof of Stake Blockchain For Decentralized Software and Smart Contracts
A project called Aptos was a new cryptocurrency released on Binance in 2022. The Aptos ecosystem's native coin is called APT. The core concepts of the Aptos proof-of-stake blockchain are dependability, scalability, upgradeability, and safety.
Its ultimate goal is to provide a comprehensive blockchain solution that promotes rapid adoption of web3 to the masses. Investors who buy APT tokens and opt to lock them up can earn an income by staking them. Additionally, Aptos intends to create a DApp ecosystem with an emphasis on fixing real-world issues.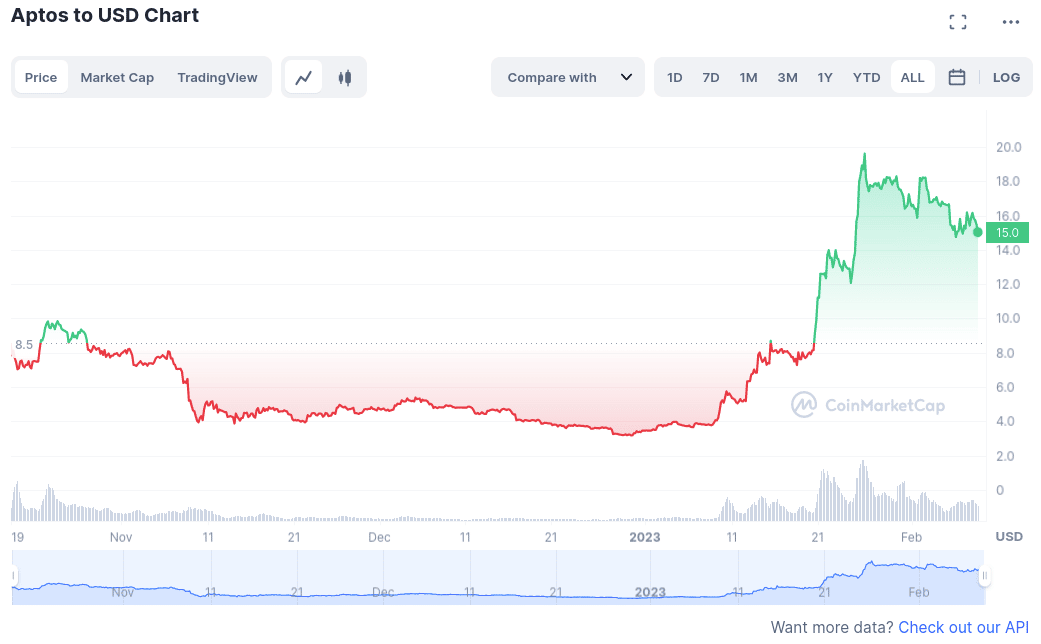 With cutting-edge concepts in the areas of performance optimization, consensus processes, smart contract designs, and system security, the project is well-positioned to be at the forefront of shaking up the layer 1 sector by creating more economic value. The market capitalization of APT as of writing is about $2.4 billion.
How Often Does Binance Add New Cryptocurrencies?
Numerous cryptocurrency projects are vying for listings on Binance, due to its huge audience of investors. A Binance listing is also thought to be a step towards wider acceptance due to this huge user base.
With so many cryptocurrencies emerging on a daily basis, at Binance, new coins are added frequently. The Innovation Zone and the Launchpad are two of the first places investors can look for new Binance listings.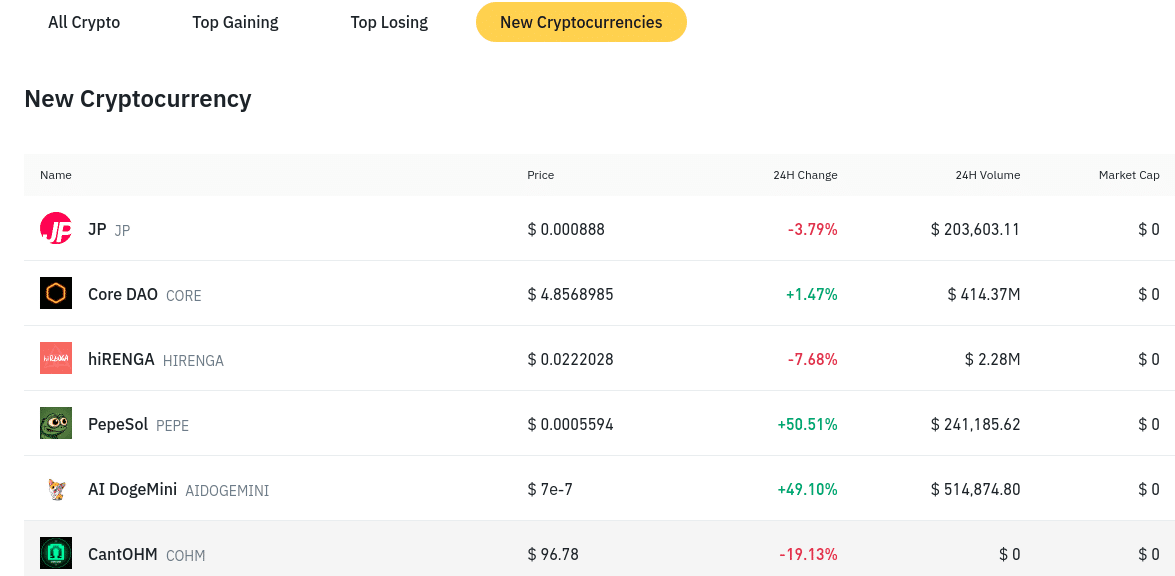 It's difficult to forecast which cryptocurrency Binance will add and when. After all, this exchange frequently announces the next Binance listings just hours before trading starts. It was also announced recently that Binance will stop sterling transfers which follows on from the USD ban which came into action last month.
Why Investing in Upcoming Binance Listings Can Generate Returns
There are many reasons investors search for the best new coins on Binance.
With millions of active users, Binance is one of the most well-known exchanges globally:
The high growth potential of Binance new coin listings is one of the primary factors in its popularity.
That is to say, when Binance lists a crypto project, oftentimes, it is still in the early phases of development.
Due to the fact that Binance has the biggest daily trading volume of any exchange, tokens listed there reach a huge audience.
For instance, as of writing, Binance has a 24-hour trading volume of over $23 billion and more than 14 million weekly visits.
As such, the right upcoming Binance listings can offer huge upside potential.
Some of the projects we've talked about today haven't yet been listed. However, those who invest during presale can access a huge discount before they are listed on an exchange like Binance.
How to Find the Next Coins to List on Binance
We've listed common ways to find new cryptocurrency released on Binance below:
Seek out Presales
Projects like Love Hate Inu are still incredibly accessible and cheap throughout their presale campaign. As such, it is an increasingly popular way to invest in cryptocurrencies, prior to a Binance new coin listing.
As well as some of the perks involved with joining a community as an early investor, the presale price is very modest.
As is clear from our previous analysis, each presale stage sees the tokens increase in value.
Not only that, but these crypto tokens will have a listing price
This is inevitably higher than its presale price.
Therefore those who place an order early will see their investment increase in value automatically.
Cryptocurrencies often grow in the days following the listing on an exchange. Investing in presales is a great method to create a diverse portfolio at a low entry price.
Subscribe to Binance New Listings Alerts
Binance has an announcement page with a list of recently validated currencies that is updated on a regular basis. Investors could keep an eye on this page for updates.
The alternative is for traders to subscribe to new listings alerts. In this regard, there are many available through third-party sites.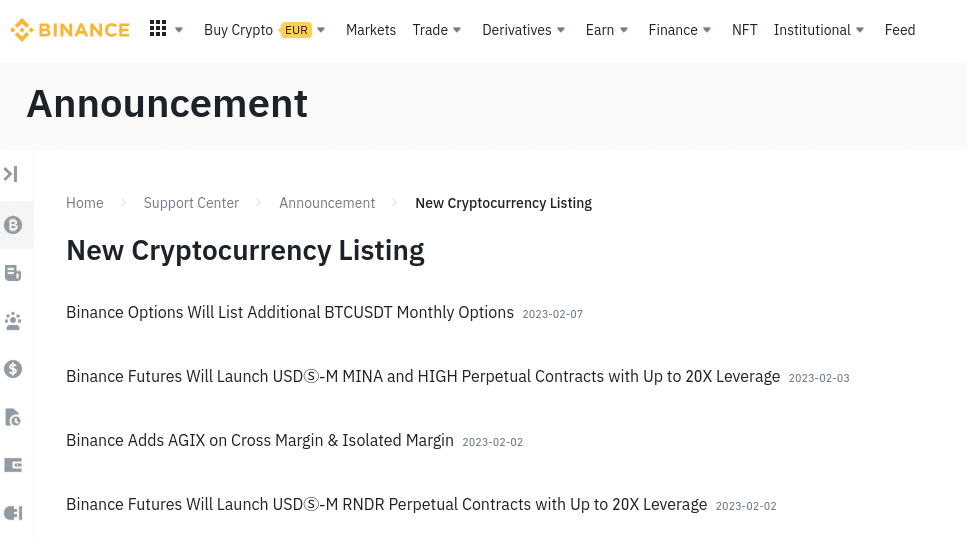 This can save investors from remembering to manually check the exchange each day.
Some offer notifications for specific platforms, and as such investors would receive a specific Binance new listings alert to their email or cell phone each time cryptocurrencies are added.
Conclusion
That concludes this guide on the best new Binance listings for 2023. We've analyzed those that were recently listed as of writing, and also projects that are likely to be added in the very near future.
We like the presale project Wall Street Memes in particular. In conclusion, Wall Street Memes is an example of a strong community-focused meme token that is gaining much investor attention.
Early investors can now buy Wall Street Memes tokens through the 30-stage presale at a discounted price point, relative to the eventual listing price at IEO.
FAQs
What new coins are listing on Binance?
How do I find new listings on Binance?
How do I find newly listed crypto?