Wagmi is a new crypto meme coin that launched on 17 May 2023. After getting off to an explosive start, the coin has endured a month-long downtrend despite showing lots of potential.
In this Wagmi coin price prediction, we break down the coin's history along with its short- and long-term price forecasts.
Wagmi Coin Price Prediction Summary
Wagmi reached an all-time high (ATH) of $0.00000004823 on 19 May but is now down to $0.00000000248, a 95.23% decrease.
The current Wagmi market cap is $967,029.
Investors have mixed sentiments regarding Wagmi. It ties in nicely with crypto culture, but its price has performed poorly so far.
The WAGMI price is forming a bullish short-term ascending channel. However, the longer-term price action remains bearish.
If we see a reversal, Wagmi could reach $0.00000005 by the end of 2023.
| | | | |
| --- | --- | --- | --- |
| Year | Minimum Price | Average Price | Maximum Price |
| 2023 | $0.00000004 | $0.000000045 | $0.00000005 |
| 2024 | $0.00000003 | $0.00000005 | $0.00000007 |
| 2025 | $0.00000001 | $0.00000005 | $0.00000009  |
| 2030 | $0.000000001 | $0.00000008 | $0.00000015 |
Wagmi Coin Price History
The Wagmi meme coin launched on 17 May 2023, initially getting off to a fantastic start. Within two days of launch, WAGMI reached an ATH of $0.00000004823 on 19 May.
Following its initial surge, the price dropped to $0.00000003485 before reaching its ATH zone again on 20 May.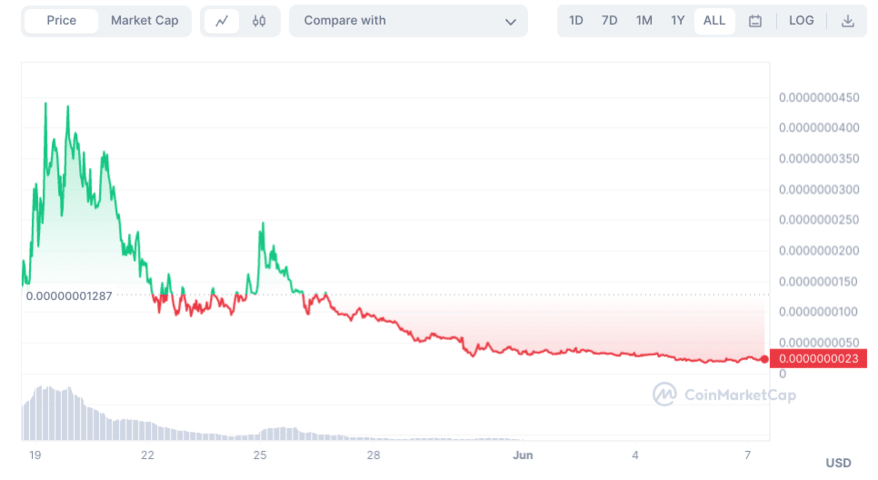 CoinMarketCap then took notice of the Wagmi coin, listing it as the second most trending coin behind Pepe. However, the price failed to break past its ATH, instead rejecting and forming a double-top chart pattern.
Since then, the coin has followed a downward trajectory, except for a brief pump on May 25, which was ultimately a dead cat bounce.
So far, Wagmi has been unable to establish a long-term support level, instead continuing to make lower lows.
Zooming in on the one-hour chart on DEXTools, we can see that the price is forming an ascending channel. However, with the price in a long-term downtrend, this alone is insufficient to signal a reversal.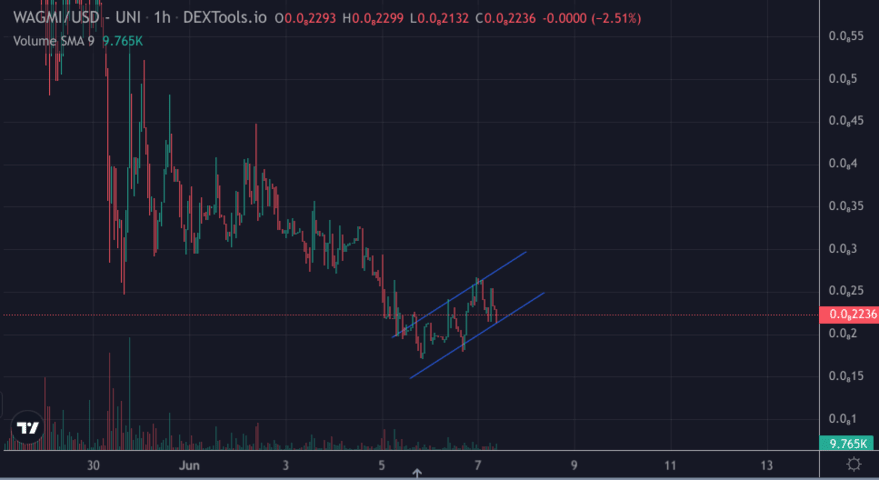 Wagmi Price History – Key Points
Wagmi got off to an explosive start, reaching $0.00000004823 within two days.
The token was picked up by CoinMarketCap and attained the number two spot on its trending list following its ATH.
The price rejected its ATH on 20 May, creating a double top chart pattern.
Since its ATH, the price has continually declined.
Wagmi Coin Price Prediction 2023
Without a macro support level, it is difficult to predict whether Wagmi will eventually bounce or continue losing value. So far, there have proven to be better crypto winter tokens than Wagmi.
However, the coin has a strong community and a more detailed road map than many other meme coins.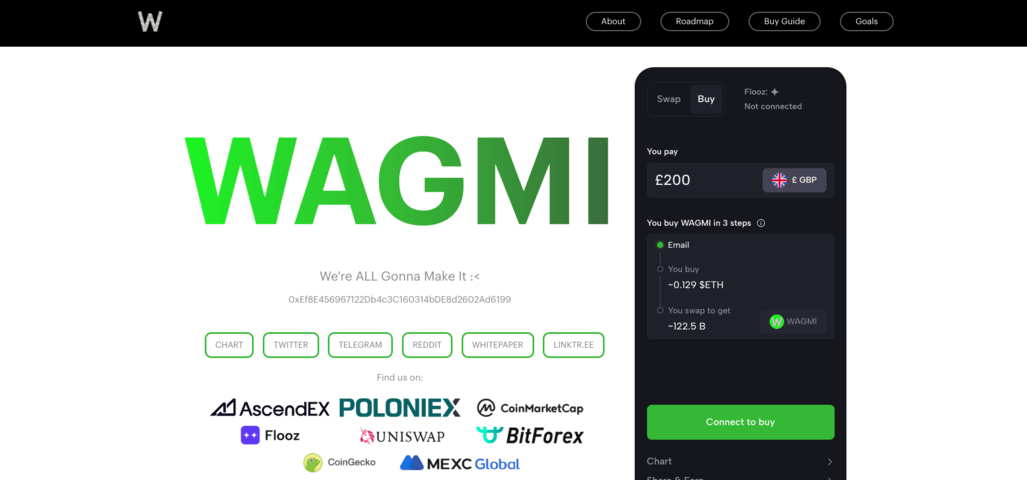 With this in mind, there is a bull and bear case for Wagmi, but the bull case depends on whether the token can establish a support level.
The Wagmi token is inspired by the popular WAGMI meme. WAGMI stands for "we are going to make it" and was popularised during the NFT bull run of 2021.
According to the Wagmi whitepaper, the token aims to bring together the crypto community, boosting camaraderie as the WAGMI slogan did in 2021. The SEC has recently sued Coinbase, Binance and many other exchanges, creating FUD and negative sentiment surrounding crypto.
Meanwhile, the Wagmi token has pumped 13% in the last 24 hours, showing investors will turn to community-centric projects in times of hardship.
Considering this and its already strong community, our bull case Wagmi price prediction forecasts a price of $0.00000005 by the end of 2023. However, there is a strong possibility the coin could continue its downward trajectory, in which case it could see possible lows of $0.00000004.
| | | | |
| --- | --- | --- | --- |
| Month | Potential Low | Average Price | Potential High |
| July 2023 | $0.00000001 | $0.00000002 | $0.00000003 |
| August 2023 | $0.00000001 | $0.000000021 | $0.000000032 |
| September 2023 | $0.00000002 | $0.000000027 | $0.000000034 |
| October 2023 | $0.00000003 | $0.000000035 | $0.00000004 |
| November 2023 | $0.00000035 | $0.00000039 | $0.00000044 |
| December 2023 | $0.00000004 | $0.000000045 | $0.00000005 |
Wagmi Coin Price Prediction 2024
Looking ahead to 2024, Wagmi's short-term performance will significantly impact its price next year. If the project can retake its current ATH, the Bitcoin halving event set for April 2024 could bolster the Wagmi coin price to new heights.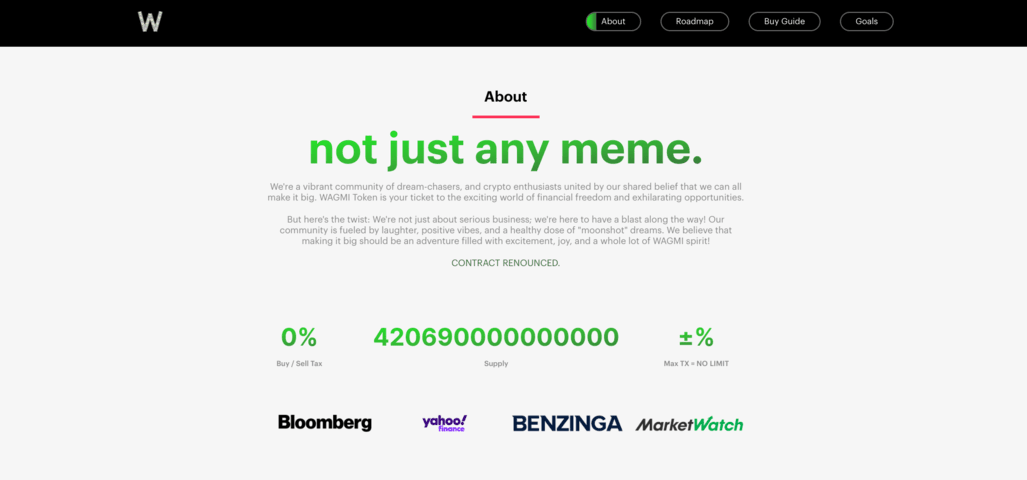 On the other hand, failure to break the downtrend means Wagmi could be forgotten in 2023, causing its trading volume and market cap to plummet in 2024.
One of the interesting things about Wagmi is that its team is seemingly taking a long-term approach. According to its website, Wagmi is "embracing a collective spirit of success and empowering individuals to reach new heights".
The community can download Wagmi stickers to print and stick out worldwide, and the project has already been featured on billboard ads.
$WAGMI all the way to VAHALLA let's ride together $WAGMI family……
by u/ElriderC in WAGMIHQ
According to the roadmap, the project will also integrate will wallets and decentralised finance (DeFi) in the future. This is a similar action to what Dogecoin has taken. With this in mind, it is likely WAGMI aims to become a payment coin in the future rather than just a meme coin.
Provided it breaks its current downtrend, our Wagmi coin price prediction estimates a price of $0.00000007 by the end of 2024.
Wagmi Price Forecast Long-Term Outlook – 2025-2030 Predictions
One of the main issues with meme coins long-term is that regulators and authorities often attack them. For example, Elon Musk was sued for manipulating the Dogecoin price in 2021. More recently, influencer Ben.ETH is being scrutinised by regulators for the controversial $PSYOP token launch.
Nevertheless, Dogecoin still has a market cap of over $10 billion, showing investors are still willing to buy meme coins despite their negative connotations.
For Wagmi to become a long-term crypto, two things must happen. First, it must break its current downtrend. Second, it must follow in the footsteps of Dogecoin and Shiba Inu by evolving its ecosystem and providing more value to holders.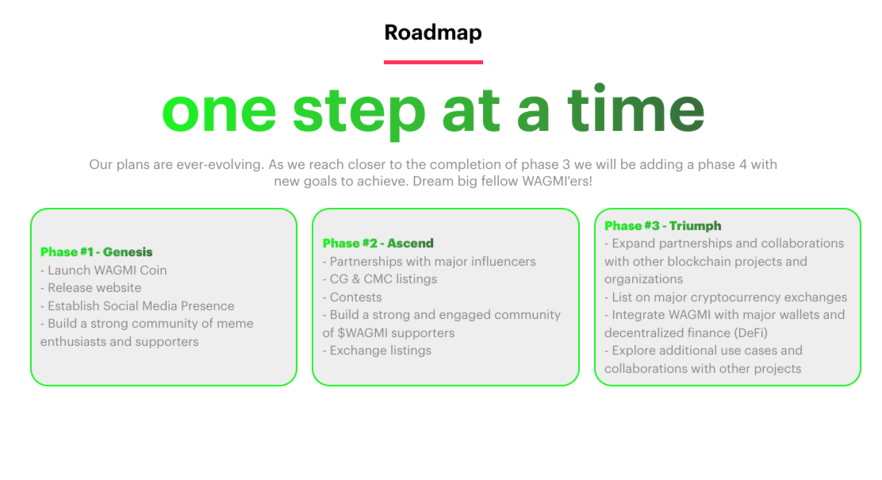 The Wagmi roadmap states it will "explore additional use cases and collaborations with other projects" in its third phase.
Considering it also aims to integrate with DeFi and wallets, we may see further utility-based developments down the line.
The project already has a significant community, with over 7K Twitter followers, 4K Telegram members and 4K holders.
Its fundamentals, low market cap, and down-trending price make Wagmi a high-risk coin with high upside potential.
Therefore, our Wagmi coin price prediction forecasts the price could reach possible highs of $0.00000009 by the end of 2025.
Taking a long-term outlook, we predict the Wagmi crypto price could reach $0.00000015 by the end of 2030.
Potential Highs & Lows of Wagmi Coin Price
The bull and bear case widely differs for Wagmi. While it could be one of the best cryptos to watch, it also presents major downside risk. With that in mind, we have summarised its potential highs and lows below.
| | | |
| --- | --- | --- |
| Year | Minimum Price | Maximum Price |
| 2023 | $0.00000004 | $0.00000005 |
| 2024 | $0.00000003 | $0.00000007 |
| 2025 | $0.00000001 | $0.00000009  |
| 2030 | $0.000000001 | $0.00000015 |
What do Other Analysts Predict for Wagmi Coin?
One of the best ways to gain a clearer view of a crypto's direction is by combining price predictions from several experts. Below, we have summarised the Wagmi coin price predictions from some top media outlets.
According to priceprediction.net, Wagmi's lowest potential price for the end of 2023 will be $0.00002382. The Wagmi coin forecast also predicts a maximum expected price of $0.00002742.
DigitalCoinPrice's Wagmi token forecast predicts Wagmi could reach potential lows of $0.00000000170 or highs of $0.00000000417 by the end of 2023.
Based on COINDATAFLOW's Wagmi token price forecast, there will be a possible low of $0.0000000016 or a possible high of $0.0000000023 by the end of 2023.
What is Wagmi Coin?
Wagmi is a meme coin based on the WAGMI meme. The WAGMI meme became popular in 2021, with prominent industry figures like Vitalik Buterin even supporting it.
Vitalik knows we're all gonna make it
by u/ApprehensiveKale1537 in WAGMIHQ
The interesting thing about the Wagmi coin is that its team took steps towards becoming it a long-term crypto. According to its website, the project will release stage four of its roadmap in the future, although we still do not know what that will entail.
In a similar fashion to Dogecoin, Wagmi aims to be a token for the people. So far, it has expressed interest in becoming interoperable with DeFi and wallets, and the Whitepaper says its 420,690,000,000,000 total supply was selected to align with meme coin culture and to ensure there are enough coins for widespread distribution.
Despite its poor price history, Wagmi has been covered by several influencers and YouTubers, also receiving notable mentions from high-profile media outlets.
Recently, popular YouTuber Ben Crypto released a video about the project, stating it could be the next crypto moonshot.
Ben Crypto's video highlighted several beneficial factors relating to Wagmi and the efficiency of its team. For example, only one week after its launch, the project was already listed on big centralised exchanges like MEXC and Poloniex.
Wagmi Coin Overview
We have summarised the key points of the Wagmi coin price below.
| | |
| --- | --- |
| Cryptocurrency | Wagmi |
| Ticker Symbol | WAGMI |
| Rank | 3071 |
| Price | $0.00000000248 |
| Price Change 24H | 13% |
| Market Cap | $967,029 |
| Circulating Supply | 420,690,000,000,000 WAGMI |
| Trading Volume 24H | $365,531 |
| All Time High | $0.00000004823 |
| All Time Low | $0.000000001706 |
What Influences the Price of Wagmi?
So far, very little has been able to positively impact the WAGMI price since it began its downward trajectory. However, several factors could greatly influence it looking ahead, which we have highlighted below.
Wagmi runs social media raids and offers prizes to participants. This is partly why the coin achieved second place on the CoinMarketCap trending list.
If the community continues to grow, the raids could become more effective. Previously, the Shiba Inu community achieved tremendous success through similar actions.
Hype
The Wagmi price is currently based on hype and speculation. Therefore, media and influencer coverage, raids, positive price action and featuring on trending lists like CoinMarketCap's could help the price pump. Conversely, failure to generate more hype will likely see holders lose interest, and the project continue to lose value.
Ecosystem Developments
Wagmi's roadmap features several notable ecosystem developments, with its website also saying there will be more to come. The ability to add value could greatly increase its chances of success long term.
Broader Market Conditions
If Wagmi breaks out of its current downtrend, it will likely fall in line with the rest of the market. The Bitcoin halving set for April 2024 could cause a massive uptick in the WAGMI price. On the other hand, if liquidity continues to leave the broader market, it is unlikely WAGMI will break its downtrend.
Meme Coin Cycles
Meme coins often move in cycles; when one meme coin soars in price, many others often follow. For example, when Pepe climbed 7000% through April and May, many other meme coins like Ben, Turbo and Sponge also soared.
Conclusion
Although the Wagmi coin has the potential to be one of the best altcoins to buy, it must first reverse its downward price momentum. If successful, Wagmi could present a significant upside, but the longer the downward trend, the more unlikely it is to reverse.
A strong price chart or price history is one of the most important things for any crypto. We have compiled a list of the best cryptos to buy, which could provide better alternatives to Wagmi. Click the link below to check them out.
References
https://www.dextools.io/app/en/ether/pair-explorer/0xd6c2af244dd56db3c9d276808eda8b5fb040007b
https://www.bloomberg.com/news/articles/2022-01-06/nft-market-surpassed-40-billion-in-2021-new-estimate-shows
https://www.reuters.com/business/finance/crypto-stocks-fall-after-us-sec-sues-coinbase-over-failure-register-2023-06-06/
https://www.reuters.com/markets/us/elon-musk-258-billion-dogecoin-lawsuit-expands-2022-09-07/
https://www.reuters.com/technology/cryptoverse-every-frog-has-its-day-pepe-pops-7000-2023-05-16/
FAQs
What is the price prediction for the Wagmi token in 2023?
Does Wagmi coin have a future?
What is the Wagmi price prediction for 2025?