Whether you're new to cryptocurrency or just looking for more ways to spend it, you might be wondering what you can buy with Dogecoin and other cryptocurrencies. Fortunately, there are many online retailers today offering a variety of products in exchange for cryptocurrency like DOGE, including luxury cars, real estate, watches, cameras, and more.
This guide will explore 12 of the best ways to spend Dogecoin in 2023. We'll go into detail about each category, the brands and products offered, and the best place to buy them.
The Top Ways You Can Spend Dogecoin
The following list includes 12 of the best things to buy in 2023 if you're looking to pay with DOGE.
Cars
Real Estate
Computers
Luxury Watches
Cameras
Artwork
Gaming Equipment
Fashion
Jewelry
Arcade Games
Collectibles
Home and Garden Gear
All of the above products are available on Crypto Emporium, the biggest online retailer for anyone looking for where to spend Dogecoin.
A Detailed Guide to How You Can Spend Dogecoin to Buy Things
Let's go into detail about the best products you could buy with Dogecoin in 2023.
Cars
Luxury cars are just one of the many products available for purchase using Dogecoin on Crypto Emporium. There are a number of makes and models offered, and searching on the site is easy with numerous filters like model, mileage, and price. High-end brands like BMW, Aston Martin, Rolls-Royce, and more are featured.
If you're wondering how to spend Dogecoin and love classic cars, the site has an entire section for luxury classic car enthusiasts. This includes a 1960 Aston Martin DB4 Series II available for purchase for $1.1 million. Other classics include a 1971 Volvo 1800 E, a 1973 VW T2 Bay Window Camper, and a 1990 Ferrari F40, to name a few.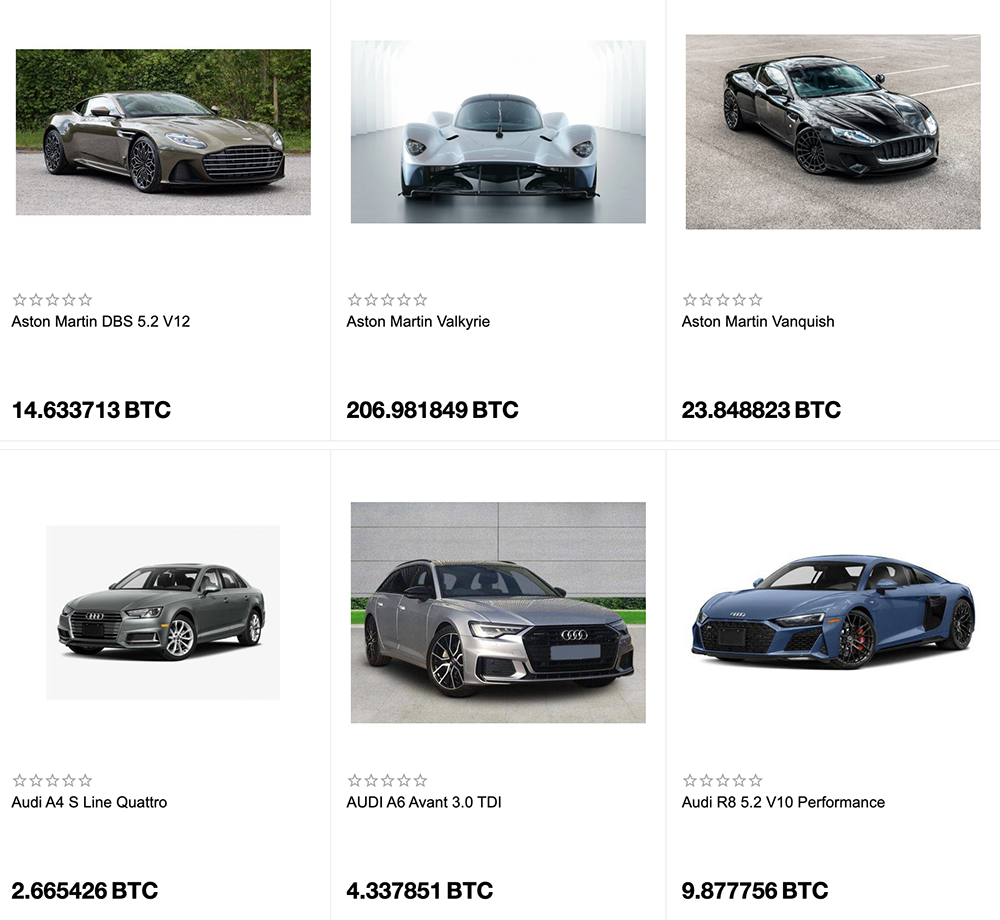 One of the great features of Crypto Emporium is the detailed descriptions accompanying many of the previously-owned cars regarding their condition, what has been refurbished, and what previous owners have done with the vehicle since its initial sale.
In addition to cars, Crypto Emporium offers motorcycles, vans, trucks, and non-classic cars for purchase with Dogecoin and other cryptocurrencies. The site also makes it incredibly easy to ask questions, offering guidance throughout the entire process. It's as easy to buy cars with Bitcoin, too.
Tesla is another place that you can use Dogecoin to buy cars.
Real Estate
Real estate continues to be one of the best investments you can make. It's becoming increasingly possible to pay with DOGE for apartments, homes, and land. Buying real estate with cryptocurrency is generally much easier than using fiat money since there are no bank fees, no long transfer times, nor any currency conversions.
Crypto Emporium offers a wide variety of real estate. As with other products, the site makes it incredibly easy to search for exactly what you want. If you're not certain what type of real estate would suit you best, search by property type, price, country – or even continent if you want to start with a broader view.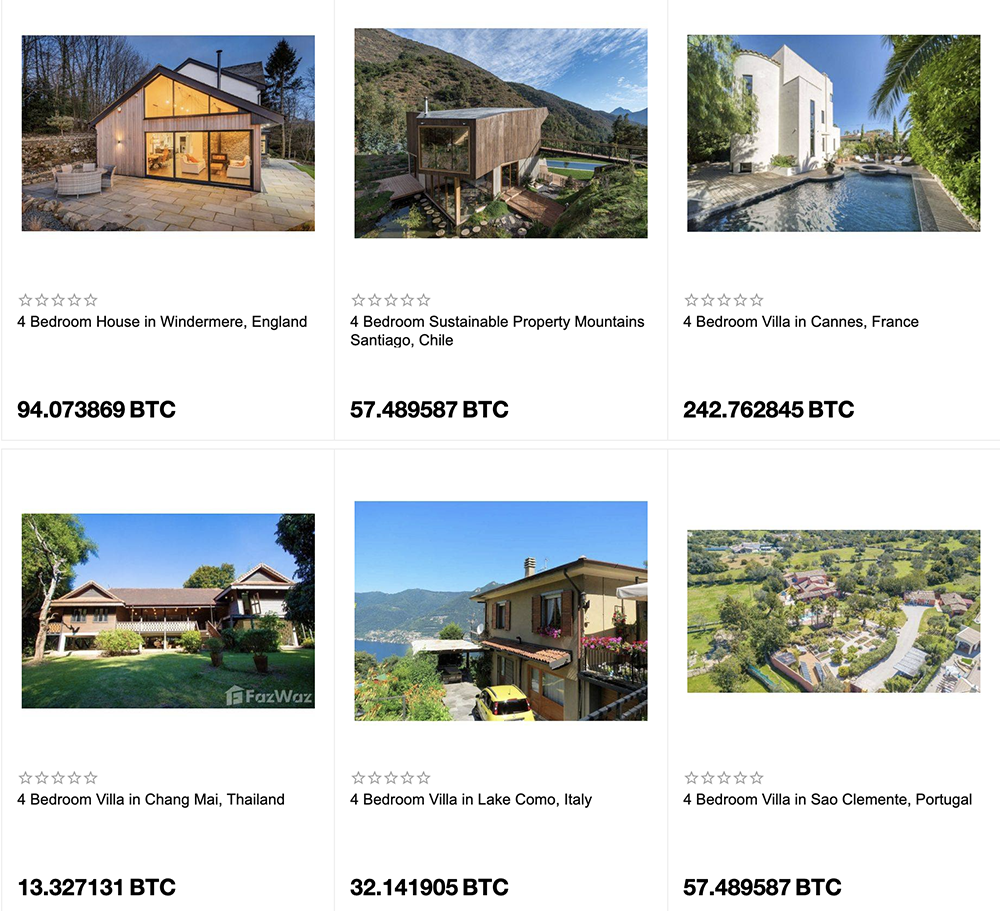 There are several 1-bedroom apartments available for sale in places as varied as Barcelona, London, Buenos Aires, and Frankfurt. Looking to buy a hotel? There's a 93-bedroom hotel for sale in Calabria, Italy for US$5.2 million in Doge.
Crypto Emporium offers plenty of houses ranging from a 1-bedroom villa in Bali to a 12-bedroom mansion in Portugal. In addition, there is commercial real estate, yachts, land, and much more available for anyone looking to enter the real estate market and wondering "What can I buy with Dogecoin?"
Computers
Another great direction for those contemplating where you can spend Dogecoin is the computer market. Crypto Emporium offers a wide variety of desktops, laptops, and more in a range of products, brands, and prices.
Once again, the site makes it easy to search for exactly what you need. Whether it's a laptop, desktop computer, monitor, printer, or scanner, there are a large number of products available. Each computer listing comes with multiple photos as well detailed descriptions of features and technical specs such as processors, memory space, hard disk size, and much more.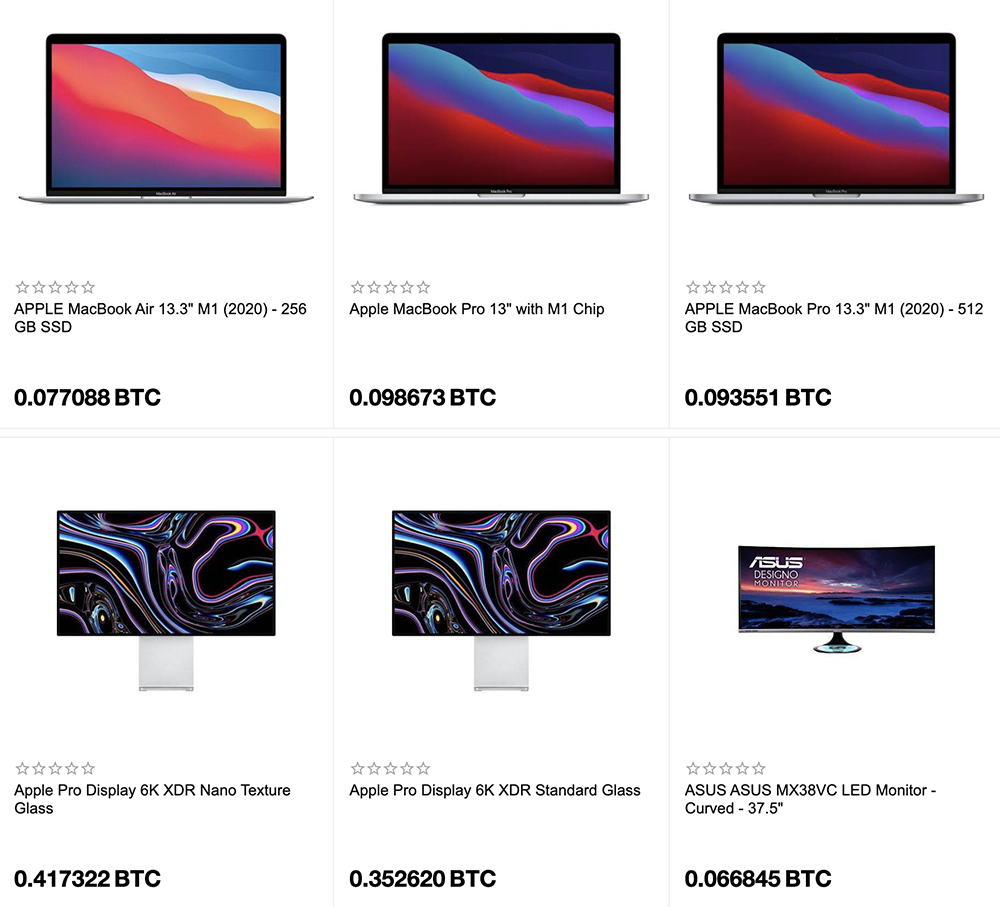 Computer brands include Apple, Dell, HP, Lenovo, and Microsoft. If you're interested in how to spend Dogecoin on an all-in-one machine, there's an Epson EcoTank ET-5850 which is a printer, scanner, copier, and fax machine all in one. In addition, there are accessories like mouses, keyboards, cables, and hard drives available in exchange for DOGE and other cryptocurrencies.
Another electronics store that accepts Dogecoin is Newegg, which allows you to buy PCs and laptops with DOGE.
Luxury Watches
The luxury watch market is a great place to invest. In 2022, prices exploded for Rolex and many other luxury brands – and will only continue to rise.
One of the best online retailers selling luxury watches right now is Crypto Emporium. The site has many high-end timepieces for sale from brands such as Cartier, Rolex, Tag Heuer, Gucci, and more.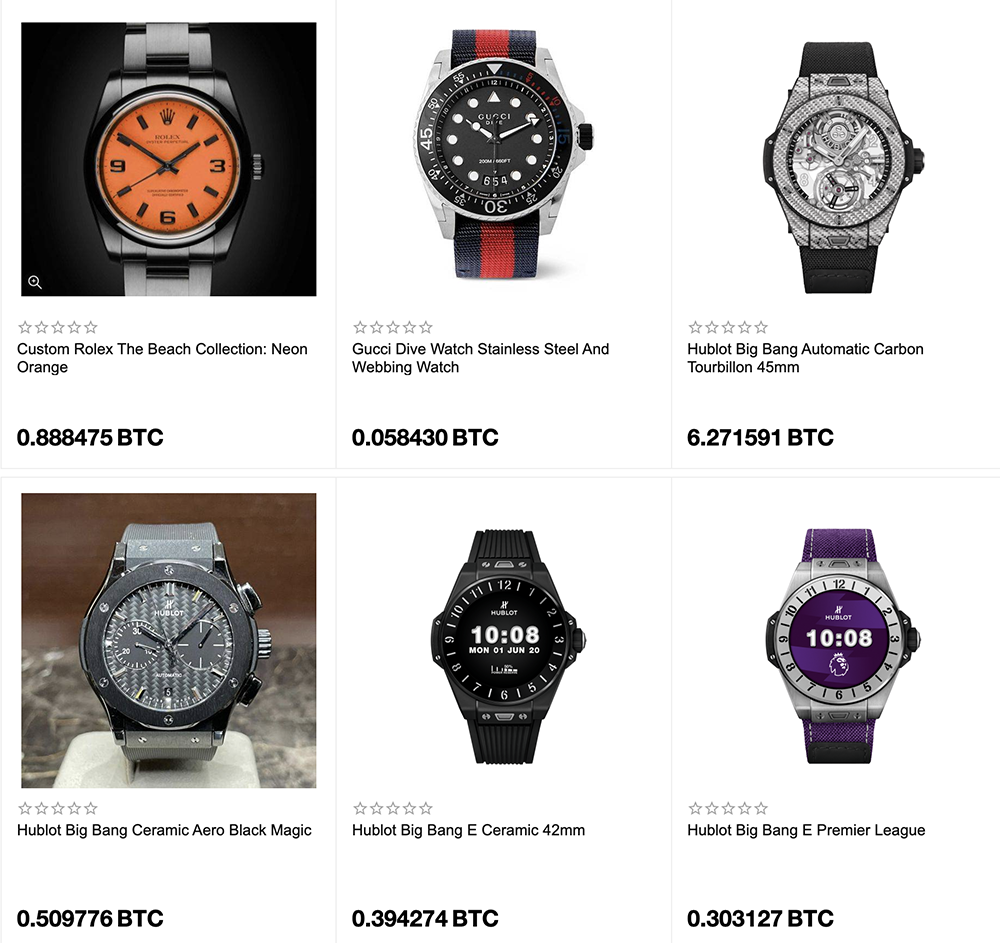 Besides being able to search by brand name, you can narrow down a previously-owned luxury watch by its condition, ranging from Fair to Very Good to New and Unworn. You can also indicate whether you would like the watch to include the original box and papers.
Each watch listing comes with photos and a detailed description offering everything you need to know about technical specs, features, the warranty, and even the watch's uniqueness. For example, a custom Rolex Daytona: Stealth is listed as "Limited to 20 pieces". This detail offers a glimpse into how rare a Rolex you can buy with Bitcoin or Doge.
If you're a luxury watch enthusiast and wondering what you can buy with Dogecoin, consider investing in a valuable timepiece from Crypto Emporium.
BitDials is another popular online watch marketplace that accepts cryto payments for models from top brands like Omega, Cartier, Hublot, and Patek Phillipe.
Cameras
The rise in popularity of digital photography has made the medium more inclusive. Now, anyone can be a photographer with the right equipment. Even online photography education is expected to accelerate over the next few years.
Fortunately, Crypto Emporium offers a wide variety of camera equipment in exchange for Dogecoin. For amateur and professional photographers alike, the question "What can you buy with Dogecoin?" has an obvious answer.
Whether you're interested in a DSLR, mirrorless, compact, or instant camera, Crypto Emporium offers a variety of choices. Brands include popular names such as Canon, Nikon, Panasonic, Fujifilm, Sony, and more.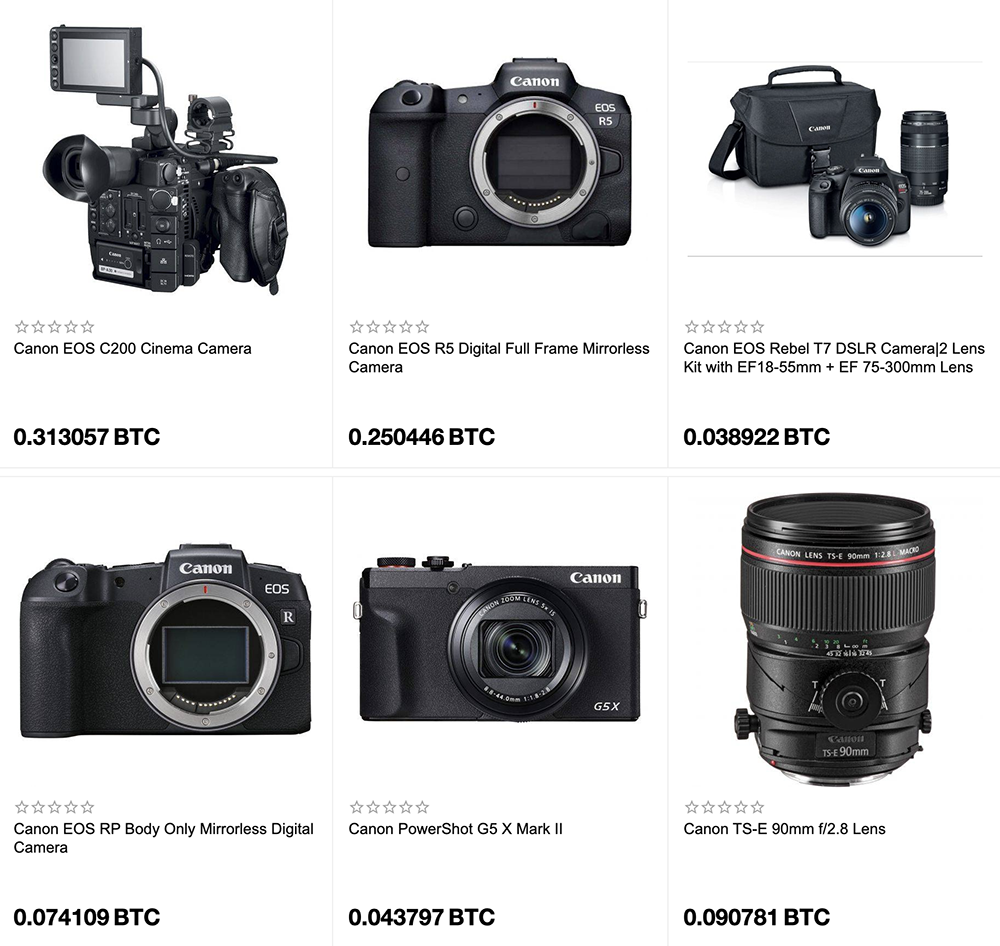 If you're more of a budding filmmaker, Crypto Emporium sells video cameras ranging from a Sony HDR-CX405 9.2 MP full HD camcorder for US$499 to a Phantom v2512 25,000 FPS slow motion camera for US$250,472 – the fastest 1-megapixel digital high-speed camera on the market.
There's also a variety of lighting and studio equipment, as well as accessories like lenses and memory cards. As with most products on Crypto Emporium, each listing contains many details, specs, and features that tell you all you need to know about the product.
Artwork
Art lovers, you're in luck. If you're looking for how to pay with Dogecoin for items that will not only fill your soul but elevate your home or office, Crypto Emporium has an impressive number of original paintings, photographs, sculptures, and more in a wide range of artistic expressions.
If you'd like to browse Artwork on Crypto Emporium, the site makes it easy to search by artist name, artwork type, medium, and price range. If you enjoy striking images of nature, there's a limited edition photograph of an animal skull by Nikolina Petolas and an unusual photograph of a dandelion against a blue sky by Ziesook You.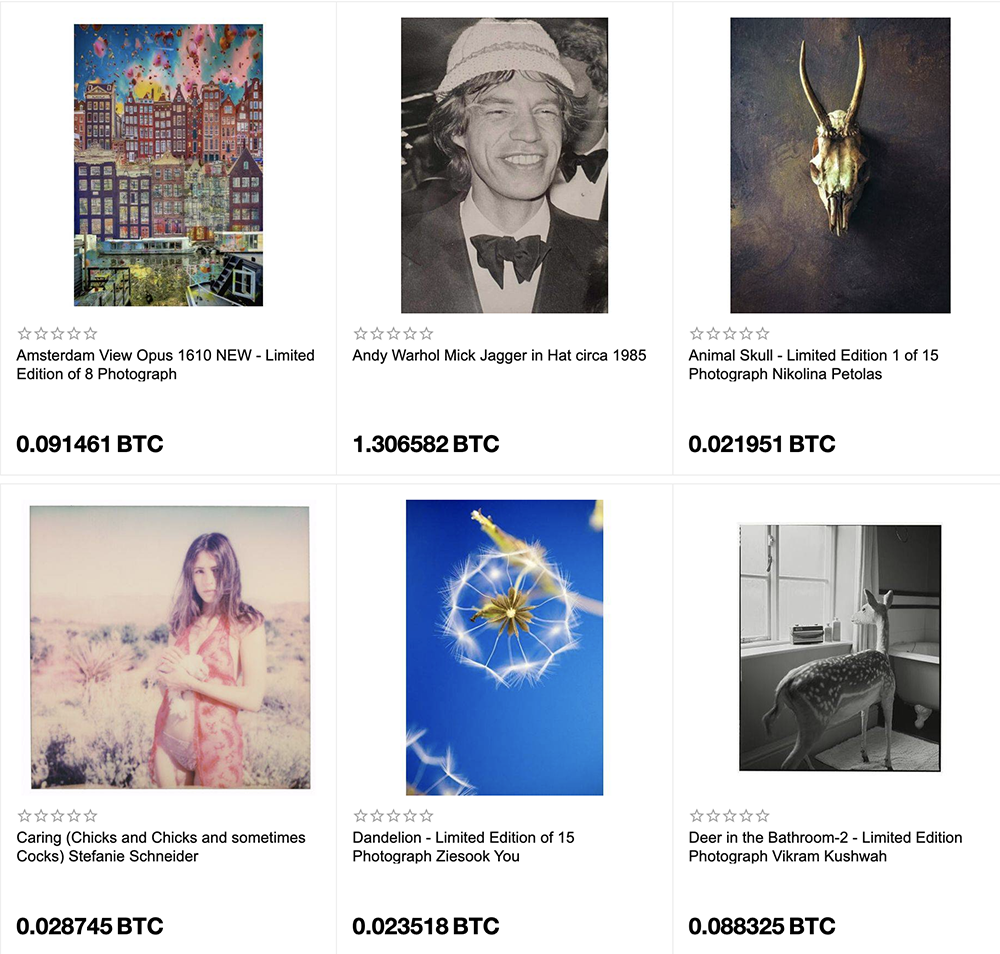 Pop art fans would be happy to know there are numerous works by Andy Warhol available for purchase. Someone is even selling a limited edition welcome mat created by the famous artist known as Banksy for US$9,540 in Doge.
It should be noted that some artwork on the site is sold directly by the original artists, while other pieces come from estates or galleries.
Most of the art listings include a mini-biography of the artist, which tells you more of a story about the piece. The prices for artwork on Crypto Emporium start at a very inexpensive level and go into the hundreds of thousands, so there truly is something for art lovers no matter how much Doge you have to spend.
Gaming Equipment
In the past several years, the number of people who have entered the gaming industry has skyrocketed. The United States alone saw a 46% increase in the number of new gamers. Crypto Emporium has a wide range of equipment for those who are already gamers or just looking to become one.
If you're looking for ways to spend Dogecoin or other cryptocurrencies, search the gaming section for consoles, gaming computers or laptops, video games, and accessories. Brand names range from Acer to Alienware to Nintendo and more.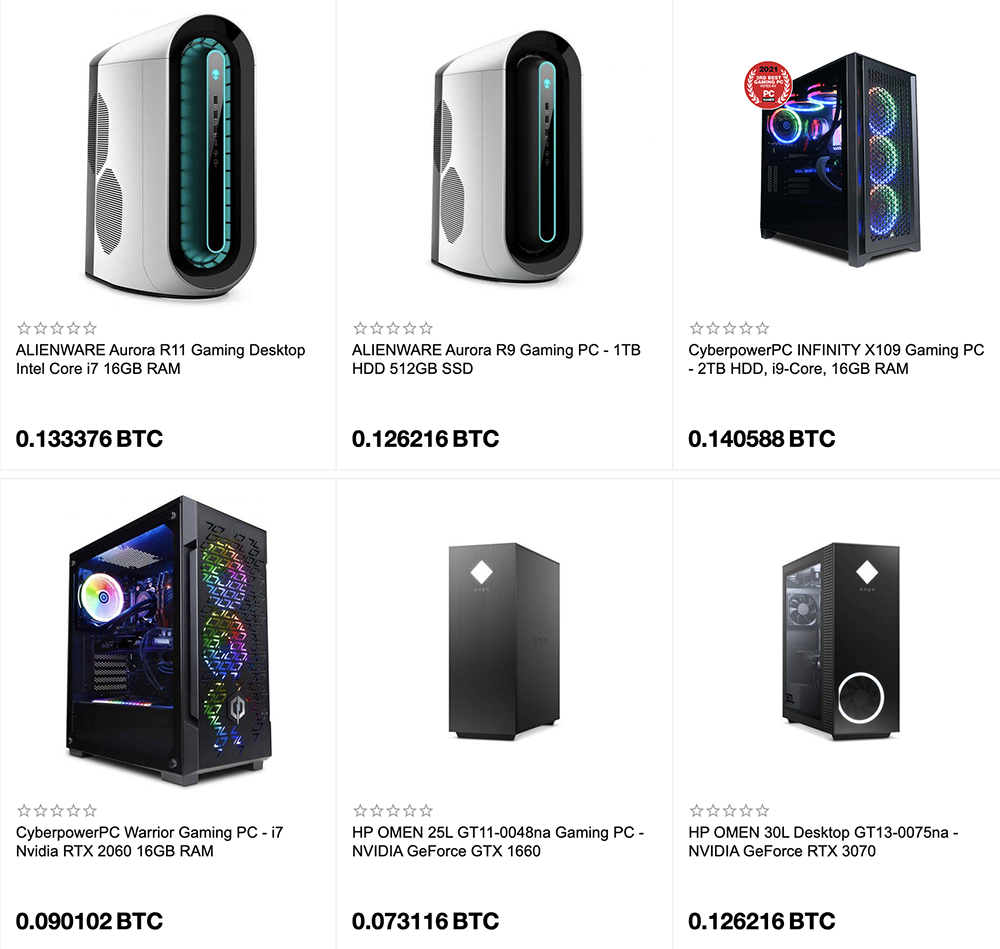 Whether you're considering a Microsoft Xbox Series, Nintendo Switch, PlayStation 5 Digital Edition, or something else, there is a variety of gaming consoles to choose from.
The site features gaming computers from ALIENWARE, CyberpowerPC, Lenovo, and other leading brands. If you're looking for video games, Call of Duty: Black Ops: Cold War is available for purchase with Doge.
It's important to know that some of these consoles and gaming equipment are brand new, while others are previously owned. Regardless of condition, Crypto Emporium provides numerous details about each listing so that you know exactly what you're getting.
Fashion
If you're still wondering where you can spend Dogecoin, you've likely seen by now that there are many options. This includes luxury clothing, bags, wallets, and other accessories from top-name brands.
Crypto Emporium offers a number of fashion items for sale in exchange for cryptocurrency like Dogecoin. For ease of search, women's and men's clothing are separated into categories, and clothing type is listed within each sub-menu.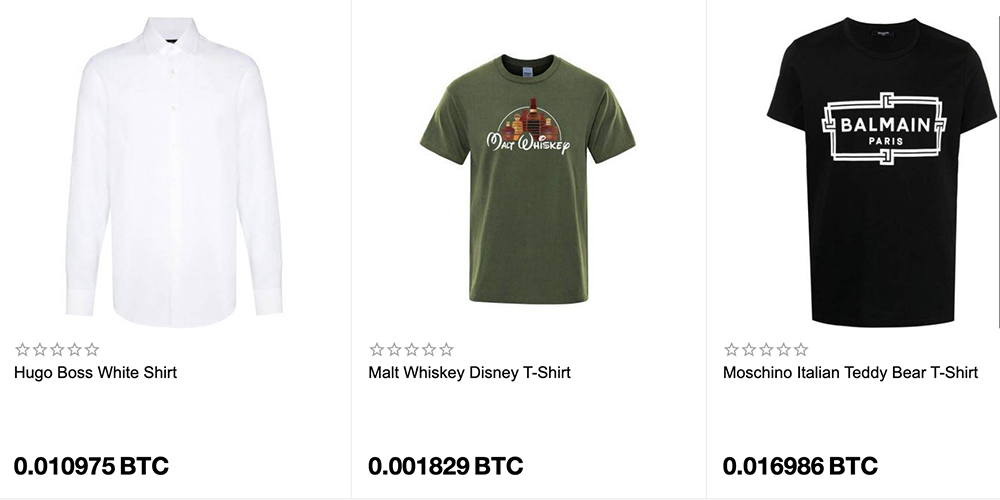 Whether you're interested in a Versace Trésor De La Mer bralette or a Burberry leather-trimmed fall coat, many high-end items are available for purchase. Also included in the women's fashion section are jeans, t-shirts, activewear, bags, and more.
Men can browse Dolce & Gabbana jeans, Alexander McQueen hats and shirts, Gucci hoodies, and many other items. The site makes it easy to narrow down your options as you can search by brand name, size, color, and price range.
It's not often you see so many high-end fashion brands on the same site, so this section is fun to shop around. If you're wondering how to spend Dogecoin and love fashion, Crypto Emporium is definitely a site to check out.
Jewelry
Jewelry is always a solid place to invest money: in 2012, a 6.7-carat Kashmir sapphire sold for $206,500 at auction; nine years later, a similar item sold for $550,000.
Whether you're looking to buy jewelry as an investment, or just a gift, Crypto Emporium is one of the best places to find diamonds, gold, and silver in exchange for Dogecoin and other cryptocurrencies.
On the site, women's and men's jewelry can be found within the Fashion category. Women's pieces include an aquamarine 0.34CT and diamond 9K white gold pendant necklace and a pair of diamond 1.00CT studs in 18K white gold.
Men's jewelry features several pairs of cufflinks from Burberry, Deacon & Francis, and Paul Smith, in addition to chains pendants, rings, and bracelets.
Each listing has a description with details of the piece, including size, color, and other technical details. You can even see how many people viewed each product on any given day.
For anyone wondering where to spend Dogecoin and looking to upgrade your lifestyle, visiting the jewelry section on Crypto Emporium is a great start.
Arcade Games
While modern-day gaming consoles are obviously popular, there are still plenty of people who long for arcade games of the past. If you're still looking for ideas about what can you buy with Dogecoin, you're in luck. Crypto Emporium has an entire section of arcade games and pinball machines you're going to love.
For all of you 80s kids (or just fans of the decade), there's a Pac-Man 40th anniversary cabinet machine available for sale on Crypto Emporium for US$479 in Doge. This looks exactly like the old arcade game you probably remember, except it's designed to sit on a countertop or table.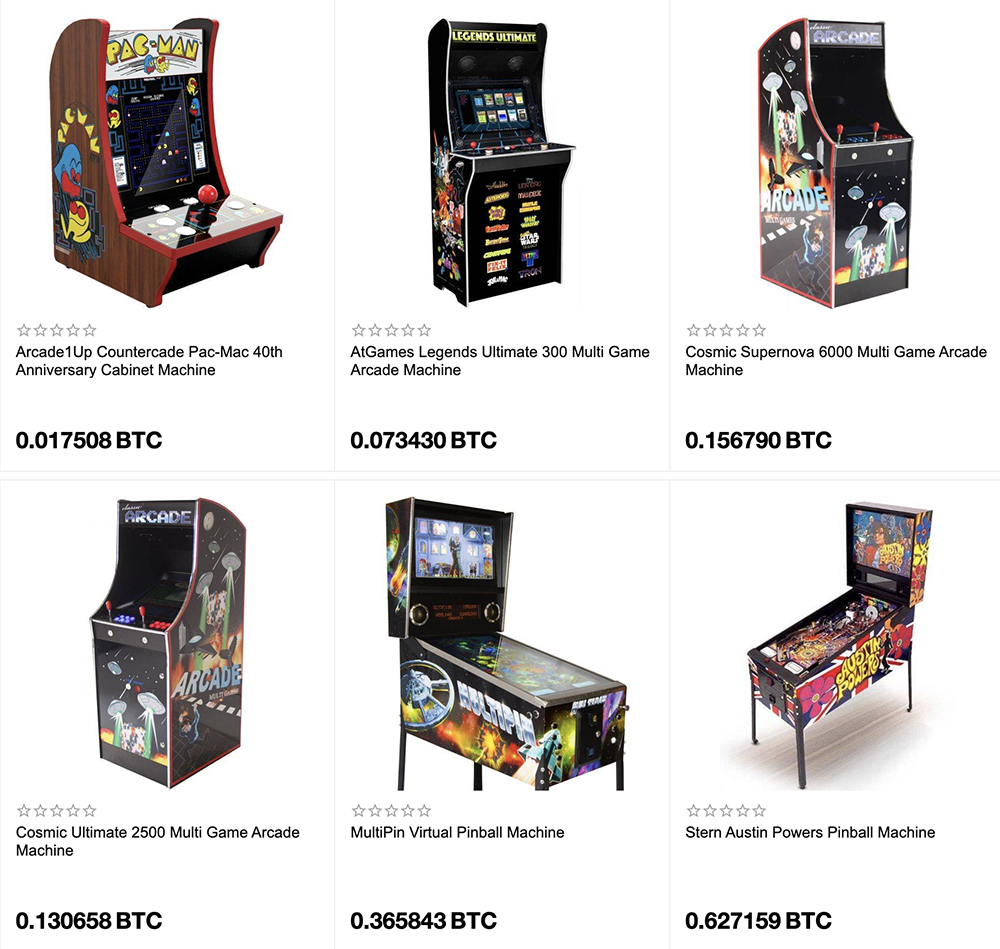 There are also full-size arcade games available such as the AtGames Legends Ultimate 300 Multi Game machine which holds an astounding 300 preloaded and licensed games. You can even play online and compete with players from all around the world.
Pinball lovers will be happy to know that there are machines available for purchase with Dogecoin and other cryptocurrencies. Austin Powers, Jurassic Park, and South Park are all represented in the pinball machine category.
As much as we all love luxury items like watches, high-end fashion, and classic cars, there's also something special about investing in one of these nostalgic toys to bring back great memories or just unwind.
Collectibles
Continuing the nostalgia trend, if you're a fan of Pokemon, LEGO, and sports memorabilia, Crypto Emporium makes it easy to pay with DOGE or other cryptocurrencies in exchange for some fun collectibles.
Two extremely rare items available for purchase at the moment include a factory-sealed, undamaged 1999 Pokemon Base Unlimited Booster Box with 36 packs and a hard-to-find Charizard Pokemon card, also in its original packaging.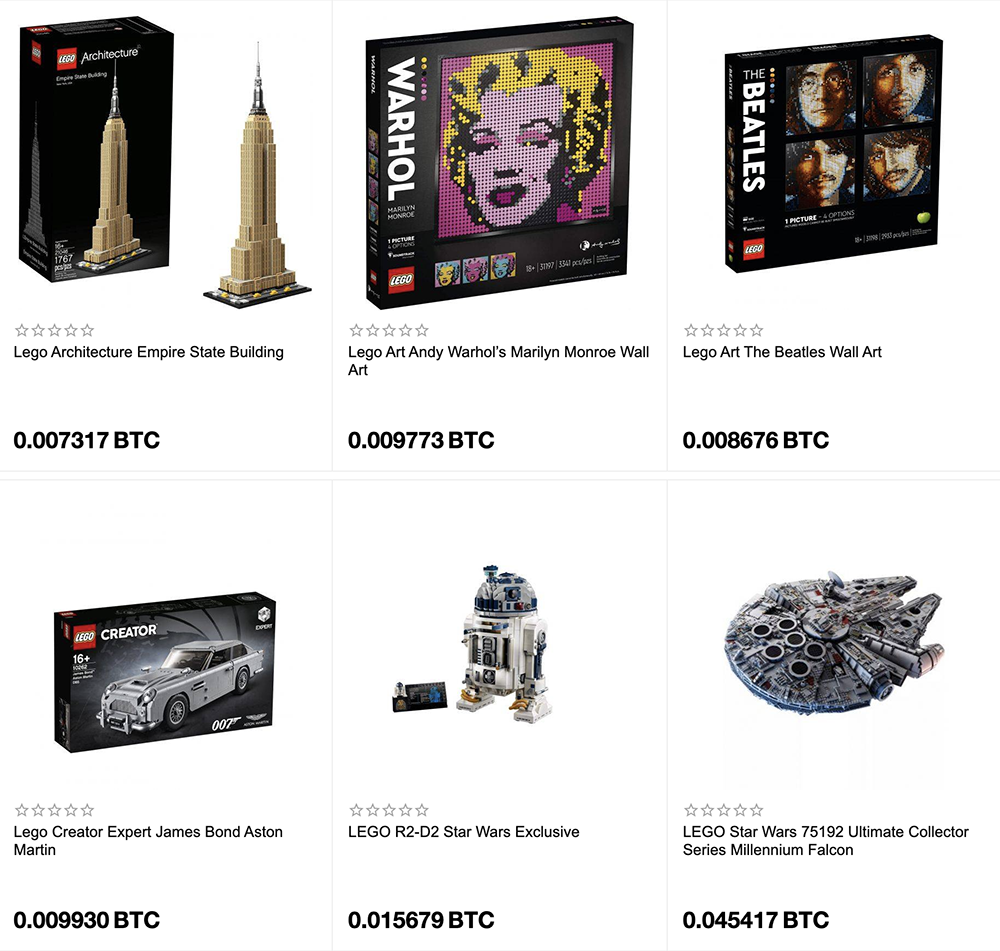 Mid-2000s nostalgia fans will enjoy the 5 GB First Generation iPod or the sealed 2 GB First Generation iPod Nano. LEGO enthusiasts will enjoy browsing Andy Warhol's Marilyn Monroe wall art and James Bond Aston Martin LEGO sets.
As with many other products on Crypto Emporium, most of these collectibles are accompanied by detailed descriptions of their origins, features, and technical specs.
This category also features sports memorabilia including a Manchester United jersey signed by Bruno Fernandez, a boxing glove signed by Muhammad Ali, and a shirt worn by Argentine legendary footballer Lionel Messi from the 2019-2020 training season.
Home & Garden
Crypto Emporium's Miscellaneous category includes the Home and Garden section, an eclectic mix of fun, high-tech, and luxury items for your home.
Whether you're looking for the ultimate massage chair, a Bitcoin and stocks LED pixel display, or a high-end coffee maker, the site has many items that will improve your comfort and productivity, as well as elevate your home decor.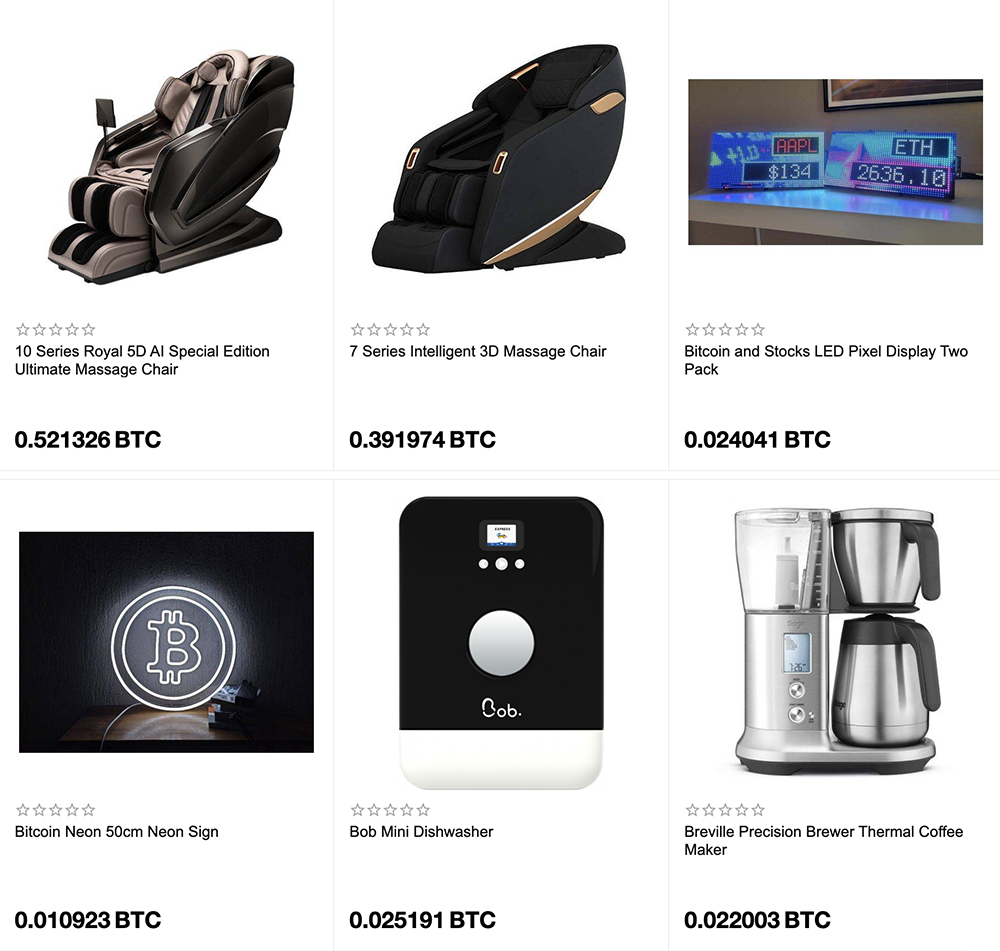 Also included in the home and garden listings are a variety of robot vacuum cleaners, LED lamps, and even furniture such as the Royal Chelsea Chesterfield two-seater sofa.
This is not a typical home and garden section. These are mostly higher-end items for those looking to experience more of a luxury lifestyle with the purchase of high-tech products.
Where Can I Use Dogecoin to Buy Online?
By now, you'll know that you can buy a number of great products with Dogecoin. As mentioned, Crypto Emporium is the best online retailer to spend this and other cryptocurrencies.
As far as what you can buy with Dogecoin, the site offers a wide range of products. Besides the items in this guide, there are crypto mining products, kayaks, online courses, bicycles, drones, travel items – the list goes on and on.
Since the company's origins in 2018, Crypto Emporium has become a leading name in the world of cryptocurrency e-commerce. It was the world's first e-commerce store to use cryptocurrency as an exclusive means of payment. Their core belief is that cryptocurrency should be used as intended – as a way to buy and sell online goods – as cited in the original Satoshi Nakamoto 2008 white paper on Bitcoin.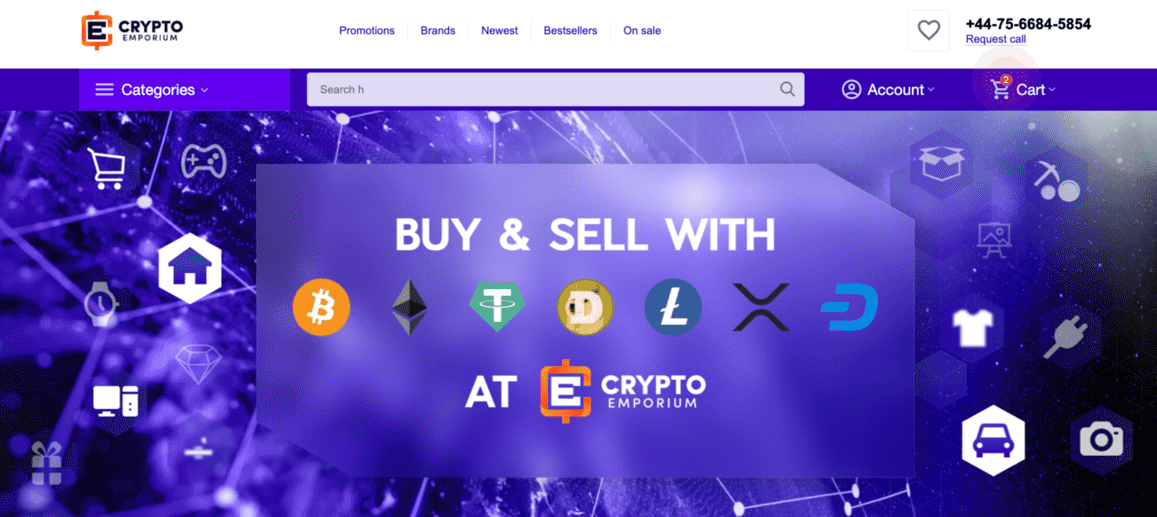 Crypto Emporium reaches buyers and sellers in over 125 countries around the world. Buyers are never required to connect their crypto wallets in order to purchase products. Rather, transfers are made externally.
Additionally, the company offers a cashback program wherein buyers receive 4% back on purchases, paid in tokens 30 days after the sale. For sellers, Crypto Emporium only takes a 2.8% commission – much lower than many other online retailers.
As far as ease of use, it's an incredibly intuitive site. The search functions are clear and varied. It's easy to search for exactly what you're looking for. And if you're not yet sure what you'd like to buy, you can browse the many products and categories available on the site.
Finally, the customer service is top-notch. Crypto Emporium makes it clear how to reach out to them in case you have questions about any step of the buying process. For full details about the site you can read through our Crypto Emporium review.
Why is Spending With Dogecoin Better? Benefits of Paying with DOGE
In the last few years, an increasing number of brands have begun accepting cryptocurrency as a means of payment, including Microsoft, AT&T, and Gucci. The following are a few reasons why buying things with cryptocurrency like Dogecoin can have advantages over using fiat money.
Security
Cryptocurrency is considered more secure than credit and debit cards due to its lack of third-party verification. Rather than customer data being stored in a centralized location at risk for data breaches, cryptocurrency customers' data is stored in a crypto wallet. It's also very difficult to steal someone's identity due to the high security involved with using cryptocurrency.
Less Expensive
Not only do products on cryptocurrency e-commerce sites typically come with discounts and cashback incentives, there are also generally fewer fees associated with using cryptocurrency. If you'd like to pay with DOGE or other cryptocurrencies, there are no extra fees or interest as with credit and debit cards.
Internationally Accepted
One of the greatest benefits of cryptocurrencies such as Dogecoin is that they can be used anywhere. There is no currency conversion needed when using cryptocurrency. It doesn't matter where you are in the world, what country you're in, or even which continent you're on. Transactions can happen between any two people anywhere in the world in a straightforward manner, without confusion over how much something costs.
There's also no need to belong to any kind of bank in order to use cryptocurrency. All you need is an internet connection and a computer device.
Can I Legally and Safely Buy Things with Dogecoin?
Generally speaking, it is safe to buy things with Dogecoin. While there are benefits to using cryptocurrency, transactions sometimes lack the protection that fiat money has given its decentralized nature.
In addition to conducting your own research into cryptocurrencies like Dogecoin, it's important to only buy things from established and respected retailers, like Crypto Emporium. The company takes all the necessary steps to make sure that its transactions are safe and secure.
It's important to note that the company does not handle payments itself. Instead, the buyer and seller communicate directly. Using a site like Crypto Emporium ensures that the entire transaction process is as safe and secure as possible.
It is legal to buy things with Dogecoin in many countries including the United States, Canada, and the United Kingdom. Some countries have banned the use of cryptocurrency, while others – namely, El Salvador and the Central African Republic – have even declared cryptocurrency as legal tender.
Conclusion – What Can You Buy With Dogecoin?
As we've seen throughout this guide, numerous products are available for purchase with Dogecoin and other cryptocurrencies in 2023. Using cryptocurrency like Dogecoin over fiat money is also generally easier, faster, and safer.
For those wondering what you can buy with Dogecoin, Crypto Emporium is one of the best places to find luxury items like watches, classic cars, fashion, and other high-end household items. It also includes many fun products for fans of 80s and 90s nostalgia.
Serving customers in over 125 countries since 2018, the company has established itself as one of the best in the business when it comes to cryptocurrency e-commerce. In addition to Dogecoin, Crypto Emporium also accepts Bitcoin, Ethereum, Tether, and other cryptocurrencies. They are easy to contact and will guide you through every step of the purchasing process.
After reading this guide, we believe "What can I buy with Dogecoin?" has an easy and obvious answer.
FAQs
Can I use Dogecoin for purchases?
Which websites and companies accept Dogecoin?
Can you buy a car with Dogecoin?
What can I buy with Dogecoin?