Ethereum is the second largest digital currency by market cap and is now widely accepted as a payment method.
This guide will explore what you can buy with Ethereum in 2023, covering 10 different product categories. We also offer a step-by-step guide on how to buy real products with ETH tokens today.
The Best Things You Can Buy with Ethereum
Below is an overview of what can you buy with Ethereum:
Phones and Tablets
Cryptocurrency Presales
Real Estate
Vehicles
Watches
Artwork
Home Cinema
Luxury Items
Gaming Consoles
Home and Garden Product
Most of the above products and many others can be purchased with Ethereum at Crypto Emporium, the biggest online crypto marketplace.
A Closer Look at How You Can Spend Cryptocurrency
To learn more about what you can buy with Ethereum – read on. This section explains the various products and services aimed at those looking for ways to spend Ethereum.
1. Phones and Tablets
When researching what can you buy with Ethereum, we found phones and tablets to be popular purchases for crypto holders. Some of the biggest draws of buying a new or second-hand mobile device with Ethereum are fast transactions, privacy, and avoiding currency conversions.
Wondering where you can spend Ethereum on mobile devices? Crypto Emporium is a great option: it's an e-commerce platform with a diverse selection of products. All items are quoted in crypto. As such, shoppers can buy new, second-hand, unlocked, and sim-free mobile devices in a few clicks.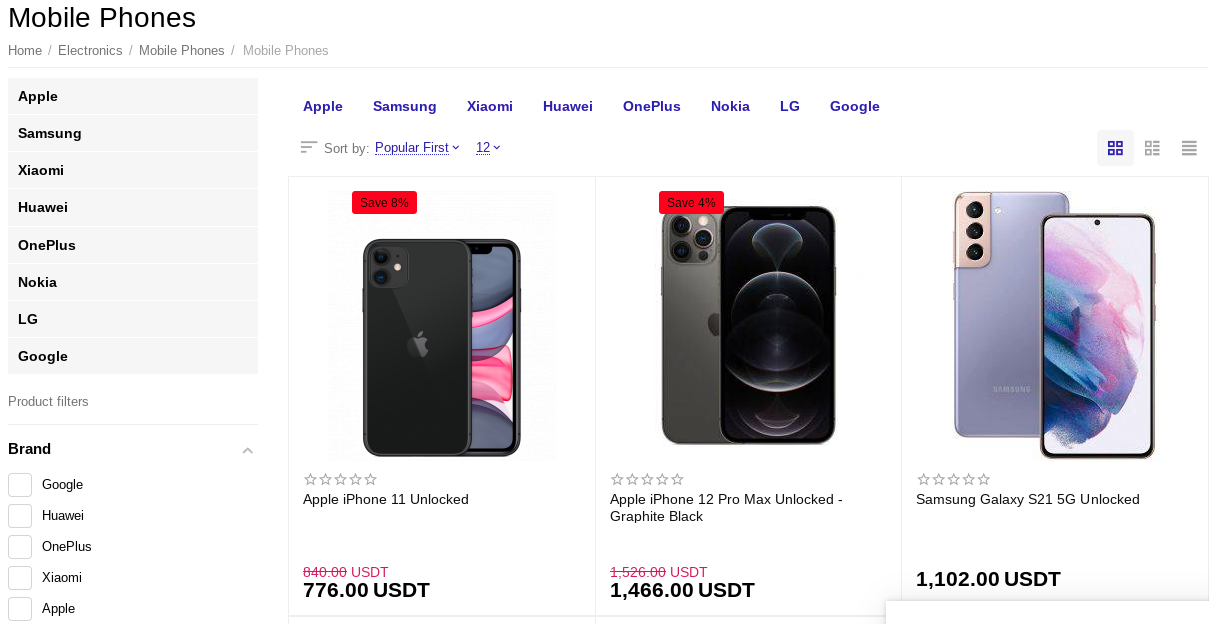 The price of cell phones varies. For instance, a Samsung Galaxy A12 with 64GB of storage is around $260, whereas, an Apple iPhone 12 Pro Max costs over $1,000. For a clearer idea of cost, shoppers can set the currency to USDT (which mirrors the US dollar), and change it back to ETH with a click.
The marketplace includes brands such as Samsung, Apple, LG, OnePlus, Nokia, Google, Huawei, and Xiaomi. As well as brands, results can be filtered down by price. Shoppers can also earn free crypto when buying mobile devices at Crypto Emporium. This is because all customers are entitled to 4% cash back.
2. Cryptocurrency Presales
Those wondering how to spend Ethereum could also consider investing in the best presales. Before being listed on a crypto exchange, a certain number of tokens are made available to early investors at a discounted price. Presale campaigns help the project raise funds and allow investors to secure a preferential entry price.
As such, investing in crypto with potential, at a significant discount, is one of the most popular ways to spend Ethereum. That said, which presales are worth investing in?
Love Hate Inu – Top Vote-to-Earn Crypto Presale that's Raised $5.9M and Counting
Love Hate Inu is a new crypto project that's already proving to be popular. Love Hate Inu is a blockchain-based voting system that created the vote-to-earn concept. Moreover, its native token, LHINU, has plenty of real-world applications.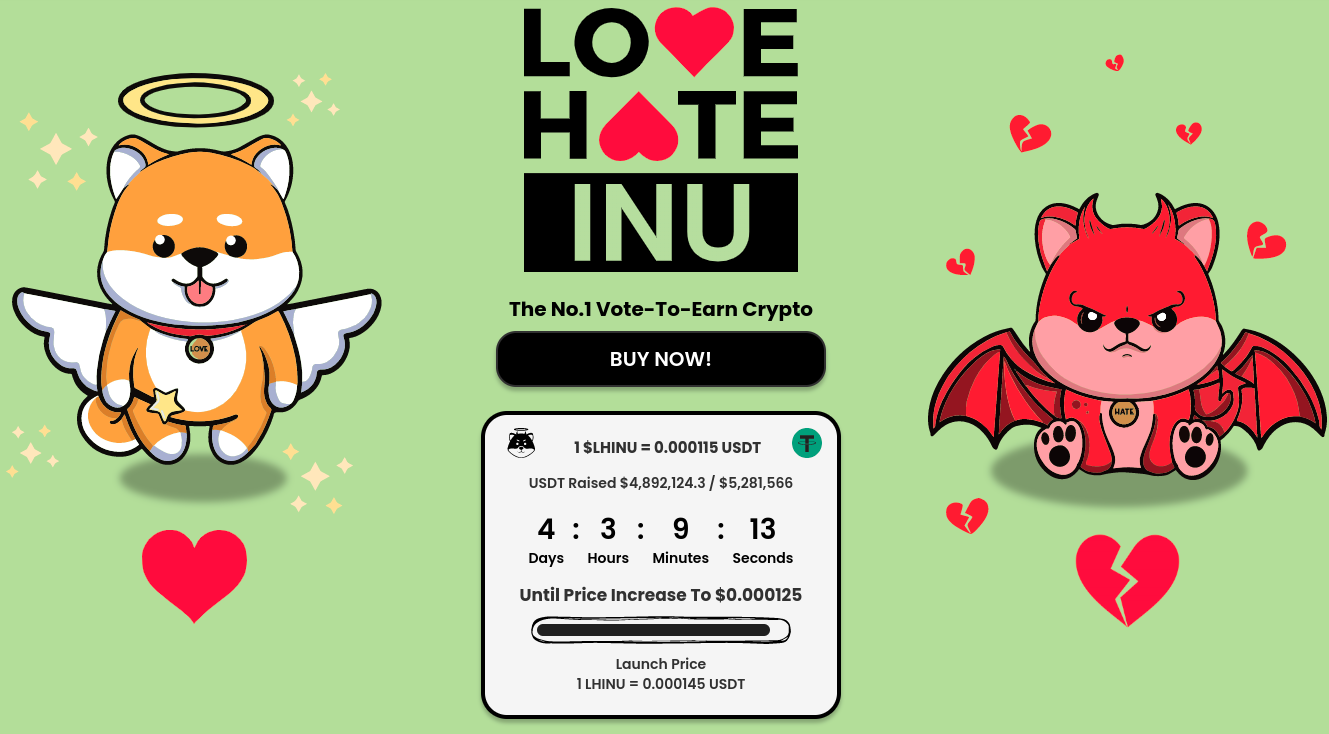 For example, LHINU holders can use tokens for trading, staking, and voting in trending polls. The project has already raised over $5 million in its presale campaign, offering early investors an instant upside. This is because LHINU tokens currently cost just $0.000115 each, 26% lower than the launch price of $0.000145. The price will increase with each presale stage until listed on an exchange.
DeeLance – Innovative Web3 Crypto Platform for Freelancers & Recruiters
Another presale project to consider is DeeLance. This newly founded project has built a Web-3 platform for recruiters and freelancers. Unlike other freelancing platforms (namely Upwork and Fiverr), DeeLance has a hugely competitive pricing structure in place. This is the case for both recruiters and freelancers.
For example, DeeLance charges recruiters just 2% of the total invoice amount. While at Fiverr, this stands at 5.5%. Fiverr also takes 20% from the freelancer completing the job. At DeeLance, this stands at just 10%. We also like that DeeLance is building a metaverse. This will enable clients and freelancers to connect in a virtual world. Users can even purchase a virtual office that is backed by an NFT.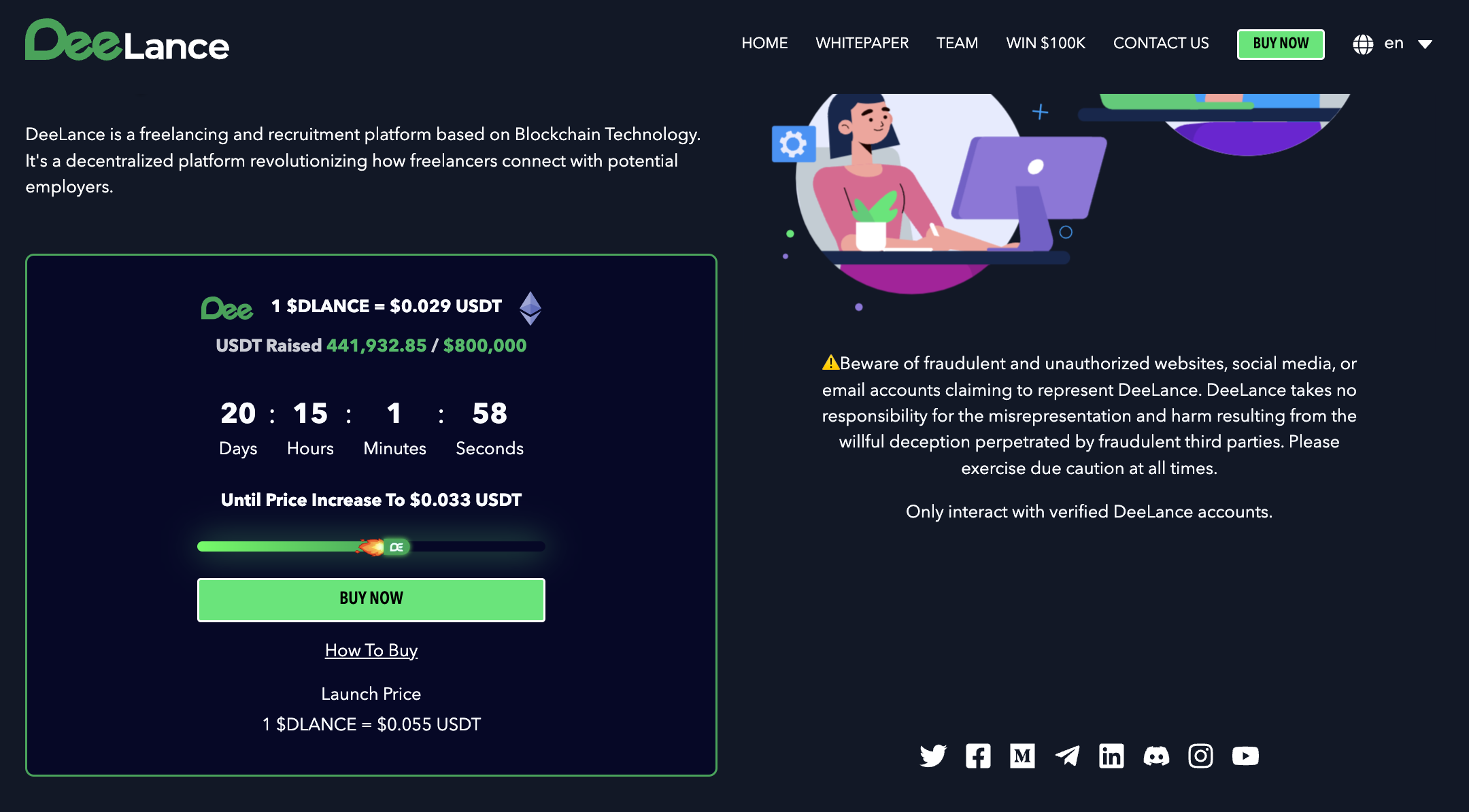 The native token of the ecosystem is DLANCE. The tokens have real-world utility, including payment from recruiters to freelancers. The DeeLance presale has just launched and offers DLANCE tokens at a huge discount. DLANCE costs just $0.025 per token right now while the exchange listing price will be $0.053. As such, investing now secures an upside of over 100%.
3. Real Estate
Those asking 'what can I buy with Ethereum?' may have considered investing in property. According to the BBC, between late 2021 and 2022, around $2 billion was spent on virtual metaverse land. Virtual land is purchased in an NFT marketplace, and ownership is documented on the blockchain.
When researching where to spend Ethereum, investors may be surprised to learn that they can also invest in land and property in the real world. In contrast to the conventional property market, crypto real estate enables investors to buy homes using Ethereum without intermediaries or banks.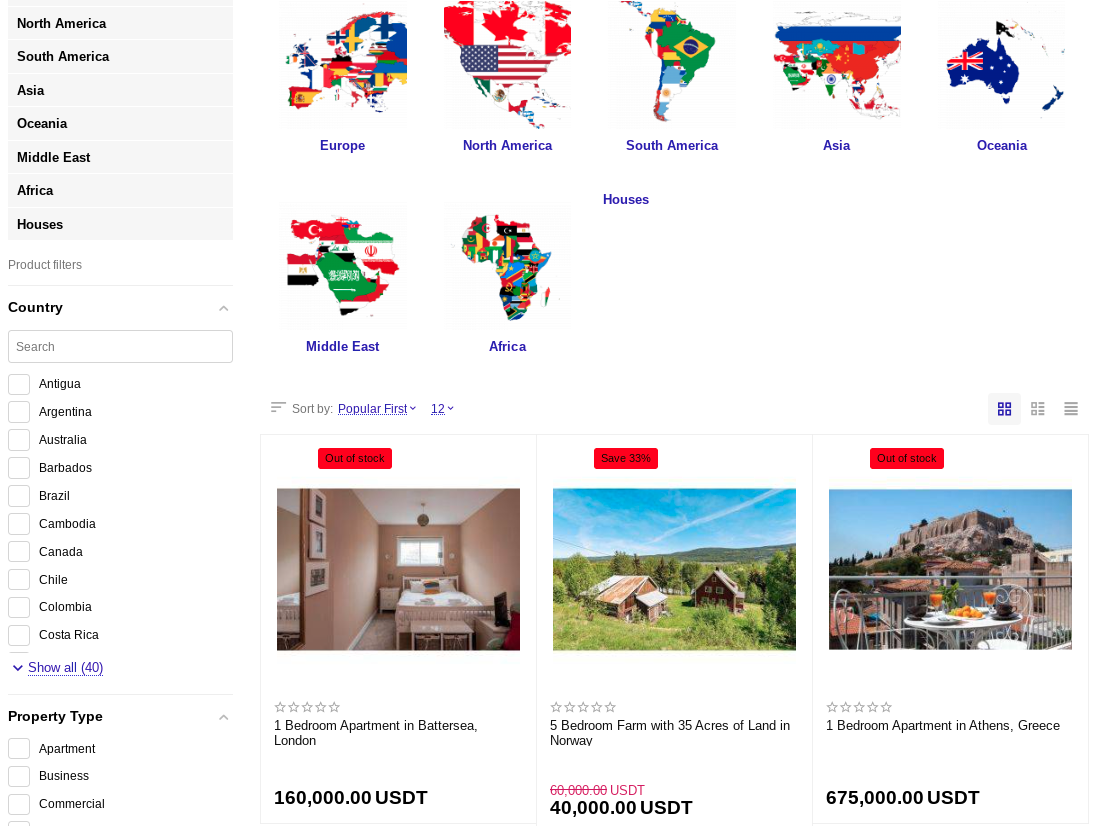 The ability to save time and money while making purchases with Ethereum is a big advantage. Moreover, there are no exchange or transfer costs when purchasing a home in another country. Additionally, the identity of the property investor can be kept private. Wondering how to spend Ethereum on real-world properties?
Head over to Crypto Emporium. Its crypto property listings include everything from family homes and apartments to business premises, islands, mansions, and yachts. There are also investment opportunities with licensed yoga retreats, hostels, bars, and more. Crypto Emporium has listings in North and South America, Asia, Africa, Australia, Europe, and the Middle East.
4. Vehicles
Shoppers can also consider buying a car with crypto when exploring what can you buy with Ethereum. That said, only a small number of dealers directly accept crypto. Alternatively, there are peer-to-peer marketplaces that enable owners to sell their used cars in exchange for Ethereum.
However, this is highly risky because the buyer must rely on the seller's integrity to complete the deal. Instead, a safer option is to find a trusted automotive retailer. For instance, Crypto Emporium lists new and used cars, motorbikes, vans, and trucks. There are also classic cars for sale.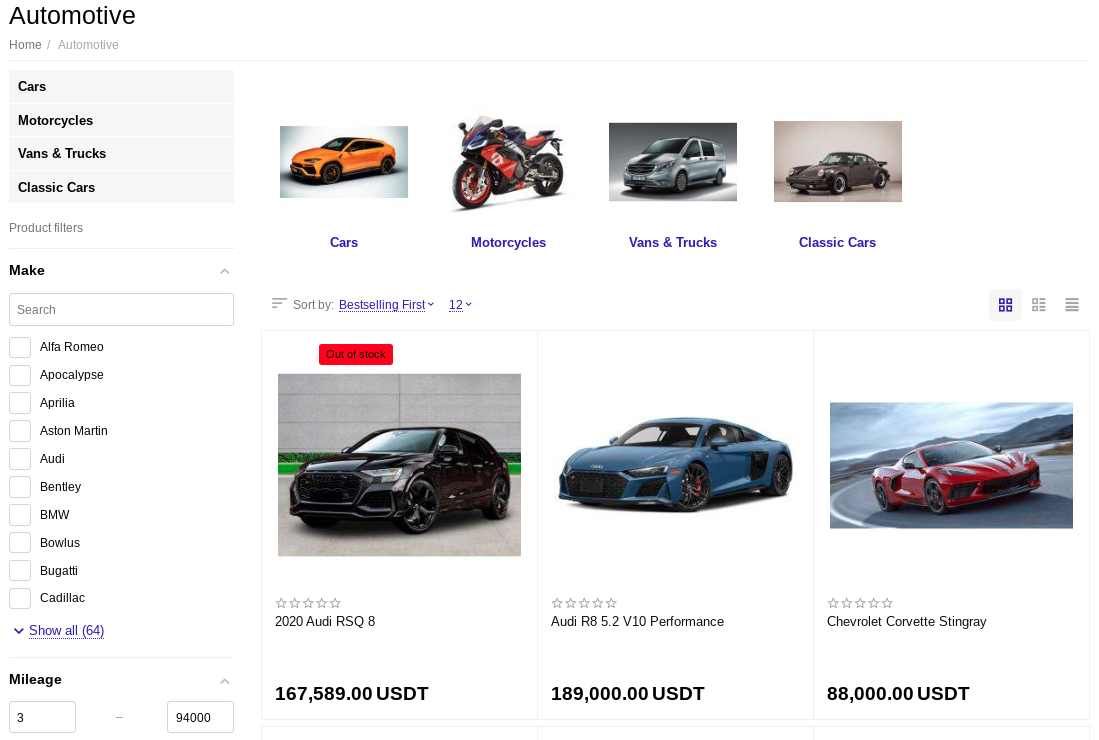 Crypto Emporium accepts Ethereum payments for all listed vehicles, and delivery is available to over 125 countries. Dealerships from all over the world collaborate with Crypto Emporium. The platform aims to ship and deliver automobiles purchased with Ethereum within 30 days.
Buyers can filter cars by their preferred brand, including BMW, Porsche, Mercedes, Tesla, Audi, Lamborghini, Land Rover, Toyota, and Ferrari. Information on each vehicle can be found by clicking the listing, and shoppers can contact customer support for further specifics.
5. Watches
Have you ever considered buying a watch with crypto in 2023?When researching how to spend Ethereum in 2023, we found watches to be one of the most popular products. This is partly because luxury watches like Rolex tend to appreciate over time. As such, buying a luxury watch offers investors a way to diversify their portfolio.
Customers must pick a trustworthy retailer when buying luxury timepieces with Ethereum. The dangers of making large crypto payments can be reduced by selecting a reputable retailer like Crypto Emporium. The platform collaborates with pre-vetted watch merchants from around the world.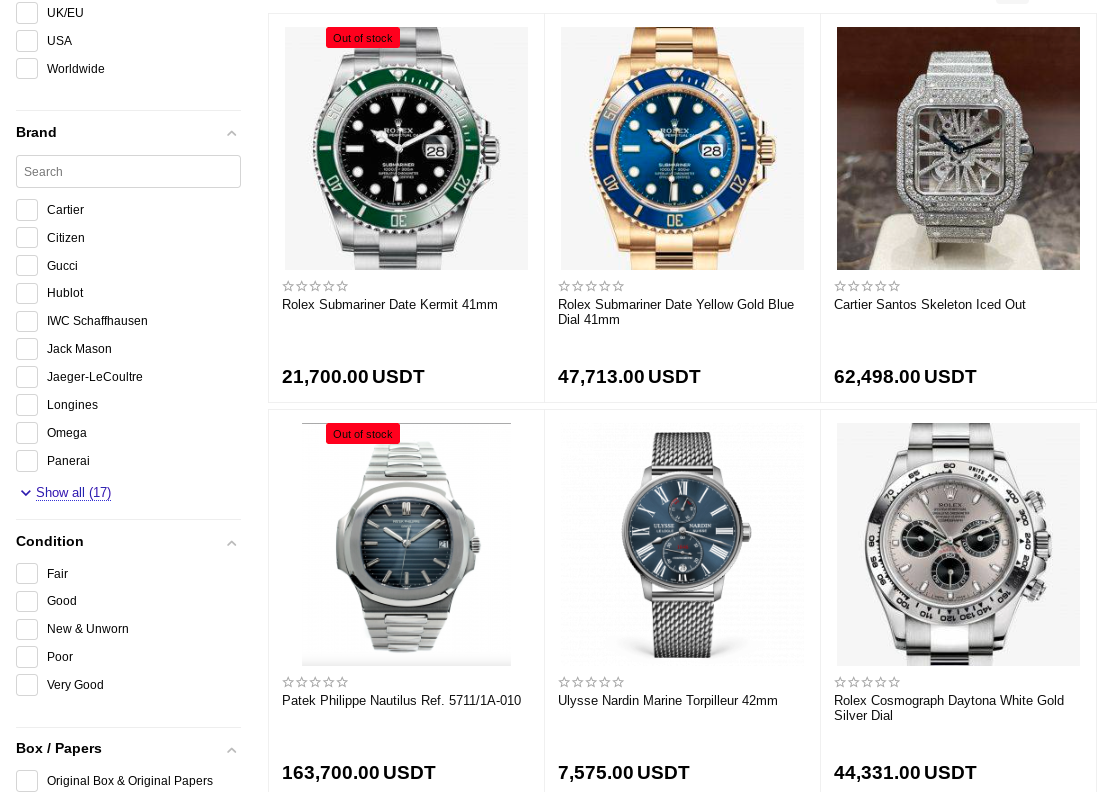 Furthermore, shoppers can use Ethereum to buy pre-owned or new watches directly. Watch brands include Rolex, TAG Heuer, Gucci, Cartier, Omega, Jaeger-LeCoultre, Patek Philippe, IWC Schaffhausen, Ulysse Nardin, and Richard Mille, among others.
There is a luxury watch for most budgets at Crypto Emporium. For instance, shoppers can buy anything from a Citizen Eco-Drive watch for around $240 to a collectible Rolex Rainbow Daytona for around $690,000. When a watch has been selected, the shipping rate will be calculated: including insurance. All items are tracked and signed for.
6. Artwork
Art enthusiasts wondering how to spend Ethereum in 2023 will find that some retailers accept crypto for artwork and other pieces. An advantage of buying artwork with Ethereum is that shoppers can access the market on a global scale. This is without having to use foreign banks or calculate exchange rates.
Crypto shoppers can access photography, paintings, prints, sculptures, drawings, and more at Crypto Emporium. For instance, the platform offers a range of paintings for different budgets. On the one hand, shoppers can buy work by Caroline Letvin for around $750: on the other, there's a Pablo Picasso painting for just under $200,000.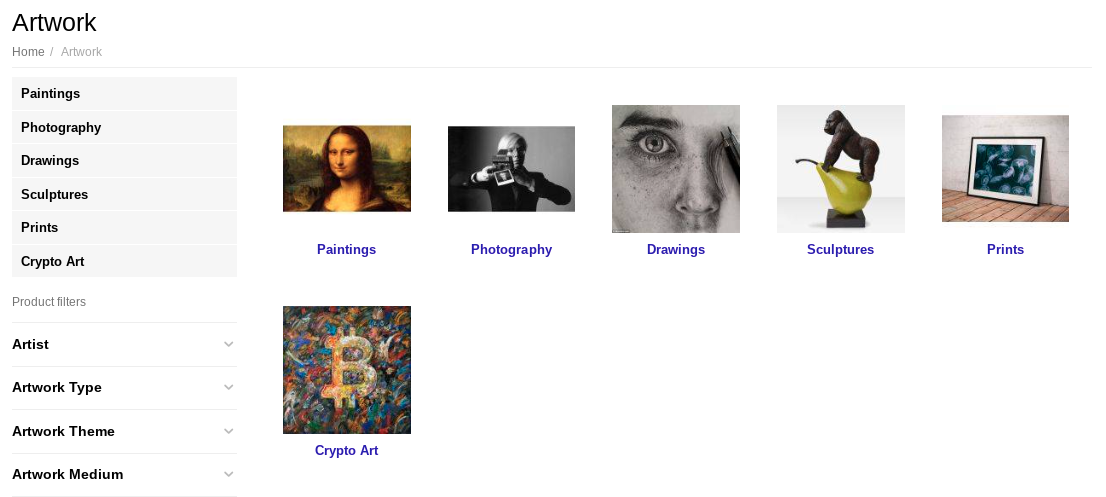 There is also a selection of sculptures from contemporary artists such as Richard Orlinski, Lyudmyla Mysko, Gabriel Schama, and Jeff Koons. Art lovers wondering how to spend Ethereum on prints will find pieces from Andy Warhol, Keith Haring, Banksy, Salvador Dali, Roy Lichtenstein, and other well-known artists. As such, art enthusiasts will find everything from surrealism and pop art to portraits, sculptures, and posters at Crypto Emporium.
7. Home Cinema
Ever thought about creating a home cinema? A theater system is an opulent addition to any home. Some online stores allow customers to pay for items such as projectors with ETH tokens. However, ensuring the platform is legitimate when buying electronics with a high price point is important.
Crypto Emporium is a good option for home cinema goods. The platform includes a selection of TVs from brands such as LG, Samsung, Hisense, and Sony. Some have screens as large as 85″, such as the Samsung 8K Neo Smart TV, which is around $17,600. At the cheaper end of the scale, there is a Hisense 50″ Smart 4K TV at around $780.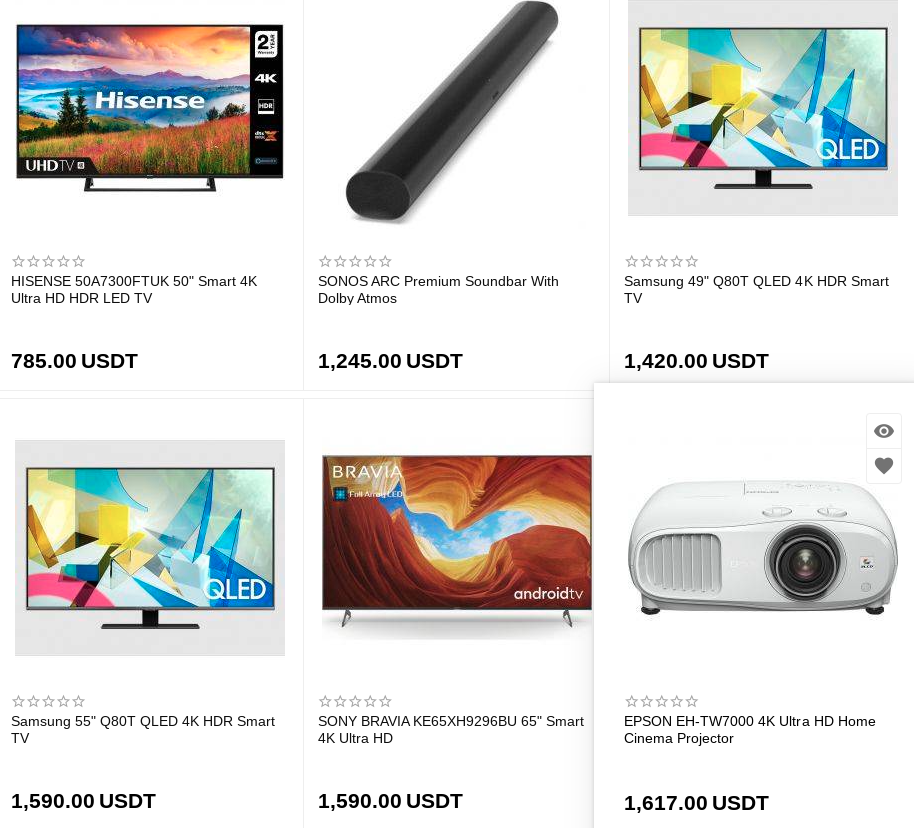 Meanwhile, cinema projectors by Epson, Optoma, and Sony range between $1,600 and $9,000. The platform also has a range of blu-ray players, sound bars, and accessories like HDMI leads. All home cinema products can be filtered by price and brand.
8. Luxury Items
It's also possible to spend Ethereum on luxury items other than watches. For instance, Crypto Emporium sells designer apparel and accessories. The marketplace offers almost every type of clothing and caters to everyone. This includes activewear, dresses, trousers, jeans, shorts, shoes, t-shirts, coats, hats, sunglasses, and handbags. Major brands include Gucci, Versace, Balenciaga, Prada, Balmain, and Alexander McQueen.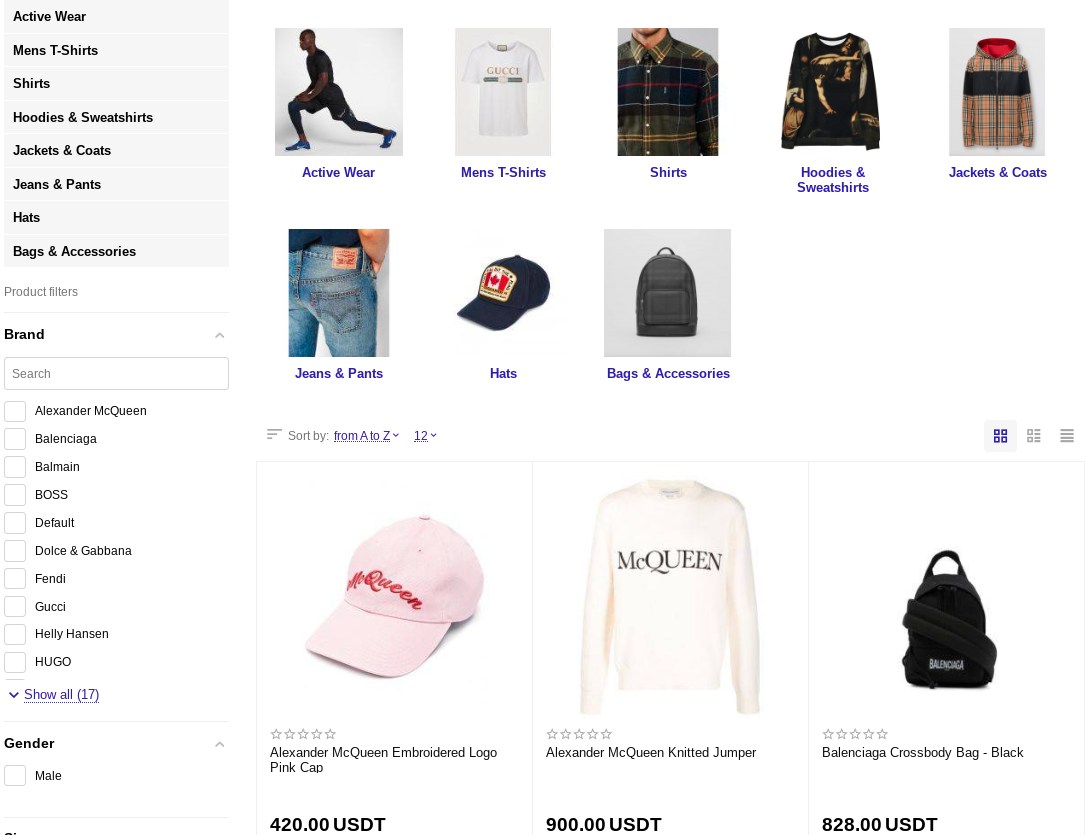 Want a designer handbag? Crypto Emporium has handbags ranging from a Balmain 1945 Chain Wallet at almost $1,200 to a Gucci Signature Horsebit tote bag for $2,300.
9. Gaming Consoles
Traditionally, gamers who wanted to buy goods with crypto had to exchange their ETH tokens for USD or another currency. Now, some marketplaces allow crypto shoppers to buy gaming consoles, laptops, and accessories directly without converting the tokens.
For instance, at Crypto Emporium, it's possible to buy consoles from major brands like Nintendo, Sony, and PlayStation with ETH in a few clicks. Also, look out for sales: crypto shoppers can save 9% on a PlayStation 5 (console disk edition). In addition to consoles, Crypto Emporium sells gaming computers.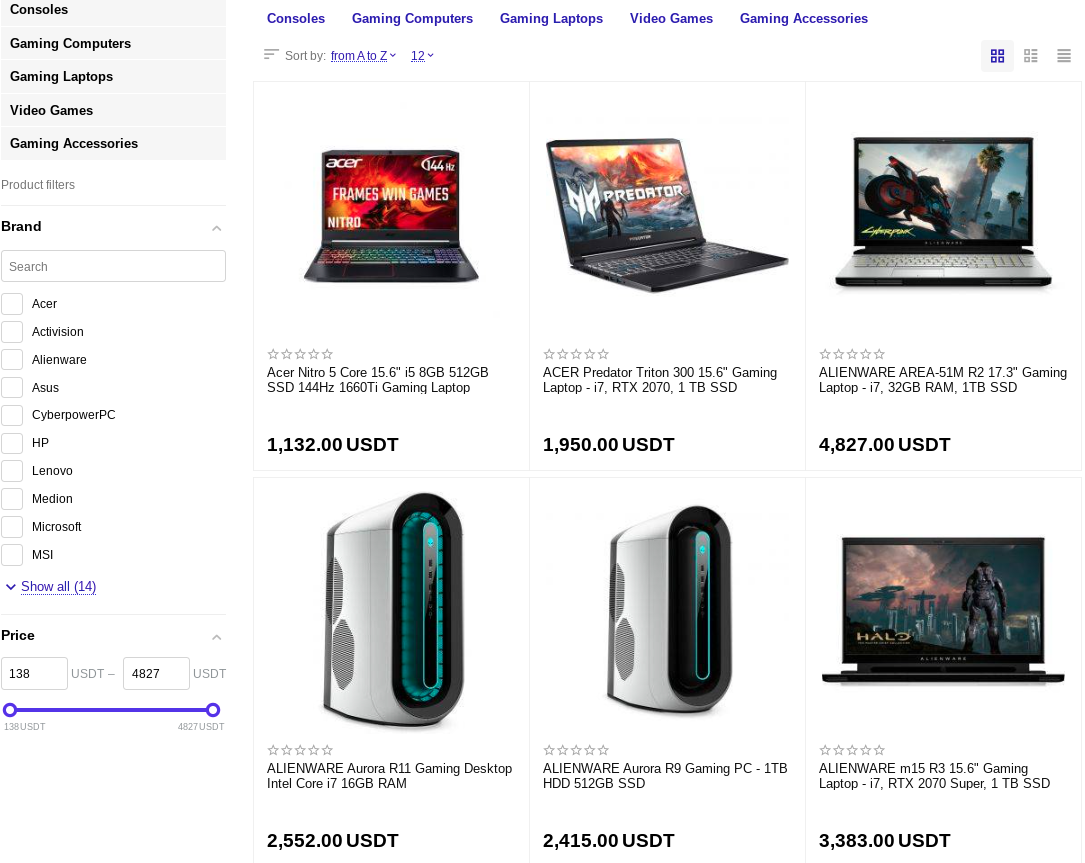 Prices vary depending on the brand, power, RAM, and storage. At the lower end of the price scale is the Vortex GT Gaming PC: i5 GTX 1650. This has a 1TB HDD and 256GB SSD included for $1,350. Gamers looking for more storage could opt for a Cyberpower Infinity X109 PC i9-Core with a 2TB HDD for around $2,700. Crypto Emporium also sells accessories, video games, and a range of laptops designed to handle high-quality graphics and sound.
10. Home and Garden Products
Shoppers who need items for their home and garden – whether that's a new vacuum or an outdoor seating set, can now pay with Ethereum at some online stores. For instance, at Crypto Emporium, shoppers can buy everything from a new lamp to a smart lawnmower. The marketplace also includes furniture.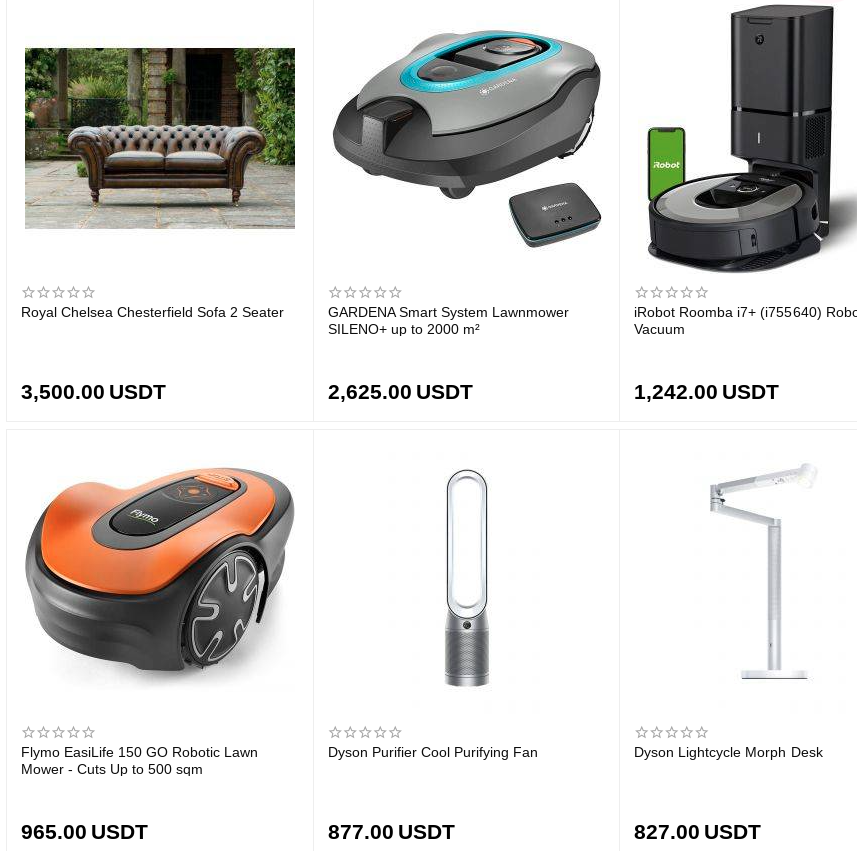 For example, shoppers looking for a new sofa can buy a Royal Chelsea Chesterfield 2-seater for $3,500. There's also a gaming chair by Corsair for just over $400. On the luxurious side, there are full-body massage chairs for $6,000-$10,000. Other larger items to buy with Ethereum include Dyson purifying fans and robot vacuum cleaners.
Where Can You Spend Ethereum Online?
Before we go onto explore where you can spend ETH tokens online, for those still looking to get their hands on this crypto be sure to check out our easy-to-follow guide on how to buy Ethereum.
So far, we have answered the question – what can you buy with Ethereum? Most of the products we've covered are available at Crypto Emporium. This e-commerce platform was founded in 2018 and offers a varied online market where all products and services are priced in digital currencies.
Crypto Emporium has established itself as a reliable one-stop platform for cryptocurrency purchases: partly due to a broad selection of quality goods, fast transactions, and 24/7 customer support. As well as Ethereum, the platform accepts Bitcoin and some of the best altcoins. This includes Dogecoin, Litecoin, Ripple, and Dash.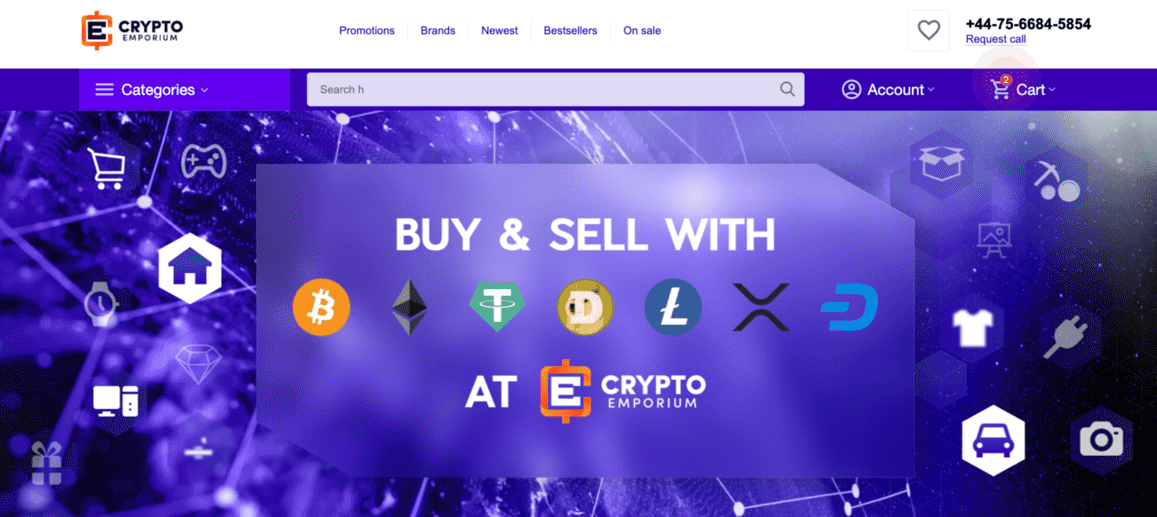 Customers may purchase a wide variety of products and services at Crypto Emporium. Categories include vehicles (both new and used), luxury watches, apparel, sporting goods, home and garden furniture, and various forms of artwork such as prints, sculptures, and photography. The platform also offers a huge selection of electronics.
This covers crypto mining kits, mobile devices, home cinema and security systems, smart tech gadgets, drones, cameras, and audio equipment. As we touched on, Crypto Emporium is also popular among gamers. Shoppers can use ETH tokens to buy anything from high-powered laptops, consoles, and accessories, to video games.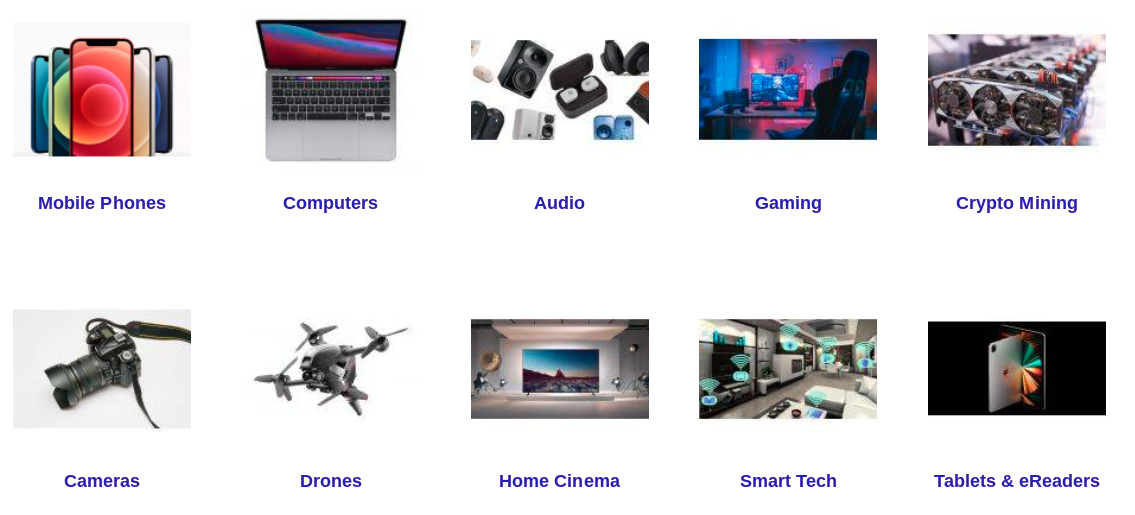 The crypto property market spans North and South America, the Middle East, Asia, Europe, Africa, and Oceania. This lets shoppers buy commercial lots, apartments, yachts, houses, and investment properties with Ethereum in a few clicks.
Wondering how to spend Ethereum and earn free crypto? As we mentioned earlier, this platform automatically gives customers 4% cash back. Cashback is given in Emporium Cash, the platform's cryptocurrency. Eventually, shoppers who've earned tokens will be able to stake, trade, and use them for governance purposes.
Why Buy Things With Ethereum? Benefits of Paying with ETH
As per CoinMarketCap data, Ethereum was launched in 2015 and is the second-largest crypto asset by market capitalization. According to our Ethereum price prediction it's also forecast to hit the $7.4k mark by 2030. The blockchain is advanced enough to support NFTs, run smart contracts, hold non-fungible tokens, and manage monetary transactions
The main advantages of exploring how to spend Ethereum are covered below:
Speedy Transactions
One of the biggest advantages of finding out who accepts Ethereum and using it as payment is speedy transactions.
For instance:
Shoppers using a traditional payment type like a wire transfer might have to wait 3-10 days for it to clear
In contrast, when paying for goods directly with Ethereum, the transaction takes seconds
Furthermore, Ethereum's latest merge improves scalability and could allow it to support 100,000 transactions per second
As such, the list of what you can buy with Ethereum should continue to grow as more companies adopt it as a payment method.
Lower Fees Than Traditional Banking
Shoppers who learn how to spend Ethereum will lower their costs. Compared to traditional banking methods, blockchain transactions enable substantially lower fees.
This is because there are no intermediaries or banking fees for either party to pay. As such, buyers will benefit from a cost-effective shopping experience no matter how much ETH is being spent.
Privacy
To buy something online, shoppers submit personal information, like their bank card details, to the website in question.
In contrast, once a decision has been made on where to spend Ethereum, the shopper simply needs to transfer the ETH from a private wallet.
Is Buying Things with Ethereum Safe & Legal?
Buying things with Ethereum is generally considered to be safe. To protect users from unauthorized access, blockchain transactions are encrypted. However, in addition to learning where you can spend Ethereum, it's also wise to secure the crypto wallet and ensure private keys are kept safe.
Those researching what you can buy with Ethereum may wonder whether it's legal. Many countries have no law prohibiting shoppers from paying with Ethereum or any crypto assets for that matter.
For instance, using Ethereum as a payment method in the US is safe and legal when using a reputable platform such as Crypto Emporium.
Conclusion
That concludes our guide on what you can buy with Ethereum in 2023. Shoppers are no longer restricted when it comes to making crypto purchases as a growing number of companies accept ETH as payment.
Crypto Emporium is the best place to access a wide range of products at a low price. The platform offers everything from property and luxury watches to lawnmowers, gaming consoles, and electronic items. Plus, all customers get 4% cash back in Emporium Cash crypto tokens.
FAQs
Can I use ETH to buy things?
Where can I spend Ethereum?
What can I pay for with Ethereum?
Can I buy groceries with Ethereum?