Toncoin is known among crypto enthusiasts as the token that Telegram almost launched. However, the messaging platform gave up on its crypto ambitions in 2020 after the SEC sued.
Now, Toncoin is back and in greater demand than ever before. It's available to buy on major crypto exchanges and even received an endorsement from the founder of Telegram.
In this guide, we'll explain everything crypto investors need to know about Toncoin and its $TON cryptocurrency, including where to buy $TON today.
Table of Contents
Table of Contents
What Is Toncoin?
Toncoin is a blockchain network originally created in 2018 by Telegram, the popular messaging app. At the time, Telegram raised $1.7 billion in private funding to build its new blockchain, which was meant to be a competitor to Ethereum. The 'ton' in Toncoin is short for The Open Network.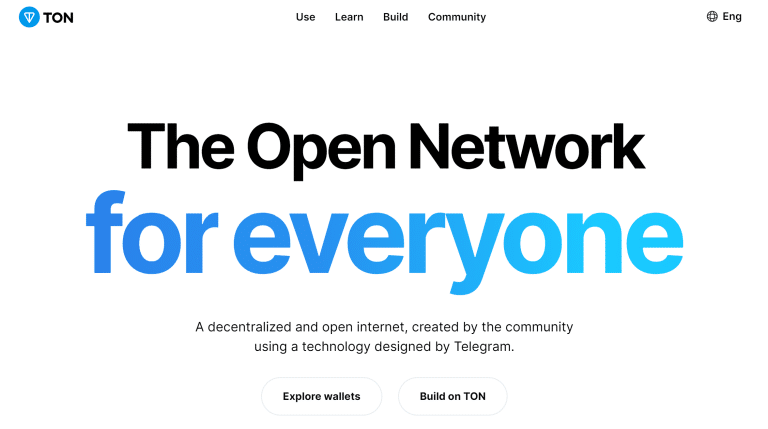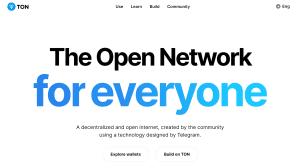 However, before Toncoin officially launched, Telegram abandoned the project. The reason is that the US Securities and Exchange Commission (SEC) sued Telegram over Toncoin, alleging that $TON was a security.
After Telegram abandoned Toncoin, developers unaffiliated with Telegram picked up the project. Newton, which is now Toncoin, took over the ton.org domain name and the Toncoin code repository in 2021. That same year, Toncoin launched the Toncoin blockchain and the $TON token.
Although Toncoin is independent from Telegram, Telegram's founder and CEO Pavel Durov posted on Telegram about the project in 2021. He gave his endorsement to Toncoin while maintaining that Telegram has no remaining links, financial or technological, to $TON.
What Is Toncoin Used For?
The $TON token plays several important roles on the Toncoin blockchain.
Paying for Transaction Fees
First, $TON is the only token accepted to pay for most transactions on the Toncoin blockchain and across blockchains. Anyone using the Toncoin network must pay $TON to process transactions, just like users on the Ethereum blockchain must pay $ETH gas fees.
$TON is also required to pay for data storage on the Toncoin blockchain and for blockchain-based domain names. Toncoin is developing a proxy, and $TON is also expected to be used to pay for access to the proxy.
Toncoin Governance
$TON is also used as a governance token for the Toncoin blockchain. Everyone who owns $TON can take part in voting on proposals for the future of the network.
The first Toncoin vote took place in February 2023, when users voted to freeze $TON found in inactive mining wallets. The result of the vote is that nearly 20% of the Toncoin supply is locked for 4 years.
Staking
Investors in Toncoin can also stake their $TON tokens to validate transactions on the network. The blockchain uses a similar proof-of-stake validation mechanism to Ethereum and other major networks.
Staking for Toncoin is currently available directly on the network or through several major crypto exchanges, including Binance. Investors who stake $TON earn additional tokens as a reward.
Why Is The Toncoin Price Rising?
The price of Toncoin is up nearly 80% in the past 12 months and 30% in the last week alone. The main factor fueling the rise of $TON is that Telegram, which initially created Toncoin, has now integrated the Toncoin wallet into its popular messaging app.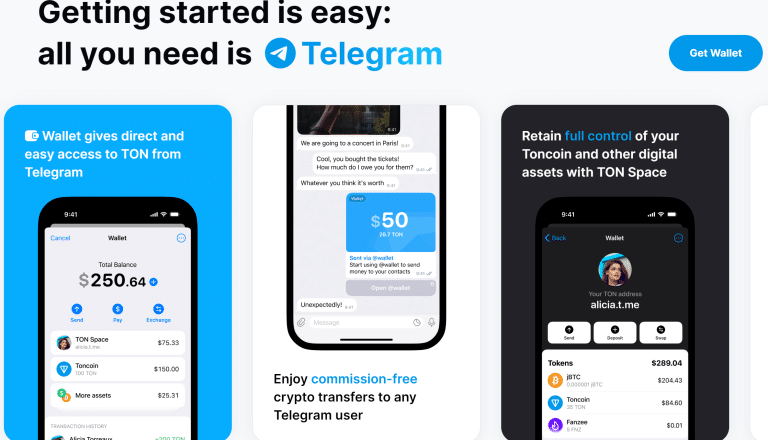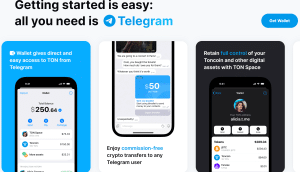 Telegram has more than 700 million monthly active users, so Toncoin's potential reach through this integration is enormous. Many Toncoin investors are betting that Telegram's move will get more people interested in buying and using $TON, which in turn will drive up demand for the coin and increase its price.
More generally, Toncoin has been gaining steam as the blockchain hits milestones in its development. The project held its first successful vote in February 2023 and has benefited from seeing the $TON coin added to several Tier-1 exchanges. According to Etherscan data, more than 7,400 wallets now hold $TON.
Toncoin Price History & Price Prediction
Toncoin initially distributed $TON coins through an open mining process that anyone could take part in. Mining ran from June 2020 to June 2022, putting $TON into the hands of tens of thousands of developers, investors, and early adopters.
Trading in $TON began before all of the available tokens were mined. According to CoinMarketCap data, $TON traded at $0.50 in August 2021, but jumped as high as $4.45 by November—a nearly 800% gain in the midst of the crypto bull market.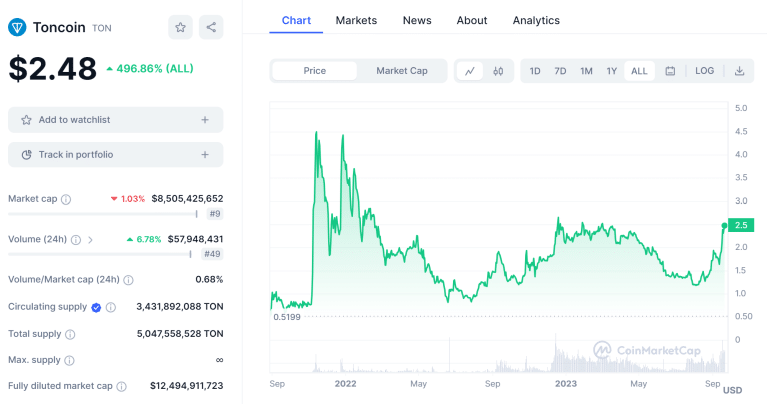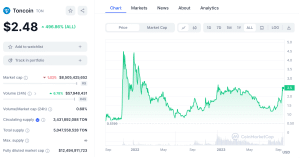 $TON suffered heavily with the rest of the crypto market during the downturn, with the price tumbling to $0.80 by June 2022. However, the token experienced a steady rise through the remainder of 2022 and into 2023 as it gained more users and built up the network infrastructure. During this period, trading volume was typically between $25 and $100 million per day.
Interest in $TON waned in the first half of 2023 after the project's first governance vote, with the price falling to $1.20 in early August. Today, after the Telegram integration, $TON is up to $2.50 and still rising. The token has experienced more than $50 million in trading volume for much of the last week.
Now, many investors are wondering how high $TON can go. According to our Toncoin price prediction, the token could reach $3 by the end of the year and $4.50 by the end of 2024.
Our analysts are bullish about Toncoin's momentum and particularly the growth in the number of developers working on the Toncoin blockchain. The project has also rolled out an Ethereum-Toncoin bridge, which could further spur the adoption of Toncoin and encourage more crypto investors and DeFi users to try out this new blockchain.
Ultimately, we predict that $TON could go as high as $25 by 2030—a 10x increase from today's $TON price.
Should I Buy Toncoin?
As Toncoin surges, many investors are wondering if there's still time to jump in or whether the price has already gone too high. We're bullish on $TON and think the project has one of the highest potential crypto tokens for 2023. Here's why.
Attracting Developers with Telegram's User Base
It's hard to overstate the importance of Toncoin's recent integration with Telegram. The messaging app is used around the globe and has more than 700 million monthly active users. It's a massive network for Toncoin to tap into.
Importantly, developers want to build where users are—and Telegram is a bottomless source of new users for the apps they create. So, the Telegram integration is likely to incentivize more developers to switch from other blockchains to Toncoin.
At a time when Solana in particular is struggling, Toncoin has the potential to steal top developers and create the next generation of DeFi apps. The more development there is on the platform, the more valuable $TON becomes.
Bullish Momentum as Crypto Bear Market Wanes
Toncoin's bullish momentum could hardly be better timed. The project is soaring just as analysts declare that the crypto winter is coming to an end.
Toncoin's momentum has the potential to carry it to a price of $3 or higher by the end of the year, and it could post gains of 50% or more in 2024 according to our price prediction.
The network's momentum extends beyond just immediate token price gains. Toncoin is seeing a surge in trading volume, wallets holding the token, and developers working on the blockchain. All of these are positive signs for the ecosystem's development and lay the foundation for greater price gains in the future.
$TON Staking Rewards
Toncoin investors can also profit from this project by staking their $TON tokens. This is a straightforward way to earn interest in the form of additional $TON tokens, which could then appreciate further as the project grows.
$TON staking is currently available through several major crypto exchanges, so investors don't have to become transaction validators themselves. This simplifies the process of staking and ensures it's open to all investors.
Where to Buy Toncoin?
Toncoin is available to buy through several major crypto exchanges. These platforms make it easy to buy $TON even if investors don't already own cryptocurrency.
Let's take a closer look at the two best platforms to buy Toncoin today.
1. Coinbase—US-based Exchange Offering Instant Buy on $TON with a Credit Card
Coinbase is the largest crypto exchange in the US and one of the best places for US residents to buy Toncoin safely. The exchange offers several ways to go from fiat to $TON in seconds with very modest fees.
The easiest way to buy $TON on Coinbase is using the platform's instant buy feature. This enables users to simply select how much $TON they want to purchase and check out with a credit card or debit card. It's about as easy as making any other online purchase.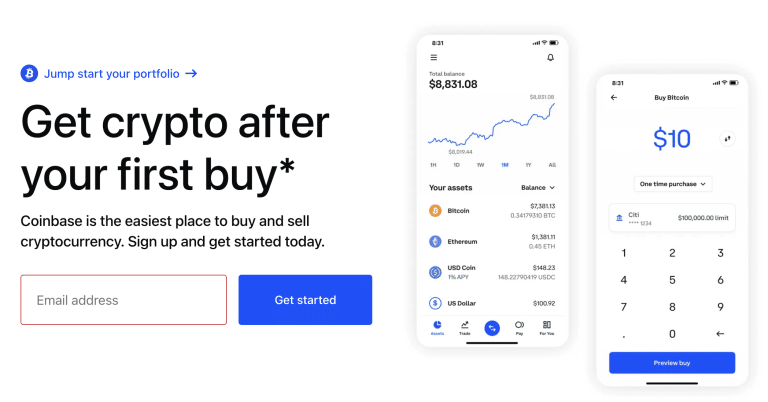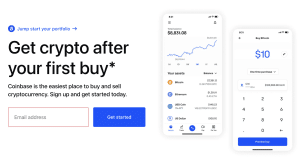 Alternatively, advanced users can make a deposit into their Coinbase account via a card, bank transfer, or crypto transfer. Then they can use Coinbase's trading platform to buy $TON at the current spot price. While this route is a little more complicated, it's still easy to navigate and offers the lowest trading fees.
Once users buy $TON, they can store it securely in a custodial wallet at Coinbase. Alternatively, Coinbase offers its own self-custody wallet that users can download to store their own $TON tokens or use them for things like DeFi.
Coinbase doesn't currently support $TON staking, but it does have tons of other benefits for investors. For example, users can receive tokens just for learning more about them. Investors can also earn crypto rewards using Coinbase's credit card.
The exchange has a strong reputation for safety since it's headquartered in the US and holds a NY BitLicense, the gold standard for crypto regulation.
2. Binance—World's Largest Crypto Exchange with Ultra-low Fees and $TON Staking
Binance is the world's largest crypto exchange and a major hub for DeFi tokens like $TON. It offers some of the lowest trading fees in the industry, making it a great choice for buying Toncoin.
At Binance, investors can choose between an instant buy feature and spot crypto trading. Both are easy to use, and spot trading offers trading fees from as low as 0.1%.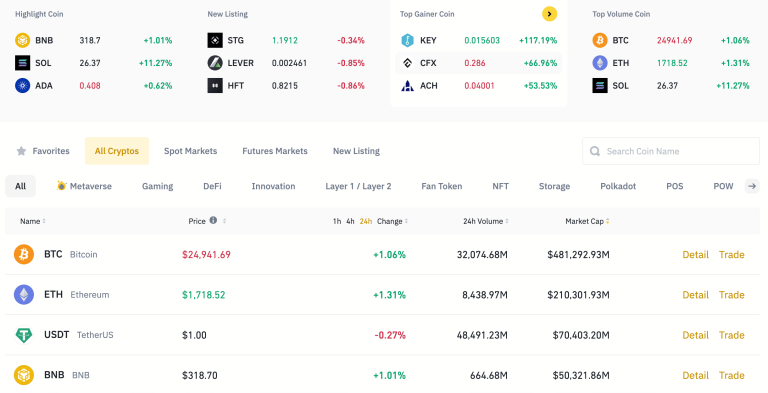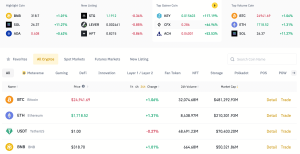 The exchange accepts credit cards, debit cards, bank transfers, crypto transfers, e-wallets, and more. Virtually all popular payment methods are accepted at Binance.
One of the best things about buying $TON at Binance is that the exchange also supports $TON staking. So, investors in Toncoin can buy the token and then immediately stake it to start earning interest. Binance offers competitive interest rates and has a long track record of keeping staked tokens secure.
Binance has tons of features for more advanced investors to explore, including a DeFi-friendly crypto wallet, an NFT marketplace, and a launchpad where investors can discover the best new crypto tokens.
US investors should note that Binance.US, the US-based arm of Binance, has temporarily suspended fiat deposits. So, Binance may be more suitable for investors outside the US.
Conclusion
Toncoin is a hot cryptocurrency originally developed by Telegram that's now taken on a life of its own. The project is rapidly attracting investors and developers, and its recent integration with Telegram gives it access to an audience of more than 700 million potential users.
We predict that Toncoin has the potential to be one of the top-performing cryptos over the next few years. Investors can buy Toncoin today through Coinbase or Binance and join this project before it shoots even higher.
Still on the fence about Toncoin? Check out our guide to the best cryptocurrencies to buy in 2023 via the link below.
References
FAQs
Is Toncoin an ERC-20 token?