Wondering who accepts Dogecoin in 2023? Dogecoin is the original meme coin and an increasing number of companies accept it as payment for their products and services.
This guide will reveal the best companies that accept DOGE and review each in full, including what goods or services they offer.
The Best Websites that Accept Dogecoin as Payment
When evaluating who accepts Dogecoin, consider one of the online stores listed below:
AMC
Tesla
Newegg
AirBaltic
Wrist Aficionado
Twitch
Sheetz
Microsoft
There is a diverse selection of companies that accept DOGE: from online marketplaces and EV manufacturers to airlines and streaming services. Read on to find out more about each store listed above.
Full Analysis of Top Retailers That Accept Dogecoin Payments
To find out more about who accepts Dogecoin as payment, read our reviews below:
1. Crypto Emporium
When researching who accepts Dogecoin, we found that Crypto Emporium is the best retailer in the market. Crypto Emporium is an online marketplace created in 2018. It allows shoppers to spend DOGE and other cryptocurrencies on a wide range of products. For instance, Dogecoin can be used to purchase a huge selection of electronics.
This includes audio equipment, computers, home cinema goods, cameras, cell phones, eReaders, tablets, gaming consoles, and accessories. DOGE can also be used to buy crypto mining equipment. For example, mining rigs, accessories, power supplies, and USB, GPU, and ASIC miners.

Meanwhile, those looking for fashion retailers that accept Dogecoin will find they can buy activewear, t-shirts, hoodies, coats, luxury watches, jewelry, and designer bags under one roof. Additionally, this diverse marketplace features property listings from all over the world to suit a range of budgets.
Furthermore, as this is crypto real estate, it's possible to purchase a home in a separate principality without paying transfer or exchange rates. Dogecoin can be used to buy properties in the US, Europe, Asia, Africa, and the Middle East among others. This covers commercial real estate, land, apartments, houses, islands, and yachts.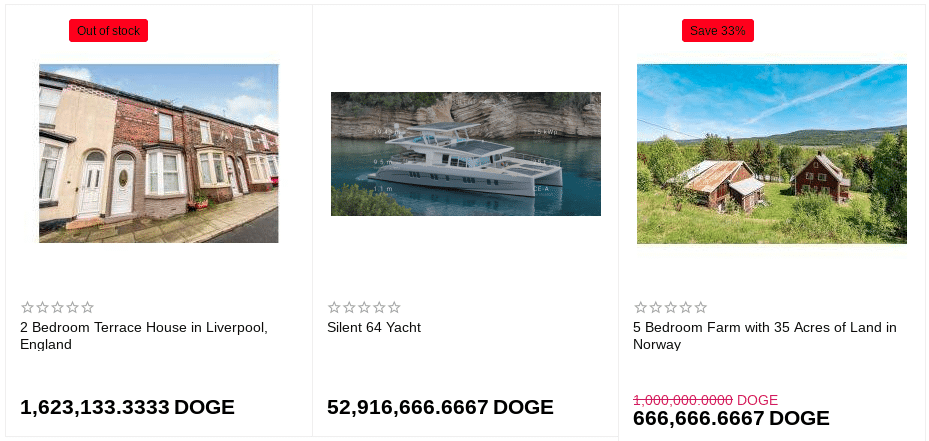 Art lovers can use DOGE tokens to buy photography, drawings, sculptures, paintings, and more at Crypto Emporium. Moreover, the site offers a range of digital products inclusive of artwork and design, online courses, eBooks, software, domain names, and PDF documents.
There are numerous benefits of shopping with Crypto Emporium. For instance, the price of all products and services are shown in Dogecoin, which allows customers to make near-instant purchases without calculating conversion rates to their native currency. Moreover, the lack of banks and intermediaries facilitates private transactions with low fees.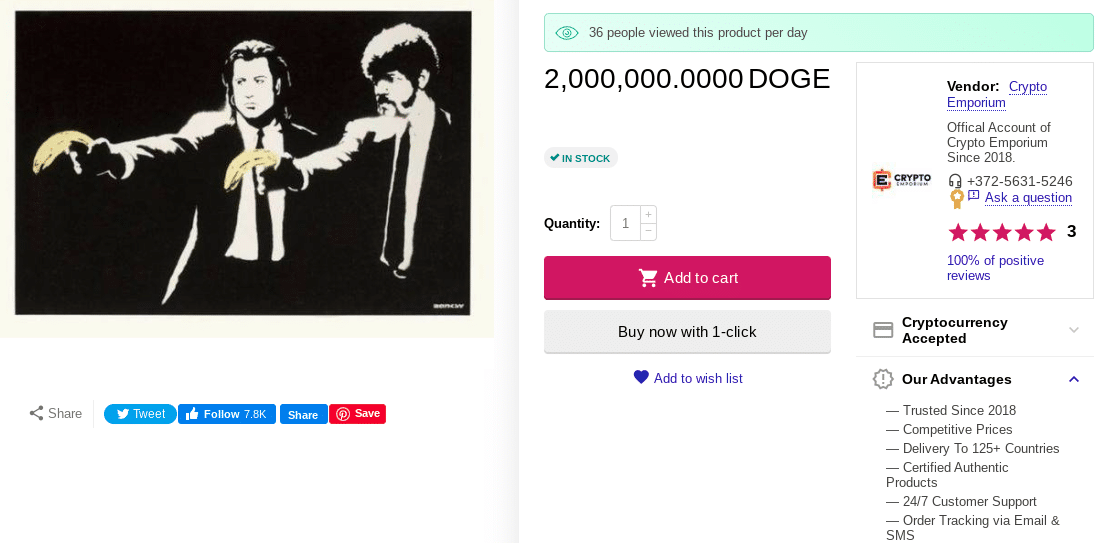 The platform is user-friendly, goods and services are categorized, and there is a selection of filters to make shopping with Dogecoin easy. In addition to Dogecoin and Bitcoin, Crypto Emporium accepts some of the best altcoins: including but not limited to Ethereum, Litecoin, Dash, Tether, and Ripple.
This platform also has a rewards program, which allows customers to earn free crypto. Customers will automatically earn 4% cashback on each purchase. As such, if a customer spends $10,000, the platform will give them $400 in its native cryptocurrency, Emporium Cash.

Emporium Cash will be used as a governance token, enabling holders to vote on the direction of the project. Eventually, holders will also be able to stake their tokens for extra income. Emporium Cash will be listed on a crypto exchange in the near future. As such, customers will be free to trade their Emporium Cash tokens for other currencies.
For those wondering how to avoid crypto taxes, spending cryptocurrencies on Crypto Emporium is one of the most popular options in 2023.
2. AMC
AMC was founded in 1920 and is one of the largest theatre chains in the US. The company also owns UCI and Odean Cinemas, which are based in Europe. In 2021, AMC was on the verge of bankruptcy. However, the company was saved when it transitioned into the category of 'meme stock'.
Millions of retail investors drove the price of AMC stock up almost 3,000% – in the first six months of 2021 alone. As a result, AMC raised over $2 billion to pay off debts and upgrade its theatres. In 2022, AMC became one of the many companies that accept DOGE.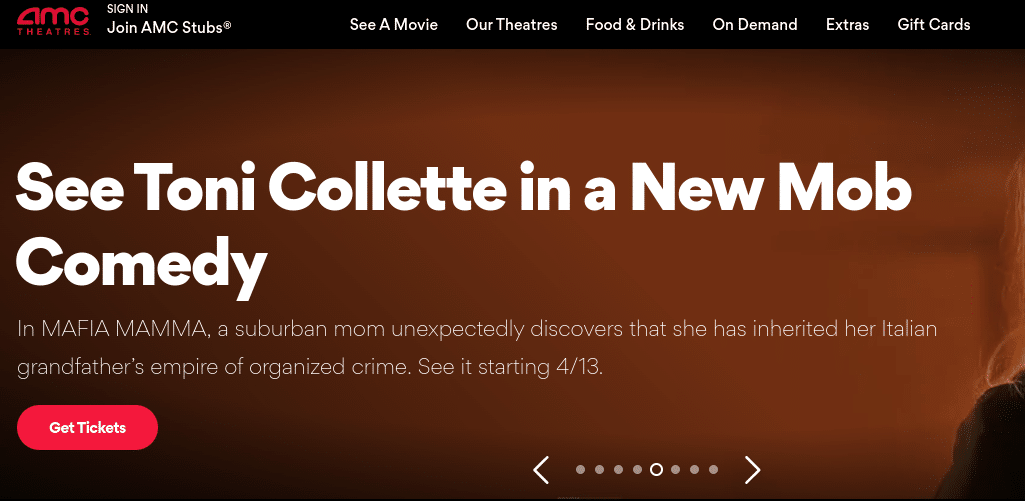 The chain also accepts Bitcoin, Shiba Inu, Bitcoin Cash, Litecoin, and Ethereum. Previously, AMC only accepted crypto payments for digital gift cards. However, thanks to its partnership with BitPay, customers can now use Dogecoin and a range of other cryptocurrencies to buy concessions and tickets too.
Moreover, purchasing popcorn and tickets with DOGE is straightforward: just choose Bitpay as the payment option, after choosing seats and any other concessions. AMC has also released a series of NFTs For instance, in connection with the movie Spider-Man: No Way Home, the company launched a collection on the WAX blockchain. AMC has also launched NFTs for Jurassic World, Lightyear, and Bullet Train among other movies.
3. Tesla
Those researching what stores accept Dogecoin will have come across Tesla. The electric vehicle firm has long been associated with Dogecoin. The company's CEO Elon Musk was named the 'Dogefather' in 2021, due to his apparent support of the meme token on various social media platforms.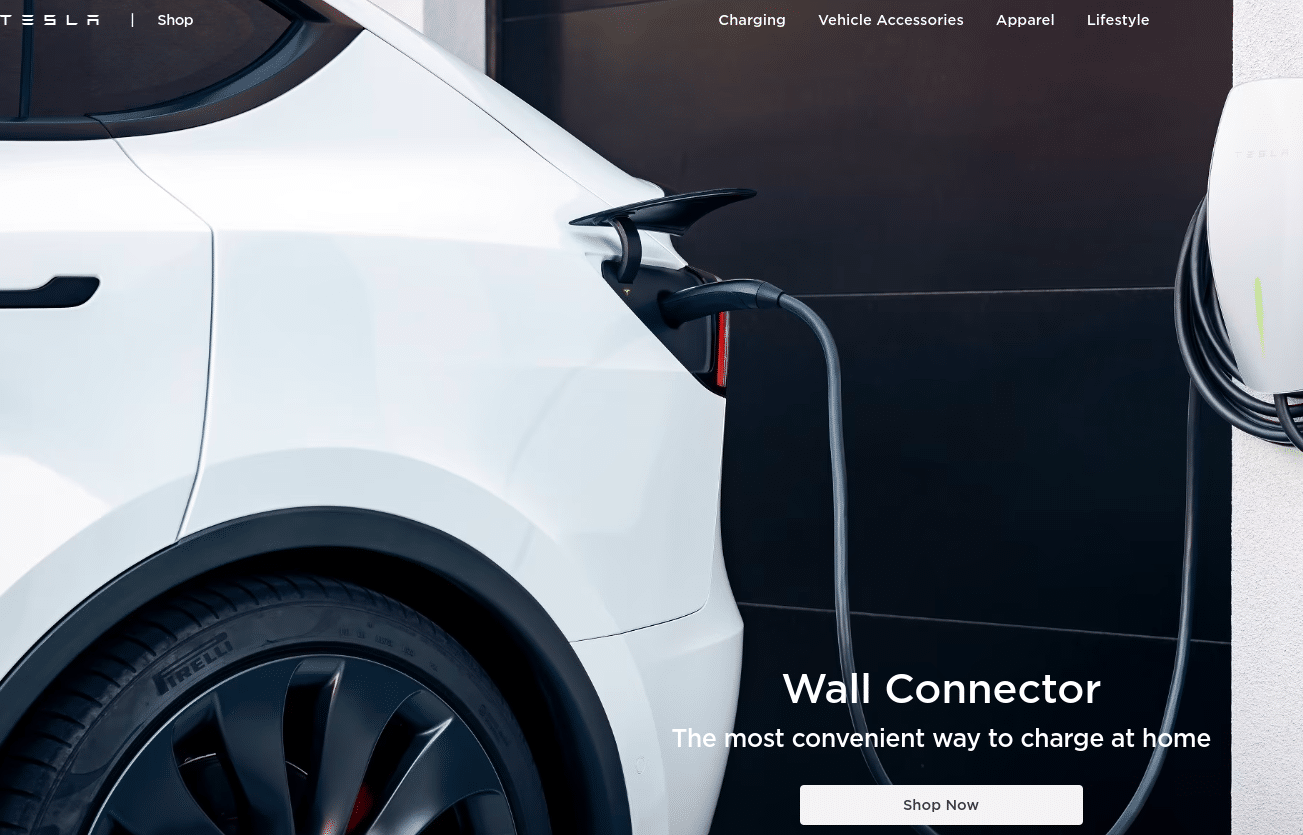 Since early 2022, Tesla has been one of the most well-known companies that accept DOGE. As a result, customers can use Dogecoin to purchase merchandise at the online Tesla store. All goods with the Dogecoin payment option feature the coin's emblem next to the 'order' button.
Furthermore, drivers can use Dogecoin to charge their EVs at Tesla's many Supercharger stations. The first station to accept Dogecoin as payment was its supercharging site in Santa Monica. The company has over 45,000 charging stalls to date. Notably, customers are not able to use DOGE tokens to buy Tesla's EVs.
4. Newegg
Newegg was founded in 2001 and became popular among amateur and professional PC builders due to the wide range of components offered. Newegg sells graphics cards, hard drives, connectors, fans, and processors among other things. Additionally, Newegg offers products for everyday shoppers.
This includes smart home and security devices, TVs, theatre systems, drones, toys, appliances, and home and garden products. There's also gaming and VR equipment, in addition to a range of other electronics. As such, Newegg is popular among computer builders, electronics hobbyists, and online shoppers alike.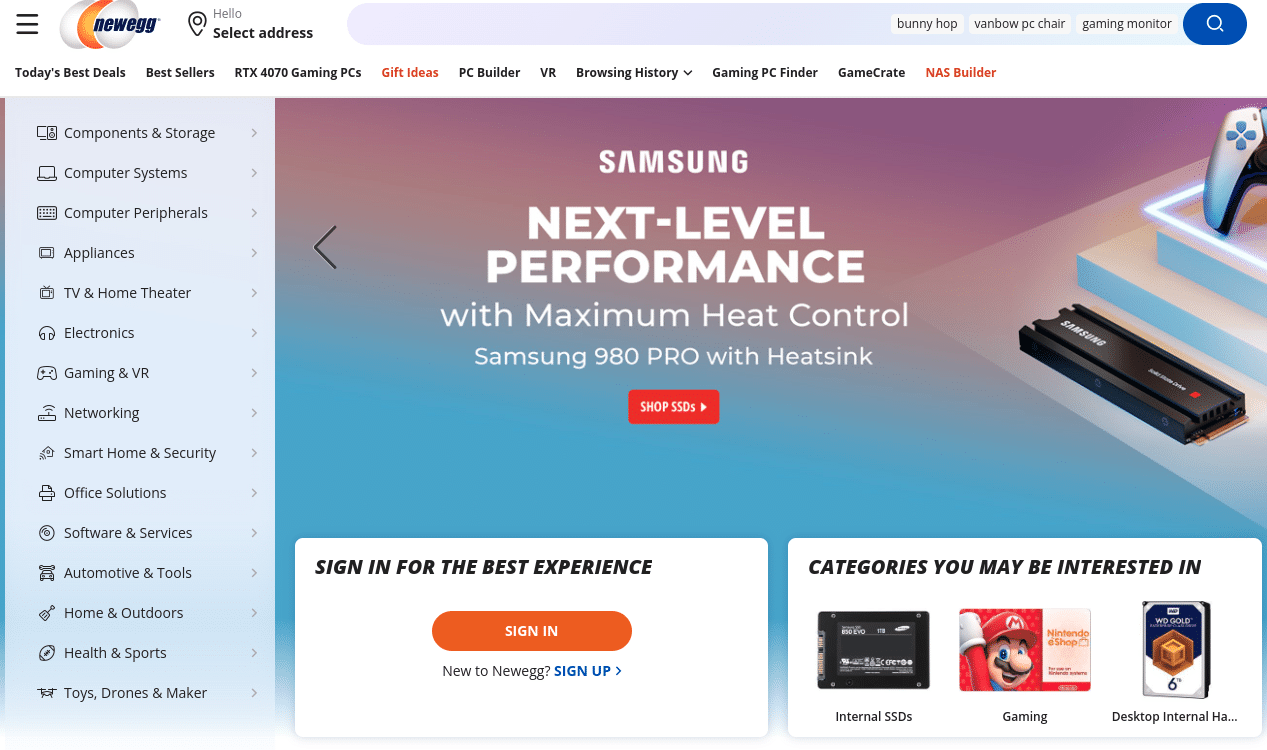 The shopping platform introduced AI in late 2022. This is used for live customer service, optimizing content and search capabilities, and the creation of a PC builder shopping tool to make choosing components easier. Newegg began supporting Dogecoin in 2021. The platform also accepts Ethereum, Shiba Inu, Bitcoin, Litecoin, and a variety of other cryptocurrencies.
Customers can only make purchases with Dogecoin via the desktop site as of writing and must select BitPay when checking out. Notably, when researching who accepts Dogecoin, we found that Newegg does not accept cryptocurrency payments for subscription orders, pre-orders, gift cards, return labels, and a few other types of purchases.
5. AirBaltic
Looking to travel but not sure who accepts Dogecoin? AirBaltic is the flagship Latvian airline, founded in 1995. The airline is one of the biggest of its kind in eastern Europe: it flies to over 70 destinations. This includes Lithuania, Estonia, and Latvia, as well as various cities in the Middle East and western Europe.
In 2014, AirBaltic made history when it became the first airline to accept Bitcoin as payment. Thanks to its partnership with BitPay, this has since extended to Dogecoin, Ethereum, and also USD-pegged stablecoins: Gemini Dollar, Binance USD, and Pax Dollar. The AirBaltic webpage lists the cost of its tickets in euros.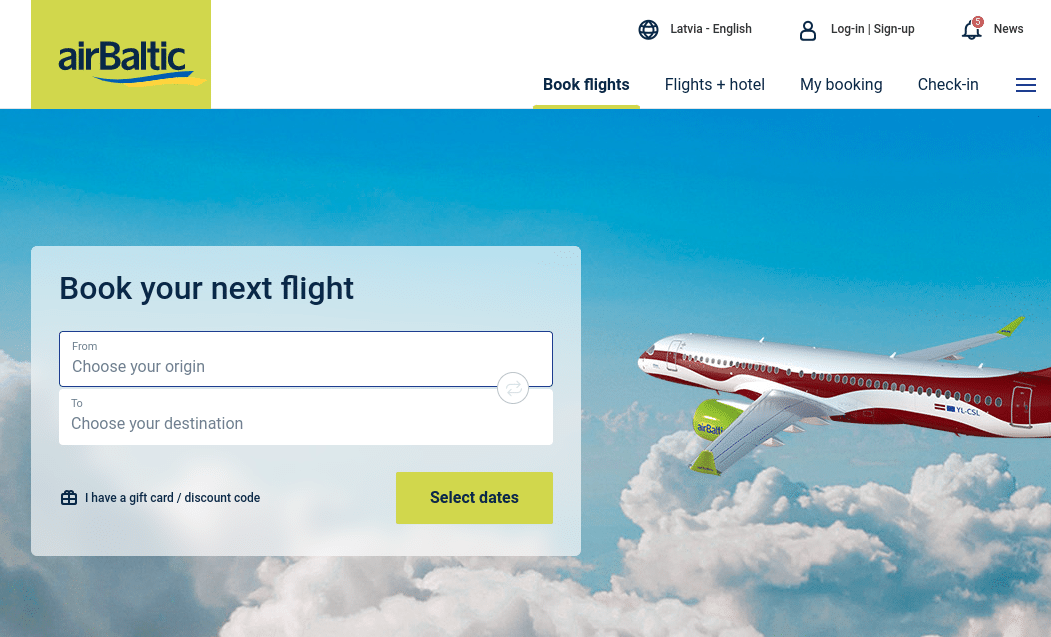 However, when customers at AirBaltic pay for their flights, they will select BitPay as their payment method. BitPay converts DOGE into euros for customers at checkout. This will be based on the exchange rate at the time of the booking. Notably, Dogecoin can only be used to pay for 'Green tickets', which is the company's most affordable travel option.
6. Wrist Aficionado
Shoppers looking for online stores that accept Dogecoin for luxury brands might like Wrist Aficionado. This online marketplace has been around since 1987 and is one of the most popular high-end watch retailers in the US. Additionally, the company also sells jewelry, bags, and other accessories.
Luxury brands include Cartier, Rolex, Hermes, Bulgari, and Richard Mille, among others. Wrist Aficionado was the first manufacturer of its kind to allow customers to buy watches with Bitcoin. Now, by opting for BitPay when completing their purchase, customers can pay for goods using Dogecoin.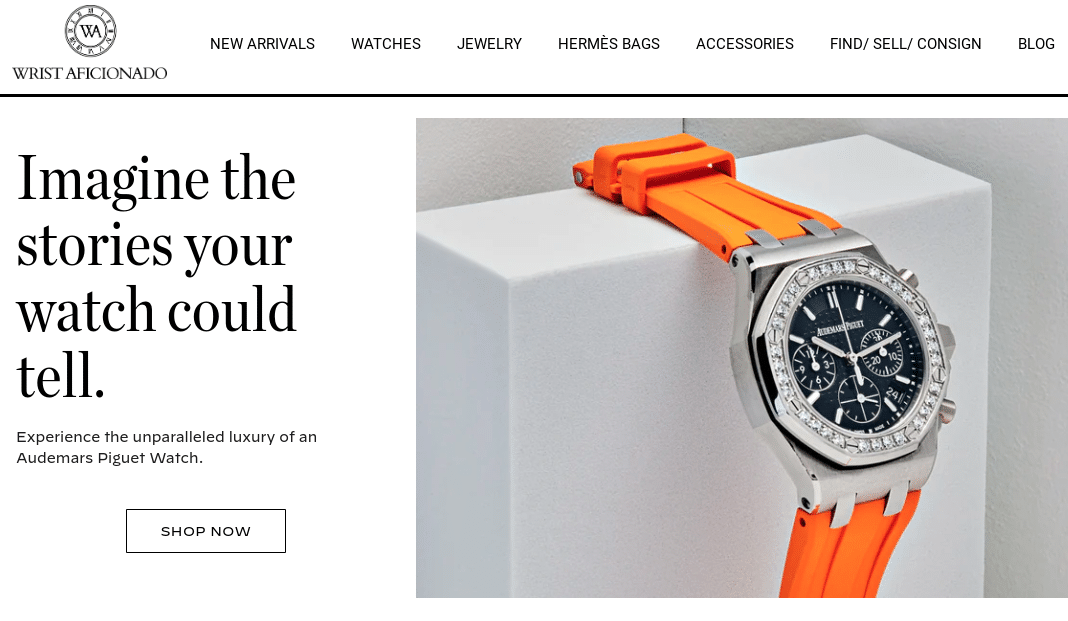 Furthermore, the company has been working with top digital designers to produce watches that are backed by dynamic NFTs. The roadmap includes a total of 10,000 NFTs. One of the collections was created with Michael Blakey and offers owners a number of metaverse and real-world private exclusivities that are not available anywhere else.
With its NFT series, Wrist Aficionado aims to showcase unique interactive consumer experiences that are unique to no other retailer.
7. Twitch
Twitch was founded in 2011 and is a popular online streaming service owned by Amazon. Twitch is popular for IRL (in real life) streams and music broadcasts. However, live video game streaming such as esports broadcasts are the main draw. Twitch is also known for holding significant gaming events that frequently attract over 500,000 viewers.
Another benefit is that users can communicate with Twitch broadcasters in real-time. As of 2014, the platform has allowed users to pay for the 'turbo subscription' option with Dogecoin. This is popular as it eliminates commercials, adds additional chat capabilities, and improves video storage for broadcasts.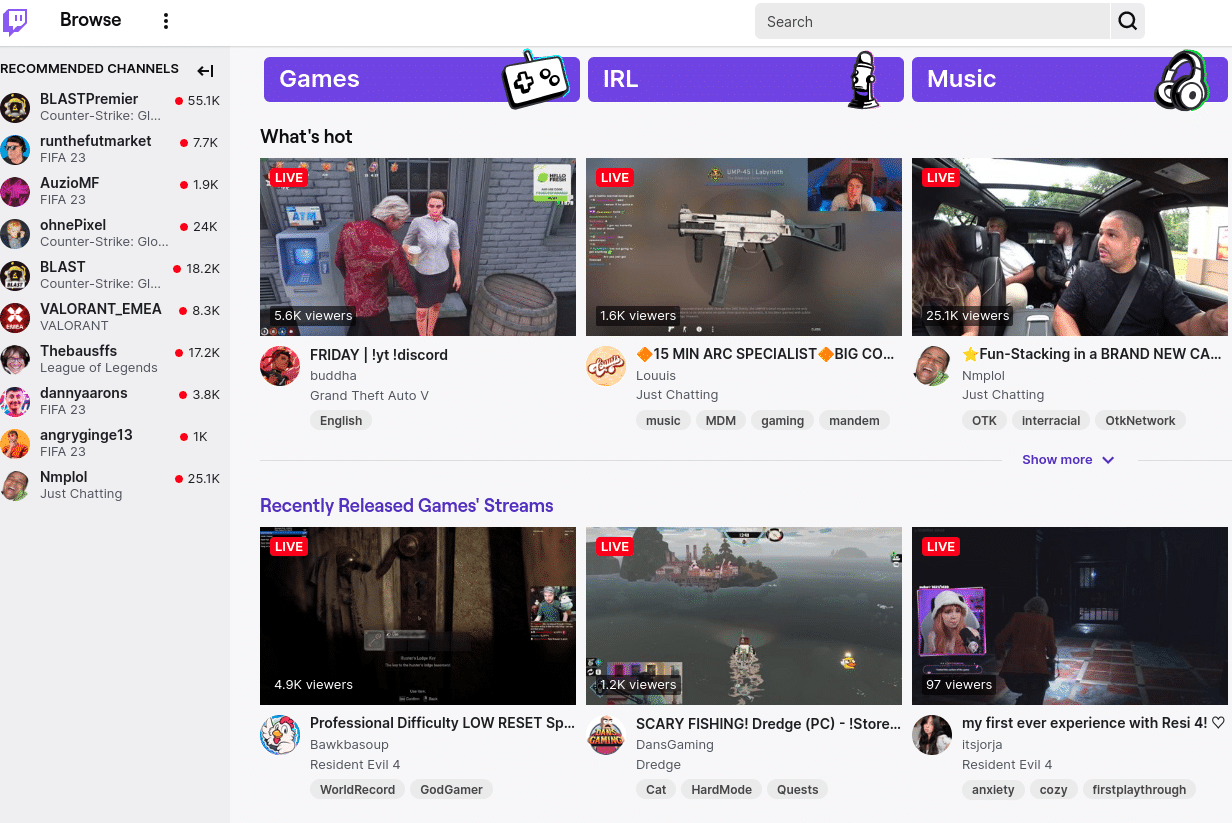 Twitch users can choose 'more methods' when purchasing a membership in order to pay with Dogecoin. Not only that, but users can choose Dogecoin to pay for Twitch Bits, which is the platform's native currency. Bits are like tips: they can be sent in the chat as animated cheering emotes and displayed in various diamond shapes.
Viewers can send Bits to encourage their favorite streamers and will also earn badges for their loyalty. Additionally, it's possible to earn Bits by watching adverts. Twitch streamers receive 80% of all Bits, which allows them to monetize their content.
8. Sheetz
Sheetz is a top pick for anyone wondering who accepts Dogecoin as payment for everyday items such as food and fuel. This chain of convenience shops started in Pennsylvania, has been operational since 1952, and now has almost 700 stores in the US. Many Sheetz stores operate 24/7.
Its stores offer made-to-order food and beverages, and many also sell gasoline. More recently, the company introduced EV chargers to some of its stations. Furthermore, in 2021, Sheetz partnered with crypto payment provider Flexa to accept digital currencies. Flexa instantly converts cryptocurrency to US dollars for the company.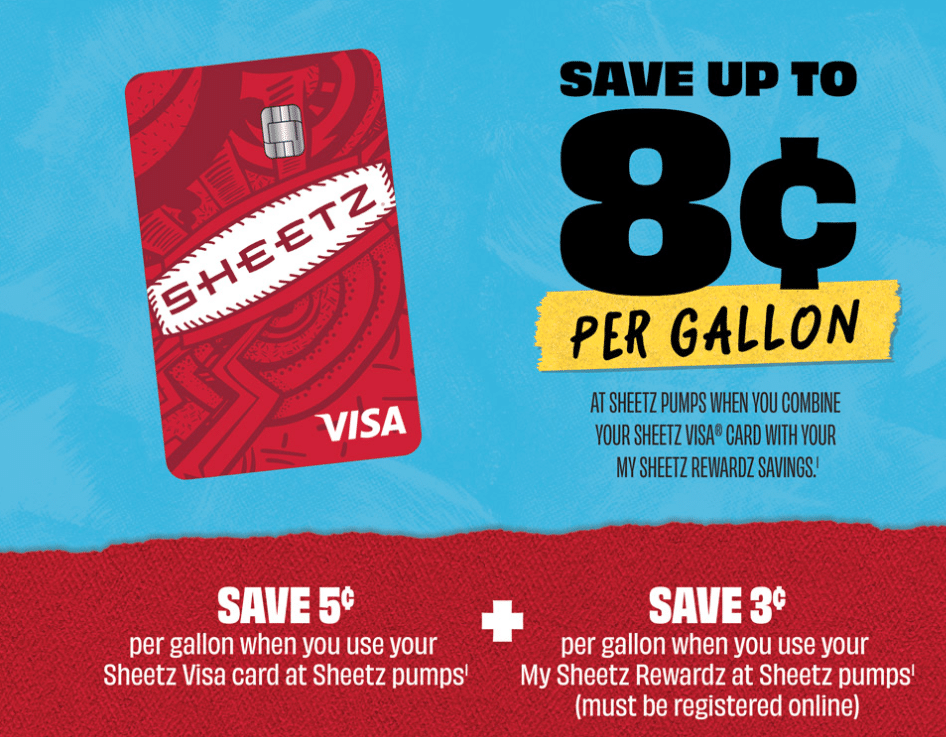 As such, customers can use Dogecoin to pay for their food and other goods at Sheetz stores securely and privately. Other accepted cryptocurrencies include Bitcoin, Ethereum, and Litecoin. Sheetz has a rewards program that offers customers freebies, discounts on fuel, food deals, and points for their loyalty.
9. Microsoft
Microsoft needs little introduction – it's one of the biggest technology companies globally. It's best known for its Office suite, Windows operating systems, and browsers. Some of the most popular products are the Xbox gaming consoles and security systems like Microsoft Defender.
In 2014, Microsoft began accepting Bitcoin as a new payment method. This allowed customers to purchase software for Windows Phones, Xbox, and other products. Microsoft, like most websites that accept Dogecoin, does so through its collaboration with BitPay.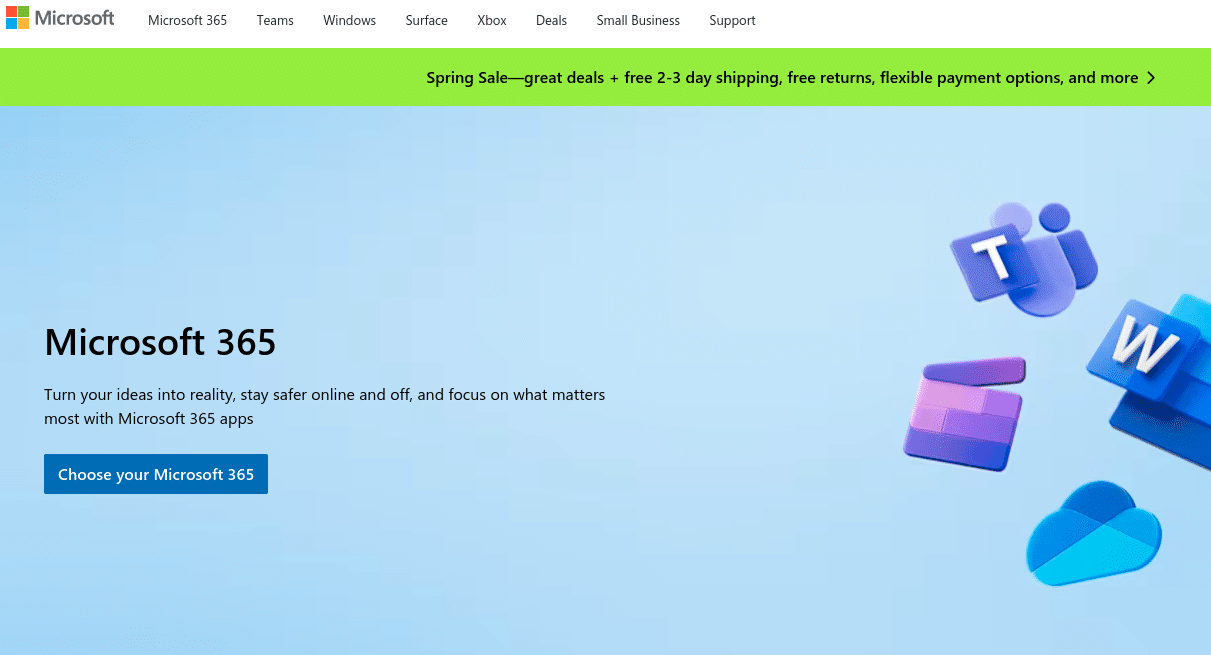 Furthermore, Microsoft has been experimenting with blockchain technology. 2015 saw the release of the software giant's first blockchain product, Azure Blockchain Service. It is a managed cloud service that streamlines the creation, deployment, and expansion of blockchain applications.
Benefits of Using Dogecoin for Payments?
Dogecoin is one of the best cryptocurrencies to buy in 2023. According to CoinMarketCap, Dogecoin has a market capitalization of over $12.5 billion as of writing. Acceptance of DOGE as a payment method is growing. Not only is it easy to exchange for other currencies but it's also fast.
Additionally, according to some Dogecoin price predictions, DOGE could reach $1.16 by 2030 making it one of the few meme coins with huge upside potential.
See the main benefits of choosing companies that accept Dogecoin payments below:
Privacy
One of the reasons shoppers research who accepts Dogecoin is that crypto transactions are anonymous. This is because cryptocurrencies are decentralized and do not need user identification.
This enables shoppers to manage their finances free from interference from the government or other parties such as banks.
Speedy Transactions
Traditional payment types such as wire transfers can sometimes take days. Blockchain transactions, however, usually take minutes, or in some cases, seconds. Dogecoin employs Scrypt encryption and is a popular payment method for its speed and low fees.
In fact, Dogecoin is one of the fastest cryptocurrencies, with payments often taking just two minutes to process.
Fewer Fees
Numerous financial services, such as credit card providers, impose fees on shoppers, or the merchant they're buying from, to send or receive payments. However, because of the peer-to-peer structure of cryptocurrencies, there are no banking fees.
There is no need for intermediaries or banks when spending at companies that accept DOGE. This means that the transaction will cost less for everyone. All the shopper needs to think about is the small gas fee. This usually costs well under $1 per transaction.
Are Dogecoin Purchases Secure & Legal?
According to Statistica, Dogecoin is the second best-known cryptocurrency in the US. That said, are purchases secure and legal? The short answer is yes. That's why some of the best online retailers globally, like Crypto Emporium and Microsoft, accept Dogecoin as payment.
Crypto Emporium allows shoppers to buy products with DOGE on a direct basis
That said, many companies (like Microsoft) actually facilitate crypto purchases via a payment services provider like BitPay
In terms of security, it's important for shoppers to ensure they keep their own crypto wallets and Dogecoin safe by protecting their private keys
Regarding the legality, in the US shopping with Dogecoin is generally considered legal. That said, shoppers should check what laws are in place where they live when using digital payment methods online.
How to Use Dogecoin to Buy Real Goods
Now that we've covered who accepts Dogecoin, shoppers can follow the step-by-step guide below on how to buy goods at Crypto Emporium.
As we mentioned, the platform accepts Dogecoin to purchase a wide range of goods and services and is the overall best place to spend DOGE in 2023.
For further information, read our comprehensive Crypto Emporium review.
Step 1 – Sign Up With Crypto Emporium
Select 'Create Account' on the Crypto Emporium homepage.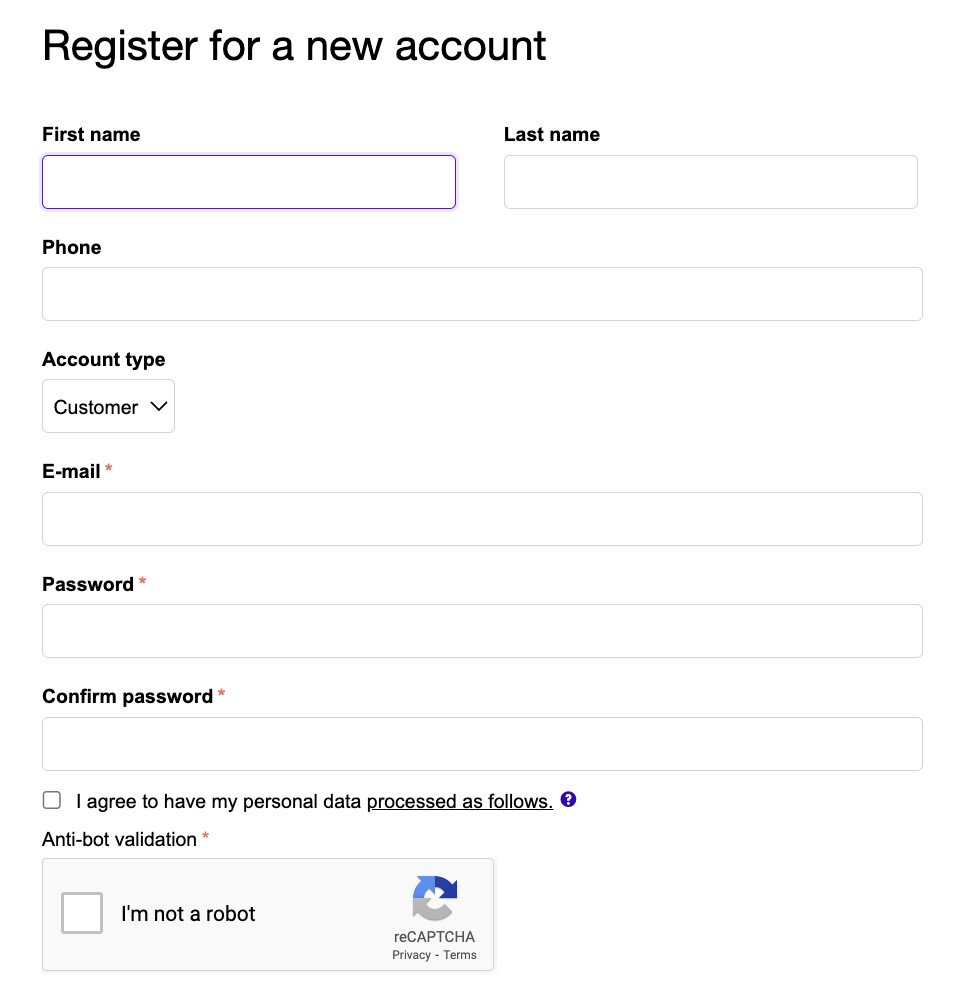 Next, complete the registration form by entering a name, cell phone number, email, and password.
Step 2 – Browse Crypto Emporium
At this point, shoppers will have Dogecoin in their crypto wallet and a Crypto Emporium account. As such, they can browse the various departments in the marketplace and start shopping with Dogecoin immediately.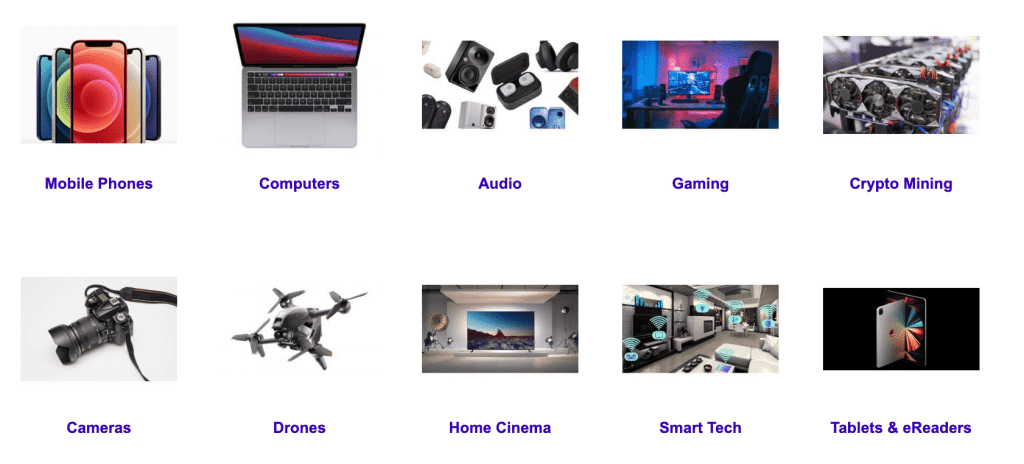 As we touched on, the Crypto Emporium marketplace includes everything from electronics and crypto mining equipment to real estate and online courses.
Step 3 – Check Shipping Info
Once a product has been added to the shopping cart, head over to the checkout page and complete the payment.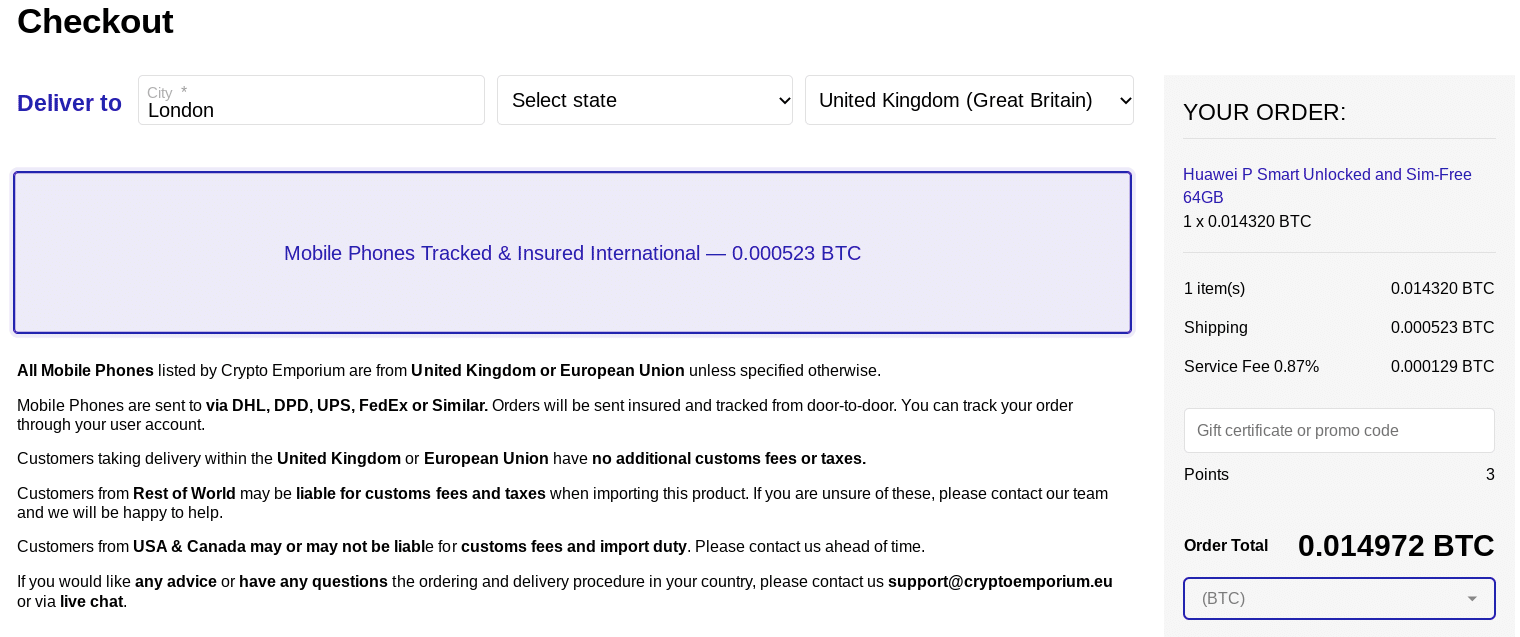 This will display the shipping fees for the stated delivery address. Crypto Emporium will also display its service fee, which amounts to 0.87%.
Step 4 – Send Dogecoin to Complete the Order
Finally, Crypto Emporium will display the wallet address to send Dogecoin.
Open the private wallet and transfer the DOGE tokens. Crypto Emporium will send an email once the payment is received. It will then dispatch the product.
Conclusion
In summary, we explored who accepts Dogecoin, and we found that the overall best place to shop is Crypto Emporium. Shoppers can buy a wide range of goods with Dogecoin on a direct basis. As such, the price of all products and services are quoted in DOGE.
Shoppers can buy everything from TVs, real estate, and clothes to cell phones and luxury watches. Shoppers will also be eligible for 4% cashback on all purchases.
FAQs
Which major companies accept Dogecoin?
How many businesses will accept DOGE?
How can I shop with Dogecoin?
What can Dogecoin be used for?