Ethereum provides consumers with a safe and transparent way to shop online.
Wondering who accepts Ethereum in 2023? Read on as we disclose the top companies that accept ETH and discuss some key benefits of using this cryptocurrency as a payment method.
The Best Stores That Accept Ethereum as Payment
The companies listed below are worth considering when assessing who accepts Ethereum as payment in 2023.
NordVPN
CheapAir
Shopify
OverStock
Chipotle
Twitch
Pacaso
APMEX
There is a diverse selection of online stores that accept Ethereum. As such, shoppers can use their ETH tokens to buy anything from precious metals and real estate to electronics, food, furniture, and everything in between.
Reviewing the Best Online Stores That Accept Ethereum Payments
For those who have already purchased ETH deciding where to spend the market's second-largest crypto can be easier said than done.
Shoppers will discover who accepts Ethereum by reading the comprehensive reviews that follow:
1. Crypto Emporium
When researching who accepts Ethereum, we concluded that Crypto Emporium is the best option for shoppers overall. Founded in 2018, Crypto Emporium has become one of the most popular crypto-only shopping sites. The marketplace ships to over 125 locations worldwide, making it accessible to many crypto shoppers.
Crypto Emporium accepts Ethereum, Bitcoin, and some of the best altcoins: for instance, Dogecoin, Dash, Ripple, Tether, and Litecoin. Of all the retailers that accept Ethereum, Crypto Emporium has one of the broadest selections of products and services. For instance, shoppers can buy a wide range of electronics with ETH.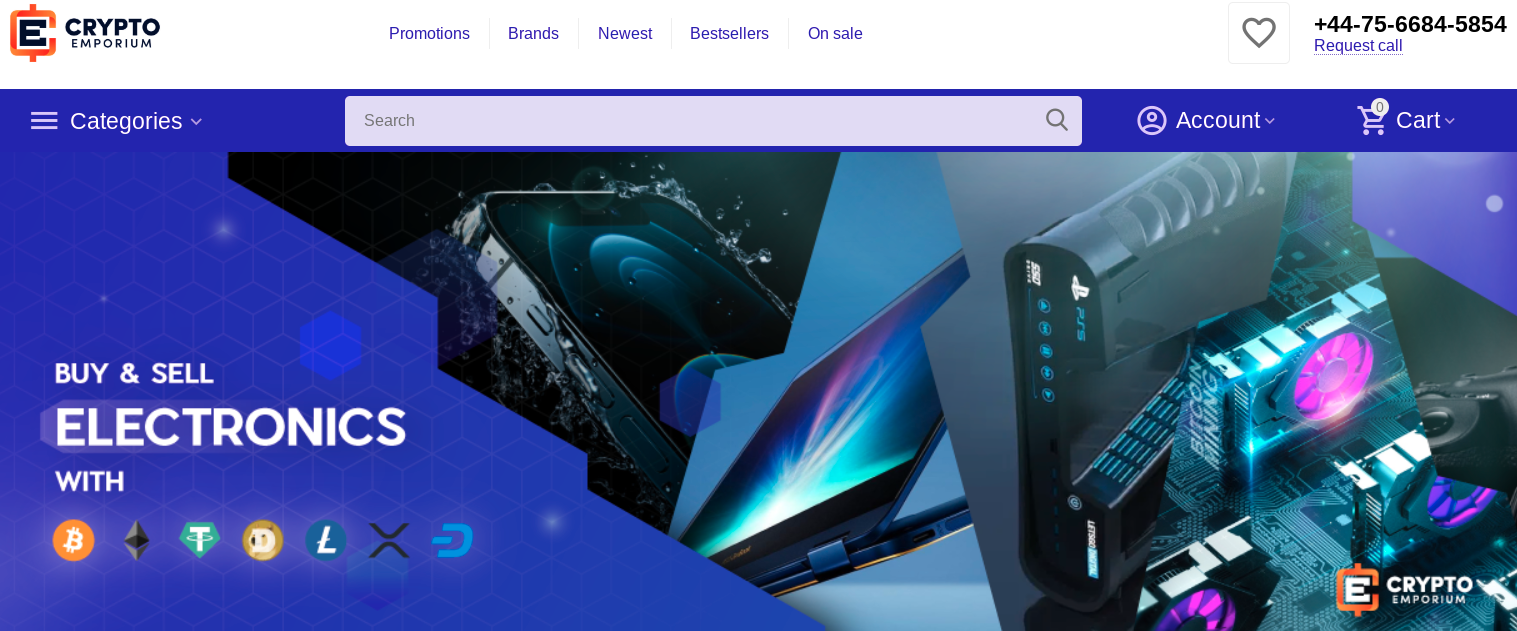 This includes security systems, crypto-mining equipment/kits, home cinema gadgets, tablets, cell phones, computers, drones, and audio equipment. Furthermore, Crypto Emporium is popular with gamers. The site offers standalone CPUs, mini-PCs, and fully assembled and ready-to-use systems.
Additionally, Crypto Emporium offers a wide selection of laptops, which can be filtered by brand and type. The platform also includes gaming laptops with fast processing power, high-performance RAM, and quality graphics cards. Shoppers can also buy consoles, accessories, and games.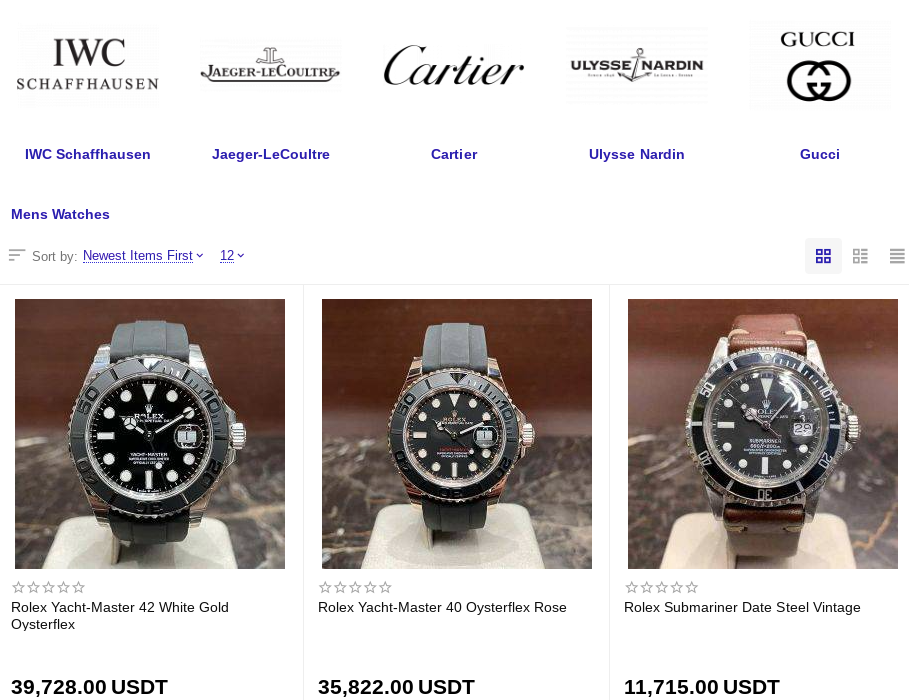 There is also apparel and jewelry for sale at Crypto Emporium: crypto merch, t-shirts, hoodies, jackets, activewear, rings, cufflinks, and chains, among other items. Those researching who accepts Ethereum with bigger purchases in mind won't be short of options either. This platform also offers a range of luxury watches.
We found watches to range between around $250 and $700,000 – the latter is a special edition Rolex. Other watch brands include Gucci, Citizen, Omega, Cartier, Hublot, Jaeger-LeCoultre, and more. Shoppers can also buy vehicles such as cars (new and classic), vans, trucks, and motorbikes.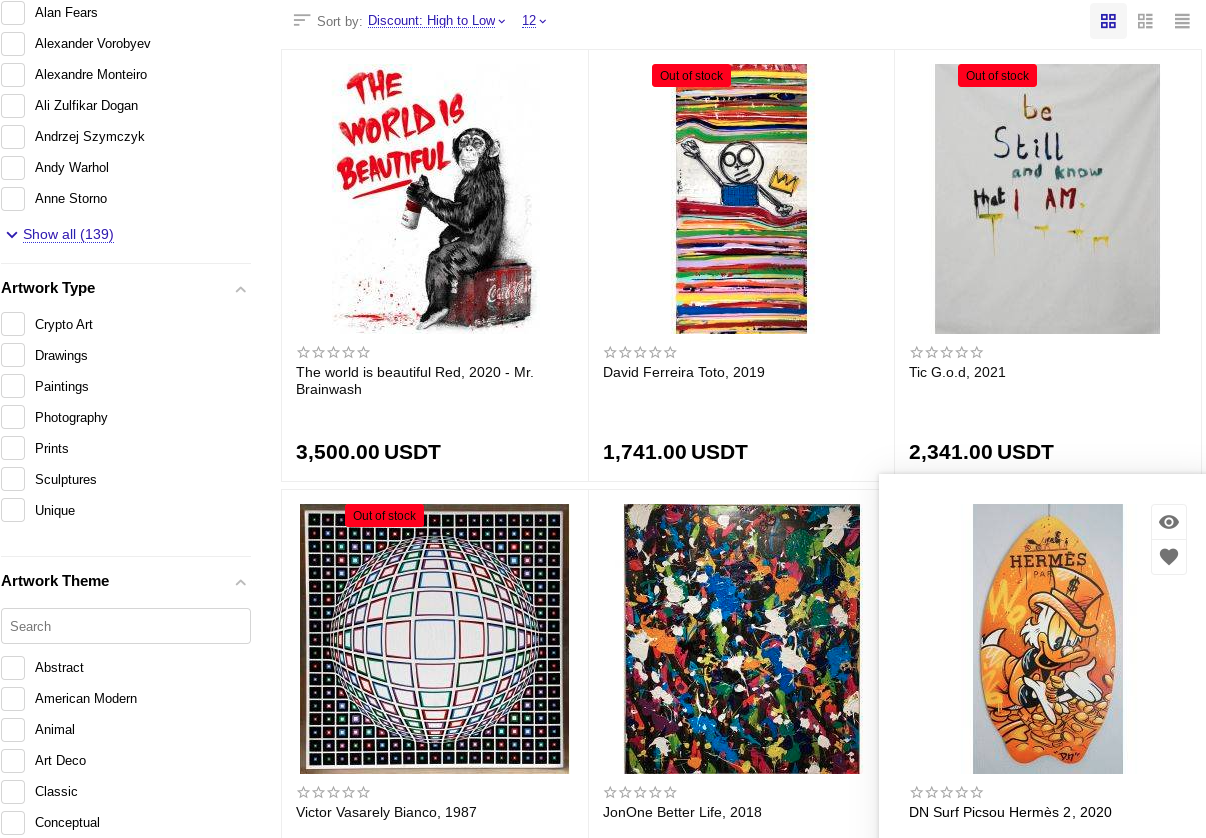 Meanwhile, art lovers can buy paintings, photography, sculptures, and prints all under one roof. At Crypto Emporium, those in the market for art can use ETH tokens to buy anything from a Banksy print or photography by Andy Warhol, to a Pablo Picasso painting. Filtering the results by theme, artwork medium, artist, and the price is possible.
Crypto Emporium also has its own crypto property market, including apartments, houses, islands, commercial plots, land, and more. Real estate is listed worldwide, including in the US, Asia, Europe, Africa, and the Middle East. Transactions are safe as customers don't need to enter sensitive information like bank details.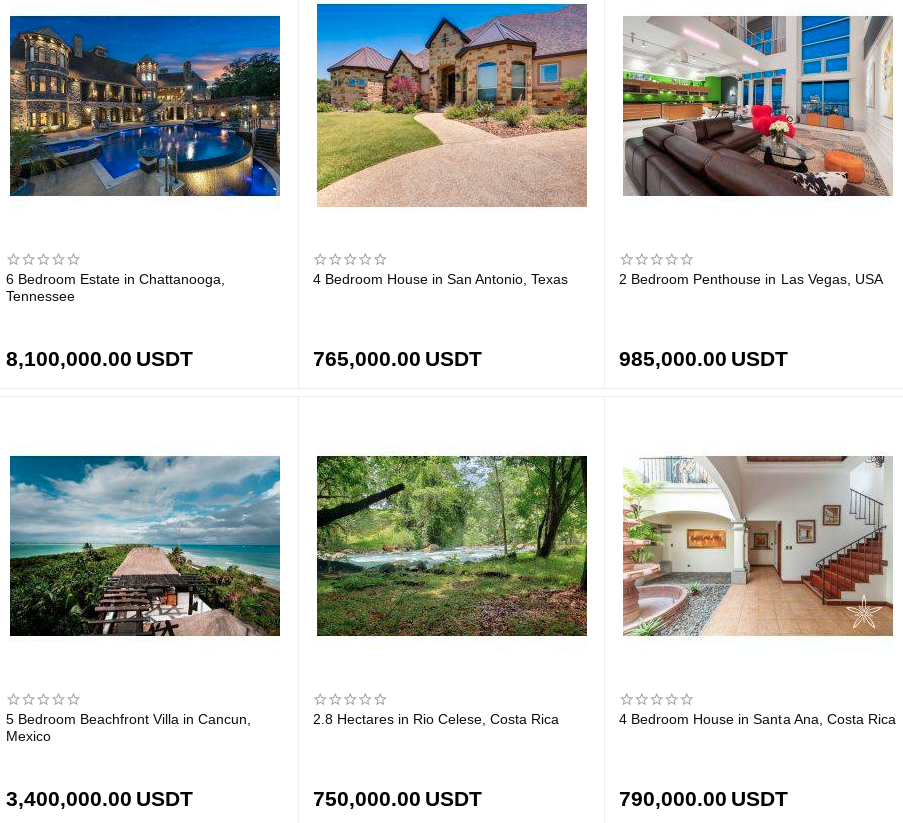 Crypto Emporium also has a great rewards program where customers are eligible to earn free crypto. 4% cashback is offered on purchases: if a customer spends the equivalent of $100, they will be given $40 worth of Emporium Cash crypto tokens.
Note: Emporium Cash is the native currency of the platform. Once listed on a crypto exchange, token holders will be free to stake, trade, or use them for voting.
2. NordVPN
NordVPN was launched in 2012 and has become of the most reliable VPN services globally. Thanks to its partnership with CoinGate, NordVPN is now of the top companies that accept Ethereum payments. The service has over 5,600 RAM-only servers in 60 locations, offering a connection speed of over 6,730 Mbps.
This VPN service also maintains a no-logs policy that has been audited. As such, it will never generate copies of customers' data logs. Subscribing to NordVPN allows customers to keep their data private, protect themselves from malware and malicious adverts, block web trackers, and hide their IP addresses.
As such, NordVPN is often used by those who wish to access Ethereum casinos but need to bypass geo-restrictions. NordVPN has a range of subscriptions, including monthly, annual, and 2-year plans. NordVPN customers can easily subscribe using Ethereum by clicking 'Cryptocurrencies' when selecting a plan and payment type.
This will redirect the customer to CoinGate, where they can select Ethereum from the list of supported cryptocurrencies. Notably, NordVPN also offers a 30-day money-back guarantee on all of its subscription plans.
3. CheapAir
CheapAir is an online travel agency specializing in affordable airfares and travel packages. The company was founded in 1989 and is based in Calabasas, California. This website allows customers to access various travel services, including flights, accommodation, and vehicle rentals.
CheapAir is one of the first few companies in the travel niche to accept crypto payments. It started taking Bitcoin payments in 2013 via Coinbase. In 2018, the company switched to BTCPayServer to facilitate faster transactions.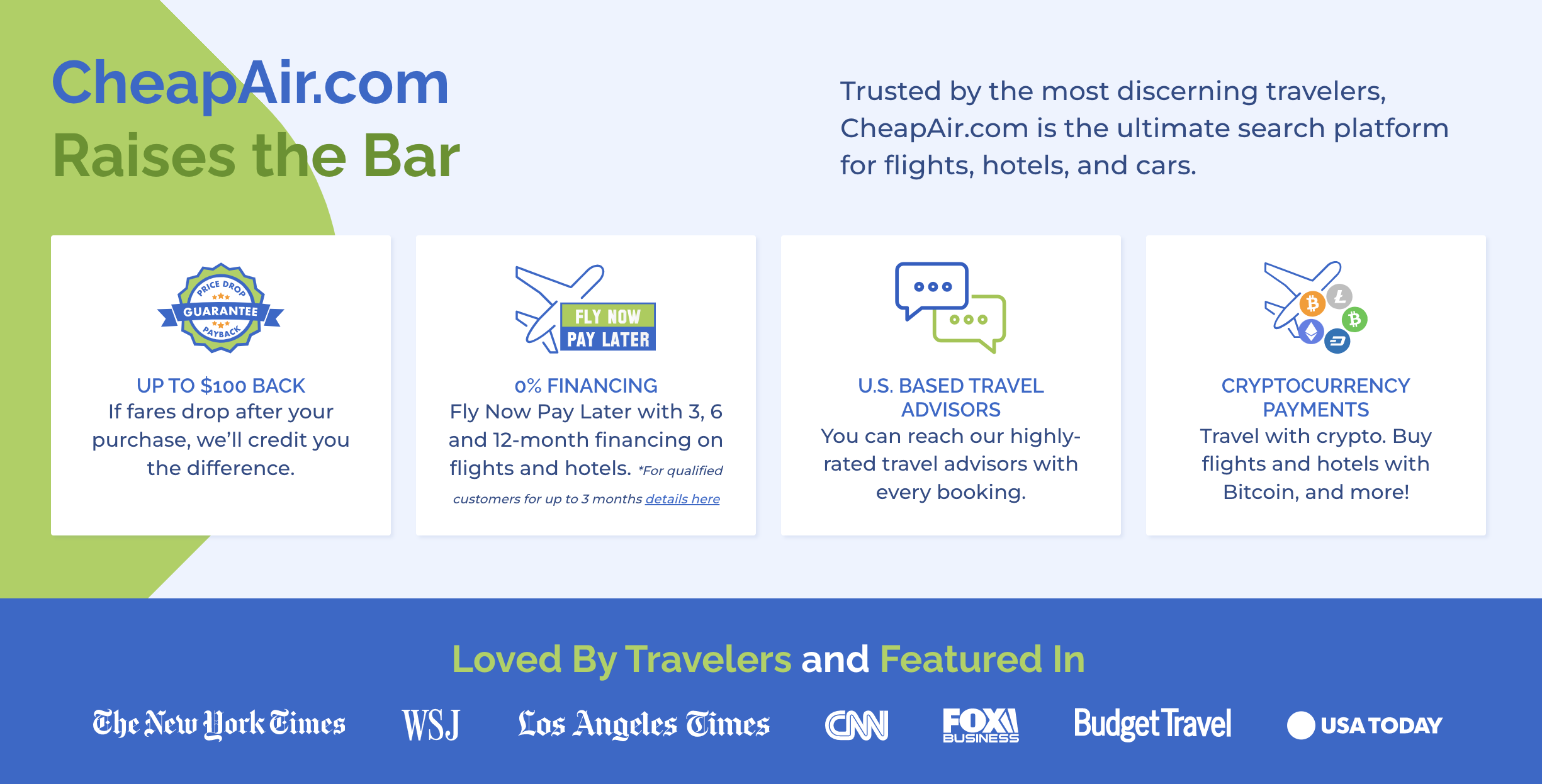 Today, CheapAir accepts payments in Ethereum and many other popular cryptocurrencies. The payment process is also simple. Customers can simply add a flight or hotel booking to their cart and choose 'Bitcoin and Cryptocurrency' as payment.
Next, select Ethereum and send payment to the displayed wallet address. And that's it – CheapAir will confirm the transaction and the order after receiving the payment. For any additional information, the customer support team is also available 24/7.
4. Shopify
Shopify is a subscription-based eCommerce platform that aids companies in managing their online, pop-up, and brick-and-mortar businesses. As such, it's comparable to a digital assistant. The company provides software that makes it easier for businesses to sell, ship, and manage their products.
Shopify is a simple-to-use tool for anyone wanting to build new online stores that accept Ethereum. Notably, customers can only accept purchases made with crypto if they enable an additional payment method, such as BitPay, in their admin settings. Shopify represents millions of companies from over 170 locations globally.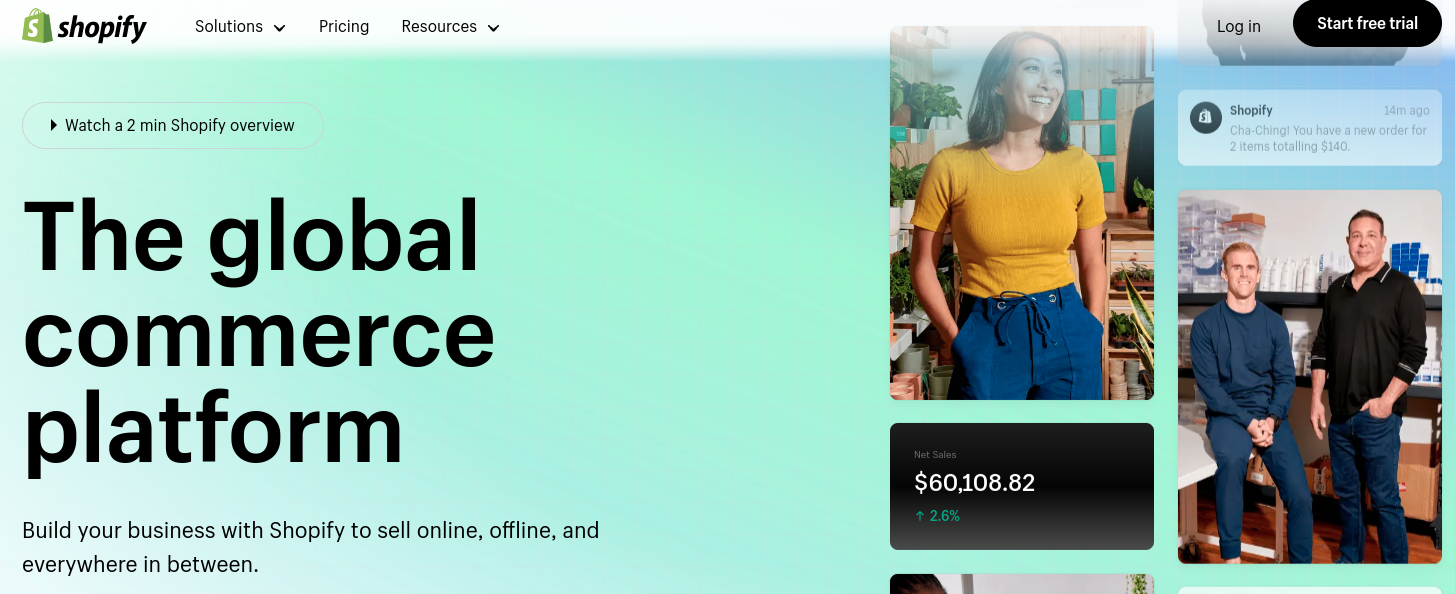 This includes Sephora, Lindt, Skims, Gymshark, and Red Bull. Shopify offers a customizable POS (Point of Sale) app with fully integrated hardware. As such, shop owners can turn any device into a POS. Subscriptions include 'Basic' which costs $39 per month. This plan offers standard reports, up to 77% shipping discount, two staff accounts, and up to 1,000 inventory locations.
The 'Shopify' plan is $105 monthly and offers professional reports, a shipping discount of up to 88%, and five staff accounts. Alternatively, bigger businesses can subscribe to the 'Advanced' plan for $399 monthly. This includes 15 staff accounts and a custom report builder.
5. Overstock
Overstock is primarily known for furniture and home décor and has around four million products for crypto shoppers to browse. As well as furniture and home décor, this includes bedding, accessories, rugs, DIY products, and more. There is also a large kids and baby section with everything from cribs and bedding to playpens and toy boxes.
The company also sells gifts, large home appliances, garden furniture, and exercise equipment. When researching who accepts Ethereum as payment, we found this to be one of the best retailers for savings. The company offers numerous name-brand products at steep discounts. This is because it buys stock from other businesses' liquidations for its online store.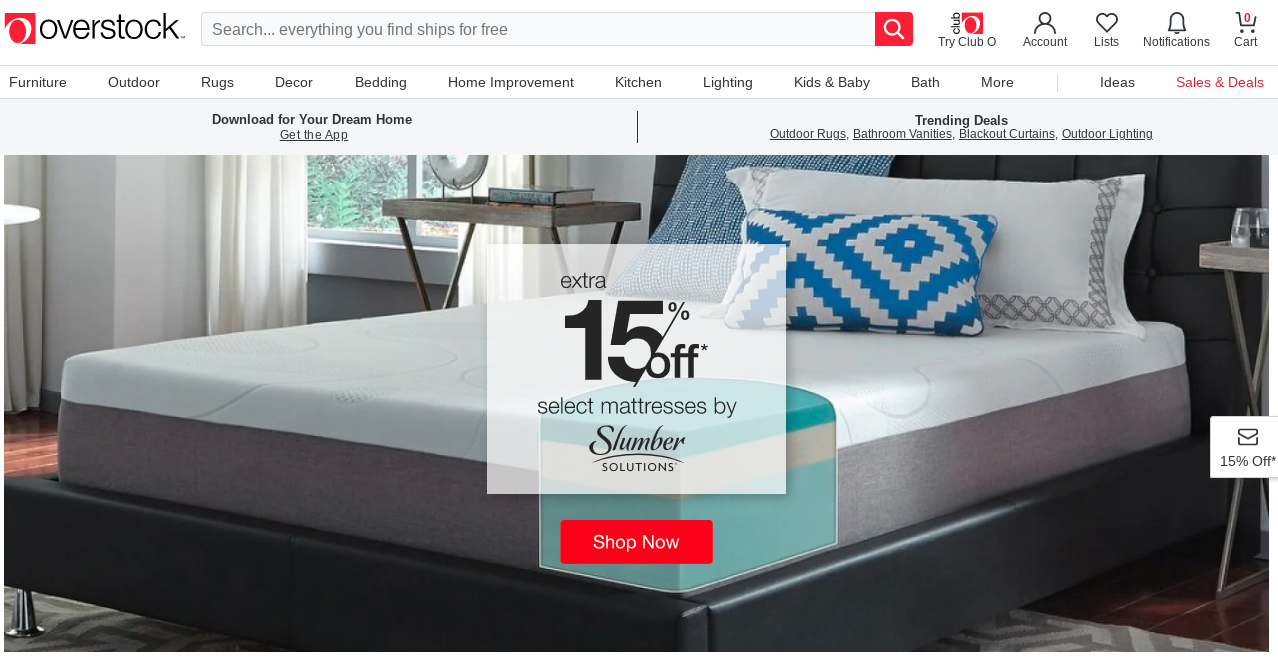 This retailer was also one of the earliest to allow customers to buy with Bitcoin: the platform collaborated with Coinbase to begin taking crypto payments in 2014. Overstock became one of the top websites that accept Ethereum in 2017 when it partnered with ShapeShift. As a result, the site now accepts many of the best cryptocurrencies.
This includes Bitcoin, Bitcoin Cash, Monero, Litecoin, and Dash. The platform has since partnered with BitPay. As such, customers can also opt to use Ethereum as payment by selecting BitPay at the checkout.
6. Chipotle
Wondering what stores accept Ethereum for food? Chipotle is a popular Tex-Mex fast-food chain with almost 3,200 restaurants in the US, Canada, the UK, France, and Germany. The chain offers fast food for collection or takeaway and is mainly known for fresh burritos, tacos, salads, lifestyle bowls, and quesadillas.
Chipotle teamed up with the payment system Flexa in mid-2022. As a result, customers can now pay for their burritos and other food using Ethereum, and numerous other cryptocurrencies. Additionally in 2022, a new offer was introduced in recognition of Ethereum's merger, when the blockchain's consensus algorithm changed from POW to POS.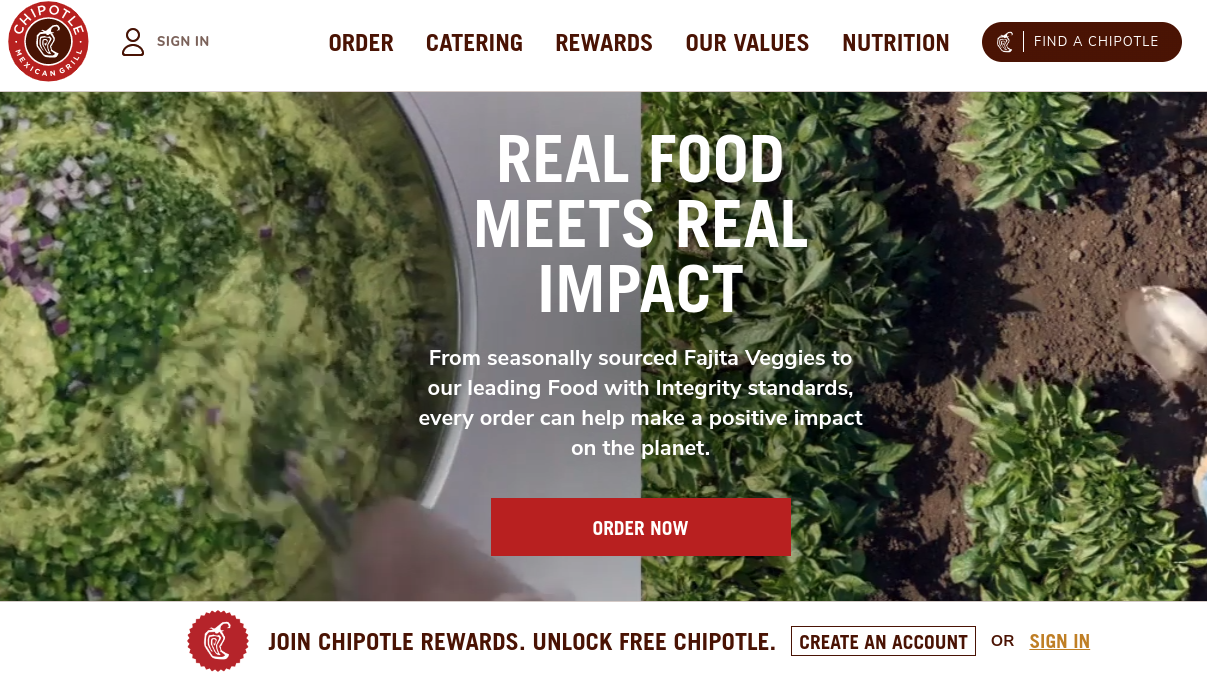 The company introduced an offer called 'Proof of Steak'. Chipotle gave all customers who purchased food and beverages using Ethereum tokens a whopping 99.95% discount in this offer. Customers can also unlock rewards and exclusive badges by joining the Chipotle rewards program.
The company offers 10 points for every $1 spent, birthday treats, exclusive offers, and access to new menu options before anyone else. Chipotle points can be exchanged for merch, charitable donations, and in-store food, on the app, or on the desktop website.
7. Twitch
Twitch was established in 2011 and is owned by Amazon. Twitch is a well-known internet streaming service with over 15 million users per day. It is best known for attracting thousands of viewers to its live global video game tournaments and esports events. Essentially, people can watch others playing video games in real-time.
The platform also features music broadcasts and IRL (in real life) streaming. IRL streams entail people broadcasting their everyday lives, away from their computers. Real-time communication between users and Twitch broadcasters is another advantage. Moreover, streamers are able to make money thanks to Twitch Bits.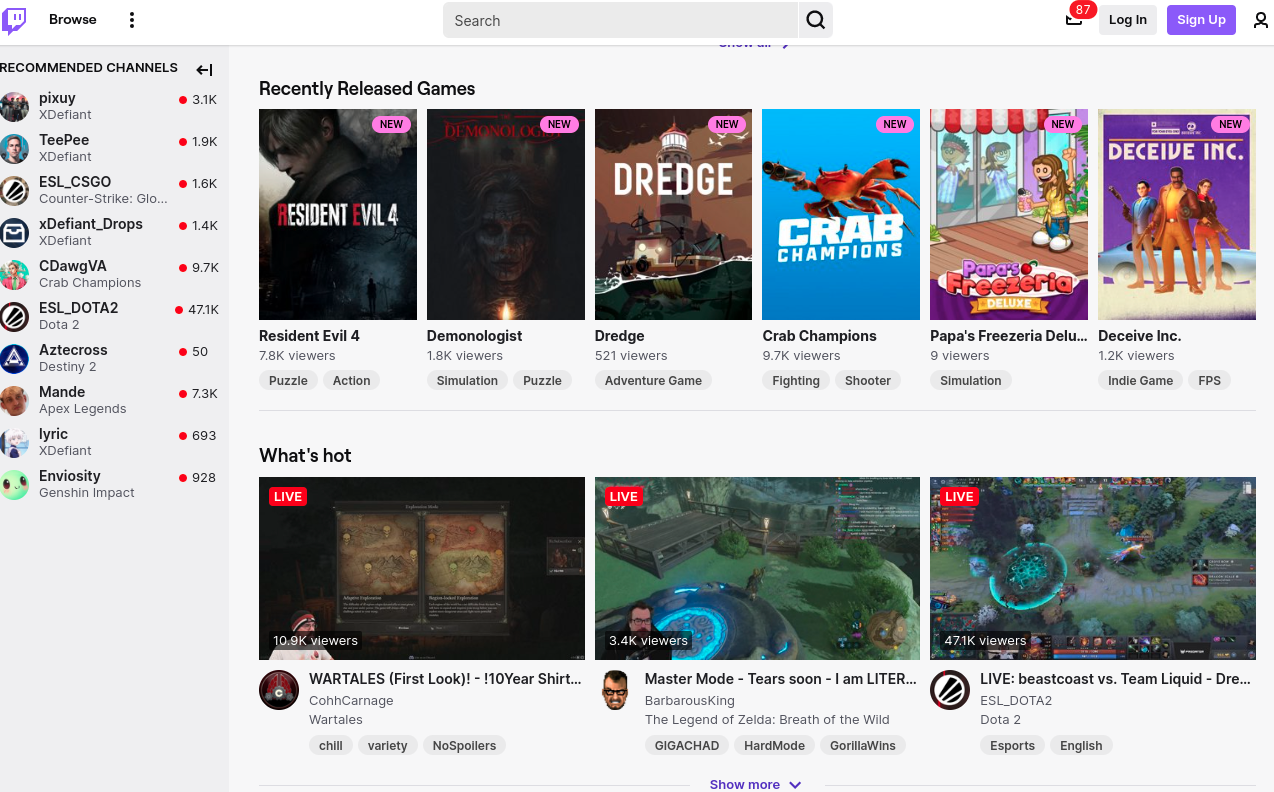 Twitch Bits are comparable to donations and are given to streamers by viewers, to show appreciation for the content they are watching. Twitch Bits can be purchased using Ethereum and sent in real-time via the live chat message box as animated 'cheermotes'.
Since 2014, Twitch has been one of the few streaming companies that accept Ethereum payments. Furthermore, Ethereum can be used to pay for subscriptions on the platform. For instance, the Turbo plan removes ads, boosts chat functionality, and provides better storage.
8. Pacaso
Pacaso offers real estate with a difference, as it specializes in fractional ownership. The company purchases single-family houses, apartments, villas, and other real estate and then sells them to groups of investors in small amounts. Thus, allowing more investors to enter the property market.
This platform offers access to numerous properties in the US. For example, Utah, New Jersey, Colorado, and Florida. The latter is one of the largest home markets in the US. The Pacaso property portfolio also includes homes in Mexico and Europe.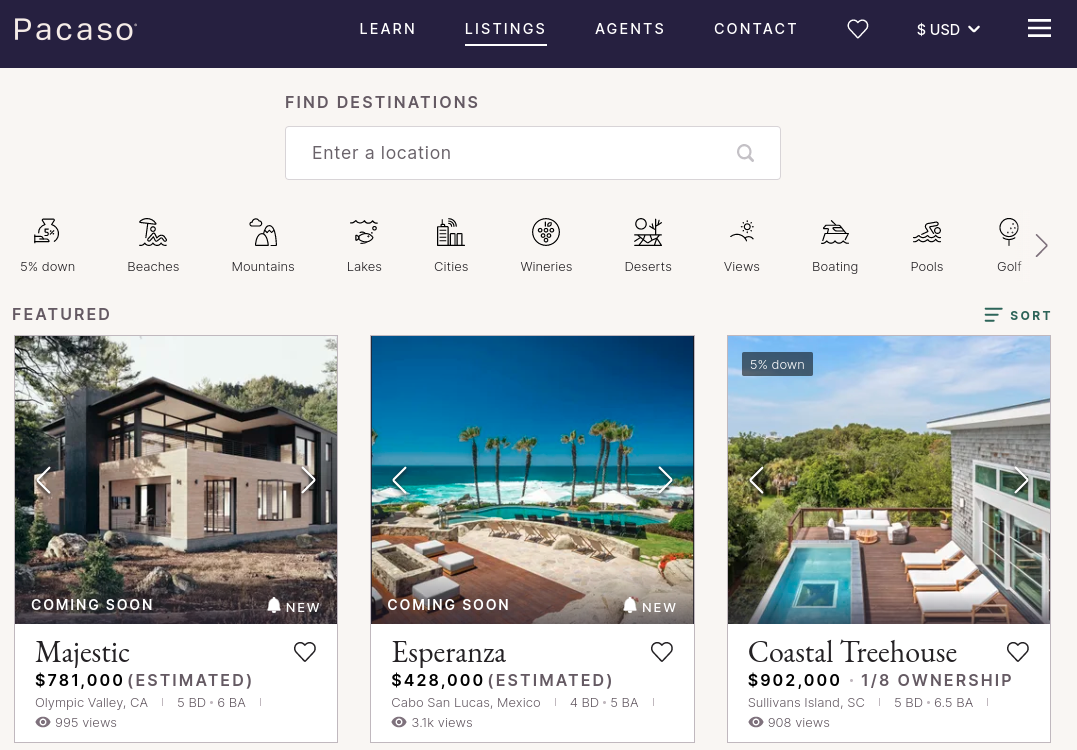 The company states that it is the first second-home marketplace to support cryptocurrency payments. Buyers can pay with cash, Ethereum, or a combination of the two as a down payment whilst financing up to 70% of the cost of their second house. Customers who pay with Ethereum at Pacaso will finish their transaction via BitPay.
Other accepted cryptocurrencies include Bitcoin, Litecoin, Bitcoin Cash, Dogecoin, Wrapped Bitcoin, and various stablecoins tied to the US dollar.
9. APMEX
When researching who accepts Ethereum, we found that APMEX allows investors to buy a range of precious metals online with crypto. APMEX is a US-based e-commerce company that was founded in 2000. It is an authorized buyer of platinum, mint gold, and bullion coins and is one of the world's leading marketplaces of its kind.
At APMEX, customers can buy and sell rare coins, gold, silver, palladium, platinum, copper, tokens, and medals. APMEX has teamed up with BitPay so customers can use Ethereum as payment. Other accepted cryptocurrencies include Dogecoin, ApeCoin, Litecoin, Bitcoin, Wrapped Bitcoin, and Bitcoin Cash.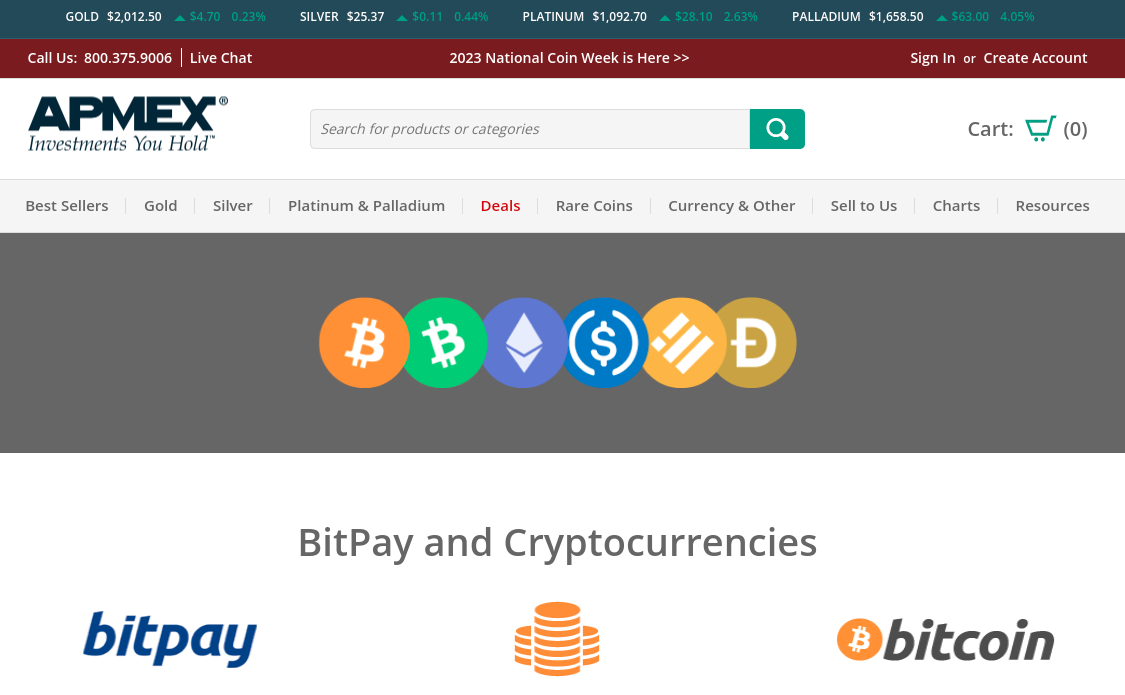 Supported stablecoins include Binance USD, Pax Dollar, Gemini Dollar, Circle Euro Coin, Dai, and USD Coin. Customers can buy up to $250,000 worth of metal with Ethereum. Moreover, APMEX gives customers a 'QuickShip promise' on US orders. This ensures that all Ethereum orders are quickly prepared and sent out the day after the payment has been confirmed.
Why Use Ethereum for Payments?
Now that we've covered what you can buy with Ethereum let's examine why ETH is a good crypto to use when buying goods and services in 2023. According to CoinMarketCap data, Ethereum has a market capitalization of over $250 billion and remains the second largest token only to Bitcoin.
Similarly, based on our Ethereum price prediction the ETH market value could jump to around $7k by 2030. That said, what are the benefits of choosing it as a payment option?
We've covered who accepts Ethereum in 2023, read on to find out the main advantages of using it as a payment method.
Transaction Speed
The transaction speed of Ethereum payments is one of the biggest advantages of shopping with companies that accept ETH. Transactions using bank wire transfers might take days to settle.
In contrast, Ethereum transactions are completed in a matter of seconds. As such, compared to traditional international payments, global transactions on Ethereum are much faster.
Safety
When buying goods online with a traditional method, customers must enter bank card details and other sensitive information. One of the reasons shoppers research who accepts Ethereum is to avoid this step.
Ethereum is based on blockchain technology, which increases security. Encryption, immutability, and unanimity are three crucial qualities the technology uses. Furthermore, crypto transactions do not require the customer to enter any information about their identity or residency.
Lower Fees
Finding out who accepts Ethereum for payment is the first step in lowering shopping costs. Some platforms charge fees for traditional methods like bank wire transfers or credit cards.
When making a transaction with Ethereum, the only charge is the small gas fee as there is no middleman.
Is Buying Things with Ethereum Safe & Legal?
Ethereum is safe, partly because it varifies transactions without needing a third party like a bank. Furthermore, according to CNBC, following the recent Shapella upgrade, the network is even more secure. The upgrade will allow validators to unilaterally remove their stake as they see fit.
It also reduces the load they bear and offers a clearer picture of the condition of the network. Regarding the legality of using Ethereum as a payment method, making purchases with cryptocurrencies is legal in most countries.
For instance, in the US, using Ethereum to pay for goods online is legal. As such, many major US companies accept cryptocurrencies either directly or via a provider such as BitPay.
For those interested in finding the best Ethereum wallets to store their ETH holdings eToro and MetaMask are some of the most popular options in 2023.
How to Spend Ethereum on Real Products
After reviewing who accepts Ethereum, we found Crypto Emporium to be the overall best retailer. Further details can be found in this Crypto Emporium review.
Those wishing to proceed and buy real products with Ethereum now can follow this step-by-step guide:
Step 1 – Create a Crypto Emporium Account
Go to the Crypto Emporium website and select 'Create Account'.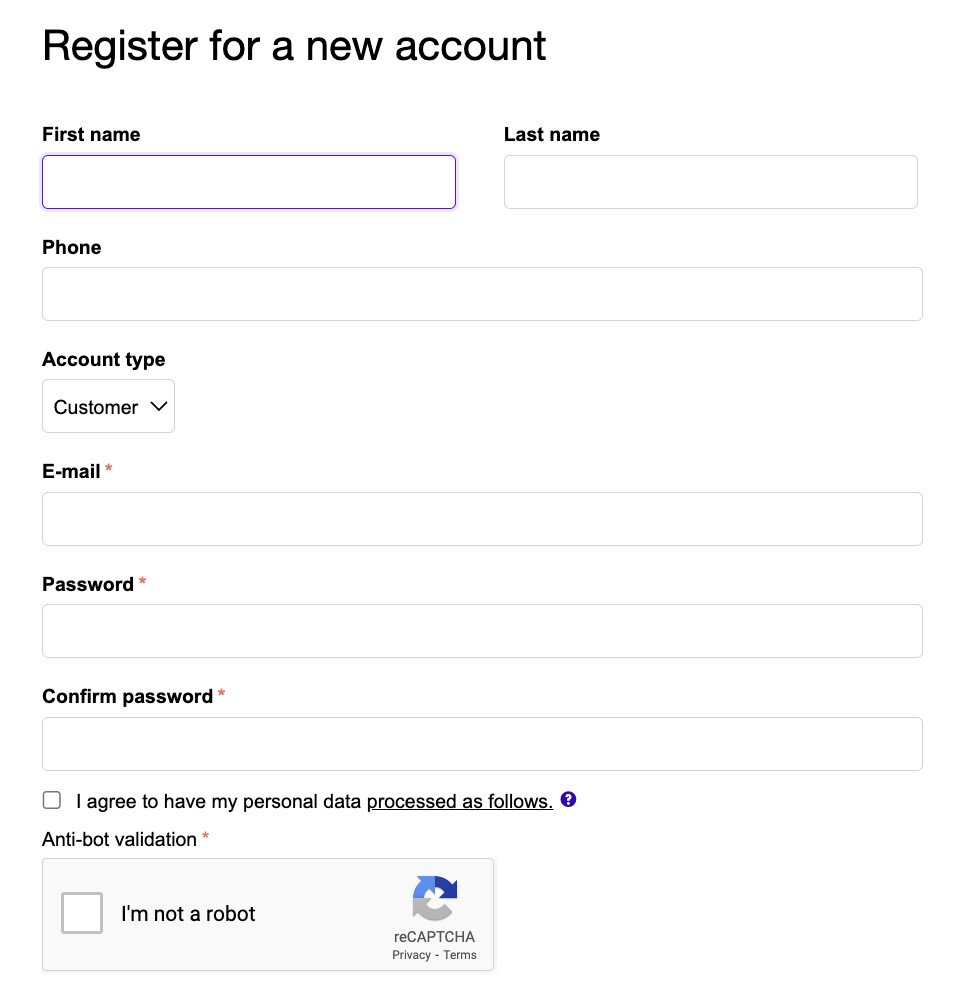 Complete the registration form by entering a full name, email address, cell phone number, and password. Where it says 'Account Type', select 'Customer'. Confirm once the information entered has been checked.
Step 2 – Search for Products
Once the account has been created, browse the categories to look for something to buy with ETH. Alternatively, use the search bar to look for a specific product or service.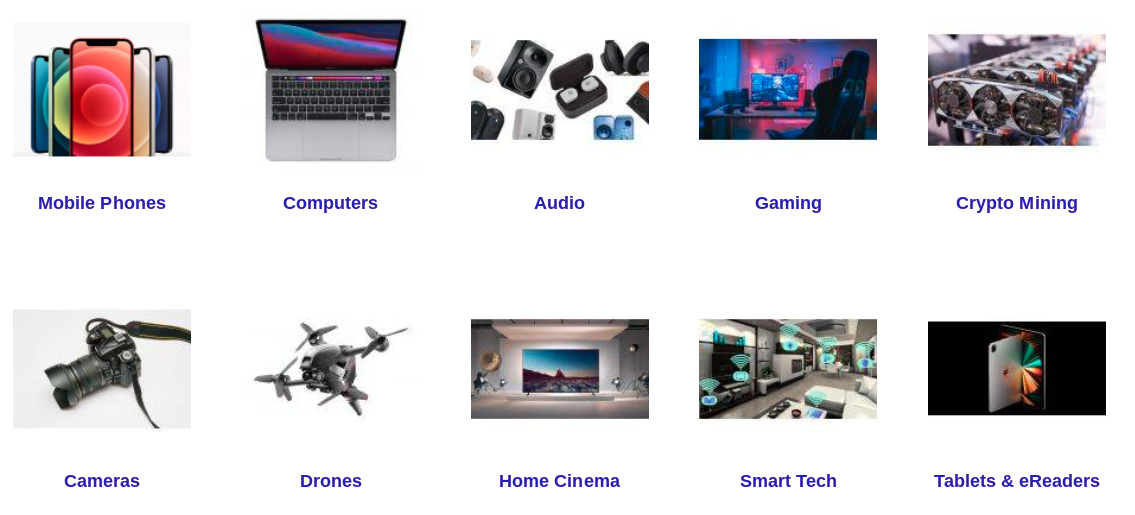 Shoppers can choose to view prices in Ethereum, Tether (pegged to USD), and a range of other cryptocurrencies.
Step 3 – Check the Shipping Address
Once the shopper has chosen an item to buy, they can check that the shipping address is correct. At this point, the shopper's shipping and insurance costs are calculated.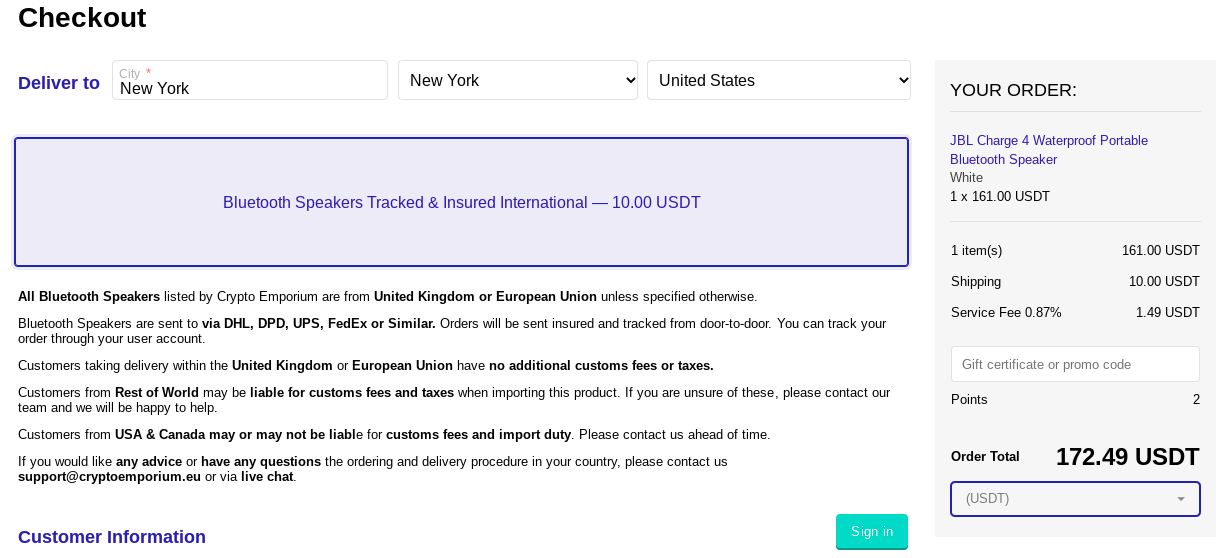 Items are tracked and insured at Crypto Emporium. This is the case for luxury watches and also cheaper items like headphones. Furthermore, a standard service fee of 0.87% is added to purchases.
Step 4 – Send Ethereum and Confirm
To complete the purchase, copy the Ethereum wallet address provided by Crypto Emporium. Next, paste it into the digital wallet to transfer the ETH tokens to the platform and pay for the purchase.
Crypto Emporium will send a confirmation email once the Ethereum transaction is complete and ship the item purchased.
Conclusion
We've analyzed who accepts Ethereum, and Crypto Emporium stands out for many reasons. The platform directly accepts ETH for payment and sells everything from property, cars, luxury watches, crypto mining kits, cell phones, and apparel.
Moreover, Crypto Emporium customers are automatically awarded 4% cashback in crypto every time they spend. Customers will receive Emporium Cash, which they can stake for extra revenue, trade, or hold for voting purposes.
FAQs
Do any retailers accept Ethereum?
Is Ethereum widely accepted?
Where can I spend Ethereum?