With crypto, we have access to a peer-to-peer payment system that anyone can use. Best of all, it is fast, cheap and, for crypto enthusiasts, it is the most convenient way to pay. That said, many online stores are slow to catch onto the benefits of crypto and are yet to accept Tether payments.
With that in mind, we have compiled a list of the best companies that accept Tether payments today. In this guide, you will learn who accepts Tether as a payment, the benefits of Tether payments and much more, so let's begin!
The Best Stores That Accept Tether
Want to know what stores accept Tether? The list below shows the top stores accepting Tether and other cryptos. When making this list, we considered the range of products, customer support, online reviews and user-friendliness.
Crypto Emporium – Buy a huge range of products with USDT
Travala.com
Bitrefill
Coinsbee
Cloudbet
Mile High Gear
CoinVPN
Serverwhere.com
Argemti.com
Reviewing the Best Online Stores That Accept Tether Payments
In this section, we will explain each of the top websites that accept Tether, looking at what you can buy there, their reputation and how their customer service stacks up.
1. Crypto Emporium – Buy Electronics, Watches, Clothes, Cars & More with USDT
Not only is Crypto Emporium top of the list of best online stores that accepts crypto, but it is also one of the top emerging marketplaces on the web. Think of Crypto Emporium as a store similar to Amazon, except mainly for higher-end goods.
Much of the crypto community loves to spend big on higher ticket items, as seen with the last bull market's NFT boom. This means we expect Crypto Emporium to become massively popular this year, especially since it is the leading luxury online store who accepts Tether as payment.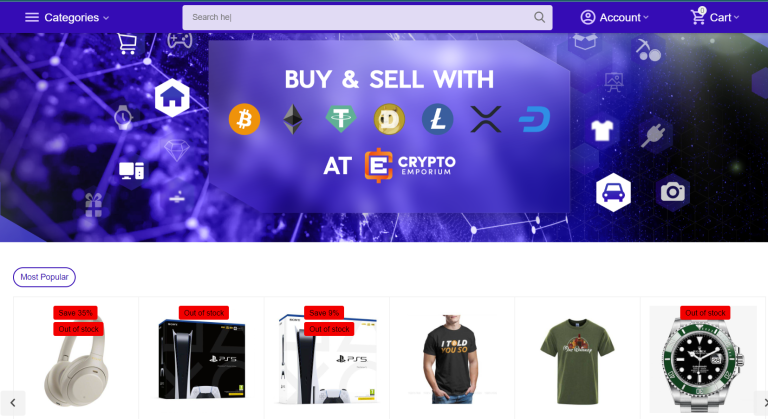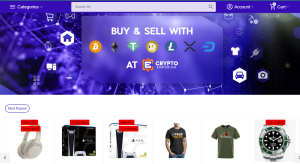 The site allows us to buy products with Bitcoin and other cryptos. Some of the top categories include cars, real estate, fashion, artwork and watches. The site is already a massive hit with crypto investors wanting to diversify into other asset classes that appreciate over time like watches and real estate.
You can find many brands on the site, including Rolex, Ferrari, Apple, and Bose, and it even features house vendors selling mansions!
Although Crypto Emporium's primary focus is higher ticket items, a wide range of everyday goods are available on the site, ranging from toys to health and beauty merchandise.
Crypto Emporium is a marketplace that connects buyers and sellers, providing an escrow service to ensure smooth and secure transactions. They handle dispute resolutions with a trusted team of experts who deliver the best customer service on the market.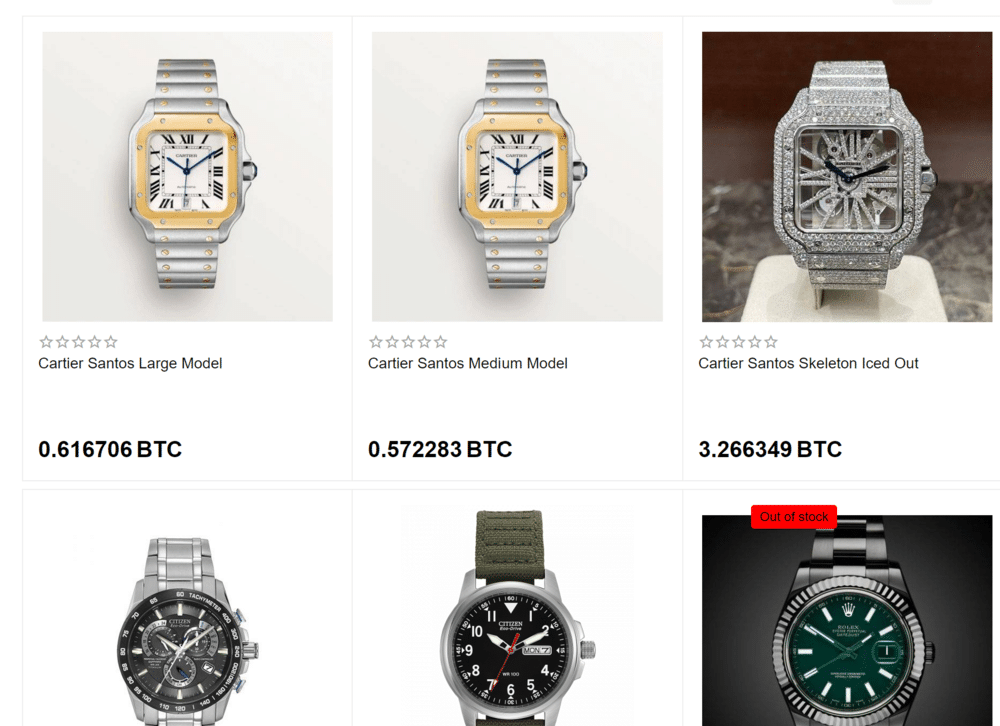 When it comes to customer service, Crypto Emporium's team provide multiple customer service levels to handle any issue swiftly. The first level is a 24/7 chat box where users can expect near-instant responses and fantastic resolutions.
That said, if you still need more help, the team also offer a customer service phone line that you can call or request a call back to save on dialling fees.
The marketplace receives overwhelmingly positive reviews online, with many customers surprised at how smoothly their transactions went. Another trend in the platform's online reviews is that the support team provides excellent service from start to end.
On top of Tether, Crypto Emporium accepts other top cryptos like BTC, ETH and even accepts some cryptos under $1 such as XRP.
In summary, crypto is designed for spending. With Crypto Emporium, you can buy the dream gadget you have always wanted without converting your crypto to fiat first. With that in mind, check out the marketplace today and get started.
2. Travala.com
One of the main selling points of crypto is that it is borderless. This means you can send it anywhere worldwide without costing an extra cent. With that in mind, next on our list of retailers that accept Tether is Travala, the online store where you can buy flights, hotels and tours with crypto.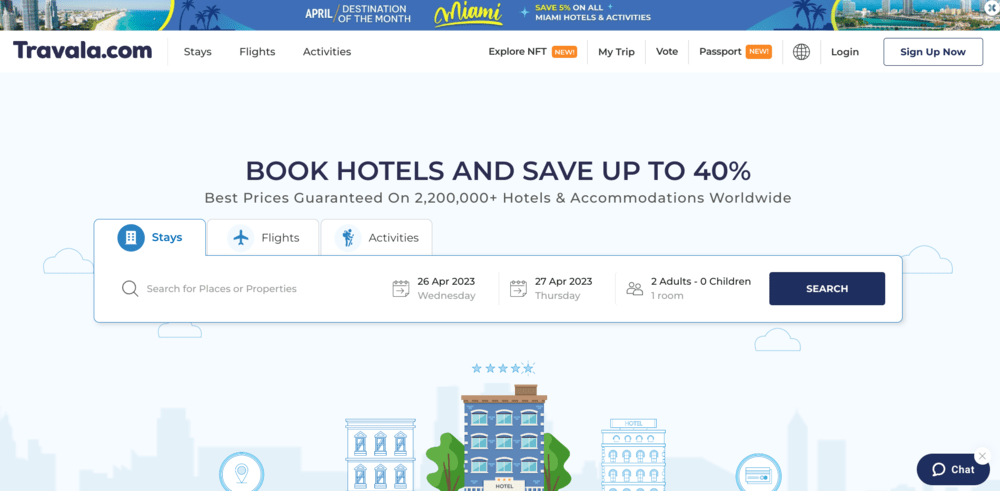 If you are like many others in the crypto community, you probably love to travel. If so, Travala is one of the best ways to spend your crypto.
Travala is similar to Booking.com, but its site is more engaging and easy to use. Plus you can book activities there too.
The website is very crypto-friendly and also offers a premium membership with NFTs. By holding the NFT, you get exclusive access to discounts, forums, governance and more.
With this in mind, Travala.com is the perfect site for crypto enthusiasts looking for their next vacation.
3. Bitrefill
If you want a site that allows you to 'live on crypto', look no further than Bitrefil. The website is one of the best companies that accept USDT, letting you purchase gift cards for gaming, entertainment, travel services, and more.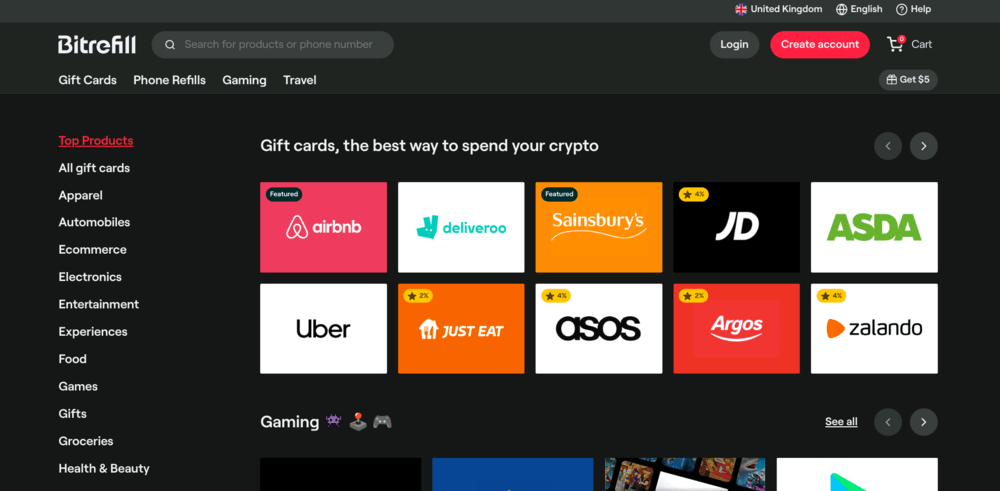 Bitrefill is a brilliant way to cash out your crypto for small digital purchases without having the stress of first moving it through a bank.
As well as Tether, Bitrefill accepts many of the top trending cryptos, including Bitcoin, Lightning, Ethereum, USDC, Binance Pay, Litecoin, Dogecoin and Dash. On top of that, the platform supports many of the most popular Tether wallets like Ledger, Trezor, Trust Wallet and Cash App.
The website offers 24/7 customer support so you can query any issues or concerns regarding your account and purchases. Moreover, the site has outstanding online reviews, with 92% of Trustpilot reviews being five stars.
Therefore, if you want to turn your Bitcoin into gift cards for digital goods and travel, Bitrefill is the most popular website to get started with.
4. Coinsbee
Coinsbee is another fantastic site offering gift cards for crypto. The site offers gift cards for over 2,500 brands in 165 countries and accepts over 100 payment methods.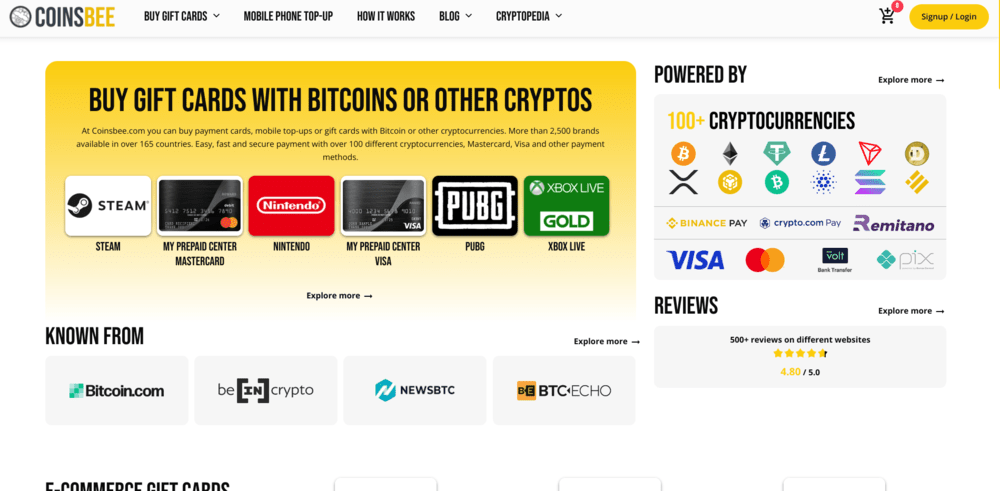 While there are far too many brands to list, some of the top ones you can buy gift cards for include Steam, Tinder, Door Dash, Uber and Apple.
Getting started with Coinsbee is easy. You just choose the gift card and amount, checkout with your preferred payment option, and the platform will email you the gift card code.
One of the great things about Coinsbee is that it delivers gift cards within minutes of purchasing.
Coinsbee has an average rating of 4.7 on Trustpilot with over 250 reviews, making it another massively popular crypto gift card service. Moreover, many reviews note that the website's customer support is top-notch, resolving issues quickly and easily.
5. Cloudbet
If you have some USDT to spare and feel lucky, you could try out one of the top crypto casinos. With that in mind, Cloudbet is a brilliant online casino that accepts many of the best cryptos, including USDT, BTC, ETH, USDC, Visa and Mastercard. Notably, the site is renowned as a fantastic Bitcoin casino with fast withdrawals.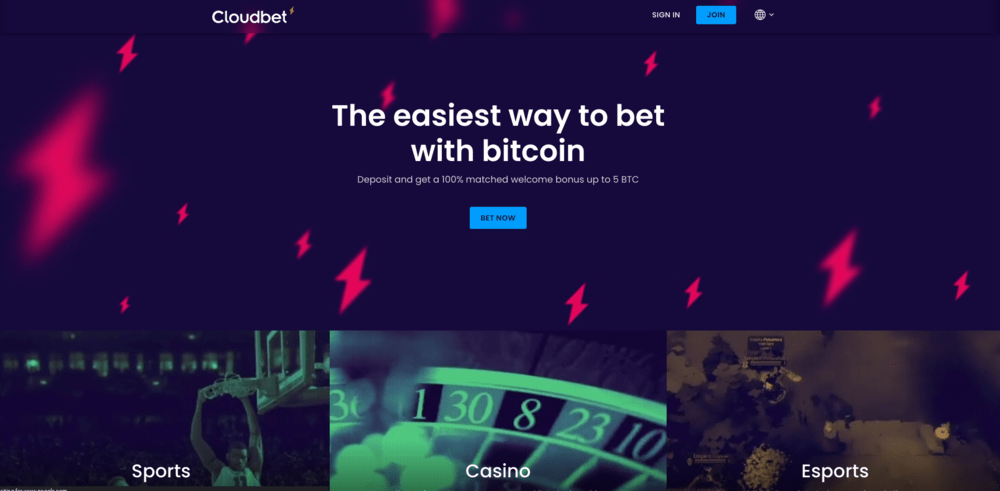 With Cloudbet, you can bet on all the top sporting and eSporting events, and the site has over 60 live casino tables like Bitcoin roulette as well as thousands of slots.
To get started with Cloudbet, you just need to create an account with email or by connecting a social channel, then connect your wallet and start gambling. One of the great things about Cloudbet is that it matches new users' initial deposits of up to 5 BTC.
Cloudbet offers 24/7 live chat support and is a licensed bookmaker and online casino. While crypto casinos have been rising in popularity in recent months, Cloudbet is one of our favourites thanks to the wide range of cryptos it accepts and the number of events and games you can gamble on.
6. Mile High Gear
We have discussed everything from gambling to real estate, but we have yet to touch on everyday items. Mile High Gear is the best way you can stock up on cool streetwear, decor and skateboards.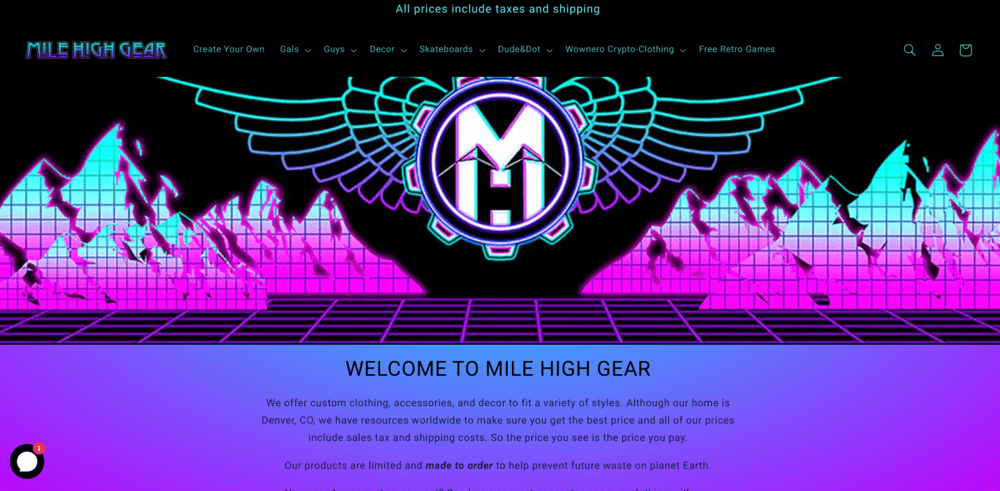 The site offers a lot of unique designs and aesthetics that suit a variety of styles. And while most of it is skate and basketball apparel, you can also customise clothing and accessories on the site if you prefer something different. The best thing about the site is that you can buy incredible crypto apparel too!
One of the things we like about Mile High Gear is that it understands the crypto culture. Unlike many other online stores, it offers a more relatable feel, with the brand taking a light-hearted approach.
That said, you can still expect professional-level customer service, with the website displaying a contact number and email address in case of any issues or queries with your order.
7. CoinVPN
Naturally, many crypto enthusiasts are also passionate about protecting their online privacy. With that in mind, one of the best ways to protect your privacy is with a VPN. People also use VPNs to access blocked websites in their country; for example, people in Nigeria used VPNs to access Twitter while it was banned there.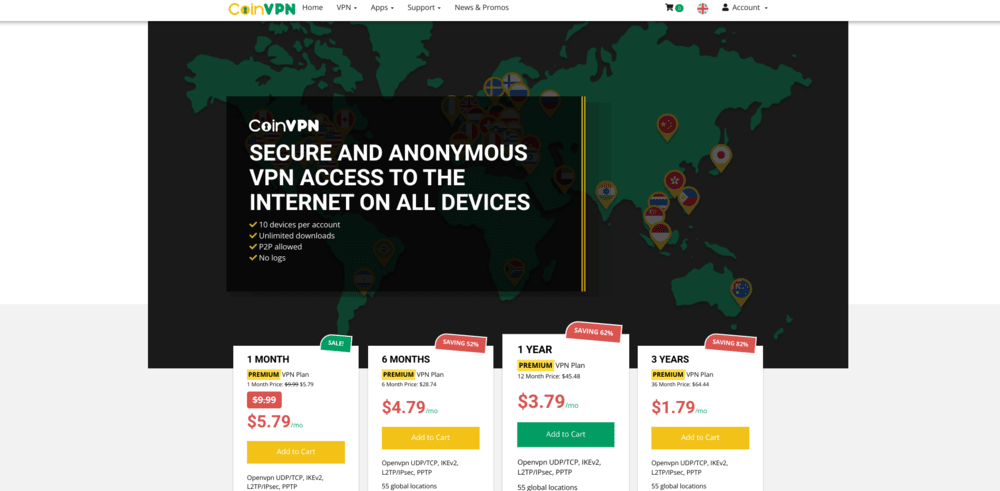 As well as a VPN, there are not many ways better to protect your privacy than shopping with online stores that accept USDT.
CoinVPN can hide your IP address and browsing data whether you use a Windows, MAC, iOS, Android, or Firestick. Moreover, thanks to its OpenVPN tool, you can configure a VPN for any device.
The software has 55 available VPN locations, allows you to use ten devices per account and does not log your data.
Besides USDT, you can also pay with many other cryptos, including BTC, ETH, XRP, DOGE and LINK. That said, if you prefer to pay with fiat, CoinVPN also accepts Perfect Money, Payeer and Webmoney.
When it comes to customer support, the website has fantastic online reviews. To contact customer service, visit the CoinVPN website and click Support > Open Ticket.
8. Serverwhere
Severwhere provides a powerful range of custom-built hosting, server and VPN solutions to suit your needs. If you are looking for advanced computing solutions, Serverwhere is the top platform who accepts Tether.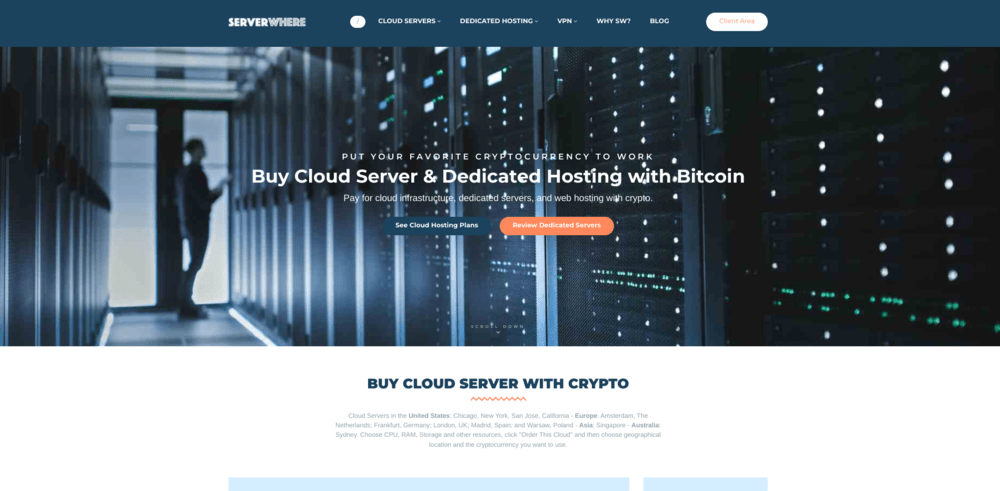 The site is crypto-native, accepting a range of cryptos, including USDT. Serverwhere's 'Why SW' page states the site does not accept fiat as they believe crypto should become a globalised standard means of payment.
Severwhere aligns well with the crypto ideology, making it a fantastic place to spend your USDT.
While the technicalities of renting servers and web hosting can be complicated, it allows you to control the performance of any digital asset like a website or application. You could even rent server space to mine or validate crypto.
The platform has dedicated server locations worldwide to meet any requirements you might have.
One of the advantages of using Serverwhere over another cloud computing provider like Azure or Amazon Web Studios is that Serverwhere grants access to its expert technical support team for free. And best of all, Serverwhere accepts USDT, Bitcoin, as well as many of the best altcoins.
9. Argemti
While Crypto Emporium offers the best luxury jewellery and wearables, Argemti provides a much more affordable selection. Although the jewellery is not of the highest quality, many fantastic designs are still available.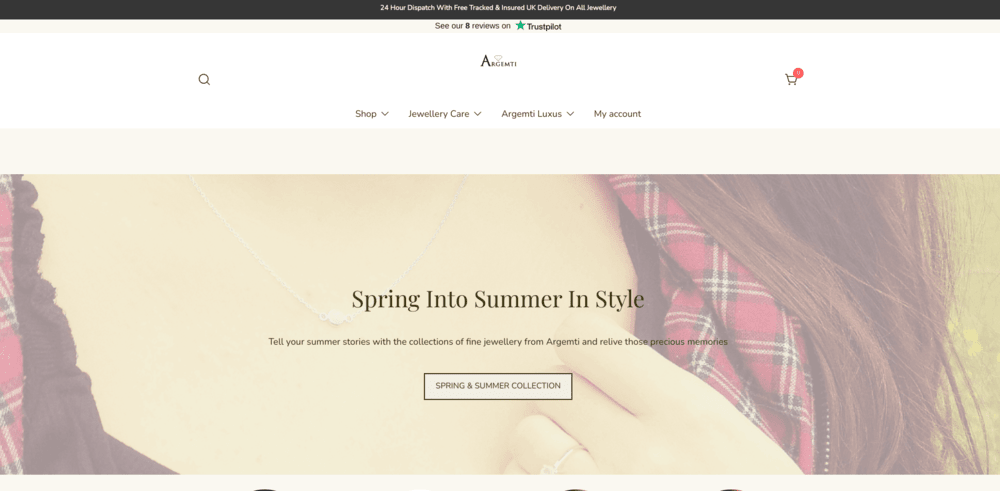 The main categories on the site are anklets, bracelets, necklaces, rings, chains and charms. The most common metal types are sterling silver, yellow gold plated and rose gold plated.
As Well as its core products, Argemti also offers customisable engagement, wedding rings, bridal sets, and jewellery. This is perfect for those looking to spend crypto on luxury items while keeping costs down.
Argemti uses the NowPayments gateway to enable crypto payments; NowPayments accepts a wide range of cryptos, including USDT, Doge, XRP and many more.
One of Argemti's best features is that the team have provided a lot of content on the aftercare of its jewellery. This helps buyers maintain it, giving it much more longevity. Overall, this makes Argemti our favourite store who accepts Tether for budget-friendly jewellery.
Why Should You Use Tether for Payments?
If you are reading this, you probably already have an interest in using Tether for payments. That said, there are many lesser-known benefits to utilising the stablecoin too. We have explained them below.
Speed
If you have some crypto you would like to spend, you would have to send it to a centralised exchange, then send it to your bank account and wait for the transaction to process it before you could spend it.
Conversely, using Tether for payments means you can spend it directly from your crypto wallet without transferring it through intermediaries.
Moreover, checking out with crypto online is much easier than online banking. With crypto, you can check out in just a couple of clicks, but with banking, you usually have to input your 16-digit card number and numerous other details.
Borderlessness
Transferring fiat internationally can be costly and takes much time to process. However, using Tether means you can enjoy low fees and near-instant finality, which is a massive time and cost advantage compared to traditional payment methods.
Support Blockchain-Friendly Businesses
Most businesses that accept Tether are crypto advocates. Supporting such businesses means the cryptocurrency industry will thrive and provides a big incentive for more companies to do the same thing.
Therefore, paying with Tether is one of the best ways to support the industry if you are a cryptocurrency enthusiast who believes in the crypto ideology.
Privacy
While crypto payments are not anonymous, they are pseudonymous. This means the vendor and payee can only see your wallet address. In contrast, if a vendor receives a payment from a traditional bank account, they have access to much more information such as your name and address, even if they do not need it.
Increased privacy has a lot of benefits, such as better cyber security and fraud protection, less ability for companies to track you and protection from vendor data breaches.
Immutability
The tamper-proof nature of blockchain means you can easily prove ownership over goods and services you bought with crypto. This provides better security and allows you to verify authenticity if needed.
Stability
One of the issues many vendors face when deciding whether to integrate crypto payments is the volatile nature of cryptos. Many users also face similar issues, where despite the benefits, using cryptocurrencies for payments is too risky due to their fluctuating value against fiat currency.
Conversely, stablecoins mean you get the stability of fiat while enjoying all the other benefits of crypto.
Is Using Tether for Payments Safe & Legal?
We have addressed the benefits of using Tether for payments, but if you are new to crypto, it is understandable that you might have some concerns. In this section, we will address the security and legality of using Tether in two parts.
Safety
The issue regarding the security of Tether is that it does not come with buyer protection in the same way banks do. This means there is no intermediary to resolve a dispute between you and a vendor.
That said, the companies on our list are renowned for their professional customer service and dispute resolution. Therefore, provided you use a reputable company, paying with Tether is very safe.
Moreover, the other security advantages of Tether make it even safer than using fiat currency.
Legality
In most countries, not only is Tether legal to use, but many governments encourage the use of cryptocurrency. Unlike fiat currency, Tether transactions are available for anyone to view on a block explorer.
This means it's easy for governments to understand the economic activity, providing a more transparent view of business operations. However, this transparency does not detract from your privacy (providing your identity is not linked to the wallet you used for payments).
How To Buy Real Products With Tether:
Now you know the best online stores that accept Tether and its benefits. But did you know checking out with Tether is easy too? This section will explain step-by-step how to buy products on Crypto Emporium.
Step 1: Register on Crypto Emporium
Visit the Crypto Emporium website, select Account and then Register. Next, fill out the details such as First Name, Last Name, Phone etc.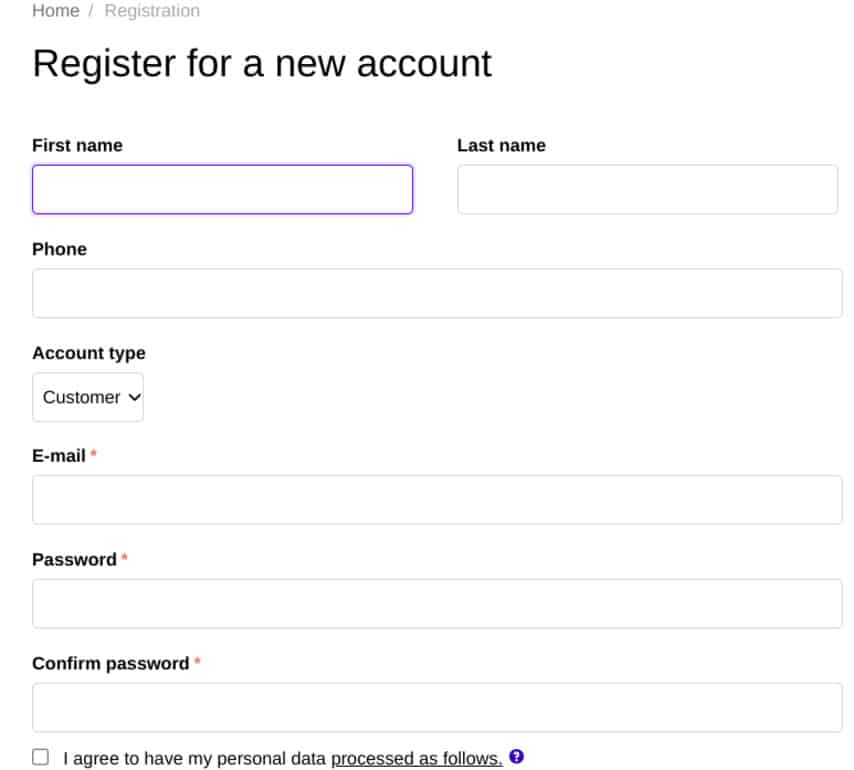 Step 2: Find Products
Search the platform for products you want to buy. There are multiple ways to do this, the most common being the search bar at the top of the page. If you need some inspiration or are still determining exactly what you want, you can use the Categories, Promotions, Brands, Newest, Best Sellers or On Sale buttons.
Step 3: Add to Cart
When you find the desired product, select your size (if applicable) and click Add to Cart. Then you will see a pop-up; tap Checkout if you have finished shopping, or Continue Shopping if you want to keep browsing.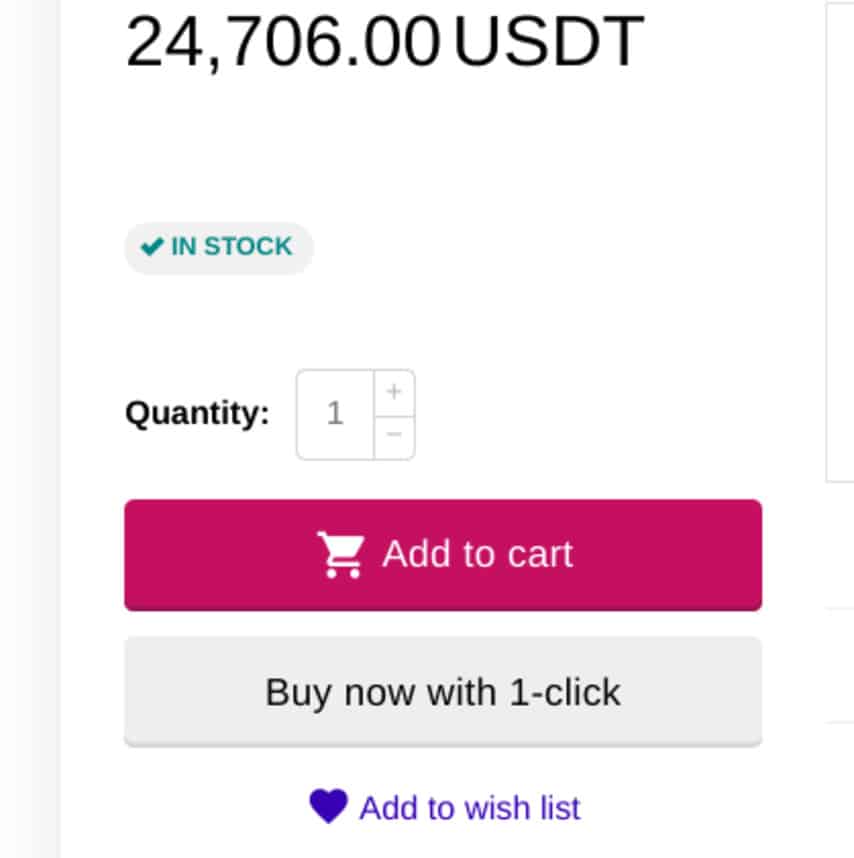 Step 4: Checkout
Finally, you can visit your cart, input your delivery details and choose your payment method. If you are paying with Tether, select USDT from the drop-down box and fill in all other boxes appropriately.
Step 5: Recieve Your Item
You will receive your item at a physical address unless it is a digital good. You can expect to receive your item within 1-3 weeks of placing your order, depending on your location and specific delivery details.
Conclusion
Crypto is an emerging industry, and Tether is a fantastic innovation that provides crypto's benefits with the stability of fiat. Currently, our favourite online store that accepts Tether is Crypto Emporium.
With Crypto Emporium, you can buy virtually any high-ticket item. The recent crypto rally means we expect many in the crypto community to look for new jewellery, cars and houses in the coming months. With that said, now is the perfect time to check the website out before the new demand pushes up prices.
FAQs
Where can I spend Tether?
How Can I Buy Things With Tether?
Can I Use Tether To Buy Real Products