Wojak is a new meme coin that has already taken the crypto markets by storm. The question is, does Wojak have long-term potential, or will the hype be short-lived?
In this Wojak price prediction, we give you our forecasted prices between 2023-2030. We also break down the coin's explosive history so far and answer some of the coin's most pressing questions.
Wojak Price Prediction 2023-2030
End of 2023: With Pepe securing its listing on the Binance exchange, we expect the top meme coins to continue to run this year. Therefore, our Wojak price prediction forecasts a price of $0.0007 by the end of 2023.
End of 2024: With its total supply already circulating and a massive online community, we expect the hype-driven demand to outweigh the supply heading into 2024. Therefore, our Wojak price prediction forecasts a price of $0.0016 by the end of 2024.
End of 2025: Wojak has already amassed a significant online community. Providing it continues to grow, our Wojak price prediction estimates a price of $0.004 by the end of 2025.
End of 2030: The 2030 price depends on whether Wojak can foster long-term demand. However, if it can, our Wojak price prediction estimates a price of $0.01 by the end of 2030.
Wojak Price History
The Wojak coin is based on the famous "feels guy" meme, with the Wojak social media team constantly posting new memes relating to the original meme.
While it is less than a month old, the Wojak coin has seen gains of over 800% from its launch to its all-time high (ATH) in May.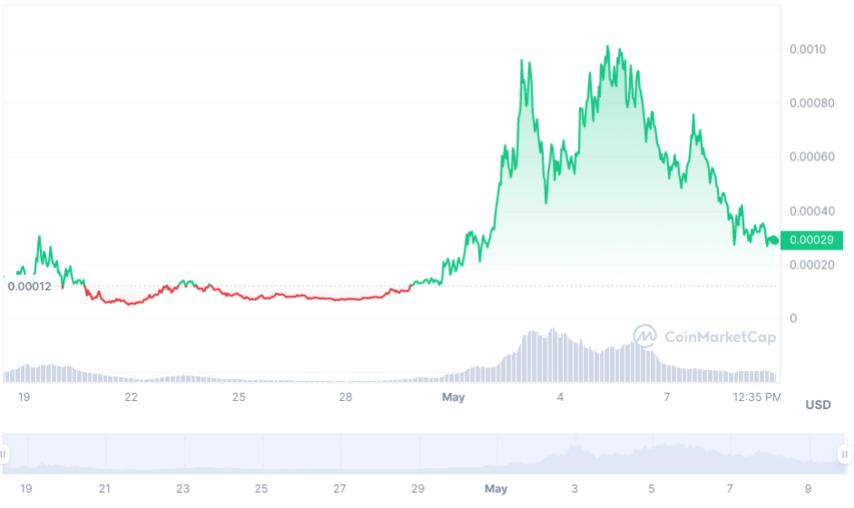 The coin launched on April 18 2023, just one day after Pepe. It began trading at $0.00012, but after a short pump, it fell to an all-time low of $0.0002672 on April 21 2023. After hitting its all-time low, Wojak then consolidated until late April before beginning its upwards trajectory.
By May 5 2023, Wojak had reached its all-time high of $0.001084. However, it is currently down 72.14%, priced at $0.0002845.
The main factor which contributed to its ATH was the recent Binance listing of Pepe and Floki. Binance announcing they would be listing the two coins caused a meme coin frenzy, with Pepe becoming the most mentioned coin across all social channels on May 5.
Tokenomics
The Wojak crypto has over 11,000 holders and a relatively strong token distribution compared to more popular meme coins like Dogecoin and Shiba Inu.
Currently, the largest holder (outside of exchanges and smart contracts) holds just 2.59% of all Wojak tokens. Moreover, since the Wojak total supply is already released, this means the coin will not see any supply shocks in the future.
The Wojak team has placed 4.4% of liquidity inside a smart contract which will be locked for 77 years.
The purpose of locking the liquidity is to ensure the long-term seamless trading of Wojak. However, the coin is down over 70% in four days, signifying there was inadequate liquidity to support the recent Wojak sell pressure.
This worked the opposite way leading up to the ATH, as there was not enough liquidity to accommodate the buy pressure. However, the price dropped sharply as the bulls lost momentum.
While the dump seems to be levelling off, the question is, can Wojak continue to climb?
Wojak Price 2023
The main factor regarding the Wojak 2023 price is how the coin will generate demand. So far, the Wojak founding team have focused on publishing lots of meme content on social media to generate demand. While this has worked brilliantly up to now, the recent dump shows that this is not a sustainable growth method.
According to CoinMarketCap, the Wojak token will make it easier for people to use DeFi. Up to now, it is not clear what this entails. However, Wojak has already provided its holders with NFTs, showing the team intend to reward the community.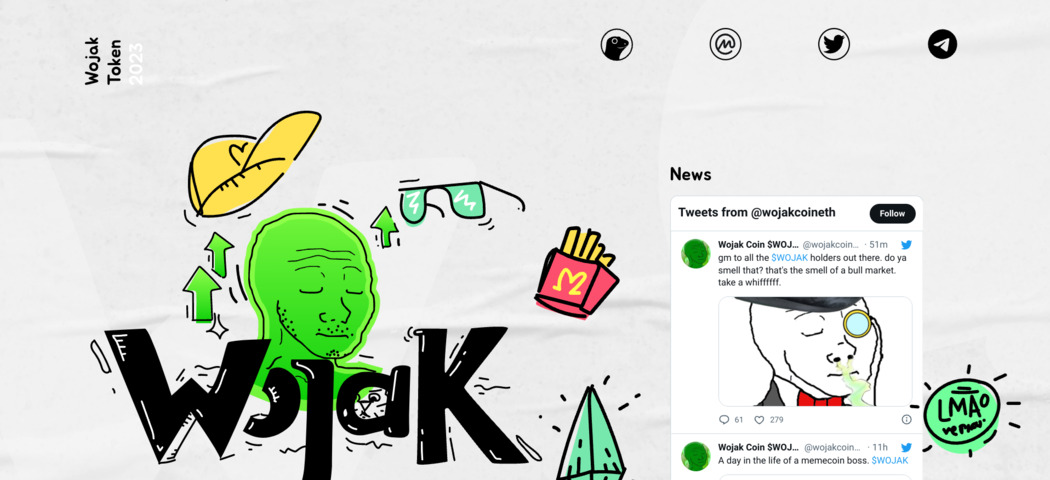 It is important to note that meme coins are massively volatile, and most new ones will eventually go to zero. Moreover, the lack of utility means many could go to zero this year.
Therefore, Wojak's performance this year plays a crucial role in the long-term success of Wojak. For Wojak to succeed, it needs a growing community and a way to differentiate itself from other coins.
Wojak has already amassed 29.8K Twitter followers and over 2K members in its Telegram channel. Considering it has already generated a large online community, it could definitely thrive this year.
Current Market Conditions
On the other hand, despite the recent meme coin pump, no new liquidity has entered the industry. This is evident in the total crypto market cap not increasing while meme coins pumped multiple hundreds of percent.
This makes the current market conditions a "zero-sum game", where one investor must lose for another to win. In recent weeks, billions have been wiped off the total market cap of high-utility coins like Injective, Arbitrum and even Bitcoin, while meme coins have thrived.
Meme coin growth in these conditions is unsustainable since they offer very little value compared to coins like Bitcoin and Ethereum.
Therefore, we expect some liquidity to transfer from meme coins to coins that provide real value.
On the other hand, with the Bitcoin halving narrative heating up, we expect new liquidity to enter the space in anticipation of the expected 2024 bull market.
Therefore, our Wojak price prediction for 2023 forecasts a WOJAK price of $0.0007 by the end of 2023.
Wojak Price 2024
If Wojak lasts in 2023, the Bitcoin halving will cause all popular coins to enter a bull market in 2024, so Wojak will likely climb with the rest of the market.
What is the Bitcoin halving?
The Bitcoin halving is an event on the Bitcoin network where mining rewards are cut in half. This leads to fewer Bitcoins entering the market, thus causing an initial supply shock. The Bitcoin halving event occurs every four years and has been accompanied by a bull market each time in the past.
With the influx of new liquidity, meme coins could thrive in 2024. While meme coins often have runs separately from the rest of the markets, this is generally just a rotation of liquidity already in crypto.
However, as new investors join the markets in the bull market, many will seek the significant gains associated with meme coins.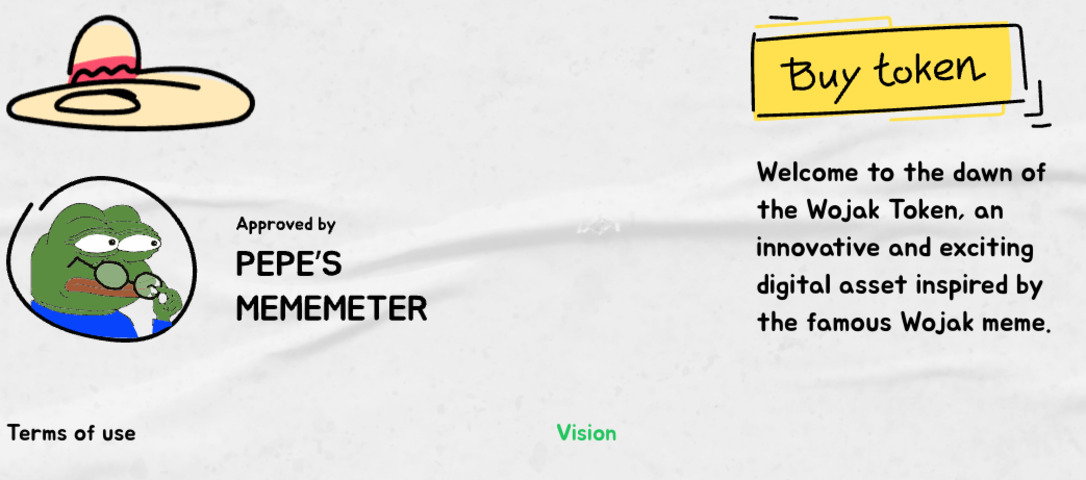 In the last bull market, we saw Shiba Inu and Dogecoin surge more than most other coins. While we do not know whether Wojak will be one of the best meme coins, we can still expect it to run.
Another factor Wojak (and many other new meme coins) has in its favour is that its total supply is already circulating. This means we will not see token emissions causing high sell pressure, potentially holding down its price.
In a recent Twitter thread, we saw a Wojak community member break down why they think Wojak has the potential to become one of the best long-term cryptos.
Community

Currently standing at an active community of 11,646 members. Positive vibes, memes, organic engagement. Super active founding Twitter team with roughly 13 posts per day recently. (3/5) pic.twitter.com/b7eETLvLrj

— Dimitri (@DimitriDotEth) May 6, 2023
Although we do not know whether Wojak will become one of the top meme coins, it certainly has a solid foundation in place for the 2024 bull run. Therefore, our Wojak price prediction estimates a price of $0.0016 by the end of 2024.
Wojak Price 2025
While hype is enough to generate an initial surge, the most significant price increases for Dogecoin and Shiba Inu come when investors would speculate on the long-term potential of the coins.
For example, the primary consideration for Dogecoin investors was Elon Musk's interest in DOGE.
With Tesla accepting Dogecoin as a payment, the Dogecoin community believed Musk could help Dogecoin integrate as a means of payment for everything from buying coffee to flying to space with SpaceX.Dogecoin's main USP was that it was faster and cheaper than Bitcoin.
On the other hand, Shiba Inu has developed a complete ecosystem, including a DEX, Ethereum scaling solution and much more.
Both the Dogecoin and Shiba Inu narratives played a key role in their explosive prices in the 2020-2021 bull run. With this in mind, it is crucial for meme coins must provide real use cases to succeed long-term.
With Wojak already offering NFTs to its holders, if they continue adding value, this could play a role in its long-term success.
Considering Wojak already has a large community, if it can also integrate real utility, it could set itself for a successful year in 2025.
With this in mind, our Wojak price prediction forecasts a WOJAK price of $0.004 by the end of 2025.
Wojak Price 2030
Long-term price predictions are difficult to make, particularly considering WOJAK is less than one month old. Therefore, we will provide the coin's bull and bear case and the expected probabilities for each.
Since meme coins are a mostly new phenomenon, the only one with a long-term price history is Dogecoin. In 2014, Dogecoin began at $0.00030 and reached its all-time high seven years later at $0.7376. This signified a 245767% price increase.
However, being the first meme coin, Dogecoin had a massive first-mover advantage. While it is almost impossible for another meme coin to generate returns of this magnitude, if Wojak could become a "first mover" by adding value another way, it could still see considerable returns.
On the other hand, in 2014, there were 513 cryptocurrencies, with the majority no longer existing. Only the best cryptocurrencies can withstand the test of time, and the odds are stacked against any individual crypto lasting that long.
However, considering Wojak's early success, this makes it more likely that it could still be around in the years ahead.
Providing Wojak does remain active and accounting for the explosive nature of meme coins, our Wojak price prediction estimates WOJAK could reach $0.01 by the end of 20330.
Potential Highs & Lows of Wojak Crypto Price
Meme coins are highly volatile, often swinging 50% or more in a single day. Therefore, price predictions can be difficult to make. Nonetheless, we have provided our estimated highs and lows for the Wojak price below.
| | | |
| --- | --- | --- |
| Year | Potential High | Potential Low |
| 2023 | $0.0007 | $0.0002 |
| 2024 | $0.0018 | $0.0012 |
| 2025 | $0.004 | $0.0025 |
| 2030 | $0.01 | $0.0005 |
What is Wojak Coin Used For?
Below we have listed the top reasons people use the Wojak coin.
Trading Instrument
Considering the high volatility of meme coins, they present a fantastic way for traders to speculate on short and mid-term price action.
High volatility means the price can change massively in either direction very quickly. While this comes with an increased risk of losses, it also means investors can make vast sums of money from a small investment.
For example, its launch price of $0.00012 to its ATH signified an 803% increase in less than one month. That said, the coin is now down 73.67% from its ATH, showing the volatility involved with meme coins.
For many holders, the idea of huge profits is the main allure to meme coins, and it is likely why the Wojak crypto has been popular so far.
Pay Homage to the Wojak Meme
WOJAK is based on the "Feels Guy" meme, often used for popular memes in the crypto community. Moreover, with the Wojak founding team publishing over ten social media posts daily, and many posts being new iterations of the Feels Guy meme, owning Wojak enables investors to "pay homage" to the meme.
Moreover, the popular social media accounts of Wojak mean holders feel a sense of community since they have a vested interest in the project. It is this community element that causes meme coins to climb so high.
Participate in Community Events
Meme coins often hold community events; for example, Wojak released a cryptic Tweet on May 6 stating users who hold at least one WOJAK in their wallet will receive a free NFT.
REMINDER: If you held at least 1 $WOJAK in an on-chain wallet during our snapshot on 5/2, remember to mint your free NFT.

(hmmm… we seem to really like jpegs… probably nothing 👀) pic.twitter.com/C4rcZLf0iV

— Wojak Coin $WOJAK (@wojakcoineth) May 6, 2023
We expect the Wojak token will grant holders access to more community events in the future too.
What Factors Influence the Wojak Crypto Price?
There are a variety of factors which can affect the Wojak price, which we have listed below.
Meme Coin Narrative
The recent explosion in the popularity of the Pepe coin caused many investors to look for alternate meme coins to generate more gains; this led to much new demand for Wojak and other meme coins.
As the meme coin narrative heats up, we can expect the Wojak price to benefit. However, if people lose interest in meme coins, the Wojak price will likely fall.
Community
Meme coins are community-driven projects. A lot of the price action surrounding new meme coins is generated by the community's social media presence. For example, taking a look at LunarCrush, we can see that before the recent Pepe pump, social mentions exceeded the price of the coin.

This shows that activity on social media from the Pepe community played a big role in the subsequent price rise.
Liquidity
What is liquidity?
Liquidity refers to the ease with which investors can buy or sell an asset without affecting the price. High liquidity means it is easier to buy or sell without affecting the price, and it usually comes as a result of many buyers and sellers being in the market
Low liquidity is the primary cause of volatility. This is evident in how Wojak climbed over 800% in less than a month, whereas Dogecoin's biggest price increase all year was just 30%.
This is because Dogecoin is a multi-billion dollar coin with high liquidity, whereas Wojak is worth just $20 million. Therefore, a large buy or sell order of the Wojak coin can significantly influence its price, whereas it can easily be filled for Dogecoin without affecting its price.
With this in mind, Wojak's liquidity will greatly impact the rate that its price moves. Usually, as a coin matures, it becomes more liquid and begins to move slower.
Broader Market Conditions
As crypto enters a bull market, many new investors will enter the space in hopes of generating profits. These new investors will cause the price of coins to pump, with the liquidity eventually trickling down to low-cap coins like Wojak.
On the other hand, if the world was to enter an economic recession, high-risk assets like cryptocurrencies could be the first to fall in value. Either way, the total valuation of the crypto market will play a role in the price of Wojak.
Utility
If Wojak was to become one of the best long-term coins, it must provide real value to users. While it has already begun distributing NFTs to holders, the increased utility could allow the coin to thrive long-term.
What do Other Analysts Predict for Wojak?
To create a more balanced Wojak price forecast, we have compared some other analysts' predictions for the coin below.
BTCC.com says the Wojak price could top around $0.0029 by the end of 2023. That said, the analysis also estimates the potential low for the year at $0.00085, with the yearly average at $0.0016.
BTCC.com
Based on technical indicators and the Fear and Greed Index, DigitalCoinPrice estimates Wojak could reach highs of $0.000615, lows of $0.000251 or an average price of $0.000551 by the end of 2023.
DigitalCoinPrice
Telagon estimate the average price for Wojak to be $0.0016 by the end of 2023.
Telamon
According to a Gate.io price prediction, Wojak's estimated average price for 2023 will be $0.00029113. The forecast also predicts possible highs of $0.0000640486.
Gate.io
CoinArbitrageBot.com estimates the Wojak token price to reach $0.0004872 by the end of 2023.
CoinArbitrageBot.com
Is Wojak the Best Crypto to Buy Now?
One of the main factors to consider about the best cryptos to buy today is the associated risk. Since Wojak does not inherently provide any utility and it does not have a clear roadmap, the coin comes with a lot more risk than the most promising coins like Ethereum.
Moreover, the Wojak coin is not the first crypto inspired by the Wojak meme; there is another coin – Wojak Finance, which is already well established with a market cap of over $200 million. With WOJAK's recent success, many analysts and investors have been confusing the two lately.
Therefore, there may be better alternatives for long-term success which can better differentiate themselves from the competition.
$SPONGE
One of these is the SPONGE coin, which is another new meme coin which erupted recently, immediately becoming one of CoinMarketCap's top gainers.
The $SPONGE token is already up over 1100% from the day of its launch, with its chart looking much healthier compared to other meme coins.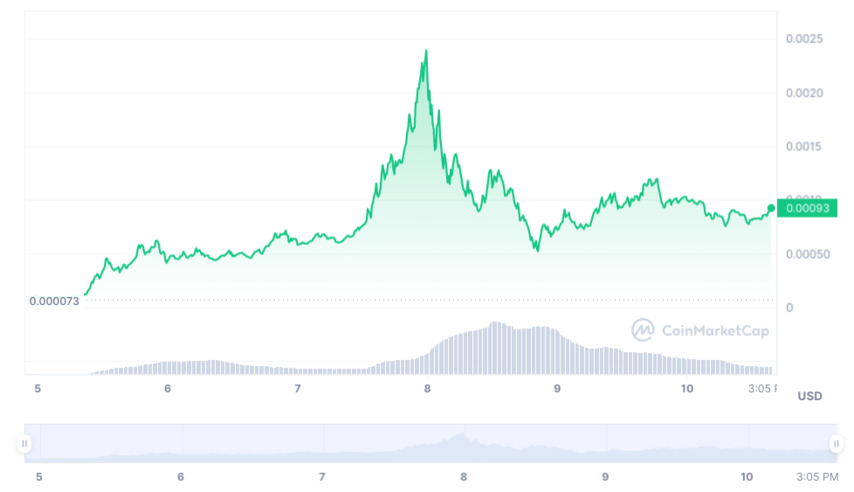 One of the reasons for this could be that $SPONGE is based on SpongeBob SquarePants, which is a lot more unique in crypto than Wojak.
Spongebob has already amassed 38.5K Twitter followers and a market cap of over $35 million. Moreover, it is currently down 61% in its ATH, compared to WOJAK, which is down 72%. This shows the comparative strength of $SPONGE as a potentially better option.
That said, Spongebob is another meme coin that does not offer utility to its holders. Therefore, it comes with a higher risk than some alternative coins.
AiDoge
AiDoge is a fantastic combination of providing utility while leveraging the meme coin trend. Another factor that could make AiDoge one of the top trending coins is that it utilizes generative AI to allow users to create memes.
With the meteoric rise of AI this year, we have seen many cryptocurrencies try to adopt the technology to capture some of the interest. However, many of these projects used AI as a marketing buzzword rather than actually leveraging AI technology.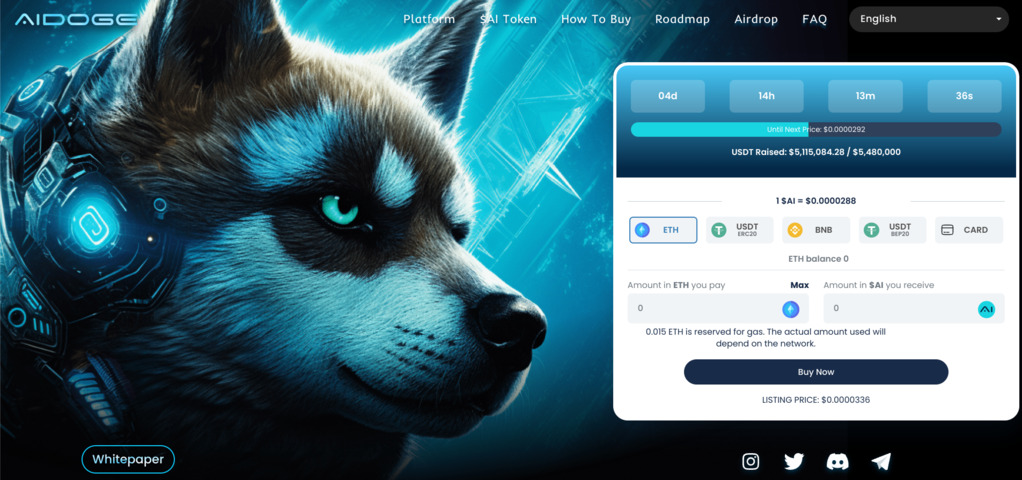 On the other hand, AiDoge is a platform which allows users to generate memes with AI by inputting text-based prompts. The AI software is trained on recent news and crypto events, so users can always create relevant and up-to-date memes.
Users must pay with the AiDoge token ($AI) to use the AI meme generator.
This gives the AiDoge cryptocurrency real utility, but it can also benefit from meme coin runs since the platform's main purpose is to generate memes.
We expect this project to amass a lot of demand because generating memes can be time-consuming and surprisingly difficult. Considering their importance to crypto culture, many crypto users could flock to the platform to quickly create high-quality memes.
The AiDoge crypto is currently in its presale at $0.0000288, with its launch price at $0.0000336. The launch price equates to a 16% price increase from its current price; however, once $AI is available to buy on exchanges, the coin could climb much higher. This could make AiDoge one of the best penny cryptos available at the moment.
Conclusion
While Wojak is undoubtedly one of the most exciting new meme coins, investors looking for coins with the highest upside potential must look for projects that offer a real product and utility.
AiDoge is a fantastic example of a coin that provides value while also leveraging two of the most popular trending narratives: AI and meme coins. Moreover, since the AiDoge presale is ongoing, investors have the opportunity to get the coin at a discounted rate.
FAQs
What will Wojak'sWojak's price be in 2024
What is the future of Wojak
Is Wojak a good investment?