Worldcoin is a new cryptocurrency that aims to become a "digital passport". Having already amassed two million users, the project has raised significant privacy concerns among the crypto community. However, the price has gotten off to an explosive start since launching.
This Worldcoin price prediction looks at what the project is about, whether it is good for the industry and our price forecasts between 2023 and 2030.
Worldcoin Price Prediction Summary
Worldcoin was founded in 2019 by Sam Altman, Max Novendstern and Alex Blania.
It received venture capitalist funding from Andreessen Horowitz, Coinbase Ventures and Khosla Ventures, raising $125 million.
WLD has a $229 million market cap with a $21.6 billion fully diluted market cap (FDV).
According to our Worldcoin price prediction, the price could reach $4.15 by the end of 2023.
Our 2025 Worldcoin price prediction estimates an average price of $5.25.
| | | | |
| --- | --- | --- | --- |
| Year | Minimum Price | Average Price | Maximum Price |
| 2023 | $3.5 | $4.15 | $4.8 |
| 2024 | $3.8 | $4.5 | $5.2 |
| 2025 | $4 | $5.25 | $6.5 |
| 2030 | $7,400 | $6.25 | $9 |
Worldcoin Price History
Worldcoin was founded in 2019 by OpenAI Co-Founder Sam Altman, Max Novendstern, and Alex Blania. The project was developed by San Fransisco and Berlin-based Tools for Humanity and aims to create a "digital passport" using "Proof of personhood".
To get a Worldcoin ID, users must complete an in-person iris scan using Worldcoin's AI-powered scanners known as orbs.
According to Crunchbase, Worldcoin raised $125 million over two funding rounds. The Series A round took place on 21 October 2021, led by Andreessen Horowitz, raising $25 million and putting the project at a $975 valuation.
Following this, the Worldcoin ICO launched, raising $100 million between investments from Andreessen Horowitz and Khosla Ventures. This put the project's valuation at $2.9 billion.
When writing this, the project is less than 24 hours old. After launching at $0.3, the Worldcoin price exploded, eventually reaching $3.58. The price has somewhat corrected since, with the current WLD price at $2.11.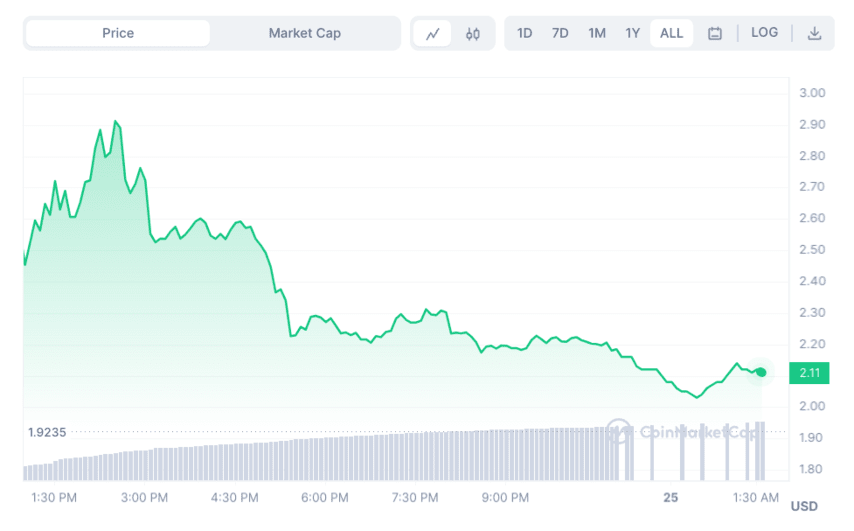 The project has a $229,393,529 market cap with a circulating supply of 106,022,783 WLD. However, Worldcoin has a total supply of 10,000,000,000 WLD, putting the FDV at a staggering $21,636,487,757.
Worldcoin price history key points:
Worldcoin was founded in 2019.
It raised $125 million over two presale rounds.
Within 24 hours of its token launching on 24 July, it reached a $239 million market cap.
Its FDV currently stands at $21.6 billion.
The current WLD price is $2.11
Worldcoin Price Prediction 2023
Since Worldcoin has just recently launched, there will likely be lots of short-term volatility. However, as the end of the year nears, the price may find a trading range, causing volatility to lessen.
Worldcoin already boasts two million sign-ups to use its platform and averages 40,000 new sign-ups weekly.

The project referenced McKinsey Global Institute's Digital identification: A key to inclusive growth as to why Worldcoin is essential. According to the study, 4.4 billion individuals worldwide do not have a digital identity or cannot be identified digitally.
Worldcoin aims to tackle this issue with a long-term goal of onboarding two billion users to the protocol.
Worldcoin is accessible via The World App, a protocol-compatible wallet that manages the World ID and biometric data from the orb. The protocol is an Ethereum chain layer two and utilizes ZK-SNARKs to cryptographically protect users' real-world identity from their on-chain activity.
In response to the project, Ethereum Co-Founder Vitalik Buterin highlighted four concerns relating to Worlcoin: privacy, accessibility, centralisation and security. These concerns are shared by many in the crypto community, particularly considering Worldcoin's links to OpenAI and the general distaste for centralisation amongst the crypto community.
Despite Worldcoin's hyped beginning, retail seems unlikely to rally behind the project until it proves itself regarding security and decentralisation.
As such, our Worldcoin price prediction estimates a minimum price of $3.5, a maximum price of $4.8 and an average price of $4.15 by the end of 2023.
| | | | |
| --- | --- | --- | --- |
| Month | Potential Low | Average Price | Potential High |
| July 2023 | $1.8 | $2.2 | $2.6 |
| August 2023 | $1.7 | $2 | $2.3 |
| September 2023 | $2.2 | $2.8 | $3.4 |
| October 2023 | $2.6 | $3.2 | $3.8 |
| November 2023 | $3.1 | $3.7 | $4.3 |
| December 2023 | $3.5 | $4.15 | $4.8 |
Worldcoin Price Prediction 2024
Looking ahead to 2024, the Bitcoin halving will take place in April. This coincides with the latest estimates for a crypto bull market to commence in 2024.
However, it remains to be seen what impact that may have on Worldcoin's price. The current WLD circulating supply is 106 million, with a 10 billion total supply. According to the Worldcoin whitepaper, 3.5 billion tokens will be unlocked between the launch and the end of year-3 post-launch.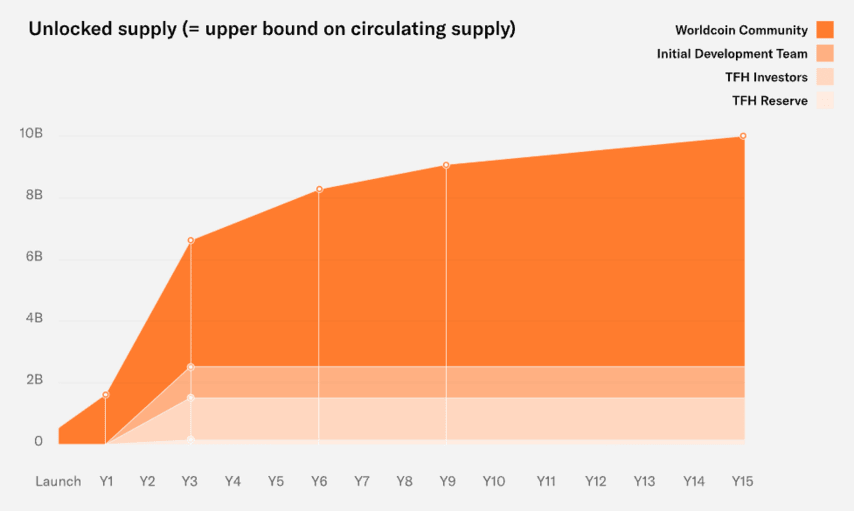 This represents an almost 35x increase in circulating supply. These tokens are split mostly between early investors and users who signed up in return for the free tokens. Likely, many of these users and early investors will sell their tokens as soon as they are unlocked, providing intense sell pressure which new buyers must absorb.
With this in mind, we must ask, where will this new liquidity come from? The first source would be speculation, but as we have already mentioned, Worldcoin is unlikely to capture the attention of investors as much as other cryptos retail investors deem decentralised.
The other potential source of liquidity is utility. Currently, the only utility that Worldcoin has confirmed is governance. While this could drive demand, it also begs why not simply democratise governance and voting between World IDs.
Its whitepaper also alludes to other potential utilities, such as payments and a store of value.
Considering its current lack of token utility, Worldcoin's $21.6 billion market cap seems like an overvaluation. Due to its vesting schedule, it is unlikely that the WLD price will see much of an increase, even if its market cap goes up.
Therefore, our Worldcoin price prediction estimates a possible low of $3.8, a high of $5.2 and an average price of $4.5 by the end of 2025.
Worldcoin Price Prediction 2025
To succeed long-term, Worldcoin must shift its perception from a centralised VC coin to a decentralised and permissionless protocol that empowers everyday people.
Wordlcoin's decentralisation blog post highlights the project's long-term goals to achieve true decentralisation. It provides solutions to some of the concerns raised by Vitalik Buterin, such as enabling multiple groups or entities to build Worldcoin infrastructure.
If the project addresses its decentralisation issue, it may fare better in terms of attracting speculative investment from decentralisation-focused retail investors.
Another factor to look at is the potential use cases for the project. Some of these were highlighted in a recent blog post, such as Okta's Auth0 creating a "Sign in with Worldcoin" and Talent Protocol becoming the first web3 project in Europe to integrate World ID.
Ultimately, connecting an off-chain identity to an on-chain wallet using cryptographic proofs is a revolutionary advancement for crypto, leading to many use cases.
Worldcoin's main aim is to offer a universal basic income to all its users, but there are many other use cases too. For example, the World ID could ensure fair distribution of airdrops, voting in DAOs, protection against bots, unsecured DeFi loans and much more.
The possibilities for such technologies are endless, but when forecasting the Worldcoin price, we must also consider its concerns.
Its poor tokenomics, paired with negative retail sentiment and issues regarding centralisation, privacy, security and potential legality will likely suppress its price.
Recently, OpenAI was sued for theft of private data. Worldcoin's use of AI and management of such large amounts of biometric data could put it in a vulnerable spot in the way of regulation.
With this in mind, our Worldcoin price prediction estimates possible lows of $4, highs of $6.5 and an average price of $5.25 by the end of 2023.
Worldcoin Price Prediction 2030
Worldcoin is a polarising project. On the one hand, it provides valuable infrastructure which could boost crypto mass adoption. On the other, much of the philosophies, actions and origins of Worldcoin go against the core cryptocurrency philosophies.
Nevertheless, Worldcoin has stated it aims to align itself with these values, accepting that "the journey will be challenging and the outcome is uncertain".
By 2030, the WLD circulating supply will be over 8 billion WLD. While Worldcoin has significant potential as an infrastructure, whether it can outgrow its massive $22 billion FDV remains to be seen. To do so, the project must add more utility, such as decentralising the protocols ords and using a staking and slashing mechanism to ensure they behave ethically.
Anything can happen in the long term, but based on the current information available, our Worldcoin price prediction forecasts lows of $3.5, highs of $9 and an average price of $6.25 by the end of 2030.
Possible Lows and Highs of Worldcoin Price
Having raised $125 million in funding, Worldcoin undoubtedly proved to be one of the top ICOs. Yet much of the crypto community sentiment towards the project has been negative so far. Below we have summarised our predictions for where the price is headed between 2023-2030.
| | | |
| --- | --- | --- |
| Year | Minimum Price | Maximum Price |
| 2023 | $3.5 | $4.8 |
| 2024 | $3.8 | $5.2 |
| 2025 | $4 | $6.5 |
| 2030 | $3.5 | $9 |
What do Other Analysts Predict for Worldcoin
Worldcoin is one of the top cryptos to watch. However, predictions on where its price is headed vary. We have summarised other analysts' forecasts below.
The CryptoBullsClub WLD price prediction forecasts lows of $5.05 and highs of $6.06 by the end of 2023.
According to CoinCodex's Worldcoin forecast, the price could reach a minimum of $ 1.776928 and a maximum of $ 2.87 by the end of 2023.
Based on the Telagon Worldcoin price forecast, WLD will reach a minimum price of $3.85, a maximum price of $5.62 and an average price of $4.72 by the end of 2023. However, it is also worth noting that Telagon forecasts significant long-term gains, predicting a maximum price of $35.19 by the end of 2030.
Pick A Crypto's WLD price forecast predicts lows of $3.618 and highs of $9.449 by the end of 2023.
What Is Worldcoin and What Is It Used For?
Worldcoin is a new cryptocurrency protocol designed to become a digital passport for its users. It will collect biometric data by scanning the iris of its users in its orb scanners, currently located in 34 countries.
The biometric data that Worldcoin collects will be used to identify each user individually.
Eventually, Wolrdcoin aims for these digital passports to help give holders a universal basic income. Using biometric data prevents fraud by users creating multiple accounts and protects against bots.
In return for signing up and creating a World ID, users will receive WLD tokens.
The WLD token is an Ethereum mainnet ERC-20 token, but the Worldcoin protocol is an Ethereum layer two network using optimistic rollup technology. However, the project will leverage ZK-SNARKs to protect the users' on-chain wallet activity from their real-life identity.
Worldcoin Overview
| | |
| --- | --- |
| Cryptocurrency | Worldcoin |
| Ticker Symbol | WLD |
| Rank | 124 |
| Price | $2.12 |
| Price Change 24H | -27.24% |
| Market Cap | $228,938,506 |
| Circulating Supply | 107,644,298 WLD |
| Trading Volume 24H | $471M |
| All-Time High | $3.58 |
| All Time Low | $1.66 |
What Influences the Worldcoin Price?
Worldcoin's significant market cap, with just over 1% of WLD in circulation, makes it unlikely that it could become one of the coins with the highest upside potential. Nevertheless, its ambitious and groundbreaking use case presents endless possibilities.
One of the core components to influence prices is investor sentiment. If the crypto community believe in a project and its philosophy, they are more likely to rally behind it, causing its price to surge.
In Worldcoin's case, retail sentiment is poor at the moment. The main factor affecting it is the level of centralisation the project entails. However, Worldcoin has acknowledged this and claims it will boost decentralisation over time, but this remains to be seen.
Another factor driving Worldcoin's price is its vesting schedule and liquidity. With over $21 billion (or 98%) of tokens to be unlocked, Worldcoin must generate significantly more demand to maintain its current price.
According to its website, the only built-in utility of WLD is for governance. While this could drive demand, Worldcoin has alluded to a "one-person-one-vote" mechanism in its whitepaper.
As such, amassing a large amount of WLD would be unnecessary, meaning governance may not be a significant demand driver.
Finally, a growing ecosystem will help influence the Worldcoin price. The extent ultimately depends on the factors mentioned above, but adoption from web2 and web3 projects could open new ways value can enter the Worldcoin ecosystem.
Is Worldcoin a Buy?
Worldcoin's use case of cryptographically proving someone is a person while protecting their identity is revolutionary and presents endless potential. Still, ethics and regulatory concerns could suppress the Worldcoin price.
Furthermore, its tokenomics leave much to be desired, yet the project has already amassed a significant $22 billion FDV. As such, Worldcoin's upside potential is limited.
Conclusion
Although Worldcoin is an ambitious and potentially groundbreaking project, the abovementioned factors mean better alternative cryptocurrencies exist.
With that in mind, we have compiled a list of the hottest new cryptos to buy now. Check it out by clicking the link below.
References
https://www.crunchbase.com/organization/worldcoin/company_financials
https://www.ccn.com/news/worldcoin-launches-wld-token-how-to-get-it/
https://www.reuters.com/technology/openais-sam-altman-launches-worldcoin-crypto-project-2023-07-24/
https://worldcoin.org/blog/announcements/worldocin-passes-2-million-world-id-sign-ups-demand-increases
https://www.mckinsey.com/~/media/McKinsey/Business%20Functions/McKinsey%20Digital/Our%20Insights/Digital%20identification%20A%20key%20to%20inclusive%20growth/MGI-Digital-identification-Report.ashx
https://vitalik.eth.limo/general/2023/07/24/biometric.html
https://www.cnbc.com/2023/04/12/bitcoin-halving-is-one-year-away-that-could-suggest-another-bull-run.html
https://whitepaper.worldcoin.org
https://worldcoin.org/blog/worldcoin/primer-on-decentralization-at-worldcoin
https://www.bloomberg.com/news/articles/2023-06-28/chatgpt-creator-sued-for-theft-of-private-data-in-ai-arms-race
FAQs
How much will Worldcoin be worth?
What will the Worldcoin price be in 2025?
Is Worldcoin a good investment?