XRP is a coin that many believe could reshape the global financial system. However, many critics have concerns about its centralisation, coin distribution, and regulatory uncertainty.
This article considers all these factors and more to give you our XRP price prediction between 2023 and 2030.
XRP Price Prediction Summary
XRP's current price is $0.5056, up 48% from the start of 2023.
The XRP all-time high (ATH) was $3.84 on 4 Jan 2018. Currently, XRP is down 86% from there.
XRP broke a long-term bearish trendline in August 2022 and now created a higher high.
With no end in sight for the Ripple vs SEC case, we predict XRP could revisit lows of $0.3245 by the end of 2023.
Provided Ripple wins its case against the SEC, our XRP forecast predicts a price of $3.50 by the end of 2025.
| | | | |
| --- | --- | --- | --- |
| Year | Minimum Price | Average Price | Maximum Price |
| 2023 | $0.20 | $0.38 | $0.56 |
| 2024 | $0.50 | $1.80 | $3.10 |
| 2025 | $1.50 | $3 | $4.50 |
| 2030 | $3 | $6 | $9 |
XRP Price History
XRP was created in 2012 by the tech company Ripple Labs. Initially, Ripple was called OpenCoin, before changing its name in 2013. The purpose of the crypto was to enable borderless transactions with near-instant settlement for low fees.
According to CoinMarketCap data, XRP's initial price was $0.005875 in 2013, and after a brief bull run in November 2013, the coin's price climbed to $0.05238. Following this, the coin's price crashed and continued to trade mostly below $0.01 until Q2 2017, when the price surged to $0.33.
The price of XRP then consolidated before soaring to its ATH of $3.84 on 4 Jan 2018. However, a crypto bear market followed, with XRP touching lows of $0.1432.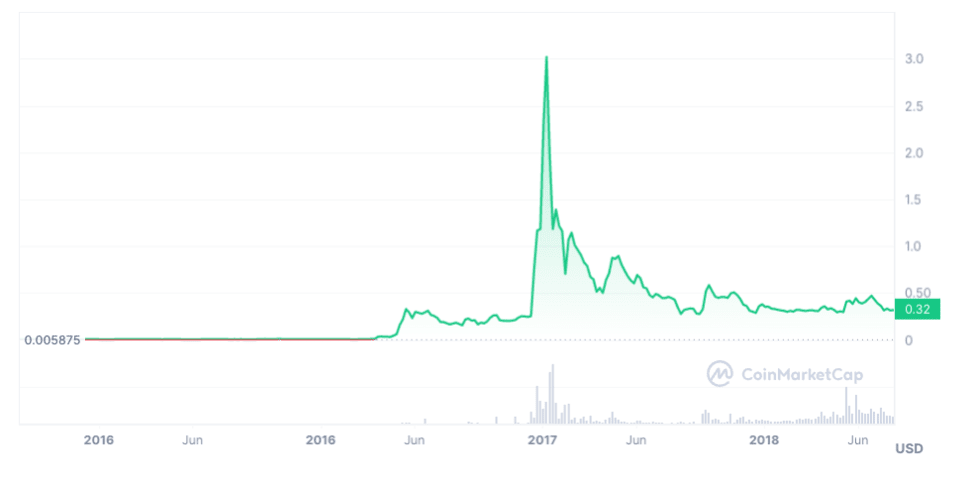 In December 2020, the SEC sued Ripple for selling unregistered securities. This meant that despite the 2021 bull run, XRP could not gain a new ATH, touching $1.9637 at its peak.
From its bull run peak in April 2021, XRP followed a bearish trendline, which it managed to break in September 2022. The XRP price then retested the trendline before bouncing and briefly establishing a new higher high in April 2023.
However, the price has been unable to hold above the previous high. The XRP price chart below shows that it is currently trading in a new support and resistance zone.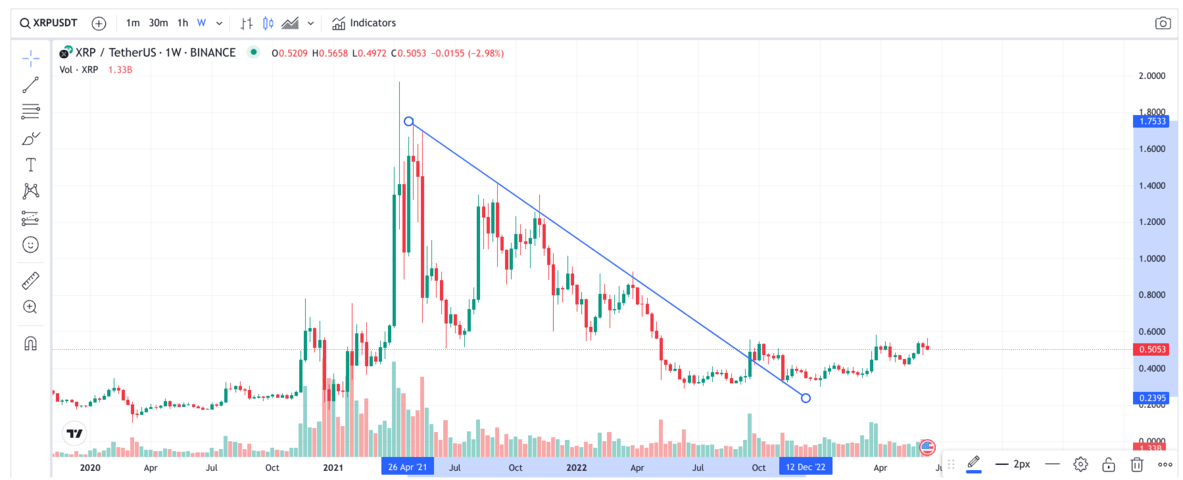 XRP Price History Key Points:
XRP launched with an initial price of $0.005875 in 2013.
The price surged to $0.33 in 2017.
XRP reached an ATH of $3.84 on 4 Jan 2018.
During the 2021 bull market, the XRP price was suppressed due to the ongoing SEC lawsuit.
The current price is $0.5056, down 86% from its ATH.
XRP Price Prediction 2023
Several factors, both bullish and bearish, are affecting XRP currently. However, the main indicator determining if XRP is a coin that can explode in the short term is its price chart.
Since breaking its bearish trend line, the XRP price has entered an accumulation phase. This is characterised as the first phase of a market cycle, following the end of a bear market. It often comes with high uncertainty and relatively low interest in an asset.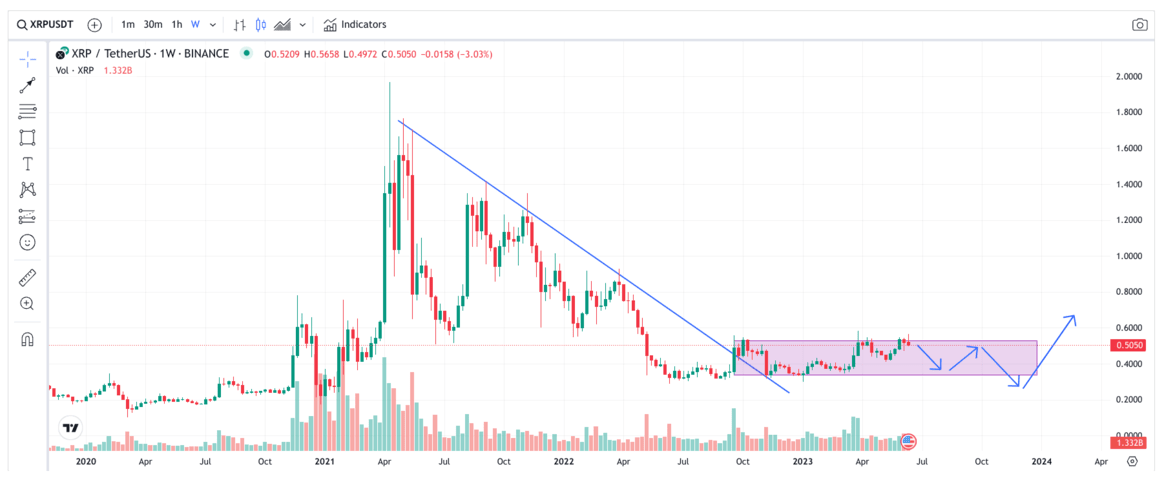 Considering the global economy slowing down, the current crypto bear market and Ripples ongoing lawsuit with the SEC, there is still lots of uncertainty regarding XRP and the broader crypto market.
With this in mind, we expect the XRP price to consolidatefor the remainder of the year, with a potential deviation to the downside in Q3.
Therefore, our Ripple price prediction estimates an average price of $0.38 by the end of 2023.
We could also see possible lows of $0.20 if the price deviates below support or if a "black swan" event occurs. On the other hand, if the broader crypto market picks up, we expect possible highs of $0.56.
| | | | |
| --- | --- | --- | --- |
| Month | Potential Low | Average Price | Potential High |
| July 2023 | $0.30 | $0.50 | $0.70 |
| August 2023 | $0.25 | $0.45 | $0.65 |
| September 2023 | $0.20 | $0.38 | $0.56 |
| October 2023 | $0.28 | $0.46 | $0.64 |
| November 2023 | $0.22 | $0.4 | $0.58 |
| December 2023 | $0.20 | $0.38 | $0.56 |
Cryptoassets are highly volatile and unregulated in most EU countries, Australia and the UK. No consumer protection. Tax on profits may apply. Your capital is at risk.
XRP Price Prediction 2024
Ripple is expecting to win its case vs the SEC. In March, the company announced that the Supreme Court supported one of Ripple's key defences in the case. The defence was that XRP was not given "fair warning" of whether it was a security before the lawsuit.
More recently, the "Hinman Emails" were released, helping to defend further the allegations that XRP is an unregistered security.
The Hinman Emails consist of messages written by former SEC chair William Hinman that state the SEC does not regard Bitcoin or Ethereum as a security. The emails have been involved in the case since 2020 but were recently made public.
Overall, the general sentiment is that Ripple will defeat the SEC in its lawsuit. If this does occur, XRP will be the only crypto to have proven in court that it is not a security, which could prove incredibly bullish.
However, there is also the possibility that the SEC will win the case. If this occurs, the XRP price could struggle immensely in 2024.
A defeat in court will mean Ripple will face a severe fine. However, the XRP blockchain is open-source, and anyone can run a validating node. Therefore, the blockchain should still run as designed.
Another consideration is that the crypto bull run is predicted to begin in 2024 following the Bitcoin halving. With this in mind, a positive lawsuit outcome for Ripple could help bolster the XRP price.
Therefore, our XRP price prediction forecasts a price of $1.80 by the end of 2024.
Depending on the lawsuit's outcome and crypto market conditions, it could go much higher, potentially reaching $3.10. Nevertheless, there is also scope for lows of $0.50 if the case swings in the SEC's favor.
XRP Price Prediction 2025
While many in the XRP community predict sky-high valuations for the crypto by the peak of the next bull run, its token's distribution could be a limiting factor.
XRP's circulating supply is only 51.99% of its 100 billion max supply. The remainder is locked in smart contracts, and 1% of tokens (one billion) are released monthly.
This means all tokens could be released onto the market within 48 months. Ripple often sells these tokens via over-the-counter (OTC) trading to avoid impacting the XRP price, but this is still a cause for concern since it could indicate much more sell pressure in the future.
Moreover, 20% of tokens were initially issued to Ripple founders, and according to CoinCarp, the top 100 holders control 32% of XRP's circulating supply.
Overall, there are centralisation issues regarding the XRP token distribution, and several experts have also cited that the XRP blockchain architecture is at risk of centralisation too. For example, in an interview with Bankless in 2022, Ethereum co-founder Vitalik Buterin said XRP is "still completely centralised."
Despite these issues, XRP undoubtedly has the potential to run in 2025. The main reason is that it has a clear and understandable use case and has already attained partnerships with countless banks, governments and companies.
However, even if successful against the SEC, it is unlikely to reach the vast valuations that some proponents forecast since there will be increased sell pressure.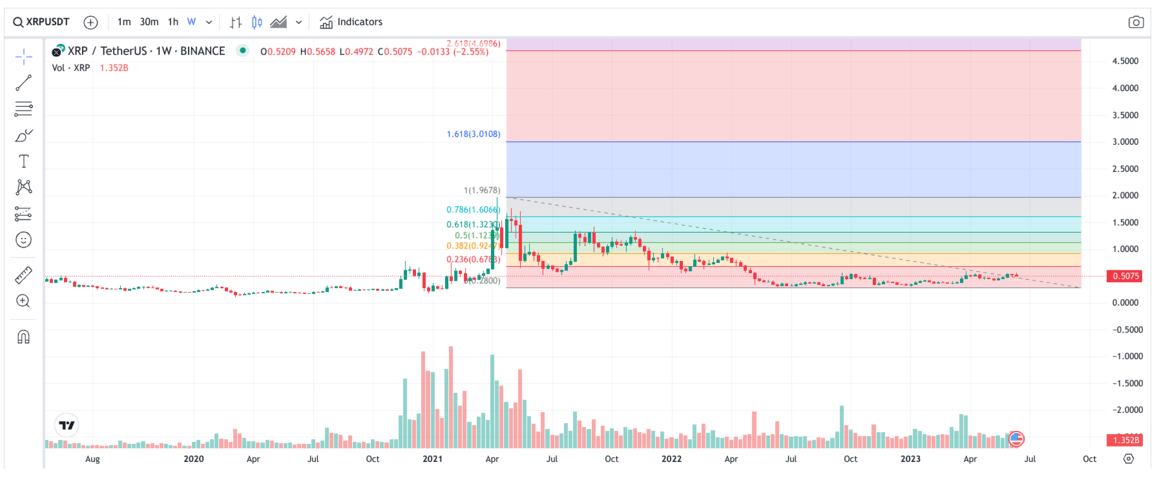 Using the Fibonacci Retracement tool, we can see the possible highs and lows of XRP for the next bull run.
Considering this, our XRP price prediction forecasts a price of $3 by the end of 2025. We also predict potential highs of $4.50 and lows of $1.50.
XRP Price Prediction 2030
Despite regulatory pressure and concerns about centralisation, XRP presents an undeniably valuable use case, and it is one of the best altcoins.
In essence, XRP is a coin for international payments, enabling borderless payments with near-zero fees and settlement in 2-5 seconds. In contrast, a cross-border transaction could cost roughly $20 and take three to five days to settle using a traditional payment method.
Ripple has already partnered with Santander and over 200 other global financial institutions. This is evidence of the power of XRP's use case and gives it significant long-term potential.
Moreover, with the introduction of central bank digital currencies (CBDCs) looming, interest in XRP could soar. This is because XRP could become the global "bridge currency" that can quickly and cheaply facilitate swaps between different CBDCs.
With this in mind, we will likely see an increased XRP price by the end of 2030. However, it is important to keep in mind the risks of XRP and that it is a volatile crypto.
Since the coin is relatively centralised, if Ripple Labs is badly affected by the SEC lawsuit, it could have a detrimental impact on the success of the XRP blockchain.
Therefore, our XRP price prediction estimates an average price of $6 by the end of 2030. We believe it has the potential to climb higher, potentially to $9, but the centralisation risk also means it could have possible lows of $3.
Potential Highs and Lows of XRP Price
| | | |
| --- | --- | --- |
| Year | Minimum Price | Maximum Price |
| 2023 | $0.20 | $0.56 |
| 2024 | $0.50 | $3.10 |
| 2025 | $1.50 | $4.50 |
| 2030 | $3 | $9 |
What Do Other Analysts Predict For XRP?
Many XRP supporters are massively bullish on the crypto, saying it is one of the coins with the highest potential. We have summarised some analyst and media price predictions below for a more clear view of where XRP could be headed.
Crypto trader Captain Faibik predicted XRP could reach $1.40. The analysis showed the price is compressing and predicted a move to the upside will occur by the end of 2023.
YouTube analyst Zach Humphries supported a 2025 XRP price prediction estimating XRP will reach $3.81.
According to CryptoNewZ, XRP could reach an average price of $1.30 by the end of 2023.
Another Ripple price forecast by AMBCrypto estimated the XRP price could reach between $0.47 and $0.71 by the end of 2023.
Based on AnalyticsInsight's XRP price forecast, the price could reach possible highs of $0.729927 or lows of $0.649935 by the end of 2023.
What is XRP & What is it Used For?
XRP is the native cryptocurrency of the Ripple blockchain. Its main purpose is as a settlement currency, providing liquidity for users to swap between two different real-world currencies.
Ripple has partnerships with over 200 financial institutions that its tools to facilitate cross-border transactions.
Unlike the Bitcoin blockchain, which uses a Proof-of-Work (PoW) consensus mechanism, or the Ethereum blockchain, which uses Proof-of-Stake (PoW), the Ripple chain uses a Unique Node List to select validators to govern the network.
The nodes selected on the list are chosen by Ripple, and unlike on PoW or PoS, validators are not financially incentivised. This adds to centralisation and increases the risk of validators colluding to add fraudulent transactions or censoring transactions on the chain.
Currently, the network can process 1,500 transactions per second (TPS), making it much more scalable than Ethereum, which can process 10-12 TPS. Ripple has also previously stated it would like to match Visa's scalability of 65,000 TPS.
XRP Overview
XRP has proven to be one of the most promising cryptocurrencies in recent years, but it does not come without risk. We have summarised its current key price data below.
| | |
| --- | --- |
| Cryptocurrency | XRP |
| Ticker Symbol | XRP |
| Rank | 6 |
| Price | $0.5029 |
| Price Change 24H | -2.75% |
| Market Cap | $50,289,707,583 |
| Circulating Supply | 51,987,017,573 XRP |
| Trading Volume 24H | $1B |
| All Time High | $3.84 |
| All Time Low | $0.002802 |
What Influences the Price of XRP?
XRP could not surpass its previous 2018 ATHs during the last bull market. This is due to two main reasons.
Firstly, the SEC lawsuit has led many financial institutions to wait on the sidelines until a verdict is reached. Secondly, the increasing supply has diluted the XRP price.
Looking ahead, a growing circulating supply is inevitable, but the result of the lawsuit could drastically impact the XRP price.
If it loses, Ripple Labs will be fined, and the impact of that on the Ripple blockchain could be detrimental. However, a victory will secure regulatory certainty, and institutional adoption might soar, leading to a much higher price.
As mentioned, CBDCs may bolster the XRP price since banks could use XRP as a bridge currency between different CBDCs.
Another factor impacting the price of XRP is retail investor sentiment. XRP has a vast online community known as the "XRP Army", which played a prominent role in XRP reaching its 2018 ATH.
Looking ahead, the crypto community once again rallying behind XRP could massively boost its price.
Finally, XRP will likely align with the broader crypto market. That means XRP could rally in a crypto bull market, but it is unlikely to rally while the rest of the market performs poorly.
Is XRP a Buy?
XRP arguably presents the most robust and clear-cut use case in the crypto industry. However, it does so at the cost of increased centralisation. Also, its ongoing SEC lawsuit could make it a riskier buy than other cryptos.
On the other hand, if Ripple defeats the SEC and proves it is not a security, XRP could see increased adoption, potentially causing the price to soar.
Overall, while XRP presents significant potential, investors must be aware that it also carries risk.
XRP20: A New Alternative to the XRP Token Offering Staking Benefits and Deflationary Tokenomics
XRP20 (XRP20) terms itself as the second coming of the XRP blockchain. This new cryptocurrency is not affiliated with the XRP token in any way, but offers similar tokenomics on the Ethereum blockchain.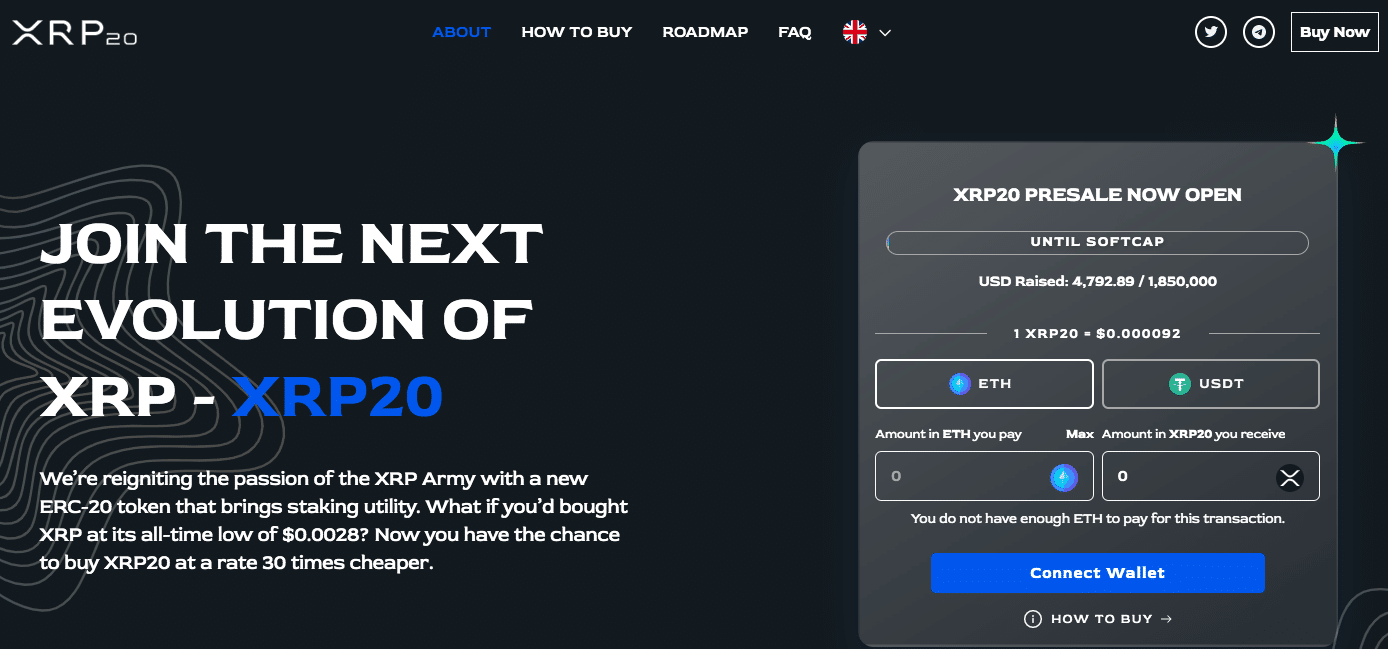 While XRP caters to financial institutions and banks, the $XRP20 is for the community. For instance, when XRP was launched, 80% of the token supply was reserved for Ripple. The remaining 20% was offered to the development team.
On the other hand, XRP20 wants to make the token for the community. $XRP20 has a total token supply of 100 billion, 40% of which has been allocated for the ongoing presale. The presale will consist of only one round, where the token is priced at $0.000092. Through the entire presale, XRP20 aims to raise a hard cap of $3.68 million.
The current $XRP20 price is 30x lower than the all-time low price of XRP. Moreover, the token is 137,000% cheaper than the all-time high price of XRP. Thus, investors who missed out on the huge price hike of XRP may be interested in purchasing this cryptocurrency through the presale.
Since XRP20 is an Ethereum-based token, it offers staking benefits. The platform supports a stake-to-earn model, allowing token holders to stake $XRP20 and generate passive income. 40% of the token supply has been allocated for staking benefits.
XRP20 has also added a deflationary burning mechanism on the Ethereum smart contracts, ensuring that 10% of the 100 billion token supply is burnt eventually. 0.1% of all buy and sell transactions will be sent to a burning wallet address.

Finally, Ethereum is one of the most reliable blockchains that is safe to use and promotes decentralization. Thus, investors will easily be able to trade the $XRP20 token.
Interested readers can purchase the token on presale now. Join the XRP Telegram channel to learn more about this cryptocurrency.
| | |
| --- | --- |
| Hard Cap | $3,680,000 |
| Total Tokens | 100,000,000,000 |
| Tokens available in presale | 40,000,000,000 |
| Blockchain | Ethereum Network |
| Token type | ERC-20 |
| Minimum Purchase | None |
| Purchase with | USDT, ETH, BNB, Bank Card |
Could XRP20 Pump Higher Than XRP?
Even though XRP20 takes its cue from the original XRP, there is a significant possibility that it could pump higher than Ripple's currently explosive bull run. This is because the project has a number of additional enhancements that can incentivize further growth.
The ability to stake tokens is a feature unavailable on the original Ripple network. Staking is a great way to encourage additional investment and get people to stick with the project for longer periods of time – as they are getting rewards for doing so.
The fact that XRP20 has a deflationary model, burning 10% of tokens with an additional 0.1% of every transaction sent to a burn address, adds further incentivization. It results in token scarcity and possibly a price increase due to this scarcity. The fact that you can purchase XRP30 for 30X less than XRP at its lowest recorded price is the icing on the cake in terms of investment, though all investments come with inherent risk.
XRP20 is jumping on a number of trends that could mean it pumps higher than XRP. It is aimed at retail investors who failed to get in on previous trends. And the market has seen how successful this can be, with community tokens like SHIB and DOGE taking off due to their focus on retail investors and joining a new army to resolve financial inequity.
XRP20 also states in its whitepaper that it intends to create an "XRP20 army", just like Shiba Inu and Doge, each having had an army of followers. In other words, XRP20 is at the intersection of a number of extremely beneficial elements:
Can capitalize on recent legal news regarding XRP.
Available for 30x less than XRP's lowest price.
Intends to create a community army, like Shiba Inu and Doge.
Aimed at retail investors who failed to get into major projects easily.
Offers a deflationary ecosystem for increased scarcity.
Offers staking rewards for token holders.
All these factors combined could easily mean that XRP20 pumps by even more than the original XRP in the near future. The current price for XRP20 is $0.000092 and it can be purchased using ETH or USDT.
Conclusion
The outcome of the Ripple vs SEC case will greatly impact XRP's future price. Although many XRP proponents argue that Ripple will win the case, it is important to be prepared for all outcomes.
Currently, XRP is in turmoil and faces much uncertainty. With that in mind, we have compiled a list of potentially better cryptos to buy now.
Cryptoassets are highly volatile and unregulated in most EU countries, Australia and the UK. No consumer protection. Tax on profits may apply. Your capital is at risk.
References
FAQs
How much is one XRP right now?
What will XRP be worth in 2025?
Will XRP be worth $1000 by 2030?