One of the major benefits of crypto assets is a seamless way of earning interest by simply holding your coins and tokens. Many online services and platforms allow you to do just that, and Yield App is one of them.
This beginner-friendly digital asset wealth management platform allows you to earn some of the highest interest rates on several major cryptocurrencies and stablecoins. In this comprehensive Yield App review, we'll explain what this platform is, how it works, what it offers, and more to make it easier to decide whether it's worth your time and investment.
Table of Contents
Table of Contents
What Is Yield App?
Yield App is a digital asset wealth partner designed to provide users with a safe method of earning passive income on their cryptocurrency assets. It's beginner-friendly, made to appeal to a broad audience, and to ensure everyone can understand how to be a passive crypto investor.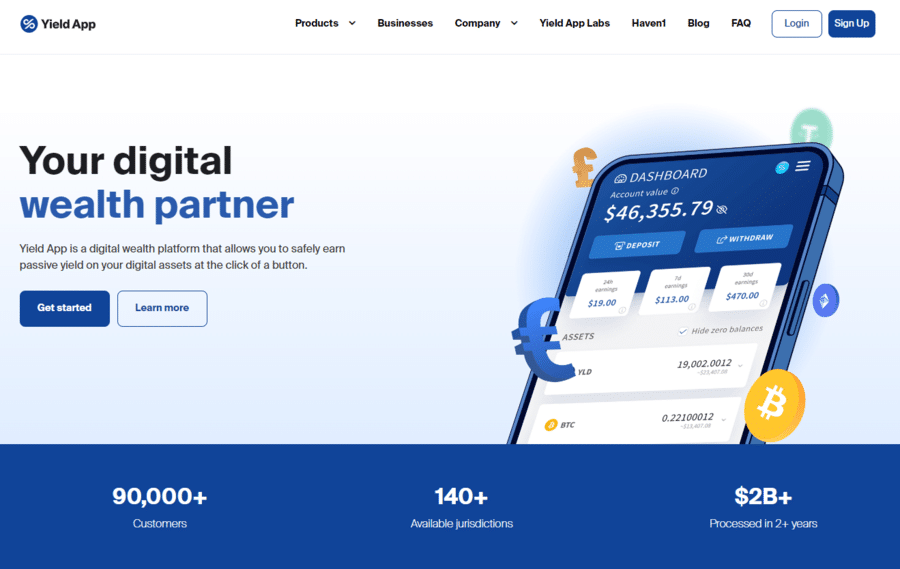 The primary function of Yield App is a crypto savings account, but it's also an exchange that allows you to swap coins without paying fees.
The yield paid to investors is created with the help of DeFi protocol allocations, market-neutral trading and arbitrage strategies. Yield App uses a risk-averse approach that enables it to pay higher annual percentage yields (APYs) than most competitors.
Risk management and capital preservation are at the core of Yield App's strategy. They do not engage in leveraged trading or lend out customer assets. Thanks to this, Yield App provides APYs as high as 11% and allows you to earn interest on BTC, ETH, TUSD, USDC, DAI, USDT, BNB, and AVAX. Yield App also offers better rewards with the help of its referral and loyalty programs, the latter of which is supported by the platform's native token called YLD, which provides the highest interest rates.
Yield App Features
Yield App mainly lets you earn interest on your crypto assets, but it also offers a wide range of accompanying features like crypto swapping, loyalty tiers, fiat on-and-off ramp and more. Let's review the key elements you need to know about.
Crypto Interest
The main feature of Yield App is earning interest from your crypto assets. The platform requires you to make a deposit and invest your funds to start earning, and the yield is achieved through its market-neutral strategy, investments, and trading.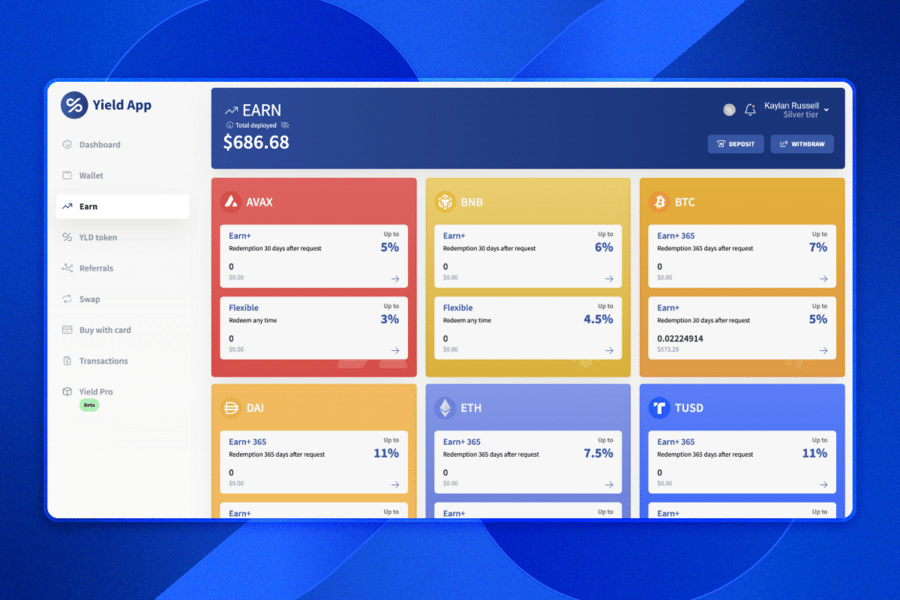 Yield App's DeFi team looks for good opportunities in the Web3 space which go through a rigorous 135-point risk model, while the company also invests in various crypto arbitrage strategies to deliver high returns.
All you have to do is pick a product and leave the rest to Yield App. You can earn interest on nine cryptocurrencies, stablecoins, and tokens, and the exact rate depends on the crypto, your loyalty tier, and the product you've chosen. There are three products:
Earn+

— Your funds are locked for at least 30 days, and you can invest in any crypto on the platform. The rates are between 5% and 9%.

Earn+ 365

— The plan is year-long, meaning your assets are locked for 365 days, while the interest rates range from 7% to 11%. The option is available only to Diamond tier members.

Flexible

— The flexible plan lets you earn interest daily and take out your staked assets anytime. The interest rates are lower, typically between 3% and 7%.
Swap Assets
If you decide to exchange a specific coin or token, Yield App has a Swap feature you can use. This lets you swap crypto assets (BTC, ETH, USDT, USDT, TUSD, DAI, BNB, and AVAX) and fiat currencies (EUR and GBP) with just a few clicks.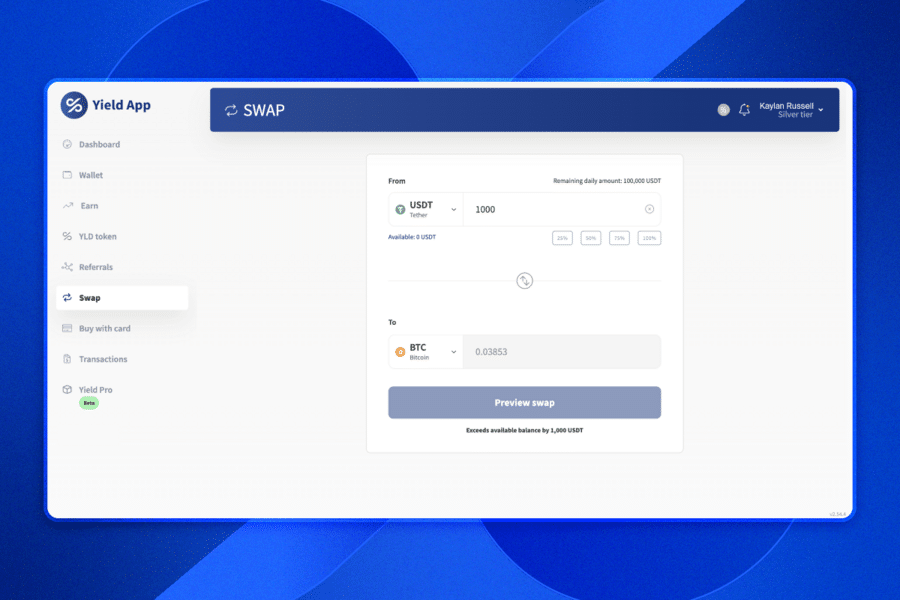 The platform has a daily limit of $100,000 in crypto, and the prices are based on real-time data. Yield App charges zero fees, and there are no hidden costs. On top of that, every swap is instant and completely safe.
Instant Fiat Deposits
Yield App offers direct on-and-off ramps for both EUR and GBP. Access is uninterrupted because the company has partnered with quality fiat rails providers. This has also led to Yield App allowing incredibly low deposits as small as 1 EUR or GBP, a figure uncommon in the industry.
More than that, your balance is credited instantly, you're allowed to make an unlimited number of deposits, and all of them are entirely free as Yield App doesn't charge fees on depositing money. Deposits can be made through an open banking connection which allows you to connect directly to your bank account for a seamless experience. In addition, they also support the traditional IBAN transfers. What's unique is that you get a person IBAN in your name to deposit to.
Once you've made your deposit, you can start immediately. The site allows you to buy crypto directly on the site or transfer your digital assets from your wallet to your Yield App account.
Buying digital assets is possible with wire transfers, SEPA transfers in EUR, credit cards, Apple Pay, and Google Pay.
Yield Pro
Yield Pro is a new product on the Yield App platform, with products that offer more options for more experienced investors.. Everything is tailored to your needs, and the platform offers structured products to allow you to make trades based on your market view. You can even download a simulator app to try the available products for free.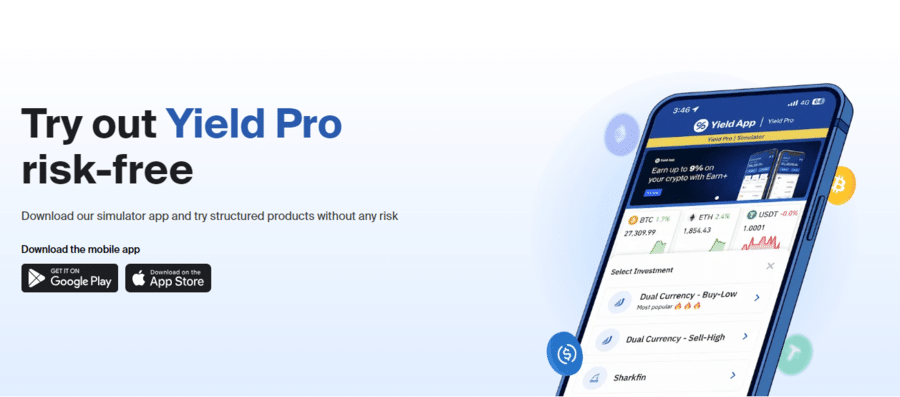 Once you decide to start investing, there are several products to choose from, and Yield App is likely to add more in the future:
Sell-high dual currency

— The option involves two currencies, typically a stablecoin and another digital asset. It's made for clients holding a popular coin who want to sell at higher market prices.

Buy-low dual currency

— Similar to the above, but made for those looking to buy at lower market prices.
Loyalty and Rewards Programs
We discussed the main investment options earlier in this Yield App review, but you also need to be aware that the platform allows you to earn interest from its native token, YLD, and the loyalty tiers it powers.
The YLD token has a maximum supply of 300 million, and the price usually ranges between $0.05 and $0.17 per token, according to CoinMarketCap data for the first half of 2023. It is listed on CEXs and DEXs like KuCoin, Uniswap, and Gate.io.
The platform has four membership tiers, each offering different rates and requiring a specific amount of YLD tokens staked:
Bronze tier

— Up to 999 YLD staked with interest rates of up to 5%

Silver tier

— 1,000 to 9,999 YLD staked with interest rates of up to 6%

Gold tier

— 10,000 to 19,999 YLD staked with interest rates of up to 7%

Diamond tier

— 20,000+ YLD staked with interest rates of up to 11%
Moreover, if you decide to lock your YLD tokens, you can receive 12% per year. Do note that all unlocks will happen on 31 December 2023. After that you can stake your YLD to earn locked H1 which we will talk about later.
What Cryptos Does Yield App Support?
Yield App supports nine cryptocurrencies, including its own token, YLD. You can store and swap all of them, but whether you earn interest on them depends on your chosen product.

Here's a breakdown of all available cryptocurrencies:
Bitcoin (BTC)

Ethereum (ETH)

Tether (USDT)

USD Coin (USDC)

TrueUSD (TUSD)

Dai (DAI)

Binance Coin (BNB)

Avalanche (AVAX)

Yield Token (YLD)
Yield App Interest Rates
As our Yield App review already explained, interest rates on this platform vary depending on the crypto asset, your loyalty tier, and the product you've chosen.
Higher loyalty tiers get better rates for every product, and only Diamond tier members can use the Earn+ 365 product that offers the highest rates.
Below is a table showing the latest interest rates for each supported asset based on your chosen product. Bear in mind that the interest rate also depends on your loyalty tier or, more specifically, the amount of YLD tokens you've staked.
| | | | |
| --- | --- | --- | --- |
| Asset | Interest rate for the Flexible product | Interest rate for the Earn+ product | Interest rate for the Earn+ 365 product |
| BTC | N/A | Up to 5% | 7% |
| ETH | Up to 3.5% | Up to 5.5% | 7.5% |
| Stablecoin (USDT, USDC, TUSD, DAI) | Up to 7% | Up to 9% | 11% |
| BNB | Up to 4.5% | Up to 6% | N/A |
| AVAX | Up to 3% | Up to 5% | N/A |
Since this is a beginner-friendly tool, there's no minimum purchase requirement for any product. However, your first investment needs to be at least:
0.005 BTC

0.1 ETH

100 USDT/USDC/TUSD/DAI

0.5 BNB

10 AVAX
Withdrawal Process
The withdrawal process at Yield App is straightforward and convenient. The cool thing is that you are given your own banking IBAN, so every time you make a withdrawal to the bank account, it will come from a Yield App account in your name. Please note: in order to withdraw GBP or EUR to your bank account you first have to make a deposit from the same bank account.
This is incredibly useful as banks seldom block such transactions, something that happens quite frequently with cryptocurrencies.
You can withdraw in EUR or GBP and transfer any supported cryptocurrency to your wallet. All of these come with fees, which we'll cover in the next section. For now, here are the minimum withdrawal amounts you'll have to adhere to:
| | |
| --- | --- |
| Payment method | Minimum withdrawal |
| Any EUR or GBP withdrawal | €10/£10 |
| BTC | 0.0008 BTC |
| ETH | 0.03 ETH |
| USDT/USDC/DAI/TUSD | $100 |
| BNB | 0.01 BNB |
| AVAX | 0.1 AVAX |
| YLD | 100 YLD |
It's worth noting that Diamond tier members get three free withdrawals a month, while transferring assets to another Yield App account is always free.
Yield App Fees
Fees are an inherent part of every crypto trading and investment platform, and most of these platforms make money through them. The same is true of Yield App, but it's important to note that most fees are waived as the service applies spreads to most transactions, so you won't see any fees while swapping currencies and investing in products.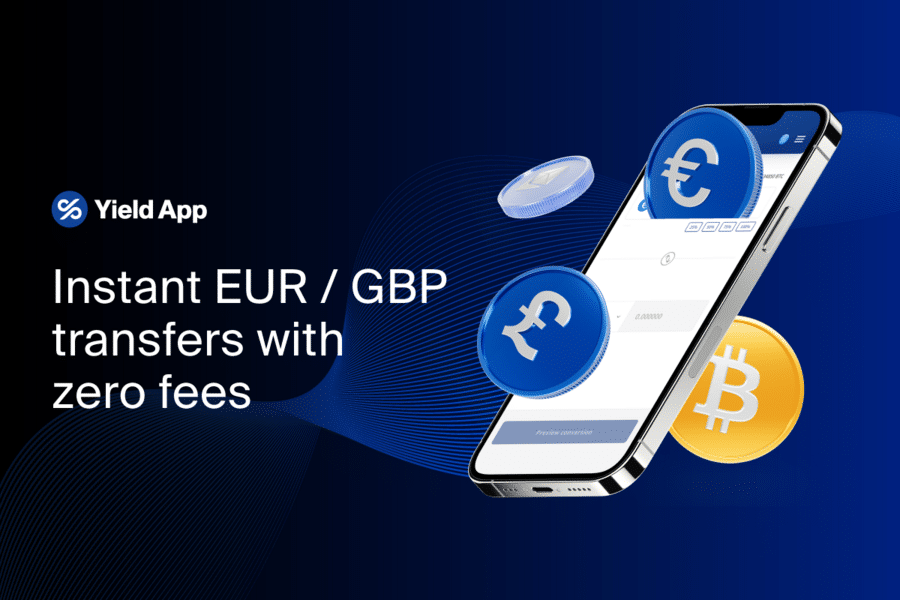 Consequently, the platform doesn't have a trading or conversion fee. The same is true for inactivity, rollover, and other hidden fees some platforms are known to have.
The only fee you'll see here is the withdrawal fee charged when you decide to withdraw your assets or fiat currency. Here's a breakdown:
| | |
| --- | --- |
| Asset and network | Withdrawal fee |
| Bitcoin | 0.0007 BTC |
| Ethereum (ERC-20) | 0.01 ETH |
| YLD token (ERC-20) | 20 YLD |
| USDT, USDC, DAI (ERC-20) | $10 |
| Binance Coin (BEP-20) | 0.005 BNB |
| Avalanche (AVAXC) | 0.05 AVAX |
As for fiat currencies, here are the numbers:
| | | |
| --- | --- | --- |
| Currency | Withdraw fee | Refund fee |
| Euro | 0.1% and the minimum is €15 | €15 |
| British pound | 0.1% and the minimum is £15 | £15 |
Yield App Platform & User Experience
Yield App has an excellent desktop platform that's very intuitive and well-designed. It's made to appeal to beginners, but with the advanced features of Yield Pro, it will also be perfect for professional users.
It works through any web browser, and there's also a mobile app you can download to most iOS or Android devices. It's available for download directly from Google Play and App Store.
Yield App Regulation & Security
The owner of Yield App is Yield App Limited, which the Estonian Financial Intelligence Unit has awarded with a Virtual Currency License. The company is working toward obtaining additional licenses from several regulators as it operates in numerous jurisdictions, which should lead to further user protection.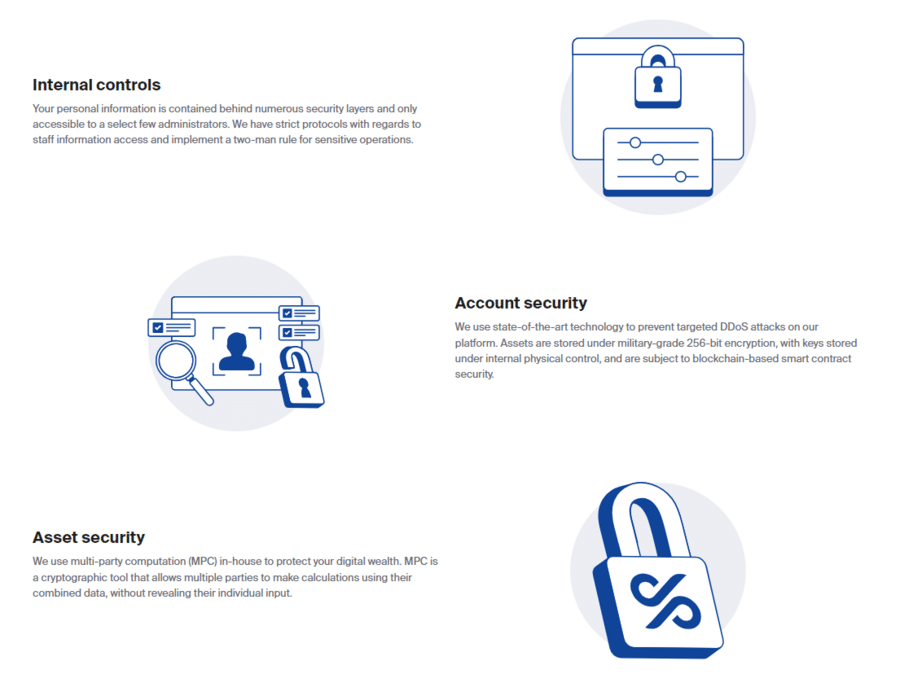 Like most crypto platforms, user crypto-assets are not backed by a specific asset or collateral. Still, the company has shown a risk-averse approach, and its usage of market-neutral strategies is more than enough to protect users from macro events in the cryptocurrency sphere.
More than that, the team behind the platform is highly experienced in both traditional banking and decentralized finances. The founder is Tim Frost, who already has lots of experience in the fintech and blockchain space, having been a part of successful companies like Wirex and EQIBank.
Yield App Customer Service
Yield App provides around-the-clock customer support for its users and interested investors, primarily through its 24/7 live chat and email at [email protected].
You can also reach out to them via Telegram and Discord.
Yield App also has a detailed Help Center with a guide for beginners, various FAQs, and a ticket system.
Yield App Pros & Cons
Like all platforms of this kind, Yield App has various advantages and a few disadvantages. We'll review both so you can easily decide whether Yield App is the right crypto wealth management platform for you.
Pros:
High interest rates — Investors can earn higher APYs than on most other platforms due to Yield App's risk-averse and carefully calculated investment approach.
Loyalty and referral programs — You can become a loyalty member by buying and staking YLD tokens, which leads to higher rewards. Moreover, you earn $25 in BTC for every referral.
Swapping feature for crypto and fiat — Yield App allows you to easily swap supported crypto and fiat currencies without incurring exchange fees.
Experienced team — The team behind Yield App has collective experience in traditional finance and DeFi that ranges in decades.
Military-grade security — The platform employs 256-bit encryption, due diligence, and strict internal controls to ensure your assets and investments are safe.
Low deposit minimums — You can deposit as little as 1 EUR or GBP to get started.
Cons:
Limited number of supported cryptocurrencies — Besides the native token, Yield App only supports eight cryptocurrencies, four of which are stablecoins.
Not available in the US — Even though you'll find the platform in more than 140 jurisdictions, the US is not one of them.
Higher rates require staked YLD tokens — To get the highest rates, you need to have over 20,000 YLD tokens staked, which unlocks the highest loyalty tier and the most rewarding product.
The Verdict
Yield App is a superb crypto asset wealth management platform with high APYs on several major cryptocurrencies. You get as much as 11% APY and a safe and user-friendly platform to make your investments.
Yield is ideal for beginners and features enough advanced options for many pro users, while everyone benefits from a reputable company and experienced team that knows when and how to invest to keep your APYs high.
With few downsides and many advantages, Yield App can be the long-term partner you need to make passive income from your crypto assets.
References:
FAQs
How long does it take to withdraw money from Yield App?
Is Yield App decentralized?