YieldFlow is a decentralized platform that enables investors to maximize their crypto holdings. Through lending, staking, and yield farming, YieldFlow offers some of the best APYs in the market.
This YieldFlow review leaves no stone unturned – covering key factors surrounding safety, features, yields, withdrawal terms, and much more.
What is YieldFlow? Overview
YieldFlow is a decentralized platform that enables investors to earn income on their idle digital assets. This is achieved through three core products – lending, staking, and liquidity pools. As a decentralized platform, investors maximize their crypto holdings anonymously.
Moreover, YieldFlow never holds client funds. On the contrary, all interest-bearing tools are executed via smart contracts. This ensures that investors can earn yields safely and without needing to trust YieldFlow. APYs at YieldFlow will vary depending on the digital asset. But on average, YieldFlow claims investors will earn an APY of 15%.

This is considerably more competitive when compared to conventional interest products, such as savings accounts and bonds. But of course, investors also need to consider the risks, especially regarding market volatility. This YieldFlow review found that the set-up process is very simple for investors. First, investors will need to connect a wallet to YieldFlow – popular examples include Metamask and Trezor.
Next, investors will need to select the asset(s) they want to generate a yield on, as well as the specific tool (e.g. staking). And that's it – the deposited digital assets will begin earning interest passively. Most of the interest-bearing products on YieldFlow come with flexible withdrawal terms. This means that investors can cash out their tokens at any time.
YieldFlow Core Features
YieldFlow offers a simple way to earn interest on crypto that would otherwise sit idle in a private wallet. This enables investors to generate passive income while retaining full ownership of their crypto tokens.
YieldFlow offers three core features on its decentralized platform. This includes lending, staking, and yield farming – which we discuss in more detail below.
Lending
YieldFlow enables investors to lend their idle crypto tokens to borrowers. Unlike traditional loans, YieldFlow utilizes decentralized exchanges for its lending pools. Once again, this ensures that the transaction chain is governed by smart contracts.
Currently, YieldFlow offers lending tools via Aave, covering Tether and Synthetix. Aave requires collateral from its borrowers, providing YieldFlow investors with an extra layer of security.
Staking
This YieldFlow review found that the platform supports staking across multiple cryptocurrencies. There is no requirement to operate a node, ensuring that beginners are catered for.
Currently, Polygon and Aave can be staked at 5.5% and 6.2% respectively. Fantom and the Sandbox can be staked at 4.5% and 10.8%.
As one of the best crypto staking platforms, YieldFlow enables investors to withdraw their tokens at any time.
Yield Farming
Another option to consider at YieldFlow is yield farming. This requires investors to fund liquidity pools on decentralized exchanges. This means that investors will need to deposit two different tokens, creating a trading pair.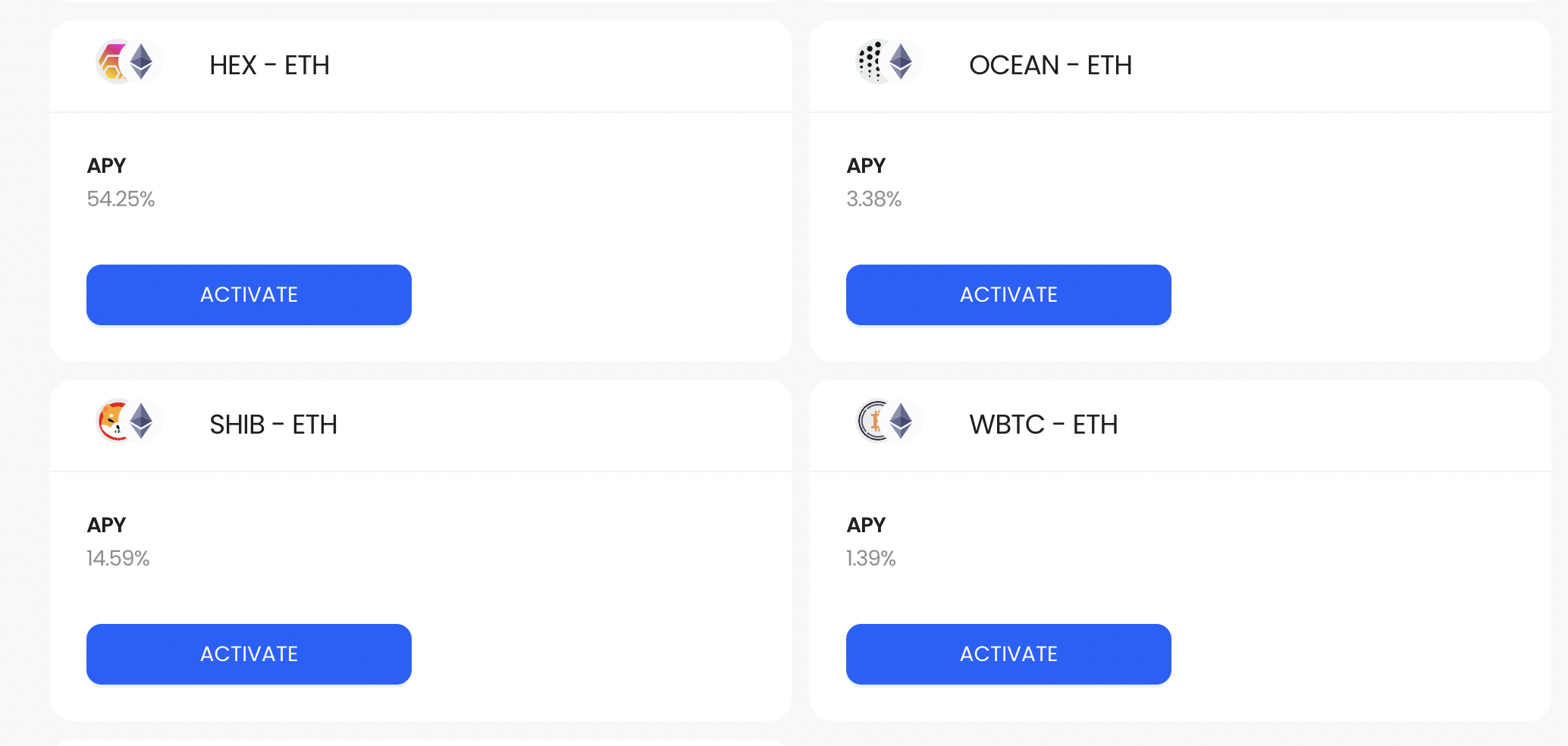 Yield farming offers some of the best APYs on YieldFlow, but the risks are much higher when compared to staking or lending. This is because yield farming APYs are heavily dependent on external factors, such as market pricing and volatility.
Nonetheless, multiple yield farming pairs are supported by YieldFlow, including some of the best altcoins.
Popular examples include LINK/ETH and USDT/ETH, currently yielding 4.5% and 12.2% respectively. Those wishing to take on additional risk might consider a more volatile pair like HEX/ETH, currently yielding 54%. The highest yield currently on offer is 1,490%, available on PEPE/ETH liquidity pools.
Supported Coins at YieldFlow
Currently, YieldFlow specializes in cryptocurrencies operating on the ERC -20 standard. This is because YieldFlow is built on the Ethereum blockchain. However, its decentralized framework will likely support cross-chain compatibility in the near future.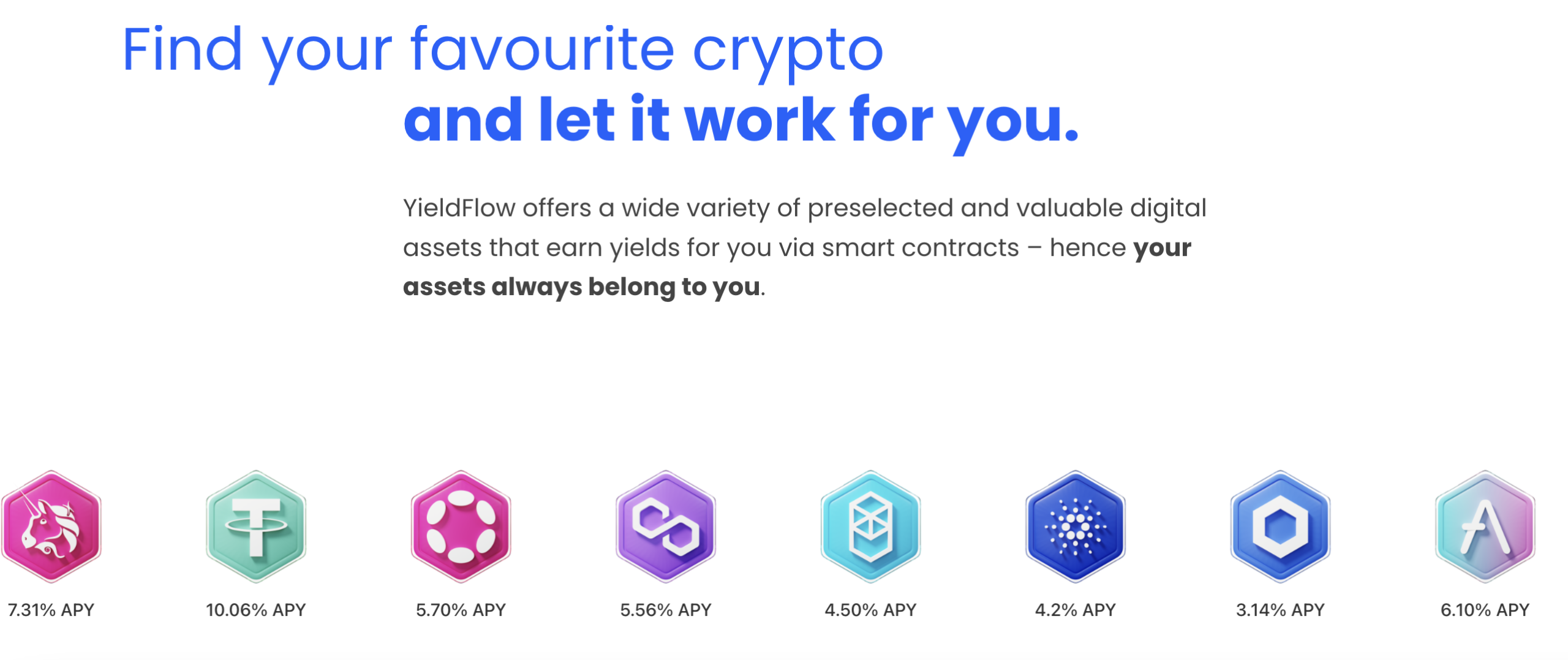 In the meantime, investors can earn yields on a range of popular ERC-20 tokens. For example, staking tools currently support Polygon, Fantom, Aave, and the Sandbox. Lending pools are available for Tether and Synthetix.
Yield farming pools are more extensive, albeit, all contain ETH as a pairing cryptocurrency. Some of the cryptocurrencies that can be pooled with ETH include LINK, MATIC, USDT, MANA, SAND, BAT, HEX, OCEAN, SHIB, WBTC, and PEPE.
YieldFlow APYs
The annual percentage yield, or APY, refers to the interest earned on a specific investment product. This is calculated over the course of a year and can vary. For instance, depositing $1,000 worth of crypto into a staking pool for 12 months at an APY of 10% would yield $100 in interest.
In this section of our YieldFlow review, we explore the platform's interest rates in more detail.
First and foremost, interest rates are based on market conditions. This means that APYs are variable and subject to change at any time. Fortunately, the YieldFlow dashboard updates investors on current APYs in real time. Lending pools attract the lowest rate of interest on YieldFlow, with Tether and Synthetix currently yielding just 2.92% and 1.94% respectively. However, the lower yields offered are aligned with the risk spectrum.
For instance, lending pools are backed by collateral. Just like a secured loan, borrowers need to deposit a certain amount before receiving the funds. Thus, if the borrower defaults, the collateral is used to cover the bad debt. However, investors should still remember that the collateral will not cover 100% of the loan. As such, the risk of loss is still present. On the flip side, another benefit of choosing YieldFlow lending pools is that they come with flexible terms. This enables investors to withdraw their tokens at the click of a button – without penalty.
​
| | | |
| --- | --- | --- |
| YieldFlow Product | Tether (USDT) | Synthetix (SNX) |
| Lending | 2.92% | 1.94% |
Next up we have staking. This YieldFlow product offers more competitive APYs than lending. For example, investors can earn an APY of 10.87% on the Sandbox and 6.22% on Aave. Polygon and Fantom are currently yielding 5.56% and 4.5% respectively.
YieldFlow achieves these APYs by depositing client funds into external staking pools. This helps keep the respective blockchain network safe and enables YieldFlow to generate interest for its users.
​
| | | | | |
| --- | --- | --- | --- | --- |
| YieldFlow Product | Sandbox (SAND) | Aave (AAVE) | Polygon (MATIC) | Fantom (FTM) |
| Staking | 10.87% | 6.22%% | 5.56% | 4.50% |
As noted, our YieldFlow review found that the highest APYs can be secured when depositing funds into a yield farming pool. This product is best suited for experienced investors that understand the enhanced risk involved.

In addition to market volatility, impermanent loss also needs to be considered. This is when the investor makes less through yield farming than they would have done by HODLing.
All yield farming pools supported by YieldFlow contain ETH. Check out the table below to evaluate current yield farming APYs.
​
| | |
| --- | --- |
| YieldFlow Product | Yield Farming |
| LINK/ETH | 4.52% |
| MATC/ETH | 4.44% |
| USDT/ETH | 12.20% |
| MANA/ETH | 15.30% |
| SAND/ETH | 5.20% |
| BAT/ETH | 2.30% |
| HEX/ETH | 54.20% |
| SHIB/ETH | 14.50% |
| PEPE/ETH | 1490.40% |
As per the above, the highest yields are offered on emerging cryptos like PEPE and HEX. Meme coins like SHIB are also attractive, with an APY of 14.50%.
Are There Any YieldFlow Fees?
YieldFlow does not have a fixed fee structure in place. Instead, fees are determined by the respective product and built into the APY.
For example, suppose an investor secures an APY of 3% on a YieldFlow staking pool.
The staking pool utilized by YieldFlow might generate an APY of 3.2%
This means that the investor makes 3% as stated, while YieldFlow keeps the balance
Crucially, this enables YieldFlow users to understand exactly what interest they will earn when allocating their idle tokens.
There are no deposit or withdrawal fees charged by YieldFlow. Instead, users simply need to cover GAS fees when transacting. For example, if an investor deposits funds into an ETH/USDT liquidity pool, GAS fees will be paid in ETH. This covers the cost of the smart contract, so YieldFlow does not receive any of the fees paid.
YieldFlow User Experience
This YieldFlow review found that the platform is very user-friendly. While YieldFlow deals with complex crypto products, users do not need to have any prior experience. Instead, YieldFlow has created a simple dashboard that is suitable for all skill sets.
Getting started is very simple too. The first step is to connect a wallet to the YieldFlow platform. Most wallets that are compatible with the Ethereum network are supported. There is also integration with WalletConnect, which supports over 170 wallets.

After connecting a wallet to YieldFlow, users are redirected to their dashboard. This enables users to select their preferred interest-bearing tool, from staking, lending, and yield farming. Users can then choose which cryptocurrencies they want to earn interest on. Finally, the user will need to confirm the deposit via their connected wallet.
At this stage, the crypto tokens will be transferred to the YieldFlow smart contract, enabling users to earn passive income. Should the user wish to withdraw their tokens, they can do this via the YieldFlow dashboard.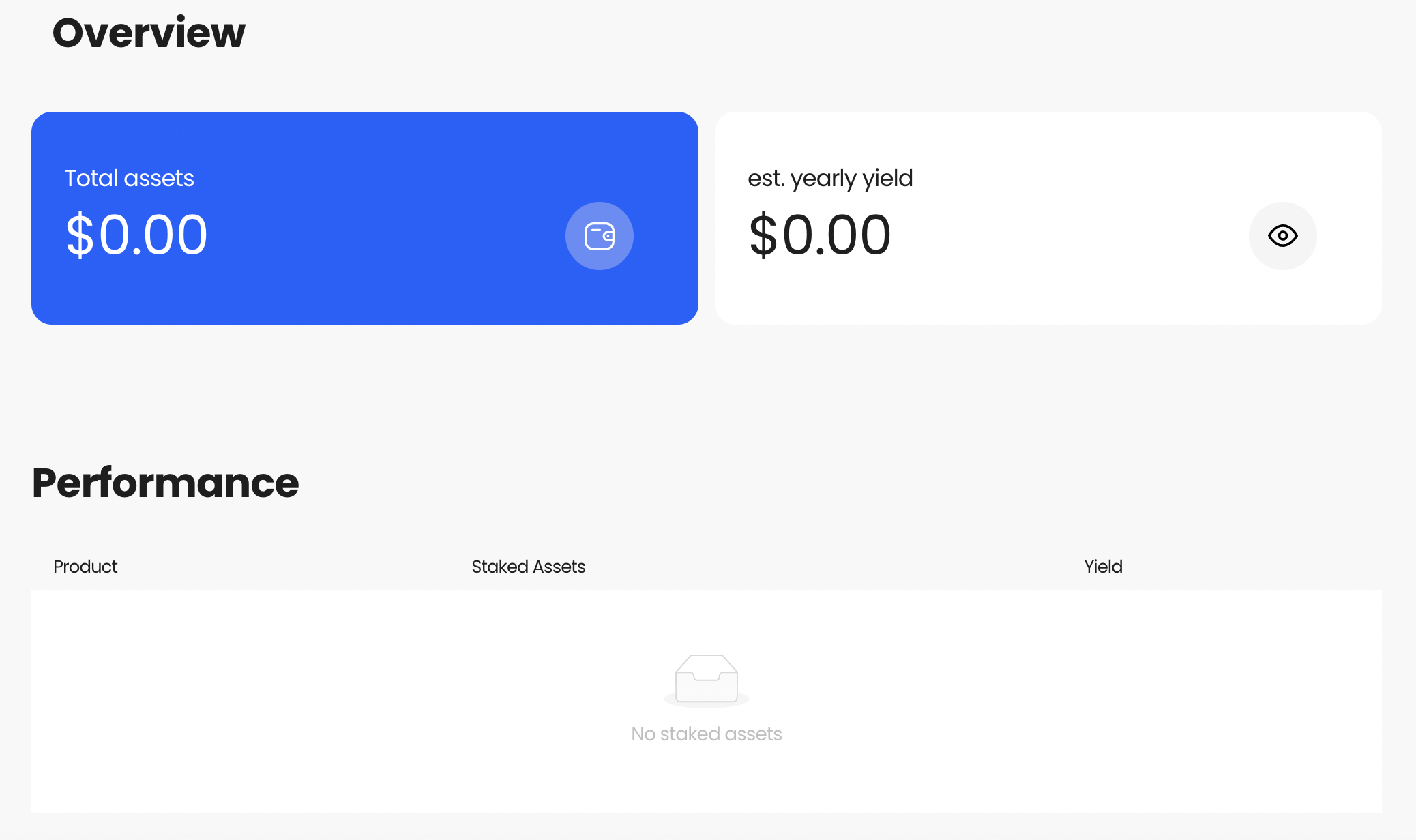 Our YieldFlow review also found that keeping tabs on investment yields is a breeze. Users simply need to click on the 'Portfolio' tab, and this will display real-time balances. This is broken down for each individual cryptocurrency that has been deposited. Ultimately, YieldFlow is suitable for all investor profiles, regardless of previous experience.
YieldFlow Mobile App
YieldFlow does not offer a native mobile app. But its desktop website has been optimized for mobile browsers. This means investors can access their YieldFlow accounts at any time.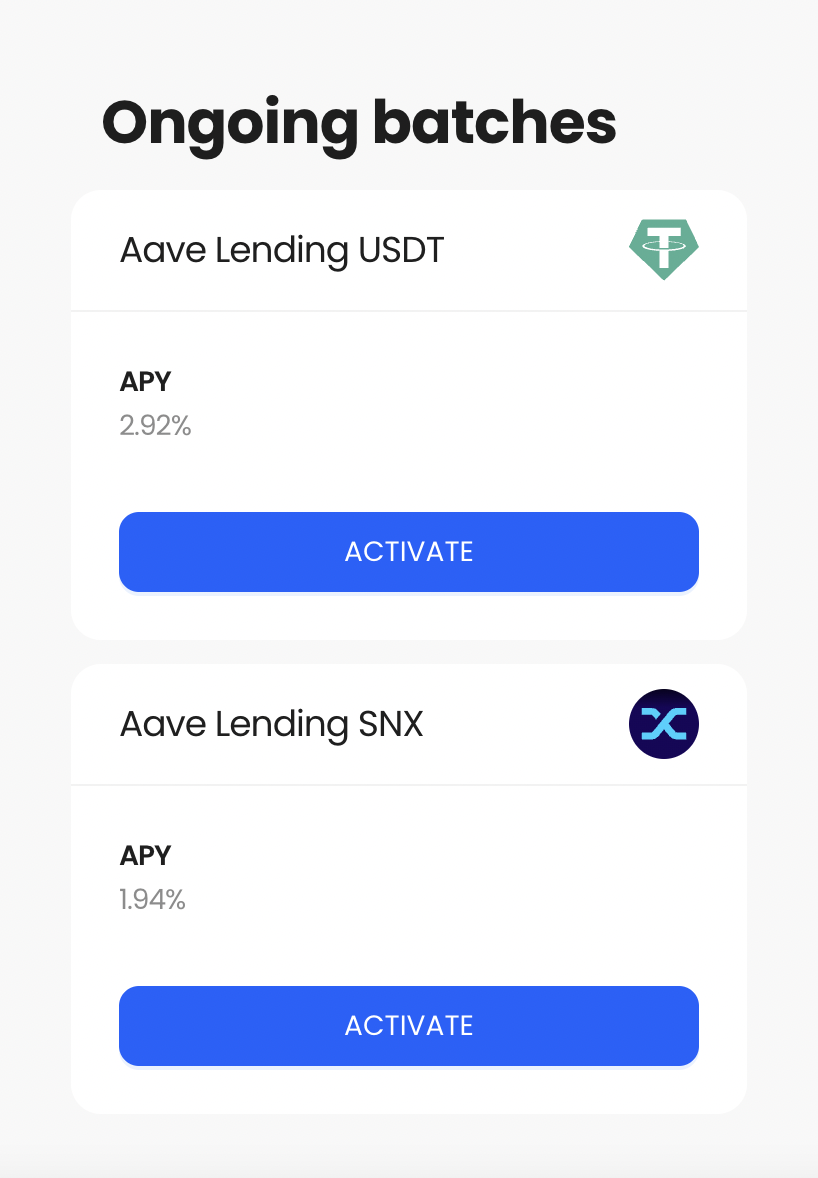 This makes it convenient to check balances and real-time yields and explore new investment opportunities. The YieldFlow mobile website also enables investors to deposit and withdraw tokens. But do remember that the wallet must be installed on the same device.
Is YieldFlow Safe?
YieldFlow is a decentralized platform, so it doesn't offer access to regulated financial services. Instead, YieldFlow simply connects investors with decentralized financial products, such as staking and lending.
This in itself is a secure way of investing idle crypto tokens, considering that YieldFlow never touches client funds. On the contrary, all transactions are governed by smart contracts. YieldFlow cannot amend smart contracts, providing investors with confidence.
YieldFlow also ensures that users have their privacy protected. There is no requirement to open an account, as users simply need to connect their crypto wallet. This also means that users can earn yields anonymously.
YieldFlow Customer Support
Our YieldFlow review found that the platform offers great customer support. Those looking for a real-time response can visit the Yield Flow Telegram group or Discord server.
YieldFlow is also active on Twitter. That said, YieldFlow offers an extensive help center on its website. We found that most queries are covered.
YieldFlow Review: Pros & Cons
Here's a summary of the pros and cons from our YieldFlow review:
Pros
Earn high-interest rates on idle crypto tokens
Supports staking and lending pools
Also one of the best yield farming platforms
No requirement to open an account – just connect a crypto wallet
Most interest products support flexible and instant withdrawals
All transactions are decentralized and governed by immutable smart contracts
No fees or commissions on stated APYs
Mobile-friendly website
Cons
Limited range of coins when compared to other decentralized platforms
Relatively new in this market
Conclusion
In summary, YieldFlow offers a simple way to earn interest on idle crypto tokens. There is no requirement to open an account, so investors can generate yields anonymously.
Across staking, lending, and yield farming, YieldFlow offers competitive APYs that average 15% across all supported products. YieldFlow is also popular for its flexible terms, enabling investors to withdraw their tokens without penalties.
While its smart contract-driven platform is secure, investors should consider the risks before proceeding.
FAQs
How to earn interest on YieldFlow?
What interest rates does YieldFlow offer?