yPredict is a popular new presale cryptocurrency powering an AI trading signal platform.
This yPredict price prediction breaks down the coin's short and long-term price estimates and goes deep into what the coin is, how it works and whether it could be one of the top altcoins.
yPredict Price Prediction – Quick Summary
End of 2023: AI companies are gaining traction, with liquidity already spilling over into AI-powered cryptos. Therefore, we expect a price of $0.08 by the end of 2023.
End of 2025: yPredict has a capped supply and generates fees through marketplace activity on its site. As such, we suspect the project has the potential for long-term growth, potentially leading to a price of $0.3 by the end of 2025.
End of 2030: The coin staking mechanism combined with demand from traders means the coin could be in short supply, potentially causing the price to hit $1.4 by 2030.
yPredict Price History
The recent surge in popularity surrounding AI has already benefited yPredit.ai's presale, having raised over $1.4 million. The coin has seen massive media coverage, which is likely thanks to its ability to solve real-world issues combined with the explosive growth of AI.
That being said, what makes yPredict different to any other AI coin? While some coins use the term 'AI'' mainly for marketing purposes, yPredict does things differently.
The project allows AI developers to sell subscriptions to their AI predictive models that provide trading signals. These predictive models can process much more data than anyone could manually, providing traders with a competitive edge and enabling them to compete with institutional-grade bots.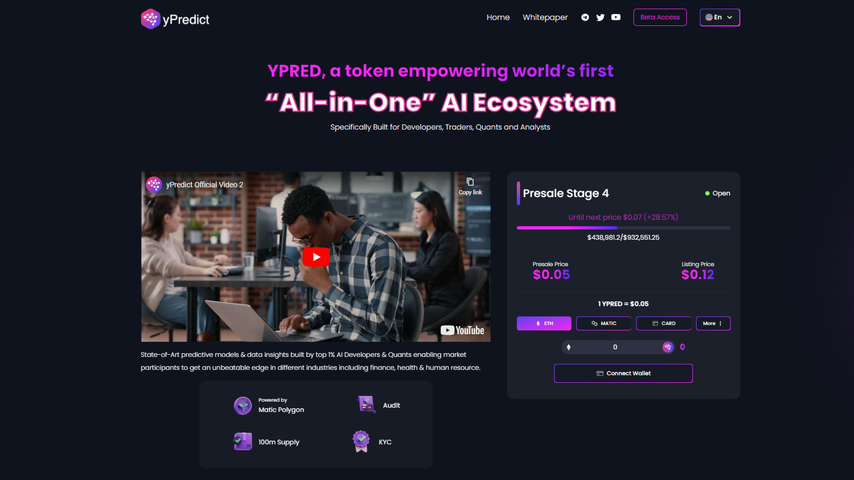 Moreover, the models are tested by the project's DAO before they are released to the public, ensuring that all the predictive models on the platform are high-quality and profitable.
While there is much more to the platform, as we will get into later, just note that the thing which powers the yPredict ecosystem is its $YPRED token.
The $YPRED Coin
There are various reasons why the $YPRED coin is one of the best presales to watch. First, its supply is capped at 100 million tokens, and numerous factors will generate significant token demand, such as being used for staking and paying for subscriptions.
The fact that traders need the token means there will be constant demand, driven by real utility rather than price speculation like some other cryptos. This provides some much-needed buy pressure that will help push up its price over time.
Additionally, users can stake their $YPRED coins, earning up to 45% quarterly rewards, which will come from a portion of transaction fees from the marketplace.
Therefore, staking will remove many tokens from circulation, thus reducing the supply. Meanwhile, the rewards are generated organically rather than from token emissions, contributing to a reduced supply.
In contrast, many cryptos that use staking rely on token emissions, increasing the coin's supply and lowering its price.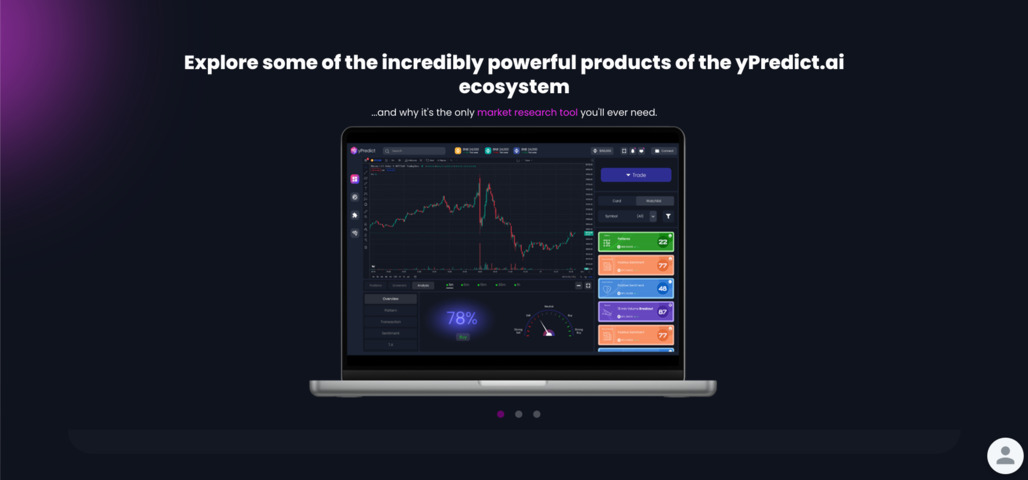 Overall, the project has a brilliant fundamental strategy, solving real-world issues and using advanced tokenomics to serve traders, investors and AI developers.
That said, the crypto is still in its development stage, so many of its key features are yet to be rolled out.
With a hard cap of $2,072,000, the team allocated 28% of $YPRED tokens to the private, pre and public sale. The project has distributed the remaining tokens between marketing, project development and exchange liquidity.
The presale is split into three phases; the current stage is the public sale, which is the last stage before its IEO. The current price is $0.03889, with the IEO price at $0.045, signifying a 15% ROI.
$YPRED Price History – Key Points
The yPrediction.ai ecosystem is designed in a way that can significantly boost its token value. With that said, here's a summary of the key price figures so far.
Total supply of 100 million tokens with 28% available at presale.
Currently raised $1.4 million in its presale.
The presale is split into three stages: private sale, presale and public sale.
| | |
| --- | --- |
| Presale Started | 13 February 2023 |
| Purchase Methods | USDT, ETH, BNB, MATIC |
| Chain | POLYGON |
| Hard Cap | $6,507,511 |
| Listing Price | $0.12 |
yPredict Price Prediction 2023
With the yPredict presale in the final stage before its IEO, could it be one of the best altcoins to watch this year? Having raised over $1.4 million, combined with its strong use case and tokenomics, $YPRED has become the centre of attention for many media pundits in recent weeks.
Despite this, one of the primary factors affecting the success of a project is its financing. It is important to ask questions like whether a coin can sustain itself long-term and whether it relies on token emissions.
With this in mind, the great thing about yPredict is that it generates 20% marketplace fees from all predictive model subscriptions on its platform. Moreover, the coin has already reached its soft cap, meaning it has enough funds to roll out the app developments.
Currently, yPredict has a market cap of $1.8 million. In comparison, other coins that provide trading signals include Dash2Trade and LunarCrush. As it stands, Dash2Trade has a market cap of $5 million and LunarCrush $14 million.
Therefore, once the yPredict IEO launches and the team roll out more roadmap developments, we will likely see the price climb to a similar market cap to Dash2Trade, of around $5 million.
Note that there will be some token emissions at this time, which will dilute the price slightly, but the price will still climb, potentially reaching $0.08 by the end of 2023. This price increase would signify a 105% increase from its current presale price.
yPredict Price Prediction 2025
By 2025, there will be significant developments implemented on the yPredict platform. Looking at the roadmap, we can see the marketplace, mobile app, and trading bots will all be live.
That said, one of the things which could impact its price the most is the staking feature. The unique staking mechanism makes $YPRED stand out as one of the best staking coins.
The way this mechanism will affect its price is twofold: firstly, it will remove coins from circulation, leading to less supply and pushing up the price; but most importantly, its high staking rewards generated from 'real-yield' could see investors flock to buy the coin to create passive income on a coin with solid fundamentals.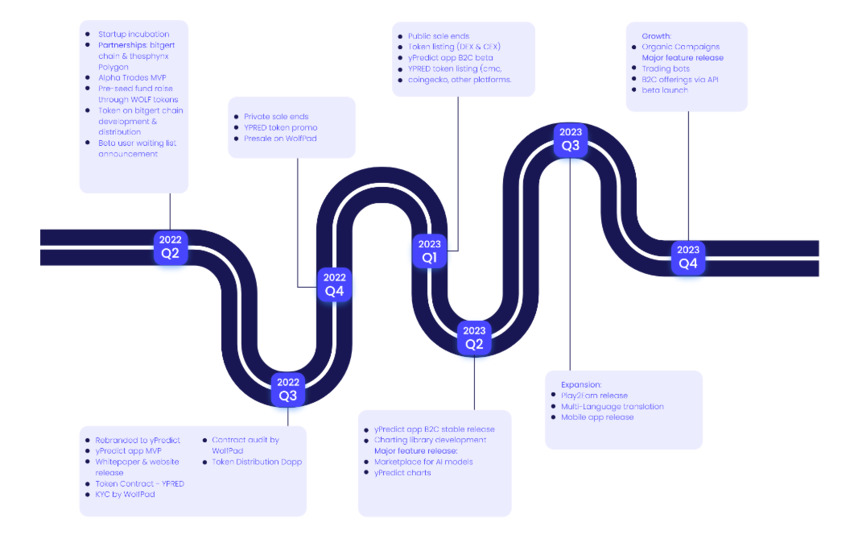 We expect the adoption of the coin to increase massively as investors want it for staking passive income and buying trading signals. Provided adoption does grow, the yPrecict.ai price could reach $0.3 by the end of 2025. This would be a 671% increase from its current price.
yPredict Price Prediction 2030
Estimating newer coins' long-term potential can be complex as they have no history of facing challenges or operating in different market conditions. That said, the fact yPredict generates income from marketplace fees means it is not overly reliant on the crypto markets performing well.
Moreover, the project's team are doxxed, and incorporating a DAO means the project is decentralized and community-controlled.
Another factor making yPredict a high-potential coin is its problem-solving approach. Rather than focusing solely on hype and community, the project provides real utility. Its platform allows developers to generate income and traders to achieve higher success rates.
The platform's marketplace could advance so that developers can sell predictive models for other uses, such as B2B services like risk modelling, fraud detection and predicting buyer behaviour.
yPredict's positioning as the intersection between blockchain and AI predictive modelling will be an essential factor in its long-term price. Therefore, our yPredict price prediction for the end of 2030 estimates a price of $1.4. This would be a 1499% increase from its current presale price.
Possible Highs and Lows for yPredict
Considering its USP as the blockchain marketplace for AI and ML predictive modelling, there are many benefits blockchain provides for payments, and that predictive modelling provides for crypto traders. This leads us to believe yPredict could be one of the next altcoins to explode. As such, here are its estimates below:
| | | |
| --- | --- | --- |
| Year | Potential High | Potential Low |
| 2023 | $0.08 | $0.05 |
| 2025 | $0.3 | $0.16 |
| 2030 | $1.4 | $0.8 |
What is yPredict?
yPredict is a next-gen AI powered trading research and analysis platform. It offers users the ability to get data-driven insights enabling better trading decisions.

Next, let's dissect what the yPredict coin is all about, looking at why it could be the best emerging cryptocurrency.

As mentioned earlier, the $YPRED crypto powers the AI predictive modelling marketplace that provides trading signals.

But this means that for the coin to be valuable, the marketplace and yPredict platform must be useful and solve real-world issues. So let's start by looking at the platform and what it does.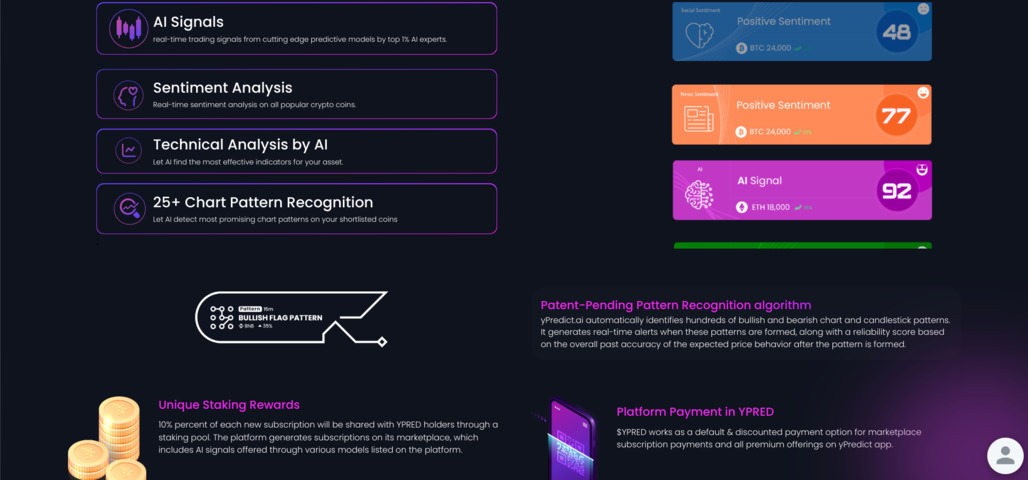 According to the yPredict whitepaper, there is a huge problem surrounding trading signal providers caused by a lack of quality control and accuracy. Some signal providers earn more from referral fees and memberships than trading. It can be so bad that some signal providers do not even attempt to provide profitable trades.

In contrast, yPredict allows data scientists and quant traders to develop high-accuracy AI and machine learning predictive models that forecast the price of assets and sell them on their site via a subscription.

But before models can be listed, the yPredict DAO will trial each predictive model before listing it on the marketplace for users to buy. This ensures that only top-quality models will make it to the platform.

Another exciting feature that the platform has is a built-in trading platform that allows instant trade execution of signals. This allows retail traders to compete with institutions, and thanks to AI, predictions can be even more accurate due to the vast amount of data they are trained on.

The final feature of yPredict that makes it one of the best cryptos to buy is its staking rewards. As mentioned earlier, many other cryptos rely on inflationary tokens for rewards, but with yPredict, users earn rewards from marketplace transaction fees, adding to the project's long-term sustainability.
Factors Affecting the yPredict Price
While yPredict is definitely one of the best cryptos to watch, it is yet to be seen just how far it could go. However, there are some factors which could significantly alter its price looking ahead:
Trader Driven Demand
A significant factor affecting the price is traders' demand for the coin derived from the platform's utility. Traders need the coin to purchase signals, but if the signals are not profitable, then traders will not buy the coin.

That said, yPredict has a DAO to ensure signal quality before they go live on the marketplace. This means the predictive models available to traders are high quality and profitable; hence they will be in constant demand.
Continued Rollout of Products and Services
Currently in its development stage, as the project advances further, rolling out more of its features, it will experience more adoption. As mentioned above, more adoption will increase the token demand, leading to a higher overall price.
Scarcity
Besides its positioning at the cutting edge of blockchain and AI technology, one of the defining features of yPredict is its ability to induce scarcity. The coin's utility, combined with high staking rewards and a capped supply, means there will likely be high demand and low supply for the coin, pushing the price up.
Is yPredict the Best Presale Crypto to Buy in 2023?
yPredict is a presale token that provides users a discounted opportunity to participate in the project. While investing in presales comes with risks, some have yielded big returns such as Tamadoge and Lucky Block, making it attractive to crypto enthusiasts. However, given the volatile nature of the market, caution is advised.

With many expecting the future of AI and blockchain to revolutionise Fintech, yPredict is at the forefront of innovation, combining the two unprecedented technologies.

Moreover, as cryptocurrency trading becomes more popular, more traders will naturally look for a competitive edge, with yPredict well positioned to serve this new demand.

Something that makes yPredict stand out from other competitors is that it has launched on the Polygon chain. Famously, companies like Starbucks have started building on Polygon, so we could potentially see some future corporate and institutional partnerships taking place for yPredict.

Overall, yPredict aims to gain a foothold in some of the most impactful industries of the 21st decade. So provided the team continue rolling out its roadmap, there are big things ahead for the crypto.
How to Buy yPredict Coins – Five-Step Guide
Since it is still in its presale, to buy yPredict coins, you must visit its website and complete a couple of easy steps, which we have explained below.
Step 1: Create a Software Wallet
You can buy yPredict coins straight from your CEX account, but you will still need a software wallet to claim them later.

With that in mind, create a Polygon-compatible software wallet such as Metamask or Trust Wallet. Also, ensure you keep your seed phrase secure and private.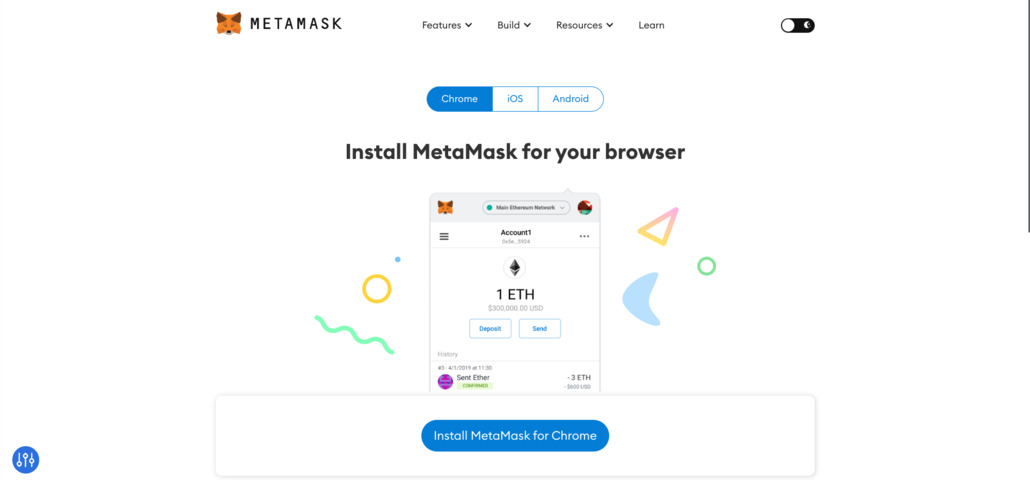 Step 2: Get Crypto to Swap For $YPRED
Purchase USDT, ETH, MATIC or BNB on a centralised exchange, then send it to your wallet. Alternatively, you can pay directly from the exchange.
Step 3: Visit the yPredict Site
Next, visit the yPredict site and choose the crypto you are paying with, then copy the wallet address and proceed to the next step.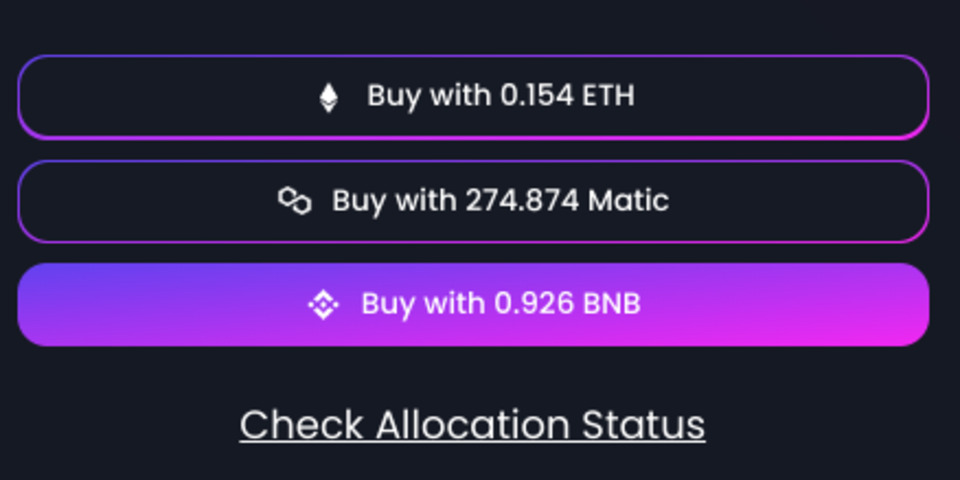 Step 4: Make the Payment
Head back to your wallet or exchange, click the send button, choose the crypto you are paying with, paste the wallet address, select the amount you are sending and hit send.

After you have made the payment, go to your software wallet and click receive, then select MATIC and copy the address. Finally, paste the address into the yPredict website in the box on the payment received page.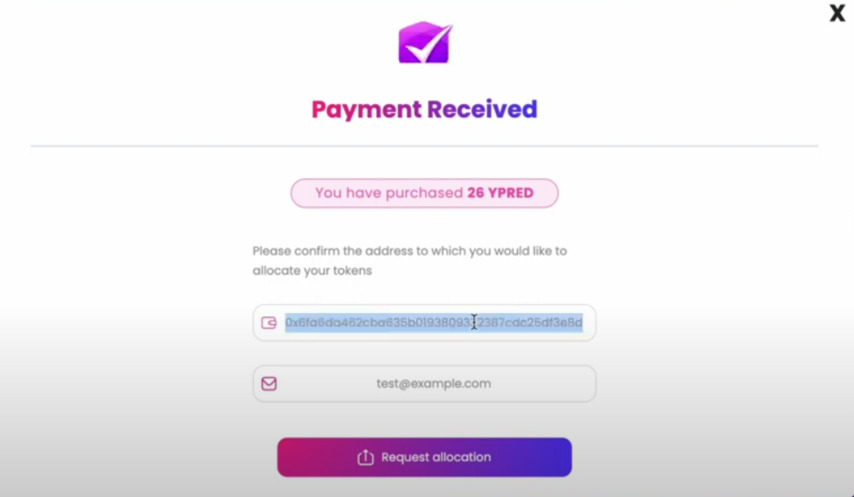 Step 5: Claim Your Tokens
Finally, once the presale ends, you can visit the yPredict app, connect your software wallet and claim your tokens.
Conclusion
A number of factors tell us yPredict is one of the best long-term cryptos for growth. That said, its short-term opportunity might be even better.

Since it is in the final presale round, this may be the last chance investors get to buy before its IEO. But with the presale over 50% sold out already, investors must act fast to secure their $YPRED tokens.
What will the yPredict price be by the end of 2025?
Will the yPredict price go up?
What is the current yPredict price?