What is DefiLlama?
DefiLlama is the largest TVL aggregator for DeFi, focusing on accurate data and transparent methodology. A team of individuals and contributors maintains its fully open-source data.
Decentralized finance (DeFi) applications and platforms allow users to invest money in staking, liquidity pools, lending, and other services.
While decentralized applications (dApps) were initially developed on the Ethereum blockchain, the DeFi space has become increasingly fragmented with the emergence of new blockchains that aim to complement or compete with ethereum (ETH). This has made it harder to track DeFi activity across various platforms.
One way to measure the adoption of various DeFi protocols is to compare their total value locked (TVL) in smart contracts via the popular DeFi aggregator DefiLlama.
As blockchain data is publicly accessible, DefiLlama can track all transaction data using oracles or block explorers. Its public application programming interface (API) can integrate the data into other websites.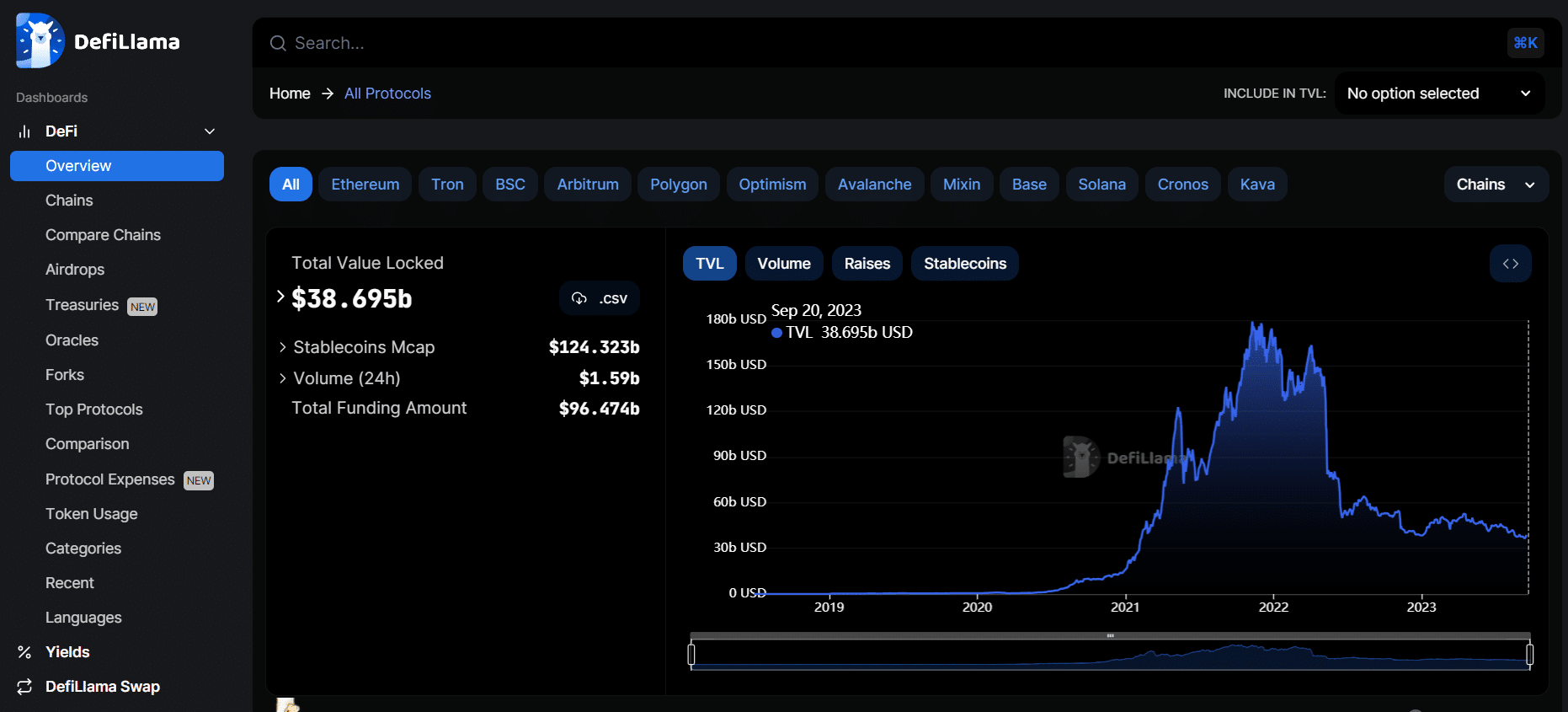 DefiLlama is part of Llama Corp, a collective building out blockchain data analytics, infrastructure, payments, cross-chain, and media solutions, with over 10 million monthly users.
The platform takes its name from monitoring the "llamas" (DeFi projects) within the vast DeFi landscape.
Key Features of DefiLlama
DefiLlama's analytics dashboards aggregate data to display updated information about the TVL, revenue, fees, and volumes of all known DeFi protocols on Layer 1 and Layer 2 blockchains. Its features include:
Comprehensive data. DefiLlama provides data on various DeFi projects, including decentralized exchanges (DEXs), lending platforms, yield farming projects, and more. Users can easily access information about token prices, trading volumes, liquidity pools, and stablecoin market capitalization and filter it by blockchain or category.
User-friendly interface. The platform's user-friendly interface makes it accessible to experienced DeFi enthusiasts and newcomers. Users can navigate through data comparing thousands of projects and get the insights they need to make informed decisions.
Portfolio tracking. DefiLlama enables users to connect their wallets to track their DeFi portfolios. This allows them to monitor the performance of their assets in one place.
Historical data. In addition to real-time data, the site provides historical data that allows users to analyze trends and make data-driven decisions.
Community engagement. DefiLlama takes a collaborative approach, with its active community of users and developers contributing to the platform's development to ensure its content remains relevant and continually updated.
DeFi Llama promotes transparency by providing users with accurate real-time information to assess the security and credibility of DeFi projects. It provides a tool for traders and investors to identify market trends and opportunities. It serves as an educational resource for newcomers to the DeFi space, helping them understand the different projects and how they are placed within the ecosystem.
How to Use DefiLlama
The DefiLlama website presents an intuitive dashboard that overviews the DeFi market. You can use the search bar to look up specific DeFi projects or tokens or compare blockchains and yields. There are also sections on yields, pools, NFTs, bridges, governance, and more. You can navigate to specific categories to explore projects within that sector.
To view details on a specific project, click on the name. Data on each project page includes:
TVL
Market cap
Amount staked
Amount borrowed
Staking
Fees
Revenue
Governance
Treasury
Total raised
The TVL chart also shows markers for significant events such as the start of rewards, version launches, migrations, and major attacks.
The Bottom Line
DeFi Llama is a valuable resource that provides data and insights to help users navigate the complex and dynamic DeFi landscape.
As DeFi continues to evolve, platforms like DeFi Llama can promote transparency, mitigate risks, and enable users to understand the performance and potential of the applications and services available.