Online sports betting is more popular than ever.
Wish you could invest in the fast-growing industry but don't have the expertise or capital?
Then Scorpion Casino is for you. The gaming platform dedicated to sports betting, online gambling, casino games, and crash games is hosting a token presale now.
You don't have to pour in thousands of dollars to become a Scorpion investor. Instead, it costs just $0.016 for each SCORP token you intend to buy now.
It's affordable and lucrative. More importantly, the presale investment earns you passive income through staking. It can be worth up to $10,000 USDT per day, depending on the platform's performance and your input.
Let's take a closer look at the project and whether it is a credible and reliable opportunity.
Scorpion Casino Pre-Sale is selling out fast! 🦂

🔒 Licensed & Regulated Online Casino
💸 Earn up to 10K USDT Daily Staking Rewards
💰 Buy SCORP, the world's 1st Social Gambling Crypto

Get Passive Income from a Licensed Crypto Casino💸

Don't miss out!
👉https://t.co/VJ2da3puft pic.twitter.com/MHxl9ddA1I

— Scorpion Casino (@ScorpionCasino) July 11, 2023
Too compelling to ignore
We can't predict the growth potential of an investment without analyzing its underlying project first. So that's what this section is about.
Scorpion Casino is a dynamic gaming hub that hosts sports betting, casino, live betting, and crash games. Here is a glimpse of what the dashboard looks like.
The sports betting module covers events in football, tennis, American football, horse racing, basketball, golf, boxing, and MMA to name a few.
There is also a wide range of casino games on offer like slots, blackjack, roulette, poker, live casino, and more. It includes 200+ games from all major game providers.
Scorpion Casino sets itself apart from other gambling and sports betting platforms with its Web3 makeup. Blockchain integration helps it provide provably fair and transparent games. The gaming results and reward distribution are overseen by the smart contracts, thus eliminating all chances of unfair practices in favor of the house. Crypto payments, in addition, make the distribution of rewards fast and efficient.

It is a captivating gaming ecosystem catered to individuals aged eighteen and above. In a sea of crypto games, Scorpion Casino distinguishes its offering with the nature and execution of the gaming ecosystem.
All of these features and engaging games ensure a steady flow of revenue to the platform. With 210 casino games, 160 live games, over 35 sports betting options, and numerous crash games, Scorpion Casino makes itself too compelling for a serious gamer to ignore and leave behind.
How credible is Scorpion Casino?
If you have limited time to manage your investment portfolios, passive income is an opportunity to not miss out on.
Many cryptocurrencies provide staking opportunities with attractive passive income. But at the same time, they cripple the internal economy by promising rewards that they can't afford to pay.
Could that be the case with Scorpion Casino too?
No.
To begin with, Scorpion Casino's reward system is underpinned by its gaming platform. In addition, a burning mechanism accompanies it.
The gaming ecosystem sends a share of its profit to be divided equally between the staking and burning mechanisms. While the first half is used to reward users who have staked SCORP tokens, the second half is used to buy back SCORP from the market. It is then burned.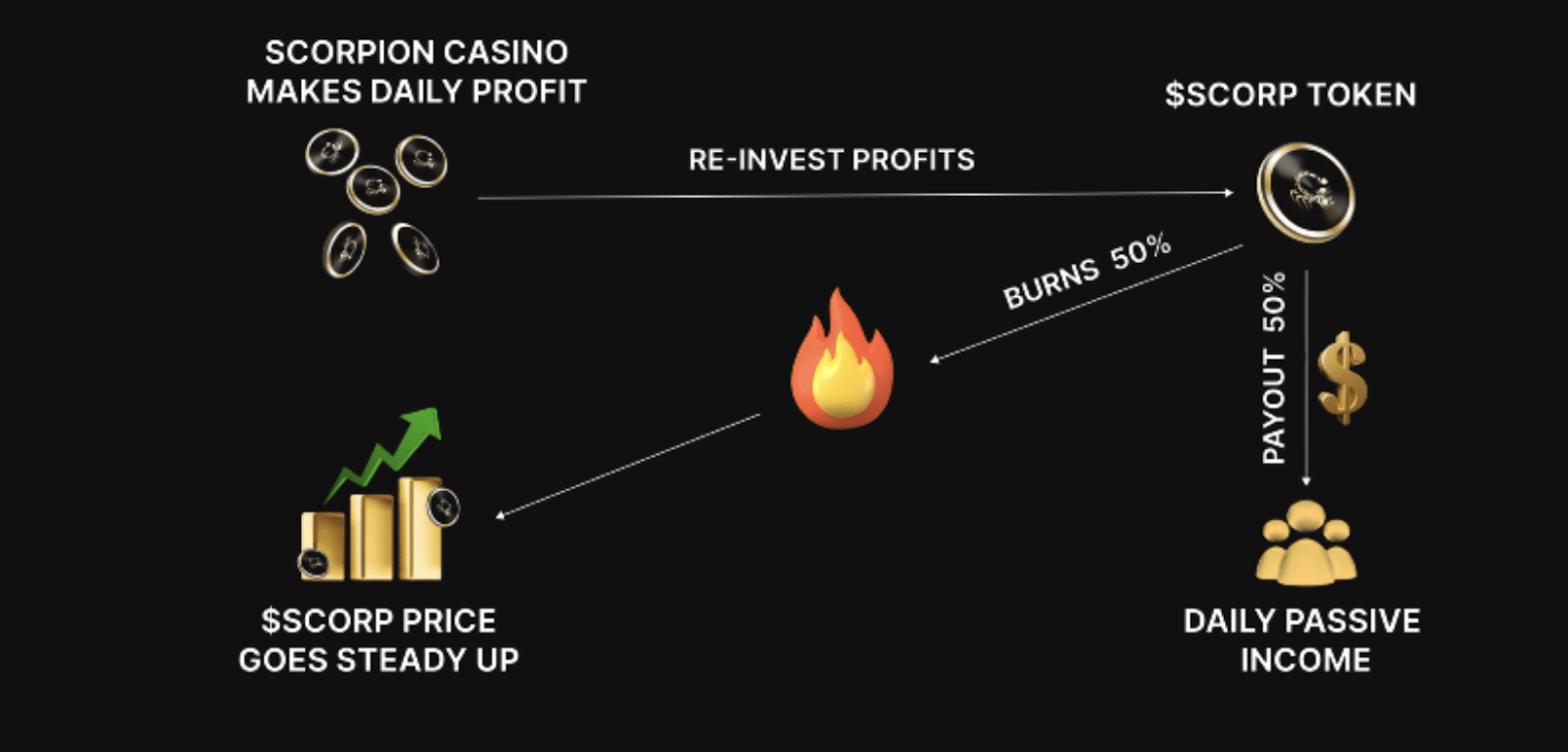 As you can see, both these systems limit the supply of SCORP in the open market. In turn, they support the value of the token, thus preventing the staking rewards from crippling the tokenomy.
They not only protect the interests of long-term investors, but also boost the token's position as a safe haven against market whims.
Now, let's discuss the credibility of the team and the platform.
Scorpion Casino is licensed by the acclaimed Curacao EGaming entity.
It has partnered with leading gaming providers like Evolution, NetEnt, Play N Go, Novomatic, EGT, and AMATIC to ensure the highest gaming experience
It has also partnered with BetRadar and CoinsPaid on the same mission.
A third-party audit by Solidproof certifies Scorpion Casino's security.
The team is KYC verified by Assure DeFi.

How to generate income from Scorpion Casino?
The most obvious answer is to join the wide range of sports betting, live betting, casino, and crash games listed on the platform. In exchange, you stand a chance to win attractive rewards. But if you're not interested in gaming, you can simply buy SCORP and stake them. It can earn you up to $10,000 daily.
In addition, buying SCORP tokens during the presale allows you to profit from its upcoming bull run.
Why during the presale?
It comes with heavy discounts. But that's just one reason.

Being one of the promising assets that can enter the list of crypto unicorns, SCORP prediction stands at 2000% to 3500% ROI this year.
Join Scorpion Casino on Telegram to stay updated with the latest news about the presale and the project development.