Surf Reward ($SURF) is introducing a unique passive income stream that allows you to passively earn while you surf the web.
The project has introduced a Surf-2-Earn ecosystem through its browser extension, replacing traditional advertising with its advertising partners.
As a result, you get to ignore irrelevant adverts and earn rewards when you view adverts relevant to your interests.
In addition, most of the advertising revenue is distributed to surfers and the liquidity pool, helping to benefit investors through value appreciation.
Surf-2-Earn Set to Change Advertising Forever
Investors are rushing to become early adopters of SURF as the presale raises over $200,000 in its first couple of weeks of going live.
Investors are scrambling to get positioned early as they believe the $SURF token will see a huge 50x surge in value as the majority of advertising revenues are injected into the liquidity pool.
Surf Reward is introducing a new Surf-2-Earn ecosystem that is set to change advertising forever.
The project is birthed by Albelius Capital AG, a fully-doxxed German stock corporation headquartered in Düsseldor.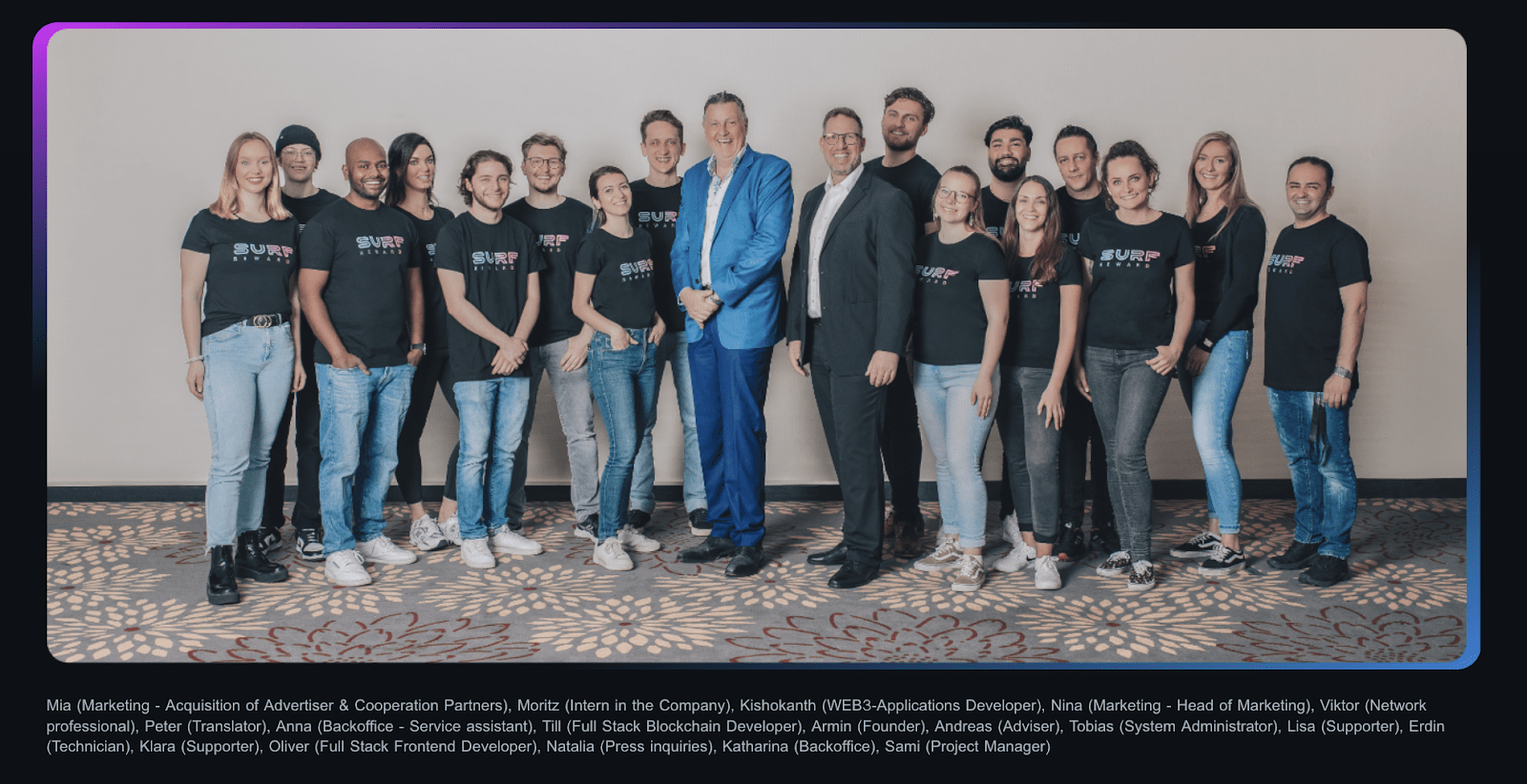 The company focuses on real estate and global project investments, with a proven track record of success.
Surf Reward is its new adventure into the Web3 world and is quickly turning into its flagship product.
The project has created a new mode of AdTech that helps to bridge the gap between advertising partners and end-users.
As a result of its extended success in the business world, Surf Reward has onboarded over 3,000 advertising partners to join its ad network – all of which will reward viewers during web surfing.
Digital Advertising Reimagined Through Surf Reward
The main goal of Surf Reward is to provide a solution to the vicious advertising circle seen online.
With billions being pumped into the online advertising world, webmasters are undergoing predatory practices as they hunt for the highest-paying deals.
As a result, website owners are bombarding their viewers with irrelevant and annoying adverts that their viewers have no interest in.
To combat this, many web surfers are turning to solutions like AdBlock to remove all advertising when surfing the internet.
It's estimated that over 11% of global web surfers are using AdBlock.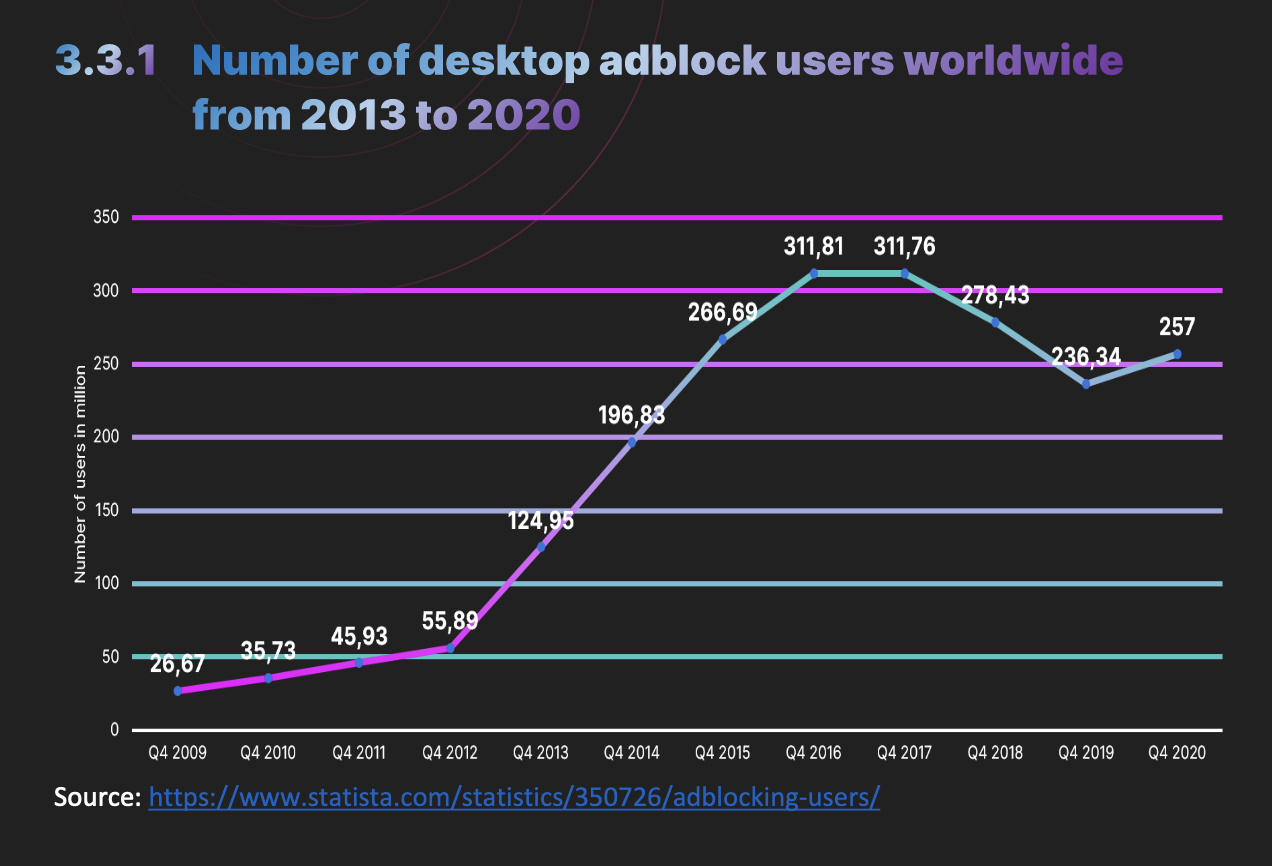 In turn, advertisers aren't having their adverts viewed by users, and web surfers are still not earning anything from their browsing activity.
This is where Surf Reward steps in with its revenue-sharing model through its browser extension.
The extension is available on all popular web browsers, so end-users don't have to change any of their browsing habits.
Furthermore, the extension ensures that end-users aren't being tracked, creating a privacy-friendly advertising network without needing an ad-blocker.
Revenue-Sharing Model Helps Investors the Most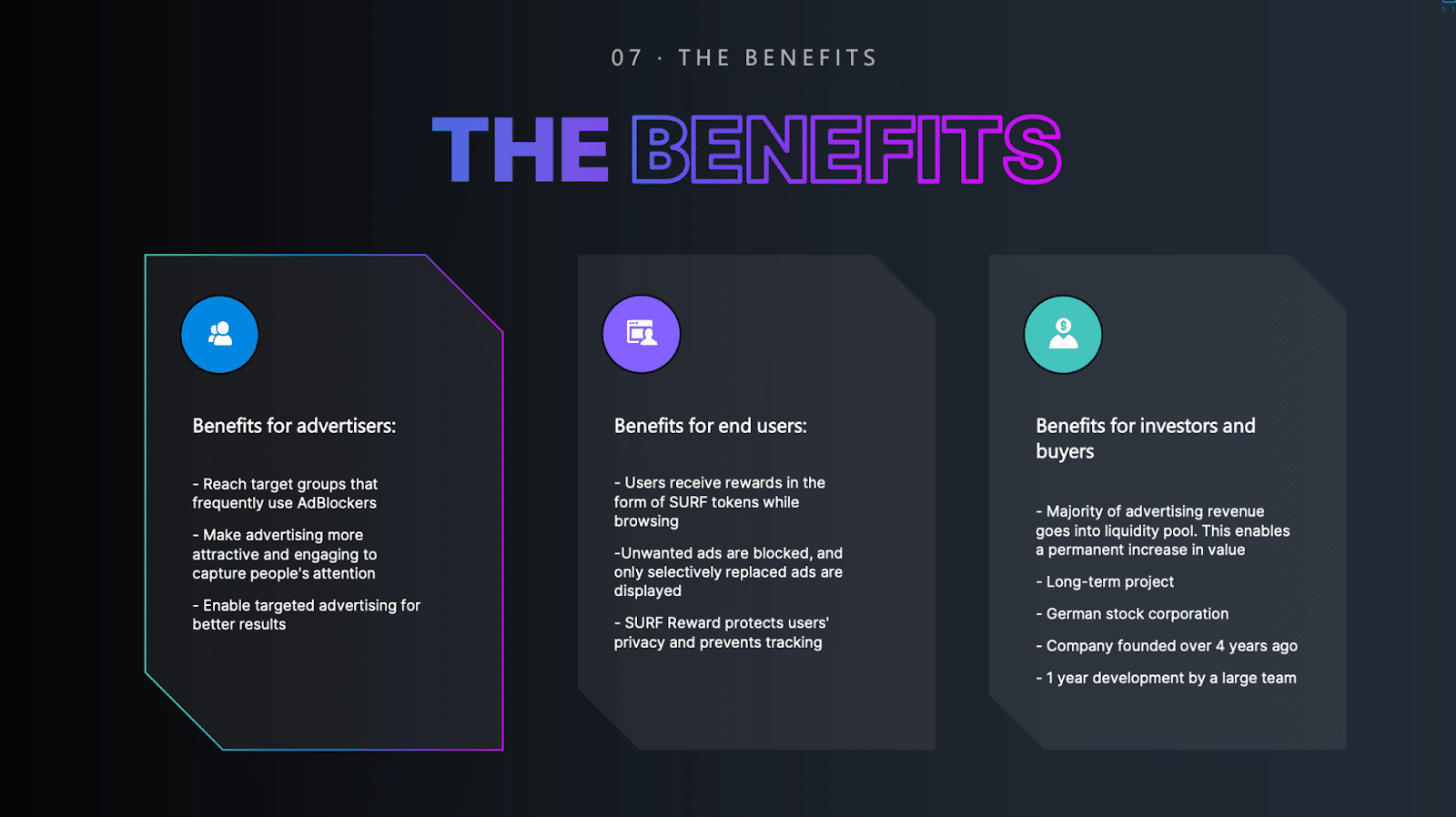 Surf Reward has created an intuitive revenue-sharing model that provides passive rewards for end-users while they surf the web.
In addition, the majority of advertising revenues are injected into the liquidity pool to benefit $SURF investors.
This is an intelligent revenue-sharing model that benefits both end-users, investors, and advertisers.
Here's how it works.
Advertising partners pay Surf Reward to join their advertising network and distribute adverts through its browser extension.
30% of the advertising revenues are distributed to end-users as rewards for browsing the web and viewing adverts.
🔥What makes us so special?
Take a look at the graphic! 🔥 pic.twitter.com/Mh9urN7KUR

— SURF Reward (@surf_reward) August 11, 2023
Another 60% is injected into the liquidity pool to provide consistent demand for the $SURF token – helping investors.
This approach eliminates the annoyance of irrelevant advertisements for end-users and gives them a passive income for their attention.
It also ensures that advertising partners distribute their adverts to the right audience.
Finally, investors benefit the most as most of the revenues are distributed to the liquidity pool.
Invest Today and Get Positioned at Discounted Prices
The $SURF presale continues to gather momentum as investors rush to get positioned as early as possible.
$SURF is the native token behind the platform, launched on the Binance Smart Chain as a BEP-20 token.
The token will be a medium of exchange on the platform and will reward users for viewing adverts online.
Furthermore, users can accumulate $SURF rewards and access various rewards and benefits.
The presale currently sells 200 million $SURF tokens, representing 20% of the supply.
Another 8% of the supply is reserved for staking rewards, which currently provide an enormous 3,000% APY at this early stage;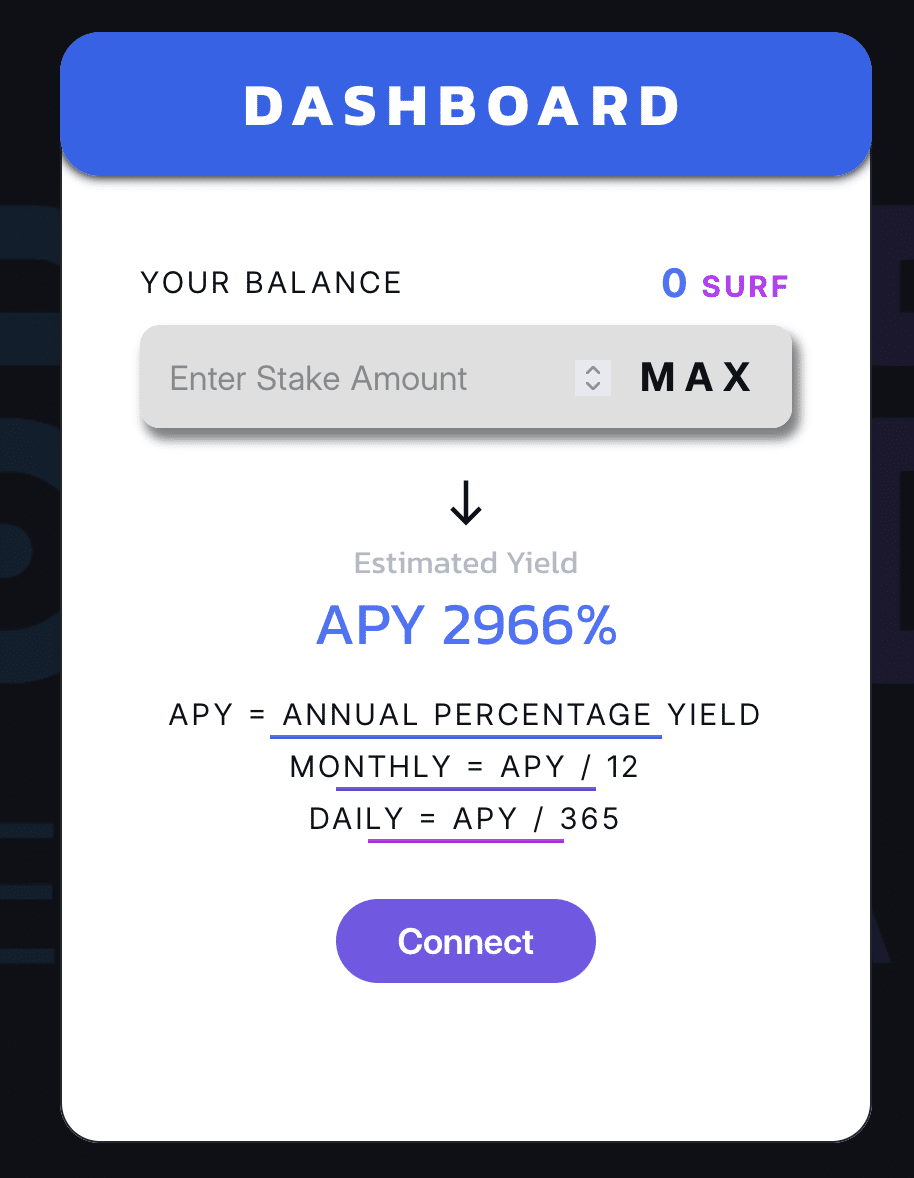 The presale is currently selling $SURF for $0.0265.
However, there is a rising pricing strategy that will increase the token's cost by $0.001 every fourteen days.
As a result, those positioned earlier benefit the most as they will attain higher unrealized returns when the token lists at $0.05.
Overall, the AdTech solution from Surf Reward is expected to change advertising for the better, with inventors benefiting the most as they earn 60% of the revenue in this new advertising network.
Join Surf Reward on Twitter and Telegram to get the latest updates about the presale, reward programs, and project announcements.