The launch of the much-awaited beta version of the Ecoterra recycle-to-earn application has led to a spike in community euphoria. The FIRST 5000 people to sign up on the application will earn 1000 $ECOTERRA tokens as a bonus.
Analysts predict a surge for the token in the coming weeks of August as the application reaches more people.
Join our beta app today and be amongst the FIRST 5000 to sign up, earning 1000 $ECOTERRA tokens as a bonus! 🎁

📲 Be part of the eco-friendly revolution and explore our app's innovative features.

Don't miss this limited opportunity! Sign up now at https://t.co/RGwji223ju 💚 pic.twitter.com/vlWfSZQsZ3

— ecoterra (@ecoterraio) July 31, 2023
Ecoterra is climate-friendly
Ecoterra is a green crypto project that aims to make recycling and carbon offsetting mainstream.
While there are plenty of initiatives dedicated to creating awareness around recycling, the output has been remarkably little. It is complex and demanding as far as an average individual is concerned.
Ecoterra encourages people to go the extra mile for recycling through its recycle-to-earn application. As the name implies, it rewards you for every item you recycle. The rewards are paid in Ecoterra tokens.
The project announced the launch of the Beta version of its recycle-to-earn application just a few days back. As more and more people sign up on the platform, the demand for the token will grow, boosting its value.
The working of the application is pretty simple. You just need to scan the barcode of recyclable products for an instant match in Ecoterra's Al-powered database. You can use the Ecoterra app to scan plastic, glass bottles, and aluminum cans. Now, visit an RVM (Reverse Vending Machine) to earn Ecoterra every time you recycle. Interestingly, you can also scan your electricity bill to earn Ecoterra on green energy-producing technology.
The project is designed keeping a wide range of target users in mind, including individuals, small businesses, large corporations, industries, governments, and non-governmental organizations.
As the ecosystem grows into more fields, each of these groups will receive various benefits and solutions that help them create a more sustainable future. Ecoterra's comprehensive approach to recycling, circular economy, and carbon offsetting wouldn't have been possible without the transparency and security offered by blockchain technology.
Stepping up the circular economy
Ecoterra facilitates a circular economy by not only providing a Recycle2Earn application, but also a recycled materials marketplace. Here, producers of recycled materials can list their items for sale and consumers can easily access recycled materials. In addition, it provides a transparent and secure way of tracking emissions and carbon credits, combating climate change through a native carbon offset marketplace.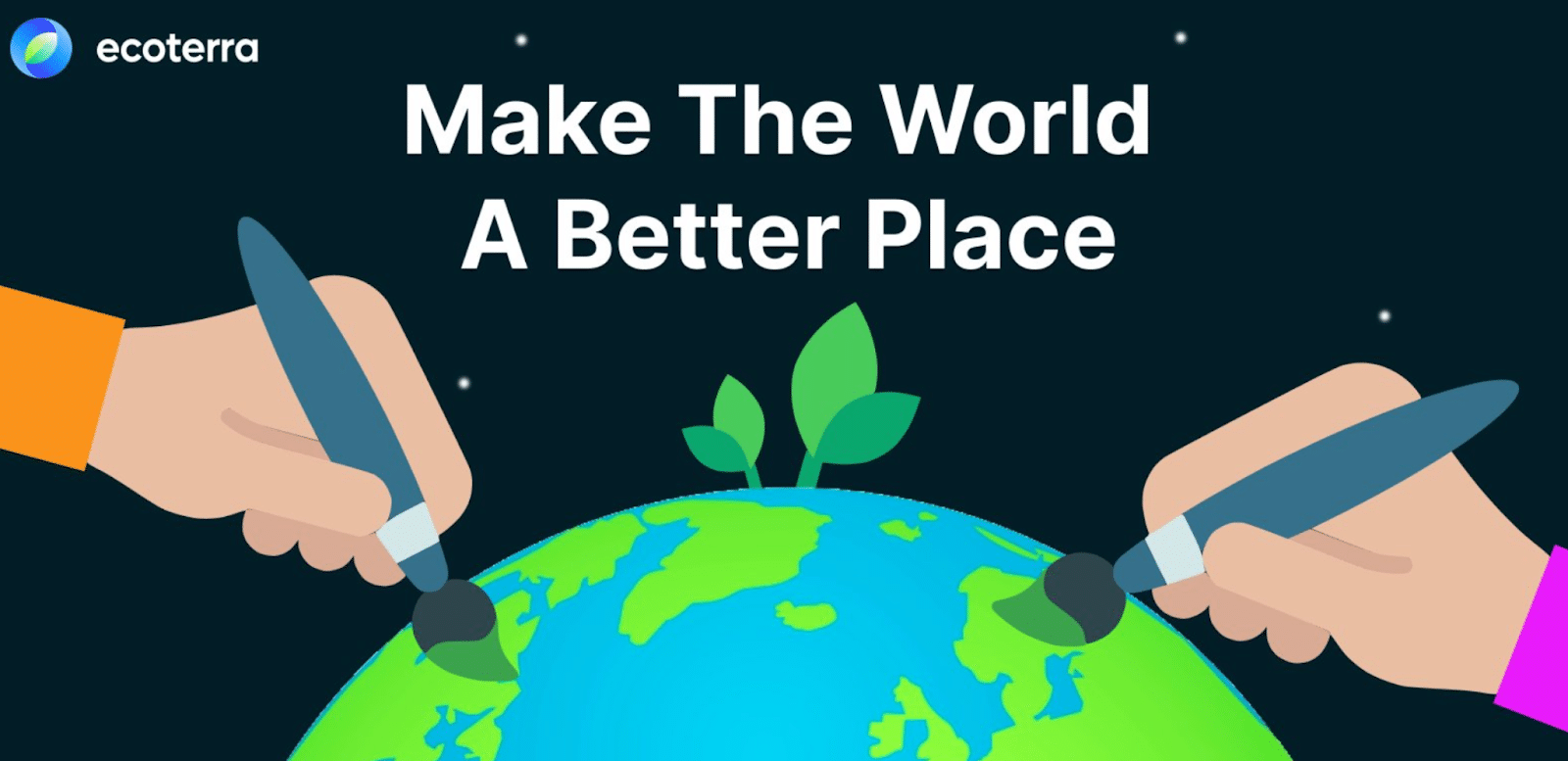 Carbon offsetting allows people and businesses to offset their carbon emissions by investing in projects that reduce or eliminate greenhouse gas emissions. The concept allows you to indirectly invest in renewable energy projects, planting trees, or supporting energy efficiency measures in developing countries.
If you don't have the time or money to make a positive impact on the environment or limit your carbon footprint, it helps you offset the effects of your emissions.
How to earn Ecoterra tokens?
There are different ways to earn Ecoterra tokens. To begin with, you can recycle through a Reverse Vending Machine (RVM) in small or large stores. The rewards incentivize individuals to recycle.
Once you have scanned your product's barcode using the Ecoterra app, located a store with an RVM, and recycled your item, scan the RVM's receipt on the app. Based on the product, you will receive a certain number of Ecoterra tokens. You can sell, hold, stake or donate the tokens to environmental causes.
Or, you can buy Ecoterra tokens from popular crypto exchanges. Currently, $ECOTERRA is available for purchase on BitMart, LBANK, and Uniswap. Investors who stake $ECOTERRA on LBANK have the opportunity to earn 12% APY while supporting the project's sustainability and eco-friendly initiatives.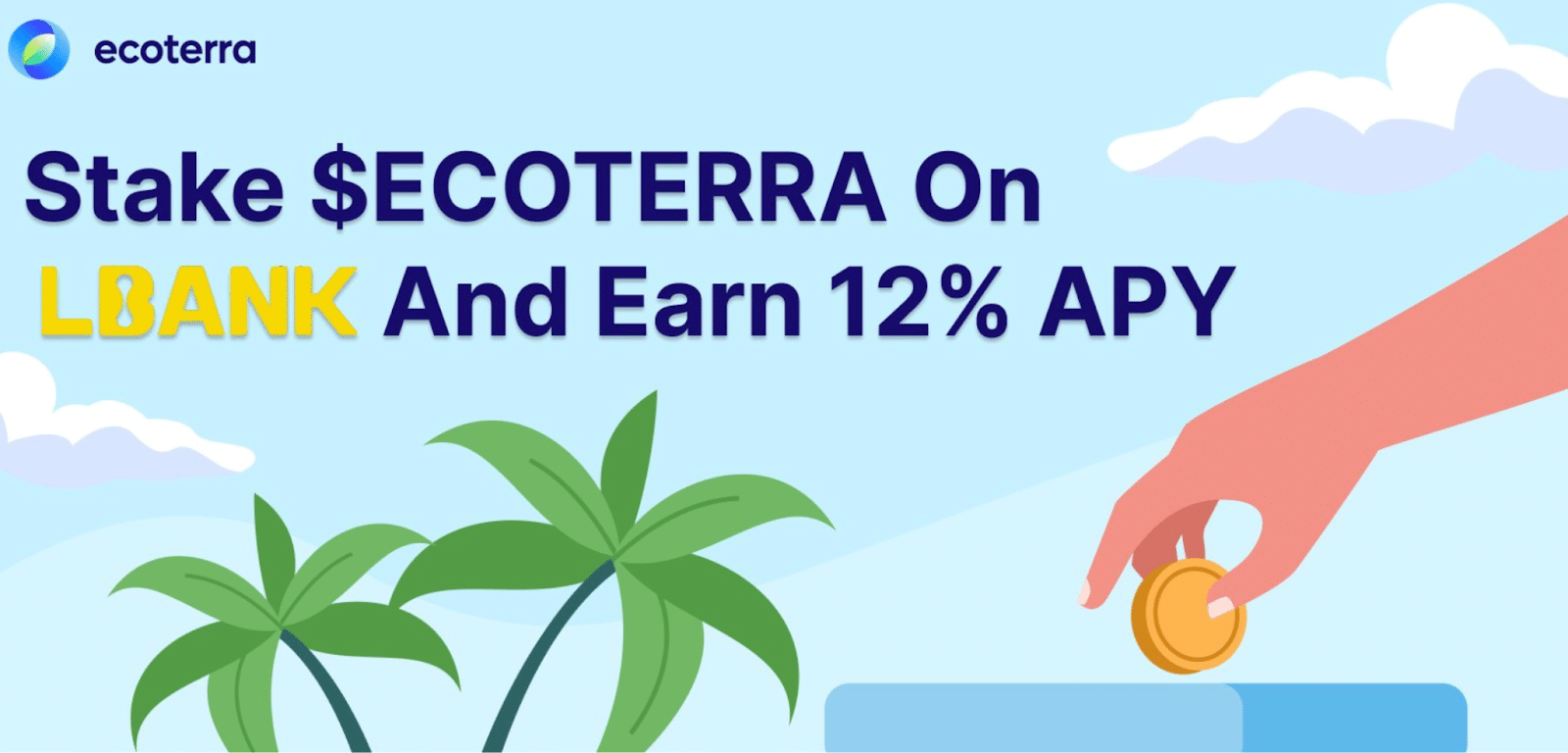 Is Ecoterra a good investment now?
Ecoterra offers an excellent investment opportunity now. To begin with, it has a large blockchain ecosystem designed to promote green initiatives like recycling and carbon offsetting. Rather than going for traditional methods, it has put forward an extensive system of innovative platforms to realize its vision. The incentivization of climate action makes the project all the more attractive.
The high scope for brand and celebrity partnerships is another factor that makes Ecoterra a compelling buy. A wide range of brands, including those with sustainability and recycling integrations, can use Ecoterra. A few good examples are Patagonia, The North Face, and H&M.
While fashion is one of the biggest industries that will find the Ecoterra ecosystem incredibly useful, it can also penetrate industries like packaging and consumer goods. Technology companies, on the other hand, can use Ecoterra to offset their emissions and support renewable energy projects.
📢🔄 Trade $ECOTERRA and unlock many opportunities! 💰💹

$ECOTERRA is now AVAILABLE on @BitMartExchange, @LBank_Exchange, and @UniSwap now! 🚀

Don't miss out on the chance to be part of the sustainable revolution 🌿#DeFi #Exchange #CryptoTrading pic.twitter.com/UQOGd1EY76

— ecoterra (@ecoterraio) July 30, 2023
With the ecosystem expanding to more brands, consumers, and partners, Ecoterra is predicted to enter the Top-100crypto chart this year. It could translate to 3500-5000% ROI for early investors in the fourth quarter of 2023.
But Ecoterra is an even better long-term hold. It will take off in the next five years as the world becomes more eco-conscious and climate action becomes a part of lifestyle.