When getting into sports betting, one of the first things to understand is what types of bets exist. Bet types, often called "markets" outside the US and in more sophisticated sports gambling circles, are crucial to comprehend. Sports gambling is not as simple as betting on who will win a game, as you can make many other types of bets.
Here we will get into the specifics of various bet types that are available at top US sportsbooks. We will analyze how they all work in detail to help you better understand the betting options. Let's start by looking at a high-level overview of common sports bet types and how they differ.


Bet Types and Their Meaning
In reference to various types of betting, the basic idea is straightforward. When you are putting your money down on a sporting event, sportsbooks offer a variety of methods for you to place your wagers. The simplest example is betting on the moneyline (which team/player will win the event outright).
Other ways that you can wager on the outcome of a single game include point spreads and totals (over/under). We will get into more detail on these bet types later. Another method to bet on sports is to combine multiple betting picks together into multi-leg bets such as parlays.
There are also entirely different types of bets, such as futures and props. These types of wagers are different than standard moneylines, point spreads, and totals, and we will get into detail on them later. In addition, sportsbooks offer live betting options which enable you to place wagers on sporting events that have already started.
The bottom line is that betting on sports can involve much more nuance than wagering on what team will win a game. This is where the various types of sports betting come into play. Now that we have a basic comprehension of the subject let's take a look at the most popular bet types in some detail.
Popular Bets
Here we will describe the common bets that you will find at all of the best online sportsbooks in the US. This will give you a great overview to help you choose which types of bets to employ in any given scenario. Let's start with the simplest type of wager you can place, a moneyline bet.
Moneyline
When betting moneyline betting, you are wagering on who will win the sporting event outright. You stand to win more money if you bet on the underdog than you would on the favorite.
An example of a moneyline bet would be to wager that the Denver Broncos will beat the Oakland Raiders in an NFL game. Another would be that Novak Djokovic will beat Roger Federer in a tennis match.
To give an idea of how it would work in practice, let's take a look at an NBA example below. Here the Los Angeles Lakers are playing the Denver Nuggets.


As you can see, the Lakers are +205 underdogs on the moneyline, while Denver is favored at -245. This means that you must bet $100 on the Lakers to win $205, while you would have to bet $245 on the Nuggets to win $100. Since the Nuggets have been deemed more likely to win, the moneyline involves a large discrepancy to account for this lopsided affair.
Point Spread
The point spread is more popular than the moneyline for some common American sports. Though a slightly more complicated form of wagering, spread betting can be more fun. Introducing a spread is another way to even the action in sporting events in which one side is more likely to win than the other.
We will use our Lakers/Nuggets example once again. As the Lakers are the underdog, they are +6.5 on the spread, while the Nuggets are -6.5.
This means that the Lakers can lose by as many as six points, and you win your bet on Los Angeles. The Nuggets must win by at least seven for you to win if you bet Denver. Using a point spread, the house can offer close to even money on your wager, unlike with moneylines.
You will generally see odds close to -110 for sports like the NBA and NFL on both sides of point spreads. You must bet $110 to win $100.
This is how sportsbooks ensure a profit regardless of the event's outcome. If the public bets close to even amounts of money on both sides, the sportsbook will collect some money (known as vigorish, or the sports betting "vig"). This is the reason the odds will be set to -110 or thereabouts rather than even money odds.
Total
Outside of the moneyline and point spread, betting on the total (over/under) is the most rudimentary option. Here you are wagering on how many points will score in the game overall, both teams combined. Which team wins has no bearing on your wager.
We can use our same NBA example with the Lakers and Nuggets. The total is 222.5, meaning that if 222 or fewer points are scored, the game goes under. If 223 or more points are scored, the game goes over.
In the case that a total is even, like 222, a tie would be possible. If exactly 222 points are scored, bettors receive their money back on both the over and the under, and there is no winner.
Totals betting is a fun way to simplify what you are rooting for, as it doesn't matter what team scores or doesn't. You just root for offense or lack thereof.
Parlay
In some ways, a parlay is not as much a bet type as a way to combine multiple bets of varying types. Parlays simply involve pairing betting selections together into one bet. These could be moneylines, point spreads, totals, or other types of wagers we will get to later.
The more selections or "legs" you add to a parlay, the more money you stand to win on the bet if they all hit. The downside is that if even one selection loses, your entire wager loses.
This makes parlays a high-risk, high-reward option. While it is fun to have the opportunity to win a lot of money for a small investment, parlays make it easy to lose. With parlay betting, you can hit on most of your betting picks but still lose money if they don't all win together.
For a simple real-life example of a parlay, below we are combining the aforementioned Lakers on the point spread at -110 with the Miami Heat at -105 on the spread. As you can see, the parlay has odds of +272, meaning you would collect $372.72 on a $100 wager. Therein lies the appeal of parlay betting.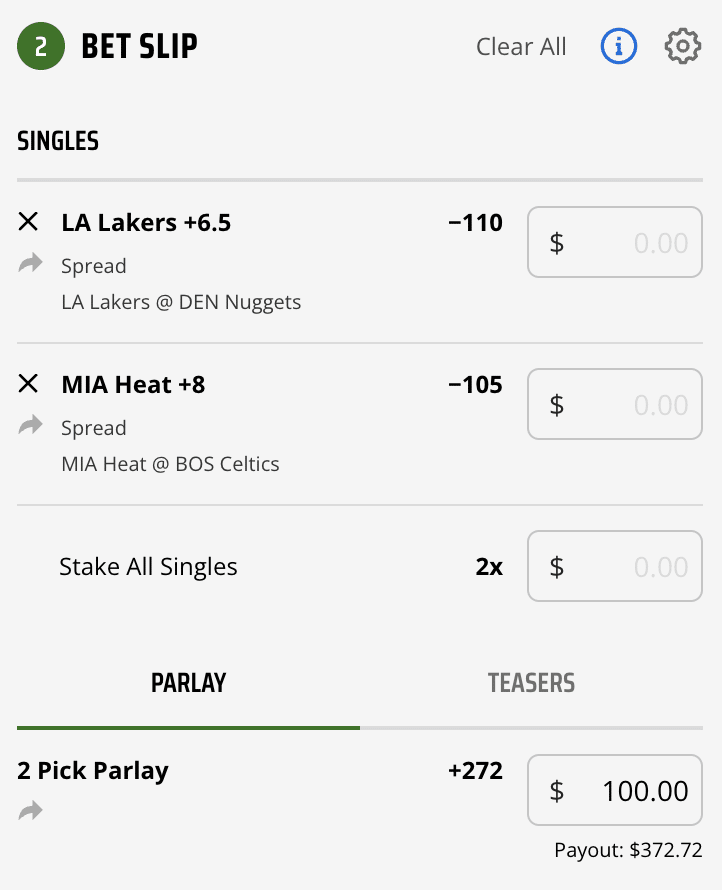 Same-Game Parlay
A same-game parlay is not different than a regular parlay but is worth discussing in its own right. Here you are simply creating a parlay out of multiple betting selections from the same game. An example would be betting on the Lakers on the point spread and the over, as shown below.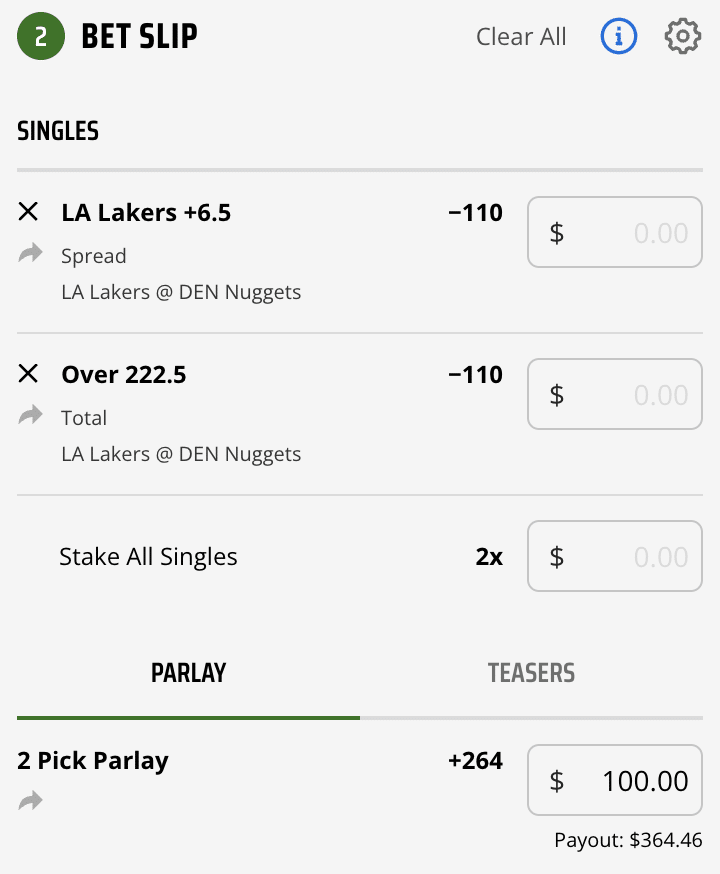 Sportsbooks will sometimes disallow certain same-game parlays. The reason is that they can give the bettor an advantage if there is too much correlation between the two events occurring. This can be particularly true when prop bets are introduced, which we will get to later.
When same-game parlays are allowed, they can, at best, offer some advantage for the bettor if you can find positive correlations. On top of it, same-game parlays can make watching a single sporting event more fun since you have increased action.
A teaser is a lot like a parlay in that you are combining multiple betting selections. The difference is that teasers enable the lines to be moved in your favor. This makes the risk lower than a standard parlay.
However, the gradient payouts based on your number of selections are also lower. This means that teasers are less enticing in terms of pure payout. Still, they give you a significantly higher chance to win your bet.
Let's use our Lakers/Heat example, yet bet a teaser instead of a standard parlay. A standard NBA teaser example would be a four-point teaser. This means that instead of +6.5, the Lakers are now +10.5 (four points in your favor), while Miami comes in at +12 instead of +8.
For the sake of understanding the concept, the same would apply if you bet the favorites. The -6.5 Nuggets facing the Lakers will now be -2.5, while the -8 Celtics against the Heat will be -4.
Below is an example of how the Lakers/Heat point spread teaser would look on a sportsbook. As you can see, although you are pairing two betting selections, the odds are still close to what they would be on a single wager on either team.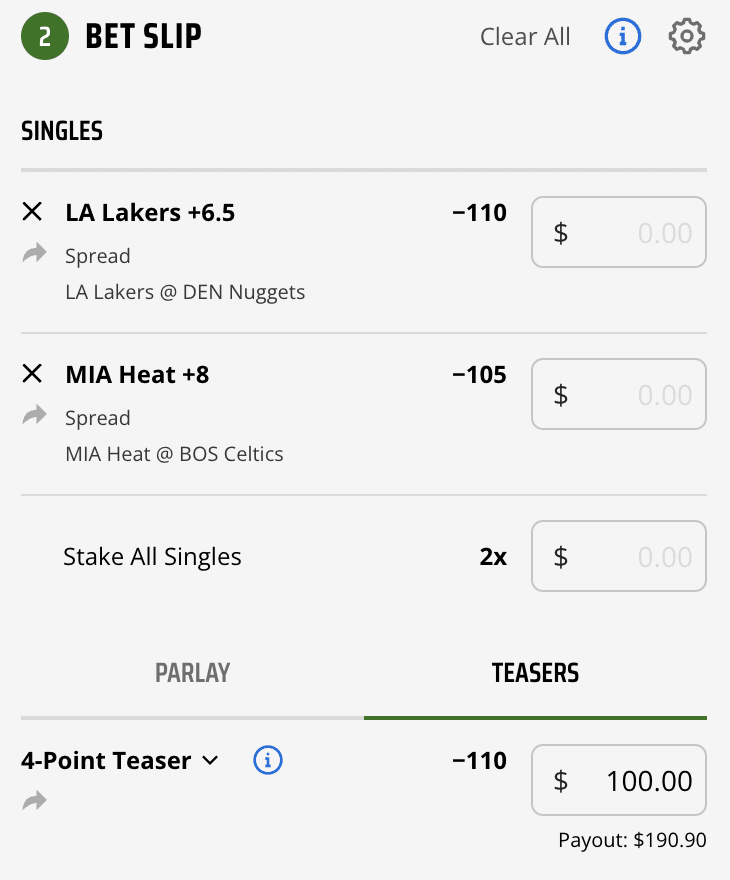 The reason the odds are barely changed is that you are "teasing" the lines significantly in your favor on both betting selections, making them far more likely to win. Remember that if you add more selections to a teaser, your payout will increase, just as with a standard parlay.
Round Robin
A round robin is very similar to a standard parlay in that it is, in fact, just a combination of various parlays. With a round robin, you are able to combine a number of betting selections into a number of individual parlays.
Perhaps you have four total bets you want to round robin together into every parlay combination. Using a round robin builder at a sportsbook, these combinations will all be made for you rather than you having to create individual parlays manually.
A total of 11 parlays are possible with your four selections (if you include the full four-team parlay). It would take some thinking and time to place each parlay separately, while a round robin makes it easy.
A benefit of round robin betting is that you mitigate your risk compared to just placing a single parlay of all your selections. In the instance of a four-team round robin, if you bet a four-team parlay alone, you lose your money if one of the four teams loses. In contrast, with a round robin, you would still gain from three of the four selections hitting.
Round robins are a beneficial bet type both for convenience and risk management. The bad thing about round robins is that your upside is somewhat capped compared to placing a simple parlay for the same amount of money as your round robin.
Prop Bet
A prop bet is short for a "proposition" bet. It refers to a proposition regarding a player statistic, team statistic, or outcome in a sporting event overall.
A player prop bet in action would be betting on the over/under for the number of points a player will score in the Lakers/Nuggets game example. You can see what this would look like on a sportsbook below.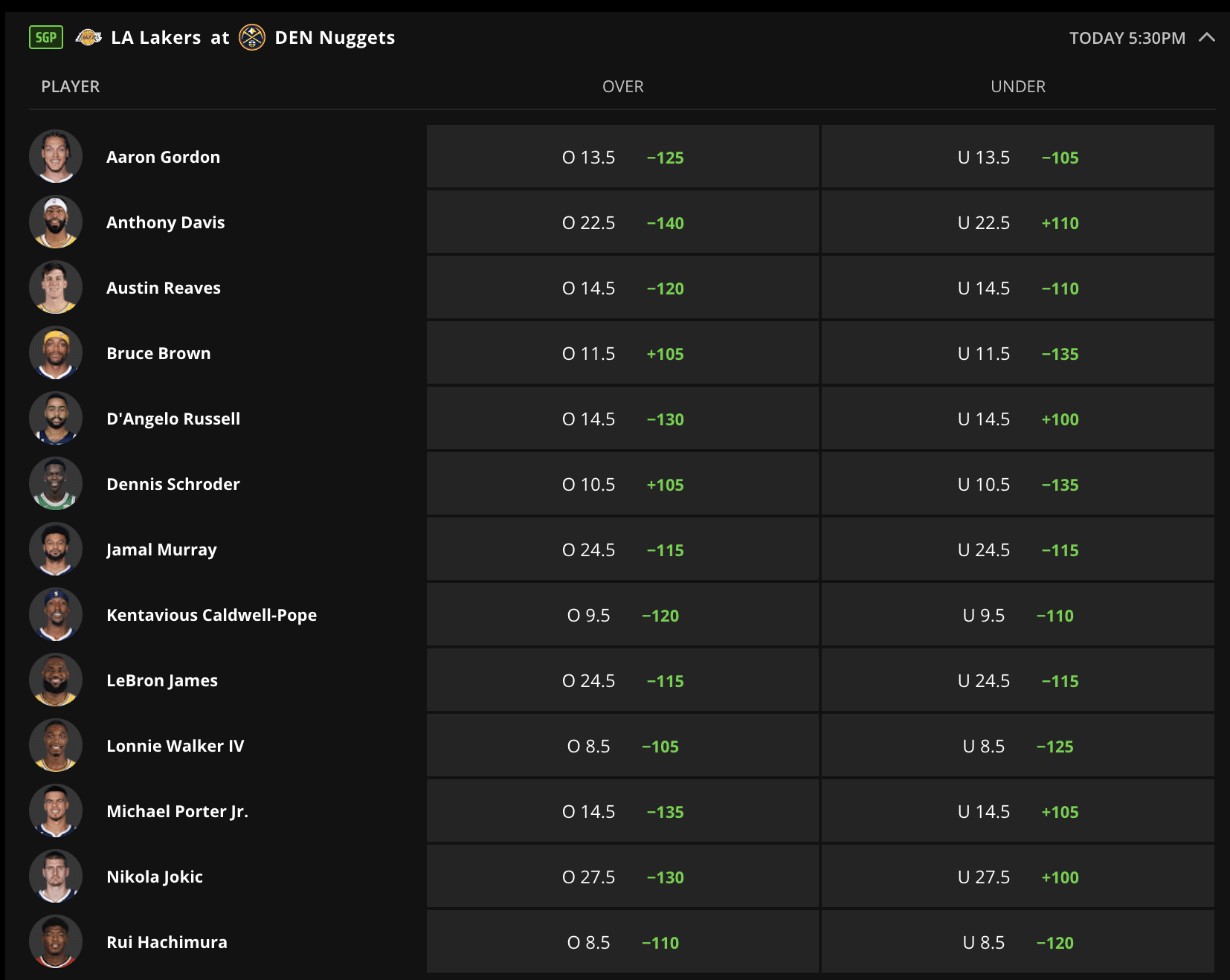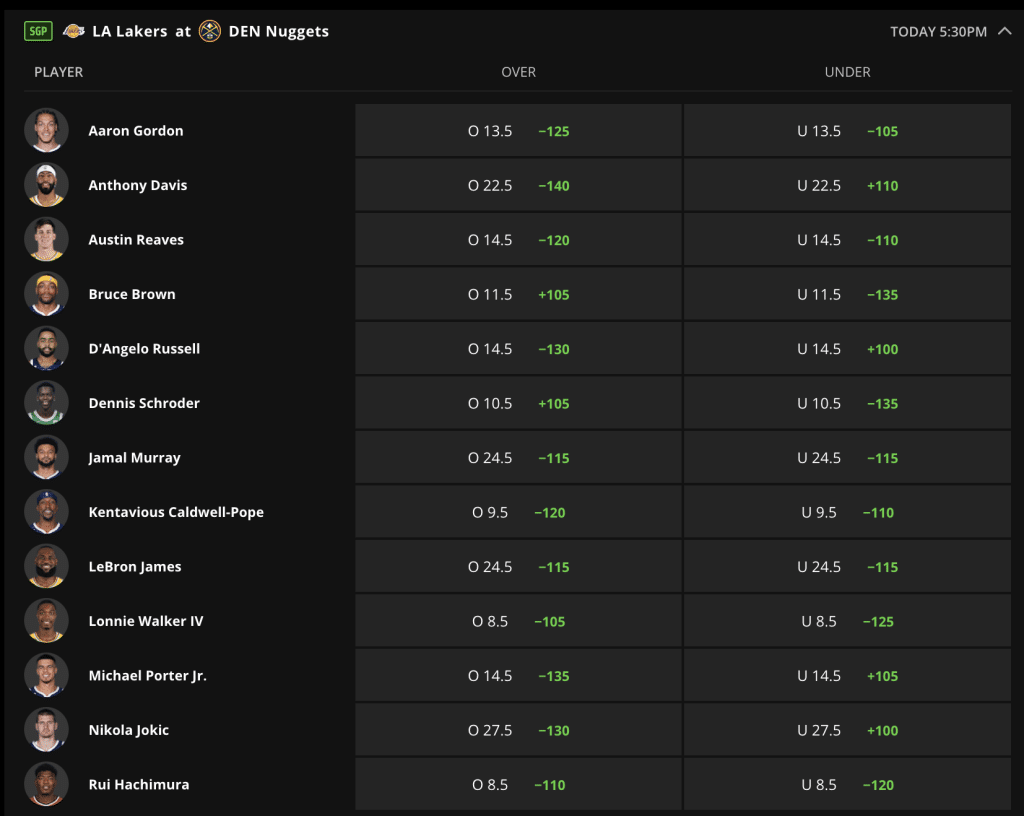 Other types of props would be a team prop, like the total points that the Lakers or Nuggets will score. Game props are also available, like guessing the exact score of the game. There are also novelty props, like wagering on the result of the coin toss at the Super Bowl.
Prop betting is a fun way to bet on micro outcomes within sporting events rather than larger results like who will win or the total score. It can also be easier to find lines and odds that benefit the bettor in the prop market.
Futures Bet
Futures bets are wagers on long-term outcomes involving a player or a team. An example would be to bet on what NHL team will win the Stanley Cup or what MLB player will win the MVP award.
If you want to make the best out of your money regarding long-term entertainment, futures are a great option. Rather than the results of your wager being known immediately, you will have action over a longer period of time. This is assuming your bet remains feasible for the duration of its figurative lifespan.
Below is an example of the futures betting market for the 2023 MLB season World Series winner. Each team has different odds to win the World Series based on their relative likelihood at any given time throughout and before the season.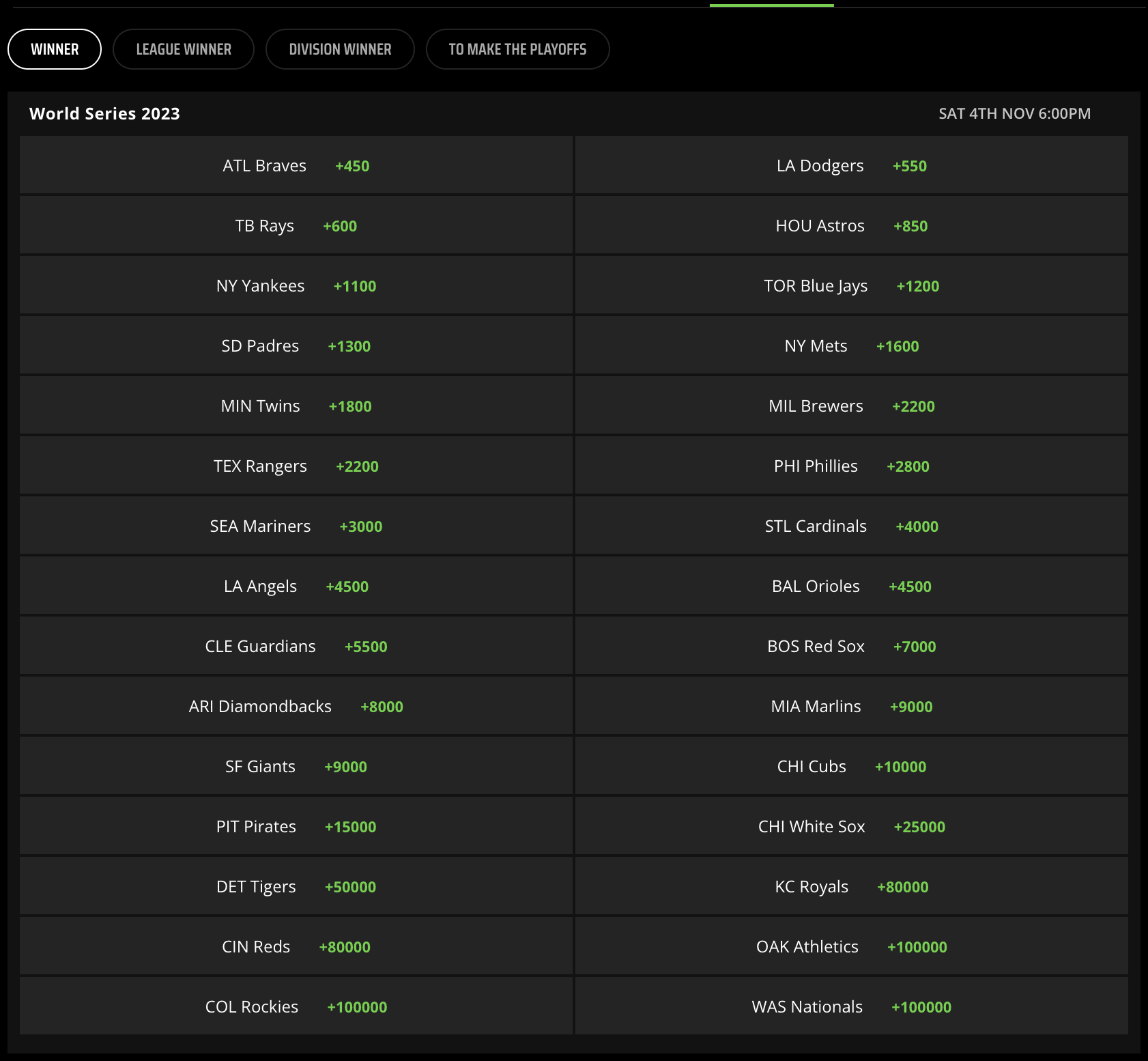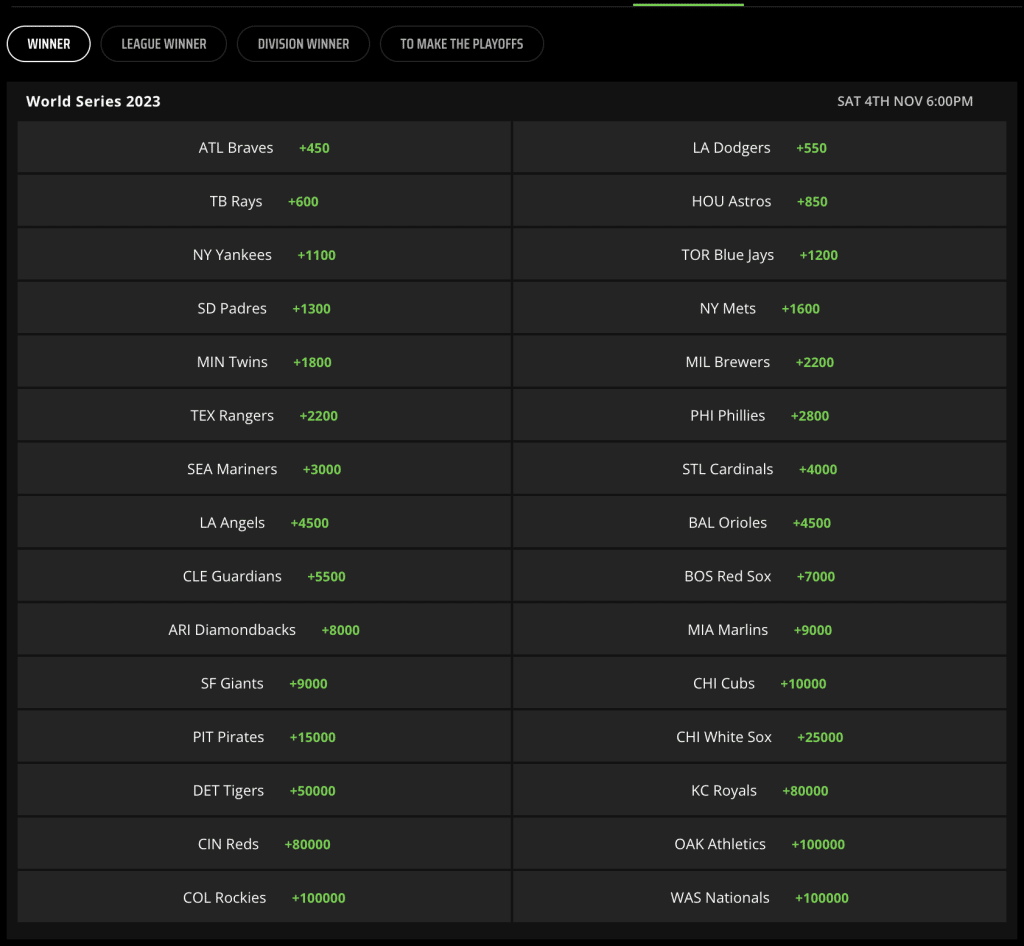 Live Betting
When discussing the types of wagers you can make on sports, it is important to discuss in-game betting or live betting. In the era of online sportsbooks, betting in-game has become more and more prominent. Multiple examples of the different types of betting we have discussed can be offered for live events in real-time.
As a sporting event moves on, sportsbooks will offer ever-shifting lines and odds on moneylines, point spreads, totals, and props. These can also be parlayed together and played in combination with pre-game wagers.
In addition, micro-betting is offered at some online sportsbooks. This involves wagering on small outcomes within sporting events, like what will happen in a particular at-bat of a baseball game. Micro-betting is one of the sports betting types that has really taken off in recent years as online wagering becomes more common.
Live betting can be a great way to get some action down on a game that is already started. Perhaps you forgot to place your wagers before the game or didn't realize you would be engaged in a sporting event. You can also use live betting as a means to place another bet on an event for which your initial wager has failed.
For astute bettors, live betting can also be an excellent means of finding beneficial lines and odds. Bet hedging can also be employed using the live betting selection at sportsbooks. There are tangible benefits to in-game wagering for serious bettors and casual enthusiasts alike.
Best Sportsbooks for Betting
Now that you have a good understanding of the various types of bets you can place, you'll want to put it into practice. We have compiled a list of the best online sportsbooks that offer all of the popular bet types we have listed.
Bet Types for Popular Sports
Let's take a look at some of the most common sports in US betting. We'll discuss what bet types are available and how they might differ from sport to sport. Let's start with the most popular US sport of all, football.
Football Bet Types
You will find a wide selection of all of the top bet types for NFL and NCAA football. These include moneylines, point spreads, totals, all of the multi-leg bet types, props, and futures. As the most popular American sport, you will have access to the broadest betting selection for NFL wagering.
Basketball Bet Types
Basketball is another sport where you will be able to engage in just about any bet you can think of at top sportsbooks in the US. This includes moneylines, point spreads, totals, multi-leg options, props, and futures. The NBA features a robust selection of available bets, and you will also find a nice variety of NCAA basketball options.
Baseball Bet Types
As America's pastime, baseball is a great sport to bet on. You will find an excellent selection of standard bet types like all of those we have discussed above.
In baseball, there is no such thing as a point spread, but the equivalent is called the "run line." This is important to note if you are going to engage in baseball wagering. The MLB is also excellent for in-game betting due to its relatively slow pace making it easy to wager on micro-outcomes.
Hockey Bet Types
Hockey is an exciting sport that is popular throughout North America. An excellent selection of betting options is available at the top US sportsbooks for the NHL.
Please note that in hockey, there is no point spread betting. There is, however, an equivalent which is called the "puck line."
Puck line betting is a common hockey wagering option. Please keep this in mind when looking to wager on hockey.
Soccer Bet Types
For soccer, you will be able to place wagers on various international leagues as well as America's own MLS at leading US sportsbooks. Common wager types like all of those we have discussed above are available for soccer, with some differences. One is that three-way odds are common in soccer, meaning that you can bet on either side or a draw.
Golf Bet Types
While not a traditional team sport like many of the most popular US betting options, golf, and the PGA, in particular, is a prevalent gambling sport. You can bet on the winning golfer, finishing positions, and various props when wagering on golf at top US sportsbooks.
Tennis Bet Types
Tennis is not as trendy of a betting sport in the US as some. Still, you will find an excellent selection of tennis bets at leading sportsbooks. These include betting on which player will win the match outright, spreads, and player and match props.
MMA Bet Types
MMA and the UFC, in particular, have experienced a major rise in popularity in recent years. You will find that UFC betting options are similar to those of boxing. You can wager on who will win matches and the over/under on total rounds.
Boxing Bet Types
While MMA has become very prevalent in the US, boxing still holds significant sway in the hearts and minds of American bettors. Common boxing bet types include match winners, the over/under on rounds, fight props, and wagering on knockdowns in the match.
Horse Racing Bet Types
While not sports betting, horse racing is a popular form of gambling in the US. Various top online sportsbooks offer racebooks in conjunction with their sports betting offerings.
Please note that the majority of horse racing gambling in the US is pari-mutuel betting. This means that you are effectively betting against other bettors, not the house. Let's take a look at some common bet types in horse racing.
Straight Bets
Straight bets are the simplest way to bet on horse racing. You are betting on where your horse will finish in the race. Common examples include betting on a horse to win, place, or show.
Combination Straight Bets
With combination straight bets, you can wager on various combos. These include across-the-board (win/place/show) or for a horse to win/place, or place/show. Bets like this enable you to increase your potential winning outcomes in a horse race.
Exotic Single Bets
Exotic single bets are among the most popular ways to bet on horses. These involve wagering on the finishing positions of multiple horses at once. Examples include exactas, trifectas, and superfectas.
Exotic Multiple Bets
Exotic multiple bets are somewhat like exotic single bets but become even more complex. You are wagering on the outcome of multiple races on one betting ticket. This ups the ante on your potential winnings and the length of your betting action.
Exotic Combinations
Exotic combinations refer to exactly how you are choosing to implement your exactas, trifectas, and superfectas. Examples include making a straight bet, a box bet, a key bet, or a wheel/partial wheel wager.
Political Betting Markets
While people often consider sports when pondering betting, other markets exist. These include betting on the results of political elections, and awards shows like the Grammys and Oscars.
The ability to legally wager on politics is available in some countries. However, regulated sportsbooks in the US do not offer political betting as it is not legally permitted stateside.
You may, however, find non-sports betting markets for awards programs at some legal US sportsbooks in select states. Betting is not entirely limited to sports at legal US sportsbooks, but political betting is entirely prohibited at this time.
FAQs
What is the most popular type of bet?
What are the best types of bets?
What type of bet is most profitable?
What is the safest type of bet?