The right blackjack strategy will lower the house edge and, if you master card counting, might even allow you to win at the table. If you play with basic strategy, you can reduce the casino advantage to around 0.5%, making blackjack a game with one of the lowest house edges on the casino floor.
We will provide you with playing tips in this basic guide to blackjack. Continue reading to learn all about the best ways to play 21 in land-based casinos and at online gaming sites.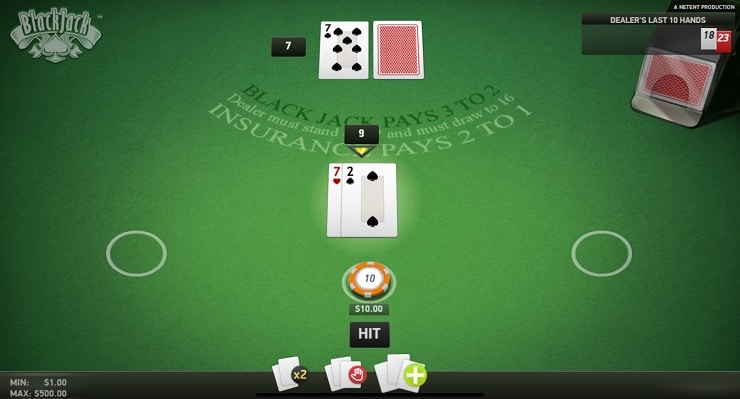 Blackjack Basic Strategy Chart
The first step to learning how to beat blackjack involves becoming familiar with a basic strategy chart. It provides an optimal way to play the game, with the correct move for every situation that arises at the table. This is based on the cards you have and on the dealer's upturned card.
We recommend printing the basic strategy chart, below, and keeping it in front of you or else simply opening this chart on your computer screen when you play. If you happen to be in a casino and have not memorized all the plays, you can consult a basic blackjack strategy chart as you play.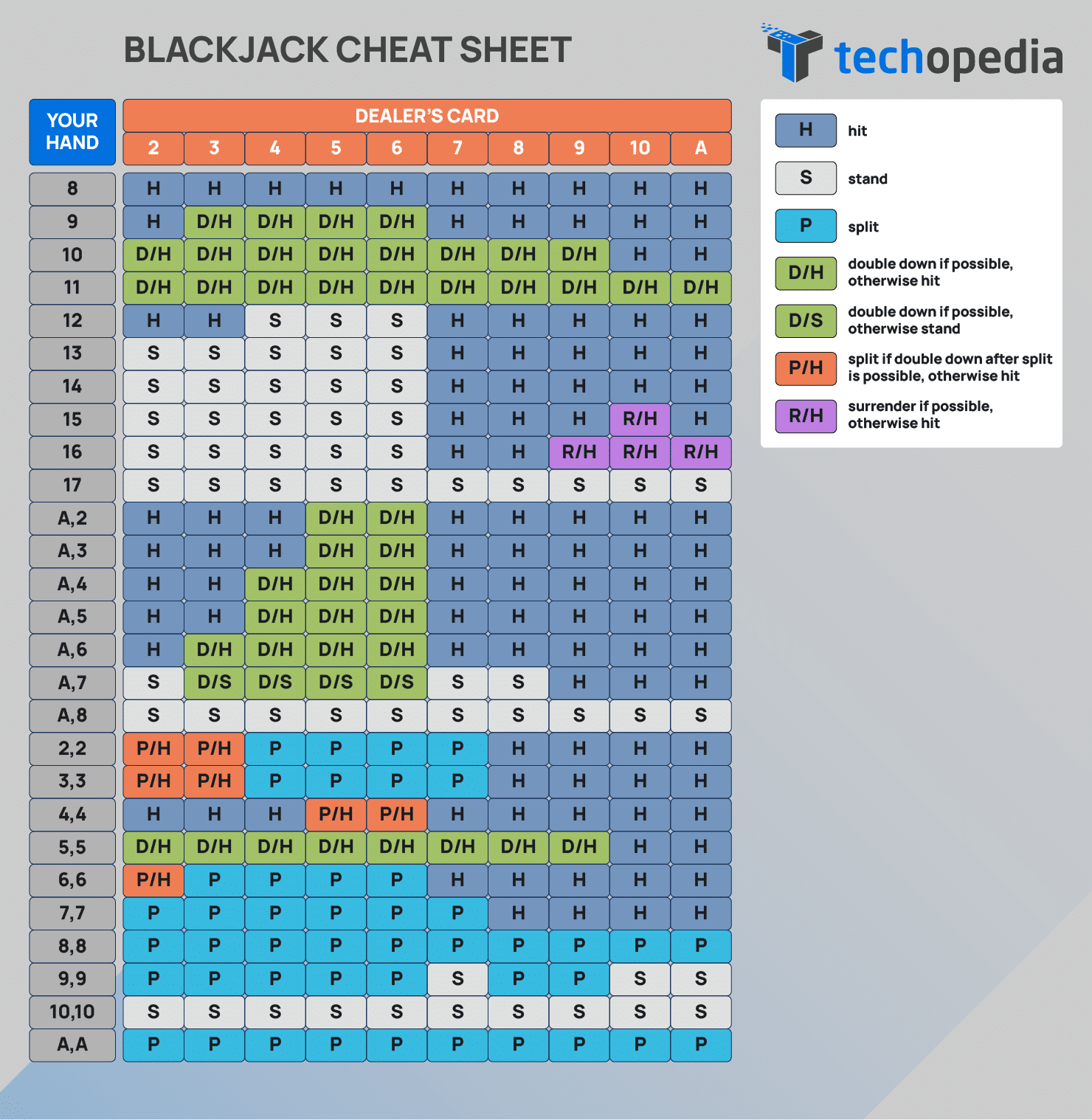 How to Read the Blackjack Chart
The blackjack cheat sheet can seem a bit overwhelming at first, but you can quickly understand how it works by consulting solutions for each situation as you play blackjack.
In the leftmost column, you will find your hand, which can be a total value or a particular starting combo of two cards. After you identify this based on the hand you have been dealt, you need to check the dealer's upcard. Move to the corresponding position on the right and the box will show you the best possible move for that situation.
You can stand, split, double down, or surrender. If doubling down or surrendering isn't supported in the version of blackjack you are playing, you can simply hit or stand instead. It's best to play games that permit doubling down and surrendering.
Looking for a wide variety of blackjack games? Sign up at Wild Casino
Main Takeaways from Basic Blackjack Strategy
To help you get started with the blackjack strategy table, you can take away some key points and incorporate them into your sessions right away.
Stand on 17+ – The first rule in blackjack is to stand on a hard 17, or higher. Even if the dealer is showing an Ace or 10, it is best to hold the hand than to try improving it further given the small number of cards that can be beneficial.
Double Down on 11 – A hard 11, made out of the first two cards you've been dealt, is one of the best starting hands in blackjack and you can take advantage of that by doubling down. This will help you make the most of the situation and maximize winning hands in the long run.
Split 8s and Aces – It is always best to split a pair of eights or a pair of aces as the starting hand. This is regardless of what the dealer is showing, even though it requires an extra bet. With nines, the situation is almost the same, but it is best to stand if the dealer has 7, 10, or Ace.
Never Split 10s – As per blackjack basic strategy, you should always stand with this starting hand. Having 20 gives you a great chance at winning the hand.
Hit on Ace-7 for Dealer's 9, 10, or Ace – While Ace-7 can be a good starting hand, it is best to hit if the dealer's upcard is higher than 8 because he is likely to form a stronger hand than 18.
Only Stand with 12 on Dealer's 4, 5, or 6 – In this spot, it is best to stand only when the dealer is showing a 4, 5, or 6. Otherwise, the correct move is to hit since his hole card will likely result in a hand stronger than 12.
Stand with 13, 14, 15, or 16 on Dealer's 2 through 6 – These hands are quite common when playing 21 and so it is important to know how to play them. For starters, it is best to stand if the dealer shows 2, 3, 4, 5, or 6. If the dealer's upcard is higher, it is best to hit and try to improve the hand. If surrender is available, use it on 16 against 9, 10, or Ace.
How Blackjack Basic Strategy Works
Basic strategy was devised in the 1950s. It was created by four US Army engineers, who used simple adding machines to find the optimal playing strategy for blackjack. The approach was later refined with the use of computers, with millions of blackjack hands simulated. Based on those results, the blackjack strategy chart was created in order to give players a clear view of the right decisions.
It is important to understand that basic strategy will not guarantee a profit in the short term, or in the long run. It is simply a way to reduce the house advantage and give you a better chance of losing less money. However, short-term results are often difficult to predict and luck still plays a big role in 21, no matter how low the casino's house edge is.
Nail a perfect 21 playing Blackjack Tournament at Wild Casino.
How to Learn the Basic Blackjack Strategy Chart
Since every move in the strategy table provides the best odds, blackjack players are advised to follow it to the letter. There are some blackjack tips and tricks to help you memorize the blackjack chart:
Practice for Free – You can play online blackjack in demo mode and take as much time as you want before making a decision. This gives you the freedom to think of your move and then check it against the chart to verify it. You can also practice with betting strategies for free.
Print the Table – It is generally best to have the blackjack basic strategy chart printed on a piece of paper next to you. You can quickly glance at it when you aren't sure of the right call to make. Plus, you can more easily learn how to win blackjack rounds with the table in front of you.
Use Flashcards – After studying the table, you can create some index cards with different hands and then say the right playing strategy out loud. This will help you to better solidify the information to win at blackjack when playing for real.
Don't Deviate – When practicing the strategy, it is best to avoid any deviations and just stick to the provided table. Making changes based on your feelings will defeat the purpose of playing with a proven strategy.
More Blackjack Strategies
After mastering basic strategy, you may want to incorporate additional approaches that can take you into the realm of playing the game with an edge in the long run. Some of these blackjack strategies – such as shuffle tracking – can be complicated. The easiest one to learn is card counting.
Card Counting
The most basic advantage-playing strategy is counting cards. It will provide you with a 1- to 2-percent advantage in the long run. However, you can only use this system in land-based casinos. Standard online games will shuffle the cards after every hand and negate card counting. Same with games in land-based casinos that use continuous shuffle machines in order to discourage betting strategies.
With blackjack card counting, the player keeps track of the cards dealt from the shoe in order to calculate what cards are more likely to follow. High cards are more beneficial when playing 21, so if the deck has more paint cards, 10s, and Aces, your advantage increases and it makes sense to increase your bet. It also opens the door to additional doubling-down opportunities.
To keep track of the cards dealt from a shoe, players start a count and add one for every 2, 3, 4, 5, or 6 dealt on the table. For 7, 8, and 9 cards, the count doesn't change. If a 10, J, Q, K, or A comes up, the count goes down by one.
Once you learn how to count cards in blackjack, you raise your bet as the count goes up. But it is more complicated than that. You also have to keep track of how many decks have been dealt – from, say, a six-deck shoe – and to sometimes deviate from basic strategy based on the count (for example, if the count is -1, you would hit with 13 against a dealer's 2). A good guide to card counting is the book "Blackjack Blueprint" by veteran card counter Rick Blaine.
Choosing the Right Blackjack Game
Once you become comfortable with the basic strategy chart and you know how to beat blackjack difficult spots, you need to pick the right games. Small variations can make a game increasingly favorable to the house. Look for these rules and play set-ups that lead to enhanced results for players:
Single Deck – The more decks used to play the game, the higher the casino's house edge will be. As a result, having fewer decks in play is least advantageous for the house. Single-deck blackjack stands out here, but it also needs to have the other mechanics.
Blackjack Pays 3:2 – An important aspect to check before taking a seat is the payout for a natural 21, made from the first two cards. This should be 3-to-2, but some blackjack games will offer a 6-to-5 payout for a natural blackjack, which is not as good.
Double Down Available – Another aspect to verify is if the blackjack version supports double down and for what hands. This option allows you to take advantage of some hands by doubling the stake for a single additional card, thus further lowering the casino's house edge when following the blackjack cheat sheet.
Dealer Stands on Soft 17 – This rule can affect the house edge by more than 0.2%. The rule is generally made clear to players as it is often written on the table.
Surrender – Another feature that is not available in all blackjack games is Surrender. It allows players to forfeit a hand and only lose half of a bet. With 16 against a dealer 10, for example, surrendering is the best play.
Double Down After Splitting – Doubling down after splitting two cards of the same value is not always an option, but it can be beneficial for the player according to expert blackjack tips. It is best to have this feature available but only use it in the right spots.
Live Dealer Blackjack
Live blackjack is a special version available online where players can see the dealers deal the cards at the table. All bets are done on the virtual interface and bets are paid automatically. However, you will have to make your decision within an allocated period of time, which can make it difficult for beginners to use basic strategy.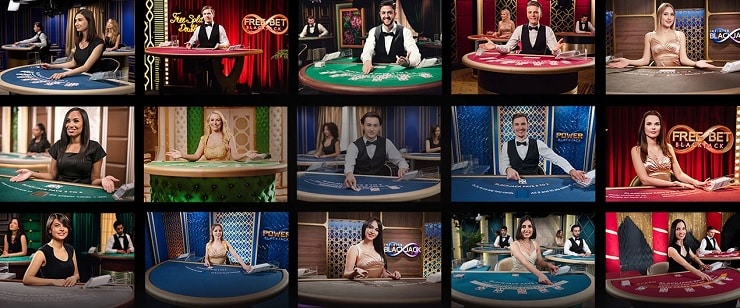 Evolution Gaming is the leading developer of live dealer blackjack games. It is available at some of the top US casinos. Evolution also offers multiple game variations, ranging from classic blackjack to Lightning Blackjack, which has random multipliers for some winning situations.
Enjoy plenty of exciting live dealer blackjack games at Everygame.
How to Win at Blackjack
Winning at blackjack is actually easier than it may first appear. With the basic strategy charts, you can play like a professional every time. Moreover, picking the right version and benefiting from the best blackjack RTP is much easier online since all of the options are just a few clicks away.
Once you have all of these aspects set, you can look at betting strategies that you can use in blackjack. A basic betting strategy is simply to double the bet after losing a hand, also known as the Martingale system.
This can go for multiple hands in a row until you win at blackjack. Then, you reset the bet to the starting value. That one bet will cover your previous losses and even provide a profit. Moreover, if you land a natural blackjack at a higher stake, you boost the profit even further.
It is important to note that this basic betting strategy requires a large bankroll for it to be successful. We recommend setting a small starting bet equal to around 2% of your playing balance. Avoid making any insurance bets or other side bets, and keep your blackjack cheat sheet close by.
Joining the Best Blackjack Casino
The right online casino can have a big impact on your overall returns when playing blackjack. You can benefit from casino bonuses, promotions, and rewards to help boost your winnings. Moreover, the top online casinos in the USA ensure safe and secure banking transactions. You can deposit and withdraw funds without issues through different payment methods.
We recommend playing at regulated online casinos within your state. For example, the best online casinos in New Jersey are all licensed and regulated by the Division of Gaming Enforcement in the state.
How to Play Blackjack
Let's take a step back and understand how blackjack works and how to play it. First of all, the goal in blackjack is to beat the dealer. You can do this in three ways:
Drawing a hand of higher value than the dealer's hand, without going over 21.
Standing on a hand that is 21 or lower, while the dealer goes over 21.
Having a hand value equal to 21 from the first two cards dealt to the player. This is called a "natural blackjack." If the dealer has less than 21, you win. If the dealer has 21 from his first two cards, the hand is a push and you neither win nor lose. If the dealer shows an Ace, you will have an opportunity to take even money.
To put it simply, you will lose the hand if you go over 21, or if the final value of your hand is lower than the dealer's hand when he didn't exceed 21.
Cards from 2 to 10 have their face value, while paint cards (Jack, Queen, and King) each have values of 10. An Ace can have a value of 1 or 11, depending on which will be more beneficial to your hand. For example, if you have 8 and Ace, you want the Ace to be 11 for a total of 19. If you have 10, 6, and Ace, you want the Ace to count as 1 for a total of 17, instead of busting with 27. The hand's total value is the sum of the cards that have been dealt.
You start the round with two cards facing up and you can also see the dealer's upcard, while his hole card will be revealed after all the players at the table end their turn. You can attempt to improve your hand by requesting additional cards, which is where the basic strategy charts come in. The dealer will also do the same when it is his turn.
Blackjack Playing Options
Your hand starts with two cards dealt from the blackjack shoe. You then choose which action to take. Blackjack is a game in which players' decisions can influence whether or not they win a particular hand. This is what makes basic strategy and card counting important to learn. You can make the following moves during a hand of blackjack:
Stand – You keep the value of the hand and you end your turn for the round.
Hit – You request another card from the deck, which will be added to the hand.
Split (when available) – Creates two hands from a pair of cards with the same denomination. Requires another bet.
Double Down (when available) – Requests one single card while adding another bet equal to the initial wager. Player's turn ends after that third card has been dealt.
Surrender (when available) – Forfeit the hand and lose only half of the initial stake.
Insurance (when available) – A common side bet in blackjack when the dealer shows an Ace. You generally put up half of your stake for a second bet. If the dealer has Blackjack (21 from the first two cards), you get back your insurance bet and the money you bet on the hand. If the dealer does not have blackjack, you lose your insurance bet. Essentially, with insurance bets, you are wagering that the dealer has blackjack.
How to Bet
While there are quite a few versions of online blackjack available in regulated states, the playing processes are often very similar. So, let's take this premium option from NetEnt and learn how to beat blackjack dealer hands.
The first step is to place your bets, which you can do by selecting the value of the chip you want to use. Then, click on the circle to place one chip down. You can bet multiple chips as long as you stay within the table limit. Moreover, this version supports up to three hands at the same time, so you can place chips on any of the circles.

After placing the chips, you can erase the bet or take back chips if you change your mind. Once you are happy with the wagers, click on the button in the middle to deal the cards.

You will receive two cards for each hand that you wagered on, while the dealer also receives two cards. All of your cards are showing and only one dealer card is visible to the table. Now, you will play each hand by turn, with a small arrow showing you where the action is. You can choose your move from the buttons at the bottom.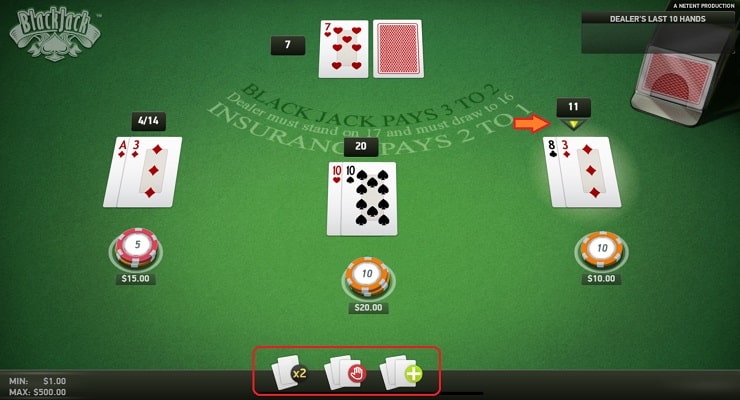 After all the hands are set, the dealer will reveal the second card, also known as the hole card, and deal more if needed. When you win at blackjack, the payouts are generated automatically. You can choose to rebet the same wagers or place different ones.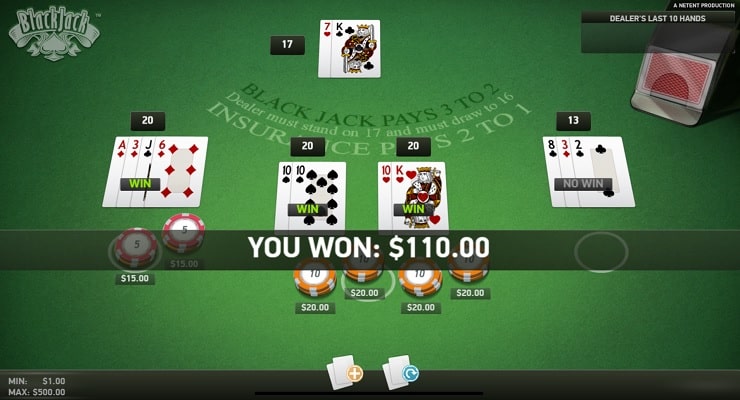 Top 5 Blackjack Tips
Before you hit the blackjack tables, check out these top tips:
Avoid Side Bets – Many blackjack variations come with side bets, like Perfect Pairs or 21+3. However, these betting options generally come with large house edge that can exceed 10%. It is best to avoid any side bets in blackjack, including insurance bets.
Set a Budget – Practice responsible gambling by setting a budget and sticking to it. Some of the best responsible blackjack tips are to not bet money that you can't afford to lose and to not chase losses in the hopes that you will win. Even the best betting strategies require a set budget.
Stay Sober – Blackjack basic strategy requires clear decisions and so it is best to avoid drinking alcohol throughout the session. Stay sober and pay attention to the hands if you want to win at blackjack. Moreover, if you feel tired or if the game isn't fun anymore, take a break.
Enjoy Your Winnings – If you had a good session and you feel like you have played enough, consider cashing out. Enjoy your profits and have fun outside of the game. A big part in knowing how to win in blackjack is knowing when to stop.
Change the Bet Size – Don't be afraid to change the bet size based on your session, especially if you are counting cards. If there are more high cards remaining in the deck, expert blackjack strategy suggests increasing the bet size to take advantage of the lower house edge.
Blackjack Strategy FAQs
How do you play blackjack?
What is the best blackjack strategy?
Do you stay or hit on 16?
Should I double down on 11?
Can I use a basic betting strategy in blackjack?