If you're looking for a new strategy to add to your ever-growing repertoire, then dutching betting is an easy-to-learn, yet valuable strategy that can be used across a wide variety of popular sports. Our dutching guide provides unique insights for expert sharp bettors.
Read on as we reveal the best dutching strategies, dutching meaning, and identify which US sportsbooks are perfect for finding the right odds.
What is Dutching Betting?
Dutch betting is a special type of matched betting strategy that you can try out at all the top US online sportsbooks. It requires you to cover all the possible selections in a single market so that the profit will be the same, regardless of the outcome.
Specifically, you are covering all possible outcomes where the profit will be equal no matter which outcome is successful.
The meaning of dutching dates back to the 1930s and comes from the numbers racketeer and American gangster Dutch Shultz. He used accountants to determine the right stake to manipulate trackside odds which helped the gangster profit greatly.
Ultimately, the purpose of the dutch betting strategy is to minimize your risk of losing money. To do this, very precise odds and stakes are required to correctly take advantage of a dutch betting opportunity.
Find numerous dutching opportunities at BetOnline.
How Dutching Betting Works
First, you need to choose a market such as a two-way moneyline on a football game. Next, you would place a bet on one winner. Now you'll need to either wait until suitable odds become available for the opposite outcome or you'll likely search for the right odds at another sportsbook.
The odds and stakes need to be just right so that the payout for either outcome results in the same profit. Calculating these payouts is referred to as a dutch betting formula.
Examples of Dutch Betting
Let's take a look at some examples of a dutch betting system in action to better explain how this technique works. We can look at an NFL game between the New England Patriots and Denver Broncos.
Sportsbook 1
Sportsbook 2
Patriots Odds
-200
Broncos Odds
+250
Stake
$30
Stake
$12.86
The total stake is $42.86
Profit
$2.14
Profit
$2.15
As you can see above, Sportsbook 1 priced the Patriots to win at -200. However, over at another sportsbook, the Broncos are priced at +250 to be victorious. Using a dutching betting calculator, you can quickly determine that a $30 stake at Sportsbook 1 and a $12.86 stake at Sportsbook 2 will result in a guaranteed profit of $2.14, no matter which team wins.
This is because our total stake would be $42.86 and the payout for either outcome is $45.
Dutching betting can also be used to take advantage of free bets and guarantee profits with a relatively low stake.
Sportsbook 1
Sportsbook 2
Patriots Odds
-200
Broncos Odds
+250
Free bet
$30
Stake
$4.29
The total stake is $4.29
Profit
$10.71
Profit
$10.72
You could place a $30 free bet at Sportsbook 1 and then place a real money bet at Sportsbook 2. Both bets would yield a profit of $10.71, no matter who wins. The free bet would pay out $45 but the stake is returned to the bookmaker, leaving $10.71. Your real money stake at Sportsbooks 2 of $4.29 would also pay out $10.71.
Looking for super competitive odds? Try BetNow today.
Pros and Cons of Dutching
Dutching is an incredibly simple strategy that requires a bit of math but is largely quite easy to accomplish. While there are many, many advantages to this popular strategy, there are a couple of drawbacks that should be considered before placing your first bets.

Pros:
Profits are effectively guaranteed.
Simple to understand and perform.
Can be implemented for any sport.
Can be used to guarantee profit from a free bet.
Cons:
It can be difficult to find the right odds and stakes.
Overly frequent dutching could get you banned from a sportsbook.
Best Dutching Strategies and Tips
Dutching is relatively simple but there are still a few crucial tips that we can provide that will make finding an opportunity even easier. These dutch betting strategies have been developed by our most analytical betting experts and can certainly aid in developing your skills.
Use two-way betting – Some markets have more than two, or even three, possible outcomes. Keep the math simple by sticking to two-way markets. This way, you only have to work out the stakes for two outcomes.
Use a dutching calculator – You can find a myriad of helpful and accurate dutching betting calculator websites and apps online. These calculators let you enter the odds of your chosen markets and you'll be able to adjust your stake to see how much you need to wager to place a dutching bet.
Stick to what you know – It can get messy trying to seek the perfect odds and stakes all the time, not to mention you risk exposing yourself to a bookmaker. You're better off sticking to a sport you know where you'll naturally see dutching opportunities while placing regular bets as well.
Gamble responsibly – If you're struggling to find any dutching opportunities, keep your bets moderate and within a set budget you can afford to lose. It's always good to do some research before wagering. Always gamble responsibly and never chase your losses.
Types of Sports for Dutching
Since dutching covers every single selection in a market, the strategy works for just about any sport. However, there are a few sports that are among the most popular for dutching in the US. These sports are fan-favorites and have several markets that suit dutch betting.
Enjoy dutching across multiple sports at Bovada.
Football
NFL betting is popular among dutching bettors chiefly because the sport offers so many markets. Potential dutching opportunities include moneyline bets, totals, correct score, half-time full-time, and even the first quarter market.
Basketball
Basketball is another popular sport for placing totals dutching bets. Different sportsbooks have different ideas of how many points will be scored, so you can easily find two sportsbooks that will create a positive dutching opportunity.
Horse Racing
Betting on horse racing is popular among dutching bettors but it's also the riskiest. Unless you manage to find races with six or fewer runners, you'll need a decent-sized bankroll to cover the large stake, and it's unlikely you'd try and back all the runners in an eight-horse race. The dutching betting strategy for horse racing is to bet on as many of the top six as you can.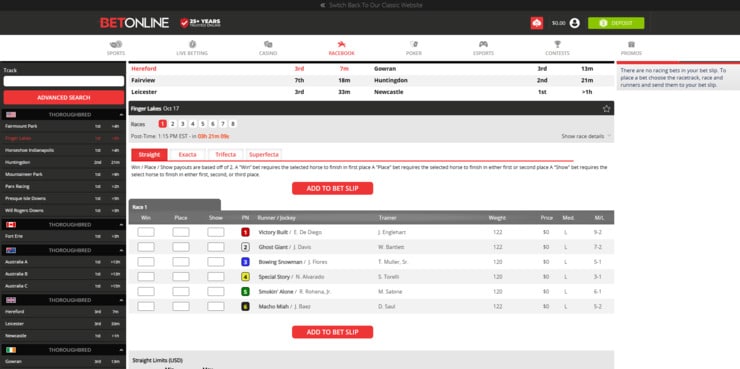 Bet Types for Dutching
Dutching is a very specific betting strategy that calls for fairly specific bet types. You won't be able to use this method on every market but there are plenty of popular bet markets where you can advantageously find value using dutch betting strategies.
Moneyline
This is the easiest market to use a dutching strategy. There are usually only two possible selections to make and you just need to bet on one outcome and then the other. Generally, a moneyline bet would be on which team or player would win a game.
Totals Bet
A potential dutching opportunity across multiple sports, this market is heavily favoured by NFL dutching bettors. The totals market requires you to predict whether a total combined score in a game will be over or under a certain number. For example, a scoreline of 32 – 15 (46) would be a great score if you bet over 44.5.

Correct Score
This market is popular among soccer bettors because league matches are reasonably predictable to within a couple of goals. You just need to predict the exact soccer score in a single game. The strategy is riskier though as very unexpected scores still happen from time to time, and it is unlikely you'll cover every possible score option.
Arbitrage vs. Dutching Betting
The dutching system is basically a form of arbitrage and there are very few differences. Firstly, arbitrage betting typically requires access to a betting exchange. You would place a bet on one outcome and then lay the other outcomes on the exchange.
Secondly, dutching betting aims to achieve the same profit regardless of the outcome, while arbitrage betting aims to secure any profit. This means one outcome could yield a $5 outcome while the other outcome may only produce a $1.75 profit.
Is Dutch betting legal?
Yes, there are no state or federal laws against the dutching system. It's worth knowing, though, that such techniques may be against the terms and conditions of some sportsbooks. This is especially true of using betting strategies when using free bets.
It's always a good idea to avoid using dutch betting strategies too often. Analytical and mathematical bettors will space these types of bets out and mix the strategy in with other bets. If a sportsbook identifies that you are dutching – and this typically requires very consistent dutching – they may choose to ban your account.
Can you make a living dutching?
Dutching can certainly be a profitable form of betting but the wins are usually small and incremental. It's also still a good idea to use the strategy less frequently since sportsbooks aren't overly keen on it.
The dutch betting strategy should be used as a fun and exciting way to bet rather than to make an actual living.
More betting strategies
Dutching isn't the only popular and profitable betting strategy that you can leverage to successfully gamble online. Check out a few of our other guides that cover both complex and simple strategies for sports betting.
How to Place a Dutching Bet
To get started implementing your very first dutching strategy, you'll need to register for a betting account. Top gambling sites have intuitive sign-up processes that only require a few of your personal details. We'll be using BetOnline for this example.
1. Create an account
Head to BetOnline and click on the green "Join" button to reach the sign-up forms. Complete the sign-up forms by providing your details such as your name, number, address, and date of birth.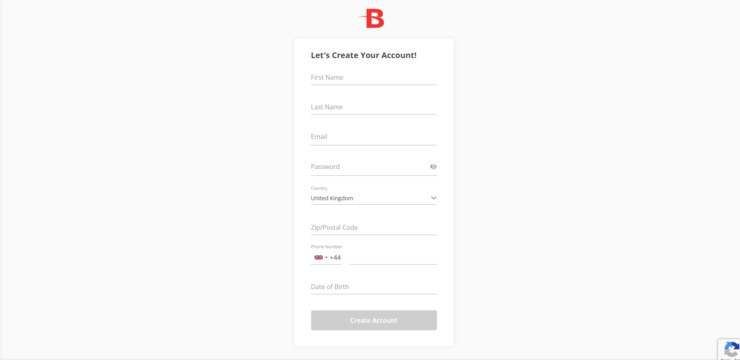 2. Claim your bonus
Head to the cashier and you'll also located the available BetOnline promo codes. Take note of which promotion you wish to claim because you can enter the code during the next step.
3. Make your deposit
Select a payment method and enter your promo code. Choose how much you wish to deposit and then follow the prompts to complete the transaction.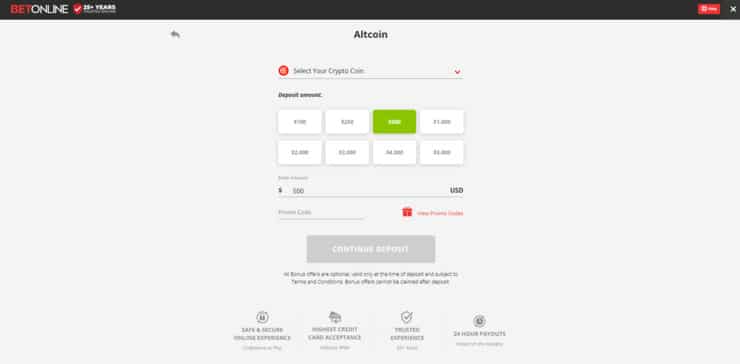 4. Find a market and bet
Find a suitable market and place your first bet. Next, either shop around to cover the remaining outcomes at different bookmakers or use the odds at your sportsbook of choice should they shift appropriately to suit your dutch betting formula.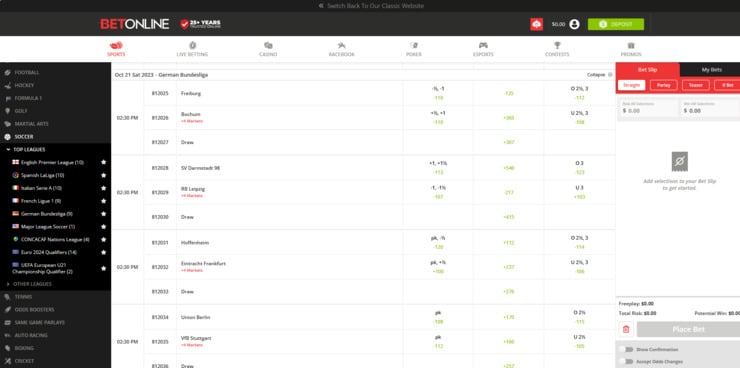 FAQs
What is dutching in betting?
What is the difference between arbitrage and dutching betting?
What is the dutching strategy in football?
How do you win at dutching?
Is dutching horses profitable?
What is an example of dutching?
What is the difference between dutching and matched betting?
Resources