Futures betting simply asks you to predict who will win an entire tournament but there are plenty of insights that can help you make accurate predictions.
Our futures betting guide aims to arm you with the tools to determine who will win your favorite league, before the first game has even been played. Read on to learn how to place a futures bet and get the hottest tips and strategies from our sharpest sports betting experts.
What is Futures Betting?
Think of futures betting as a moneyline bet, but not on a single, but the entire series, tournament, or league. Typically placed way ahead of the first scheduled game, a futures bet is a single market that asks you to predict which team or player will win it all. Some bookmakers may refer to this bet type as an "outright" bet.
Futures sports betting markets are usually released months in advance of a tournament or season and the lines will move as news regarding teams or players are announced. Global tournaments such as the FIFA World Cup can even be released years in advance.
Some futures markets remain open throughout a season or tournament and they will also shift based on the performances of the teams. However, it is also not uncommon for a sportsbook to close the market as soon as the first game begins.
Do you want to bet on the next World Cup today? Get early futures lines at BetOnline.
Examples of Futures Betting
For example, backing the Atlanta Falcons to win the 2024 NFL season is a futures bet. Backing the Falcons to win the National Football Conference would also be a futures bet. Futures betting odds are also given ahead of time for unique outcomes such as the Ballon d'Or winner or Heisman Trophy winner.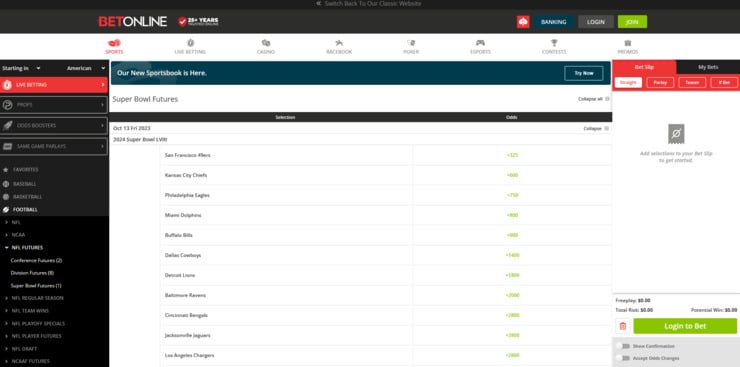 How a Futures Bet Works
Firstly, you would search for a futures market. For this example, we'll take a look at a Conference Winner in an NFL season. The team with the shortest odds, located at the top of the list, is the favorite and will pay out the least if they were to win. Teams with the longer odds are underdogs at the longest odds and they will pay out the most.
These markets may close before a tournament begins or they may stay open until the very end. Bets are settled when the official organization that runs the tournament formally announces the winner.
For example, the NFL winner market will settle several minutes after the conclusion of the Super Bowl but the winner of a European soccer league may take several hours as it can take time for the final table to be officially declared.
This means if you place a futures bet before the start of a US major league, it will be many months before your bet will be settled and you'll know if you have won.
How are Futures Calculated
If you have a basic understanding of how betting odds work, then your knowledge will apply to betting on futures markets too. American odds are displayed as a positive and negative number that either represents how much money you would win from a $100 bet or how much you would need to bet to win $100.
Odds of +100 means you would win $110 from a $100 bet – that's a $210 payout with the stake included. However, odds of -150 would mean you need to bet $150 to win $100 – $250 payout with the stake included.
For example, the San Francisco 49ers are favorites to take the NFC conference at +210 – which is a total payout of $31 from a $10 bet. However, the Green Bay Packers are heavy underdogs at +1800 which would pay out $190 from a $10 bet.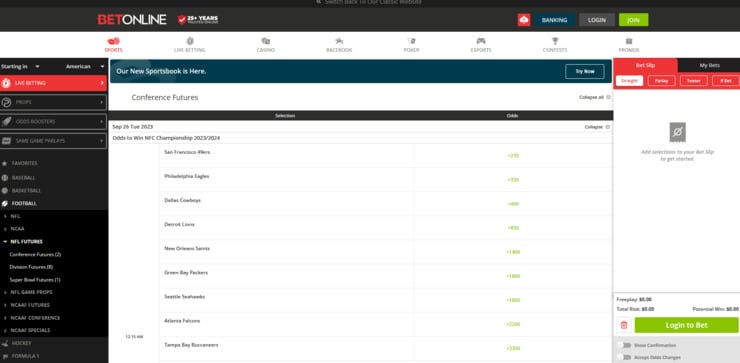 Sign up at Bovada for a wide variety of soccer futures markets.
Can you Add Futures Bets to Parlays?
Unfortunately, no. Futures bets cannot be placed into any parlay. You cannot create a parlay with two futures bets from the same market, the same sport, or even an entirely different sport. In fact, you can't add a futures bet into a parlay containing pre-game bets on any single game either.
How to Place a Futures Bet
Before you can enjoy betting on futures markets, you'll need to register at a top online sportsbook in the US. We recommend numerous offshore sports betting platforms on our site because they offer better futures odds and a wider range of markets than local US-based sportsbooks.
To help new bettors get started for the very first time, we've provided a very easy-to-follow guide on registering and placing a futures bet online.
1. Sign up
Head to the sports betting sites of your choice and register for a new account. Just access the sign up forms and provide your personal details as required. This should only take a few minutes and you'll just provide details such as your name, number, email, and address.
2. Check the welcome bonus
Go to the bonus or promotions section of the sportsbook to check the requirements of the welcome bonus. You may even find two potential offers. Take note of the promo code if needed. The cashier section at some sites such as BetOnline will even provide the codes so you can easily enter the correct one without having to search for it.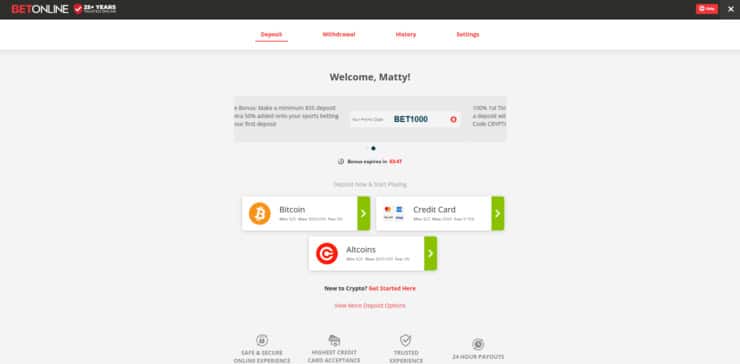 3. Make a deposit
Access the cashier section and choose a deposit method. Select how much you wish to deposit while considering the minimum deposit requirements for your chosen bonus. Follow the prompts to complete your transaction. For example, you might need to enter your credit card numbers or copy the operator's crypto wallet address.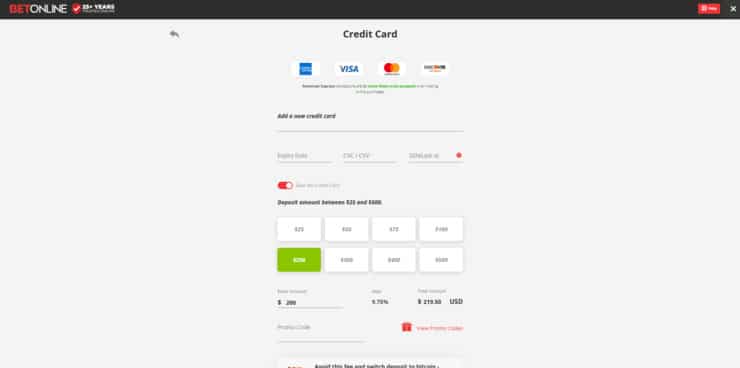 4. Choose a futures market
Switch over to the sportsbook and use the menus to find a futures market. You could also just search for your sport directly and locate the futures market that way. Make a selection and add it to the bet slip. Enter your stake and confirm your bet to complete the wager.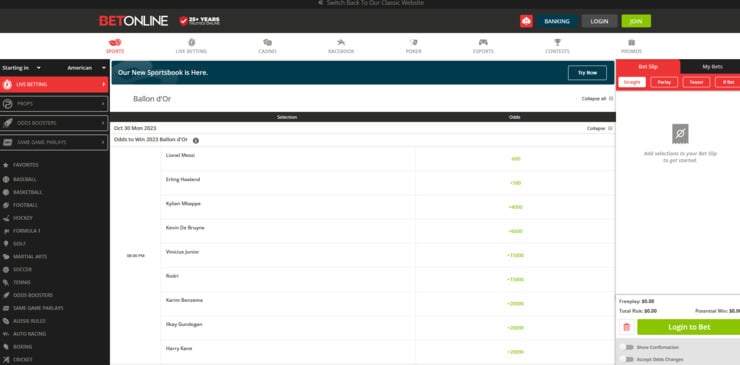 5. Enjoy the season or tournament
All you need to do now is enjoy the season, series, championship, or tournament and cross your fingers. With any luck, your sporting knowledge will pay off. You'll need to wait until the tournament is over to see if you have won.
Futures Betting Tips & Strategies
Ask any sharp about predicting the future and they'll no doubt have their own tailor made futures betting strategy. Not every strategy will work for you but there are a few key tips that hold true, no matter how you plan on betting on who will win an entire competition.
We asked our experts to provide their most valuable tips that they consider when deciding who to bet on before a season kicks off.
Consider latest news – Pre-season data can be crucial to placing the best futures bet possible. The best team in the league might seem like an obvious choice, but they might have also traded their best player away. Look at the new team line-ups, consider the fixtures, and keep an eye out for potential bumps down the road like injury prone players.
Look for trends – Historical data can be very useful for betting on futures. Look for trends in a player or team that occurs over several seasons or tournaments. For example, has a team been finishing in a higher place than the previous season over the course of a few years? Has a player made the last two finals but lost? This could indicate a winner.
Hedge a bet – You could hedge your futures bet by betting on individual games or even by backing the other team during a final, should your team make it that far. However, it is only best to hedge your bet if the chances of your original futures bet is more unlikely to win than your hedged bet.
Time your bets – Consider the best time to place your bet too. Sometimes early lines are advantageous because you can get an underdog at an absurd price before bettors jump on the market and the price settles. However, sometimes it is worth waiting because injury news and scheduling can adjust the odds favorably.
Gamble responsibly – One tip that must always be considered when sports betting on Futures markets is to engage in responsible gambling practices. Setting limits, taking time outs, and never chasing losses are all great examples of safe and responsible gambling.
Popular Sports for Futures Betting
Just about every major sporting league or tournament will likely receive a futures market at top online sports betting sites. The bigger competitions are more likely to receive various markets that include divisions or specific awards.
Rather than telling you about every single sport in the futures market, we have identified the most popular sports that licensed sportsbooks will cover with futures markets.
Basketball
Both the men's and women's NBA leagues are available for futures betting at top online sportsbooks in the US. You can also bet on tons of "Player Futures" which cover awards such as Coach of the Year, 6th Man of the Year, and Most Improved Player of the Year.
Season winner futures are also available for most of the other international leagues including the Australian NBL, Italian Lega A, French Pro A, and EuroLeague.
Football
Both CFL and NFL betting includes futures markets. This will extend to the conferences, divisions, overall tournaments, and the occasional special such as MVP. These markets can fluctuate quite a bit during pre-season as players move to new teams and the NFL draft picks help fuel speculation on who will be the best team that season.
Ice Hockey
Futures betting odds are offered for several ice hockey leagues including the NFL and KHL. You can bet on more than just the winner of the season or divisions though. For example some online sportsbooks offer NHL markets for the Hart Trophy and Vezina Trophy.
Baseball
Offshore sportsbooks cover so many exciting baseball leagues. You can bet on the eventual winner of the KBO, MLB, NPB, LMB and several smaller, more niche leagues. Major League Baseball futures also include Pennant winners, Division winners, and the winner of the World Series.
Looking for particularly strong futures markets for numerous baseball leagues? Sign up at BetNow.
Cricket
Each major cricket playing nation has several leagues that can feature a futures sports betting market. Additionally, there are a few franchise T20 leagues and lots of international events such as test series, ODI series and World Cups that you can place an early futures bet on.
The number of future markets offered for cricket can vary widely since some sportsbooks won't focus on cricket as much as others.
Soccer
Soccer leagues are very well covered at offshore sportsbooks and you'll be able to find futures betting odds for both the smallest and most popular leagues such as LaLiga, English Premier League, Major League Soccer – but also English League One and Turkey Super Lig.
Futures bets cover the winner of each league but special include variations of the Golden Boot in several leagues and the coveted Ballon d'Or.
College sports
You can enjoy futures sports betting markets for NCAA football and NCAA basketball at offshore sportsbooks. Besides college championship futures, you'll typically find an extensive array of NCAA specials including the Heisman trophy, conference futures, Boys of 98', and Wooden Award.
Pros and Cons of Futures Betting
Pros:
Great way to prepare for an upcoming season
Early lines provide plenty of sharp opportunities
Futures bets cover conference and division titles
Futures betting odds are often very valuable
Cons:
You have to wait all season to see if you win
Your funds will be tied up until the season concludes
Get consistently valuable futures odds at Everygame.
FAQs
What is betting on futures?
How does futures betting work
What are futures in betting?
Can you cash out a futures bet?
How do sports futures work?
What is an example of a future wager?
When should you hedge a futures bet?
Resources