Tournament poker is one of the most popular formats of this world-famous table game. Tournaments allow players to buy-in for relatively small amounts, with the potential to win massive sums of money. This is why you need the answer to one simple question – how do poker tournaments work?
We'll explain everything you need to know to get started, as well as strategies that will allow your poker games to become more profitable.
All You Need to Know About Poker Tournaments
Before you start playing, you must know how tournaments work and how they differ from other poker formats, like as cash games and sit-and-go. Different tournaments have their own rules, but we'll explain a general idea of what to expect. It's also very important that you understand the rules of poker.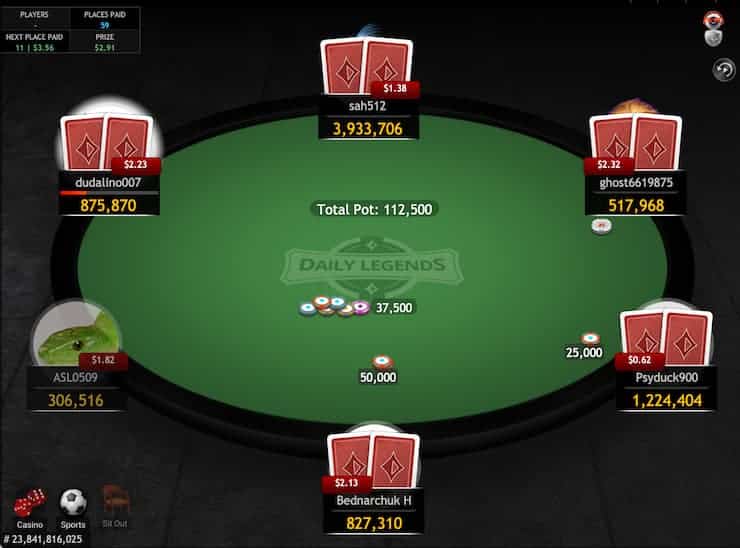 Choosing a Game Type and Tournament Set-Up
The first step is choosing your poker game type and the way the tournament is set up. While Texas Hold'em poker is the most popular game to play live and online, you'll find the widest range of games at online poker sites as opposed to brick-and-mortar casinos.
Other game types you might play in a tournament include Omaha, Stud, Razz, and H.O.R.S.E. Miixed poker games are much less common and will usually have much smaller fields than Texas Hold'em.
Poker Tournament Entrance Fees
If you want to play in a poker tournament, the entrance fee is the amount you pay to enter, also known as the buy-in. One of the best things about poker tournaments is the wide range of buy-in amounts you can play for.

All entrance fees come with what is known as a 'rake' attached. The rake is the poker room fee for you to play on their site. All online poker sites apply a rake, usually around the 10% mark. For example:
You want to enter a poker tournament with a $50 entrance fee
For the rake, you pay an additional $5 (10%) to the poker room for a total buy-in fee of $55
For beginners to poker, we recommend that you target 'freerolls' to get started. Freeroll poker tournaments are free to enter and often have a small cash prize for winning, or they might pay for your entry to a larger tournament. Use freerolls as a way to not only hone your skills, but to get used to the layout of the online poker room you're using, as well as the game type.
Tournament Seating
Once registered in the poker tournament, you will be seated at your table. The seating structure is random, and the casino will assign you a seat at the table with other random players who have paid the tournament entrance fee.
If you're playing online, this will be done automatically, and the table will open once you've sat down. If you're playing live in a casino, someone will tell you where you're sitting and then you can find your table accordingly.
After taking your seat, you can't move positions on the table. However, online you will move automatically depending on how many players are left. As players get knocked out, and tables get smaller, remaining groups of players can be broken up and moved to other tables. The goal for the poker room is to have an even split of players across each table.
Structure of a Poker Tournament
Tournament structure comes down to the blinds and how quickly they go down. If you're not sure about what blinds are, we recommend reading our poker guide for beginners first.
The speed at which the blinds go down will depend on the type of tournament you're playing. Standard blinds drop around every 10 to 12 minutes, with turbos every 3 to 5 minutes. Both games have extremes, with much longer and much shorter blind structures available. It simply depends on the game type.
Starting Stacks
Your starting stack is the number of chips that you start with in the poker tournament. All players start with the same amount, and you work your way up or down depending on what you win or lose each round.
The amount in your starting stack strongly affects how the tournament will play out. The more players who enter, the more chips are in play and, generally, the longer the game will take to complete.
A regular game might start with around 100BB – the big blind rule. This rule caps stacks like so:
The big blind/small blind of the tournament is $2/$1
The 100BB rule caps the starting stack at $200 ($2 x 100 big blinds = $200)
This is just a rule of thumb though – as with online poker these days, there aren't all that many 'regular' games. You'll find dozens of different nuances added to the format that change how games work.
Touranment Blind Levels
Each tournament will have what we call 'blind levels'. This is the frequency and the amount of chips the blinds increase by each time. It's an essential part of tournament poker which can massively change how the game plays.
A standard poker tournament might have a structure that looks like this:
Starting stack = 10,000 (100BB)
12-minute clock
50/100 (small blind/big blind)
60/120
75/150
100/200
125/250
150/300
Even small changes to how a typical blind structure works can make a big difference. For example, if the blinds were to jump every 10 minutes instead of 12, then you would get one less level per hour of play.
Final Table of the Tournament
The final table is for the last remaining players in the tournament. If it were a 9-max event, then it would be the final nine, or for 6-max, it would be the final six.
The goal for most players is to make the final table – this is where you can win big pots. The last remaining players will play out to be the overall winner.
Poker Tournament Prize Money
The tournament prize money gets divided based on the number of players and the amount in the pot. The unfortunate truth is that most players will not get paid. You must finish within a certain percentage of the entire field even to make a min-cash – in other words, the least amount of money you can win.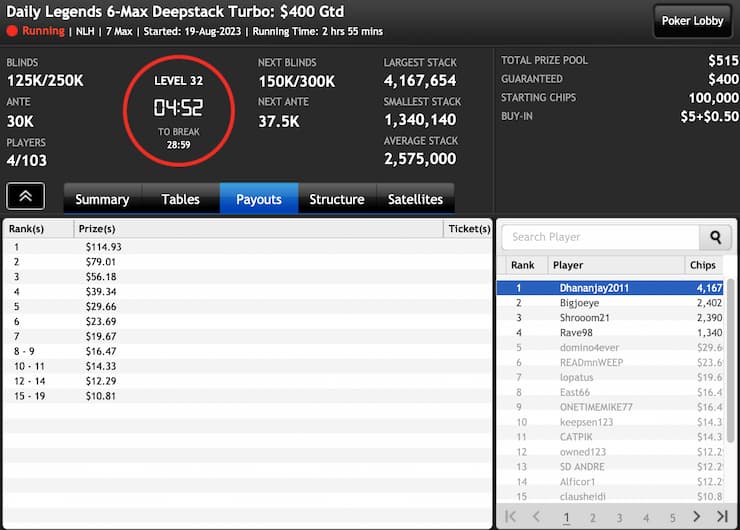 In our example above, you can see a total prize pool of $515. The player in first place will take home $114.93 of that prize pool, which is a little over 20%. In fact, the top three spots claim almost half of the prize money alone, highlighting how lucrative late runs can be.
You can also see that the min-cash is set at $10.81. This pays places 15th to 19th. Given the initial buy-in was $5.50, it essentially doubles the player's money for making a min-cash.
There are, of course, plenty of variables that will change how this works, but this is about as typical an example as you will find.
Poker Tournament Game Types
The beauty of tournament poker is the range of games you can play. It's not just a case of the type of poker variant – with Texas Hold'em, Omaha, Razz, and Stud being the most popular –  but how each game type within each of these works. This section outlines the range of games you can play and how each one differs from the next.
Multi-Table Tournament (MTT)
A multi-table tournament, also known as an MTT, is essentially any tournament played with two or more tables. Games are played out until there is a winner and tables can combine multiple players.
Freezeout Tournament
A freezeout refers to a game that is a straight knockout. Each player gets a set amount of chips, and the games play on until the last person stands. There are no rebuys or add-ons. You're out as soon as you run out of chips.
Rebuy Tournament
In a rebuy poker tournament, players have a set period to rebuy back in if they get knocked out. Depending on the rules, some games offer unlimited rebuys, while others have limitations.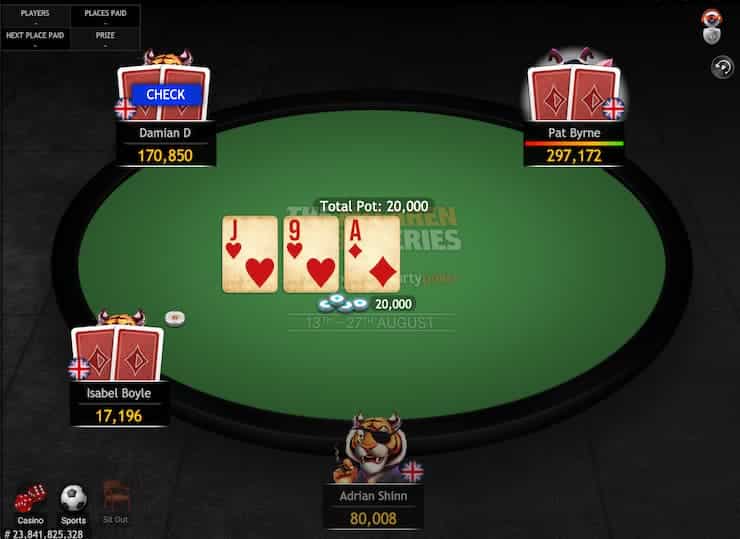 Once the rebuy period ends, the game returns to a more traditional knockout format. For example, the tournament might start with rebuys eligible for the first hour. To rebuy, you must pay the initial tournament entry fee each time. Some poker sites will include the rake for each buyback, so you might need to factor this into your bankroll strategy.
Add-on Tournament
In an add-on tournament, players can buy a fixed number of chips to add to their starting stack. They may also be eligible to add chips at set points of the tournament, usually after the first hour (at the break).
For example:
A game starts with 5,000 chips per player
Players can get one add-on at the start, and one at the first break
If a player chooses to add on at the start, their stack doubles to 10,000 chips
The entry fee for the tournament is the charge for each add-on
Turbo Poker Tournament
Turbos are all about the blind structure and how fast they move up in levels. Quicker than a standard tournament, you'll complete these in a shorter period of time.
For example:
A standard tournament has a blind increase at 10-minute intervals.
A turbo might have these anywhere between 3 and 5 minutes.
The games are much faster and, for the action lovers among you, more enjoyable. There are multiple variations of what poker rooms class as turbos. These include the likes of hyper turbos, where blinds are even faster.
Deep Stack Tournament
The term deep stack relates to the chips and blind structure. A standard tournament would have around 100BB starting stack and 10-minute blinds, but deep stack events can have upwards of 500BB to start, plus a longer blind structure.
Given the larger stacks, the games take much longer to finish, but can provide more value for money. The best players can get creative with larger stacks and play in more hands as a result.
Bounty Tournament
In a bounty tournament, each player has a bounty on their head. The person who knocks them out can win the bounty. Bounty winnings do not make up the main prize pool, players can win the prize pool regardless of whether they make the bounty money.
For example:
Each player has a $10 bounty
You knock ten people out before being eliminated
You win $100 in bounty prizes (paid in addition to any prize money from the main part of the poker tournament)
These are some of the most exciting MTTs that you can play. The dynamic feels very different, with players acting more aggressively as they try to eliminate their opponents.
Satellite Tournaments
Satellite tournaments offer the chance the win seats at higher buy-in tournaments instead of prize money. They are one of the best ways to play prestigious events, such as the WSOP Online series, without paying the massive entry fees that come with these games.
The number of seats you can win depends on the buy-in and the number of players. For example:
You pay $10 entry for your satellite game
Winning this game wins you a $200 ticket to a larger game
For every 20 players, there will be one seat on offer in the larger game
Shootout Tournament
In a shootout, players compete at a single table, with winners progressing to the next round. The format continues like this until there are only enough players for a final table.
Payouts will vary – some will only pay those that make the final table, or the winner of each winning round – before a larger prize pool on the final table.
Heads-Up Tournament
A heads-up tournament is a knockout event where players play heads-up (1v1) to see who advances. It's essentially a knockout bracket, just as you would find in sports like tennis and soccer. It's widely regarded as one of the more exciting formats due to the speed it moves through the levels and the games.
Prize money will be based on how far players make it through the bracket. If there were 128 players, it might only pay once they reach the final 16.
Sit-and-Go Tournament
A sit-and-go is technically a tournament but is played on a single table instead of multiple tables. The number of players will be fixed at the start, and then it works down to the winner in a knockout format.
It will depend on how many entrants there are as to how many players get paid. In a 9-max game, the top 3 get paid. In a 6-max game, only the top 2 might get paid.
Freeroll Poker Tournament
A freeroll is a multi-table tournament that costs nothing to enter, but offers cash prizes or sometimes a ticket to a larger event for the winners. Freerolls are great for new online players to get familiar with the game and the poker software.
Most online poker sites have a series of freerolls that new players can enter as part of a welcome package. If you're starting with a low bankroll, then creating a larger bankroll with no financial risk is ideal.
Are Poker Tournaments Different from Cash Games?
Tournaments and cash games differ widely from each other. As part of learning how poker tournaments work, it's important to understand the distinctions between the two.
Before Play Begins
The main differences between poker tournaments and cash games before gameplay are:
Buy-in and chips – Tournament players have a fixed buy-in amount, and for that buy-in get a set number of chips. Each buy-in contributes to the prize pool, so you can't buy back in once you get knocked out. With cash games, players bring their own money and can re-buy or leave the game anytime. It's much more flexible.
Structure and blinds – Before the start of the game, the casino fixes the blind level and tournament structure. This won't change but each level will increase incrementally as the tournament progresses. Cash games have a fixed limit, and blinds will not increase. Players need to move up a level to play higher stakes.
Payout structure – The tournament starts with fixed payouts. The amount of money players can win is based on the number of entrants. Some tournaments will have guaranteed prize money, as stated before the start of play. Cash games don't have a prize pool – players exchange chips for pots they've won. Theoretically, there are no limits on the amount you can win.
During and After Play
The main differences between poker tournaments and cash games during and after gameplay are:
Time investment – Tournaments have a fixed start time and can last hours, depending on the number of entrants and stack sizes. Cash games have no time limits, and players can play for as long as they want, making these games much more flexible.
Elimination vs. continuation – In a tournament, players get eliminated when they run out of chips. To win, players must last as long as possible to make a final table. Cash games have no elimination, and players may come and go as they like.
Strategy – Tournament strategy involves an element of survival to last as long as possible. More aggressive plays help when the blinds increase and stack sizes dwindle. In cash games, players can afford to be a little more cautious and concentrate on making profitable decisions, given that they can reload at any time.
Risk vs. reward – Tournaments allow players to win huge sums of money for a relatively small buy-in. However, they are extremely volatile, and variance plays a huge role over the short term. Cash games provide smaller wins but on a more consistent basis. It's possible to balance variance as players generally can create a larger sample.
Variance – You can play perfect poker in a tournament and still bust out early due to bad luck. In cash games, you can rebuy, and the swings are generally a little less dramatic.
What are Guaranteed (GTD) Tournaments in Poker?
GTD poker tournaments mean that the poker room sets a minimum amount of prize money for the event. If the total number of entries and buy-ins is lower than the guaranteed amount, then the prize pool will generate an overlay, and the poker room subsidizes this.

For example:
The GTD is $100,000
The buy-in is $1,000 with 80 entrants
This means the prize pool would have a $20,000 overlay ($1,000 x 80 = $80,000)
It's also worth noting that if total prize money surpasses the guaranteed amount, it will pay the larger number. So, in this example, if there were 120 players at $1,000, this would generate a $120,000 prize pool.
Lots of poker rooms market GTD tournaments on-site as it looks like they are doing players a deal, but in reality, they've got a good idea of how many players will enter, and rarely need to fund any overlay.
Strategy for Poker Tournaments
As you increase your knowledge of how poker tournaments work, you can start looking at basic, intermediate, and advanced poker strategies that you can apply to find a little more success.
Basic Tournament Strategies
Success in playing poker tournaments relies on a solid, basic strategy. You need to have this base to be consistent, the most important factor for creating a positive ROI.
Consistent Bet Sizing
Bet sizing is vital when starting to play poker tournaments. You need to be consistent with what you do, both pre-flop and post-flop.
As a general rule for beginners, we suggest you open with a bet sizing of 2.5 big blinds (BB). For example, if the blinds are 5/10, your opening bet would be 25.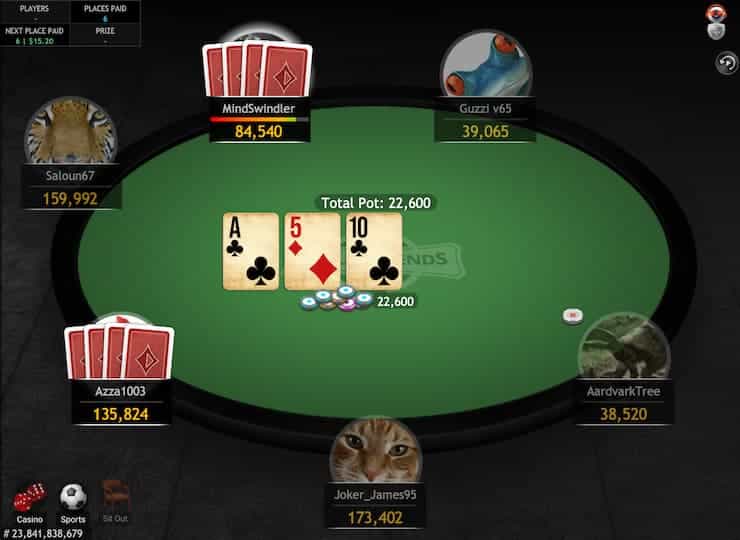 When you get post-flop, you should be looking to bet around 50% to 70% of the pot. You can choose the amount based on the number of players in the hand and the quality of the opposition. Weaker players will likely call lighter, meaning you can increase bet sizing for strong hands and reduce for weaker hands.
The next thing to note is how much to '3-bet' before the flop. If you are in this position, you should look to make this around 3x of the opening bet. So, if the opening bet were 50, you would make this 150. For each caller in the hand, add in 1x.
Out of position, you need to be a little more aggressive, and we suggest that you take a line of 4x plus 1x for each caller. Your 3-bet range out of position will be narrower than in position, which means effectively betting bigger with stronger hands.
You might sometimes need to adjust this based on the quality of players. If someone is playing the majority of their hands, you can increase the bet sizing, but if someone has played very tight or next to no hands, you can act a little more cautious, at least in your 3-bet range.
Track Results
You must keep track of results and analyze how you perform if you want to improve. You can use programs like Hold'em Manager and PokerTracker to do this.
These programs not only track hands and results but will also allow you to use a poker HUD on some sites. The HUD stores data on how your opponents play and highlights your image at the table, which is critical.
After each tournament, review key hands to see what you could have done differently. Use poker forums and social media channels to get others to critique your play and learn how advanced players would have played the same hand.
Study Pre-Flop Charts
Pre-flop charts are a great starting point for improving as a poker player. In live table games, you need to memorize these as they are frowned upon (but not illegal) at the table. If you're playing online, feel free to use them as much as you'd like.
The charts allow players to see what starting hands to open and when. They will cover under the gun (UTG), middle position, and late position, for the most part.
It's not a direct science, as so many variables exist that you will need to mix it up, like:
Player types
Tournament structure
Chip count
That said, doing this should create a more than solid platform once you master it.
Intermediate Tournament Strategies
Once you've mastered the basics, you might want to give our intermediate poker strategies a try.
Learn to Steal
Stealing is a term used to open light in late position to win the blinds. It's necessary to maintain your stack in tournament poker, so if you can win a couple of blinds without being challenged, it buys you time.
Your range on the button and cut-off should be much wider than that of early position for two key reasons:
It allows you to act last.
It creates an aggressive dynamic where opponents think you open light, meaning big hands get paid.
You can keep steal bets small, but you'll need to do them often. You will need to almost disregard the pre-flop charts to make this successful, as your range will widen dramatically.
Don't be put off by more aggressive players who look to defend by 3-betting. If they know you're stealing wide, they are likely going to 3-bet wide as well. When you have legitimately strong hands, you can either call or 4-bet and keep up the aggression post-flop where necessary.
Defend Your Big Blind
Defending the big blind is a strong attribute to have in tournament poker. A fairly competent player will try and steal, so we need to act aggressively in these spots, putting the pressure back on them with weak hands.
There are two ways to defend. One is to call and play post-flop, and the other way is to 3-bet. It's much easier to 3-bet as it gives multiple ways to win, either with the opponent folding pre-flop or being aggressive post-flop (given that we know the opponent has a wide range).
However, flatting the steal is not a terrible play either, especially with hands that have post-flop playability. These include suited connectors, Broadway cards, and Ax hands.
Whatever line you take, bear in mind that the late position open range for a competent player is wide. Even if you don't hit, there will likely be a point post-flop where even a small amount of pressure will get them to fold.
Squeeze Pre-Flop
A squeeze is where you 3-bet after an open raise and at have least one caller at the table. The goal is to take down the hand pre-flop by exerting pressure on wide opening ranges.
This is an effective strategy because it forces mid-strong hands not to want to play in multi-way pots due to the difficulty they know they might have. Therefore, you get them to fold.
Squeeze bets need to be timed, and they need to take into account possible open ranges from the opponent. For example, if an opponent raises UTG, and it's the first hand they've played for an hour, we can safely assume that they are opening something premium. This is not the time to squeeze.
However, if a fairly active player opens from the button and the small blind flat calls, this would be a time we could squeeze. We know the button will have a wide range, and given that the small blind also knows this but has decided to play out of position post-flop, it suggests their hand is also weak.
Our squeeze range can be quite wide. Any hands that will flop well (suited connectors, Broadway cards, and so on) and A/Kx hands will be a good starting point. For the most part, we want them to fold pre-flop, but if we need to, we also need some equity post-flop.
Advanced Tournament Strategies
For players who have already found success with intermediate poker tournament strategies, it's time for the most advanced ideas.
Get Aggressive with Big Draws
The majority of tournament poker players are far too conservative when it comes to draws. They call multiple streets, waiting to hit, but if they miss, they give up altogether. This will cost a lot more chips than it profits over the long run.
With a draw, you want to get as much money in the pot as soon as you can. The implied probability of hitting a draw decreases on every street, making your play much less profitable.
By playing aggressively, this means that we can not only get our money in with the best possible odds, but it also allows us to win the pot without needing to get to the showdown. It's worth noting that when playing conservatively, when a draw hits, the opponent will know this and will be less likely to pay off anyway.
To conclude, don't call with draws. Raise and raise big. Use this as a great time to put the pressure back on your opponent and get the money in early to increase implied probability.
Stay Aggressive Around the Bubble
The best poker players are aggressive at the right time. One of the first things you learn about tournament poker is that, at the start, you want to be conservative and start slow. Most of the time, you'll have a lot of big blinds, and you don't need to chase a big stack early.
Timing is key with aggression, and one of the best times to do this is around the bubble (the time near making the money). This is when opponents are generally overcautious as they look to make a return on their investment.
To do this, you can increase your pre-flop open range as you look to steal blinds. It doesn't have to be huge, but if it's folded to you in position and you have an average stack or above, it will likely be a good time to range.
Post-flop, you need to act more selective, but again, target weaknesses where you can. Charge players for draws and put pressure on dry boards. Try making it as uncomfortable as possible for them without being reckless.
It's not just the bubble where this works, but also for significant pay jumps and the final table. You want to play to win, and by exploiting those merely looking to limp home and level up as much as they can, you can win a lot of chips without much risk.
This strategy takes time to master. Players generally tighten up when the money comes around, and you can use this to your advantage.
Poker Tournament Mistakes to Avoid
To consistently win at poker tournaments, you need to avoid mistakes. Below we've outlined a list of the most common mistakes that we see players make in tournaments daily:
Playing too many hands – The best tournament players are selective with their hands, especially in the early levels. You're often 100BB+ plus at the start, so you can afford to wait to get paid with stronger starting hands. Limit your hands and increase aggression with big hands.
Playing too high stakes – Bankroll management is key, and it should determine what stakes you play. This poker format has a higher variance than cash games, so you need to play more conservatively to maintain your bankroll.
To easily tilted – Players that get too emotionally attached to losing hands or scenarios within a tournament are more prone to tilt. Try and limit mistakes, but if you make them, don't get too hung up and learn from them.
Not playing to win – Too many players play to make a min-cash, but in doing so, reduce the chances of winning. Your goal should be to continuously accumulate chips to progress as far as possible rather than avoid situations because you think you might get eliminated in an attempt to min-cash.
Not being aggressive enough – Players who fail to steal/defend blinds or don't capitalize on weak lines from their opponents will struggle to make it deep into tournaments. Keep aggression levels high in spots that call for aggression.
Irregular bet sizing – Good players will pick up on irregular bet sizing. For example, if you only bet big when you're strong, then your opponent will likely work this out. Either mix up your play or keep it consistent, regardless of the strength of your hand.
The Difference Between Live and Online Poker Tournaments
Live and online poker are two very different beasts. The games look almost unrecognizable in how they play out – you will need to adjust your approach for each.
Speed of play is one of the biggest changes. You're looking at around 70 hands per hour online, whereas with live poker, you might be lucky to get 30 hands per hour. As a result, you're getting fewer hands per level live, meaning you must be more aggressive to accumulate chips before you blind away.
Player interaction is another key aspect of live poker. You get to see their reactions, mannerisms, physical reads, tells, and ticks. Online you can only go off betting patterns and possibly timing tells, making it much more difficult to read.
Online poker allows you to play a lot more games at once (multi-tabling), meaning you can lower variance. Live poker not only means you've only got one game at a time, but you also need to factor in travel time and expenses on top. This all adds to your bottom line.
Finally, skillset. For the most part, online poker will have stronger fields overall. Live poker can attract recreational players who may already be at a casino and just want to gamble. Fewer pros play live because they simply can't get the volume of hands needed, and the number of games is vastly reduced.
Poker Tournament FAQs
What is a poker tournament?
How do you play in a poker tournament?
What is a starting stack in a poker tournament?
How do blinds work in poker tournaments?
What are antes in poker tournaments?
How do poker tournament payouts work?
What is the bubble in a poker tournament?