The Melbourne Cup is one of the highlights of the Australian horse racing calendar. Often dubbed "the race that stops a nation," it generates over $225 million in wagers and includes some of the best thoroughbreds worldwide. Learn how to bet on the Melbourne Cup, how the race works, how to place a bet, betting strategies, and discover the betting markets linked to the race.
What is the Melbourne Cup?
The Melbourne Cup is not only one of the biggest horse races in Australia but, in fact, the world. It's so popular that businesses close, schools shut and watch the race, and the nation comes to a standstill to watch.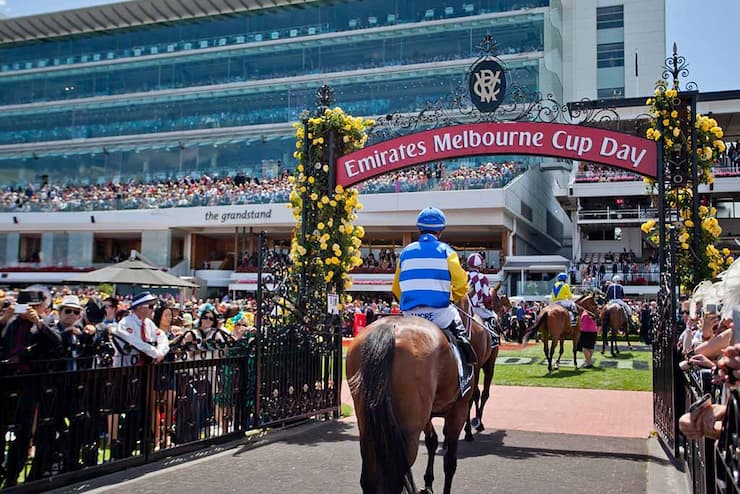 The race is held annually on the first Tuesday of November at Flemington Racecourse in Melbourne, Victoria. First run in 1861, it is one of the oldest horse races in the world. It was initially set up by the Victoria Racing Club (VRC) and is now part of the larger Melbourne Spring Racing Carnival.
At a distance of 1 mile 740 yards, the Melbourne Cup is one of the longest of its kind and demands incredible stamina from what are essentially sprint horses. Many of the past winners have been exceptional stayers, and this is one of the key attributes to look out for when picking a winner.
Prize money works a little differently than most races. The 2023 prize pool increased to a staggering $14 million, which makes it one of the richest in horse racing. But, instead of paying the top three, it pays the top 12 places. Prize money for the 2023 race is outlined below:
| | | | | |
| --- | --- | --- | --- | --- |
| Place | Prize Money | Connections | Jockey | Trainer |
| 1st | $4,400,000 | $3,740,000 | $220,000 | $440,000 |
| 2nd | $1,100,000 | $935,000 | $55,000 | $110,000 |
| 3rd | $550,000 | $467,500 | $27,500 | $55,000 |
| 4th | $350,000 | $297,500 | $17,500 | $35,000 |
| 5th | $230,000 | $195,500 | $11,500 | $23,000 |
| 6th | $160,000 | $136,000 | $8,000 | $16,000 |
| 7th | $160,000 | $136,000 | $8,000 | $16,000 |
| 8th | $160,000 | $136,000 | $8,000 | $16,000 |
| 9th | $160,000 | $136,000 | $8,000 | $16,000 |
| 10th | $160,000 | $136,000 | $8,000 | $16,000 |
| 11th | $160,000 | $136,000 | $8,000 | $16,000 |
| 12th | $160,000 | $136,000 | $8,000 | $16,000 |
An interesting fact about the trophy is that it's made from 18-carat gold and is worth about $250,000. Both winning trainers and jockeys are presented with smaller versions worth $10,000 each.
The race is now part of the Melbourne Cup Carnival, which is a four-day race meeting at the track. It's a celebrated event in Australia, with notable highlights that include the Victorian Derby and the Crown Oaks. In the state of Victoria, Melbourne Cup Day is also a public bank holiday and is free to watch on television.
Want to bet on the Melbourne Cup? Check out BetOnline.
Melbourne Cup Example Bet
In this section of our guide on how to bet on the Melbourne Cup, we've included an example bet of how it might work. It's worth noting that as we write this, we are still a few months away from the start of the race, so market coverage is limited.
The first thing to highlight is that, as one of the biggest races in the world, there will be huge coverage on the best US sportsbooks as a result. This means that betting will be competitive, and we strongly recommend that you shop around for the best possible odds, regardless of the horse you're backing.
| | | |
| --- | --- | --- |
| Runner | WIN | PLACE |
| Vauban | 7.00 | 2.50 |
| Soulcombe | 9.00 | 3.00 |
| Francesco Guardi | 11.00 | 3.50 |
| Goldman | 11.00 | 3.50 |
| Desert Hero | 13.00 | 4.00 |
| Breakup | 15.00 | 4.50 |
| Lunar Flare | 15.00 | 4.50 |
The table below includes selected runners from the 2023 Melbourne Cup, win odds, and place odds. The odds format here is in decimal, but they can be fractional or American. The most common way of how to bet on horse racing in the US is fractional. Decimal odds show the full return, including stake. So, odds of 7.00 means that for every $1 staked, you get $7 total ($6 profit).
Let's assume we want to place a win bet on the second favorite for the race, Soulcombe. Our stake is $100, and the payouts would be as follows:
Initial stake: $100
Odds: 9.00 (+800, 8/1)
Returns: $100 * 9.00 = $900
Profit: $900 – $100 = $800
In the table, we've also included the place odds. This is where you bet on a horse to finish 1st or 2nd in any order. The odds are fixed regardless of the final place as long as they are in the top two.
Racebooks won't have the luxury of knowing the price they take before the race starts. This is because in the US, a system called parimutuel betting is used. This is where you bet into a pool, and winning tickets are paid on a dividend basis.
What most racebooks will offer are morning line odds. This is a rough guide on the odds for the horse and is released on the morning of the race. Again, this is a guide and not necessarily the odds that your bet will be paid out at.
Melbourne Cup Betting Markets
The popularity of the Melbourne Cup means that some racebooks will create an increased number of markets to bet on compared with regular races. This section lists a range of Melbourne Cup betting markets you can access at most racebooks and at the best offshore sportsbooks around.
Win Bet – Betting on the horse you believe will win the Melbourne Cup.
Place Bet – Betting on a horse to finish in the top two positions in a race.
Show Bet – A wager on the horse to finish in the top three positions.
Each-Way Bet – A combination of a win and place bet. You bet on a horse to win and finish in the top few positions, which increases your chances of winning but requires a higher stake.
Quinella Bet – Selecting two horses to finish first and second in any order. Regardless of the order, this bet pays if your chosen horses fill the top two positions.
Exacta Bet – Predict the order of the first two horses to finish the race.
Trifecta – Picking the top three horses in the exact order of finish. This is a challenging bet with a potentially significant payout.
First Four / Superfecta Bet – Selecting the first four horses to finish in the correct order. This bet has higher odds and payouts.
Boxed Trifecta/Exacta – Betting on multiple horses to finish in the top positions in any order. While it increases your chances of winning, the stake is higher due to multiple combinations.
Top 5/6/10 Finish – Betting on a horse to finish in the top 5, 6, or 10 positions, depending on the field size.
Without the Favorite – Betting on a horse to place but excluding the favorite from consideration. If the favorite wins or places, your bet applies to the next-placed horse.
Match Bets – Betting on one horse to finish ahead of another in the race. This market focuses on head-to-head competition between specific horses.
Margin Betting – Betting on the winning horse's margin of victory, such as "Under one length," "1-2 lengths," "3-4 lengths," etc.
Jockey Challenge – Betting on which jockey will win the most races during the Melbourne Cup meeting.
Flemington Quaddie (Quadruple) – Selecting the winners of four specific races on the Melbourne Cup day card. This is a multi-leg bet.
Melbourne Cup Specials – Special bets and prop bets related to specific aspects of the Melbourne Cup, such as the color of the winning jockey's silks or the nationality of the winning trainer.
Futures Betting – Placing bets well before the Melbourne Cup, often before the final field is announced. You can bet on a horse to win the Cup before the race-day odds are set.
Discover the biggest range of Melbourne Cup betting markets at BetOnline.
Melbourne Cup Prop Bets
One of the best things about the stature of the Melbourne Cup is the increased range of prop bets you can access. These are less common than the main betting markets (above) but offer excellent value if used correctly. We've outlined these below:
Winning Jockey's Nationality – Bet on the nationality of the jockey who will ride the Melbourne Cup winner.
Melbourne Cup Barrier Draw – Wager on which barrier (gate) number the Melbourne Cup winner will start from.
Melbourne Cup Winning Time – Predict the exact time it will take for the Melbourne Cup winner to complete the race.
Color of the Winning Jockey's Silks – Bet on the color of the silks (jockey's racing colors) worn by the winning jockey.
Gender of the Melbourne Cup Winner – Predict whether the Melbourne Cup winner will be a male or female horse.
First Horse Across the Line – This market will include any horses that have later been disqualified or have unseated the rider earlier in the race. One of the rarer markets to bet on.
Melbourne Cup Winning Trainer's Nationality – Wager on the nationality of the trainer of the Melbourne Cup winner.
Winning Margin – Predict the winning margin of the Melbourne Cup winner, such as "by a nose," "by a length," or "by a head."
Melbourne Cup Winning Saddlecloth Number – Bet on the saddlecloth number (the number displayed on the horse's racing gear) of the Melbourne Cup winner.
Age of the Melbourne Cup Winner – This market allows you to pick the age of the winning horse. The race includes 3-year-olds and up.
Horse with the Fastest Sectional Time – Wager on the horse that records the fastest sectional time during the Melbourne Cup.
Best Melbourne Cup Betting Strategies
To be profitable betting on the Melbourne Cup, you need to have a solid betting strategy in place. In this section, we've added areas that you can target to be more successful in betting on the race. Take the time to apply these strategies the next time you place a bet on the Melbourne Cup.
1. Be Wary of Three-Year-Old Horses
The Melbourne Cup is open to horses aged three and up, but few of that age are successful. Rekindling (2017) and Cross Counter (2018) bucked that trend in recent years, but more winners come from older age groups.
Despite receiving weight for age from their elders, three-year-old horses can struggle due to a relative lack of physical development. The Melbourne Cup is a long-distance race and not all young guns have the stamina needed.
Although it can into a sprint in the home stretch, successful horses must also stay the trip. Over the last 20 years, the average age of the winner has been 5.55 years old. Again, it's not an exact science here, but older horses generally have a better chance of success.
2. Look at Ballot Exemption Races
There are currently seven "Win and You're In" races for the Melbourne Cup. If a horse is successful in these events, then they get an automatic spot in the final field.
The way to read this form is not necessarily looking at horses who win, but those that stay the best. All ballot exemption races are shorter than the 3,200m distance of the Melbourne Cup, so they are used more as warm-ups and prep runs to get race fitness into their legs and improve conditioning.
These are the seven qualifiers:
The Roy Higgins at Flemington (March)
The Andrew Ramsden at Flemington (May)
The Ebor Handicap at York, UK (August)
The Bart Cummings at Flemington (October)
The Caulfield Cup at Caulfield (October)
The Cox Plate at Moonee Valley (October)
The Lexus Stakes at Flemington (October / November)
Here are some other unofficial trials and prep races for the Melbourne Cup. Horses don't get automatic spots for winning them, but it boosts their chances of making the cut:
George Main Stakes at Royal Randwick (September)
Turnbull Stakes at Flemington (September / October)
Moonee Valley Gold Cup at Moonee Valley (October)
Herbert Power Stakes at Caulfield (October)
Get access to all of the warm-up races at BetOnline.
3. Narrow the Field
With up to 24 horses, the Melbourne Cup field is pretty big. Working through each horse will take a lot of time, so we've created some rules that you can quickly apply to reduce the leg work.
Be Cautious with three-year-olds – We've already mentioned this, but think carefully about three-year-olds when forming your betting strategy. This age group's record is poor, so concentrate on older Melbourne Cup horses.
All horses pried 20/1 and over – If a horse is priced 20/1 or higher, disregard them. Over the last 15 years since 2008, only three horses have won at odds higher than 20/1.
Eliminate horses that have not placed in 2,400m races – If horses haven't placed in races over 2,400m, then the likelihood they will go well at 3,200m is slim.
When you apply these rules to narrow the field, it should reduce the number of horses you are left with dramatically. Ideally, we want four to six horses to pick from, and then we can invest the time into how they might perform in the race.
How many horses are left will depend on what we do next. If we're at a point where we have four horses that all have a great chance, we can get creative and apply a quinella or a trifecta bet. You can box these bets to include all four horses covering all combinations.
4. Note the Draw
At 3,200m, it may be easy to think that the draw plays less of a role than a race run over shorter, and to some extent, you would be right. But, with the Melbourne Cup, the barrier numbers still play a big role, and this has mainly to do with the larger field sizes.
A middle draw (gates 10-17) has produced six winners since 2010. Horses must go forward if drawn low, or risk being squeezed out up the fence. Those jumping out of high-numbered gates will be forced to race wide around the Flemington track.
5. Remember that Weight Matters
Since 2006, only four horses have won carrying a weight of 56kg or more. Generally, the more weight the horse is carrying, the better the horse, but the increased distance of the race means that even small gains are going to be costly.
In 2005, Makybe Diva won with a staggering weight of 58kg, winning their third race in a row. A record will likely never be broken. She was a freak of nature (in a good way) and one of few who could compete, carrying so much weight.
If you jump back to the second point on narrowing the field, a good option here is to choose the lightest horse from the final four to six from your picks.
6. Check Pedigrees
When we talk about the pedigree of a thoroughbred racehorse, it's mainly their parents. Each has a dam (mom) and a sire (dad), which have had their own careers on the track.
Looking back to see if parents (or siblings) of a horse have won over 3,200m, then you can say there's a chance it can win the Melbourne Cup, given that it's over the same distance. As the race attracts so many international runners, however, there are bloodlines from different parts of the world to consider.
In America, for example, there is a much greater emphasis on speed than stamina in the thoroughbred bloodstock industry. The Melbourne Cup has a longer race distance than any graded stakes event in the US, so looking at European and Asian stallions may provide the answer.
There are top level races in the UK, France, the Middle East and Japan over a similar distance. The progeny of horses that go on to stud after winning them, or at least the big 2,400m races like the Epsom Derby or Qatar Prix de l'Arc de Triomphe, are all of interest, provided they have the form to match their sire and/or dam.
Past Melbourne Cup Winners
The table below highlights a list of Melbourne Cup winners since 2000. The race has been running since 1866, but the table has been condensed to provide an overview of the most recent finishes.
The most successful horse at the race was Makybe Diva, who won three times in 2003, 2004, and 2005. As a result, the horse has gone down as one of the best in its class, and jockey Glen Boss road all three winners. Only Bobbie Lewis and Harry White have more wins as a jockey in the race (four each).
Bart William is the most successful trainer, with 12 wins. His first came in 1965 with Light Fingers, and his most recent was in 2008 with Viewed. The most successful owner is Lloyd Williams, with seven winners from 1981 to 2020.
Year
Winner
Age
Gender
Jockey
Trainer
Owner
Time
Field
2022
Gold Trip
5 h
Mark Zahra
Ciaron Maher & David Eustace
Australian Bloodstock et al.
3:24:04
22
2021
Verry Elleegant
6 m
James McDonald
Chris Waller
Jomara Bloodstock Ltd et al.
3:17.43
23
2020
Twilight Payment
7 g
Jye McNeil
Joseph O'Brien
Lloyd Williams et al.
3:17.34
23
2019
Vow And Declare
4 g
Craig Williams
Danny O'Brien
G Corrigan et al.
3:24.76
24
2018
Cross Counter
3 g
Kerrin McEvoy
Charlie Appleby
Godolphin
3:21.17
24
2017
Rekindling
3 c
Corey Brown
Joseph O'Brien
Lloyd Williams et al.
3:21.29
23
2016
Almandin
6 g
Kerrin McEvoy
Robert Hickmott
Lloyd Williams et al.
3:20.58
24
2015
Prince of Penzance
6 g
Michelle Payne
Darren Weir
A McGregor et al.
3:23.15
24
2014
Protectionist
4 h
Ryan Moore
Andreas Wöhler [de]
Australian Bloodstock et al.
3:17.71
22
2013
Fiorente
5 h
Damien Oliver
Gai Waterhouse
Andrew Roberts et al.
3:20.30
24
2012
Green Moon
5 h
Brett Prebble
Robert Hickmott
Lloyd Williams et al.
3:20.45
24
2011
Dunaden
5 h
Christophe Lemaire
Mikel Delzangles
Pearl Bloodstock Pty (Mgr. R Levitt)
3:20.84
23
2010
Americain
5 h
Gérald Mossé
Alain de Royer-Dupré
Gerry Ryan, K. C Bamford
3:26.87
23
2009
Shocking
4 c
Corey Brown
Mark Kavanagh
Eales Racing Pty Ltd
3:23.87
23
2008
Viewed
5 h
Blake Shinn
Bart Cummings
Dato Tan Chin Nam et al.
3:20.40
22
2007
Efficient
4 g
Michael Rodd
Graeme Rogerson
Lloyd Williams et al.
3:23.34
21
2006
Delta Blues
5 h
Yasunari Iwata
Katsuhiko Sumii
Sunday Racing Co Ltd
3:21.47
23
2005
Makybe Diva
6 m
Glen Boss
Lee Freedman
Emily Krstina Syndicate
3:19.17
24
2004
Makybe Diva
5 m
Glen Boss
Lee Freedman
Emily Krstina Syndicate
3:28.55
24
2003
Makybe Diva
4 m
Glen Boss
David Hall
Emily Krstina Syndicate
3:19.90
23
2002
Media Puzzle
5 h
Damien Oliver
Dermot K. Weld
Dr M. W. Smurfit, et al.
3:16.97
23
2001
Ethereal
4 m
Scott Seamer
Sheila Laxon
P. J. & P. M. Vela
3:21.08
22
2000
Brew
6 g
Kerrin McEvoy
Mike Moroney
Gurner's Bloodstock Co.
3:18.68
22
Put our betting strategies into practice at BetOnline today.
FAQs
What is the Melbourne Cup?
When does the Melbourne Cup take place?
How can I place a bet on the Melbourne Cup?
What types of bets can I make on the Melbourne Cup?
What is the minimum age to bet on the Melbourne Cup?
Where can I place a bet on the Melbourne Cup?
Can I bet on the Melbourne Cup online?
How do I calculate potential winnings from my bets?
What is the difference between a win, place, and each-way bet?
Are there any special promotions or bonuses for Melbourne Cup betting?
Is there a limit to how much I can bet on the Melbourne Cup?
Resources