If you understand basketball and online betting, you can make money and have fun betting on basketball. We are specialists in basketball wagering, and we want to share our expertise with you through this basketball betting guide. That way, you can make informed picks while learning to wager on basketball and succeed.
How Does Basketball Betting Work?
Every year, basketball is the second most popular sport in betting markets in North America, with only American football achieving higher betting popularity. During the three weeks leading up to the NCAA tournament, sometimes known as March Madness, basketball betting handles for sportsbooks soar. Of course, professional basketball via the NBA is also a trendy sports wagering option in the US.
Basketball betting is typically categorized as a spread betting sport, with the point spread for a particular game serving as the most extensively studied betting variable. Yet, as with other spread-related sports, basketball markets also readily provide moneylines, totals (over/under), and many additional betting choices. These range from individual game props to team futures.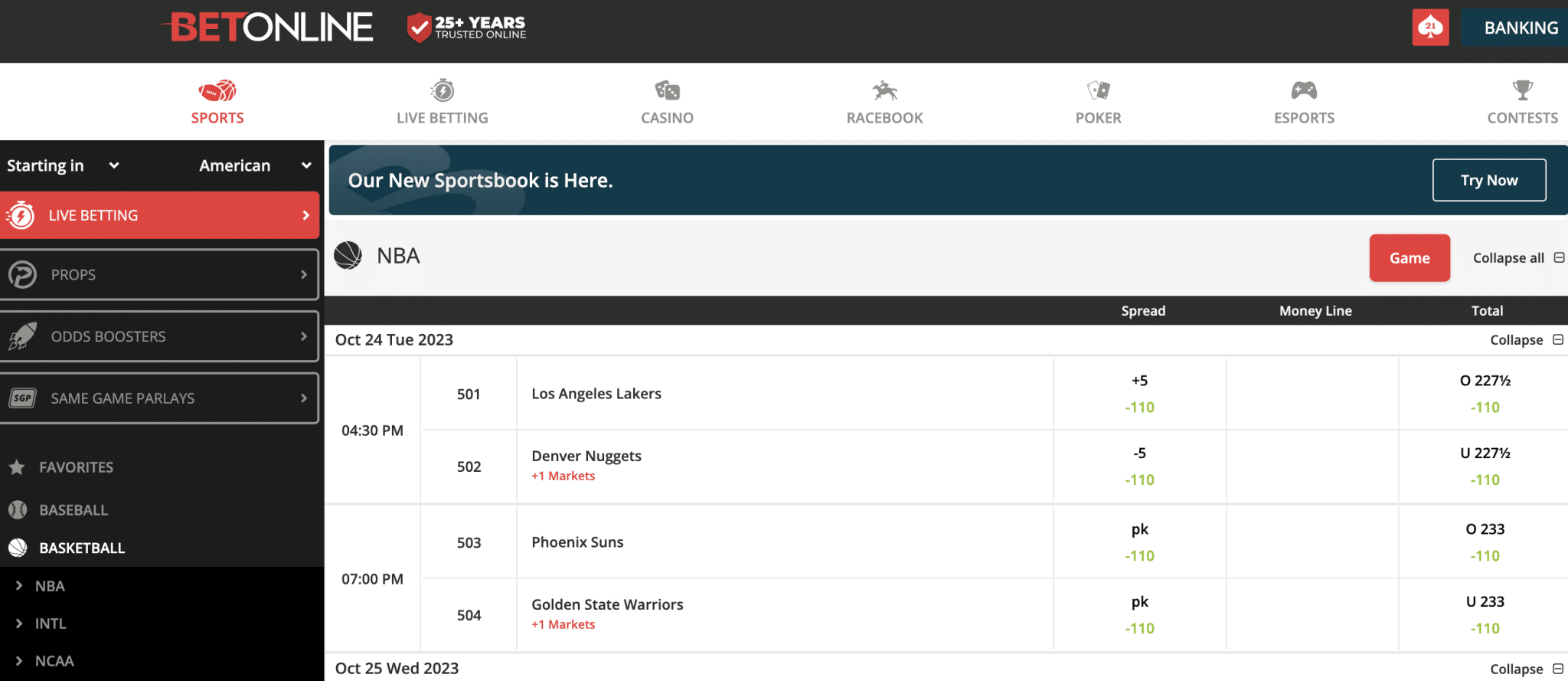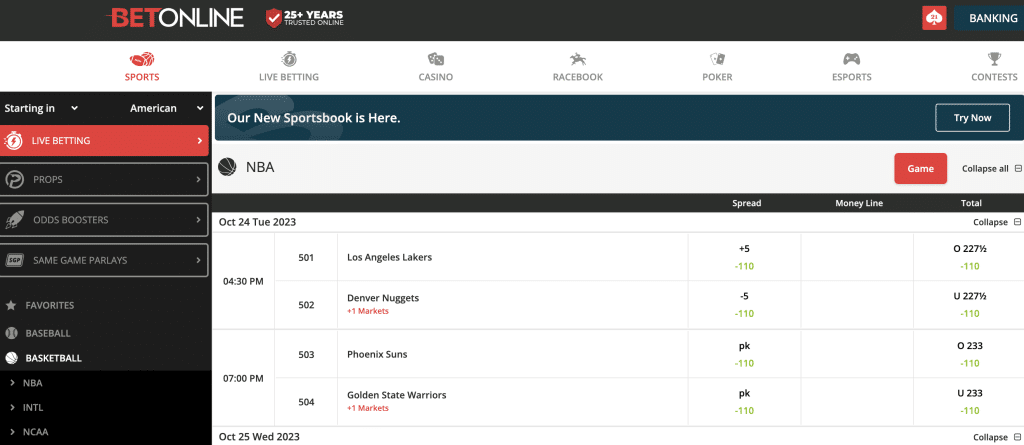 Want to check out some basketball betting options? Visit BetOnline.
Understanding Basketball Betting Lines and Odds
We will go into much detail, including how all common basketball bets work and examples of how to bet on basketball. Still, an overarching concept in basketball betting is how the odds and lines work. In the US, you will generally see odds in American form.
Odds are expressed as numbers with a plus (+) or minus (-) symbol before them. Plus odds, like +110, mean you will win $110 if you bet $100. Minus odds, like -110, mean you must bet $110 to win $100.
You can easily extrapolate these numbers to whatever amount you are wagering. Still, it is best to start with a baseline of $100 as an easy means of understanding the odds.
Lines are also used in basketball betting, such as point spreads, using plus and minus symbols. A minus before a number, such as -4, would mean that a team is a four-point favorite and must win by at least five for you to win your wager. A plus before a number, like +4, means the team is a four-point underdog and can lose by as much as three, and you still win.
You will also see totals with an "O "for over or a "U" for under. The number will be the same on both and denotes where the total is set.
A bet on the over means the points scored in the game must go over the total for you to win. When you bet the under, you need fewer points than the total to score to emerge victorious. You might see an NBA basketball game with an over/under indicated in the manner below.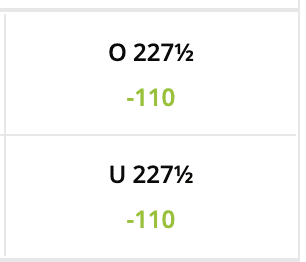 Basketball Betting Example
Below, you will see an NBA point spread spread line on the Boston Celtics playing the New York Knicks. The money line and the total have not yet been posted for this game, as the NBA basketball season is inactive now. The spread is the most common type of basketball bet, making this a great example of how to bet on basketball in its simplest form.

You will see that the Celtics are -3 favorites, while the Knicks are +3 underdogs. This means that the Celtics must win the game by at least four to win a wager on them, while the Knicks can lose by as many as two, and you still win. If precisely three points decide the game, bets on both sides "push," and bettors receive their money back.
You will see odds underneath the spread, which on NBA point spreads are generally set at -110. This essentially accounts for the management fee the sportsbook must collect on spread bets since you have to wager $110 to win $100.
So, to place a simple basketball bet, select a side and hope for that side to cover the spread, whether it be the favorite or the underdog. Remember that sometimes the spread will be set at a number such as -3.5 | +3.5, in which case a tie is impossible, and both sides either win or lose.
What To Consider Before Basketball Betting
Here are some essential factors to take into account when placing a basketball wager:
Make sure you are in a state where you can place a wager on your sportsbook of choice. The top sportsbooks we recommend are available in almost all states since we focus on offshore sportsbooks over US-regulated options where regional availability can be limited.
With which reputable online sportsbook do you wish to sign up? Choose only the best online sportsbooks that we recommend for the best results.
Which particular basketball event do you want to bet on? Are you more interested in the NBA or NCAA basketball or looking to bet on the WNBA or EuroLeague? When does the game occur, will you be able to watch it, etc.? Be sure to get your bets placed on time on games that you are interested in.
Analyzing whether you want to bet on the point spread or money line is essential. You may also want to place a totals (over/under) bet or even wager on props or other types of wagers, like multi-leg options.
Be sure to only wager on basketball responsibly. When asking how to bet on basketball, the first consideration is to do it safely and within your budget.
How To Place a Bet on Basketball
Utilize our thorough guidelines to figure out how to bet on basketball games. Using BetOnline as an example, let's examine the procedure in the section below.
1. Register for and Log Into Your Sportsbook of Choice
New users must provide an email address, establish a username, and select a password. Your name, address, date of birth and phone number will be required to start a new account.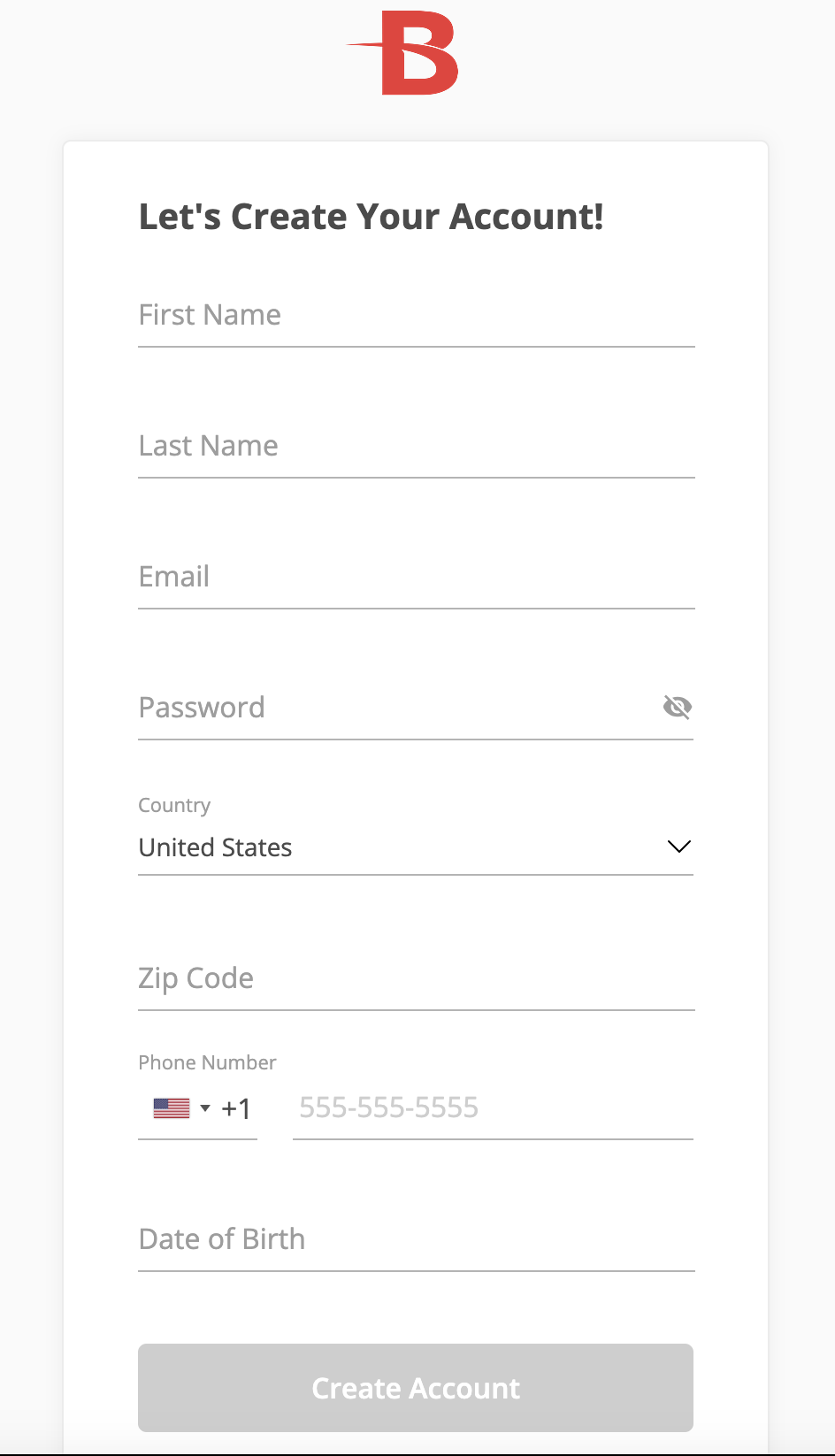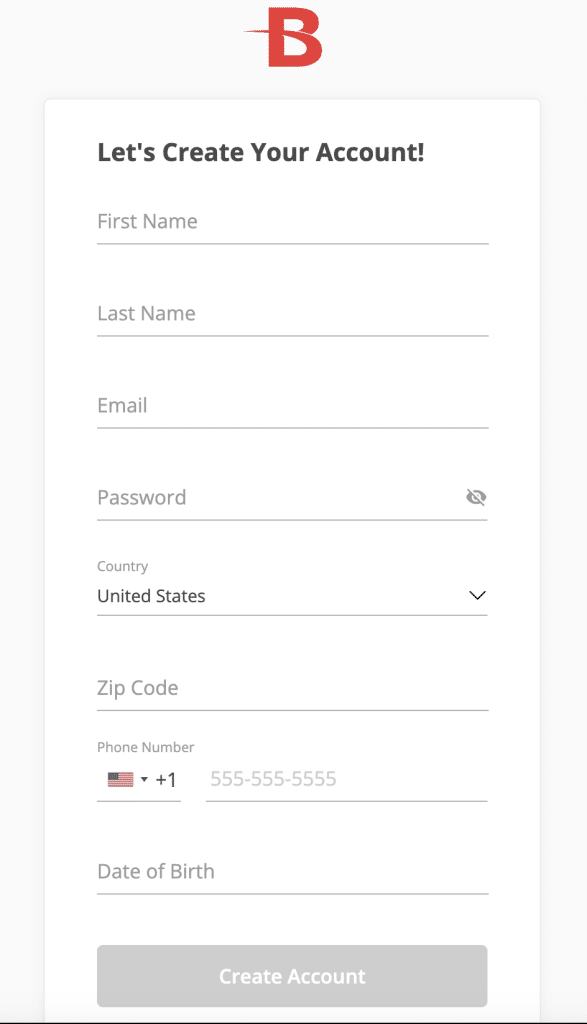 2. Access the Basketball Section
Once you've created and verified an account, log in and go to the basketball betting section (this may include NBA, NCAA, WNBA, and EuroLeague). At sportsbooks, a drop-down menu is often located on the left side of the screen and can be used to reach this part. These basketball betting selections and special NBA promotions may be prominently displayed on the homepage throughout the regular season.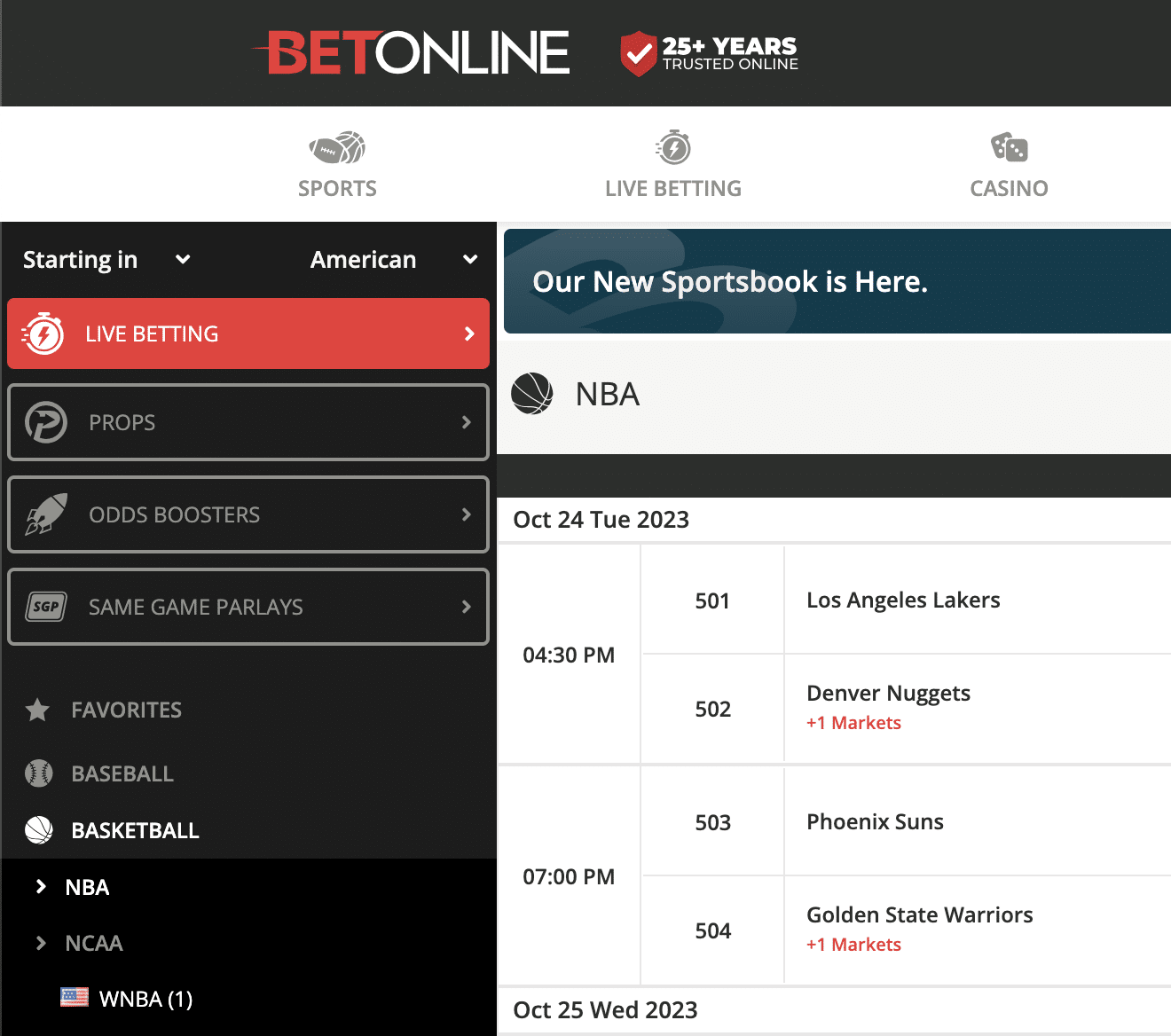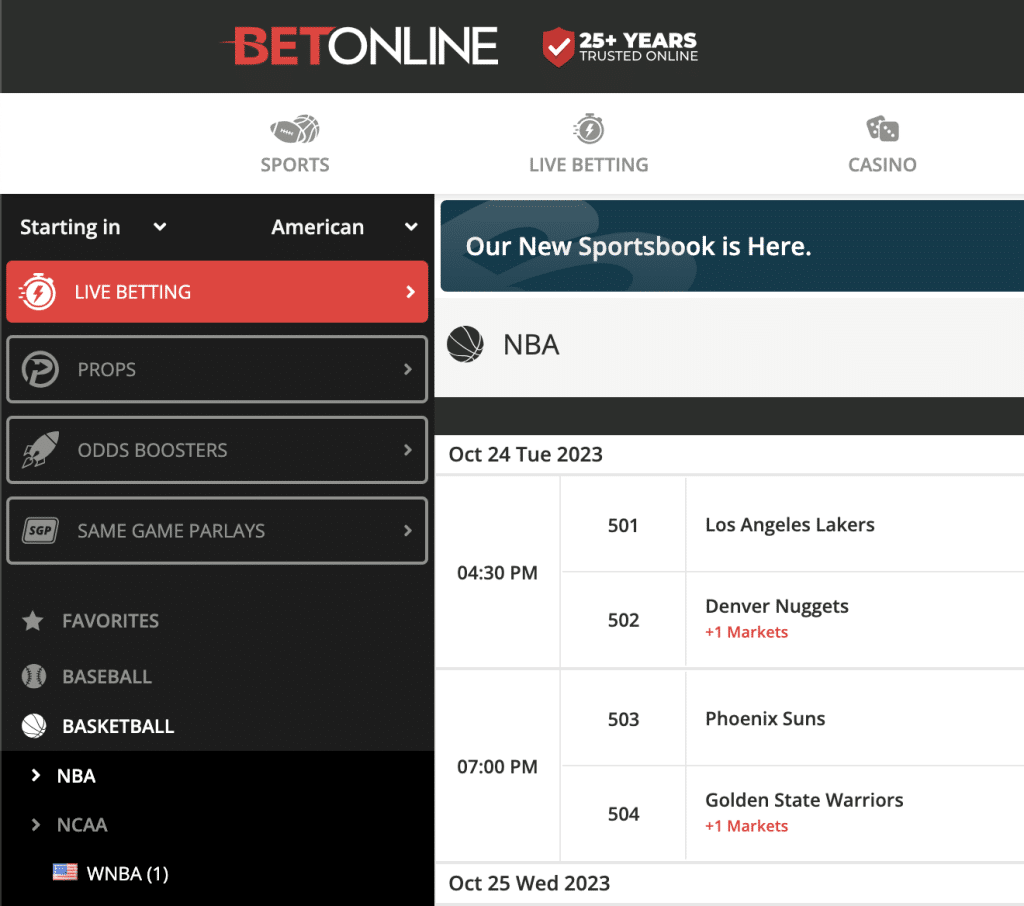 3. Choose a Basketball Betting Selection
Choose a basketball wagering option and a game to wager on. The sportsbook's bet slip, which typically shows on the right side of the screen, will display the basketball wager you selected.

4. Input the Amount You Want To Wager
After selecting, you can choose how much money you want to stake on your basketball wager. As you enter your wager amount, your potential winnings are shown on the sportsbook bet slip. In most cases, you can also combine bets for parlay betting via the same bet slip.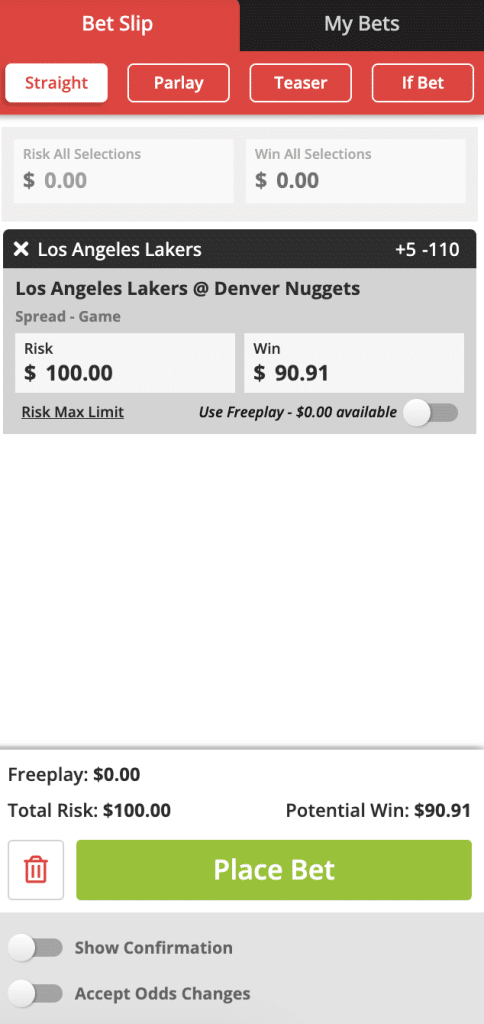 5. Submit Your Basketball Bet
When satisfied with your inputs, you may place your basketball wager using the sportsbook's bet slip. The "My Bets" or equivalent section of your selected sportsbook will allow you to keep track of the wager.

Types of Basketball Bets
When wondering how to bet on basketball, the next consideration must be the types of bets you can place. Here, we will analyze the most popular and standard varieties of basketball bets.
Basketball Point Spread Betting
The spread is one of bookmakers' most popular single-game basketball wagers. Even though one team is the clear favorite to win the game, the spread helps establish almost equal odds (often about -110) for both teams in the contest. Sportsbooks assign the favorite a specific number of points that it must "cover," or triumph by, for that wager to be paid.
Consider a WNBA matchup between the New York Liberty and the Las Vegas Aces in which Las Vegas is the favorite to win. The Aces are given a four-and-a-half point spread (marked as -4.5) by the sportsbooks, which means they must defeat their opponent by a margin of at least five points to cover the line. Bettors who opt for the Liberty as four-and-a-half point underdogs (marked as +4.5) would win their wager even if Las Vegas prevails, but only by four points or less.

In this specific instance, odds are slightly different than the standard for NBA -110 odds you'll most often see, but still close. You have to bet $113 to win $100 on the favored Aces, while a $107 wager will garner you a $100 win on the Liberty.
Remember that sometimes a point spread will be an exact number like -4 | +4, in which case a tie or "push" is possible. In this spread betting instance, bets receive their money back on both sides.
Sometimes, you will also see a spread listed as a "pk" or "pick," meaning that the matchup is deemed entirely even. Here, you are simply betting on the winner of the actual game, as you would with a moneyline wager.
Basketball Moneyline Betting
The most straightforward basketball wager is the moneyline, which involves picking the team you think will win the game outright. The team you bet on only needs to win, unlike the spread. The spread is, however, a bit more popular in basketball betting despite the simplicity of the moneyline.
They don't need to "cover" or win by a specific number of points. Each team receives moneyline odds from sportsbooks depending on how likely they are to win a basketball game.
For instance, in our aforementioned example, the Las Vegas Aces have odds of -195 since bookmakers heavily favor them in a matchup versus the New York Liberty (minus odds indicate a favorite, while plus odds imply an underdog.) With such odds, Vegas is a reasonably large favorite in the contest, so you would need to wager $195 to win $100 if they win.
You would need to wager just $100 to generate $170 in winnings if you bet on the Liberty as underdogs (+170) and they pull out the upset. If you want to bet on basketball with only concern about which team wins the game, moneyline betting is your ticket.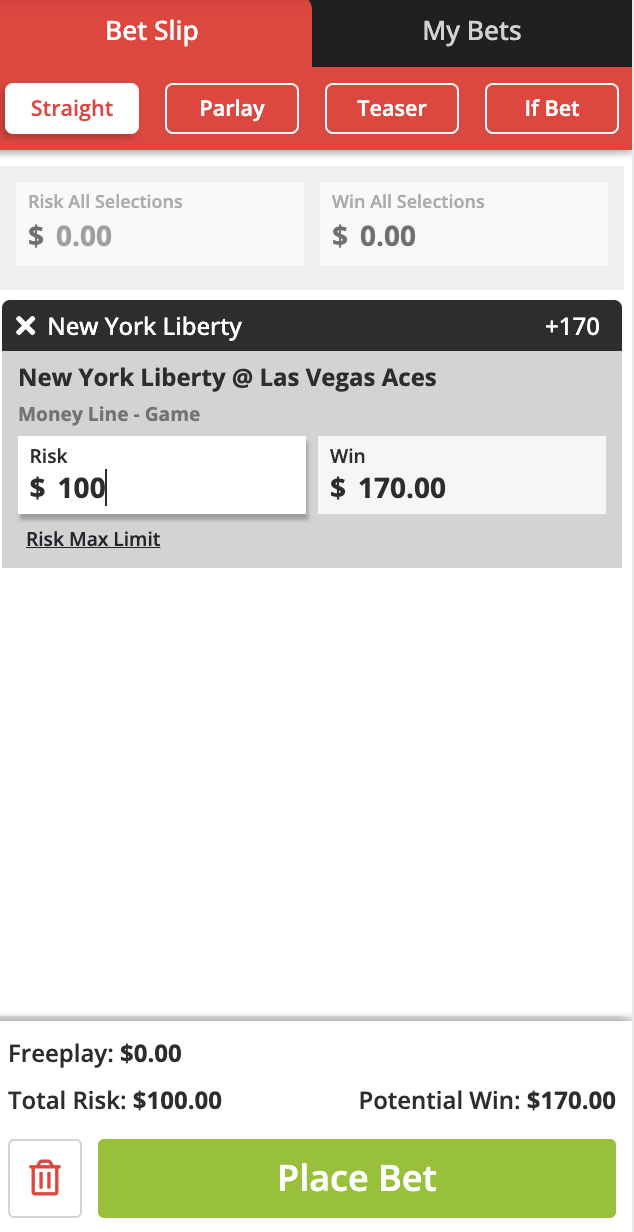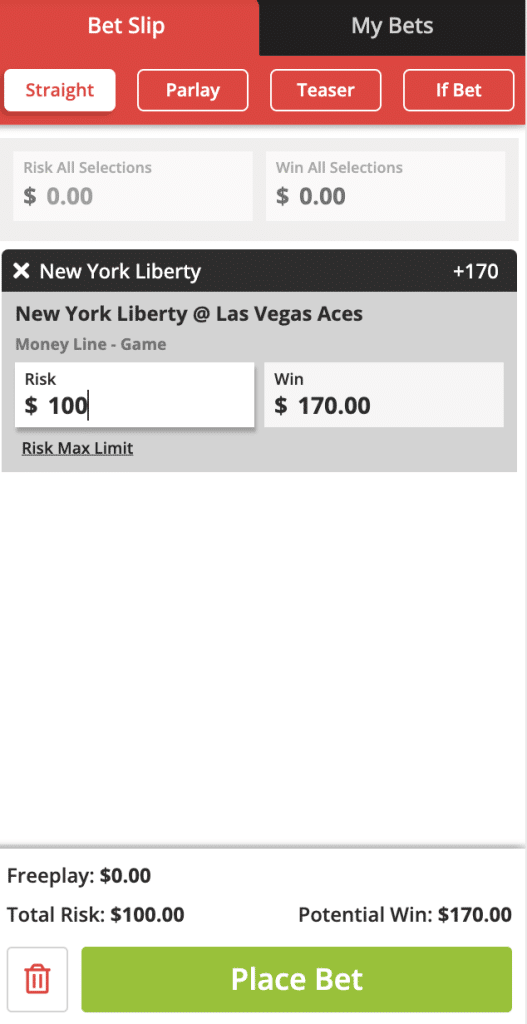 Basketball Totals Betting
You can wager on the total number of points scored in a game or by a particular team when you use a point total that is team or game-specific. For instance, a totals betting wager that the final score will be less than or more than 172 1/2 points in the Aces/Liberty WNBA matchup.
Wagering on the total for the entire game is more common than for one or the other team and a fun way to bet without concern for who wins. Root for scoring or lack thereof without taking sides. It is often common where allowed by sportsbooks to parlay a total with a side to increase your betting action on a single sporting event.
On the over or under, basketball point totals often have odds of 110. In this case, they are slightly skewed, as you will see that the over has odds of -108 while the under is set at -112. If you bet on the over, you can wager $108 to win $100, whereas it takes a $112 bet to win $100 on the under.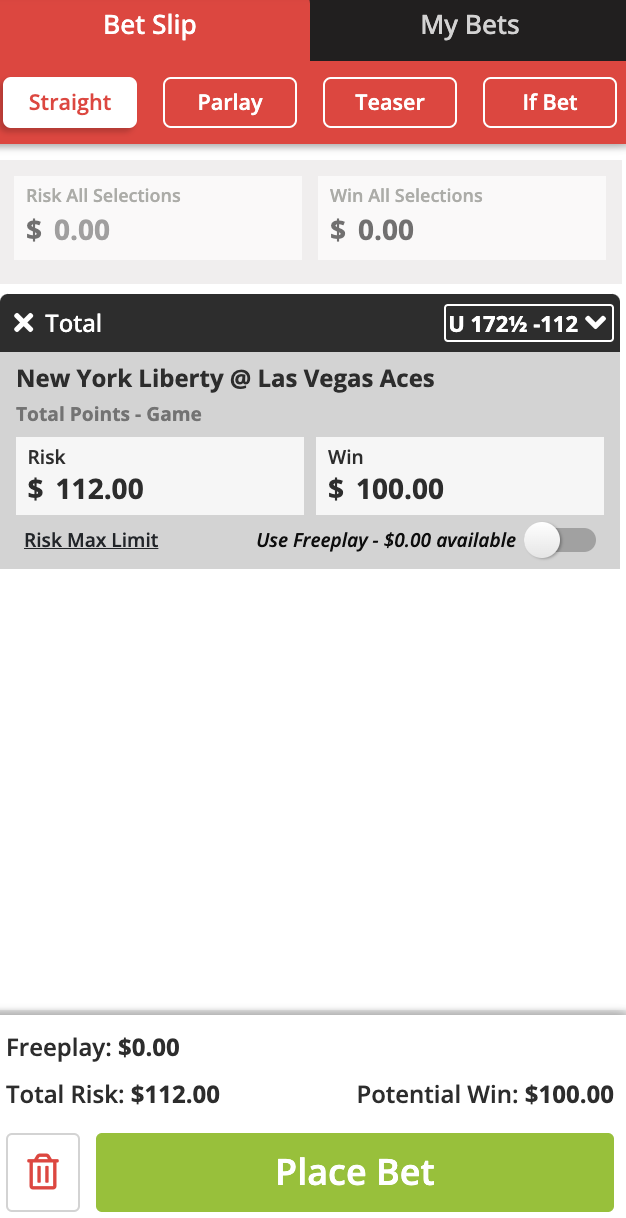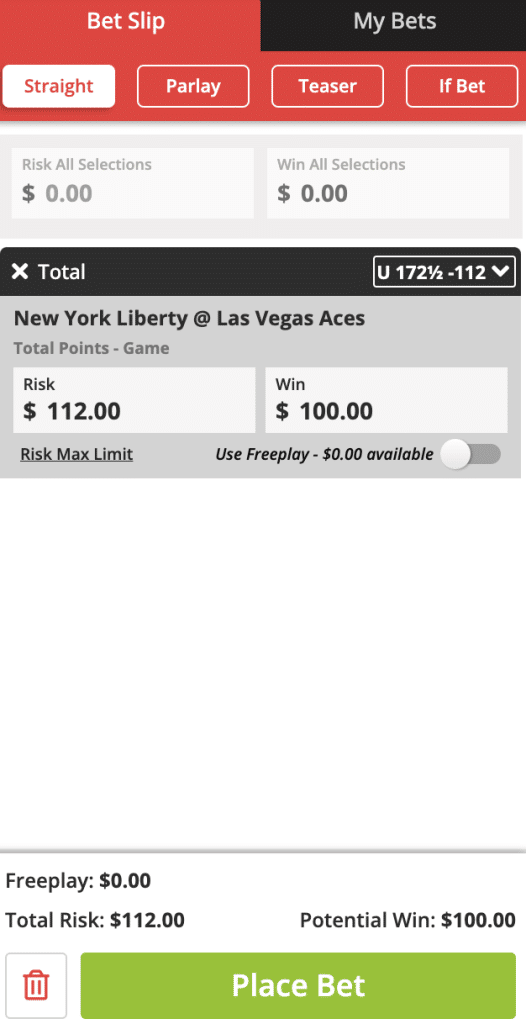 Basketball Prop Betting
Player props, often called propositions, are wagers on a single player/team/game to either reach or fall short of a particular statistic. You can wager on various statistical categories for player props, including points, rebounds, assists, etc. You will often see bets encompassing a combo of multiple props, like a player's total of assists and points.
Instead of focusing on a team winning or losing or the total in a game, prop betting centers on a player/team/game's potential output or lack thereof. An example would be wagering on the number of three-pointers made by a team or in a game. Another possibility would be a bet on whether Russell Westbrook will achieve a triple-double.
The number of props available will vary depending on the sportsbook. The best US sportsbooks for betting on basketball will feature a wide range of player, team, and game props. Prop betting can be one of the most potentially successful forms of wagering and is favored by betting aficionados.
Basketball Parlay Betting
With basketball parlays, you combine multiple betting selections into one bet ticket. This allows you to win more if all your selections come through. At the same time, you lose your amount wagered if a single selection within your parlay loses.
You can combine various basketball bets into one parlay, assuming the sportsbook permits those specific selections. They could be any combination of spreads, moneylines, totals, props, etc.
Parlay betting is risky and not generally considered a prudent strategy, but it can be fun. A standard option is to parlay selections from one game into a same-game parlay to increase the action. Still, some same-game parlays may be prohibited depending on the selections and the sportsbook.
Below is an example of a same-game parlay you could place on a Liberty/Aces game. As you see, by combining selections, your potential winnings would be considerably higher. Yet, if even one of the two selections loses, you lose your money.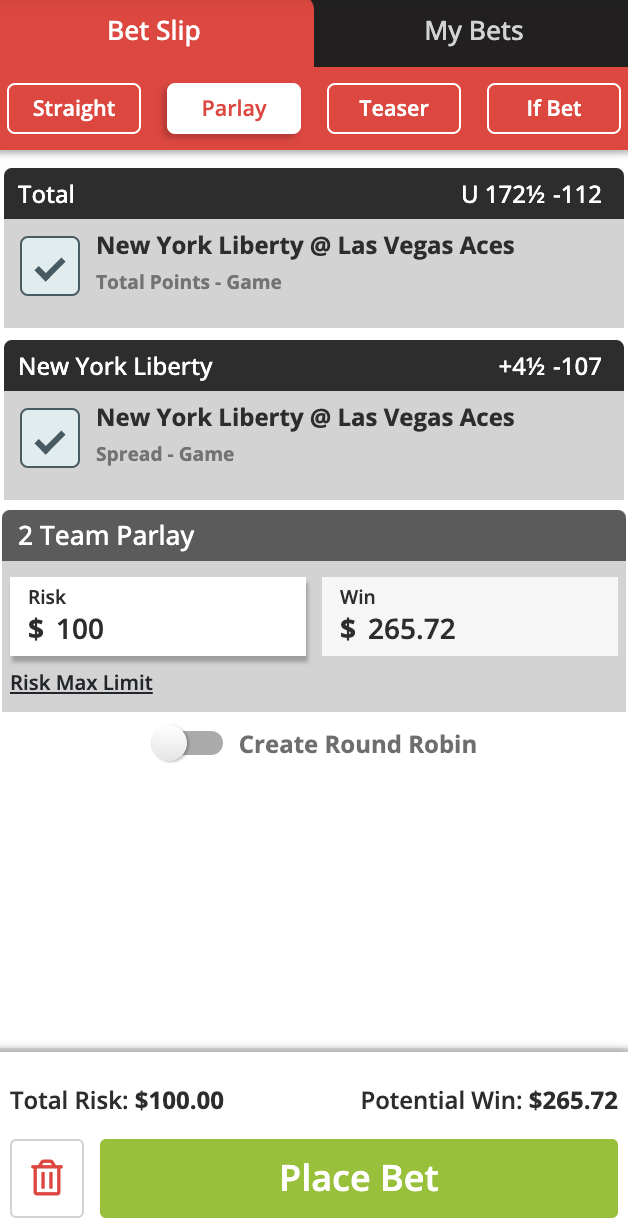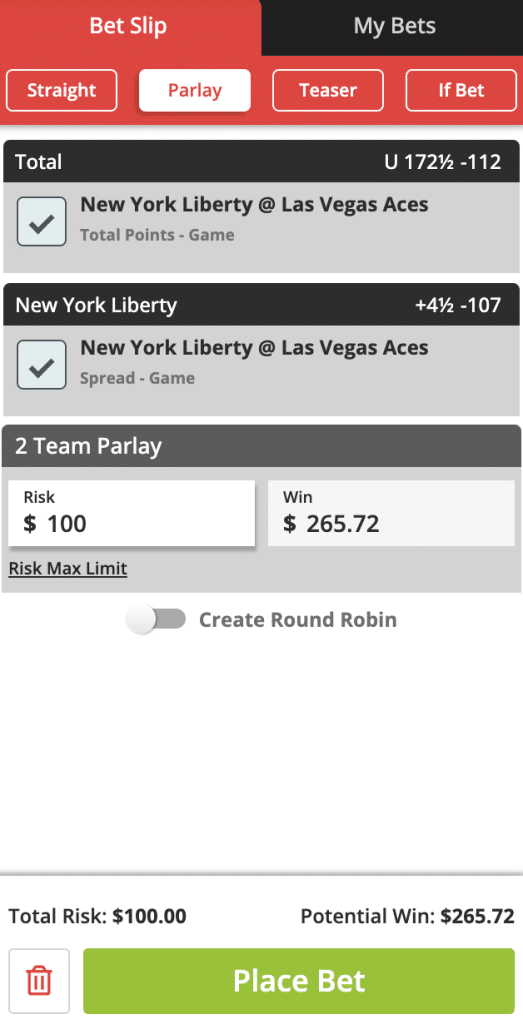 Other basketball multi-leg bets, such as round robins and teasers, fit into the parlay bucket. Round robins combine various betting selections into many parlays effortlessly. Teasers involve changing the lines to favor the bettor while combining many selections for gradually increasing payouts.
Basketball Futures Betting
A futures wager does not instantly pay and is unrelated to a single game outcome. Depending on the basketball futures betting selection you are betting on, you frequently have to wait until the end of the season.
Future wagers can be placed on a player to win an individual award such as the MVP or Sixth Man of the Year. Another typical example would be to bet on which team will win the championship. There are various other types of basketball futures wagers, like a team win total.
Wagering on futures is a fun way to gain action that will last an entire season. Sometimes, you may also find long odds on reasonably feasible outcomes. This can make futures betting an intriguing strategy within basketball wagering.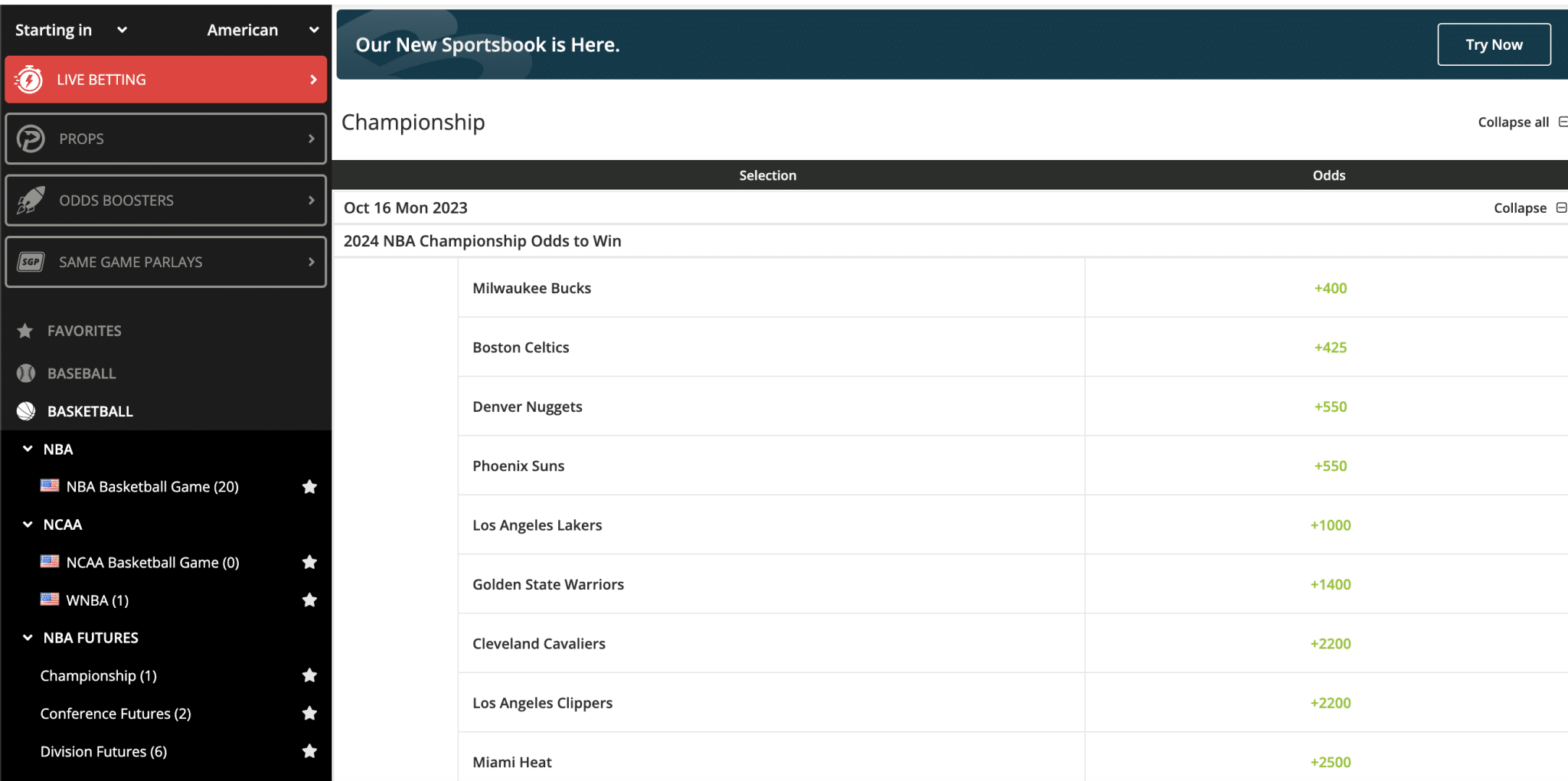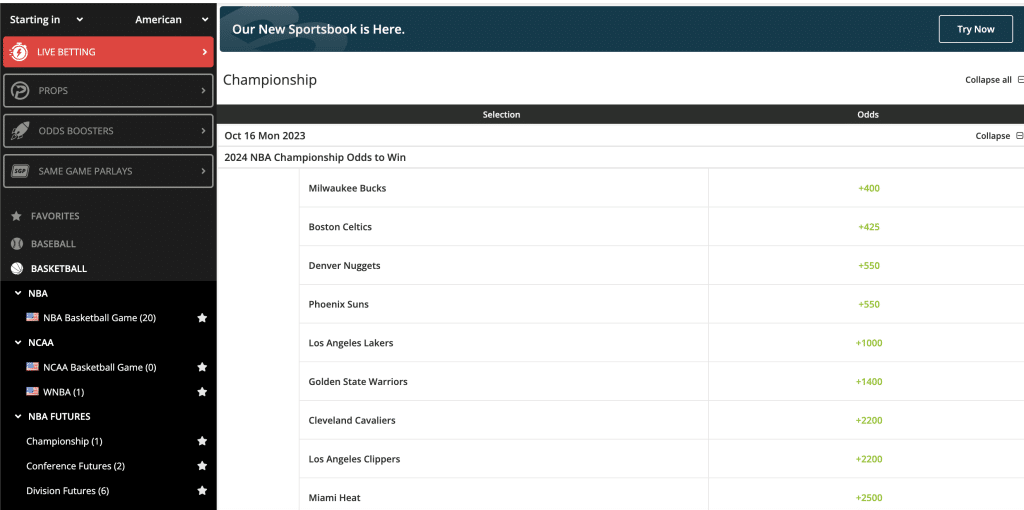 Basketball Live Betting
Live or in-game betting is becoming increasingly popular throughout the industry. The best sportsbooks for basketball, such as those we recommend, will feature several live betting options.
This entails sportsbooks setting ever-changing lines and odds on basketball events as they unfold. You will see a lot of in-game betting options for NBA basketball.
An example would be a point spread, moneyline, or total that you can bet in-game. This will reflect the current state of the game and will generally differ from what was offered before its start. You may also see player props that you can sometimes bet in-game.
Not only does live betting enable you to get action during the game for the sake of enjoyment. It can also be an intelligent betting strategy if you watch in-game events closely.
Basketball First and Second-Half Betting
First and second-half betting is much like live wagering on basketball, except that it is specific to the outcome of the first or second half. This contrasts with live betting, which features ever-changing lines for the entire game in real time. You can even bet on the first half of a game before it starts
It is worth mentioning that betting on a quarter is also a possibility. Betting on specific game sections can be fun since you can get more action on a game you want to enjoy. You may also be able to find some betting edges if you are astute.
Interested in trying out the various types of basketball bets? Head over to Everygame.
Basketball Betting on Leagues and Tournaments
How To Bet on the NBA Finals
Betting on the NBA Finals requires a similar basketball betting strategy as wagering on any previous basketball playoff series or even regular season NBA betting. Bettors can log into a sportsbook of choice, access the NBA betting section, place a series wager, or take a game-by-game basketball betting strategy. A spread, moneyline, and over/under will be posted for each game of the ever-exciting NBA Finals.
Generally, how to bet on the NBA Finals is not much different from the general strategy of how to bet on basketball. However, rotations may be tighter, defense may be more of a focus, and star players are less likely to rest. These are some places where you may gain a minor edge in considering the differences between NBA Finals betting and regular basketball wagering.
How To Bet on March Madness
March Madness consistently has a high level of sports betting action every year. NCAA basketball betting, in general, is popular, but with March Madness, it is taken to another level. You will find a more robust betting option selection during March Madness than throughout the regular college basketball season.
The short turnaround for teams that keep winning and the vast selection of games to start the tourney make the dynamic of the NCAA Tournament basketball odds attractive. Lines for NCAA hoops are released frequently in the period preceding the tournament. You'll want to stay on top of the odds and lines for the next day of action.
How To Bet on the WNBA
It is easy to focus mainly on the NBA and NCAA basketball, particularly March Madness when discussing how to bet on basketball. Still, the WNBA is only increasing in popularity and is an excellent option for betting.
The basic basketball betting strategy when betting on the WNBA does not differ much from the NBA. The game is the same, and the betting options are the same.
Still, as the WNBA is less publicized and widespread, there is an edge if you have strong knowledge and keep up with the trends. Becoming an expert on a niche sport like the WNBA is wise to succeed in sports betting.
Basketball Betting Tips and Strategies
To better understand how to bet on basketball, we'll help you with some key recommendations. Although there is no ideal one-size-fits-all basketball betting strategy, we can provide some excellent pointers for those just starting. Even seasoned basketball bettors can benefit from these tips on how to bet on basketball and win.
1. Place Your Basketball Wagers Early
Wagering when lines and odds open each morning is one of the finest strategies when betting on basketball games. The world's sharpest basketball bettors seize the value on sides and totals before value is lost. As large amounts of sharp money are bet, lines/odds move accordingly.
As we move closer to tip-off, both oddsmakers and bettors have more information, and lines and odds become more efficient. Thus, betting early helps you benefit from errors on the initial lines before they are refined. By the time a game is close to starting, it will be difficult to beat the lines and odds set by the sportsbooks.
2. Consider Basketball Team Schedules
The NBA has limited the amount to which teams play back-to-back games. Still, plenty of back-to-backs occur, and they have a significant impact on betting prospects.
Teams will not only suffer from back-to-backs in a vacuum due to fatigue, travel, and even resting players. In addition, the disadvantages can add up when a team plays many games in a short window. You may be able to find an edge by targeting teams against others that have a scheduling disadvantage.
3. Watch the Basketball Injury Reports
NBA injuries significantly affect basketball betting, as basketball teams only play five players simultaneously. As a result, one person on a basketball team can significantly impact the game to a greater degree than is often seen in some other team sports.
Early betting can give you a competitive advantage, but you may occasionally miss injury updates released during the day. Make your basketball bets early, but monitor injury news and seek games where an injury might shift the tides. You will also see players rest in non-injury situations, sometimes unexpectedly, so watch for those scenarios.
4. Engage in Live Basketball Betting
One of the most well-liked types of betting is live wagering. This enables sports fans to place a wager after the game starts. Because in-game odds rapidly fluctuate depending on what's happening, bettors can take advantage of the constantly shifting odds.
You can benefit from sharp observations, create arbitrage betting and middling possibilities, and hedge prior bets to generate a higher return on investment. The models and algorithms operators employ to construct live lines may not always be efficient. An astute basketball bettor may benefit significantly from pouncing quickly on in-game lines.
5. Consider Possessions when Betting Basketball Totals
As much as a team's offensive efficiency, the amount of game possessions per team can influence how high-scoring a battle will be. There are various models available throughout the industry to refer to for anticipated game pace. When using pace and possessions as part of your basketball betting strategy, there are a few factors to consider.
Is a fast-paced team taking on a slow-paced team in this game, and how will this play out? Which team is more likely to force its style on the other, and what is the dominant team's plan of attack? Are one or both of these clubs exhausted after a long road trip, and how may this affect total possessions and pace?
6. Get the Best Basketball Betting Line
Always check multiple sportsbooks to compare odds and make the most informed basketball betting picks. Depending on which sportsbook you look at, you may find a more beneficial line/odds on a wager. The best basketball betting strategy and betting strategy, in general, is always to find odds that benefit your wager the most.
A half point on a line or a slight differential in odds may not seem like the biggest deal. Still, over a year of betting, saving a little bit here and there can be the difference between a winning and losing bettor. It is best to sign up for multiple sportsbooks, claim the best sportsbook bonuses, and keep money in your accounts to pounce on the best lines and odds quickly, depending on where they are available.
Have a good handle on basketball betting? Try out these strategies at Bovada.
FAQs
What is the best basketball bet?
What is the point spread in basketball betting?
Are point spreads or moneylines better for basketball betting?
Does a basketball bet count overtime?
How are basketball odds and lines read?
Is the point spread or the moneyline the easiest basketball bet?
Resources