Every year in the US alone, boxing generates around $1 billion worth of bets. Outside of the major US-based sports, it's one of the most popular with bettors, offering highly lucrative payouts.
In our guide on how to bet on boxing, find out about the basics of boxing betting, including how to place a bet and the types of boxing markets. We'll then look at advanced betting strategies to help you make healthy profits through wagers on the sweet science.
How Boxing Betting Works
As far as sports bets go, boxing is straightforward to bet on. It should only take a few minutes to familiarize yourself with how the sport works. The three most basic outcomes for a fighter in boxing are:
Boxing doesn't have a vast range of core markets compared to other sports, with the fight result being the most common bet. In other words, simply betting on which fighter will win.
Boxing Betting Example
For a simple example of how to bet on boxing, we will look at the August 2023 fight between Oleksandr Usyk and Daniel Dubois. As a heavyweight bout between two well-known fighters, this is a very high-profile contest.
To place a bet on this fight, head to your favorite online sportsbook and search for the bout.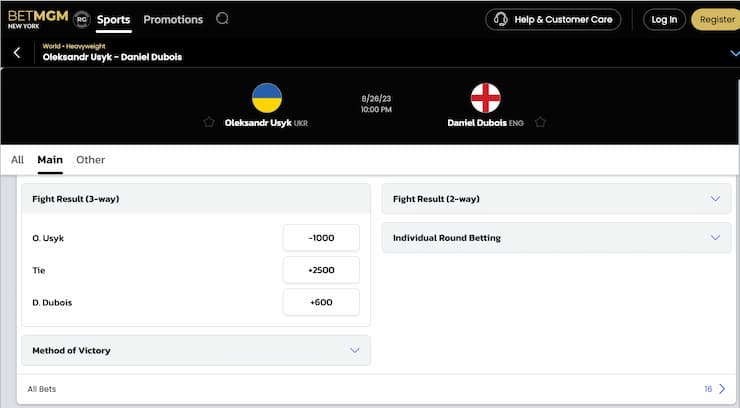 With American-style odds, the negative number represents the favorite, and the positive number is the underdog. For this fight, Usyk is priced at -1000, making him a very strong favorite against Dubois, who is priced at +600.
If you were betting on Usyk to win, -1000 odds state that to make a $100 profit, you would need to wager $1,000.
If you were betting on Dubois to win, +600 odds state that a $100 wager would profit you $600.
It's worth noting that this type of bet includes the option of a draw, also known as a tie. Draws aren't all that common in boxing, but they can happen.
In this example, the odds of a draw are +2500, or in other words, not very likely. This means that for every $100 wagered, you would profit $2,500. This market is often used in close match-ups where it's really hard to call a clear winner in advance.
How to Place a Boxing Bet
To understand how to bet on boxing, we'll look at the BetMGM sportsbook to walk you through the process of placing a boxing bet. As one of the best online sports betting sites in the industry right now, BetMGM is a solid choice for boxing fans.
1. Create an account
The first part of the process is creating an account. Click on the 'Register' button at the top of the page or mobile app to get started.

2. Enter account information
This information includes entering your name, address, email, password, and social security number. The process should only take a couple of minutes.
It's worth noting that with BetMGM, you can register with existing PayPal or Yahoo Sports accounts. This will save time if you have an account already – it's a unique feature that's not commonly accessible across most online betting sites.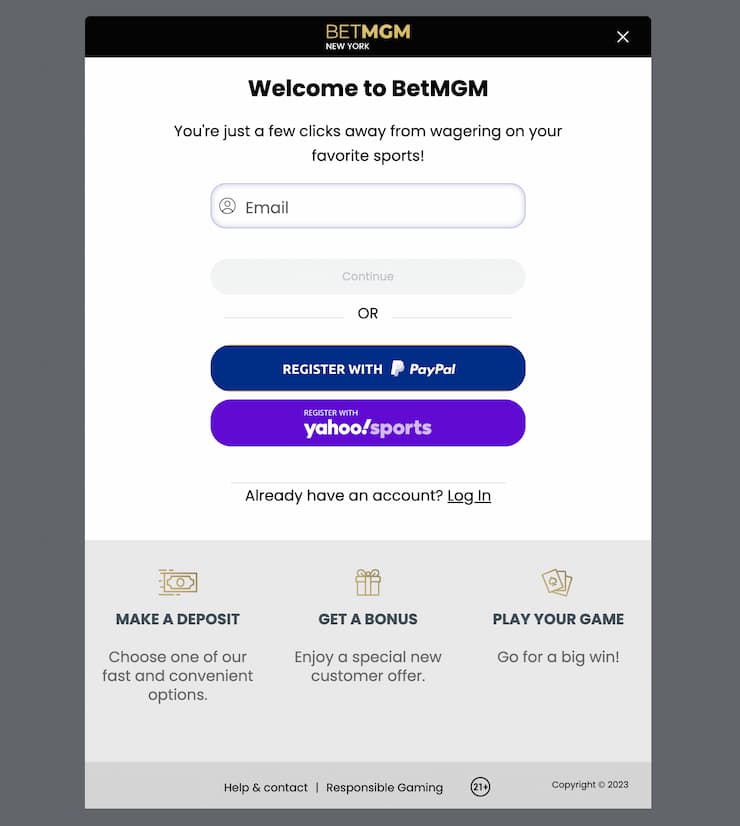 3. Find boxing markets
Once your account has been set up, use the navigation bar to search for boxing betting markets. Click on the boxing icon, and you will see the range of upcoming fights that you can bet on.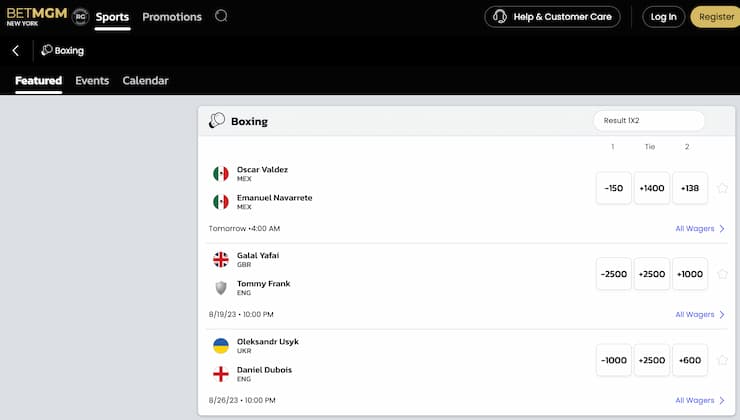 4. Place your bet
Choose a fight and choose the market you want to bet on. Click on the odds to add that selection to your bet slip. You can click again to deselect, which will remove the bet.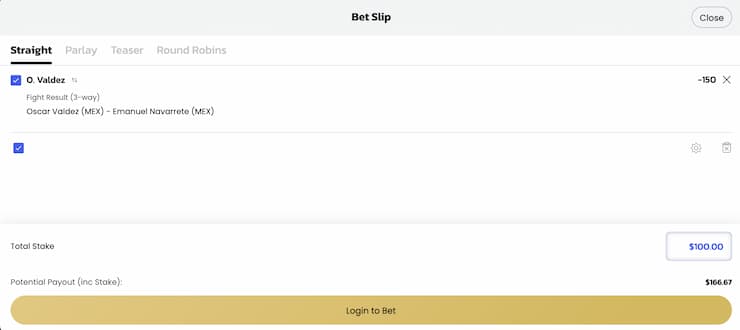 5. Confirm your bet
In the bet slip, confirm that your selection is correct. Enter your stake in the box and place the bet using the button at the bottom. You can track the bet within your account section once the bet is live.
Types of Boxing Bets
Compared to other sports, boxing is not huge in terms of the range of bet types you can access. However, bigger fights will have a much larger range of bet types than smaller fights, with most betting sites offering up a solid array of markets to choose from.
Outright Winner
The outright winner market is the most straightforward boxing bet. You simply predict the fighter you believe will win the match, regardless of the method or the round in which the fight comes to an end. If your selected fighter wins, you get a payout based on the odds your sportsbook offered when you placed your bet.
Example: let's say there's a highly anticipated match between Boxer A and Boxer B. You place a $100 bet on the underdog, Boxer A, at odds of +150. When Boxer A wins, you get a total payout of $250.
This payout is made up of your $100 original stake, plus $150 profit.
Round Betting
In round betting, you predict the specific round in which the bout will end, or which fighter will win a particular round. This market can be highly profitable due to its precise nature.
Example: you place a $50 bet on Boxer A to win in Round 7 at odds of +1100. Boxer A wins the fight during Round 7, meaning you receive a substantial payout of $600.
This payout is made up of your $50 original stake, plus $550 profit.
Method of Victory
Method of victory betting involves predicting how the fight will be won. This market requires you to analyze the strengths and weaknesses of the fighters. The options include victory by:
Knockout (KO)
Technical knockout (TKO)
Judges' decision (which can also be Unanimous or Split – UD or SD)
Example: you wager $75 on Boxer A to win by decision at odds of +300. Boxer A fights right until the final bell of the bout and ends up winning through a decision from the judges, meaning you receive a total payout of $300.
This payout is made up of your $75 original stake, plus $225 profit.
Total Rounds
Total rounds betting revolves around predicting whether the match will last more rounds (over) or fewer rounds (under) than a predetermined number set by the sportsbook. It doesn't involve predicting the winner of the match.
Example: you place a $30 bet on 'Over 9 Rounds' at sportsbook odds of -111. The fight goes on to Round 11, so you get a payout of $57.
This payout is made up of your $30 original stake, plus $27 profit.
Knockdown Betting
Knockdown betting allows bettors to predict which fighter will score a knockdown during the match. This type of bet adds an extra layer of excitement and anticipation to the fight. It's worth noting that the fighter does not need to win the fight – your bet is settled regardless of whatever happens in later rounds.
Example: you wager $20 on Boxer A to score a knockdown at odds of +275. Boxer A successfully scores a knockdown in Round 4, but ends up losing the fight on decision at the end of the bout. You still receive your total payout of $75.
This payout is made up of your $25 original stake, plus $55 profit.
Draw-No-Bet
In the draw-no-bet market, you predict the fight winner. However, if the match ends in a draw, your bets are voided (also known as a push) and your stakes are refunded.
Example: you place a $50 outright winner bet on Boxer A to win at odds of -143. If Boxer A wins, you would get a total payout of $85. This payout is made up of your $50 original stake, plus $35 profit.
However, the match ends up being a draw. But with the draw-no-bet market having been in your betting slip, your $50 stake is refunded. You make no profit.
Going the Distance Bet
This boxing bet type involves predicting whether the fight will last the full scheduled duration of rounds, or if it will end early due to a knockout or other stoppage. You don't need to pick a winner for this type of bet.
Example: you bet $40 on the fight to 'Go the Distance' at odds of +125. If the match reaches its scheduled end and goes to the judges' decision to decide the winner, you get a total payout of $90.
This payout is made up of your $40 original stake, plus $50 profit.
Using a Boxing Betting Strategy
Boxing can be a lucrative sport to bet on, but you need to know what you're doing in order to make profits. You will notice that many fights are one-sided with a very clear favorite, at least in terms of the initial betting odds, making it hard to profit from such short odds.
However, certain betting strategies may allow you to win more from your bets. Some avenues of betting don't involve simply picking a fight winner – these boxing betting strategies might create more opportunities for you to win big.
Basic Boxing Betting Strategies
Research and Analysis of Fighters
Before placing any bets, conducting research on the fighters, their recent performances, fighting styles, strengths, weaknesses, and historical matchups is crucial. Analyzing factors like fighter records, knockout rates, and previous opponents can help you make more informed betting decisions.
Example: if a boxer consistently wins by knockout and faces an opponent with weak defensive skills, consider a knockout 'method of victory' bet for this boxer.
Understand Bankroll Management
Proper bankroll management is fundamental to any betting strategy. Determine how much you're willing to risk on each bet. You should avoid wagering more than a small percentage of your total bankroll on a single bout. This approach helps you better manage losses.
Example: if your total betting bankroll is $500, consider limiting each bet to a maximum of 2-3%, which would be $10 to $15 per bet.
Focus on Popular Boxing Markets
Stick to the more popular and well-understood betting markets, especially when starting out. Markets like outright winner, round betting, and method of victory are easier to grasp and provide a solid foundation for your strategy.
Example: if you're new to boxing betting, focus on predicting the outright winner or the method of victory for a fighter in a popular weight class. This might be a good starting point before delving into more complex or niche markets.
Intermediate Boxing Betting Strategies
Boxing Proposition Bets (Prop Bets)
Prop bets involve placing wagers on specific events within a match, such as the number of total punches thrown or whether a specific fighter will be knocked down and when. These bets require a deeper understanding of the fighters' styles and tendencies.
Example: by betting on a defensive-minded fighter to score a Round 1 knockdown against an aggressive opponent, this might provide good value odds.
Live Boxing Betting (In-Play Betting)
Live betting during a boxing match allows you to assess the evolving dynamics and adjust your bets accordingly. This strategy requires quick decision-making and the ability to capitalize on changing odds. It's not always offered at all sportsbooks for boxing, so check the markets in advance.
Example: if you notice a heavily favored fighter struggling in the early rounds, you might take advantage of higher odds for the underdog in live betting.
Comparative Analysis of Fighters
Compare fighters' performances against common opponents or similar styles. This strategy helps you identify trends and predict how certain fighters might fare against each other.
Example: if Boxer A struggled against a previous opponent with a similar fighting style to Boxer B, it might suggest that Boxer B has a good chance of performing well against Boxer A.
Advanced Boxing Betting Strategies
Hedging and Arbitrage Betting
Hedging and arbitrage betting involve placing bets on different outcomes with different sportsbooks. The aim is to ensure a profit or minimize losses, regardless of the match outcome. This requires careful timing and an understanding of odds differentials.
Example: placing a bet on Boxer A with one sportsbook and simultaneously betting on Boxer B with another sportsbook could guarantee a profit regardless of the fight's outcome.
Boxing Parlays
Parlay betting involves combining interconnected bets, such as predicting a fighter's victory alongside an over/under total rounds bet. It can offer higher payouts but requires a deeper understanding of the matchups and the sport.
Example: betting on Boxer A to win by knockout, but also placing a bet on the fight to end under a specific round total.
Momentum and Emotional Factors
Consider the fighters' recent performances, emotional states, and mental attitudes. Momentum and psychological factors can play a significant role in the outcome of a fight. This involves some heavy research, plus a deep understanding of the sport and of the fighters involved in your bet.
Example: if a fighter has recently experienced a string of impressive wins and displays high confidence, they might have an advantage over a less-confident opponent.
10 Biggest Boxing Matches in History
Over the years, the boxing world has seen plenty of fights that we would describe as truly legendary. In terms of betting, these fights were huge moneymakers for bettors – especially when the result ended up being a surprise.
Our list below goes into some detail about 10 of the best boxing bouts, in no particular order.
Muhammad Ali vs. Joe Frazier III – "Thrilla in Manila" (1975): This epic trilogy bout between Ali and Frazier is renowned for its brutal intensity and climactic 14th round, where Ali emerged victorious after Frazier's corner threw in the towel due to exhaustion and injury.
Sugar Ray Leonard vs. Thomas Hearns – "The Showdown" (1981): Two boxing legends clashed in an unforgettable welterweight battle. Leonard's strategic adjustments and a dramatic 14th-round knockout secured his victory over Hearns.
Mike Tyson vs. Buster Douglas (1990): A monumental upset, Douglas shocked the world by defeating the seemingly invincible Tyson. The 10th-round knockout of Tyson remains one of boxing's most astonishing moments.
Riddick Bowe vs. Evander Holyfield I (1992): This heavyweight clash marked the beginning of a fierce rivalry. Holyfield's tenacity and Bowe's superior boxing skills led to a hard-fought unanimous decision victory for Bowe.
Marco Antonio Barrera vs. Erik Morales I (2000): The first fight in a legendary trilogy, Barrera and Morales engaged in an all-out war, showcasing heart, skill, and determination. Barrera secured a razor-thin split decision win.
Arturo Gatti vs. Mickey Ward I (2002): A brutal and unforgettable battle that showcased the grit and heart of both fighters. Gatti won via unanimous decision, and this fight is celebrated for its non-stop action.
Diego Corrales vs. Jose Luis Castillo I (2005): A defining fight in the lightweight division, Corrales and Castillo engaged in a brutal back-and-forth contest. Corrales rallied from two knockdowns in the 10th round to score a stunning TKO victory.
Floyd Mayweather Jr. vs. Manny Pacquiao (2015): One of the most anticipated fights in modern history, Mayweather's defensive mastery clashed with Pacquiao's aggressive style. Mayweather's precision led to a unanimous decision victory.
Canelo Álvarez vs. Gennady Golovkin I (2017): A middleweight showdown that ended in a controversial split draw. Both fighters showcased exceptional skill and power, setting the stage for a dramatic rematch.
Anthony Joshua vs. Andy Ruiz Jr. I (2019): A massive upset as Ruiz Jr. knocked down Joshua multiple times to secure a seventh-round TKO victory and claim the heavyweight title. This fight redefined the division's landscape.
Professional Boxing Weight Classes
Boxing weight classes are designed so that professional fighters of similar size and power are put against each other. This makes the fights fair, but more importantly, it makes them safer.
In order from lowest to highest, the professional boxing weight classes are:
Minimumweight: Up to 105 pounds (47.63 kg)
Light Flyweight: Up to 108 pounds (48.99 kg)
Flyweight: Up to 112 pounds (50.80 kg)
Super Flyweight: Up to 115 pounds (52.16 kg)
Bantamweight: Up to 118 pounds (53.52 kg)
Super Bantamweight: Up to 122 pounds (55.34 kg)
Featherweight: Up to 126 pounds (57.15 kg)
Super Featherweight: Up to 130 pounds (58.97 kg)
Lightweight: Up to 135 pounds (61.23 kg)
Super Lightweight (Light Welterweight): Up to 140 pounds (63.50 kg)
Welterweight: Up to 147 pounds (66.68 kg)
Super Welterweight (Light Middleweight): Up to 154 pounds (69.85 kg)
Middleweight: Up to 160 pounds (72.57 kg)
Super Middleweight: Up to 168 pounds (76.20 kg)
Light Heavyweight: Up to 175 pounds (79.38 kg)
Cruiserweight: Up to 200 pounds (90.72 kg)
Heavyweight: No upper weight limit
Betting on Women's Boxing
Women's professional boxing is bigger than ever, with massive potential from a betting perspective. Unfortunately, sportsbook coverage is still not as good as men's boxing, meaning you need to work a little harder to find betting sites that cover fights and markets in great depth.
But things are changing rapidly, with the 2022 bout between Claressa Shields and Savannah Marshall – the most-watched women's professional boxing match in history – drawing plenty of boxing fans as well as bettors. The best online sportsbooks should offer odds and different bet types at least on the biggest women's matches.
Here's a quick summary of how to bet on women's boxing at BetMGM:
Log in or sign-up for an account
Deposit money into your account to start betting
Navigate to the boxing betting section
Select the women's boxing event you want to bet on
Choose a bet type, like outright winner or method of victory
Review the sportsbook's odds for your chosen bet
Select your wager amount and place your bet
Boxing Betting FAQs
How do I start betting on boxing?
What are the popular boxing bet types?
Can I bet on live boxing matches in real-time?
How do I read boxing odds?
What is an over/under bet in boxing?
Can I bet on women's boxing?
How do I know which boxer to bet on?
What is a parlay bet in boxing?