Learning how to bet on college football will afford you vital insights into finding an edge while betting on one of the toughest collegiate sports in the US. The NCAAF is the breeding ground of future NFL stars and there is ample opportunity to bet on these developing stars.
Our college football betting guide will teach you the basics of how to bet on NCAA football, but we'll reveal insider tips provided by some of the sharpest football bettors in the US. Read on to get the hottest NCAA football betting tips.
How to Bet on College Football
US residents can bet on collegiate sports such as college basketball and football by either heading to a retail sportsbook or choosing to go online. Ultimately, your options will be determined by which state you reside in since some states do not offer mobile betting apps or land-based retail sportsbooks.
Online sports betting is the superior option for betting on college football. You'll be able to shop around for better odds and the experience is far more intuitive and faster than using a land-based kiosk or betting desk.
How College Football Betting Odds Work
College football betting is still all about favorites and underdogs. The favorite will be the bet selection with the shortest odds, while the underdog will be priced with the longest odds.
To illustrate using the example below, -1,000 is the longest odds as it pays out only $11 from a $10 bet, while the +650 odds return $75.

How to Bet on NCAAF – An Example
Let's take a look at an NCAAF game between Penn State and Illinois. BetMGM has priced Penn State as the favorite at -600 while Illinois are underdogs at +450.
A $10 bet on Penn State would yield a $11.67 payout while the same $10 bet on Illinois would pay out $52.50.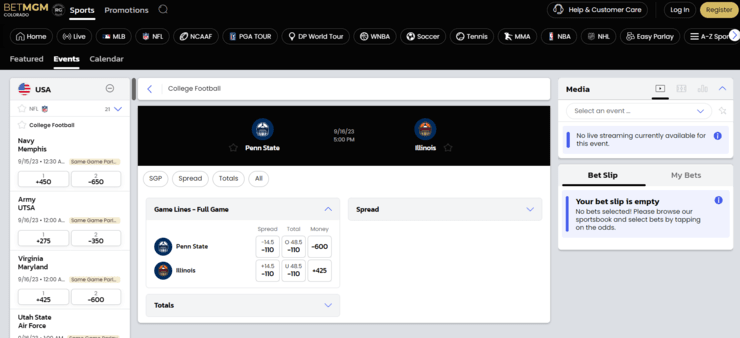 But we can get a little more complex than that. This college clash provides a unique PK betting opportunity since both spreads are at even odds (-110 each) and the spread is pretty big.
You could bet on Penn State at Over 14.5. For the bet to be successful, Penn State simply needs to win by 15 points or more, and at -110, you'll get a higher payout than betting the moneyline.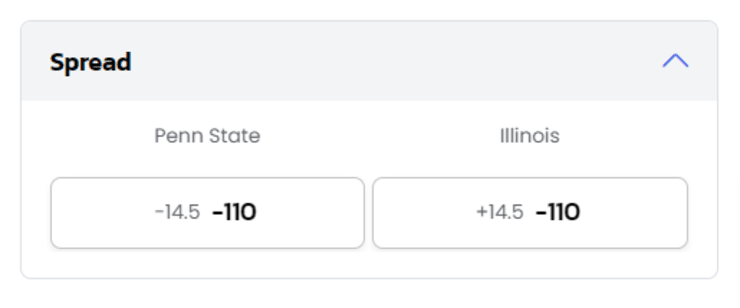 If you feel your prediction prowess is really on point, you could try a same game parlay (SGP). For example, you could bet the moneyline on Penn State, add a totals bet of Over 48.5, and a game prop backing Penn State to be leading at the end of the first half. All three bets would need to be successful for you to receive a payout.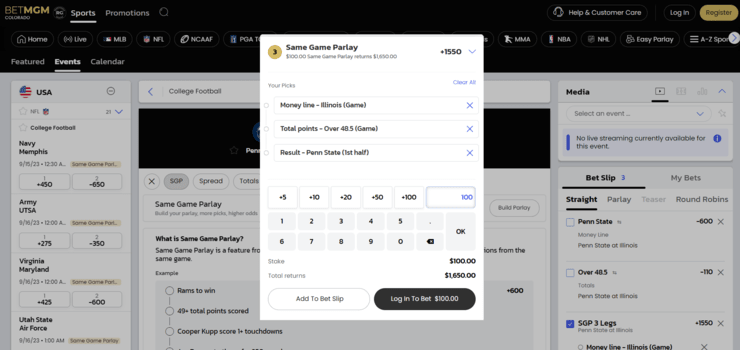 How to Bet on College Football Online
It all begins with signing up to one of the best US sportsbooks. All of the operators we recommend are legal, highly trusted, and boast an abundance of college betting options.
Placing college bets is super simple and we can show you how to bet on college football online in five quick steps, using BetMGM as an example.
1. Sign up to BetMGM
Follow one of the partner links to head to the BetMGM homepage. Select the golden "Register" button to access the registration forms. Simply provide the required details which will include your full name, residential address, and phone number, and you'll need to provide your Social Security Number (SSN) too.
2. Download the BetMGM app
BetMGM is an excellent desktop sportsbook, but you can also choose to download a mobile betting app. Go to your native app store – either Google Play Store or the App Store – and search "BetMGM sportsbook". Select "Get" or "Install" to download the app.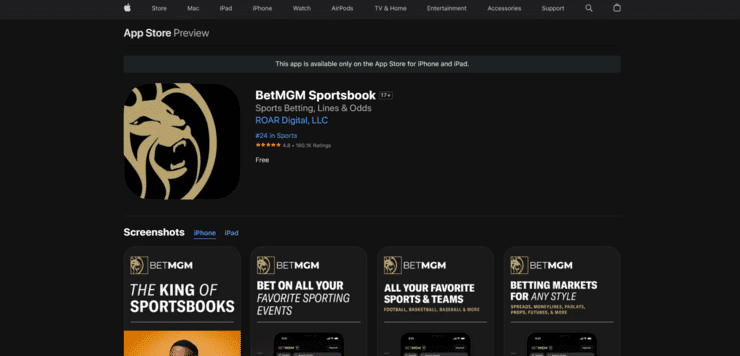 3. Claim your welcome bonus
In most instances, you'll simply need to deposit and place a qualifying bet to receive the welcome bonus. The exact particulars of the welcome offer may differ from state to state. Be sure to check the promotions section at BetMGM to make sure you don't need to enter a promo code.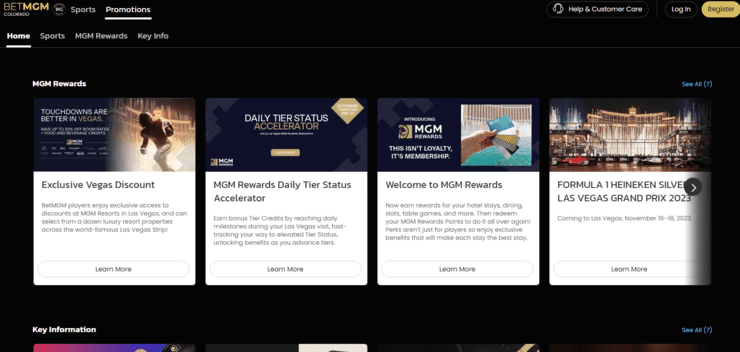 4. Make a deposit
Click on the gold "Deposit" button located at the top right of the screen and select your preferred payment method. Nominate a deposit amount and follow the prompts, such as entering your credit card details, a mobile number associated with an eWallet, or your bank account numbers.
5. Place a bet on college football
Be sure to check out our NCAA football betting tips to make sure you're fully equipped to find an edge. Next, go to the sportsbook and find a preferred game to bet on. Use the intuitive betting window to make a single bet selection or browse multiple games and create a parlay. Your bets will appear on the bet slip. Just add your stake and click "place bet" to finish.
Types of Bets
While you won't see quite as many betting options as your average NFL game, top online sportsbooks will still offer copious amounts of possible bet selections for a single game. These come in the form of multiple bet types that allow you to bet on different aspects of the game – or the entire season at large.
Moneyline
The moneyline bet is the simplest bet type, as it just needs you to pick which team will win the game – simple as that! For example, backing the Navy Midshipman to beat the Memphis Tigers at +450.
Point Spread
A point spread is the margin in which a team wins or loses. If you bet on the favorite to win a spread bet, you'd need that team to win by the chosen margin or more. Alternatively, if you back the loser to cover the spread, they would only need to lose within the given margin or win the bet. For example, Navy to win with a spread of +14.5 means they need to beat the Tigers by 15 points or more.
Totals
Totals betting sees you trying to predict the combined total of points scored by the two teams in a single game. For example, a score line of 37 – 40 would be a total of 77. You can choose to back "Over" a given total or "Under" a total. Over 59.5 means you think the score will be a combined total of 60 or more.

Prop Bets
Prop bets are special bet types that are not tied to the outright outcome of the game. For example, many game specials are prop bets, such as "1+ Rush TDs in Each Quarter". No matter who wins the game, the bet is successful if more than one rushing touchdown occurs in each quarter of the game.

Futures
A futures market covers the final outcome of a specific series, tournament, round, or league. It is placed well in advance of the actual event and, in many cases, bookmakers will close the market as the outcome approaches. For example, betting on Georgia Bulldogs to be the outright winner of the Championship.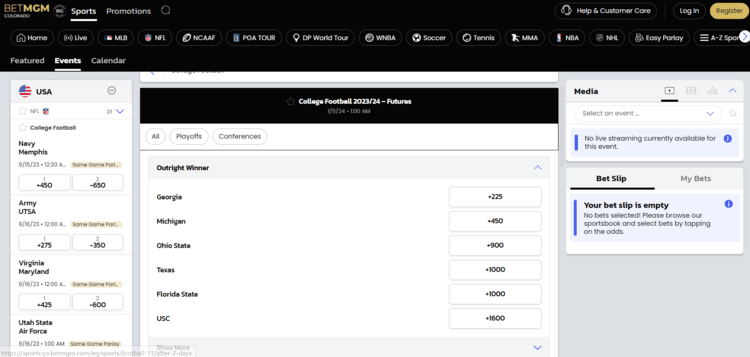 Parlays
A parlay is a bet that features multiple single bets. The bet is packaged together and benefits from odds that are multiplied by the other legs, which provides far longer odds than the combined payouts of the individual bets. Unless otherwise stated, a parlay must be made up of bets from different events. For example, a moneyline bet in Game X, a moneyline bet in Game Y, and a totals bet in Game Z.
Same Game Parlays
College betting markets are usually allowed to be added to a same game parlay. This is a parlay bet with two legs or more, but you can select different markets from a single game. For example, you could bet on the moneyline and a totals market and place it in a parlay bet for greater odds.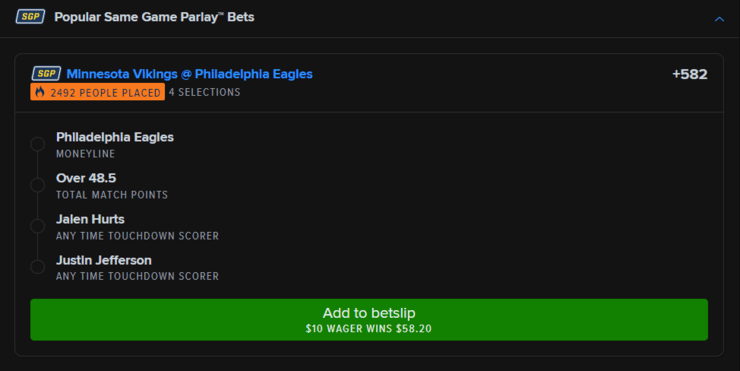 College Football Betting Tips & Strategies
Teaching you how to bet on college football wasn't enough. We herded a few of our top football insiders and sharpest bettors to help us develop the perfect strategy guide. These NCAA football betting tips will help you develop your strategies and aid in your ability to spot a valuable point spread from a million miles away.
Consider the wind – Specifically consider how windy the conditions will be on game day. If the wind is blowing 10mph or more, it can be a good idea to grab the under totals market while it is still valuable. College quarterbacks have weaker arms than the NFL stars and statistically have struggled in the windier conditions.
Keep it tight – Just like NCAAB betting, there are way too many games in a college football season to bet on every game you see. Stick to looking at the numbers and spot bets of value in a couple of games rather than trying to bet at excessive volume.
Pick the small games – Have a look at the games that no one else cares about. When the media is talking about the big ABC prime-time clash, have a look at a game between two lower ranked teams. You'll often find the bookmakers have also overlooked these games and have let their odds go rather long. You can find exceptional moneyline and spread value when this occurs.
Do a deep dive of the data – If you truly want to be a sharp college football bettor then you'll need to do some serious research. The data isn't as readily available as you'd find NFL betting so you need to get creative. Consult the websites of smaller colleges and crawl through odd centers. The data is available, you've just got to be willing to put in the leg work.
Gamble responsibly – No matter what strategy you choose to leverage, make sure you gamble responsibly and safely. Don't chase any losses and always stick to your limits. Remember there is plenty of help available if you feel like you need it and if you can't find an edge, there is no harm in simply walking away.
US States with College Football Betting
College football betting is big business, so it is little wonder the regulated state markets want some of the action. In 2014, the most heavily bet on NCAAF game took in more than 112,000 bets.
A total of 38 states accept bets on college football but they are not without restrictions. Some states, like betting in South Dakota, only allow in-person bets, as mobile sports betting either hasn't gone live yet or only offers in-person betting.
Then you have states like Arizona, Colorado, and Iowa which have a ban on college prop bets. Look closely at our table below and you'll notice that numerous 13 states with regulated sports betting won't let you bet on an in-state team. For example, in New York, you cannot bet on the Colgate Raiders or any other college based in New York.
| | | | | | |
| --- | --- | --- | --- | --- | --- |
| State | College football betting | Can you bet on your in-state team? | State | College football betting | Can you bet on your in-state team? |
| Alabama | ❌ | ❌ | Montana | ✅ | ✅ |
| Alaska | ❌ | ❌ | Nebraska | ✅ | ✅ |
| Arizona | ✅ | ✅ | Nevada | ✅ | ✅ |
| Arkansas | ✅ | ✅ | New Hampshire | ✅ | ❌ |
| California | ❌ | ❌ | New Jersey | ✅ | ❌ |
| Colorado | ✅ | ✅ | New Mexico | ✅ | ✅ |
| Connecticut | ✅ | ❌ | New York | ✅ | ❌ |
| Delaware | ✅ | ❌ | North Carolina | ✅ | ✅ |
| Florida | ❌ | ❌ | North Dakota | ✅ | ✅ |
| Georgia | ❌ | ❌ | Ohio | ✅ | ✅ |
| Hawaii | ❌ | ❌ | Oklahoma | ❌ | ❌ |
| Idaho | ❌ | ❌ | Oregon | ✅ | ❌ |
| Illinois | ✅ | ✅ | Pennsylvania | ✅ | ✅ |
| Indiana | ✅ | ✅ | Rhode Island | ✅ | ❌ |
| Iowa | ✅ | ✅ | South Carolina | ❌ | ❌ |
| Kansas | ✅ | ✅ | South Dakota | ✅ | ❌ |
| Kentucky | ✅ | ✅ | Tennessee | ✅ | ✅ |
| Louisiana | ✅ | ✅ | Texas | ❌ | ❌ |
| Maine | ✅ | ❌ | Utah | ❌ | ❌ |
| Maryland | ✅ | ✅ | Vermont | ✅ | ✅ |
| Massachusetts | ✅ | ❌ | Virginia | ✅ | ✅ |
| Michigan | ✅ | ✅ | Washington | ✅ | ❌ |
| Minnesota | ❌ | ❌ | West Virginia | ✅ | ✅ |
| Mississippi | ✅ | ✅ | Wisconsin | ✅ | ❌ |
| Missouri | ❌ | ❌ | Wyoming | ✅ | ✅ |
| District of Columbia | ✅ | ❌ | – | – | – |
College Football Betting Guide – NCAA Schedule
There is no point in learning how to bet on an NCAAF game unless you know when the games are played. The NCCAF season begins with a 15-week round of games before the Bowls begin. There are around 40 bowl games now before the college bowls covering the quarterfinals and semi-finals. The season culminates with the championship game.
| | |
| --- | --- |
| Event | Dates |
| Week 1 – 15 | August 27 – December 3, 2023 |
| Regular College Bowls | December 11, 2023 – January 1, 2024 |
| Cotton Bowl | December 29, 2023 |
| Orange Bowl | December 31, 2023 |
| Fiesta Bowl | January 1, 2024 |
| Peach Bowl | January 1, 2024 |
| Rose Bowl | January 1, 2024 |
| All-State Sugar Bowl | January 1, 2024 |
| CFP National Championship | January 8, 2024 |
FAQs
Can I bet on college football online?
What app can I use to bet on college football?
Is college football hard to bet on?
What is the easiest way to bet on college football?
How do you bet a parlay in college football?
What states can I bet on college football?
What are the most popular college football bets?
Resources