MI New York have won the first Major League Cricket championship and now following an immensely popular first season, American sports bettors are clamouring to learn how to bet on cricket matches. With top US sportsbooks offering excellent cricket odds, now is the best time to learn all about a game that is centuries older than baseball.
Read on as we provide the basics on how to bet on cricket online and reveal our biggest cricket betting strategies that can set you up for success.
How to Bet on Cricket
Cricket is one of the oldest sports in the world and up until recent years, was largely contested professionally by only a handful of nations including Australia, India, England, South Africa, Pakistan, and New Zealand. However, the game has grown exponentially over the last decade and the US officially launched the Major League Cricket tournament in 2023.
Cricket draws many similarities to baseball and as such there are many aspects of a single match that can be bet on. This can lead to a very exciting betting experience that can be enjoyed in two different ways in the US. Remember, you'll need to be in a state that offers legal, regulated sports betting.
You can head to a retail sportsbook located within casinos, sports bars, and some stadiums. Additionally, you choose to bet at on cricket at regulated online sportsbooks if available in your state.
How Cricket Betting Works
Understanding cricket betting markets is key to fully learning how to bet on cricket online. A cricket match can only have one winner but there are also draws, tied matches, and abandoned matches. Thankfully, most US sportsbooks provide 2-way markets so ties, draws, and abandoned games will see your stake returned.
The market selection with the lowest odds will be the favorite and the bookmaker thinks this is the most likely outcome. Underdog outcomes will have higher odds, which means a higher payout if correct. Besides the outcome of the match, you'll be able to bet on many aspects of a match including the performance of batsmen, bowlers, and even the fall of the next wicket.
Keen to start betting on cricket? Try BetMGM.
Examples of bets
Let's look at a few possible cricket bets to get a better understanding of how cricket betting works at US sportsbooks.
If you think West Indies will beat India in the upcoming T20 match, you could place a bet at FanDuel with odds of +174. A win for the West Indies with a $10 stake would net you $27.40.

Method of 1st dismissal can be a valuable market as the odds are high and there is a lot of data that can aid in predicting how a batsman could get out. You can quickly and easily look at their last recent dismissals and check how the opening and change bowlers tend to get their wickets.

For example, stumpings are incredibly rare since the keeper is standing back for the pace bowlers and run outs rarely occur early since there isn't pressure to score to intensely.
Caught and bowled is another rare dismissal especially for the early pace bowlers. This means it will likely come down to one of three outcomes – bowled, caught, or LBW.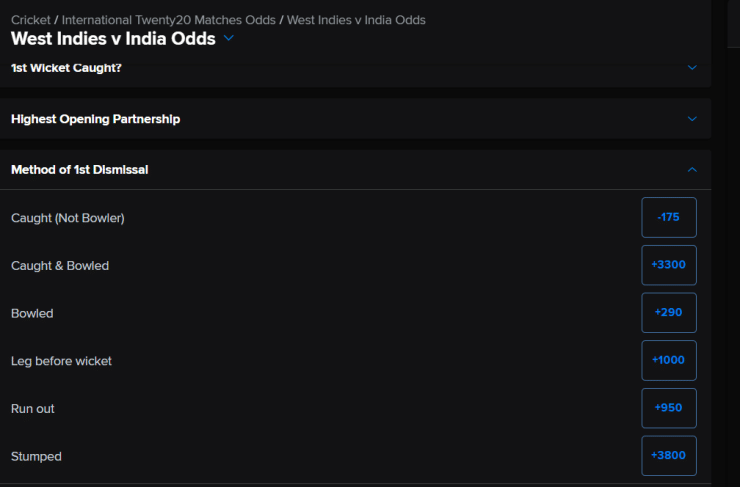 How to Place a Cricket Bet
Anyone can learn how to bet on cricket matches in a hurry since US sportsbooks are very intuitive. It's so easy to sign up, deposit, and place that first cricket bet; just follow our six simple steps.
Step 1: Sign Up
Head to any of our recommended sportsbooks. For example, if you go to BetMGM, you can begin the sign-up process by clicking "Register". Enter the required personal details including your social security number (SSN) and verify your identity to complete the registration process.
Step 2: Deposit
Once logged in, go to the cashier and select a deposit method. Nominate your deposit amount and follow any prompts to complete the transaction. It is at this time that any welcome bonus will usually be claimed.

Step 3: Search the markets
Navigate to the sportsbook. You can either search for cricket, a team, a match, or a series directly using the search function or simply choose "cricket" from the Sports A-Z list on the left-side menu. Click on any match or series to see the available markets.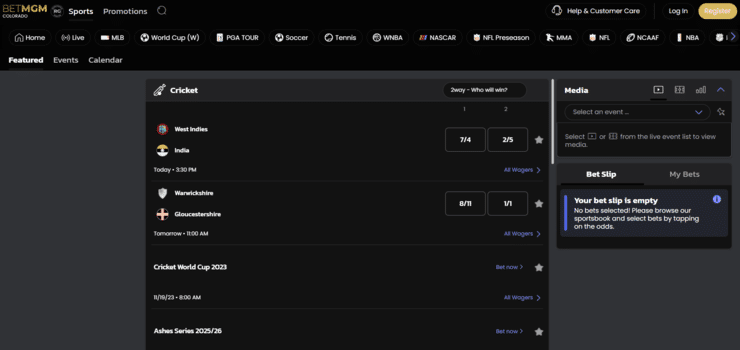 Step 4: Create your bet
By clicking on a selection (eg, a moneyline bet on India to beat West Indies) you'll instantly see your bet drop into the bet slip on the left of the screen. Any bets you click on will be sent to this slip, which means you can place multiple bets at once or create parlays.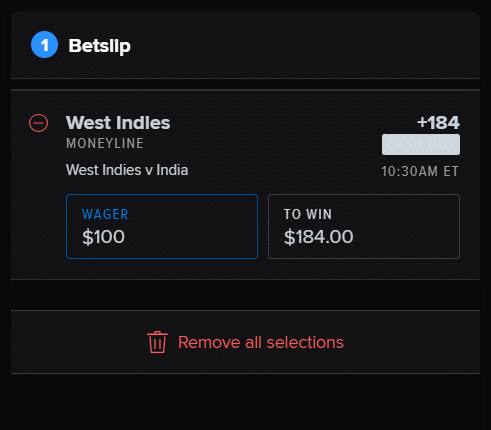 Step 5: Finalize your bet
Make sure you've set up your bet or bets appropriately and set your stake for each bet. Confirm the bet by clicking the green button at the bottom of the slip. Your bet will be instantly placed.
Step 6: Wait for the outcome
Now you can just sit back and watch the match. If your bet is successful, you'll be able to claim a withdrawal as soon as you meet the minimum requirements. Remember, if you placed a bet using bonus funds, you may still have a playthrough requirement to clear.
Placing cricket wagers couldn't be simpler. Bet at FanDuel today.
Types of Bets
To truly understand how to bet on cricket successfully, you'll need to be fully caught up on the available bet types on offer. There is nothing too unusual for cricket betting and anyone who has gambled on sport before will understand cricket bet types rather quickly.
Moneyline
Just like placing a moneyline bet in any other sport, this is a simple wager on which team will win the match. Tied matches are very much possible in all forms of cricket, so this market will typically be offered 3-ways.
Match props
Knowing how to bet on cricket is crucial to taking advantage of these bets. Match prop bets are unique outcomes that can occur throughout a match that are not reliant on the final outcome of the match itself. For example, "Will there be a century in the match?" or "Which team will score the highest score in the 1st 6 overs?" are types of prop bets.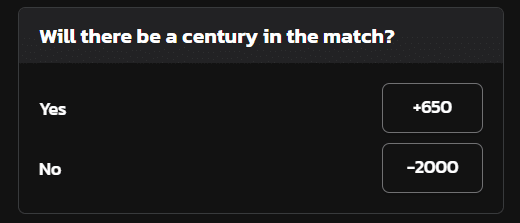 Player props
Just like match props, these outcomes are not tied in with the final result of the match. Unlike match props, these bets are based on individual player performances. For example, betting on which player will score the most runs in a match or take the most wickets.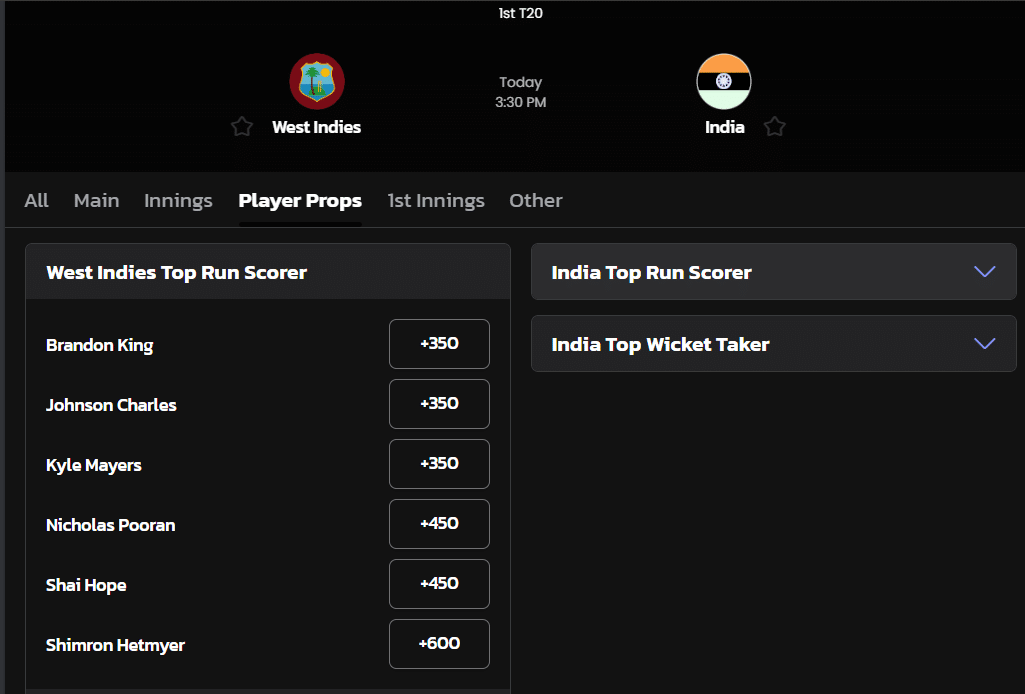 Futures
This is an outright bet on which team will win a tournament or series and the bet is placed before the tournament even commences. Most sportsbooks will offer futures markets for major cricket tournaments way in advance – as much as a year in advance in some instances.

Over/Under
This refers to both spreads and totals. These markets are not offered at all US sportsbooks, but we have seen Caesars, FanDuel and bet365 provide totals for major matches.
A totals bet is betting on whether a total will be over or under a certain number and can cover individual batsmen scores, team score, or total combined team scores. Spread betting for cricket involves predicting the winner and by what margin.
How to Bet on Live Cricket in the USA
Live betting brings many advantages when betting on any sport and takes a small edge away from the bookmaker. This is largely due to the quick reaction speeds needed to shift odds in real-time which can lead to a great deal of value for sports bettors with a keen eye and solid knowledge of cricket.
Live betting is simple. Open the market window for your chosen cricket match and you'll see all the available markets in real-time. The odds will shift reactively to game situations. This is where your cricket knowledge can come in handy.
For example, the odds on the fall of the next wicket might be in over 50 runs' time but you know your team's strategy well. A bowling change is imminent and the current batsman scoring alarming runs against the pace attack doesn't fair well against spinners.
You can place a bet under 50 runs at exceptional odds just before the change of bowling which could cause those odds to tighten up. If you're correct and the batsman soon falls to the new spin attack, you'll profit due to taking advantage of slow, reactive live odds.
Cricket Betting Tips & Strategies
Now that you know the basics, it's time to learn how to bet on cricket and win. We've compiled some of our favorite cricket betting strategies that will set you up for success. Follow this cricket betting guide and you'll be better equipped to successfully bet on cricket in the USA.
Know the Key Players – Learn all about each team's best players and how they compare to others. A team might have some big hitters known for fast run scoring. However, those same big hitters might be "flat track bullies", only reliable for scoring against pace bowling on pitches that provide little discomfort for batting.
Consider Conditions – The weather is very impactful, especially in test cricket, and the pitch conditions are even more important. Look to see if the pitch is a "road" which will heavily favor batsmen due to its fast pace and lack of grip. Equally, a rough pitch will take pace off the ball and spin more, making it harder for scoring.
Bet Live – Due to the fast pace and reactiveness of live betting, you'll typically receive far better odds when betting live than you would pre-match. A common cricket betting tip is to bet on the moneyline right after the first ball as the odds will often immediately shift to more valuable lines than the closing pre-match lines prior to the start of play.
Look for Arbitrage Chances – This is especially prevalent when live betting on cricket. Look for chances to cover your bets and guarantee profit. Using two sportsbooks from our top list is a better way to get different odds and find arbitrage betting opportunities.
Live Bet on Pressure – Pressure brings wickets. Look for a batsman that hasn't scored runs in a while or a team that has faced considerable dot balls. Even the most well-tempered players can play a rash shot when under pressure and you can take advantage of late reacting odds when you predict the wicket before it happens when live betting.
Consider Team Composition – Consider the players in each team in detail and how each player can combat each other. Left- and right-hand batting combinations can be difficult to bowl against while a team with a leg spinner will prefer bowling to right-handers, as they'll spin the ball away from the body.
Want to try out our recommended strategies? Visit BetRivers.
Types of Cricket Formats
To fully understand how to bet on cricket, you'll need to know that there are two distinct forms of cricket. That is test cricket and the many forms of limited-overs cricket. We identify all the popular types of cricket you can bet on at US sportsbooks.
Test cricket
The purest form of cricket. Test matches are somewhat comparable to baseball as they are played over multiple innings. Played over five days lasting around 90 overs per day, to win a test match, a team must dismiss the opposition over two innings and score more runs overall.
One Day / List A cricket
One Day cricket is played in a single day/night and each team bats in an innings that is limited to 50 overs each. The team that scores the most runs wins.
T20 cricket
Twenty20 (T20) cricket is a shorter game in which each team only gets to face 20 overs in their innings. This form of cricket is heavily focused on incredibly high run rates and late-game bowling strategies.
T10 cricket
An even shorter limited-overs game in which each team has an innings of only 10 overs. This form of cricket hasn't quite taken off yet and is largely played by developing leagues where few teams are likely to make it to 20 overs or more.
100 Ball
100-ball cricket was the UK's answer to dwindling ticket sales in domestic One Day and T20 cricket competitions. Each team faces 100 balls and the team that scores the most runs wins. There are numerous rule changes and much shorter boundaries that aim to make scoring easier. This is to make cricket more accessible to a casual audience.
Types of Events
There are so many cricket events held each year and so many popular rivalries, we could dedicate an entire article to the subject. However, some events are exceedingly more popular to bet on than the rest.
The Ashes
The oldest and greatest rivalry in the history of cricket, the Ashes is a 5-Test match men's series played between Australia and England. A separate women's Ashes tournament consists mostly of ODI matches.
World Cups
It began with the original limited-overs World Cup in 1975 but has since expanded into a T20 World Cup and women's World Cup too. These tournaments are played roughly every four years and have started to include more nations as minor cricket playing nations have begun to develop further.
Indian Premier League
The first T20 franchise tournament completely changed the cricket landscape. For the first time ever, players from around the world competed with and against each other in franchises and new and exciting talents emerged.
US Major League Cricket
The first US franchise T20 cricket league concluded in July 2023 and saw MI New York take the first championship. This tournament was a huge success and brought cricket to the United States in a big way. The tournament plays much like the Big Bash or IPL and features big-name players from all over the world.
The Hundred
This revolutionary franchise tournament held in the UK introduced 100-ball cricket to the world in 2021 and produces games that are even shorter than a T20.
Australian Big Bash
Launched in 2011 and arguably the second biggest T20 league in terms of popularity and name recognition, this T20 franchise tournament attracts big-name players and runs between December and February.
One Day Domestic leagues
These leagues will begin popping up at more US sportsbooks as the sport continues to rise in popularity following the success of the inaugural US Major League Cricket season. Each cricket-playing nation has a domestic 50-over Limited Overs tournament with Australia, England, and New Zealand's tournaments being among the most popular.
World Test Championship Final
First contested in 2019, the world Test Championship final is played in the UK between the two highest-ranking test-playing nations following a season of test matches played against numerous other nations. Points are awarded after each test and the winner faces off in the single test final.
Best Online Sportsbooks for Cricket Betting
Below are the 10 best cricket betting sites boasting great odds, a wide coverage of events, and each site is unique in its own way.
BetMGM – No.1 cricket betting sportsbook in the US.
FanDuel – Get totals markets for individual batsmen.
BetRivers – Receive excellent T20 International odds.
Caesars – Place totals cricket bets on major franchise leagues.
Bet365 – Fantastic range of international cricket markets.
DraftKings – Great live odds for women's cricket.
Barstool – Valuable Major League Cricket live odds.
WynnBET – Get special boosted parlay bonuses.
PointsBet – Detailed virtual scoreboard is perfect for in-play betting.
Hard Rock – Protect your cricket parlays from a a losing leg with Flex Parlays.
Affiliate Disclosure: Techopedia may receive advertising commissions for visits to a suggested operator through our affiliate links, at no added cost to you. However, all our recommendations are unbiased and follow a thorough review process. Players must be a legal gambling age and located in a regulated US gambling state. Gambling can be addictive, please play responsibly.
FAQs
What is the best way to bet on cricket?
How do you bet on online cricket?
How does cricket betting work?
How do you bet on a cricket match in the US?
What are the most popular cricket bets?