Darts has grown massively over the last 20 years, now reaching a global audience for what was always seen as a somewhat local sport. This growth has brought about a huge increase in darts betting opportunities, with most sportsbooks now offering plenty of coverage – and plenty of profit.
In our guide on how to bet on darts, we'll look at the types of darts bets you can place, which darts tournaments to bet on, as well as betting tips and strategies to help you win big.
If you know enough about the game to get started on darts betting, head over to BetMGM.
How do Darts Bets Work?
To bet on darts, you need to head to one of the best online betting sites to sign up for an account, or to log in. From here, simply navigate to the 'darts' section within the sports offering.
Once you're ready to start placing wagers at your chosen sportsbook, pre-tournament betting is one of the most popular bet types for darts.
The Professional Darts Corporation (PDC) is the biggest darts organization in the world, attracting the most elite players. The PDC World Championship is the main event of the season, ranked as the most illustrious of all the darts majors.
Taking this tournament as an example, the 'outright winner' bet within the 'futures' category is one of the most popular – we'll look at this in our darts betting example below.
Darts Betting Example
In this example, we're going to bet on the overall winner of the tournament.
In American format odds:
A positive number highlights the amount you will win based on a $100 bet.
A negative number is the amount you need to wager in order to make a $100 profit.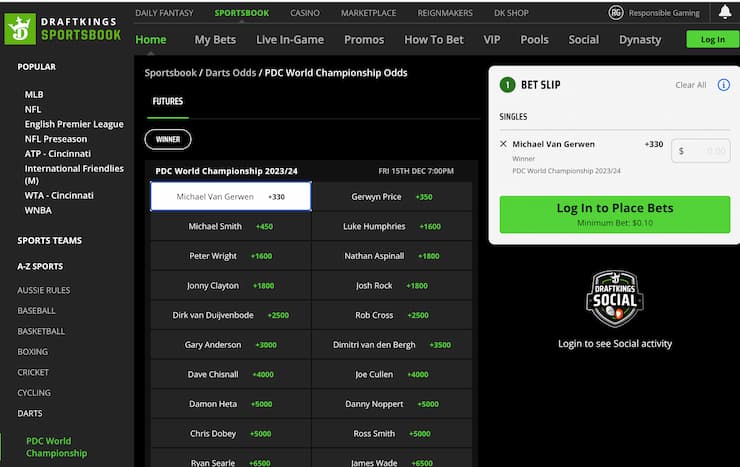 Our example bet is on Michael van Gerwen to win at odds of +330. Assuming that we place a $100 bet, our returns would look like this:
Michael van Gerwen to win @ +330 x $100 stake = $430 payout = $330 profit
As the tournament starts, more games and markets will become accessible. Before the start, the 'outright winner' is one of the few markets you can bet on. This is what makes it a common and popular darts bet.
How to Bet on Darts
Our step-by-step guide shows you how to bet on darts, taking you through the process from signing up to placing a darts bet.
While our experts recommend BetMGM, we will look at an example of the process from DraftKings, another of our top picks. Regardless of the sportsbook that you use, the process will be similar.
1. Create an account
Click the 'Log in' button at the top of the sportsbook to create your account. You will then see a button that says 'Sign up' or 'Register' that you need to click.

2. Enter personal details
You will be asked to enter your email address and create a username and password for your account. Also, add your phone number and any promo code you might have.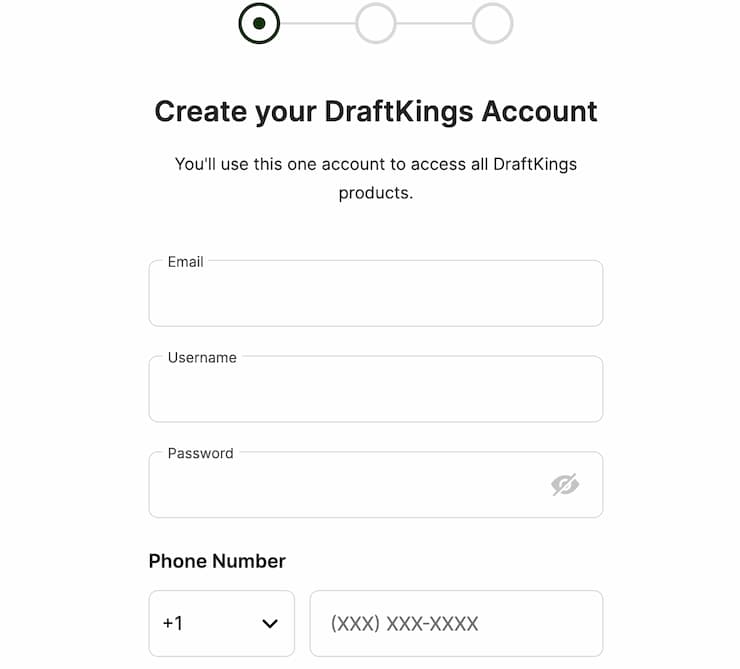 3. Log in and deposit
Once your account has been created and verified, you need to log in and make your first deposit. The deposit options will be in the cashier, but the options may vary based on location and depending on the sportsbook you choose.
4. Look for darts in the sportsbook
Use the navigation bar to find the 'Darts' tab within the betting site's list of sports. You can click this to open all the darts tournaments and players that you can bet on.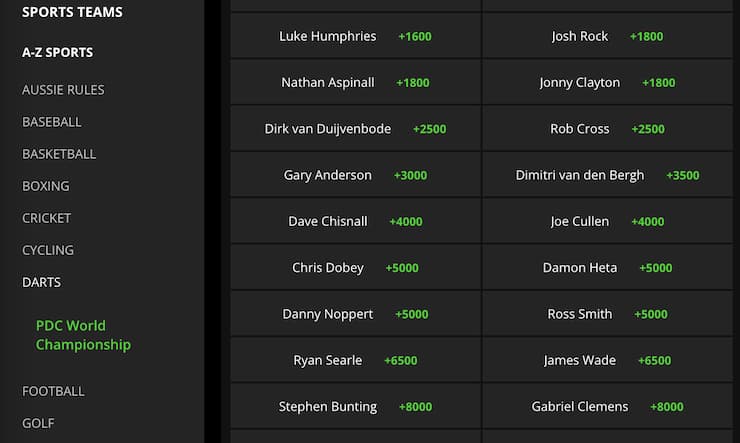 5. Place a bet
To place a bet, click the odds next to your pick. Once you click the odds, this will add the bet to your bet slip. In your betting slip, you can enter your stake. Take a minute to check the bet and the stake, then confirm.

Types of Darts Bets
When you're learning about how to bet on darts, you need to have an understanding of the range of betting 'markets', which simply means the type of bet you're putting on. While the range of markets in darts is smaller than the likes of the NBA or NFL, the best online sportsbooks cover darts majors in depth.
Darts Match Winner
In this straightforward type of bet, you predict the outright winner of a darts match. Odds are offered for both players in the match, and you select who you believe will win.
For example:
Player A has odds of -150
Player B has odds of +120
If you bet $100 bet on Player A, you'd get a payout of $166.67, meaning a profit of $66.67 if Player A wins.
If you bet $100 bet on Player B, you'd get a payout of $220, meaning a profit of $120 if Player B wins.
Handicap Betting on Darts
Handicap betting involves giving one player a virtual advantage or disadvantage regarding sets or legs. This market levels the playing field and enhances the odds for both sides.
For example:
If Player A has a -2.5 leg handicap, they must win by at least three legs for the bet to succeed.
If they end up winning 10-7, the adjusted score considering the handicap becomes 7.5-7, resulting in a successful bet.
Over/Under Legs/180s
You bet on whether the total number of legs or 180s scored in a darts match will be over or under a specified value set by the sportsbook.
For example:
The over/under line for total 180s in a match is set at 10.5.
The game sees a total of 11 180s.
Therefore, a bet on the 'Over' would win, as the total is more than 10.5.
Correct Score Betting
Here, you predict the exact score of a match in terms of sets or legs. This market offers higher odds because it's so specific.
For example:
You bet on a correct score of 10-8 in a best-of-19 legs match.
If the final score is 10-8, you would win your bet.
Outright Tournament Winner
This long-term market involves betting on the player you believe will win the entire darts tournament. It's popular for major events like the PDC World Darts Championship.
For example:
You bet $50 on Player A to win the tournament at odds of +800.
Player A wins the tournament, which would give you a profit of $400.
Most 180s/High Checkout
You wager on which darts player will score the most 180s in a match, or achieve the highest checkout. The 'highest checkout' means finishing a leg with the highest possible score using three darts.
For example:
Player A is known for high checkout finishes and has odds of +200 to achieve the highest checkout in a match.
You place a $100 bet on Player A having the highest checkout in the match.
Player A achieves the highest checkout, resulting in a profit of $200 from your bet.
Live Betting on Darts
Like many sports, you can bet on darts matches while they progress, adjusting your wagers based on the ongoing action. This is called live or in-play betting.
Live betting can be risky, as the odds change throughout. This means you could end up making better profits, but also heavier losses.
To understand live betting, imagine a darts match is already underway:
Player B, the pre-match favorite, falls behind early.
Player A's live betting odds may now become more favorable.
Live betting now offers an opportunity to place a bet on Player A at more attractive odds than before.
How to Take Advantage of Live Darts Betting
While beginner bettors need to be wary of in-play betting in darts, due to its fast-paced nature, there are also ways to get better at it. Live or in-play betting is a strong tool in the long run.
You need to start with a base before the game. The best way to do this is by looking at statistics for each player. The key areas that you can target include:
When leading averages
When trailing averages
Scoring average (both tournament and pre-tournament, where possible)
Deciding leg averages (especially for shorter formats)
Treble 20 hit percentage
Cover shot percentage
The goal is to compare these stats for both players to see if you can find trends. For example, if one player has a much higher scoring percentage than their opponent, they are likely the favorite to win. Compare this statistic for both current and pre-tournament games.
Treble 20 (T20) hit percentage and cover shot percentage are great markers for how well each player is scoring. A player can have a lower T20 percentage, but needs a higher cover percentage to keep up with scoring. If you find one player is ahead in both, they will likely outscore their opponent.
When it comes to using this data to bet live on darts, you need to anticipate how this data reflects the current game. Try asking yourself:
Are players hitting their targets?
Is this player likely to improve as the game progresses?
How does this affect which market I should bet on?
By knowing this data before the game starts, you can react quicker in-game and get more value from your bets.
Professional Darts League and Tours
Darts has come a long way over the last couple of decades, which means the sport is no longer limited to a couple of professional darts tours. In understanding more about how to bet on darts, it's a good idea to get to know the professional darts leagues and corporations around the world.
It's worth noting that from a betting perspective, some leagues are more accessible than others. We only recommend choosing the best sportsbooks, which should have the widest range of tournaments to bet on.
Top 7 Darts Leagues and Tours for Betting
Professional Darts Corporation (PDC). The PDC is the premier organization in professional darts, featuring top players and massive audiences. The PDC circuit runs yearly, with several high-profile tournaments, including the PDC World Darts Championship, UK Open, Premier League Darts, and World Matchplay. Prize money for these events often reaches millions of pounds.
British Darts Organization (BDO). The BDO organizes darts events and tournaments, showcasing a range of players from various countries. Its flagship tournament is the BDO World Darts Championship, typically held in January. However, the BDO has faced challenges in recent years, leading to the restructuring of its operations.
World Darts Federation (WDF). The WDF governs and promotes darts worldwide, hosting various events such as the WDF World Cup and WDF World Masters. These tournaments bring together players from different nations to compete globally.
World Series of Darts (WSOD). The WSOD is a series of international tournaments organized by the PDC, taking the sport to different countries and showcasing top players. Events like the US Darts Masters, German Darts Masters, and Melbourne Darts Masters are part of this series.
Euro Tour and Players Championships. The PDC Euro Tour features a series of European events, allowing players to compete for substantial prize money. Players Championships are smaller, regular events that contribute to players' rankings and provide opportunities for emerging talents to shine.
World Grand Prix and Grand Slam of Darts. The PDC's World Grand Prix is a unique tournament where players must start and finish each leg on a double. The Grand Slam of Darts invites players from the PDC and BDO to compete, creating an exciting clash of talent.
Nordic and Baltic Tour, Asian Tour, and more. These regional tours aim to promote darts in specific regions, fostering talent and giving players from those areas the chance to compete internationally.
Most tours use an 'Order of Merit' or ranking system to determine players' standings based on their performances in various tournaments. Higher rankings often lead to invites for prestigious events.
How to Bet on Women's Darts
As the sport itself is on the rise, women's darts make up an important part of its growth. The quality of the women's game grows year after year, and we're now starting to see some of the elite female players enter (and compete) in the men's game. Fallon Sherrock, Lisa Ashton, Deta Hedman, and Beau Greaves have propelled the women's game to greater heights – and of course sportsbooks are picking up on this.
The process of betting on women's darts is much the same as men's. The only downside is that market accessibility is more limited, with most sportsbooks covering just a handful of elite tournaments.
To place a bet on women's darts, you need to find the main darts section of your chosen sportsbook. It's here where the betting site lists the tournaments, and also where you can place bets. Most will have coverage of the 'tournament winner' market at least, but some will extend this to more niche markets like game or round betting.
Darts Betting Strategies
To succeed at darts betting, you need a solid betting strategy. The ability to find a winner doesn't have to be limited to darts tournament bets. As the range of markets grows with the popularity of the sport, so does the potential to make a profit.
While we've covered the basics of how to bet on darts, it's now time to ramp things up with various betting strategies you can try. The more strategically you bet, the more money you're likely to win.
Short-Format Games are More Unpredictable
The longer a game runs, the higher the chance the best players have to rise to the top. However, in shorter format games, there is a much bigger chance of an upset – this could mean a better opportunity to get value from your bets.
The Premier League is a great example of this. Even though the field is small and very much classed as elite, games running in a best-of-eleven format always end up being a bit unpredictable.
You need to look for players who are slow starters in short-format games. Take Peter Wright for example. Even though he has won multiple majors throughout his career, he has struggled in shorter format tournaments, such as the Premier League.
Utilize Data and Market Growth
The amount of data available for darts is bigger than ever. It wasn't long ago when data would just include averages, 180s, 140s, and ton-plus finishes. But now, with sites like Darts Orakel, you can analyze a huge amount of data.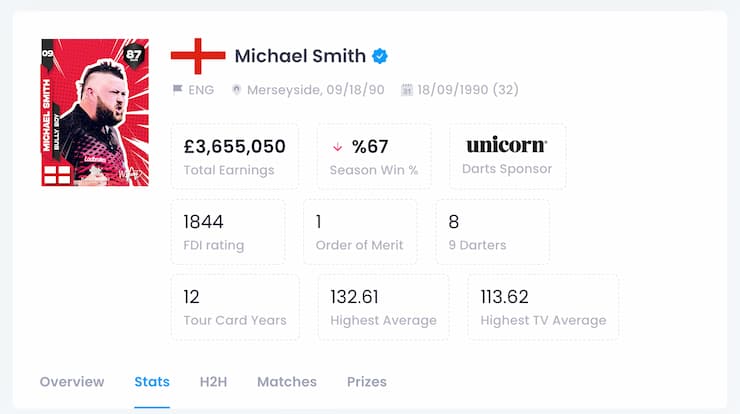 For your darts betting strategy, try making use of detailed data such as:
Checkout percentage
First 3/9 dart average
When leading/trailing averages
Deciding leg averages
Average throwing for a match
Checkout percentage when the opponent is on a double
Functional doubles percentage
How to Use Darts Data for Betting
The key is to use the data to find value and utilize different darts betting markets – avoid the outright winner market. For example, if you were betting live, you could use stats such as 'average when leading' or 'average when trailing' to your advantage.
It's then a case of comparing the two players to see who the game will favor at this point. If the player leading has a lower average when ahead than their opponent's trailing average, you can assume there's a good chance a comeback is on the cards.
You could also look at stats such as checkout percentages for bracketed scores. Most sportsbooks will allow you to bet on the player with the highest checkout in the game. For a strong guide on who to pick, all you need to look at is their 100+ checkout percentages.
Be Careful with Live Darts Betting at First
Darts games move incredibly fast. Shorter-format games can be done in less than 15 minutes, but even long-format games can happen quickly.
There's no doubt that in-play betting on darts creates huge potential for betting, but you need to know what to look for and act quickly. If you're new to betting on darts, this is a market we'd recommend monitoring before you start.
To prepare for this, you might want to try to:
Get a feel for how the markets change based on the scoring, to see if you can spot areas of interest.
Look to target one or two markets to start with and see how they react to events within the game (depending on the market coverage).
Most professional darts bettors will target in-play betting, but we would probably advise against this for beginner bettors.
Top 10 Biggest Darts Tournaments to Bet On
Below is a list of the world's most prestigious darts tournaments. These tournaments should have the biggest range of games and markets on any online betting site.
1. PDC World Darts Championship
Prize money: £2.5 million
Format: Best-of-sets, legs, leading to a final.
Useful fact: Held annually at Alexandra Palace, London. Phil Taylor holds the record with 14 titles.
Interesting stat: Michael van Gerwen's incredible 9-dart finish in the 2017 semifinal.
2. Premier League Darts
Prize money: £825,000
Format: Round-robin league, followed by play-offs for the top four players.
Useful fact: A weekly tournament held at various locations featuring top PDC players.
Interesting statistic: Phil Taylor's record of six Premier League titles.
3. PDC World Matchplay
Prize money: £700,000
Format: Legs format with no sets, culminating in a final.
Useful fact: Held in Blackpool, England. Phil Taylor dominated with 16 titles.
Notable play: Taylor's 107.95 average in the 2002 final, setting a record.
4. UK Open
Prize money: £450,000
Format: Open draw, best-of-legs format.
Useful fact: Known as the 'FA Cup of Darts'. Multiple stages with amateur qualifiers and PDC professionals.
Notable play: Jelle Klaasen's memorable nine-dart finish in the 2009 final.
5. Grand Slam of Darts
Prize money: £550,000
Format: Group stage followed by knockout rounds.
Useful fact: Pitting PDC and BDO players against each other. Held in Wolverhampton, England.
Notable play: Michael van Gerwen's three consecutive titles from 2015 to 2017.
6. European Championship
Prize money: £500,000
Format: Stages of knockout rounds leading to a final.
Useful fact: Part of the PDC's European Tour. Held in various European cities.
Notable play: Rob Cross's impressive 140.09 average in the 2018 quarterfinal.
7. Players Championship Finals
Prize money: £500,000
Format: Knockout rounds, culminating in a final.
Useful fact: Featuring players from the Players Championship events throughout the year.
Notable play: Gary Anderson's back-to-back wins in 2018 and 2019.
8. World Cup of Darts
Prize money: £350,000
Format: Pairs representing countries, with various rounds.
Useful fact: Netherlands and England have been dominant. Held annually since 2010.
Notable play: England's Phil Taylor and Adrian Lewis won the first four editions.
9. World Series of Darts Finals
Prize money: £300,000
Format: Knockout rounds.
Useful fact: Featuring international events in various countries.
Notable play: Michael van Gerwen's consecutive wins from 2015 to 2017.
10. The Masters
Prize money: £200,000
Format: Invitational tournament featuring the top 16 PDC players.
Useful fact: Held annually in January.
Notable play: Michael van Gerwen's five titles in six years from 2015 to 2020.
Most Successful Darts Players in History
As part of our guide on how to bet on darts, we think it's useful for beginner bettors to know about the most successful darts players of all time. Darts has given rise to many top sportspeople over the years, but the five players below are regarded among the best.
Phil Taylor – £7.5 million in earnings
Phil Taylor, fondly known as 'The Power', is one of the most successful darts players, accumulating over £7.5 million in prize money. His dominance includes 16 PDC World Darts Championship titles, 16 PDC World Matchplay victories, and 6 Premier League Darts triumphs. Taylor's legacy is punctuated by his exceptional ability to deliver breathtaking 9-dart finishes, which he did multiple times, including two in a single match during the 2010 Premier League final.
Michael van Gerwen – £8 million in earnings
Michael van Gerwen, or 'Mighty Mike', is another towering figure in darts history, earning over £8 million in prize money. Three PDC World Darts Championship victories underscore his swift rise to fame, along with seven Premier League Darts titles and three Grand Slam of Darts wins. Van Gerwen's legacy is illuminated by his record-breaking performances, where he achieved an astonishing average of 123.4 in a single Premier League match against Michael Smith in 2016.
Gary Anderson – £4.5 million in earnings
Gary Anderson, affectionately known as 'The Flying Scotsman', had a huge impact on the sport. With over £4.5 million in prize money, his accomplishments include two PDC World Darts Championship titles, two Premier League Darts victories, and two World Matchplay triumphs. His thrilling 9-dart finish in the 2016 PDC World Darts Championship final against Adrian Lewis was a fine example of Anderson's skill and dominance.
Eric Bristow – £1.5 million in earnings
Eric Bristow, the iconic 'Crafty Cockney', contributed significantly to darts' rise in popularity throughout the 80s and 90s, with an estimated career prize money of around £1.5 million. His achievements include five BDO World Darts Championship titles, five World Masters victories, and two World Cup singles triumphs. Bristow's pioneering role in shaping the sport and his remarkable five consecutive BDO World Darts Championship wins remain a landmark in darts history.
Raymond van Barneveld – £3.5 million in Earnings
Raymond van Barneveld affectionately referred to as 'Barney', has amassed over £3.5 million in darts prize money, solidifying his status as one of the greats. His accolades include one PDC World Darts Championship title, one BDO World Darts Championship victory, and four Premier League Darts successes. Van Barneveld's iconic moment came in the 2007 PDC World Darts Championship final, where he staged an unforgettable comeback from 3-0 down to defeat the legendary Phil Taylor 7-6.
10 Best Sportsbooks for Betting on Darts
We consider the top 10 sites below to be the best sportsbooks for darts betting. Each site is highly reputable and has a unique welcome offer for new bettors.
Affiliate Disclosure: Techopedia may receive advertising commissions for visits to a suggested operator through our affiliate links, at no added cost to you. However, all our recommendations are unbiased and follow a thorough review process. Players must be a legal gambling age and located in a regulated US gambling state. Gambling can be addictive, please play responsibly.
How to Bet on Darts FAQs
What types of bets can I place on darts?
How do odds work in darts betting?
What stats should I consider when betting on darts?
Can I bet on darts tournaments other than the PDC World Championship?
Is live betting available for darts?
How do I know if a sportsbook is reliable for darts betting?
Can I bet on darts using my mobile device?