Formula 1 is the crème de la crème of motorsport racing, with a fanbase that spans the globe. Learn how to bet on F1, what you can bet on, and some F1 betting tips and strategies to make you much more profitable.
How to Bet on F1
Before you get close to making your first bet on F1, you'll need to pick a sports betting site first, like the ones on our list of recommended offshore sportsbooks.
Once you've identified the F1 betting site you want to use, you'll need to register for an account. Almost always when you sign up to an online sportsbook for the first time you'll be given a generous welcome bonus, so be sure to make the most of that. When you have made it to the lobby, navigate to the F1 section. For new players, picking a GP winner is a good place to start.
After making a few bets on F1 you can use the betting tips and strategies outlined on this page to make more complex bets such as qualifying leader, podium finish, prop bets, future bets, live betting and more.
Betting on F1 will focus on the next upcoming Grand Prix, with futures bets on which driver or team will win the championship running simultaneously and affected by each race.
As we already mentioned in our F1 betting guide, make the most of any generous welcome bonuses as well as any ongoing promotions offered to existing players during the season. Signing up to more than one bookie is a savvy way of getting your hands on multiple welcome bonuses. Sometimes before a GP you'll also see a site provide boosted odds or multipliers to increase interest in the event.
Dive straight into Formula 1 betting and sign up for an account with BetOnline.
F1 Betting – Example Bet
Here we will look into a real-world example so you can see exactly how an F1 bet works. The sportsbook we've opted for is BetOnline, but you'll find a host of different sports betting sites that cover the same F1 betting markets so it's always worth shopping around to find the best value odds.
At the time of writing we are well into the 2023 F1 season, which Max Verstappen is threatening to run away with from a driver's standpoint. So we've opted for Lewis Hamilton to produce the unthinkable and win the title in the second half of the season at odds of +275.
That means wagering $100 on the outcome in our bet slip on the right-hand side of the page would return a potential payout of $375 (including the original stake) should Hamilton win the Drivers' Championship.
The market will remain open until a winner is confirmed or our selection Hamilton can no longer mathematically win the title. Remember to check the terms and conditions of each sportsbook before you make a significant wager.
How to Bet on F1 – Step-by-Step Guide
Here will walk you through the process of how to bet on F1 races, from initially signing up and registering for your account to making that all-important first bet. We have gone with BetOnline as our sportsbook in this example, but you'll tend to find the process very similar regardless of which sports betting site you opt for.
1. Register at BetOnline
Unless you already have an account with the sportsbook you'll need to register for one. To do so hit the 'Join' button in the top right-hand corner of the site.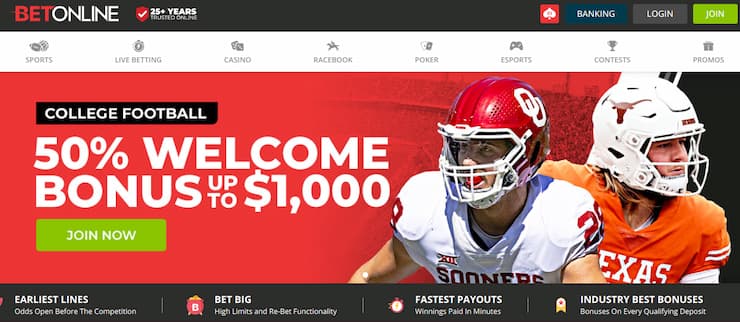 2. Open an Account
You'll need to choose a password, and enter details like your name, date of birth, and current address.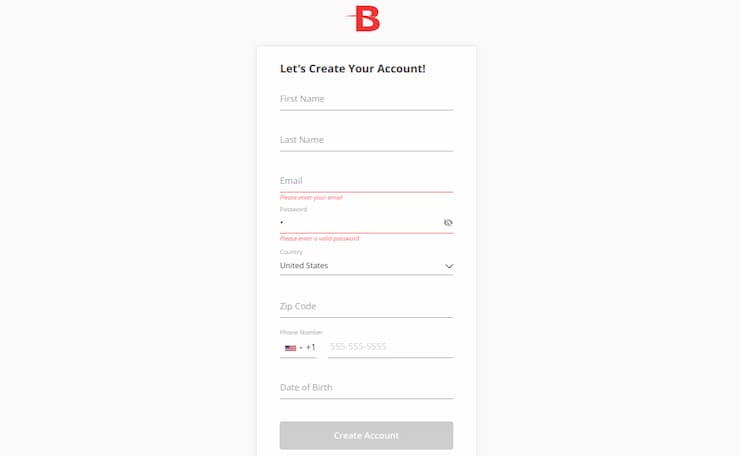 3. Make a Deposit
Head to the cashier section and make a deposit using your chosen payment method. Be sure to make the most of any welcome bonus offered by the sportsbook for signing up.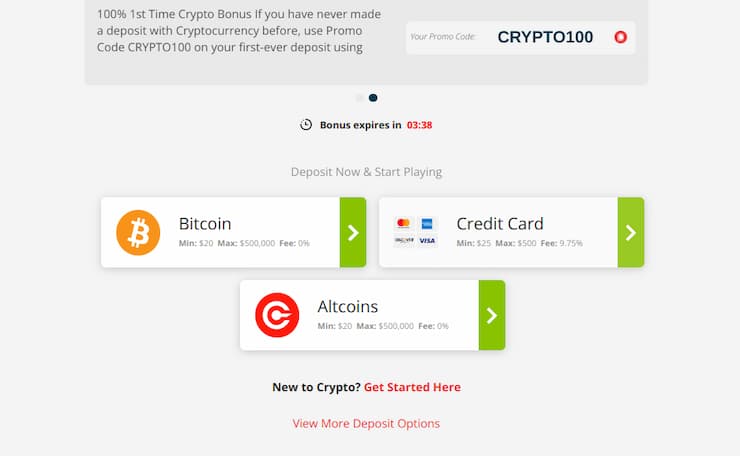 When you've added funds to your account you're ready to make that first F1 bet. From the sports homepage, scan down the sports menu on the left-hand side until you reach 'Formula 1' and click on it.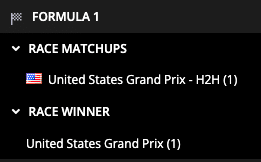 5. Place Your Bet
Once you've decided which F1 betting market you want to wager on, it's time to make that bet. To make a selection simply click on the odds box next to the choice, which will add it to your bet slip. Place the bet and return to your account to check on any open bets.
Head to BetOnline to sign up and start betting on Formula 1 today.
Types of F1 Bets
The best online sportsbooks offer a range of different F1 betting markets and types of bets. In this section, we will look at the various types of wagers available to F1 bettors.
Race Winner
The most common type of F1 bet is to predict who will win a certain Grand Prix. Usually only a small number of drivers have a realistic chance of winning a race – in the 2022 season there were only five winning drivers (Charles Leclerc, Max Verstappen, Sergio Perez, Carlos Sainz Jr., and George Russell). It's a similar situation for constructors with only three winning cars in 2022 – Ferrari, Red Bull Racing, and Mercedes.
There tends to be a clear favorite so you may have Max Verstappen starting at -140 to win the Spanish Grand Prix (so a bet of $140 would win $100) while his nearest challenger Lewis Hamilton is at +160 (bet $100 to win $160). The rest of the field generally increases in odds all the way to the hugely unlikely underdogs at around 2,000/1.

Podium Finish
Podium finish bets are when you back a driver to finish in either first, second or third place. You won't get anywhere near the same odds as you would for a driver to win the race outright, but your bet will win regardless of which of the three positions your driver finishes in.
There is no difference in how much you win depending on where your driver finishes either, as long as they secure a podium spot with one of the top three positions.
Podium finish bets are great if there are a number of close challengers to win a race and you want some insurance in case your selection doesn't win outright, or if you are backing a lesser driver who might just nick third spot.
Pole Position
The starting grid for an F1 race is determined by qualifying, which takes place on the days before the Grand Prix. Backing a driver for pole position means they will have the best qualifying time and will start the race first. This is a huge advantage so naturally the best drivers will be looking to secure pole position.
Prop Bets
F1 has a great selection of prop bets, also known as specials. You can bet on things like:
Whether the safety car will appear.

Whether a driver will finish in the top 10 positions (the only ones that earn world championship points).

What country the winning driver will be from.

Will there be over/under a number of cautions during the race.

Which engine will the winning car have.

Who will lead the most laps.

Who will record the fastest lap.
These bets can bring a different dynamic to F1 betting and make races more interesting for casual punters, but serious bettors should be aware that the juice often tends to be higher on prop bets than other types, and they sometimes require more luck than judgment.
Futures
All good sports betting sites should offer futures bets for the F1 Drivers' Championship and Constructors' Championship. These are some of the most popular bets on the sport and can be placed weeks or even months before the season starts, or once things are already underway.
In recent years there have often been drivers or constructors that have dominated the competition. From 2010 to 2013 Sebastian Vettel of Red Bull won every year, while Lewis Hamilton of Mercedes won in six of the seven seasons from 2014 to 2020, and Max Verstappen of Red Bull won in both 2021 and 2022.
Head-to-Head Betting
Some sportsbooks will allow you to bet on a battle between selected drivers during a Grand Prix. You can pick the one you think will finish ahead of the other and it doesn't matter where they finish in the overall standings. This is a great option if there is a particular rivalry you are interested in and feel you can extract value from.
Live F1 Betting
Live betting is an exciting new addition to the F1 betting landscape. Also referred to as in-play betting, these bets require quick decision-making. One of the best methods for live F1 betting is working out when drivers will make their pit stops (drivers must make at least one pit stop during a race and change tyres), as this can lead to tactical advantages and errors.
Listening to the commentators can be particularly helpful if you are watching F1 live on TV as they will always report the latest times to viewers, while sometimes the TV coverage will pick up the drivers' radios.
If you think a driver is making a pit stop at the wrong time, this could be a key factor in whether or not you bet on them. Conversely, it may signal a good moment to back their rival to overtake and potentially win the race.
F1 Betting Tips and Strategies
As part of this comprehensive guide we have drawn up a list of helpful Formula 1 betting tips and strategies to help you make some savvy selections.
1. Do your homework
Make sure you have swotted up on your research before making any F1 bets, as you'll be betting against a wealth of knowledge and algorithms when placing a wager at an online sportsbook.
Following F1 news and gossip will put you at an advantage when it comes to trying to unearth lucrative bets. You can follow teams and drivers on social media or check any number of great F1 sites for detailed coverage.
2. Maximize any welcome bonuses or free bets
New players will almost always be welcomed to an F1 betting site with a generous bonus. These can be used to make your first F1 wager, although you'll usually have to make a deposit and play through any wagering requirements.
3. Steer towards long odds
Backing the clear favorite might be the easiest thing to do in F1 betting, but it definitely isn't always the most profitable. Heavily-backed drivers will come with low odds, so you'll have to stake higher amounts to return worthwhile winnings which ramps up the risk.
Those betting for fun, just starting out or keen on smaller stakes will find more enjoyment in backing underdogs at longer odds, although that shouldn't stop anyone from backing big favorites if they want to.
4. Back drivers to win at their favorite track
F1 drivers often have a preferred circuit and for whatever reason are just more successful in certain Grands Prix than others. Ayrton Senna won five times at the Monaco GP from 1989 to 1993, Lewis Hamilton did the same at the Spanish GP from 2017 to 2021, while Michael Schumacher managed four wins in a row at the USA GP from 2003 to 2006.
Be sure to analyze a driver's recent form before you back them to win on a certain track again, as well as studying their car performance and keeping an eye out for track layout changes. Alterations are often being made to F1 circuits which could have a big impact on how racers fare on them.
5. Be aware of the weather forecast
Waiting until just before an F1 race starts is usually good practice so you can assess whether the weather will have an impact on proceedings. If it's going to bucket down with rain that may change how you approach the F1 betting, favoring different drivers who are better in wet conditions for example.
Weather changes also affect tires and fuel consumption as well, in heavy rain or snow teams will often utilize wet-weather tires while really hot or humid conditions will see drivers use more fuel than usual due to increased friction between rubber and road surface.
Also, if winds are exceptionally strong they can cause unexpected swerving from cars and lead to accidents and other problems like tire blowouts.
6. Factor in team dynamics
So many people are behind the driver that you bet on in F1, with large support teams and pit crews working in the background to help secure success. Each team has two drivers and sometimes they can work really well together to finish highly, or they may not get on and decide to actively work against one another.
Team dynamics can have a big impact on rankings so it's good to know the ins and outs of each operation as best as possible.
Keen to use our F1 betting tips and strategies? Try BetOnline.
Top F1 Races
There are a number of Formula 1 races that stand out when looking at the schedule for a season. Here we'll look at five of the best in more detail.
British Grand Prix
One of the oldest races in F1 history, the British Grand Prix has been held annually since 1948 and has been a part of the F1 World Championship every year since 1950.
Taking place every July on the Silverstone Circuit near the village of Silverstone in Northamptonshire, England – a motor-racing stronghold – nowhere else reliably offers as much wheel-to-wheel action and so many spots where drivers can try to overtake.
Unpredictable British weather also shakes things up too, perhaps explaining why home drivers have fared so well at the British GP. Brit Lewis Hamilton leads the way with eight successes at Silverstone, with Jim Clark on five, and Nigel Mansell on four. Frenchman Alain Prost also has five, while three players share three victories – Jack Brabham, Niki Lauda, and Michael Schumacher.
Monaco Grand Prix
Widely considered the most sophisticated Grand Prix on the F1 circuit, the Monaco Grand Prix along with the Indianapolis 500, and the 24 Hours of Le Mans are considered the 'Triple Crown of Motorsport'.
Taking place on the Circuit de Monaco in late May or early June, the street circuit is laid out on the city streets of Monte Carlo and La Condamine around the harbor of the Principality of Monaco.
Every year prestigious people and celebrities from around the world fly in to witness the tight track. With many elevation changes and close corners, as well as a tunnel, make it one of the toughest circuits to negotiate in F1.
Ayrton Senna won the race a record six times, with both Graham Hill and Michael Schumacher triumphant five times, and Alain Prost victorious on four different occasions. McLaren is the constructor with the most successes in Monaco with 15.
Italian Grand Prix
With a great motorsport tradition in the country, the Italian Grand Prix has taken place at Monza in every season since F1 started in 1950, with the exception of 1980 when refurbishment work forced a temporary move to Imbola.
The layout at the Autodromo Nazionale di Monza has changed dramatically over the years with it now considered one of the fastest tracks going.
Held every year in mid-September, the Italian Grand Prix is one of the most competitive races of the season although the large numbers of Tifosi (local Ferrari fanatics) help explain why Ferrari is the leading constructor with 20 wins.
Belgian Grand Prix
There is no race track in the world like the Circuit de Spa-Francorchamps at the Belgian GP, the longest on the F1 calendar at 7.004km.
With only 44 laps needed to complete a full race distance of 300km, there are several high-speed corners and lots of gravel with the 'Eau Rouge' left-hander followed by an uphill right-hander known as 'Raidillon' – one of the toughest corners in the sport.
Taking place around the end of July, poor weather also blights the Belgian GP with rain affecting the race for 20 years in a row at one stage in its history.
Sao Paulo Grand Prix
Crucial to deciding the final standings of an F1 season, the Autodromo Jose Carlos Pace – or simply Interlagos – is held in the city of Sao Paulo, Brazil.
The Sao Paulo GP is incredibly well attended by local fans who love the sport thanks to the cult of legendary drivers such as Emerson Fittipaldi, Nelson Piquet, and Ayrton Senna.
2023 US F1 races
There are three races in the USA on the 2023 calendar, as F1 chiefs try to crack the American market. That means there are more races in the United States than any other country, with three events – all on different time zones. Here we take a look at them in more detail.
United States Grand Prix
Held on and off since 1908 and originally known as the American Grand Prize, the race later became part of the F1 World Championship and as of 2022 has been held 51 times at 10 different locations.
Since 2012 the United States GP has found its home at the Circuit of the Americas in Austin, Texas. F1 has reported crowds of around 400,000 in Austin, proving the interest of the sport is growing in America after previously struggling to capture the attention of motorsport fans.
The track offers an interesting layout providing drivers with plenty of chances to overtake, while off the grid there is a unique vibe with a raft of celebrities mingling in the paddock and cowboy hats given to the podium finishers.
Las Vegas Grand Prix
The Las Vegas Grand Prix has been added to the F1 calendar for the first time in 2023, taking place on a temporary 3.8-mile street circuit including the famous Las Vegas Strip.
The 10pm start time in Vegas means this new race will hit the prime-time audience on the west coast of the United States and be an early-morning event across Europe on Sunday.
The last time there was an F1 event in Las Vegas was the 1982 Caesars Palace Grand Prix, but this race will take place on a brand new street track featuring 17 corners and a 1.181-mile (1.900km) straight.
Given this is the first time F1 drivers have raced on the circuit there are no previous winners, so it could be a bit of a lottery when the field lines up in mid-November.
Miami Grand Prix
Despite proposals for a Grand Prix in Miami being submitted in 2018 the race was only held for the first time during the 2022 season, due to complications with the construction and development of PortMiami.
The Hard Rock Stadium was then mooted as the race location, only for the inaugural GP to eventually take place at the Miami International Autodrome on a 10-year-contract.
The circuit was designed and delivered by F1 track designers Apex Circuit Design, purpose-built for the event and created in a way as to not disrupt local residents.
F1 Calendar For 2023
The F1 calendar for 2023 comprises 22 different Grands Prix, with the Azerbaijan, Austrian, Belgian, Qatar, United States, and Sao Paulo GPs featuring the sprint format.
| | | | |
| --- | --- | --- | --- |
| Round | Grand Prix | Circuit | Race Date |
| 1 | Bahrain Grand Prix | Bahrain International Circuit, Sakhir | 5 March |
| 2 | Saudi Arabian Grand Prix | Jeddah Corniche Circuit, Jeddah | 19 March |
| 3 | Australian Grand Prix | Albert Park City, Melbourne | 2 April |
| 4 | Azerbaijan Grand Prix | Baku City Circuit, Baku | 30 April |
| 5 | Miami Grand Prix | Miami International Autodrome, Miami Gardens, Florida | 7 May |
| 6 | Monaco Grand Prix | Circuit de Monaco, Monaco | 28 May |
| 7 | Spanish Grand Prix | Circuit de Barcelona-Catalunya, Montmelo | 4 June |
| 8 | Canadian Grand Prix | Circuit Gilles Villeneuve, Montreal | 18 June |
| 9 | Austrian Grand Prix | Red Bull Ring, Spielberg | 2 July |
| 10 | British Grand Prix | Silverstone Circuit, Silverstone | 9 July |
| 11 | Hungarian Grand Prix | Hungaroring, Mogyorod | 23 July |
| 12 | Belgian Grand Prix | Circuit de Spa-Francorchamps, Stavelot | 30 July |
| 13 | Dutch Grand Prix | Circuit Zandvoort, Zandvoort | 27 August |
| 14 | Italian Grand Prix | Monza Circuit, Monza | 3 September |
| 15 | Singapore Grand Prix | Marina Bay Street Circuit, Singapore | 17 September |
| 16 | Japanese Grand Prix | Suzuka International Racing Course, Suzuka | 24 September |
| 17 | Qatar Grand Prix | Lusail International Circuit, Lusail | 8 October |
| 18 | United States Grand Prix | Circuit of the Americas, Austin, Texas | 22 October |
| 19 | Mexico City Grand Prix | Autodromo Hermanos Rodriguez, Mexico City | 29 October |
| 20 | Sao Paulo Grand Prix | Interlagos Circuit, Sao Paulo | 5 November |
| 21 | Las Vegas Grand Prix | Las Vegas Strip Circuit, Paradise, Nevada | 18 November |
| 22 | Abu Dhabi Grand Prix | Yas Marina Circuit, Abu Dhabi | 26 November |
Now you know how to bet on Formula 1, sign up for an account with BetOnline.
FAQs
Can you bet on F1 online?
Can you make money betting on F1?
How do you read F1 betting odds?
How does F1 sports betting work?
What is the fastest qualifier bet in F1?
What are the most popular F1 bets?
Resources