With fall officially here, football betting is just getting started in what will be a busy four months for sportsbooks. If you're new to the market, look no further as we dive deep into how to bet on football (and win), how to bet on football online, and more topics, that novice and veteran football bettors alike will find valuable.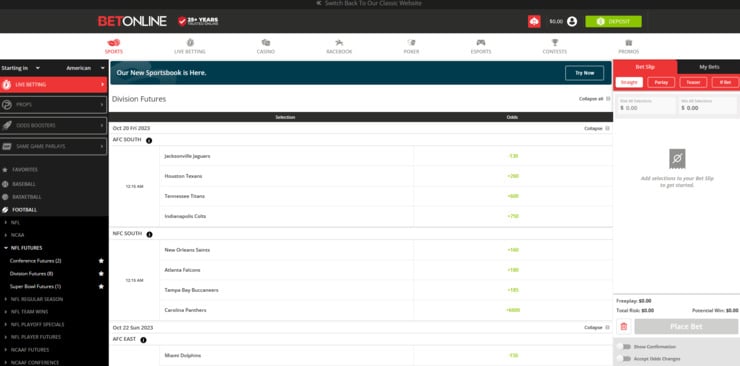 How Does Football Betting Work?
Understanding the rules of the game is the first step to winning big when betting on football. Making better, more educated, wagers on players and teams based on their propensity to play the game successfully may be facilitated by being aware of many things. And being aware of the types of bets you can make, which we'll dive into below, will give you that extra edge. Even if you've never watched a game, football is rather simple to grasp, so you can pick up the ropes pretty fast to get started sooner rather than later.
Let's dive into the details of how to bet on football for beginners.
Looking for more than 100 markets for a single NFL game? Try BetOnline.
Football Betting Types
Let's look at your possibilities before you get started, and learn how to bet on football online. Football betting possibilities are plentiful at the top online sportsbooks, so it's critical to understand which bets fit your betting style the best.
Straight Bets / Moneyline Bets
This is a straightforward wager on the football game's winning team. The bookmakers will take into account the advantages and disadvantages of both sides before releasing moneyline odds on who'll win the contest.
In the example below, BetOnline is providing +133 on the Jacksonville Jaguars to defeat the New Orleans Saints (place a wager of $100 and receive a payout of $133). As an alternative, you might take a -153 wager (risk $153 to win $100) on the Saints to win the game. Jacksonville is the favorite to win, and the bookmaker believes they'll win the game, as seen by the lower possible payoff offered to them.

Point Spreads
One of the most important bets to comprehend, not just in football but in other sports, is the point spread. By assigning a disadvantage to the (perceived) better team and an advantage to the weaker team, the bookmakers will calculate a point spread for each game. Then they provide comparable odds on both teams covering it.
Let's use an example of an upcoming game between the Jacksonville Jaguars and the New Orleans Saints. With the Jaguars favorited by +3 points, you'd bet them against the spread if you thought they were going to win by at least three points. If you're betting on the Saints, that implies you think they'll either win outright or lose by less than three points. When thinking about betting on football, the most important point spread numbers are three and seven, with 10 being the third most important.

First-Half/Halftime Bets
This could apply to either a moneyline bet or a point spread bet but is applicable to either the quarters or halves of the game.
Get incredible value betting on the halftime score line at Bovada.
Over/Under / Total
This wager is made on how many points each team will score overall in a football game. For instance, if you thought the clubs would score at least 47 points combined, you might wager on over 46.5.
If you thought the final score wouldn't go above that number, you could also wager on under 46.5. Some sportsbooks also offer alternative totals with over/under numbers below and beyond the predetermined total (at varying odds). Additionally, you may place an over/under wager on the total points scored in a half or quarter, just as you can place straight bets and point spreads.
Parlays
Picks for two or more football games are combined in a parlay. If you wager on Arizona State, Kansas State, and Akron all to cover the spread, for instance, the parlay will only win if every selection is accurate. Your overall profit increases because the prizes from each accurate selection, or "leg," carry over to the following pick.
Parlays are a hazardous wager with great potential benefits since they can result in significant payouts. Generally speaking, the bigger the payoff (and risk) of your parlay, the more legs there are.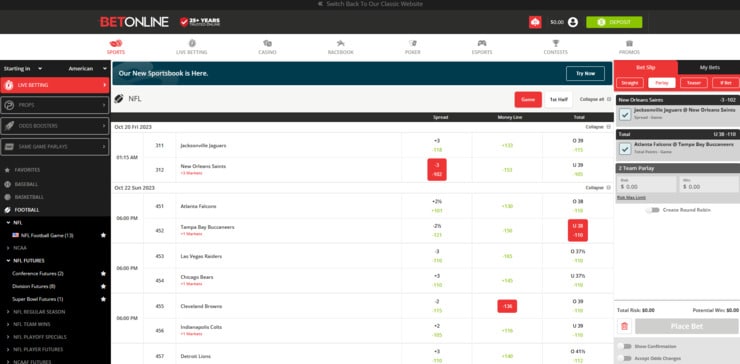 Single Game Parlays / Same Game Parlays
Just as the name implies, this bet allows you to bet on multiple outcomes from the same game. As an example, you could bet on player props in a game, combined with the point spread or money line bets for the same game.
With teasers, the point spread or total is swung in increments in 6.5, with the caveat that it must include two separate games. As an example, if you bet on the Nebraska Cornhuskers with an original spread of -6.5 vs. the Kansas Jayhawks, you'll get them at even. You then must select another team of another game, also swinging 6.5 points in the direction you chose. Remember, however, that you need to hit both games to win this bet.
Live Bet
Live betting starts as soon as the game starts. The odds on betting options, including the moneyline, over/under, point spread, alternate lines, and props are updated by online offshore sportsbooks to reflect the score, the game's momentum, and the starting position of the market. Sometimes you may place more bets on these markets up to the end of regulation time or overtime.
Futures
A futures wager is made before the start of the football season and continues throughout. In this type of bet, you're betting on which team will win the championship, its division, or its conference. You can also bet on season-long player awards like the NFL MVP or college football's Heisman Trophy.
As sportsbooks continue to pop up throughout the country, there are more options than ever, with a wide array of varying prices.
College Football Futures Odds Example
National Championship 2023-24 Odds
| | | |
| --- | --- | --- |
| Team | Opening Odds | Current Odds |
| Georgia | +250 | +220 |
| Alabama | +400 | +600 |
| Ohio State | +500 | +700 |
| Michigan | +800 | +800 |
| LSU | +1400 | +1100 |
How to Do Live Football Betting
Increasing in popularity every year, live betting is when you are betting on a game after it starts, also referred to as in-game betting. When locating the bet at an online sportsbook, it will often be on the home page if it is a big game currently already in action. There are also dedicated tabs for live in-game betting, most often found at the top of the page next to the promos and other main banner items.
Bet on live football with dynamic odds at BetNow.
Tips for Betting on Football
When considering whether to place a college football wager, there are several factors to take into consideration. As with anything you are investing your hard-earned, after-tax money on, you want to choose wisely. The best-prepared bettors frequently win the most bets, as is the case with most things.
Tips for Betting on College Football
Whether you're betting on college football or any other sport, it's critical to consider all angles when it comes to betting real money. As with any other endeavor you set out on, the more prepared you are, the more likely it is you'll find success. Let's jump into a couple of things to think about when it comes to college football betting.
1. Look Around for the Best College Football Futures
Before things get underway, or even in between weeks, college football futures offer the opportunity to find flaws in a sportsbook's thinking.
There are plenty of locations to wager thanks to the legalization of sports betting here in the US, expanding, seemingly, every month. Different sportsbooks will give varying pricing on teams due to the competition. This is particularly evident in the market for college football futures, when several publications may sometimes report entirely different statistics. Finding the greatest deal possible at several sportsbooks is essential for long-term success, and having multiple sportsbook accounts is key.
2. Key in on Coaching Staffs
The most successful coaching staffs are frequently at the center of long-term success, even though quarterbacks and defenses may win you individual games on their own, coaches remain intact, and if you look closely, the same ones win over and over. Make sure you research the coaching staff's track record before placing an NCAAF wager.
3. Analyze the Schedule in Full
Look at how a team's schedule compares. This one particularly refers to betting on college football futures and win totals. A team's chances of losing the second game while playing top-level opponents in back-to-back weeks are considerable, so look for those kinds of schedule setups. Consider when their bye week falls as well, since teams who get a week off before a major game tend to be better rested for that contest. Also, home and away is a factor that's important since conference rivals alternate seasons when it comes to visiting one another.
4. High School Ranking Websites
It's a good idea to consider how highly regarded a player was after high school, especially when a team has a lot of young players and with the transfer portal shaking things up before players even hit the field. Players classified as five stars coming out of high school frequently have an immediate effect, particularly at quarterback and linebacker. When there isn't much else upon which to base your strategy early on in the season, this becomes more crucial.
5. Pick a Small (Niche) Conference
Large conferences and teams, like Florida (SEC) and Florida State (ACC), receive a lot of attention in the college football betting world, but that is rarely where the value resides. Instead, focus on the smaller conferences, like the Mountain West or Mid-American Conference (MAC), where the teams are less well-known and where careful analysis prevails. The finest college football futures wagers frequently favor groups of six teams like Toledo, Western Kentucky, and Florida International, as a few examples.
Tips for Betting on NFL Football
1. Don't Rely on Luck
As much as we would like to, it's just not possible to have perfect football every game of the season. The results of a game depend on a variety of varying circumstances including, injury to players, unfavorable weather, refs favoring a certain team, and more. Keeping up with these developments is the best strategy. In the days and hours before the game you can read football news and local blogs, check the forecast, and follow team beat writers on Twitter.
2. Have More Than One Sportsbook Account
There is no better plan of action than opening multiple accounts with various football betting sportsbooks to have the best odds for your available bet to wager on. There are numerous benefits to opening several real money betting accounts, including the capacity to locate the greatest payouts, overall access to a larger selection of bet types, and more opportunities to try different bets. Keeping an eye on your budget will be crucial if you want to use this strategy.
3. Manage Your Bankroll (Budget)
Now that you have all the best football betting tips and are ready to start playing for real, it's more critical than ever that you have your budget set and manage your bankroll. It can make a big difference if you keep track of all your bets, noting how they finish, so you can adjust on the fly based on your track records.
With that in mind, when you deposit into your sportsbook of choice, make sure it's an amount you can afford to lose. Despite many calling for "monster" bets that are bigger than their normal-sized bet, it's a good idea to make each bet a similar size. Try to ignore the social media sports bettors who promote betting out of control, as believe it or not, they often don't even gamble themselves, and this is a very risky strategy.
4. Don't Just Pick Your Favorite Team
I'm a hardcore Pittsburgh Steelers fan, making me biased toward the team I want to win the game.
Seeing your favorite football team go undefeated and leave the other teams in the dust would be the best way to end any year. This is seldom the case, though, making it a not-so-smart idea to start football betting only to count on your favorite team to bring in some additional cash.
Don't get us wrong, there's nothing improper about placing a wager on your preferred team. After all, it's a pleasant aspect of betting on football for real money. We simply advise that you don't place all your bets on them in the hopes of getting a big return.
5. Have a Plan
As with anything, when you're investing your time and money it's wise to make sure you have a plan. You should have a motive for placing your bets because you run the danger of losing actual money. Additionally, you're not required to wager on football games simply because they're on TV. Pick your spots with patience, and act only when you see value.
Differences in College Football and NFL Betting
While there are numerous distinctions between betting on the NFL and college football betting, the most significant ones may be divided into three categories: pure league size, points volume, and information accessibility.
The NFL has 32 teams, while the NCAA Division 1 Football Bowl Subdivision has 130 teams. In other words, there are 16 NFL games on the weekend, whereas there are a stunning 60+ college football games involving FBS schools happening every week.
What makes the college game even trickier, due to its sheer scale, is the varying levels of skill, and motivation. For instance, it's possible that almost every starter on a team like Georgia has aspirations to play in the NFL, while at most, one or two players at a school like Miami Ohio have an outside chance of playing professionally. However, despite the stark talent gap, those two teams could still play each other.
Conversely, despite some teams being better than others for various reasons in the NFL, the talent level is often similar at the highest level. The points scored are also a factor, as with the NFL, teams rarely score more than 30 points. In college football, the top teams routinely score 40+ points per game.
In terms of information, there are several reporters who cover each of the 32 NFL organizations full-time on a daily basis. Each college football team, outside of the big boys, has one or two beat writers, and by following them on Twitter, you'll get hold of critical updates that the oddsmakers might not pick up on. Information about last-minute injuries, for example, will only be available in niche sources, unlike the NFL, which has more rules in reporting.
Additionally, in the NFL all 32 teams are required to disclose ailments truthfully every day and risk heavy fines if they do not. The same does not apply in college football, where unpaid freelancers are often the best source of information.
Because of this information gap, NFL lines are far more meticulously created than college football's, and their accuracy gives them an unbeatable "sharpness". This is also due to the pure volume and bet size that the NFL draws, making oddsmakers much more exposed when they get an NFL point spread wrong.
How to Bet on Football Online
The best football betting sites in the country, such as BetMGM, FanDuel, and BetRivers, are not in the business of making hard barriers to entry. As a result, they all provide quick and easy signups to get you started betting right away. Let's take a look at how to create a FanDuel account.
1. Sign up for the account
First off, head over to BetOnline's main page, and then navigate the sportsbook. Your arrival at the site shows a variety of welcome bonuses right on the main page. To register, open the form in the upper right by selecting 'Join '. From there, you'll have to enter your email, preferred username, and password, and then select 'Create Account'. Accept the rules of the website and fill out the form.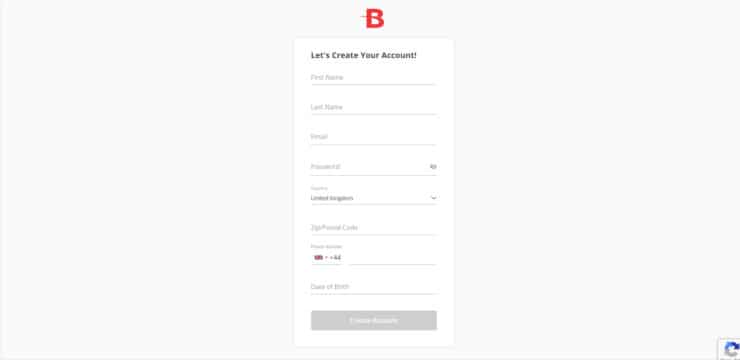 2. Add funds to your account
Head to the cashier and choose to make a deposit. You can also claim the welcome bonus at this time. Choose a payment method, enter the promo code, nominate your deposit amount, and follow any prompts to complete the transaction.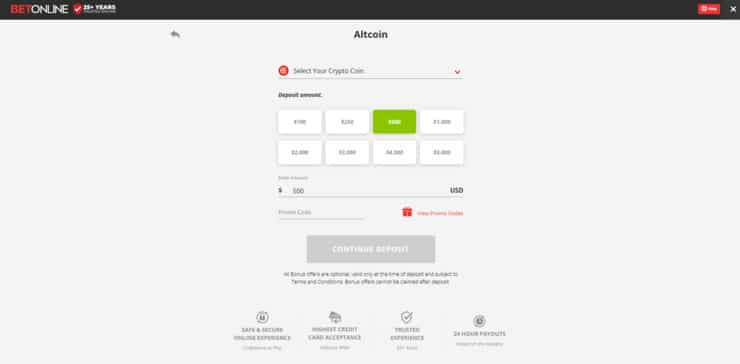 3. Select your wager and amount
With money in your account, plus potentially some bonus funds, it's time to go and find your first football bet. Now that you know how to bet on football games, navigate to the NCAAF or NFL tabs at the top of the page. From there, pick the game and bet type you wish to wager on and it'll appear on the righthand side in your Bet Slip.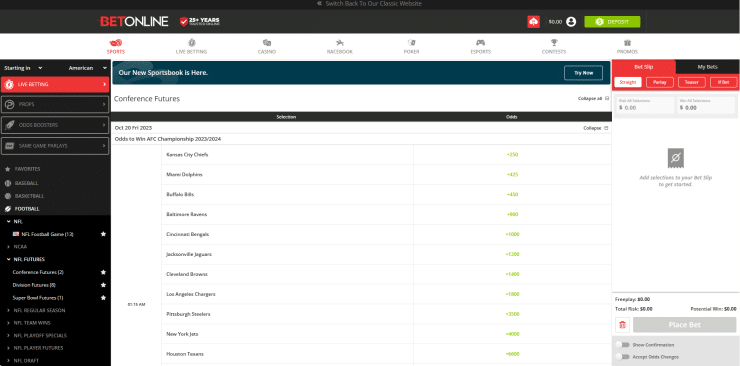 5. Place bet
With your bet now placed in the bet slip, the time has come to choose your amount to risk and lock in the wager. When you enter a value in the 'Risk' box, the 'To Win' box will populate based on the set odds. The same applies if you populate the 'To Win' box, the 'Risk' box will populate. Once you are set and ready, hit the green button at the bottom of the bet slip.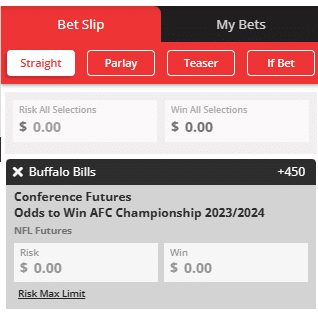 Types of Football Leagues
Now that you have some football betting strategy ideas and tips on how to win a football bet, it's time to get in on the action. It's not just the NFL, however, that you can get involved with. Let's take a closer look at some of the leagues you can get involved with starting your football betting strategy.
National Football League (NFL)
Certainly the granddaddy of them all, nothing compares to the overall volume of football bets that the NFL receives each year. Featuring 32 teams with the best football talent in the world, the NFL begins its training camp in July followed immediately by three preseason games. The regular season kicks off right after Labor Day, running through the first week of January. From there, the postseason culminates with the Super Bowl in the first or second week of February.
College Football
Second in terms of football betting in the United States, is undoubtedly college football. Featuring 130 teams at the FBS level, college football betting has exploded in recent years with the legalization of sports betting in an increasing number of US states. Featuring more variety in terms of skill level, and talent, team to team, scores (and the corresponding betting lines) vary in a similar way.
Canadian Football League (CFL)
As the name would imply, the CFL is Canada's professional league, often featuring American college football players who are not in the NFL. It is worth noting, that each CFL team can only feature a limited number of American players, as the league focuses on developing its own homegrown talent. As of 2023, the league features just nine teams, with four in its East Division and five in its West. Featuring a 21-week regular season, the season typically runs from early June through the Gray Cup, at the end of October.
XFL
Going in and out of business since 2001, the XFL returned in 2018 and then again in 2020, running since in varying degrees. As of 2023, the XFL features eight teams, spread throughout the country in a North and South division. The season runs from February through May, ending with the XFL Championship Game, most recently played at the Alamodome in San Antonio, TX.
United States Football League (USFL)
Originally running from 1983 to 1985, the USFL made its comeback in 2022 and featured eight teams in its first season. Broadcast on Fox Sports, the USFL became another league to bet on football, with interest getting much of the industry's attention. Starting up in April, all eight of the teams in the league played in Birmingham, AL, with the playoffs held in Canton, OH. The league wrapped up in July and has plans to continue this year (2023).
FAQs
What is the best way to bet on football?
How do you bet on football for beginners?
How do you bet on NFL football?
What is the safest bet on football?
What is the easiest bet in football?
How does football betting work?
What are the most popular football bets?
Resources