Golf creates around $5 billion in wagers in the US alone and, as a result, is one of the most popular sports to wager on outside of the "big four". In this article, we're going to look at how to bet on golf, including the process of placing your first bet, types of golf betting markets, and strategies to help you win more.
Golf Betting Example
The most common bet you can place in golf is the outright winner. It's the hardest market to win given that average field sizes can include 160 players, but as the odds are so high, is the most rewarding financially when you win.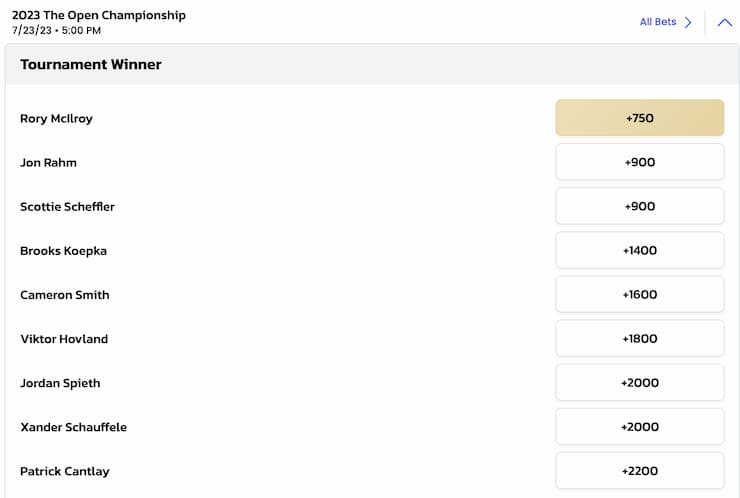 Our example is from the upcoming Open, hosted at Royal Liverpool in the UK. As you can see from the image above, Rory McIlroy is the favorite to win priced at +750. It's worth noting that, for a favorite, these may seem like huge odds, but for golf, this price is relatively short.
Let's assume that we wager $100 on McIlroy to win at odds of +750 and for the purpose of this bet, assume that he does win. Our returns would look like this:
$100 at +750 = $850 total return – $100 stake = $750 profit
With American-style odds, positive numbers highlight has much you will win (profit) if you place a $100 wager. If the odds were negative, then this would be the amount you need to wager to make a $100 profit. In the outright winner market, it's very rare that any player will be negative odds, but there are markets where this will be more common, which we discuss a little later.
The only result where we win on his bet is if McIlroy wins the tournament outright. Any other result, and we lose, which is why this market is hard to call.
How to Bet on Golf Using BetMGM
BetMGM is one of the best golf betting sites on the market right now and we're going to use them to highlight how to bet on golf.
1.   Open an Account

Before you place a bet, you need an account. Open the sportsbook and click on the "Register" button to get started.
2.   Create an Account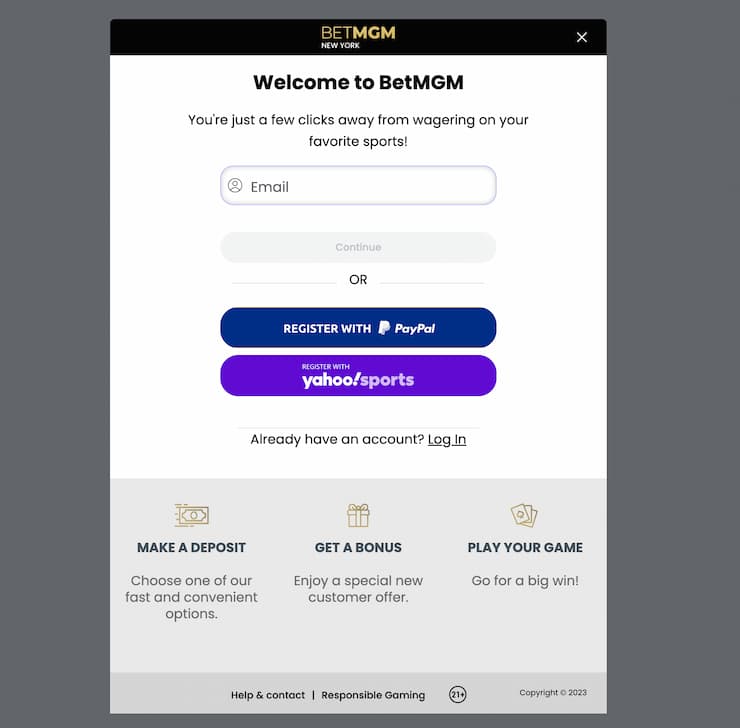 To create an account, you're going to need to work through the online forms. These include things like your name, date of birth, address, login details, and a BetMGM promo code if you have one. You're also going to need to verify your account before you can bet and to do this you have to upload documents that very your ID and your address.
3.   Deposit and Claim the Welcome Bonus
Once the account is set up, make a deposit, and claim the welcome bonus. At BetMGM they are currently offering a second chance first bet where if the first bet you make loses, they will refund the stake in bet credits.
4.   Use the Sportsbook to Choose Golf and Events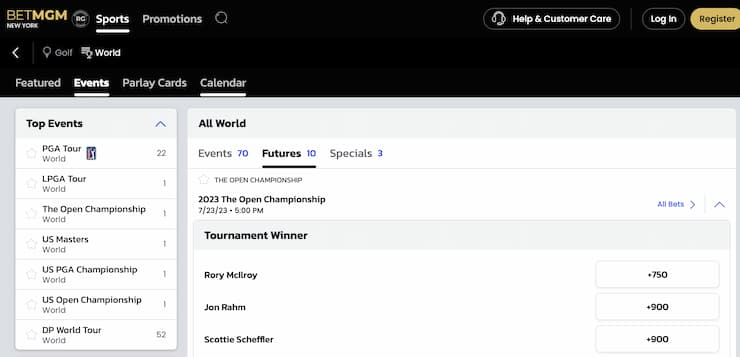 Head back to the sportsbook and use the menu down the left to navigate to golf. Here you will be able to choose the top events that the sportsbook is hosting, which includes tours from around the world such as the PGA Tour, DP World Tour, and major championships.
5.   Add to Bet Slip and Place Bet
To add picks to your bet slip, click on the odds. Once they are there, they will turn gold in the sportsbook. The bet slip will be at the bottom of the page and you need to click it to bring it to the front. Within the bet slip highlight the amount you want to stake, confirm the bet, and submit. You can track live bets within the "My Bets" section.
Types of Golf Bets
The beauty of betting on golf is that you're able to choose from a wide range of markets. In this section, we've highlighted what they are and how they work.
Outright Winner
The outright winner is the largest and most popular market to bet on. This is where you need to pick the overall winner of the tournament and often includes a huge field of 160+ players. Unlike most sports, the favorite can go off at extremely high odds and it's not uncommon for prices to start from +1000 and work up from that.
All betting sites are going to offer this market and it's worth noting that your pick has to win for you to get paid. Due to the high odds, most bettors spread smaller wagers over multiple picks as it gives them a higher chance of winning.
Place Bets
Place bets are where you bet on a golfer to win within a certain number of positions. Most place bets will include the top 5 spots, but you can get alternative places within the prop bet section where you can get fewer or more places to be paid, with the odds for each adjusting accordingly.
The market is a lot easier to call and you're likely going to get more bang for your buck here. Golfers often make late runs to charge up leaderboards meaning that place bets stay live for much longer than the outright winner market.
Each Way Bets
An each way bet is split into two. You essentially bet on the golfer to win and to place, and you get paid if one or both results occur.
It's imperative to be aware of the outright winner odds, as this will determine how the place bet is paid. The place bet will be a fraction of the starting price, usually around ¼ odds, and pay the top 5 places. This may differ from sportsbook to sportsbook, so shop around for the sites that offer the best percentage cut and the highest number of places paid.
For example, if you place an each-way bet at odds of +1000, then you have a bet at odds of +1000 for the golfer to win and +250 (1/4 starting odds) for the golfer to place. If you placed a $100 each way bet, then you have $100 on the win at +1000 and $100 on the place at +250 for a total stake of $200. Here's how payouts would work:
If the golfer wins you win both the outright winner and the place: $100 x +1000 = $1,100 + $100 x $250 = $350 = $1,450 total return = $1,250 profit
If the golfer fails to win but places: $100 x +$250 = $350 return – $200 total stake = $150 profit
If the golfer fails to win and fails to place: Losing both bets = $200
This market is more common in the UK and across Europe but is still accessible at some US-based sportsbooks.
To Make the Cut
With this market, you're simply betting on if a golfer will make the cut or not. In a regular season event, the tournament is played over 4 days and after two days a cut is made where the bottom half of the field is removed (cut).
Your bet needs the golfer to make the weekend, essentially, and if they do it will pay out. The odds are much lower than the overall winner as this is a much easier feat to achieve. The market works great by combining multiple golfers to create a parlay bet which means you aren't waiting 4 days for your bet to settle.
Matchups
Matchups are relatively new to golf betting but create a lot of drama that is totally removed from picking the outright winner. For this, the sportsbook will choose two, three, or even four golfers and put them head to head. You need to then choose the player with the lowest score from the group to win the matchup.
This is one of the more flexible golf betting markets in that the sportsbook can not only change the number of players but can also choose the number of rounds. For example, they may have matchups that run for a single round or for the whole tournament. Again, this is another market that lends itself well to parlay betting.
Pop Bets
Prop bets include "everything else" when it comes to golf betting. You could argue that some of the markets mentioned already are golf prop bets. We've listed some of the others below:
End of round leader
18 hole matchups
Player round score multi-way
If there will be a hole in one or not
Over/under on the winning score
Tournament won via a playoff
Golf Parlay Bets
Parlays bets are where you combine multiple selections to create a single bet on the back of these. For example, you might choose to pick the winner of the PGA Tour, DP World Tour, and LPGA Tour for the week, with three picks included to create one bet.
This market is not as popular in golf as it is in other sports, mainly because the odds of betting on the outright winner market are so high, and picking multiple winners across multiple events is extremely tough. However, for markets such as head-to-heads and matchups, it's much more accessible, where you essentially break each game down into 2 or 3 possible outcomes and then combine them into a parlay.
Nationalities Bets
Golf is a multi-national sport and there are players from around the world that participate on all tours. This market allows you to pick the highest-ranked player based on their nationality for the tournament. Again, this massively reduces the size of the field that you need to pick from, which lowers the odds for the winner, but makes it much easier to win.
Round Totals
Round totals are based on the score that a player will shoot. Markets for this bet will have either 2 or 3 options. The 2-way bet will be a line that chooses the over or under, for example, the score might be set at 71.5 strokes for that round.
The 3-way market will include brackets. This might be over 72, inclusive of 70-72, and under 70 strokes.
Round Leaders
Before the start of each round, the sportsbook will set a market for the player to be leading the event when the round has finished. The player does not need to go on to win the tournament outright, they simply need to be ahead once the round is complete. This bet is most popular after the first two rounds as the field will start to bunch over the weekend making it easier to call for rounds 3 and 4.
Futures
Futures are bets that you can place an event in the future. This might be for the following week's tournament or even for majors that might be weeks or months in advance. Other markets might include the winners of the Ryder Cup, the winner of the FedEx, or even the leading money winner across both the men's and women's respective tours.
How to Bet on Golf – Live Betting
A professional round of golf can take upward of 5 hours, which makes it ideal for betting live. In this section, we're going to look at how to bet on golf when it comes to live betting, walking through a quick example of how it works and what to look out for.
Create an Account – You need to have an account and once live, make your first deposit.
Choose the Tournament – Use the menu section of your sportsbook to find the tournament that you want to bet on. This might be listed under the different tours and the tournament within that.
Choose the Market – Live golf betting markets can vary and usually include the outright winner, end-of-round leaders, and head-to-head/matchup bets.
Add to Bet Slip – Once you've found your bet, click on the odds to add to bet slip. Markets will change quickly with live betting, which means that odds can change. If the odds change, then the bet will stay in the slip, but you will need to choose if you want to accept or reject the new odds.
Confirm Bet and Place – Confirm the bet and the odds, then place your bet. Most betting sites will allow you to track live bets within your account or sometimes within the bet slip.
Live Betting Example
In this section, we've included a live betting example that we've taken from the Scottish Open that is running on the DP World Tour.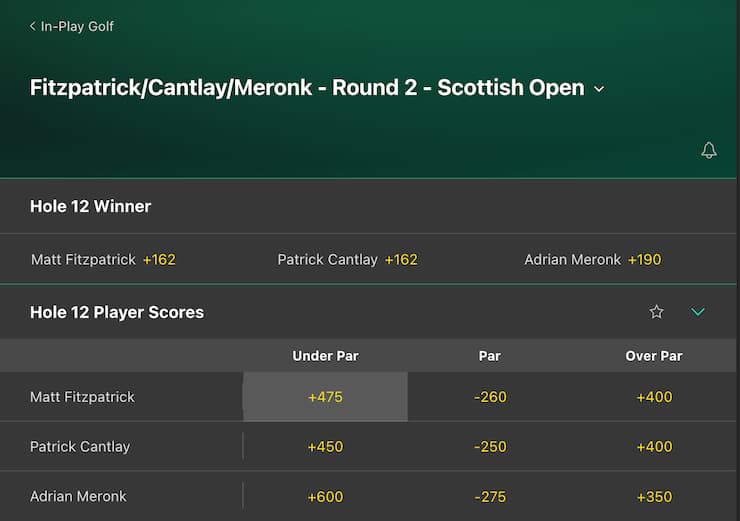 For this example, we've chosen to bet on a hole score market that includes Matt Fitzpatrick, Patrick Cantlay, and Adrian Meronk. The bet that we've taken is for Matt Fitzpatrick to shoot under par on the 12th hole at odds of +475, meaning that for every $100 we wager we win $475.
As you can see from the market, there's a wide range of bets we could have taken, including any of the three to shoot under par, par, or over par, as well as the winner for the hole between the three (lowest score).
For this bet to win we need Fitzpatrick to make birdie or better. Any other score and the bet will lose.
What's great about this market is that you can target a host of groups and players on holes based around the course. It's one of the many reasons why live betting on golf is so popular and a great alternative to simply betting on the outright winner.
Pros and Cons of Golf Betting
Golf, like all sports, has its pros and cons. Below we've highlighted reasons why you want to target this sport if you've not already and reasons why you need to be cautious when we look at how to bet on golf.
Pros:
Ability to win huge sums of money on the outright winner market at long odds
Multiple tours and tournaments to bet for almost 52 weeks of the year
Huge range of markets outside of the outright winner
Lots of stats and literature online to help with a sounder golf betting strategy
Long odds mean that it's easy to cash out or hedge bets to lock in big profits
Lots of data involved that can help pick winners
Cons:
Hard to consistently pick winners from the outright betting market
Bets can take days to settle
Players' form can vary massively from week to week which makes betting erratic
Golf Betting Strategy
Like all sports, to be successful at golf betting you need to have a decent strategy in place. Below we've outlined areas that you can attack and implement in or to become more profitable with your bets.
Strokes Gained
One of the best statistics in golf betting is strokes gained. This is one of the easiest ways to gauge how a player is performing, but before we dive into applying that to betting, you need to know how it works.
Strokes gained is a statistical metric used in golf to measure a player's performance relative to the field. It provides insight into a golfer's strengths and weaknesses by comparing their performance on specific shots or aspects of the game to the average performance of the field.
The concept of strokes gained revolves around the idea that not all shots are equal in terms of difficulty and potential scoring outcomes. By analyzing a golfer's performance in relation to the field average, strokes gained quantifies the impact of each shot on a player's score.
A positive strokes gained value indicates that a golfer is performing better than the field average on that specific shot or aspect of the game, while a negative value suggests the opposite.
When it comes to betting, we're looking to apply positive strokes gained numbers to potential bets. For example, if a player has a positive strokes gained number over the field in the last 10 events, we can assume they are playing well and will likely provide a good pick.
However, the data takes a step up when you break it down into individual aspects of the game. The most common are:
Off the Tee (OTT)
Approach Play (APP)
Around the Green (ARG)
Putting (P)
Teen to Green (T2G)
Ball Striking (BS)
Total (TOT)
A single player isn't going to lead the field in all these areas unless they are Tiger Woods circa 2000. So, we need to look at where they are strong and where they are weak.
We can then take their performances and assess if they are going to be a fit for that event. Most tournaments will suit a certain type of golfer more than others. A course that is long is going to need players to be good off the tee, so for this, we look at metrics like high Strokes Gained OTT and T2G. Shorter courses will best suit good wedge players and putters, so we look at high SG in fields such as APP and P.
Use the data to your advantage and don't merely look at past results. Strokes Gained gives a much better overview of player form and potential on a tournament to tournament basis.
Current Form
Form can be streaky in golf. It's not unheard of to see players miss a cut one week and then go on to win a week later. You need to take form into account, but it must be applied correctly when doing so.
We would advise that you link the current form of a player to the Strokes Gained metric, where you look at areas where they have been weak and see if they are able to improve to get a better result. For most golfers, it's a case that one area of the game is letting them down, rather than their whole game.
Course Form
Some players simply play better at certain courses than others. It's common for a player to come out and say that a course "doesn't suit their eye" and there can be several reasons for this. Conversely, some courses players love and that can be down to length, type of grass, speed of greens, layout, distance from home, and even things like hospitality and the area the course resides in.
Tiger Woods has won pretty much all you can win in golf, but he still has notable course form. He holds the record for the most wins at single events with 8 at both the Arnold Palmer Invitational at Bay Hill and WGC Bridgestone Invitational predominantly hosted at Firestone Country Club in Ohio. However, in 13 visits to Riviera Country Club, host of the Genesis Invitational, he's without a win.
Track the previous results at courses (not tournaments!) to see how players fair. There may be a value bet in backing players who are out of form but go well at certain courses.
Assess Tee Times
When golfers tee off can offer a reasonable advantage over the field. Harvard University conducted a study on the PGA Tour which highlighted that morning tee times lead to lower scores than afternoon tee times across 177 tour players with an average of 80 rounds per player.
There are several reasons why this might be, with less-perfect greens and firmer conditions being the notable inclusions. From a betting point of view, especially when betting on the outright winner, taking players who are out early on the first day is likely going to be a +EV play (what does EV mean in betting?) in the long run.
Weather
Weather is a huge factor in golf and particularly wind and rain. Most golfers don't enjoy playing in severe weather as it's more of an effort to not only control your golf ball but just generally stay dry and in a more positive frame of mind.
The flip side of this is that some players absolutely revel in poor weather. European players, especially those from the UK and Ireland have likely grown up playing in poor conditions on tough courses, so are well accustomed to it and as a result, can gain a huge advantage when the weather turns.
Darren Clarke won The Open at Royal St George's in 2011 in what were notoriously difficult conditions. Wind and rain swept across over the weekend, but it was Clarke, who hails from Northern Island and is very accustomed to poor conditions, that prevailed that year. His form coming was just a single win in the three seasons prior, but the weather undoubtedly played a role in him lifting his first, and only major.
Create a Stable
The professional golf circuit has hundreds of players and it's almost impossible to keep track and data on each. A stable can be used to learn and recognize the pros and cons of picking from a much smaller pool, but still see which players are likely going to do well that week.
By learning what features best suit around 15-20 players, you're able to quickly narrow down the field and make informative picks. You can use strokes gained stats for this, but you can also choose players with different attributes that will suit different courses and tournaments.
For example, players like Rory McIlroy are going to perform well in most areas, but someone like Shane Lowry is going to best suit shorter courses that rely on short game and putting. Your goal for your stable is to have players that tick all boxes and then choose the best suited for the week.
Shop Around for the Best Odds
Golf is unique in that the odds are much longer than most sports. This means it's imperative you shop around for the best odds as there can be a huge difference in odds that can massively alter your bottom line.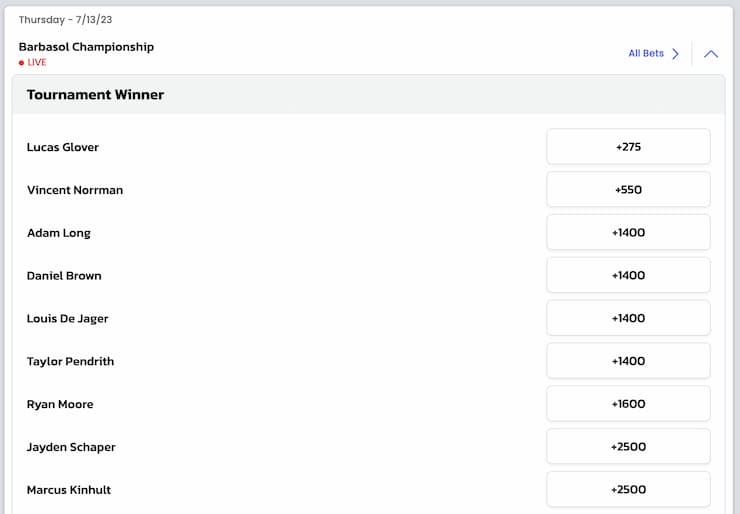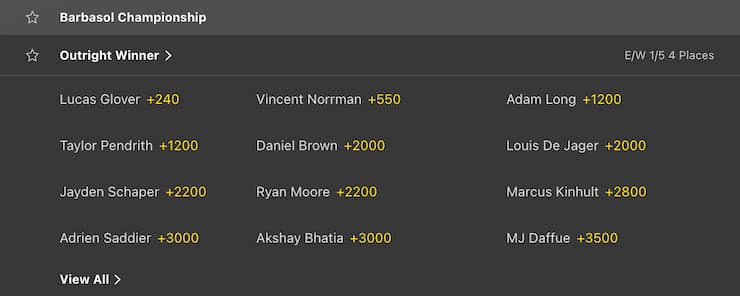 The images above are taken from a current PGA Tour event that is live. The two images show how much the odds change between BetMGM and bet365.
For example, let's say that we wanted to put a bet on Daniel Brown to win. If we were to bet with BetMGM our $100 bet would potentially return $1400. But the same bet with bet365 would return $2000, giving us an extra $600 for taking a little time to shop around to get the best price.
Podcasts/Online Literature
There are dozens of podcasts and sports betting pages that offer tips and previews for upcoming events. Granted, some are better than others, but you can use these as a guide to see what the guys who invest a lot of time into their picks are discussing.
You don't always have to take their picks, but it makes for good reading to see why they've picked them. Most of them include extensive data on features that previous winners have had, which you can then compare with your betting stable to see which, if any are likely to feature.
Biggest Golf Tournaments to Bet on
Golf has tournaments running for almost 52 weeks of the year, but some are bigger and better than others. In this section of our How to bet on golf article, we're going to look at the biggest golf tournaments to bet on.
PGA Tour
The PGA Tour is the flagship tour in the United States and generally includes the best players in the world. Tournaments run weekly and have recently introduced elevated events, which have inflated prize pools and as a result, attract the best players. Notable tournaments include:
Phoenix Open
Genesis Invitational
Arnold Palmer Invitational
The Players Championship
WGC Matchplay
RBC Heritage
Wells Fargo Championship
The Memorial Tournament
Travelers Championship
St Jude Classic
BMW Championship
Tour Championship
DP World Tour
The DP World Tour was rebranded from the European Tour. Like the PGA, they have events that run most weeks of the year. These are hosted around the world and still attract a lot of the best players. Their flagship events are known as the Rolex Series, which are listed below:
Abu Dhabi Golf Championship
Dubai Desert Classic
Genesis Scottish Open
PGA Championship
DP World Tour Championship
The Masters
The Masters is one of the four majors and is the first of the year. It's the only one of the four that is held at the same venue each time, Augusta National Golf Club, Georgia. Whilst not the official start of the golf season, with it being the first major, for many it signifies the start and is seen by many as the most prestigious.
US Open
The US Open is the only major held in the US that is open to amateurs and professional golfers alike. Qualifying takes place through the months leading up to the event and often includes a mix of abilities, played on some of the hardest golf courses in the country. This is a tough tournament to bet on as the course and conditions can be brutal, which makes scoring very low.
PGA Championship
The PGA Championship is run by the PGA of America (not to be confused with the PGA Tour). This major is unique in that a percentage of the field is made up of PGA teaching professionals who have the chance to quality. Courses are located in the United States and, like the US Open, is an extremely tough test.
The Open
The Open (sometimes, incorrectly, referred to as the British Open) takes place in the UK and Ireland. Like the US Open, this is accessible for both professional and amateur players who can qualify prior to the start of the tournament. It's the oldest of the four majors, with the first played in 1860 at Prestwick Golf Club in Ayrshire, Scotland.
Dead Heat Betting Rules in Golf
Golf betting includes a lot of ties, especially for markets such as the place or each-way bets. When this happens, the sportsbook will determine the market a dead heat, which means that payouts are adjusted as a result.
What happens with a dead heat is that your stake is divided by the number of players that your pick has tied with. Let's run through a quick example of how this might work.
Let's assume you back John Rahm to place in the top 5 spots to win the Masters, with a stake of $100 at odds of +400. He finishes the tournament in a tie for 5th with 5 other players who have the same score.
Because there are two or more players with the same score in the same position, dead heat rules apply. The rules state that the stake is divided by the number of players in that position. In this case, that would be 5, so that's the amount you divide your stake by.
Initial bet = $100 @ +400
Dead heat rules applied = $20 ($100/5) @ $400 = $100 Return – $100 stake = Breakeven
It's worth noting that if Rahm were to finish in 4th on his own, then the full payment would be made.
FAQs
How do you bet on golf successfully?
Where can you bet on golf?
How do you bet on 2 ball golf?
Is golf betting worth it?
Should you bet each way in golf?
Resources