Ice hockey – or just hockey – is a team sport where the players wear ice skates and use ice hockey sticks to control the puck on an ice skating rink.
In a match each team has six skaters – one of whom is the goaltender – and the aim is to score in the other team's goal with each goal worth a point and the team that scores the most goals declared the winner.
Hockey is a full contact sport and is widely considered to be one of the most physically demanding team sports out there – and one of the most exciting to bet on.
If you're wondering how to bet on hockey games, then you're in the right place. In this comprehensive guide we will walk you through all the different bet types when it comes to hockey as well as plenty of tips and strategies to give you the best chance of success. There are lots of different hockey competitions to choose from, so we will explain all of them too.
How to Bet on Hockey
The first thing you need to do when looking to make a bet on hockey is to select an online sportsbook that offers comprehensive hockey betting. At the bottom of this page you'll find our top 10 list of recommended hockey betting sites, which will hopefully make things a little easier for you.
When you've identified the hockey betting site that best fits your wagering style or you like the look of the most, it's time to sign up for an account. All good online sportsbooks offer new players a generous welcome bonus just for registering for an account so be sure to utilize this. Once you've opened your account, head to the ice hockey section and you'll see all the available betting markets.
For new hockey bettors it makes sense to start by betting the moneyline to simply pick the winner of a match and then once you're comfortable making hockey bets you can move onto more advanced bet types like parlays, 60-minute line, Grand Salami, prop bets, futures, derivatives and live betting (more on that later).
As well as maximizing any welcome bonuses you can get from an online sportsbook, it's always worth checking to see what ongoing promotions are offered to existing players. Opening accounts with more than one sports betting site is a great way to access multiple welcome bonuses for example.
Real-World Example of a Hockey Bet
Here we will examine a real-world example of a hockey bet, so you are familiar with the process. The sportsbook we've gone for this time is FanDuel, but the process is going to be very similar regardless of the sports betting site you choose. Also, different sites will provide different odds on games so it's worth looking around to extract extra value.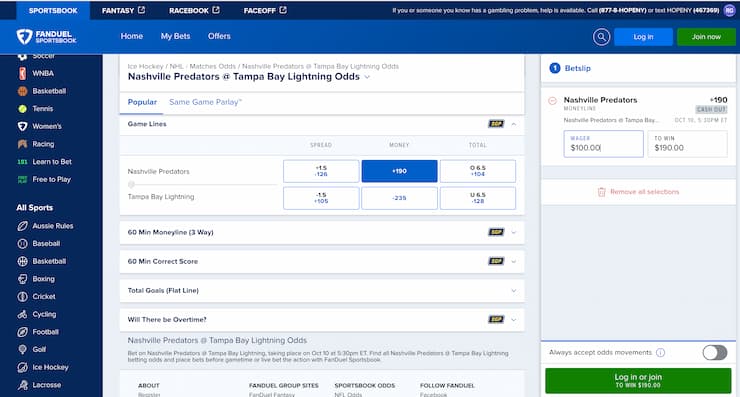 When it comes to moneyline betting, the favorite is indicated by a negative (-) value while the underdog is given a positive (+) value. In this example we've picked an NHL match between Nashville Predators and Tampa Bay Lightning, and we've opted for the underdogs from Nashville to produce a big upset on the road at odds of +190.
That means a $100 wager – shown in the betslip on the right-hand side – would return winnings of $190 for a total payout of $290, including the wager should the Nashville Predators win.
If you wanted to back the favorites Tampa Bay Lightning at -235 then for every $1 you want to win you'll have to risk $2.35 (wagering $235 to win $100).
Step-by-Step Guide on How to Place a Hockey Bet
Now we'll walk you through the process of how to place a hockey bet, all the way from signing up to an online sportsbook to receiving your winnings. Again we are using FanDuel as the sports betting site in this example, but the process will be very similar regardless of which site you use.
1. Join an Online Sportsbook

Unless you've already registered for an account with the sportsbook you'll need to join up. To do this click the green 'Join now' button in the header of the site.
2. Select a State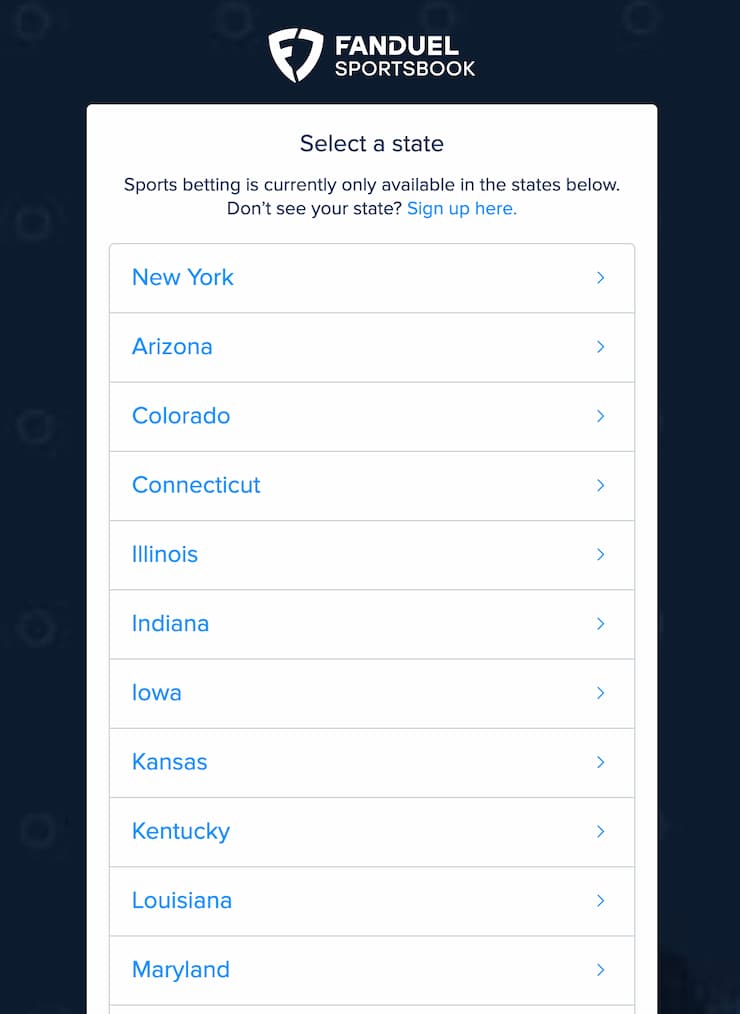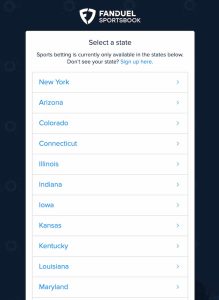 The first thing you'll need to do is select the state you are based in.
3. Create an Account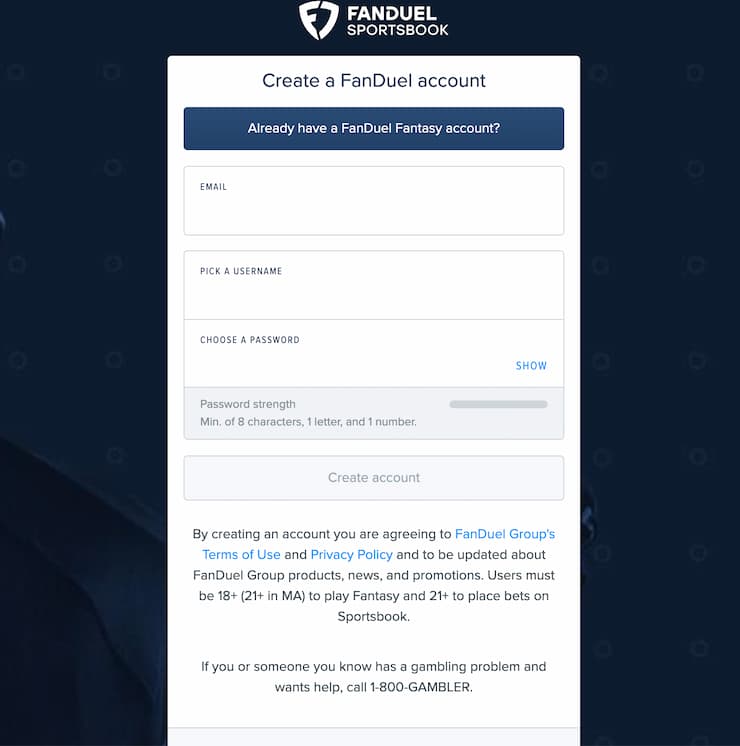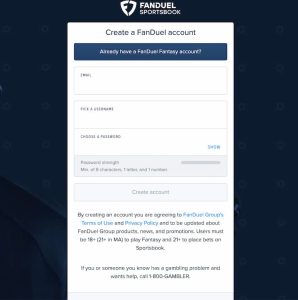 Once you've picked your state you'll need to create an account. The first pop-up requires you to enter an email, pick a username, and choose a password.
Then you'll need to pass verification, initially entering your legal first name and last name exactly as it appears on your photo ID or passport. After that you'll enter your date of birth and phone number (to verify your identity and for tax purposes, they say they won't send you marketing texts or calls).
After that you have to enter your address and the last four digits of your Social Security Number (required to safely and securely verify your identity in compliance with state and federal laws), before accepting all the terms and conditions.
FanDuel will then check your details for identity verification purposes and if they can't verify you they'll ask for your full name, address, date of birth and full SSN. You won't be able to bet until you've passed these checks, so you may have to contact support if you run into any problems.
4. Claim Your Welcome Bonus
Once you've passed verification checks and logged in to your account you'll be able to maximize that juicy welcome bonus. FanDuel offers new players a no sweat first win bet worth up to $100, while other sites will offer similar deals.
5. Make Your First Deposit
When you're ready to make your first deposit and start betting, you can add funds to your account safely and securely. In your 'Account' tab click the 'Add Funds' button and select your mode of payment from the options including online banking, debit card, Venmo, PayPal, wire transfer, cash at counter, cash with PayNearMe, FanDuel Prepaid Play+, and gift card. 
Enter the amount you wish to deposit and your payment information, then confirm your transaction and your deposit will be credited to your account instantly.
Now there are funds in your account you can make that all-important first wager. On the left-hand side of the sportsbook under the 'Popular' subheadings you'll find 'All Sports'. Scroll down to 'Ice Hockey' and click on that to see all the available markets.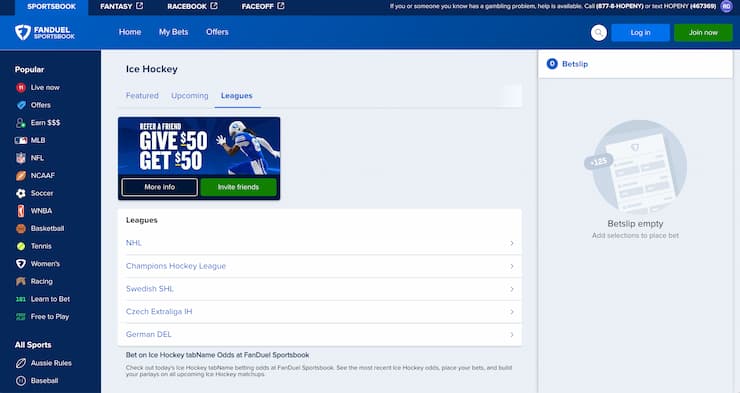 7. Add to Betslip
When you've decided which league you want to bet on and examined all the different options available, you can make a bet by clicking on the blue odds. This will add the selection to your betslip, while if you click the odds again you will deselect the bet. There is also a red – button in the betslip that will remove the selection as well as a function to remove all selections if you have multiple bets.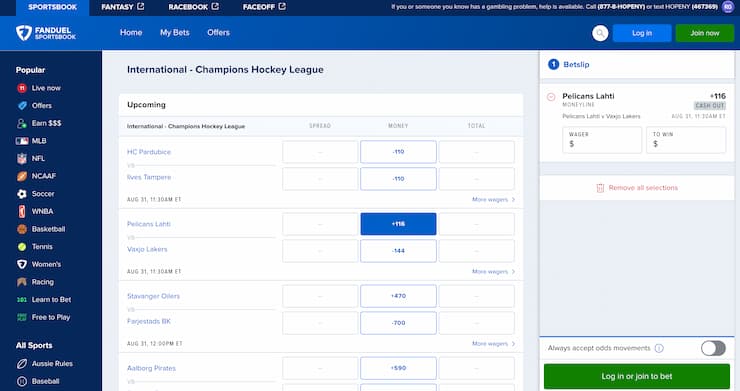 8. Place Your Bet
When you are ready to make a selection you'll need to decide how much to wager. By entering a figure in the 'Wager' box you'll see how much winnings you're set to receive in the 'To Win' box next to it. If you're happy with the amounts in both boxes you can go ahead and place the bet.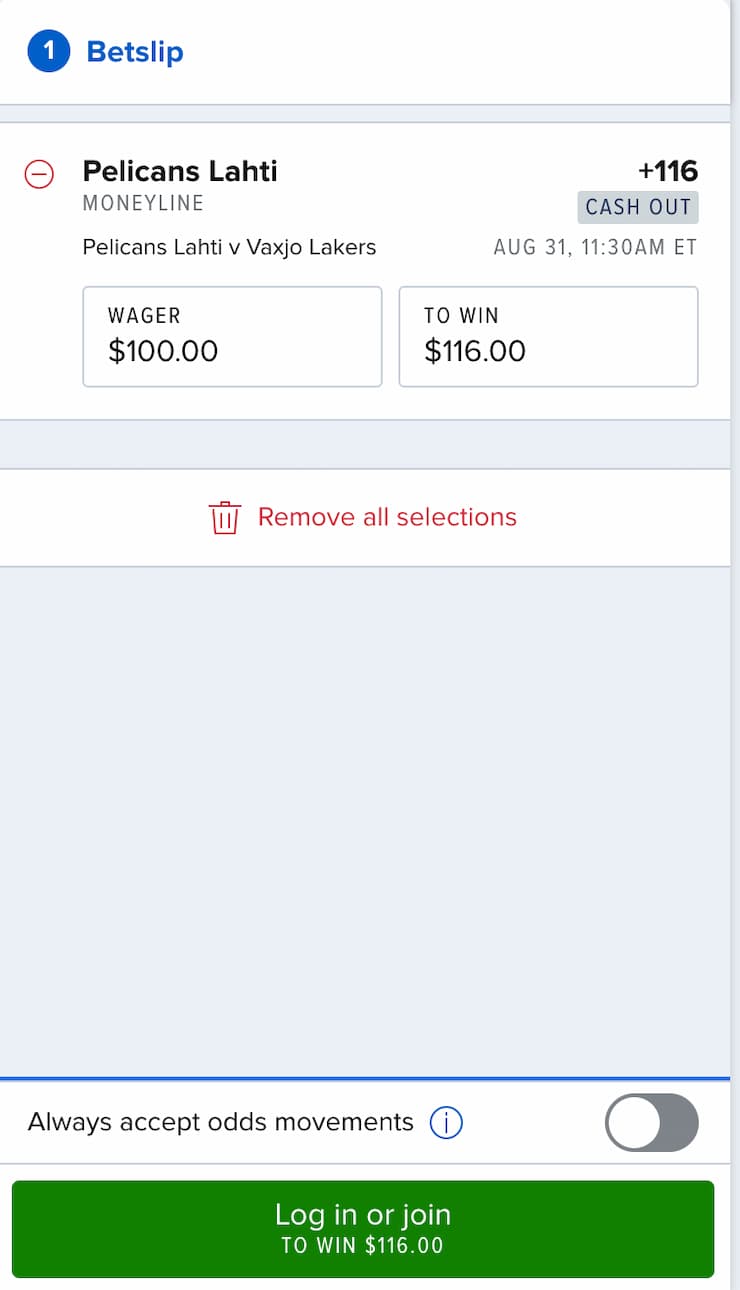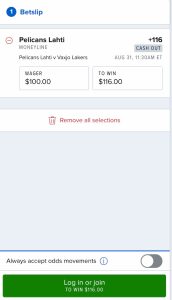 Types of Hockey Bets
The best online sportsbooks on the market offer a diverse range of hockey bets for you to choose from and, in this section of our guide, we're going to examine the most popular types of hockey bets.
Moneyline
This is the most straightforward way to wager on hockey as you are simply picking which team you think will win a game (check the example of moneyline betting above). Because not all matchups are equal, each team will be assigned a moneyline which reflects the implied probability of them winning. 
For example, the Pittsburgh Penguins are -220 to beat the Chicago Blackhawks, while the Blackhawks are +180 to win. As the favorite is indicated by the negative (-) value that means the Penguins are the favorites and you would have to wager $200 to potentially win $100 (or wager $22 to win $10).
That makes the Blackhawks the underdogs as they are indicated by the positive (+) and you would have to wager $100 to potentially win $180 on them (or wager $10 to win $18).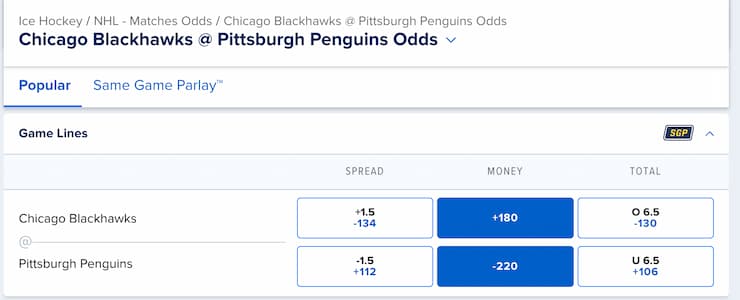 Spread
When betting on the spread – also known as puck line betting – you are placing a wager on how much a team will win or lose by. Similarly to moneyline betting, the negative (-) odds refer to the favorite, while the positive (+) odds refer to the underdog.
So if you back the favorite then they have to win by more than the number of goals shown in the spread bet. If you back the underdog they have to win outright or lose by less than the number of goals shown.
Because hockey games tend to be low-scoring matches the most common spread bet is 1.5 goals, although these do increase in matches perceived to be more one-sided.
In our example the Pittsburgh Penguins are the -1.5 spread favorite in the game, with this bet coming in if they win by two goals or more. The Chicago Blackhawks are the +1.5 underdog so a bet on them would win if they were to win outright or lose by just one goal.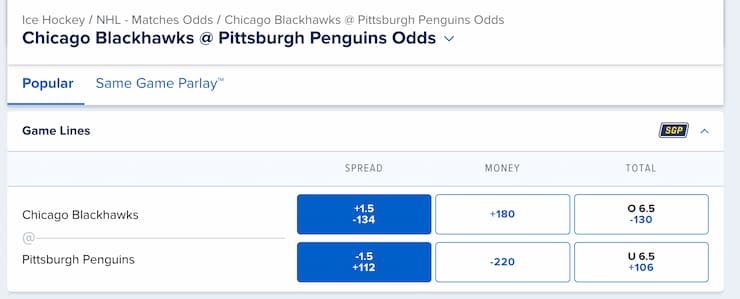 Total
A total – also referred to as an over/under – is a bet on the total number of points scored in a game by both teams combined.
Betting on the over means both teams combined must score more than the number shown, while bets on the under mean they must both score less than the number shown.
In our example with the Chicago Blackhawks vs the Pittsburgh Penguins, the total is 6.5 goals. So if you think the total score of the game will be more than 6.5 you would back the over at -130 and would need to wager $130 in order to win $100. Backing the under at +106 would mean needing to wager $100 in order to win $106.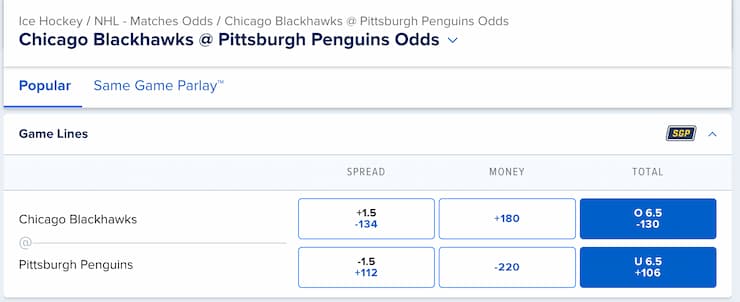 Prop
Prop bets are not tied to the outcome of a game and allow you to wager on specific aspects of a game. These can come in the form of player props, including a player's number of goals, assists, shots or saves in a game. They are usually set up similarly to totals, where a number is set and you choose over or under the total.
You can also make game props, which are tied to other aspects of a game (rather than player performance). Examples of these include whether a game goes to overtime, which team scores first, and whether the total score is going to be an odd or even number.
Futures
Futures are long-running markets that allow you to bet on events that will happen in the future. They usually refer to significant events like league championships but can also refer to team's seasonal records or points, divisional or conference outcomes, or be specific to a player. 
For example, for team futures you could bet on the New Jersey Devils to win the Stanley Cup, the Philadelphia Flyers to have the worst regular season record, or the Edmonton Oilers to record 90+ regular season points.
For player futures you might back Jack Hughes to score 40+ regular season goals, Auston Matthews to score over 95.5 regular season points, or even the team Alex Ovechkin will score his 850th career regular season goal against.
Parlay
Parlay bets are extremely popular because you land a big payout from a small bet. A parlay is a bet that combines two or more selections into one larger bet, which gives you significantly greater odds than if you placed each bet separately. The greater your odds, the bigger your potential payout becomes.
For a parlay bet to be successful, each of the individual selections must win. If even one of the selection falters, the entire parlay will fail. In the event of a tie in one of the selections, that individual leg would be removed from the parlay and the odds would be adjusted accordingly.
Lots of sportsbooks will offer same-game parlays (SGPs) or bet builders/accumulators, where you can add multiple bets across various bet types on a single game. Adding together a number of low odds bets could create a relatively low-risk but high-reward parlay.
60-minute bets
A 60-minute moneyline bet in hockey is similar to regular moneyline betting, except that it doesn't include overtime. Therefore players are left with three possible outcomes – a home win, an away win, or a tie. Those who want to bet on hockey ties will find 60-minute lines attractive.
For example, you could choose between the Chicago Blackhawks winning, the tie, or the Pittsburgh Penguins winning. The odds will be more attractive than regular moneyline betting but the risk associated is that the game goes to overtime and none of the three-way options come in.
There is another option for 60-minute betting on the correct score, where you try to predict the correct score of the match after 60 minutes. On this bet it doesn't matter if the match goes to overtime because the bet refers to the end of the regular match, after 60 minutes.
Grand Salami
Uniquely named, a Grand Salami is a phrase that originated in baseball as a nickname for a grand slam. However, its betting origins have been traced to hockey bettors who wanted to determine how many total goals there would be on a given day. 
The Grand Salami is a unique total bet that includes every game played in a hockey competition on one day into a single bet. They work the same way as single-game totals but because they include every game on the schedule, every goal that is scored is pivotal to your chances of winning.
On a 10-game slate for a day, the Grand Salami over/under total might be 50 goals. So you would either back over or under 50 goals depending on how many you think might be scored in total for the day. If the total number of goals across the 10 games is 48, then bets on the under would come in, and bets on the over would fail.
The Grand Salami bet isn't always available and can be tricky to find at online sportsbooks, so if you spot it be sure to have a go.
Live/In-Play
Live betting – also referred to as in-play betting – is when you bet on hockey games after they have started. The top bookmakers will continually update odds throughout the game as it progresses, quickly responding to the action.
The benefits of live betting are that it offers extra excitement to bet on the action as it unfolds as well as allowing players to analyze how a game is going and respond accordingly.
Derivatives
Derivative odds allow you to bet on specific game segments, such as first-period goals, moneylines, or which team will be winning after two periods. They can offer an almost-limitless supply of unique markets, but aren't always found at every sports betting site. 
Hockey Betting Tips and Strategies
As part of our comprehensive guide below we have outlined a number of hockey betting strategies and tips that can help you to place smarter bets and land more winners.
1. Do Your Research
If you are betting on the outcome of a match you need to forensically analyze both team's strengths and weaknesses so you know what you are dealing with.
If one team is particularly physical but doesn't always get into the penalty box, they may not match up well against a power-play attack. Identifying when a team might be about to play their back-up goalie could be very handy, as most coaches don't like to play their regular goalie back to back. 
2. Use Multiple Sportsbooks
Having accounts at more than one online sports betting site can be very useful as you can easily compare odds across multiple sportsbooks to go with the best and maximize your winnings.
Also you'll be able to utilize the welcome bonus new players are given at almost every site, as well as take advantage of a plethora of ongoing promotions for existing players.
3. Consider Home Advantage
Playing on home ice can be a huge advantage in hockey for some teams. Players are in familiar surroundings, can rely on plenty of support from their home crowd, and won't have had any disruption to their schedules due to travel. Coaches even get to make the last line change after a whistle, which allows them to manufacture the matchups they want.
You should be able to find each team's home and away records online, which will let you know if they are a good home selection or a potentially lucrative road call. 
4. Know About Injuries
Injuries play a huge role in hockey betting, with the influence of stars particularly valuable as each team only plays with five outfield players. The grueling nature of the sport and congested schedules can see players dipping in and out of the lineup often during the season.
An injured player has the potential to hugely alter how one team performs and can be crucial to their success. If one side is without their leader that could cause them to leak goals, while missing a notable points-scorer may leave them flat in front of goal. How bettors read injuries is a crucial component to their success with wagering.
5. Examine Head-to-Head Results
It's always a good idea to look into the head-to-head results between two teams you are about to bet on. If one team has a dominant record against another, that might give you confidence to back them for victory on the road even if the odds are quite long. Because hockey teams play against each other a number of times during the course of a season, there should be plenty of statistical data to examine.
6. Check the Referee
Refereeing is a vital element of hockey betting that shouldn't be overlooked. Because some referees permit more violations during play than other ones, their influence on how a game can fare can be quite large.
Be sure to check who is going to be a referee for any match you are betting on and look into their track record. Losing a player can be pivotal in the outcome of a game and is something you may be able to predict if you know the referee in advance.
Top Hockey Competitions 
There are a number of top hockey competitions across the world at domestic level as well as significant international tournaments. Here we take a look at some of the best.
Winter Olympics
Ice hockey tournaments have been staged at the Olympic Games since 1920 when the men's competition was introduced at the Summer Olympics in Antwerp, Belgium. That year Canada took the gold medal by beating the USA 2-0, with Czechoslovakia earning bronze for overcoming Sweden. 
Four years later the sport was moved to the Winter Olympics where it has since remained, with Canada dominating taking gold at every edition from 1920 to 1952, except for one. The Soviet Union won all but two times from 1956 to 1988, with the United States victorious on the occasions they weren't. It has been much more open since 1994 when Sweden won, with the Czech Republic, Canada, and Finland also tasting success in recent years. 
The women's tournament was added in 1998 with the United States beating Canada 3-1 in the final and Finland landing bronze. Canada then won the following four editions of the competition, but were beaten in 2018 by the US before reasserting their dominance in Beijing in 2022. The next Winter Olympics will be held in 2026.
Last 10 Winter Olympics
| | | |
| --- | --- | --- |
| Year | Men's Tournament Winners | Women's Tournament Winners |
| 2022 | Finland | Canada |
| 2018 | Olympic Athletes from Russia | United States |
| 2014 | Canada | Canada |
| 2010 | Canada | Canada |
| 2006 | Sweden | Canada |
| 2002 | Canada | Canada |
| 1998 | Czech Republic | United States |
| 1994 | Sweden | N/A |
| 1992 | Unified Team (Soviet) | N/A |
| 1988 | Soviet Union | N/A |
National Hockey League (NHL)
The National Hockey League (NHL) is the biggest domestic league of ice hockey in terms of attendance, stature, and betting. Founded in 1917 and based across North America, 32 teams (25 in the USA and seven in Canada) battle it out for the Stanley Cup which is awarded to the league playoff champion at the end of the season.
The regular season is typically held from October to April, where every team plays 82 games. At the end of the regular season, 16 teams will advance to the Stanley Cup playoffs – a four-round tournament that runs into June to determine the league champion. 
A total of 26 different teams have won the cup from 1914 to 2023, with 21 of them still active in the NHL. The Montreal Canadiens are the most successful team in NHL history, having won the Stanley Cup 24 times and making the final an additional 11 times. There were two years when the Stanley Cup was not awarded – in 1919 because of the Spanish flu pandemic and in 2005 due to the NHL lockout.
Last 10 Stanley Cup Finals
| | | |
| --- | --- | --- |
| Year | Winning Team | Runners-Up |
| 2023 | Vegas Golden Knights | Florida Panthers |
| 2022 | Colorado Avalanche | Tampa Bay Lightning |
| 2021 | Tampa Bay Lightning | Montreal Canadiens |
| 2020 | Tampa Bay Lightning  | Dallas Stars |
| 2019 | St Louis Blues | Boston Bruins |
| 2018 | Washington Capitals | Vegas Golden Knights |
| 2017 | Pittsburgh Penguins | Nashville Predators |
| 2016 | Pittsburgh Penguins | San Jose Sharks |
| 2015 | Chicago Blackhawks | Tampa Bay Lightning |
| 2014 | Los Angeles Kings | New York Rangers |
Kontinental Hockey League (KHL)
The Kontinental Hockey League was founded in 2008 and comprises 20 clubs based in Russia and one each in Belarus, Kazakhstan, and China. In 2017 the KHL had the highest total attendance in Europe with 5.34 million spectators during the regular season, and as such is considered to be the second-strongest ice hockey league in the world behind the NHL.
The Gagarin Cup is awarded annually to the league's playoff champion at the end of each season, with the title Champion of Russia given to the highest-ranked Russian team.
Last 10 Gagarin Cup Finals
| | | |
| --- | --- | --- |
| Year | Winning Team | Runners-Up |
| 2022-23 | CSKA Moscow | Ak Bars Kazan |
| 2021-22 | CSKA Moscow | Metallurg Magnitogorsk |
| 2020-21 | Avangard Omsk | CSKA Moscow |
| 2019-20 | Canceled due to  | coronavirus pandemic |
| 2018-19 | CSKA Moscow | Avangard Omsk |
| 2017-18 | Ak Bars Kazan | CSKA Moscow |
| 2016-17 | SKA Saint Petersburg | Metallurg Magnitogorsk |
| 2015-16 | Metallurg Magnitogorsk | CSKA Moscow |
| 2014-15 | SKA Saint Petersburg | Ak Bars Kazan |
| 2013-14 | Metallurg Magnitogorsk | HC Lev Praha |
National League (NL) – Switzerland
The National League (NL) is the top tier of the Swiss ice hockey system and prior to 2017-18 was known as National League A. They had an average attendance of just under 7,000 fans per game during the 2018-19 season, one of the highest in Europe.
During the regular season, each of the 14 teams play 52 games, with the top eight teams after the regular season qualifying for the playoffs to determine the Swiss champion in a best-of-seven series. 
The bottom four teams in the standings play a relegation tournament – called playouts – where each team retains their regular season points and play an additional six matches. After those matches the bottom two ranked teams play each other in a best-of-seven series, with the loser then playing the winner of the Swiss League playoffs in a best-of-seven series for a spot in the successive NL season.
HC Davos have won the most titles of any club with 31, while SC Bern are the next best on 16, and ZSC Lions and EHC Arosa have both won nine times.
Deutsche Eishockey Liga (DEL)
The Deutsche Eishockey Liga was founded in 1994, replacing the Eishockey-Bundesliga to become the new top-tier league in Germany. Teams from the DEL participate in the annual Champions Hockey League (CHL) to compete for the European Trophy. 
The DEL playoffs determine the season champions in a similar format to other hockey leagues, with each team playing 52 regular-season games to determine the regular-season champions before the top 10 teams are seeded for the playoffs. 
The DEL Finals are held in late April or early May and consist of a best-of-seven games format similar to the NHL.
Eisbaren Berlin are the most successful team in the division's history with nine titles to their name, while Adler Mannheim have seven and EHC Red Bull Munchen have four.
Swedish Hockey League (SHL)
The Swedish Hockey League (SHL) is the highest division in the Swedish ice hockey system and consists of 14 teams, founded in 1975. The Le Mat Trophy has been awarded to the winner of the SHL playoffs since the league started.
The league has been through a number of expansions over the years, while teams from the SHL participate in the annual Champions Hockey League (CHL) to compete for the European Trophy.
Farjestad BK are the most successful team with 10 SHL titles, while Brynas IF and Djurgardens IF are tied for second with six titles apiece.
Czech Extraliga (ELH)
The Czech Extraliga is the highest-level ice hockey league in the Czech Republic, created in 1993 following the dissolution of Czechoslovakia.
The league's season usually takes place between September and April and features 14 teams, with the best participating in the Champions Hockey League (CHL). 
VHK Vsetin are the most successful club in the ELH with six titles to their name, while HC Ocelari Trinec have five and Sparta Praha four.
Liiga – Finland
The Liiga is the top professional ice hockey league in Finland, created in 1975 to replace the SM-sarja – essentially an amateur division.
The Liiga has gone through a number of format changes over the years, but since 2016-17 has been a competition of 15 teams.
Teams from the Liiga participate in the annual Champions Hockey League (CHL), with the most successful side ever being Tappara who have 12 titles.
Champions Hockey League (CHL)
The CHL brings together the best teams from around Europe, launched in 2014-15 by the International Ice Hockey Federation (IIHF). 
There are 24 teams involved from the 2023-24 season, with the group stage replaced with a regular season where teams play six games each with the best-16 advancing to a knockout round.
Frolunda HC are the most successful team in the CHL with four wins and one runners-up place, while Tappara, Lulea HF, JYP and Rogle BK have all won the title once.
FAQs
Can you bet on hockey in the US?
How can I bet on ice hockey?
Is hockey hard to bet on?
What is the easiest bet on hockey?
How do you read NHL hockey odds?
What type of bet is best for hockey?
What are the most popular hockey bets?
How often do the favorites win in hockey?