With action-packed games taking place across North America, the thrills of Major League Baseball make it one of the betting world's favorite sports. With such diverse events and a stacked season of games, MLB creates huge revenue not only for the sport, but for bettors too. Our comprehensive guide on how to bet on MLB games explains everything you need to know, including MLB betting tips, strategy ideas, and how the betting process works.
How Does MLB Betting Work?
MLB bets are pretty simple at their core – you place a wager on wins, propositions, or events that may occur in the MLB. Based on your betting selections, you can either win or lose money if you are correct.
Betting options can range from single-game outcomes, like which team will win or the total number of runs that will score, to season-long events and individual player statistics.
After you've picked an online betting site, you just need to navigate to the MLB betting page, which might be in the baseball section. You can generally find the right section via a sidebar that's usually visible on the homepage of a sportsbook.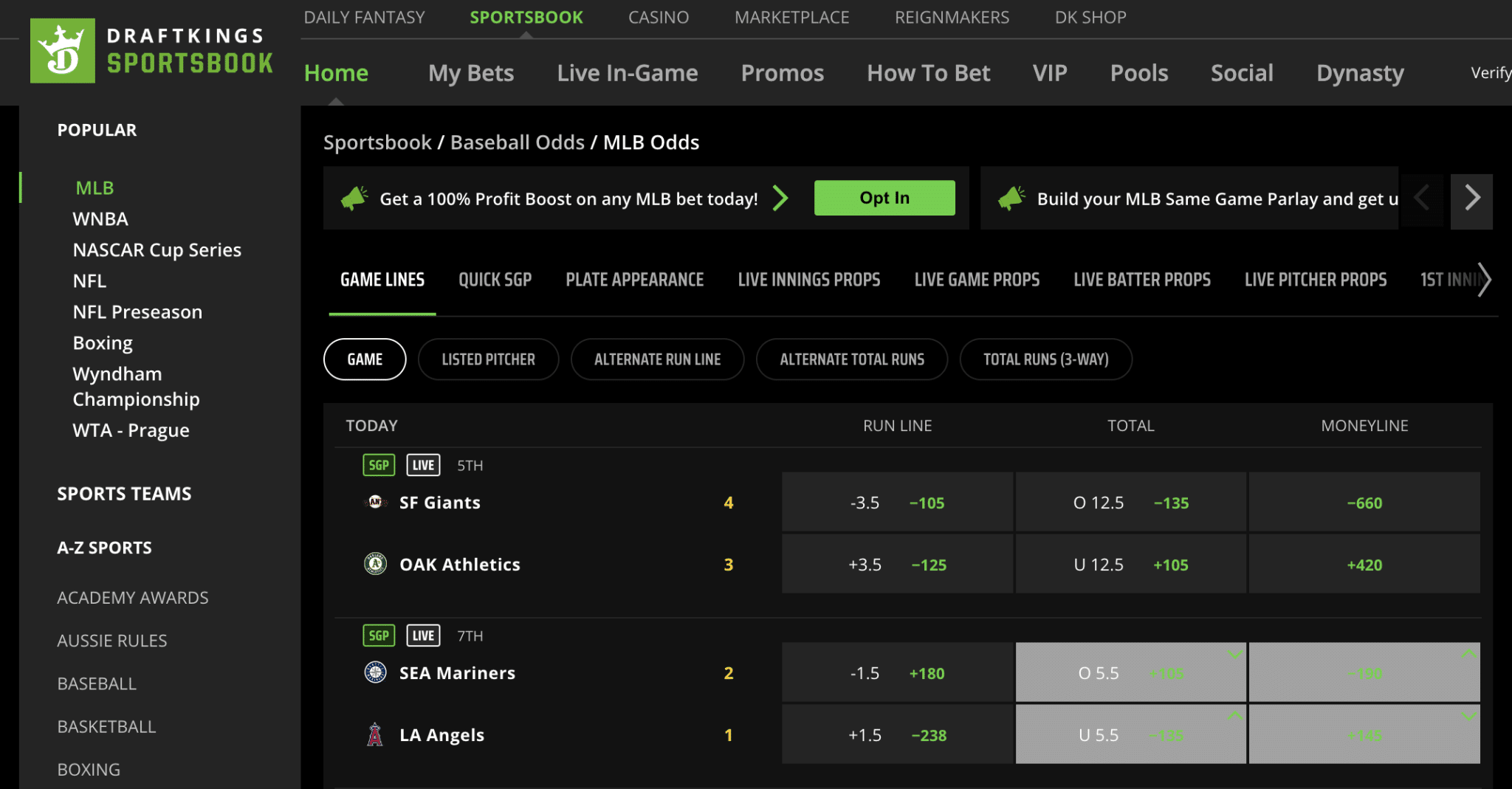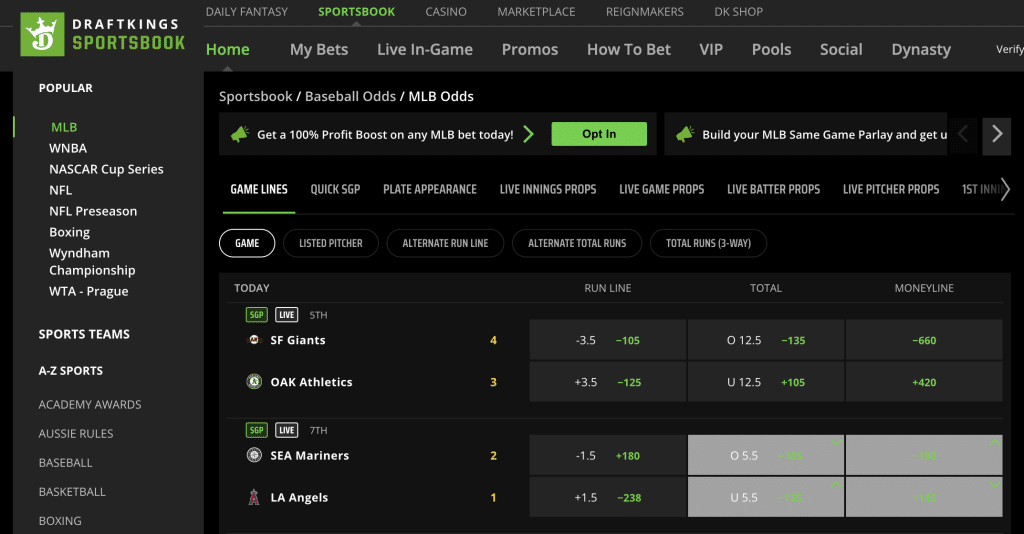 Based on your analysis of your chosen MLB game, informed decisions, and taking advantage of solid odds, you may find success and big profits in MLB betting. In addition, regardless of whether you use an MLB betting strategy or not, it can make it extra exciting to watch an MLB game with potential winnings on the line.
MLB Betting Examples
When learning how to bet on MLB, it's worth taking a look at a couple of practical examples of what it looks like to place a bet. This will get you started in understanding how to win, and working out your favorite types of MLB bets.
The most simple bet in MLB is betting on which team will win a game. To do this, navigate to the game on your sportsbook of choice. Select which team you would like to win under the 'moneyline' betting option.


If you're betting on the LA Dodgers to win, -102 odds state that if you wager $100, you'll make a profit of $98 if they win the game. In other words, to make $100 profit, you need to bet $102.
Another very common bet is wagering on the total number of runs in a game, rather than a team winning. In this bet type, you select either the 'over' (O) or 'under' (U) of the stated number of runs listed under the 'Total'.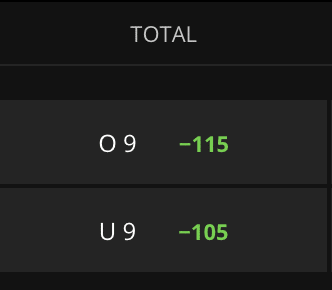 The sportsbook sets the total, and your bet is on whether the total runs will be higher or lower than this number. The sportsbook also sets odds for both the over and under, which dictate how much your payout will be if your bet is correct.
What to Consider Before Betting on MLB
When betting on MLB events, try thinking about:
Which MLB game you would like to bet on and when it takes place.
Whether you're wagering online from a state where sports betting is legal.
Which regulated online sportsbook you want to sign up for – we only recommend using the best online sportsbooks.
Wagering responsibly – this should come before anything else.
How to Bet on MLB Games
Use our step-by-step guide to get to grips with the process of placing an MLB bet. We highly recommend betting with BetMGM, but DraftKings is another of our top picks – we'll look at this in our example below.
1. Register or log in to your chosen sportsbook
New bettors need to supply information like an email address and create a username and password. Your name, address, date of birth, and the last four digits of your Social Security number (SSN), among other personal information, will be required.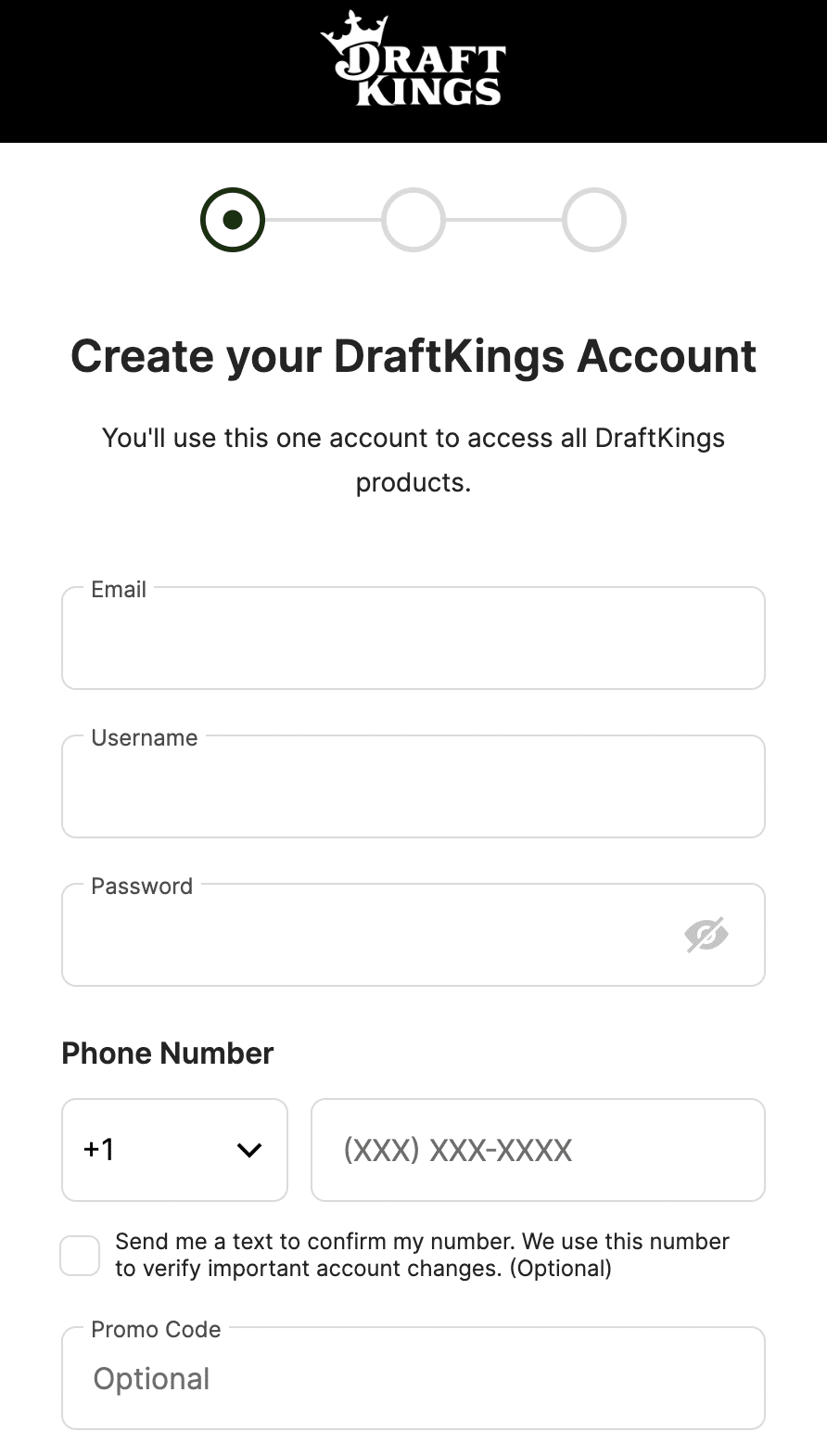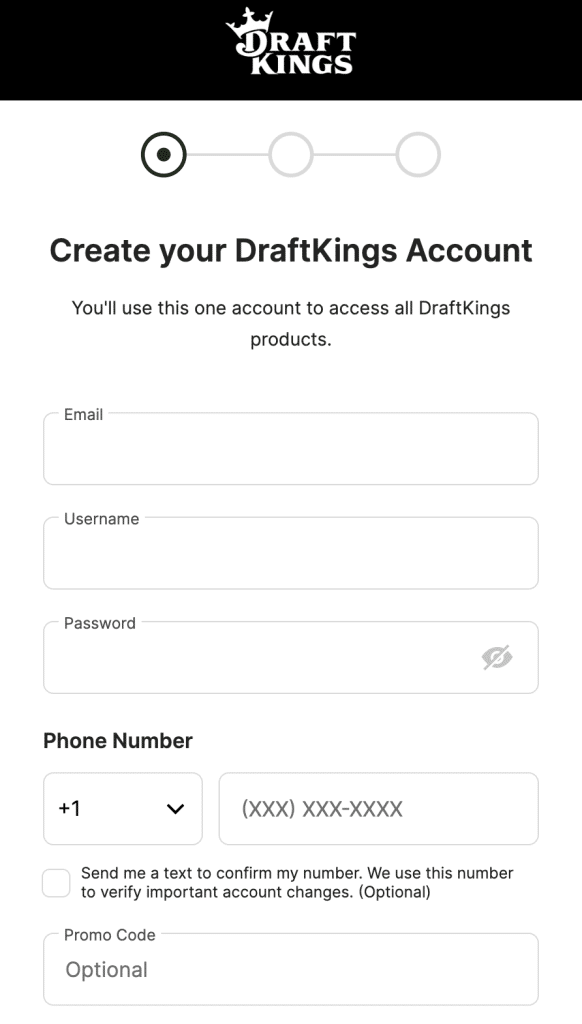 After signing into the sportsbook, or registering and verifying your account, go to the MLB betting section. At most sportsbooks, you can find this by using a drop-down menu on the left of the screen. During the regular season, you may see these options prominently displayed on the homepage, with special MLB promos too.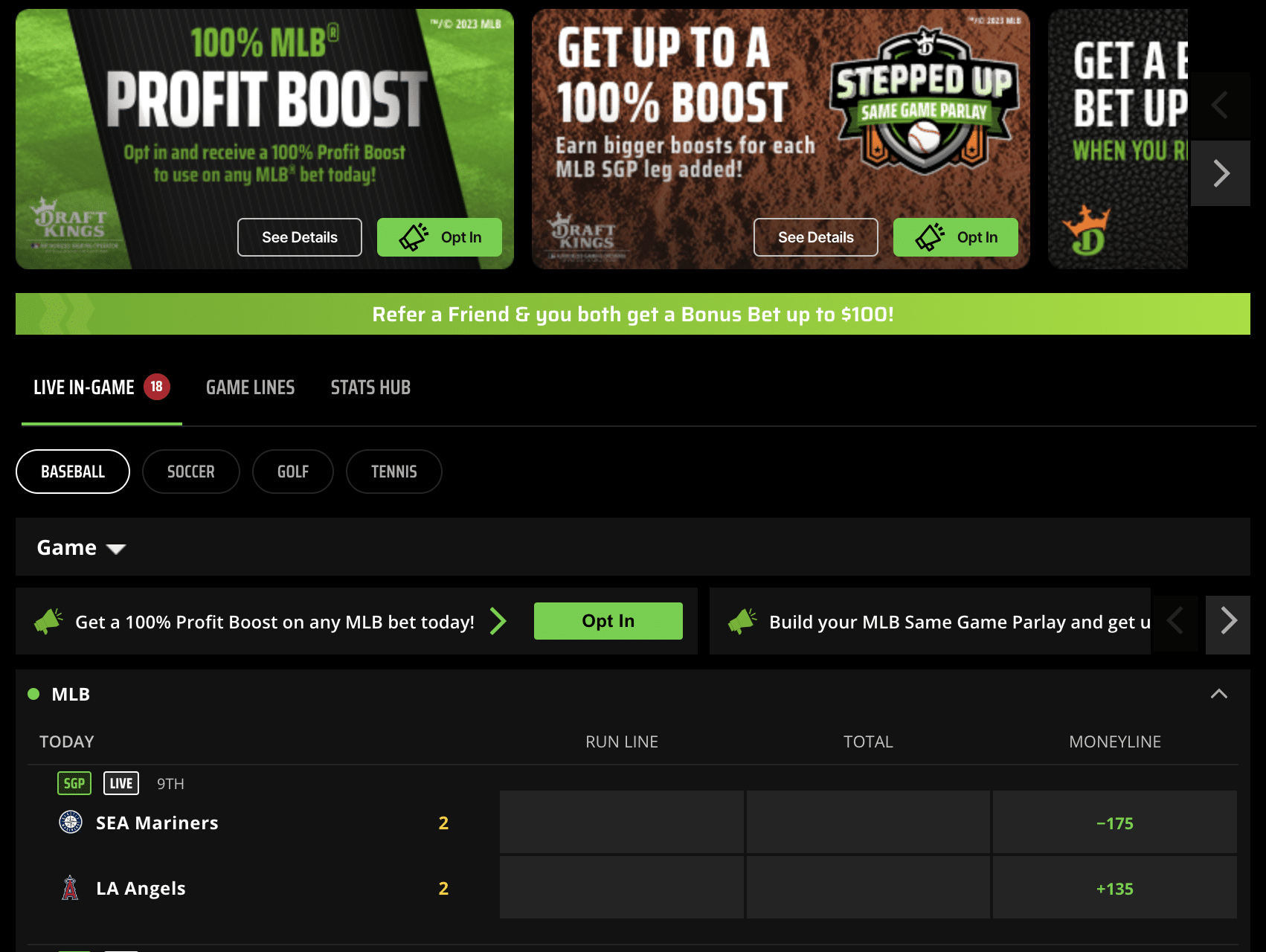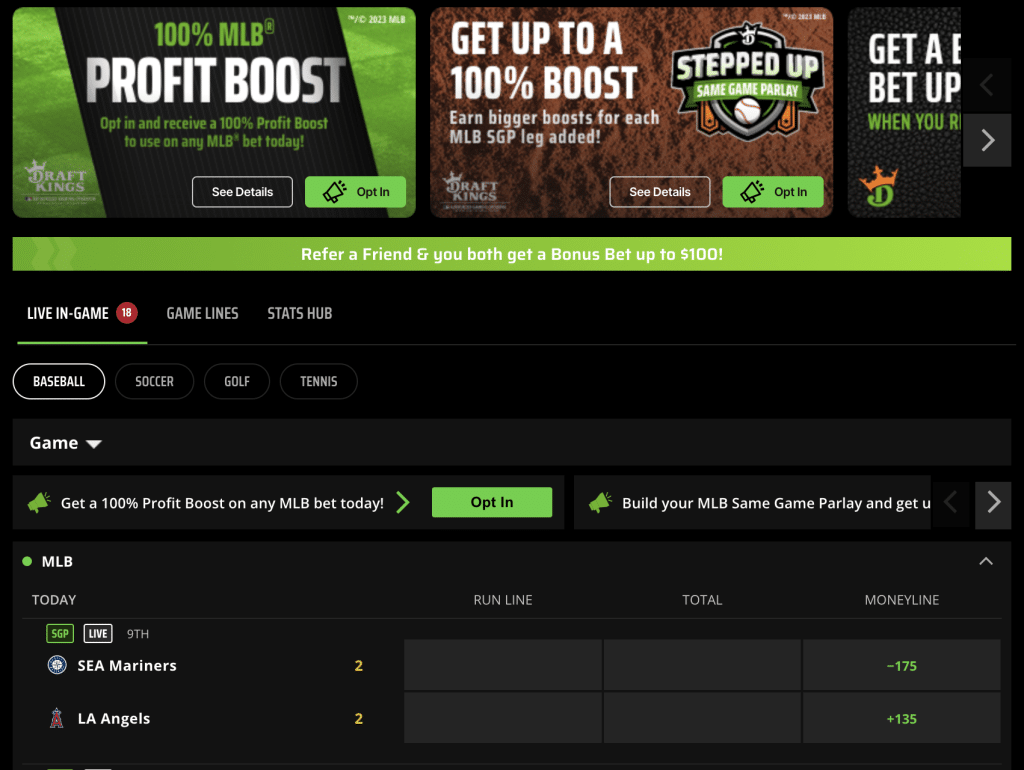 3. Select an MLB betting option
In the betting options, find a game and a bet market (or type) you want to place. Select the wager you want, and it will populate on the bet slip of the sportsbook, which often displays on the right of the screen.

4. Enter the amount you want to bet
After finding an MLB bet type, you can now decide how much you want to bet. The sportsbook bet slip will display your potential winnings when you enter your wager amount. You'll also have the option to combine numerous betting possibilities into a parlay.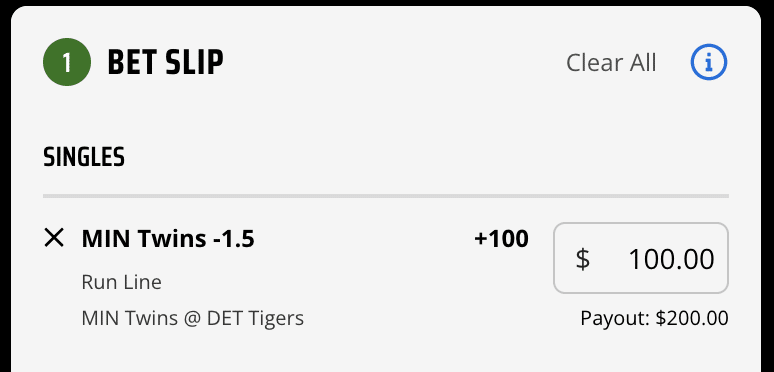 5. Submit your MLB bet
Now you can submit your bet via the bet slip of the sportsbook. You can track the wager via a 'My Bets' or equivalent section on your sportsbook of choice.


Types of MLB Bets
There is no perfect MLB betting formula, but knowing all the options is crucial if you want to learn how to bet on MLB and win. One of the best betting tips is properly understanding all the markets available.
Moneyline Betting (Outright Winner)
The moneyline is the simplest way to bet on an MLB game. This is about predicting which team will win a game. The payout you get is based on the odds set by the sportsbook. As one of our best tips for betting on MLB is to start with the basics, understanding moneyline betting is as fundamental as it gets.
So how does MLB moneyline betting work? Consider a game in which the New York Mets (-135) are the favorites versus the Chicago Cubs (+114). The favorites to win will have a negative number, while the underdogs will have a positive number with a plus sign.


If you bet $100 dollars on the Cubs to win (the underdogs), you will get a payout of $214 if they win, which means $114 profit.
If you bet $100 on the NY Mets to win (the favorites), you would get a payout of $174.07 if they win, which means $74.07 profit. Or it might be easier to think of it like this – to make a $100 profit, you would need to bet $135 at -135 odds.
Run Line Betting
Betting on the run line is another well-liked option. You might have heard of a point spread in sports like football and basketball, which is called a run line in MLB betting. The run line is often set at 1.5 runs for MLB games.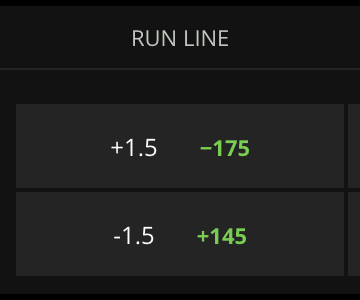 While placing MLB bets, you generally either give or receive 1.5 runs. For example, if the underdog Cubs are +1.5 runs, and the Mets are -1.5 runs:
If you wager on the Cubs, even if they lose by one run, you will still win your bet.
If you wager on the Mets, they must win by at least two runs for your bet to win.
Both sides will have odds that can vary, often significantly more in MLB run line betting than you'll typically see on an NFL point spread wager. In our above example, you will see that the Cubs come with -175 odds on the +1.5 run line, while the Mets are +145 on the -1.5 run line.
Totals Betting
Betting on the total of an MLB game rather than picking a side is another exciting option. You can choose the over or under in this situation – the sportsbook determines the total predicted amount of combined runs. This means the total number scored by both sides, added together.
The total may be 8.5 runs between Team A and Team B:
If you bet on the under, you win your bet if eight or fewer runs are scored.
If you bet on the over, you win your bet if nine or more runs are scored.
It doesn't matter which team scored which run, it's only the total between both teams that counts for your bet.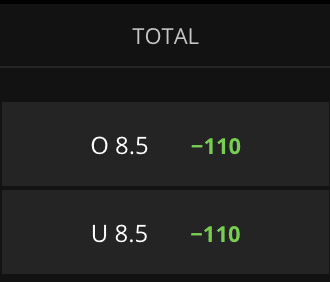 Like run line betting, totals betting also includes odds that indicate your payout for the over or under. As it's easier for sportsbooks to set what they consider to be an accurate total, odds should remain closer to even money on totals bet, in comparison to run line bets.
Prop Bets
Proposition or 'prop' betting is a fun method to wager on the MLB without being concerned with a particular game's outcome. When you prop bet, you wager on a smaller outcome within a game. This can include scenarios involving individual player statistics or team/game outcomes.
MLB prop bets include things like:
Whether a player will hit a home run.
An over/under on how many strikeouts a starting pitcher will record.
A specific total amount of hits both teams will accumulate during a game.
For a basic example, let's look at a strikeout prop scenario involving Lance Lynn of the Los Angeles Dodgers and Rich Hill of the San Diego Padres. You will see an over/under, much like a game run total, set on the total number of strikeouts for each pitcher. The odds indicate your payout based on which bet you place.


Prop bets are among the best ways to get betting odds in your favor. We recommend trying to focus on props rather than sides/totals once you get the hang of MLB betting.
Parlay Betting
Parlay betting on MLB allows you to pair multiple betting selections for the chance to win more money. This can be done using wagers from multiple games, or the same game, with some restrictions on same-game parlays depending on the sportsbook.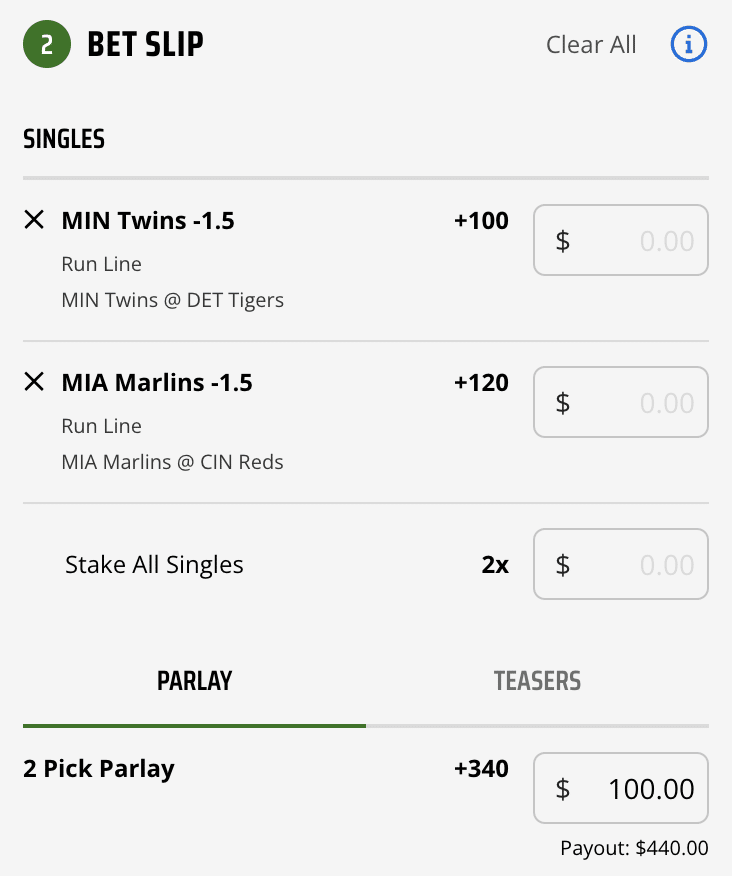 In the example above, say you bet the Miami Marlins (+120) on the run line with the Minnesota Twins (+100), also on the run line. If you bet $100 on this two-pick parlay, you would stand to win $340 ($440 payout) if both wagers happen as you predicted – this would mean each team needs to win by at least two runs, in this run line parlay bet.
Futures Betting
Futures betting on the MLB is a fun way to predict longer-term action on events that occur over an entire season. A common example is wagering on which team will win the World Series, or even which two teams will compete in the World Series.


Other examples of MLB futures bets are betting on which player will win the MVP award or which pitcher will win the Cy Young Award. Futures can be a fun way to enjoy action over a long period of time, with a chance for big winnings on long shots.
Live Betting on MLB
Live betting has gained popularity as more online sportsbooks have opened up for business in the US. Even more in-game betting choices than the regular season are available during the World Series and the playoffs.
You can bet on in-game outcomes with live betting, which means constantly shifting odds. Some sportsbooks even allow you to live stream the game on their betting site, along with a live betting panel and live updated odds. Live betting offers you the chance to place and adjust your bets as events unfold during an MLB game.

Betting on the current moneyline, run line, or over/under of a game that has already started is a common option for live MLB betting. You could also place a wager on a precise result of a player's upcoming at-bat for example – one of the more niche in-game betting possibilities.
Types of MLB Events To Bet On
Within Major League Baseball, there are many different games to bet on all season and though the playoffs. If you want to place an MLB bet, this could mean betting on a whole range of events, so you need to know what's what.
Regular Season Betting
MLB has a regular season of 162 games. Each season's results determine which teams will make the playoffs. You can bet on any game throughout the regular season at one of our recommended sportsbooks.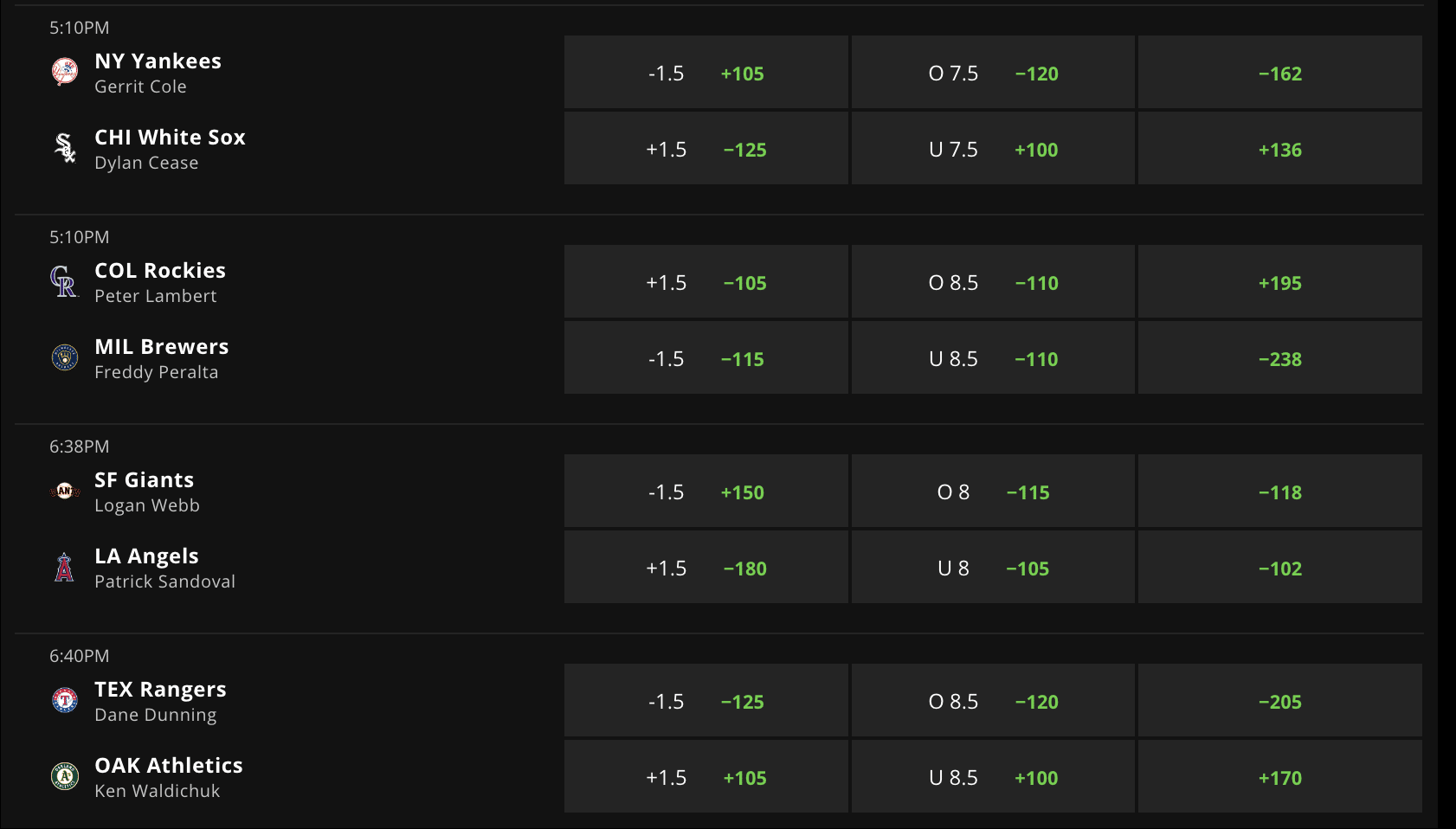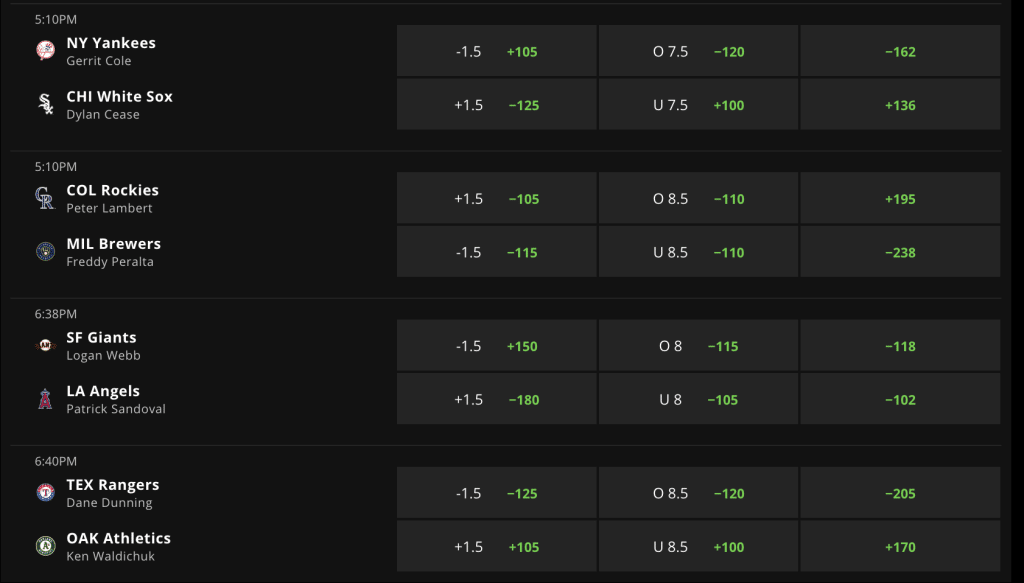 Playoffs and World Series Betting
The MLB playoffs begin once the regular season is over. You can wager on each round of the playoffs, including the final round, which is the World Series. This includes the Wild Card, Division, and Championship Series competitions leading up to the Fall Classic.
All-Star Game MLB Betting
Each year, there is an All-Star break in the MLB in which an All-Star game is played between the National League and American League. Other events also surround this, like the Home Run Derby, which bring about some interesting odds and props.
Spring Training Betting
The pre-season for the MLB is called 'Spring Training'. This involves teams getting ready for the regular season with preliminary games. Sportsbooks will set a limited number of options for betting on training games. These can be very unpredictable since the games don't matter outside of getting the players ready for the regular season, but if you can't wait for the MLB action, it's good to know that this option exists.
MLB Betting Tips and Strategies
To get a better understanding of how to bet on MLB games, we're going to cover five basic tips. There is no such thing as the best MLB betting strategy, but we can share some solid tips for betting on games as a beginner.
Use Plus-Money Underdogs to Your Advantage
MLB betting on plus-money underdogs – for example, a team with odds of +140 rather than the favorites – is usually a more profitable but riskier strategy.
This is a worthwhile betting strategy because:
You win more when your bets emerge victorious.
When you pick a team that doesn't end up winning, you lose as much as you would on a favorite.
The MLB is unpredictable, making underdogs fairly likely to win compared to their odds.
Avoid Popular MLB Picks
Oddsmakers are aware of how popular the favorites are among bettors. As a result, they can profit from the public popularity of certain teams or brands, and create odds according to this. Because casual fans bet on famous teams like the Yankees and Dodgers, regardless of the odds offered, you'll often find worse odds on these bets.
Go Against the Field
A typical losing bettor places wagers based on instinct and recency bias, seeking out favorites, home teams, star players, or caring too much about recent performance. Going against the grain in your betting choice can sometimes help you exploit public bias. If bookmakers see that the public often loses, taking the opposite approach can often make sense.
Keep Track of the Weather
It's essential to understand just how much weather matters in baseball. Of course, most of us at least understand that a game can get rained out. Yet, much of the betting public fails to understand just how much wind, temperature, and humidity can significantly affect the potential for offense, or lack of it.
Consider the Umpires
Another often overlooked factor when learning how to bet on MLB, is considering the umpire behind the plate. Some umpires drastically favor pitchers, and vice versa, or road versus home teams. This can be helpful for totals, moneyline or run line betting, and props involving starting pitchers or individual hitters. Do some research about the umpire in the game you want to bet on.
MLB Betting FAQs
What is the best way to bet on MLB?
How do you bet on MLB for beginners?
How does MLB betting work?
Is MLB the easiest sport to bet on?
What is the biggest MLB bet?
What is the most common bet in MLB?