With the addition of international superstar Lionel Messi to its roster, North America's Major League Soccer (MLS) is peaking in terms of its popularity domestically and abroad. With popularity, comes eyeballs, which of course leads to an explosion in betting popularity.
Whether you're after MLS betting tips, an MLS betting strategy, or you just want to learn how to place a bet, we've got you covered in the most comprehensive MLS betting guide you'll find online. The following is required reading when it comes to MLS betting tips.
What is the MLS Structure and How Does It Work?
Before we share tips on how to bet on soccer, it's a good idea to get to grips with the MLS structure first. As of 2023, there are now 29 MLS teams, with Charlotte FC becoming the newest member in 2022 as the league's newest expansion team.
It's not just the US involved in the action, as there are also three Canadian clubs part of the league, as the North American professional soccer league that was founded in 1993 has truly become a North American affair.
Like most North American sports leagues, the MLS is split between two conferences, Eastern and Western. Each team plays 34 matches starting in February and running through October. Similar to the NHL, clubs earn three points with wins and one point for draws. The team with the most points at the end of the season wins the Supporters' Shield. There is also a single-elimination tournament which are the playoffs to decide the MLS Cup Champion.
Each team competes against the other Conference teams both at home and away, in addition to eight interconference games to arrive at those 34 games. In terms of the MLS playoffs, the highest-performing franchises in the Eastern Conference and the Western Conference advance to line up in the bracket in an effort to win the MLS Cup.
In terms of television viewing, the MLS just signed a major deal in the US (in large part from Messi's involvement) with Apple TV. Fox Sports also shows MLS games throughout the season domestically. In Canada, TSN and RDS own the rights, and the international viewing is spread among a variety of providers.
Ready to jump straight into the MLS betting action? Head to BetOnline.
How Does MLS Betting Work?
29 clubs compete in Major League Soccer, 15 from the Eastern Conference and 14 from the Western Conference. The league's champion is decided after 34 games in the regular season as each MLS team plays 17 home games and 17 away games.
MLS betting includes picking the league's champion or the result of a specific game with a plethora of bet types available at US-operated sportsbooks, including moneyline, point spread, total, and many more.
To place a wager on the result of the game, the most popular options are the moneyline or point spread. Your ability to make predictions is guided by the different forms of bets, so it's a good idea to look into historical data and do your homework before placing an MLS wager.
There are also MLS betting communities where you can talk to other soccer fans who share their research for making MLS betting predictions.
MLS Betting Types
In order to know how to bet on MLS Games, you'll want to be sure that you know all the betting lines associated with the industry. Let's take a closer look at all of the bet types to ensure you have the tools you need to understand to make use of all the best MLS betting tips we cover today.
Straight Bet or Moneyline Bets
The most common market for newcomers learning how to wager on MLS is moneyline betting. This choice, also referred to as a straight bet, simply means you are betting on a team that will prevail in the match. The moneyline MLS betting odds are denoted as (+) for the underdog and (-) for the favorite, as is the case in other sports moneyline betting.

As an example, you can predict the outcome of the matchup between the Philadelphia Union (-145) and New England (+376) by using the moneyline option.
Point Spreads
When a strong team faces an inferior squad, bookmakers offer the spread betting market. By doing this, the playing field will be leveled and bettors will be able to get good odds on the favorites, with one important caveat. The favorite will be laying a set amount of goals to the underdog, which is known as the point spread.
For instance, LAFC may receive a spread of -1.5 in a game against the lowly Colorado Rapiods. You can win if you predict LAFC will win the match by two or more goals.
Conversely, if you think Colorado will keep it close, you can take +1.5 and just need to not lose by more than one goal. The .5 is to prevent any pushed (tied) bets. It's important to note that in soccer, these bets often are just for the regulation time.
First-Half or Halftime Bets
These bets can apply to both point spreads and money lines, and as the name applies, are applicable for just the first half. At halftime, new odds and lines are offered, and you can bet second half as well, where the bet is only applicable to what happens in the second half.
Over/Under or Totals
Most commonly set at 2.5 or 3.5 when it comes to MLS betting, this bet means you are betting on the total number of goals scored in a match (in regulation).
For example, if FC Cincinnati and NYFC play to a 2-2 draw, the total goals scored would be four. If you had OVER 3.5, you win your bet. On the flip side, if you had under, you would lose your bet.
Parlays
If you want to boost your payoff for a wager without investing additional money, parlay betting is the best choice. For the greatest result on this market, you can combine two or more picks into a single wager, with the more teams involved, the higher the payout (and risk).
You may, for instance, include the following options on your bet slip during the MLS season: New England Revolution -250, Nashville FC +250, Inter Miami FC +300. If all three of those teams win, a $10 wager would pay out $186.
Do keep in mind that you only win the wager if all of your parlay picks are accurate, and you lose even if just one choice is incorrect.
Same Game Parlays (SGPs)
SGPs are an increasingly popular market and involve bets within a single game. As an example, in an upcoming game between the Columbus Crew and Toronto FC, you can bet the Crew moneyline, Over 2.5 goals, and for Christian Ramirez to score a goal; which are all favorites and would payout +160.
Prop Bets
Prop bets, also known as proposition bets, are bets that let you make predictions about outcomes of situations that won't necessarily have an impact on the outcome of the game, eg number of corners or penalties. Player props involve certain players doing things on the field.
Live Bet
The complete opposite of pre-match gambling is MLS live betting, which lets you bet on a match once it has started. These are prices that fluctuate based on how the game plays out, as well as where the market started. On the other hand, depending on what happens on the field, the markets can remain open or shut, often remaining open until the final whistle blows.
Some of the top offshore sportsbooks include unique features like cash-out where you can take a lower payout on a bet you placed pre-game. These features enable you to examine and make predictions based on both real-world information and what you see on the screen, or even better, in person at the match.
Futures Bets
When opposed to a moneyline wager, MLS futures bets are a long-term betting alternative that offers better MLS odds for season-long bets.
As a quick example, you may wager on the team to win the league by using this betting option. For improved chances, place a futures wager before the league starts or in the early going, as the odds update every week after the completion of the matches that week. Predicting CF Montreal will win the MLS Cup this season, currently in the middle of the table, would be a significant payout if they were to get the job done.
Try out the most popular MLS bet types at BetOnline.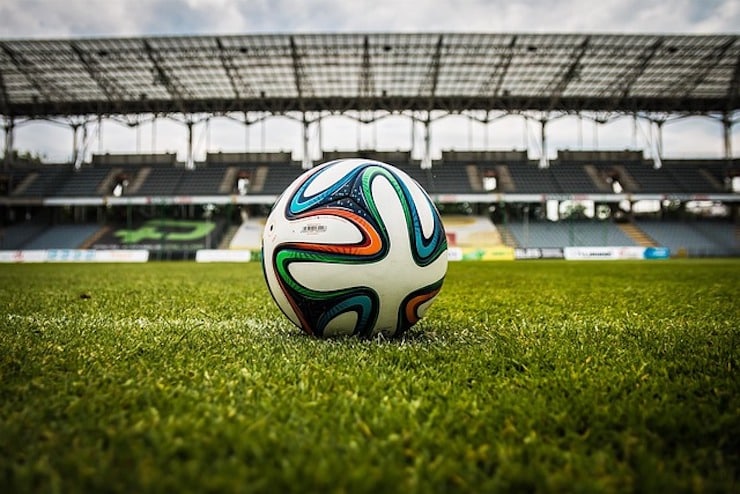 Tips for Betting on MLS
Here are some suggestions to assist you in wagering on the steadily-growing MLS. The most important points to consider before locking in your betting slips have been chosen for you by our league experts and will surely assist you in making more dependable wagers. Here are the ones that, in our opinion, are the most relevant MLS soccer betting tips for sustained long-term success.
1. Shop around for the best MLS odds
One of the most important things to do, which will almost always directly affect your net profits, is to evaluate the MLS odds provided by several bookmakers before placing a wager. It frequently happens that two bookmakers' prices for the same kind of wager differ, so be sure to sign up to multiple sportsbooks for the best odds.
For instance, BetOnline could price the home team to win in a crucial match like LAFC vs LA Galaxy to have LAFC at -200, while Bovada might price them at -170. This might not seem like a significant difference at first, however, over time, the difference may become extremely significant.
To guarantee you have the best odds on the market, you should absolutely sign up with as many of the top online sportsbooks as you can; if your budget allows, of course.
Additionally, you'll be able to benefit from the fantastic introductory bonuses that each sportsbook nowadays offers to new customers. Just be sure to be aware of the terms and conditions of every bonus you sign up for.
2. Look into the MLS data available
The most recent information on lineups, transactions, signings, player injury reports, player forms, and stats are often available on Twitter throughout the week. By following this kind of outlet, you can get a much better sense of how each squad is doing during the season.
Additionally, you want to keep track of how each squad is doing statistically, and with some digging, you may get detailed information from a variety of sources that will help you understand how each team performs. In this area of research, note whether they are running above or below expectations, and how they contrast with various opposing teams they face.
This kind of study might require more time to research, but it can reveal certain angles and bets that the sportsbook and oddsmakers behind the numbers and odds might have missed.
3. Consider recent and historical matches
It's key to know how prominent teams have performed recently when betting on MLS, especially in games that are comparable to the one you wish to wager on. The loss of some of these essential members of a given MLS team might have a significant impact on the performance of their team since players in excellent form are more likely to sustain their high level of play in upcoming games.
Therefore, always assess the teams' most recent games and ensure they are trending in the right direction. If key players are out now, but weren't in recent wins, be aware of that fact and use the information to your benefit. Conversely, if players are coming back from injury and the team is on a recent slide, consider that as well when you make your wager.
Small differences such as this can be the difference between winning MLS betting picks, and MLS betting predictions that end up being losers.
4. Be aware of team motivations
It's also important (and smart) to understand the actual stakes of the game you're betting on and where a team's motivations might be at the opening kick.
For instance, if a team can no longer make first place at the end of the regular season but has already qualified for the playoffs, it may afford to rest some of its essential players so they are rested before the playoffs begin. The same holds true for a team that has lost all hope of making the postseason and has nothing left to play for in its last few weeks. These teams frequently enter games without being fully dedicated or focused, and the results often show through.
Another good tip in this regard is to take a close look at the official rankings to get a sense of what is on the line for the teams before placing a wager on the top-flight league in the United States. As there are no relegations in this league, the clubs at the bottom of the standings are not under any serious pressure, and you won't see urgency late even if they are in the final few spots.
This, of course, differs from other international leagues where teams who finish at the bottom get dropped from the league altogether.
5. Look for the best MLS players
Another great way to find success in MLS betting is to be aware of the form of the significant players who will participate in the game you wish to wager on.
The most crucial member of a team, or the few of them, almost always dictate how the game will be played out. It's important to recognize them and their current form, especially at striker and goalie, as they often are the determining factors between a team winning or losing.
The accuracy of your predictions will depend on their most recent results and current form, so make sure you are aware of any recent injuries or better yet, their recent form against this opponent.
How to Bet on the MLS Online
Now that you have all of the best MLS betting tips at your disposal to form your MLS betting strategy, it's time to get involved in the action for real. In the below steps, we walk you through how to put your MLS betting predictions to the test, starting with signing up for an account, all the way through to confirming your very first bet.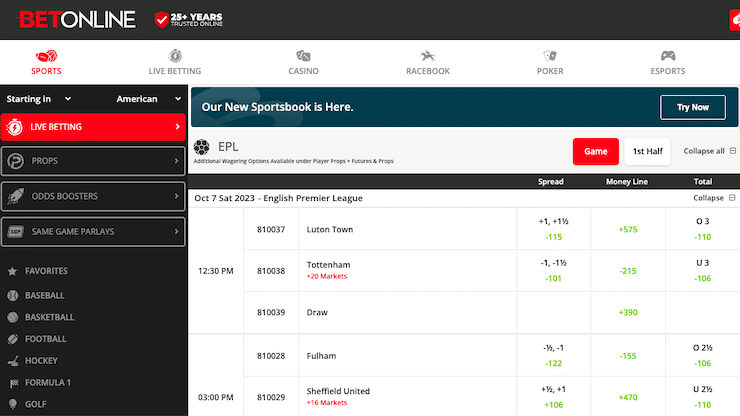 1. Sign up For an Account
The first step is, of course, to sign up for an account at your chosen sportsbook, such as BetOnline. Add all the required details and verify your account.
2. Make a Deposit
With your account registered, it's now time to put real money onto the site to start betting. Navigate to the cashier section and choose the payment option that works best for you.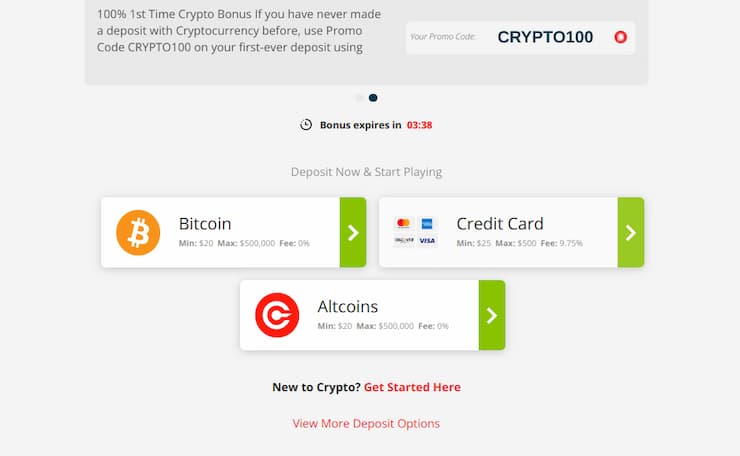 3. Claim Your Welcome Bonus
When depositing your funds, you'll usually be asked if you would like to claim a bonus offered by the site. While signing up for a bonus can be a good idea, do make sure you are aware of the terms and conditions of the bet such as rollover requirements or other things that might not be clear on the surface.

4. Head to the MLS Betting Section
With your bonus claimed and money deposited, the time has come to find your bet. Navigate to the soccer section, and find the area for Major League Soccer (MLS). From here, you can now put your MLS betting strategy to the test.
5. Place a Bet
Once you find the match you want to bet on and the bet type you desire, click it once for it to appear in your bet slip. From here, enter the amount you want to risk, and you will see the amount you are set to win. Conversely, you can also start with the amount you want to win, and the risk amount will populate. When ready, hit the button to officially place your Major League Soccer betting tips-driven wager.
Ready to sign up for an account? Head to BetOnline.
2023 MLS Schedule
| | |
| --- | --- |
| Season Type | Dates |
| Regular Season | February 25 – October 21 |
| Playoffs | October 25 – December 9 |
| MLS Cup | December 9 |
Who Are the Best MLS Teams to Bet On?
When it comes to the best MLS soccer betting tips, it's a good idea to know who the dominant teams are in the league. Over the course of their 29-year history, the LA Galaxy and DC United clubs have the most Supporters' Shields at four each. The Galaxy, however, have the most MLS Cups as of 2023 with five total titles. The new team in LA, Los Angeles FC, is the defending champion, winning their first title in 2022.
What Other Leagues Do MLS Teams Compete In?
Like all international soccer leagues, the MLS teams don't just compete domestically, but also compete in tournaments throughout the year against teams from other leagues. Let's take a closer look at a few of those leagues.
Domestic Cup(s)
U.S. Open Cup
Just about 100 of the best professional clubs from leagues across the United States, including the MLS and other second-tier leagues, battle it out in this competition. One of the lesser-known tournaments in the world, there is a surprising amount of value to be had for bettors who pay attention to it.
Additionally, amateur clubs who qualify through their respective leagues are additionally competing in the tournament's earlier rounds. The CONCACAF Champions Cup spot and $300,000 prize money go to the overall winner, $100,000 goes to the runner-up, and $25,000 to the team from each lower-division league that advances the furthest.
Canadian Championship
Along with all three of the MLS's teams which include the Vancouver Whitecaps FC, CF Montreal, and Toronto FC, Canada's professional leagues also get in on the action. Featuring teams from the Canadian Premier League, this tournament pits Canada's best teams against each other and has become the biggest Canadian soccer tournament of the year.
International Cup(s)
CONCACAF Champions Cup
Clubs from the Caribbean, Central America, and North America compete in the event to win the CONCACAF Champions Cup and progress directly to the FIFA Club World Cup quarterfinals. The league has been referred to as the CONCACAF Champions League since 2008 and pits the best teams across North and Central America against each other to crown a champion.
Campeones Cup
Champions of the previous MLS Cup from Major League Soccer and the winners of the Campeón de Campeones from Liga MX compete in the Campeones Cup, an annual soccer meeting in North America. The two leagues created the competition in 2018, and it's quickly become one of the more popular in North America.
Leagues Cup
Arguably the biggest North American tournament at this point, this tournament is now held annually and was recently expanded to include all teams from both the MLS and Mexico's top league Liga MX. Recently getting a deal with Fox Sports, Liga MX has grown in popularity, making this tournament even more noteworthy.
With its expansion to all teams in both leagues, it now serves as a regional event for CONCACAF's North American region, which also includes Canada. When the tournament is over, the top three teams advance to the CONCACAF Champions Cup, with the winner getting a first-round bye in that event.
Always Bet on MLS Responsibly
Now that you are packed full with MLS betting tips and advice, it's important to remember that no matter what; it's still gambling. With that in mind, make sure you never bet on anything, no matter how sure you are, with more money than you can afford to lose. If you do find yourself in trouble, reach out to one of the many resources available to seek help sooner rather than later.
FAQs
How can I bet on MLS games?
Where can I bet on MLS games?
Who is favored to win the MLS in 2023?
What are the most popular MLS bets?
What is the best way to bet on MLS?
What is the safest bet on MLS Betting?
What is the easiest bet in MLS?
Resources