Whether you're into stock car racing, motorbikes, or open-wheeled speedsters, our motorsports betting guide provides all the insights you'll ever need to bet on your favorite motorsport. We'll teach you how to bet on motorsports while also providing handy motorsports betting tips developed from years of experience following the biggest racing sports.
Read on to learn all about the exciting markets provided for top racing organizations including Formula One (F1), IndyCar, and NASCAR, and find out which sports betting apps provide the best motorsports betting experience in the US.
How to Bet on Motorsports
There are lots of ways to bet on a range of different motorsports including F1, NASCAR, and MotoGP. Whether you've had any experience with sports betting with online sportsbooks or not, learning how to bet on motorsports is a breeze.
US residents have two ways to enjoy auto racing betting which is dependent on the state in which you reside, or visit. 38 states have legal, regulated markets that let you engage in motor racing betting either online, at retail sportsbooks, or both.
You can, for example, enjoy motorsports betting at retail locations in Wisconsin, but you can enjoy both retail and online sports betting in Michigan.
Want to bet on NASCAR, F1, and Supercars? Sign up at BetOnline.
Examples of Motorsports Bets
Let's take a look at a couple of different bets to best explain how to bet on motorsports in the US. The Italian Grand Prix (GP) is coming up, and BetMGM has priced the "Race winner" market, and favorite Max Verstappen is priced at -450 to win. Verstappen needs to come first in the race for the bet to be successful.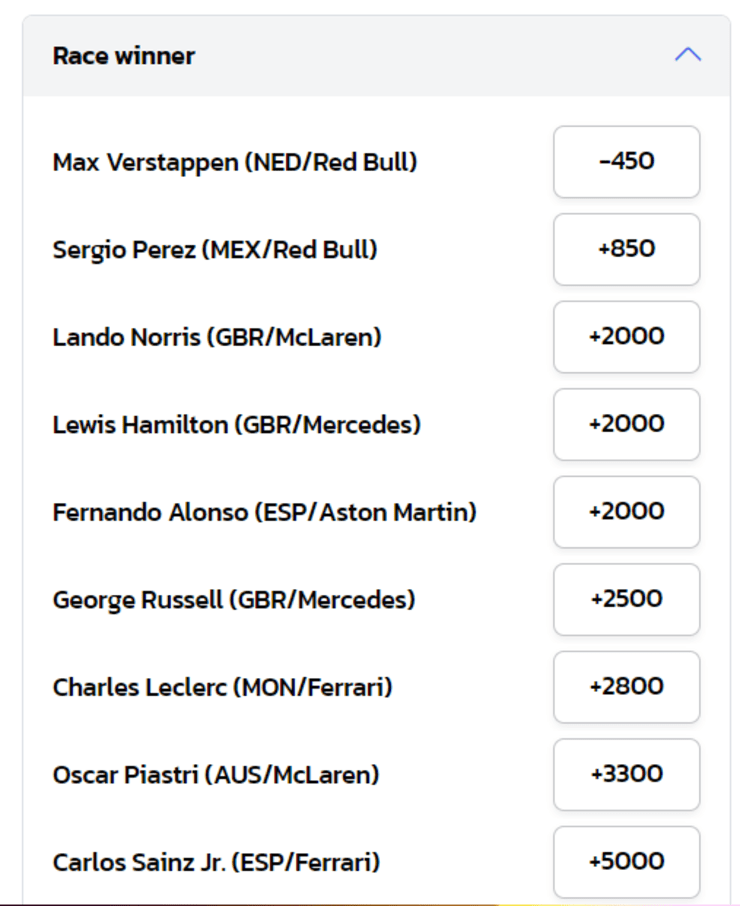 If you think Verstappen might lose the race but you're unsure of who's capable of taking the checkered flag, you could bet on all the other drivers in a "Rest of field" bet. For this bet to be successful, any driver other than the favorite, Verstappen in this example, must win the race.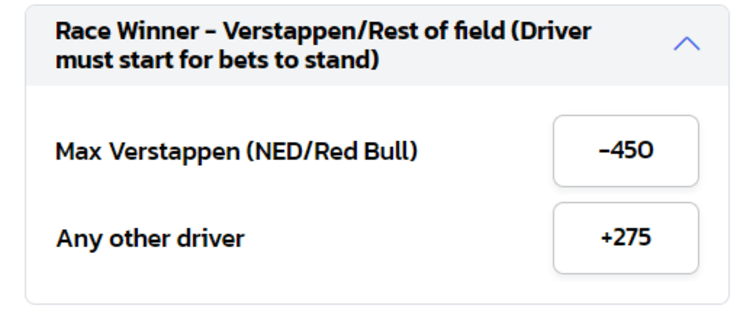 How Motorsports Betting Works
Sportsbooks, online or retail, offer odds for markets that let you bet on the winner of an individual race, or the winner of an entire championship series and seasons. Additionally, you'll be able to bet on unique occurrences from a single race too. Unlike most sports that feature two competitors, auto racing betting features upwards of 10 drivers on which you can bet.
As with betting on any other sport, however, there'll be a favorite, and there'll be the underdogs. Favorites always have the lowest odds while the underdogs have longer odds, based on their likeliness to win.
If we look at the NASCAR odds below, for example, we can see that Martin Truex Jr. is the favorite, with the lowest odds, and Austin Cindric is the underdog, with the longest odds.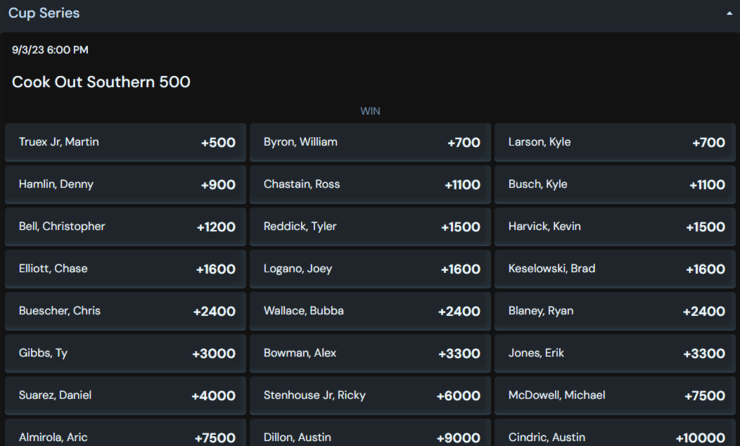 Get exceptional motorsport odds at Bovada.
How to Place a Motorsport Bet
Whether you're into NASCAR, F1, or Moto GP US sports betting apps will have you covered, and we walk you through getting started to you can start betting right away.
In the simple steps we outline below we've used BetMGM as our example, but it'll be much the same process whichever sportsbook you choose.
1. Create an account
Go to the homepage and click on the green "Join" button to start the registration process. Fill out your details such as your full name, address and you'll be prompted to create your login.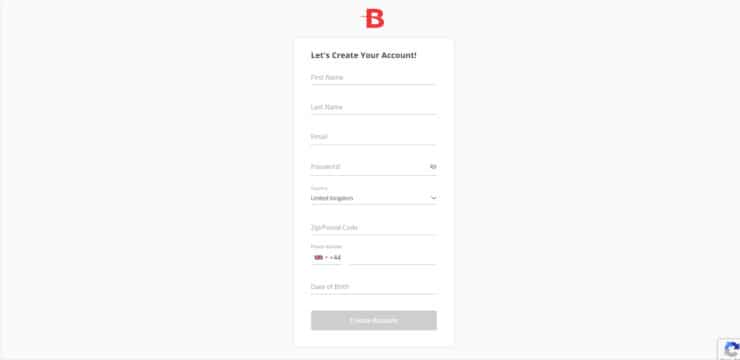 2. Make a deposit
Once logged in, head to the cashier and choose to make a deposit. Select a deposit method from those available and choose a deposit amount. You'll need to enter your payment method details as required.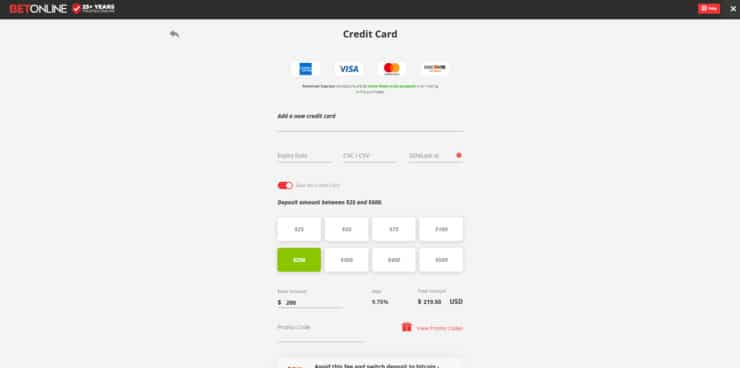 3. Find a betting market
Head on over to the sportsbook section and use the "A-Z Sports" button to navigate to the current motorsport betting options. Select an event and choose from the available markets. You can create a parlay by betting on multiple motorsport events too.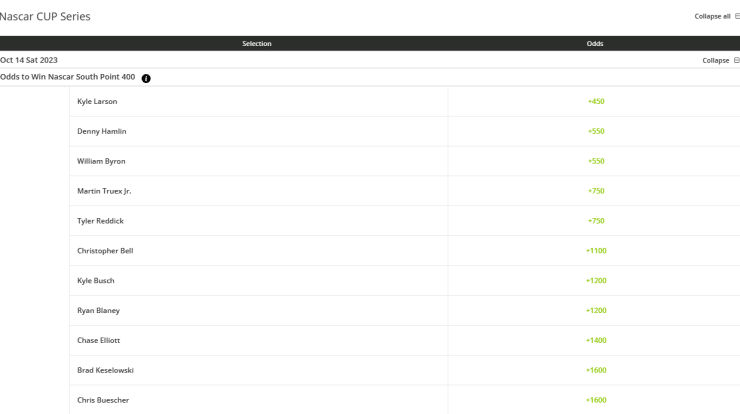 4. Place your bet
Make your selection and it'll appear in your bet slip. Enter your stake and confirm the bet to complete. Now you can sit back and enjoy the race.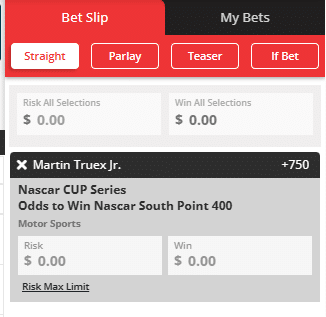 Types of Bets
Any one race can provide a myriad of betting opportunities. That's because US sportsbooks feature numerous types of bets that cover various components of a single race and even entire championships.
Moneyline
A moneyline bet is a prediction on which driver will win the race. There will be numerous options, but your selection must finish first for the bet to be successful. Additionally, moneyline bets can also be offered for specific outcomes such as the "Fastest Lap" – in this case, the driver who posts the fastest lap by the end of the race would be the winner.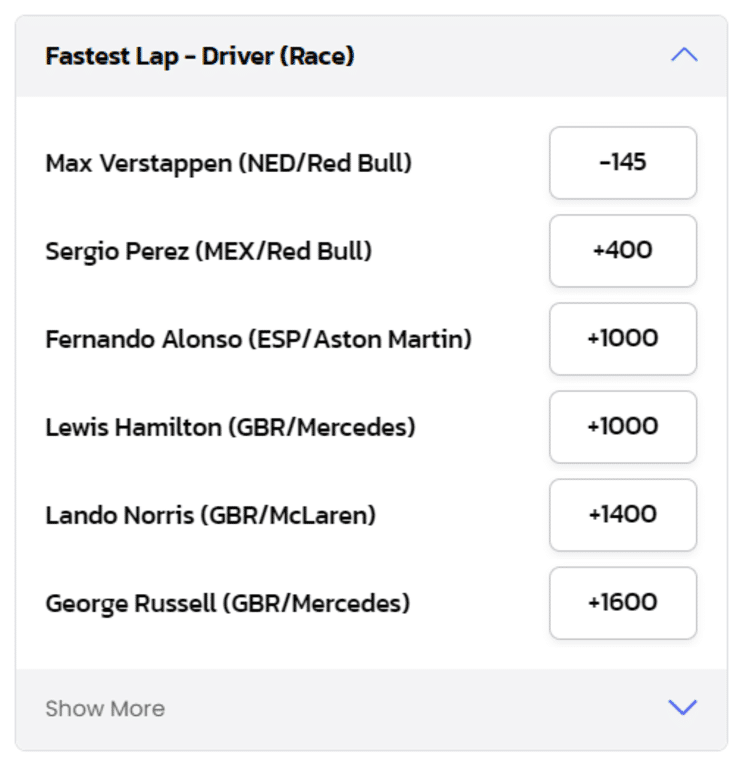 Props
These bets cover markets that are entirely unrelated to the final outcome of the race. With prop betting it doesn't necessarily matter who actually wins the race, for example, "Will both drivers of any team record points in the race?".
Top Drivers
The "Top Drivers" market is similar bet to the 'place bet' for horse racing betting. The driver you choose must be a top finisher to win the bet. Like a "place" bet, the number of successful positions the driver could finish in will vary. For example, this market in an F1 race could be a Top 3, Top 6, or even Top 10 finisher market.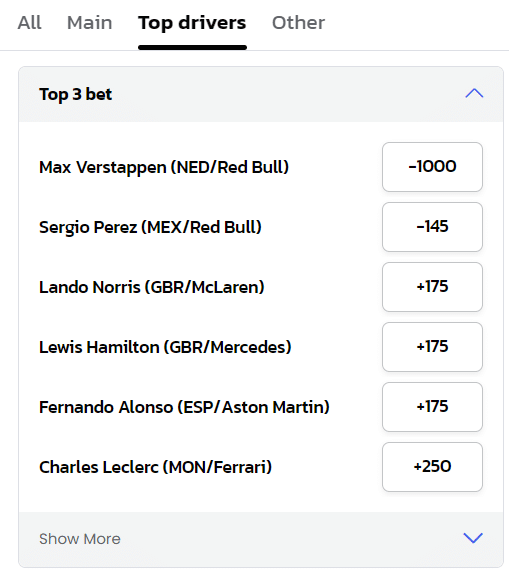 Futures
A futures bet is like a moneyline bet but it's placed on the eventual outcome of an entire championship season rather than an individual race. For example, "William Byron to win the 2023 NASCAR Cup Series Championship" would be a futures bet. Byron would need to win the entire Cup Series for the bet to be successful.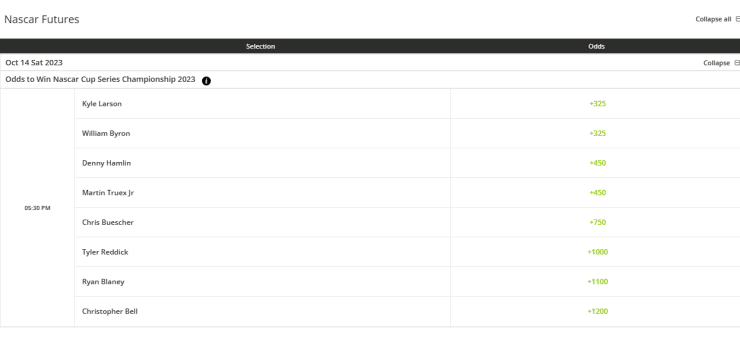 Over/Under
While these markets are arguably spreads, most online sportsbooks will classify the over/under markets as prop bets. The over/under market will cover the 'Winning Margin' in seconds. For example, the 'Under 5 Seconds' market requires the winner of the race to beat the second-place driver by less than five seconds.
Motorsports Betting Tips & Strategies
We couldn't produce a motorsports betting guide without revealing our best tips and strategies for effective motorsport betting. Our hottest motorsports betting tips will cover you for both car racing betting, and motorbike racing.
Watch the qualifying race – Most races feature a series of qualifying events that determine where each car will place on the starting grid. This is a great opportunity for you to study the cars and drivers. A keen eye will determine the probable performance of the drivers and the cars. For example, you'll see if one of the favorites is behind pace or if a car is displaying possible technical issues.
Study the track – The track design and conditions can play a hugely influential role in the performance of individual drivers and tracks. For example, particularly hot conditions will see tyres wear more quickly while cars with frontline speed will suit tracks with fewer corners and longer straights.
Keep an eye on rule changes – Motorsport rules change often and can affect racing in a big way. Make sure to familiarize yourself with any new rule changes and car modifications to ensure your betting strategy is effective.
Look out for valuable odds – Racing remains very hard to price and US sportsbooks can sometimes slip up by providing exceedingly valuable odds for some markets. For example, Max Verstappen has rarely won by less than three seconds since the start of 2023, and typically has a winning margin of over 10 seconds. Odds for the 'Over 5 seconds' are usually more lucrative than a moneyline bet.
Back the mid-field speedster – The fastest lap won't always be driven by the leading driver. As the field opens up during a race you'll often find a mid-field driver posts faster lap times while trying to catch the leaders, than the top cars which are gunning for position.
Bet on live motorsport at BetNow.
Top Motorsports for Betting
We thoroughly examined the event offerings of some of the best US sportsbooks for our motorsports betting guide and noted that most sportsbooks cover a truly expansive range of racing. There are numerous types of racing available and coverage of the biggest racing organizations in the world.
Formula One
Formula One, or F1, is widely considered the premier form of car racing in the world, but enjoys its biggest following in Europe. Races vary in length of time, and type, but generally take between 75 and 100 minutes to complete. Tracks feature between 10 and 27 corners, and cars can reach top speeds of more than 230 mph and g-forces of up to 5G.
NASCAR
When it comes to auto racing betting in the US, nothing beats NASCAR. This racing association is famed for stock car racing which sees race cars reaching more than 800bhp (brake horsepower) racing around an oval track at speeds of over 200mph. NASCAR is one of the biggest spectator sports in the world and attracts, on average, around 2.5 million live attendees per year.
Le Mans
The 24 Hours of Le Mans is endurance racing. Held over 24 hours, this race has no minimum laps or even any proper "racing". The winner is decided by which car covers the most distance in 24 hours, which sees incredibly powerful machines balance speed while avoiding mechanical failure. In 1988, Roger Dorchy reached a top speed of 252.898mph during qualifying.
MotoGP
MotoGP is the F1 of the superbike world. It's the highest class of motorbike racing in the world and shares many of the same tracks as F1. Fun fact, MotoGP bikes are only a fraction slower than F1 cars with potential top speeds of over 220mph.
IndyCar
The IndyCar Series could be described as the American F1 racing. These race cars are open-wheeled like Formula 1 cars but are slower around the track, albeit, faster in a straight line and capable of 240mph and beyond. Uniquely, the IndyCar Series features both traditional racetracks and oval circuits like that of NASCAR.
Advantages of Motorsports Betting
Firstly, there are tons of motorsports to bet on. Each of the 20 or so F1 races in a single season contains numerous qualifying rounds over the weekend and a NASCAR season schedule has more than 1,500 races. There's essentially no off-season for betting on auto racing.
The different rule changes and manufacturer modifications also make it very difficult for some online offshore sportsbooks to effectively and accurately price motorsport events. This is especially evident in F1 odds. The benefit is that eagle-eyed bettors can pick up valuable odds that are priced higher than the actual probability.
FAQs
Can you bet on car racing?
How do I place a bet on motorsports?
What are the most popular motorsports bets?
Can you bet on pro Motocross?
Affiliate Disclosure: Techopedia may receive advertising commissions for visits to a suggested operator through our affiliate links, at no added cost to you. However, all our recommendations are unbiased and follow a thorough review process. Gambling can be addictive, please play responsibly and you must be of legal gambling age.
Resources