The NFL is one of the world's most beloved sports leagues. It generates a staggering $100 billion a year in gambling revenue and is the most wagered-on sport in the US. In our guide on how to bet on NFL games, we're going to highlight the process of placing a bet with a reputable online sportsbook, as well as highlighting potential betting markets and NFL betting strategies.
Example of an NFL Bet
As part of our guide on how to bet on NFL games, we've included a real-world example of how this might happen.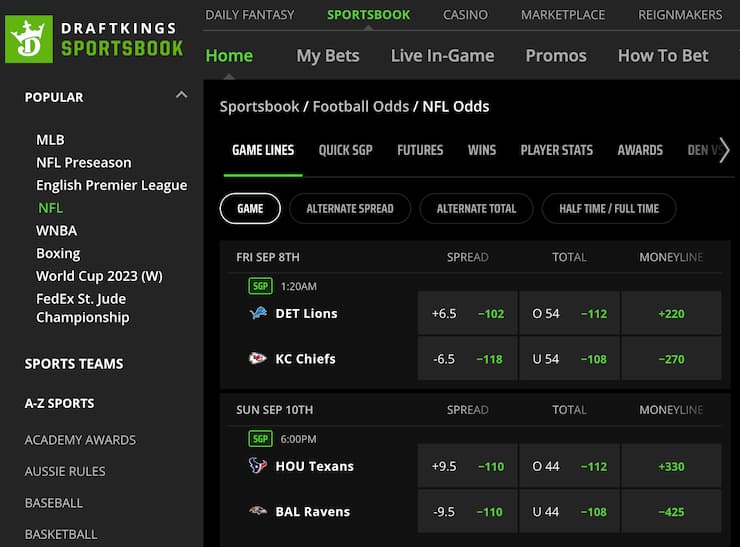 Let's say there's an upcoming NFL game between the Kansas City Chiefs and the New Orleans Saints. The odds for the game are as follows:
Kansas City Chiefs: -150
New Orleans Saints: +130
In this example, the odds are expressed in the American odds format. A minus (-) sign indicates the favorite, while a plus (+) sign indicates the underdog.
If you want to place a moneyline bet on this game, here's how it works:
Kansas City Chiefs (-150): A $150 bet on the Chiefs will earn you a profit of $100 if they win. If the Chiefs win, you will receive your original $150 bet plus an additional $100 in winnings, for a total of $250.
New Orleans Saints (+130): A $100 bet on the Saints will earn you a profit of $130 if they win. If the Saints win, you will receive your original $100 bet plus an additional $130 in winnings, for a total of $230.
So, if you believe the Chiefs will win and you bet $150 on them, and they indeed win, you will get a total of $250 ($150 original bet + $100 winnings). On the other hand, if you bet $100 on the Saints and they win, you would get a total of $230 ($100 original bet + $130 winnings).
Odds and potential payouts will vary based on different factors, including the sportsbook you're using and the timing of your bet. Always ensure you understand the odds and possible outcomes before placing your bet.
How to Bet on NFL Games – Step by Step
To understand how to bet on the NFL, we've included a step-by-step process of how this will work. We've used the DraftKings sportsbook for this, but the process will be much the same, regardless of the sportsbook you use.
1) Create an Account

You'll need to sign up if you don't already have an account on DraftKings Sportsbook. This typically involves providing personal information, creating a username and password, and agreeing to the terms and conditions.
2) Deposit Funds
Before placing a bet, you must deposit funds into your DraftKings account. This can be done using various payment methods, such as credit/debit cards, PayPal, online banking, or other available options.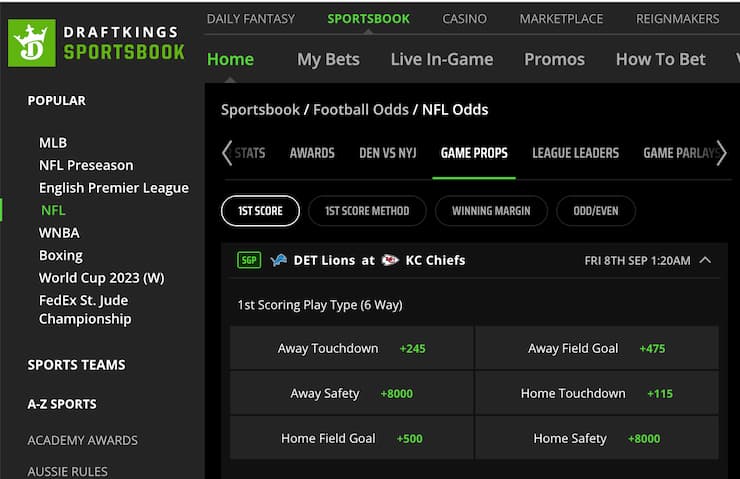 Once logged in, navigate to the NFL section of the sportsbook. You'll likely find a list of upcoming NFL games and the available betting markets for each game.
4) Choose a Game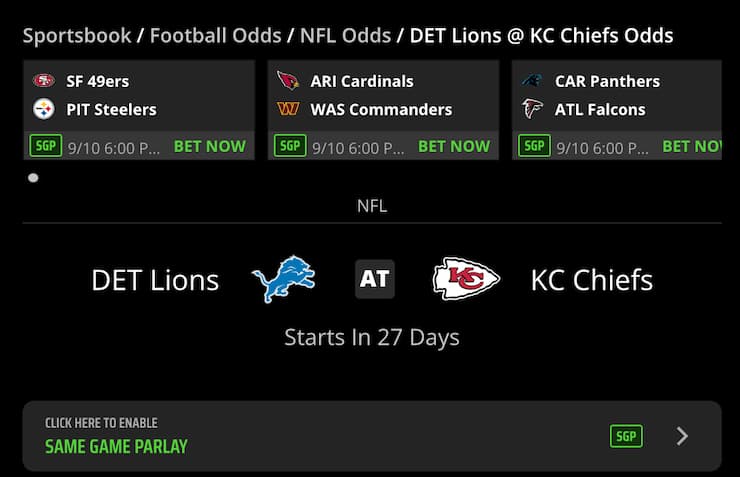 Select the NFL game you're interested in betting on. Let's say you want to bet on the Kansas City Chiefs vs. Detroit Lions game.
5) Select a Betting Market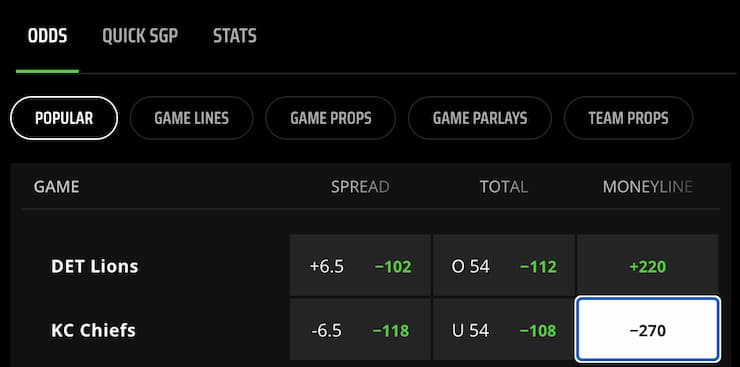 The game's page shows various betting markets, such as moneyline, point spread, totals (over/under), and more. Let's say you want to place a moneyline bet on the Chiefs to win.
6) Place Your Bet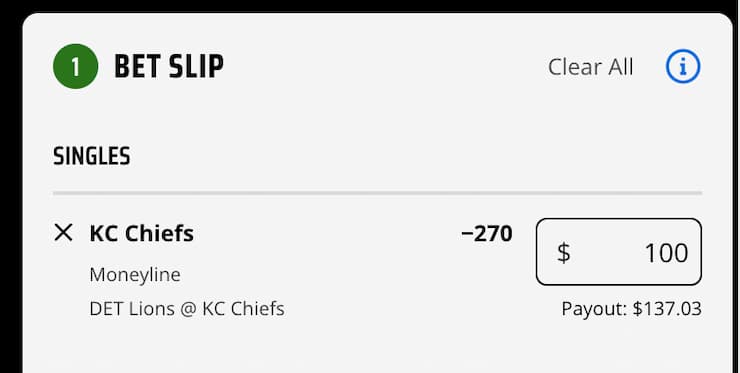 Click on the odds associated with the Chiefs' moneyline. A bet slip will typically appear on the side or bottom of the screen. In the bet slip, you can enter the amount you want to bet. The bet slip will automatically calculate your potential payout based on the odds and your bet amount.
Types of NFL Bets
As part of learning how to bet on NFL games online, you must be aware of the different types of markets you can access. Below we've outlined what they are and how they work.
Moneyline
The moneyline is a straightforward betting market where you wager on which team will win the NFL game outright, regardless of the point difference. Each team is assigned odds that indicate the payout if they win. Positive odds (+) represent the underdog, while negative odds (-) signify the favorite. Moneyline bets are common in all NFL games and provide a simple way to bet on the straight-up winner.
Point Spread
Point spread betting involves placing wagers on the margin of victory in an NFL game. The sportsbook sets a point spread that the favorite must win by to cover the spread, while the underdog must keep the game within that margin to cover. Point spread betting levels the playing field and makes games more competitive from a betting perspective, as it allows bettors to choose between the favorite and the underdog.
Totals (Over/Under)
In the totals market, also known as Over/Under, bettors predict whether the total combined score of both NFL teams will be over or under a set number determined by the sportsbook. Bettors don't focus on the game's outcome; instead, they wager on the total points scored by both teams combined. Totals betting is popular as it adds excitement to any NFL matchup, regardless of the teams involved.
Parlays
A parlay involves combining multiple individual bets into one wager. To win a parlay, all selected bets must be correct. Parlays offer higher potential payouts than individual bets but carry a higher risk due to their requirement for all selections to be accurate. Parlays can include moneyline, point spread, and totals bets on multiple NFL games.
Live Betting
Live betting, also known as in-game betting, allows bettors to place wagers on NFL games while they are in progress. Sportsbooks update odds in real time based on the game's unfolding events. Bettors can take advantage of changing momentum, injuries, and other developments to place informed bets as the game progresses.
Futures
Futures betting involves predicting the outcome of an event that will occur in the distant future. For NFL betting, futures commonly revolve around betting on the Super Bowl winner, division champions, or individual player awards. Bettors place these bets before the NFL season begins, and payouts are determined at the end of the season or event.
Prop Bets
Proposition bets, or prop bets, focus on specific occurrences within an NFL game. These can range from player performance, such as the number of passing yards a quarterback will achieve, to unique events, like which team will score first or if there will be a safety. Prop bets add entertainment to NFL games and appeal to bettors seeking diverse options.
Teasers are a parlay bet where bettors can adjust the point spread or totals line in their favor for reduced odds. This market allows bettors to tease the lines by adding or subtracting points from the original spread or total. Teasers are popular in NFL betting as they provide more flexibility and increase the likelihood of winning, though it comes with slightly reduced payouts.
NFL Betting Tips and Strategies
As part of our guide on how to bet on NFL games, we wanted to include ways that you can become more profitable with your bets. This section has strategies and NFL betting tips for applying to your betting process to win more long-term from NFL betting.
Fading the Public: One common strategy in NFL betting is "fading the public," which involves betting against the majority opinion or consensus. Often, the public tends to favor popular teams or those with recent success, leading to inflated lines and less favorable odds. Going against public sentiment allows you to take advantage of potential value opportunities when oddsmakers adjust lines based on general bias.
Bankroll Management: Effective bankroll management is essential in any form of gambling, including NFL betting. This strategy involves setting aside a specific amount of money (your bankroll) dedicated solely to betting and determining how much to wager on each game. It's crucial to establish betting limits, avoid chasing losses, and not risk an excessive portion of your bankroll on a single bet.
Finding Value: Seeking value is fundamental in NFL betting. Value bets are those where the odds offered by the sportsbook seem to be higher than the actual probability of the event occurring. Successful bettors focus on identifying value opportunities rather than simply predicting the game's outcome. Researching teams, player performance, injuries, and other relevant factors can help you spot value in the betting lines.
Line Shopping: Line shopping involves comparing betting lines from multiple sportsbooks to find the best possible odds for a particular game. Sportsbooks may have slightly different lines based on their assessments and the betting activity they've received. Utilizing line shopping ensures you get the most favorable odds, maximizing potential profits and minimizing losses.
Home Field Advantage: Understanding the impact of home field advantage is crucial in NFL betting. Teams tend to perform better when playing in front of their home crowd, which can influence the outcome of a game. However, the value of home-field advantage can vary depending on the team and specific circumstances. Analyzing each team's home and away performance can help you make better-informed betting decisions.
Monitoring Betting Lines: Betting lines are dynamic and can change leading up to game day due to various factors such as injuries, weather conditions, and public betting trends. Keeping a close eye on line movements can provide valuable insights into how the betting market perceives a game and where the value lies. Rapid shifts in the lines can indicate important information that may impact your betting strategy.
Researching Picks: Conducting thorough research on NFL teams, players, and trends is essential for making informed betting picks. Analyze statistics, team matchups, recent forms, injuries, and historical performance to understand each game comprehensively. Additionally, consider consulting expert opinions and accessing reputable NFL analysis sources to supplement your research.
Most Successful NFL Teams
NFL fans have witnessed the dominance of several legendary teams during the league's history. These teams have consistently demonstrated excellence on the field, earning multiple Super Bowl victories, cultivating rich franchise histories, and producing remarkable players.
Here are five of the most successful teams in NFL history:
New England Patriots
Super Bowl Wins: 6 (XXXVI, XXXVIII, XXXIX, XLIX, LI, LIII)
Franchise History: The New England Patriots rose to prominence in the 21st century under the leadership of head coach Bill Belichick and quarterback Tom Brady. Their dynasty, marked by unparalleled success, included 9 Super Bowl appearances in 20 years.
Notable Players: Tom Brady, arguably the greatest quarterback of all time, was the face of the franchise for over two decades. His partnership with tight end Rob Gronkowski and wide receiver Julian Edelman led to numerous memorable moments.
Pittsburgh Steelers
Super Bowl Wins: 6 (IX, X, XIII, XIV, XL, XLIII)
Franchise History: The Pittsburgh Steelers, established in 1933, are renowned for their "Steel Curtain" defense of the 1970s. Led by head coach Chuck Noll and featuring legendary players like Franco Harris and Terry Bradshaw, the team won four Super Bowls in six years.
Notable Players: Quarterback Terry Bradshaw and wide receiver Lynn Swann were instrumental in the Steelers' Super Bowl victories. Mean Joe Greene, a defensive lineman, became iconic in NFL history.
San Francisco 49ers
Super Bowl Wins: 5 (XVI, XIX, XXIII, XXIV, XXIX)
Franchise History: The San Francisco 49ers experienced their greatest success under the leadership of head coach Bill Walsh and quarterback Joe Montana in the 1980s. The West Coast offense revolutionized the game, leading to multiple championships.
Notable Players: Joe Montana's poise and accuracy at quarterback, paired with wide receiver Jerry Rice's unparalleled skill, made the duo one of the most lethal combinations in NFL history.
Dallas Cowboys
Super Bowl Wins: 5 (VI, XII, XXVII, XXVIII, XXX)
Franchise History: The Dallas Cowboys, founded in 1960, earned the nickname "America's Team" due to their widespread popularity. Under the guidance of head coach Tom Landry and quarterback Troy Aikman, the team achieved significant success in the 1970s and 1990s.
Notable Players: Running back Emmitt Smith, quarterback Troy Aikman, and wide receiver Michael Irvin formed the core of the Cowboys' dominant teams during the 1990s.
Green Bay Packers
Super Bowl Wins: 4 (I, II, XXXI, XLV)
Franchise History: The Green Bay Packers has a storied history in the NFL. Led by legendary coach Vince Lombardi (whom the Super Bowl trophy is named after), the team won the first two Super Bowls and has continued to be a competitive force in the league.
Notable Players: Quarterback Bart Starr was instrumental in the Packers' early Super Bowl successes, while Brett Favre and Aaron Rodgers continued the legacy with their exceptional play.
FAQs
What is the easiest way to bet on NFL games?
Can you legally bet on NFL games?
How do you bet on NFL for beginners?
How do you place a bet on an NFL game?
Which bet is easiest to win when betting on the NFL?
What is the safest way to bet on the NFL?