Since the 1960s, the PGA Tour has been known as the elite tour in men's golf. As the Tour runs throughout most of the year, it brings about a huge range of betting opportunities for golf fans. In our detailed guide, we'll walk you through how to place a bet on PGA golf, the types of markets you can wager on, plus expert betting strategies that might help you become a regular winner.
How Does PGA Tour Betting Work?
To start betting on PGA Tour, it's quite simple – you need to get a verified betting account at a reputable sportsbook. Once this is set up, you can log in, deposit, and claim any PGA welcome bonus that you might be eligible for.
One of the best things about the PGA Tour is that there's a tournament most weeks, with just a short off-season over the holiday period. This means that sportsbooks don't just offer token coverage for each tournament. Instead, they go the extra mile in terms of betting markets and promotions. The most simple market for PGA betting is the 'Tournament Winner', but most sportsbooks will have dozens of markets to choose from.
PGA Betting Example
In our example below, we're looking at the BetMGM sportsbook. With this comes a $1,000 no-sweat first bet that you can use for PGA wagers.
We will place a bet on the upcoming BMW Championship, which forms part of the final tournaments for the season. This is also referred to as the FedEx Cup. This is a limited-field event, which means only the top 50 players on the money list for the season are eligible.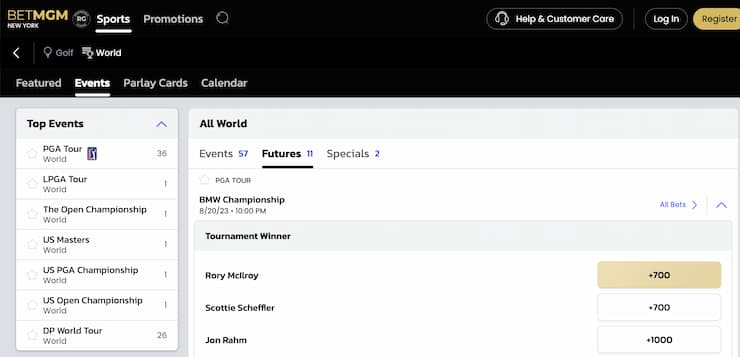 We want to bet on Rory McIlroy as 'Tournament Winner' to win at odds of +700. These are American-style betting odds:
The positive odds are the amount you will win as profit if you wager $100.
The negative odds are the amount you need to bet to make a $100 profit.
This means if Rory McIlroy wins the BMW Championship as part of the PGA Tour, you will win $700 in profit if you bet $100.
This market is solely based on the final result of the tournament. For our bet to win, we need McIlroy to win overall. With golf, this will include any playoff required to determine the winner. As playoffs are fairly common, it's worth bearing in mind.
How to Bet on the PGA Tour – Step-by-Step Guide
To better illustrate how to bet on PGA golf, let's look at a step-by-step guide on how to place a bet. Our example uses BetMGM as our top recommended sportsbook for PGA betting, but the process is very similar no matter which betting site you use.
1. Open an account or log into the sportsbook
To start, you need to open a betting account. At BetMGM, our top-rated sportsbook for PGA Tour betting, you just need to follow the link to 'Register' or 'Log in' at the top of the homepage or mobile betting app.

2. Enter personal information
To create your sportsbook account, you need to enter account information. This includes your name, address, phone number, email, and social security number. You'll also need to verify your new account via an email link, as well as provide identification like a passport or birth certificate.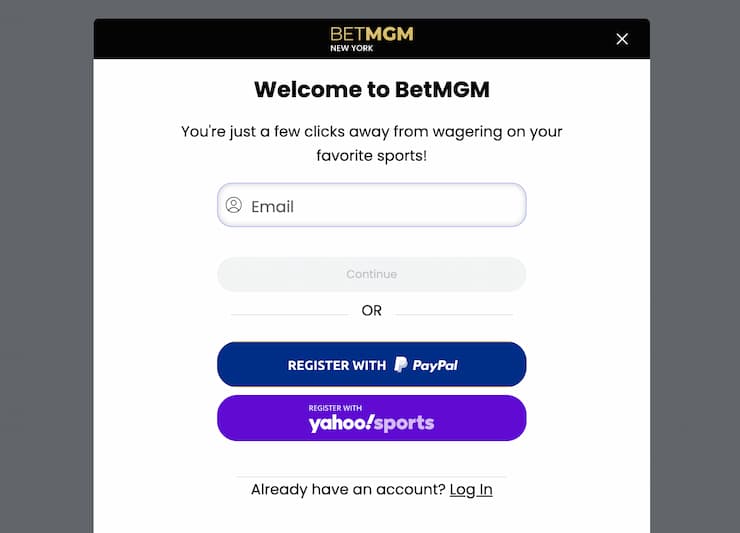 BetMGM offers you a shortcut to signing up if you already have a PayPal or Yahoo Sports account. Not many other sportsbooks provide this convenient option.
3. Make a deposit
Once your account has been set up, head to the cashier and make a deposit. The deposit options will be restricted based on the state you live in. This is also where you might be able to claim or find out about a welcome bonus.
4. Find the PGA betting markets
Use the navigation bar to find the golf section. The sports navigation is usually found on the left-hand side of the screen. At the top of the golf events list, there will be a section titled 'PGA Tour', which includes all the upcoming betting options.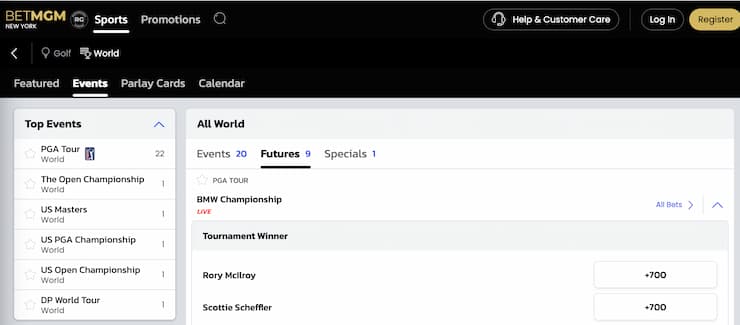 5. Place a bet on a PGA Tour market
Choose the tournament you want to bet on, then click on the odds for the bet you want to make. This will add the selection to your bet slip. In the bet slip, you can then enter the amount you want to bet at these odds. After confirming your bet, get eady to watch the PGA action unfold.

Types of PGA Tour Betting Markets
The global popularity of the PGA Tour lends itself to a huge range of betting markets. Its range of bet types is almost on par with the likes of tennis, basketball, football, and NHL hockey.
We've listed the most popular markets you can expect to find at online betting sites. You'll also find information on how each market works – this is crucial for fully understanding how to bet on PGA golf.
PGA Outright Winner (Moneyline)
The cornerstone of betting on the PGA Tour, the outright winner market is as straightforward as it gets. Here, you predict which golfer will clinch the tournament title.
The sportsbooks assign odds to each player reflecting their perceived chances. For example:
Jordan Spieth carries odds of +800.
You bet $100 on him to win.
You get a payout of $900 if he wins, which means an $800 profit.
This market is not only the easiest and most popular to bet on, but generally very lucrative. Given that most PGA Tour events have fields of 160+, it makes betting wide open. Strong favorites are going to be priced around +800, but underdog odds can go as high as +20000 in this market.
Top 5, Top 10 or Top 20 Finish
In this PGA betting market, you're betting on a player's performance relative to their final placement.
A top 5 finish means the golfer must rank among the five best, while a top 10 or top 20 finish extends the scope further. For example:
Dustin Johnson is priced +150 for a top 10 finish.
You place a $100 bet on him to be in the top 10.
He ends up as 7th in the tournament, which is within the top 10.
You get a $250 payout, which means you made $150 profit.
The specific position of the player is not important, as long as they are within the bracket, which includes ties. For our example above, you get paid the same if Dustin Johnson finishes anywhere from 1st to 10th.
Some sportsbooks will create multiples for this betting market, where you include two, three, or sometimes more players as part of your bracket. The more you add, the longer the odds – and more potential profit.
PGA Head-to-Head Matchups
Matchup bets set two golfers against each other, focusing solely on who performs better in the tournament. For example:
A matchup might set Tony Finau (-110) against Justin Thomas (-110).
You bet $110 that Tony Finau beats Justin Thomas by the end of the tournament.
Your bet is correct, bringing you a $210 payout, or $100 profit.
In the example above, the payout and profit would be the same if you bet on either golfer, as they both carry the same odds.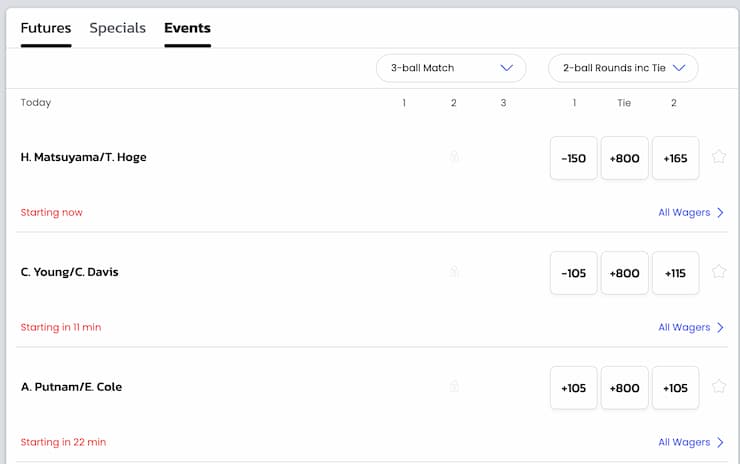 These markets are great for parlay bets as they allow you to combine multiple matchups into a single bet. It's worth noting that you need to be aware of the terms for the market based on the number of rounds. Some will be single rounds, and some will include the full tournament result.
PGA Group Betting
In group betting, players are grouped together, and you're wagering who will finish with the best score in the group. For example, a group could feature:
Rory McIlroy (+300)
Brooks Koepka (+350)
Jon Rahm (+400)
If you bet $100 on Rahm, your profit will be $400 if he places higher than the competitors in that group. It doesn't matter where they place in the tournament, it only matters about the placement within the group.
These groups are generally 'fantasy groups', in that they aren't necessarily going to be playing together. This allows sportsbooks to get creative, making groups of players that are closely matched in terms of ability and form.
First Round Leader in the PGA Tour
In this market, you predict which player will lead after the first round. Once the round is complete, the market is settled. How your chosen golfer does across the rest of the tournament is irrelevant.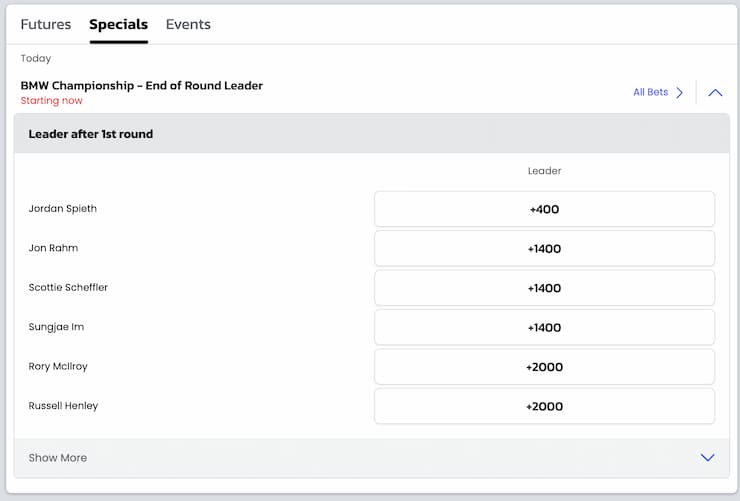 For example:
Tiger Woods carries first round leader odds of +1200.
You bet $100 on him to be the first-round leader.
He achieves this, which gets you a $1200 profit.
Remember, Tiger Woods does not need to win the tournament outright for you to win in this market.
Top Nationality Markets
You can place a bet on which PGA golfer from a particular country will perform the best in the tournament. This groups all the players from each nationality, and then you pick the highest finisher from that group.
Sportsbooks terms will differ as to how long the bet lasts, but most will cover the full tournament. Some may cover single rounds, and if all players miss the cut, it might become void.
For example:
Hideki Matsuyama carries odds of +250 as the top Japanese player.
You bet $100 on him to outperform all the other Japanese players.
He ranks highest at the end of the tournament out of all the Japanese golfers.
You get a $350 payout, which is a $250 profit.
Hole-in-One Markets
For those seeking a thrilling long shot, you can bet on whether any player will achieve a hole-in-one during the tournament. This market will generally cover the whole field, and it's a simple yes or no bet. Odds often vary, but will hover around +500, depending on how many there have been in previous visits to that specific course.
PGA Cut Line Betting
The vast majority of PGA Tour events have a cut-off line for who can advance in the tournament. This is usually the top 60 and ties over the course of the first two rounds. The cut line market is about betting on a player to make the cut or 'make the weekend', as it's sometimes known.
PGA Tour Betting Strategies
To bet on the PGA Tour and be successful, you need a solid betting strategy. The strategies we've outlined below would work well with any event within the Tour – it's about applying the principles to drive your profits.
How to Use the Strokes Gained Metric
One of the strongest weapons in a PGA Tour bettor's arsenal is the concept of 'strokes gained'. This advanced metric assesses a player's performance against the field, measuring the quality of their shots relative to the average.
By analyzing strokes gained statistics – including off-the-tee, approach shots, around the green, and putting – you can gain insight into a player's strengths and weaknesses.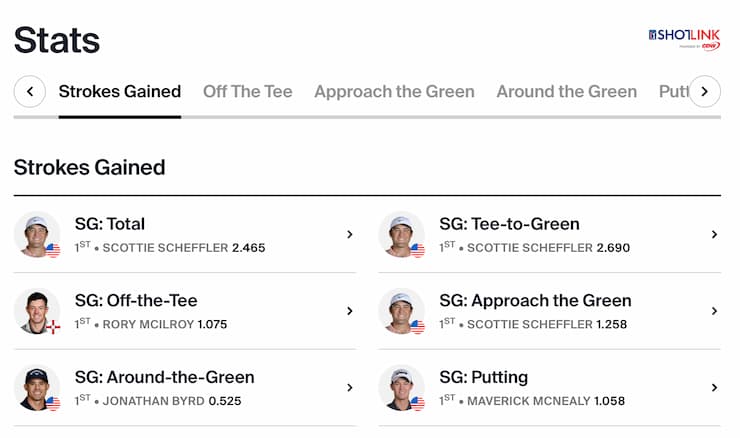 For example, if Player A has consistently high strokes gained off the tee and approach, they might excel on courses demanding accurate driving and precise iron play. Using this data-driven strategy, you can make informed wagers aligned with a player's strengths and the course's demands.
Find the Best Odds for PGA Events
Just as a savvy shopper compares prices across multiple stores, a smart bettor seeks the best odds across various sportsbooks. Different bookmakers may assign different odds to the same golfer, which gives you opportunities to capitalize on varied odds.
For example:
Scottie Scheffler is favored to win at +600 in sportsbook A and +650 in sportsbook B.
Placing your wager at sportsbook B will yield a higher payout if he wins.
This PGA betting strategy improves your potential returns while reducing risks.
Check Golfers' Current Form
A golfer's recent performances can reveal valuable insights into their current form and momentum. Analyze their finishes in other recent tournaments, paying attention to consistency and any noticeable improvements or declines.
If a golfer has multiple top-10 finishes in recent events, it shows they have a strong form that could translate into competitive behavior in an upcoming PGA tournament. On the other hand, a golfer struggling with missed cuts or lackluster performances might not be your best betting choice (until their game improves).
Check Tee Times and Weather
Tee times can play a pivotal role in the PGA Tour, especially when weather conditions vary throughout the day:
Early tee times might offer more favorable conditions before the course becomes challenging due to wind or deteriorating greens.
Late tee times can provide opportunities for golfers to benefit from softer greens or gentler weather conditions.
By examining weather forecasts and historical course conditions, you can strategically bet on players whose tee times align with conditions that complement their playing style. This approach could give you an edge in predicting how different tee times might impact a golfer's performance.
If you're betting on the first-round leader market, this strategy is key. Try and find historical data to see when first-round leaders teed off and link that to your potential bets.
Biggest Money Winners on the PGA Tour
The PGA Tour is a multi-billion dollar franchise. The 2022-23 season saw record prize money, set at over $428 million across all tournaments. As a result, many PGA golfers have become multimillionaires, with some of the most successful below.
| | | | | | | | | |
| --- | --- | --- | --- | --- | --- | --- | --- | --- |
| | Golfer | Avg. Finish | 1st | 2nd | 3rd | Top 10 | Made Cut | Career Earnings |
| 1 | Tiger Woods | 12.3 | 82 | 31 | 19 | 199 | 331/377 | $120,954,766 |
| 2 | Phil Mickelson | 18.3 | 45 | 38 | 28 | 198 | 532/663 | $96,577,701 |
| 3 | Rory McIlroy | 14.2 | 24 | 10 | 10 | 116 | 206/237 | $79,105,558 |
| 4 | Dustin Johnson | 16.7 | 24 | 16 | 9 | 116 | 253/311 | $75,380,703 |
| 5 | Jim Furyk | 17.3 | 17 | 31 | 17 | 188 | 511/642 | $71,507,269 |
| 6 | Vijay Singh | 18.2 | 34 | 28 | 16 | 184 | 503/637 | $70,882,415 |
| 7 | Adam Scott | 20.3 | 15 | 14 | 11 | 109 | 321/386 | $62,924,219 |
| 8 | Justin Rose | 17.7 | 11 | 15 | 14 | 110 | 322/410 | $61,603,020 |
| 9 | Jordan Spieth | 16.9 | 13 | 18 | 10 | 86 | 210/257 | $59,887,379 |
| 10 | Matt Kuchar | 18.4 | 9 | 14 | 15 | 115 | 387/534 | $57,772,238 |
Dead Heats in PGA Tour Betting
When a dead heat arises in a golf tournament, it means two or more golfers tie for a specific market outcome, like finishing in the top 10. In a dead heat situation, bookmakers implement certain rules to re-calculate the payout for affected bets.
These rules ensure that you receive fair payouts based on your stake and number of players involved in the dead heat. The standard practice is to divide the original stake by the number of tied players and then pay out each bettor their proportional share.
PGA Dead Heat Betting Example
Imagine you had a single $50 wager on a Rory McIlroy at +300 odds to finish in the top 5 of a PGA Tour event.
Normally in this bet, this would be your profit if McIlroy finishes in the top 5 without a dead heat:
$50 bet × +300 odds = $200 payout = $150 profit
In a dead heat scenario, McIlroy delivers an impressive performance but finishes tied for 5th place with another player, triggering dead heat rules.
Calculation using PGA Dead Heat Rules
This would be how to calculate your profit if McIlroy finishes tied in 5th, which is a dead heat:
Adjusted stake = Original stake ÷ Number of dead heat players
Adjusted stake = $50 ÷ 2 players
Adjusted stake for your bet on McIlroy = $25
The payout for your dead heat bet with the adjusted odds would be:
Adjusted profit = $25 bet × +300 odds
Adjusted profit = $100 payout = $75 profit
The main thing to know is that your odds that get divided by the number of people tied, not the returns.
PGA Golf Betting FAQs
How do I bet on the PGA Tour?
What is a PGA outright winner bet?
What is a top 10 finish bet in PGA golf?
How are odds displayed in PGA Tour betting?
What is a matchup bet in PGA betting?
How do dead heat rules apply to PGA Tour bets?
Can I bet on specific PGA round outcomes?
Are tee times important in PGA golf betting?
How do I find the best odds for PGA Tour bets?
What is the impact of a golfer's current form on betting?