In this comprehensive beginners' guide, we're going to look at how to bet on sports. We'll cover everything you need to know, including the basics of placing a bet for the first time, the types of bets available and how to find trusted sportsbooks. We'll also make sure you know what to DO and NOT DO if you want to become good at betting on sports.
What to do Before Betting on Sports?
Sports betting online has exploded across the US in recent years, with millions of sports fans now placing wagers on every big game. The choice of bet types and range of markets available has never been bigger, not least thanks to the birth of in-game (live) betting, which opens up a whole new world of betting opportunities for sports fans on a big game day.
We're going to dive into the steps required to place a bet in a moment, but before we do that, let's take a look at the sorts of research required when considering how to bet on sports.
Do your homework – You need to have sound theoretical and practical reasons for placing a bet. Do you have an angle/edge that isn't reflected in the odds?
Understand the betting options available – Look at the options available and weigh up which provides the best value for your bet. If you fancy a soccer team to win a game, you might want to bet them to be winning at HT/FT at bigger odds, if you know that they are fast starters.
Get the best odds/lines – There are loads of sportsbooks around now, and they don't all offer the same odds in each market. Try and take the best sports betting odds you can find wherever possible. If you are not completely sure whether one site's odds are bigger than another's, use a sports betting calculator, which will calculate potential winnings for you.
Get your staking right – One of the golden rules of sports betting (or any betting) is not to overstake. Keep stakes sensible and manageable.
Most Common Types of Sports Bets
Online sportsbooks will come with a range of markets that you can bet on. They each will target a certain aspect of the game, such as the result or points scored. In this section, we've included an outline of the most popular bets and how to bet on them.
Find a myriad of exciting and valuable markets at Bovada.
Moneyline – The moneyline is generally the most popular market. This is where you bet on the outcome of the game or match. You need your pick to win the game overall for the bet to pay out.
Point spreads – The spread is essentially a handicap that is applied to one team based on your pick. It's been designed to cover the advantage that one team has over the other and to get the odds as close to even money as possible.You need to choose which will have the best chance of covering the spread.
Points Totals (Over/Under) – Totals bets are all based on the number of points scored in the game by both teams combined. This market simply requires the punter to choose the over or under on that line.
Parlays – A parlay bet is essentially a combination bet, made up of multiple singles. The concept behind this is that you include two or more singles to create a single bet. You need all the selections to win for the bet to win. If just one pick loses, the whole bet goes down.
Prop bets – Prop (Proposition) bets are "everything else" when it comes to sports betting. These aren't necessarily markets that are linked to the result and instead are based on events that might take place throughout the game, like how many rushing yards a player might hit.
Futures – Futures betting is where you bet on events that are going to start sometime in the future. Common futures bets include betting on the Super Bowl winner, NBA Championship winner, Stanley Cup Winner, World Cup winner (soccer), and high-profile horse races, such as the Kentucky Derby.
Favorites vs Underdogs
Each game or market will have a favorite and an underdog. When you start to learn how to bet on sports you need to be aware of the difference between the two.
A favorite is the lowest market price, and any other result is technically an underdog.

In the upcoming NFL game between the Miami Dolphins and the Philadelphia Eagles, you can see that on the moneyline, the Eagles are the shortest price at odds of -135, which would make them the favorite to win compared with the Dolphins at +115.
How to Sign Up and Place a Sports Bet
We want to cover how to bet on sports in more detail by looking at creating a betting account and placing a simple bet. This process will use the BetOnline sportsbook, but the process is very much the same for most offshore betting sites, so should be a good guide to see how to bet on sports online.
1. Open BetOnline
Visit BetOnline and click on the "Join" button at the top of the page. This will allow you to start the registration process which will take no more than a couple of minutes to complete.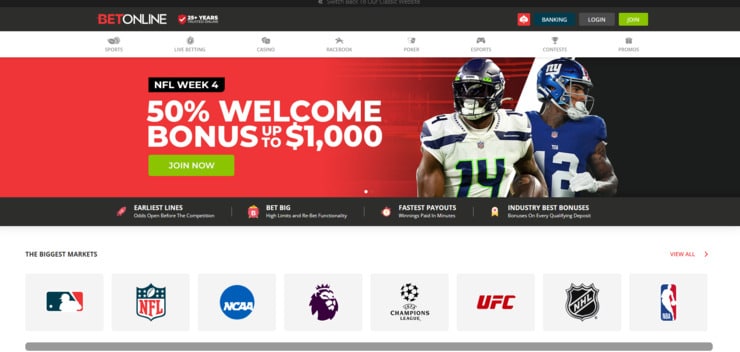 2. Enter your Personal Info
You now need to enter your name, date of birth, enter your address, mobile phone number and you'll create your login. Then you need to confirm all the terms below and create your account.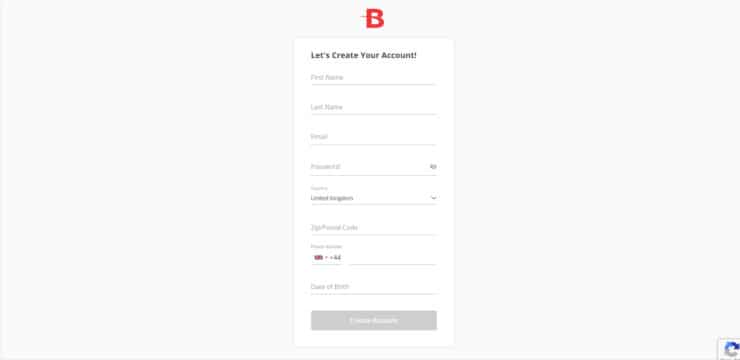 3. Deposit and Place a Bet
Once the account has been verified and is set up, head to the cashier to make your first deposit. When this has cleared, head to the sportsbook and place your first bet. We go into this process more in the next section.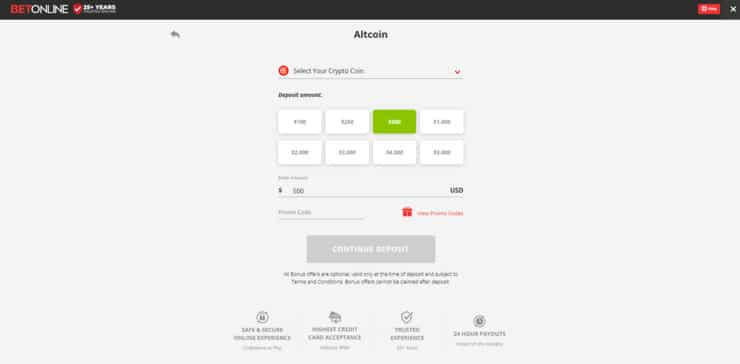 How to Place a Bet
Following on from the process of creating an account, we want to take the time to show you how to bet on sports within a real-money sportsbook. Again, we've used BetOnline as our guide, but the same applies to all betting sites.
Bet using an incredibly intuitive mobile and desktop platform at BetOnline.
1. Deposit Funds into Your Account
You need to start with a funded account. Head to the cashier to see the deposit options available and work through the process as it appears on the screen.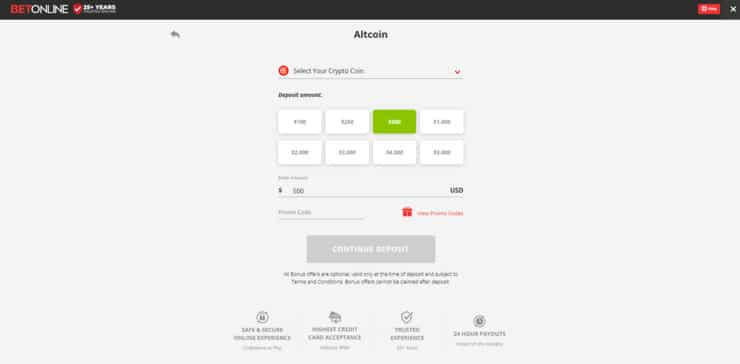 2. Pick Your Sport
Head back into the main sportsbook and use the menu section to navigate to the sport you want to bet on. Most sites have a back button if you want to jump back to the homepage or click on the logo at the top.
3. Choose Your Bet
Click on the game of choice to open additional betting markets. Each game will come with a HUB that includes all the betting markets for the game. As you can see, our example between the Jacksonville Jaguars and the New Orleans Saints in the NFL has dozens of bets you can place.
For this process, we're going to keep it simple and bet on the moneyline for the Jaguars to win. To add bets to your bet slip, click on the odds. Once it's been selected it will turn gold and will automatically be placed in your bet slip.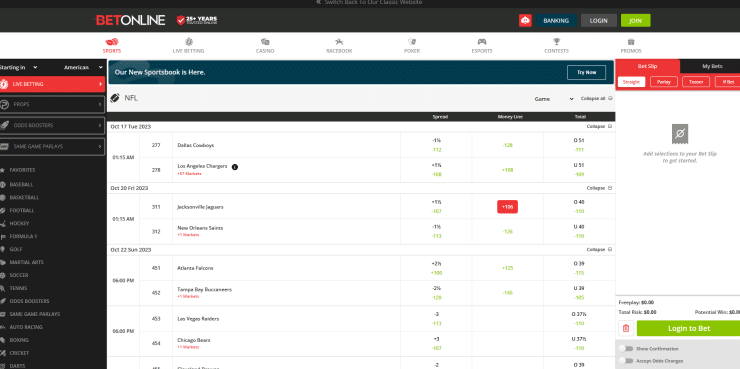 4. Using the Bet Slip
The bet slip will now highlight your pick, along with the odds on offer. You need to double-check that the market and the bet are correct and note the odds that you're getting for your pick. You can add and remove selections and add your stake.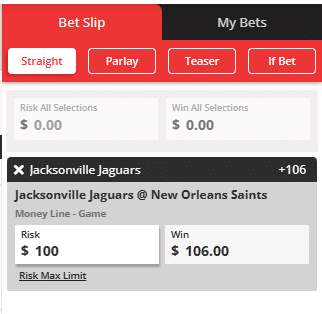 5. Track Your Bets
You can track bets using the accounts section. There will be an option to see all open and live bets and if you're able to cash out, you will see the price here as well.
Where to Place a Sports Bet
There are several factors to consider when deciding how to bet on sports and with which sportsbook, other than the very basic one of whether or not you have an account.
Do they have the market and odds you are looking for?
Are the odds competitive?
Can I add selections to a multi or parlay bet?
Can you get your full stake on?
Do you have any bonus funds available to use with that sportsbook?
Will the sportsbook offer cashout opportunities in-game?
If you back a winner, how quickly will you be able to access your cash?
How Much to Wager on a Sports Bet
One of the most common mistakes that novice sports bettors make is to over stake on bets, especially if playing short-odds favorites. It's also very easy to over stake on the back of a winner, when confidence is high and you think you've got the game taped up. Sports betting has a nasty habit of bringing players down to earth with a bump so keep stakes sensible and manageable.
Ideally, you will designate a 'betting bank' which is a cordoned off amount that you can use for betting. The lower the percentage of that bank that you apply to each bet, the greater the buffer against a losing run. The greater the percentage, the sooner you'll be out of the game, especially if you don't know what you are doing. We'll talk more about bankroll management further down the page.
What is Live Sports Betting
Live betting is where you bet on games that are currently running. Most sportsbooks will have a live betting feature and it allows you to react to markets based on what's happening within that game.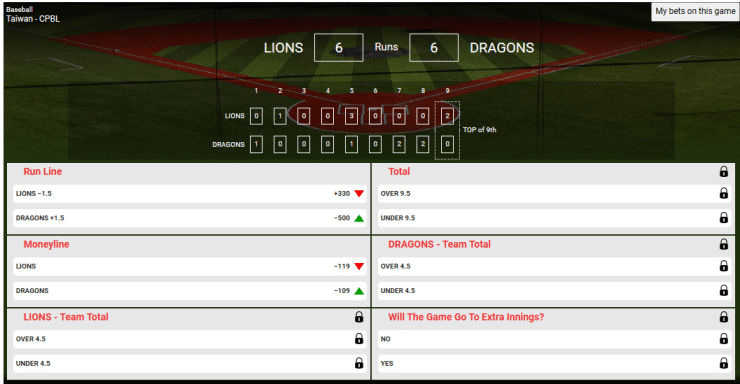 The example above is from a basketball game based in China. As you can see, the markets on offer still include the spread, total, and moneyline, but the odds are changing all the time based on how the game is going.
A key thing to note with live betting is that there is a slight delay in your bets being accepted. This allows the sportsbook to react to real-time events that might have changed the odds and can take anywhere up to 10 seconds before your bet is accepted.
Most Popular Sports to Bet On
Not so long ago it was all about the big four: football, baseball, basketball and hockey, but soccer is emerging as an extremely popular sport to bet on, especially around europe.
Most of the best sports betting sites cover the big sports in great depth, but here is a more comprehensive list of sports that you can expect to be able to be on with sites like BetOnline:
College Basketball
NFL
NHL
NBA
MLB
College Football
Soccer
Golf
WNBA
Tennis
CFL
Rugby
Cricket
Table Tennis
What is Sports Betting Bankroll Management?
Effective Bankroll management should be a part of your betting strategy if you are going to be even remotely successful at working out how to bet on sports effectively.
You might be a great reader of a game, have magic statistical angles or have inside information about a potential big injury that can affect a team's performance, but none of this matters if you don't manage your bankroll with discipline, because luck plays a major part in sports betting, and even the best judges get things wrong.
There are different ways to manage a bankroll and it's about finding the one that suits your style of betting best. Here are the most popular bankroll management models, with a brief explanation of their methodology:
Flat – Simply apply the same stake to every bet, irrespective of the bet odds and returns.
Percentage – Similar to the Flat model, but your stake is a percentage of your total betting bank. If your bank is $5,000 and you bet 1% each time, then your stake is $50.
Confidence – This model enables bettors to increase on a standard stake if you feel more confident or know your edge is greater than normal.
Kelly Criterion – This is much more sophisticated. You must first try and determine the exact winning percentage of a bet, you then apply that number to a formula (Decimal odds of your wager * win probability – loss probability) / decimal odds of your wager = suggested wager percentage). The outcome of this formula determines the percentage of your bankroll you deploy.
Sports Betting Tips and Mistakes to avoid
We all love sports and betting on them, but it's very difficult to make long-term profits and learn how to win betting on sports consistently unless you have discipline. Here is our top 10 list of things that you should NOT DO if you are serious about learning how to bet on sports effectively.
Don't bet on sports and games you know nothing about
Don't over stake
Don't chase losses
Don't bet while you are on the beers!
Don't blindly follow market shifts
Don't bet every 5 mins – focus on quality over quantity
Avoid multi-leg parlays – the more selections, the worse value the bet is
Don't listen to tipsters
Don't bet heart over head, especially if it's your team
DO your homework – fail to prepare = prepare to fail
Resources
FAQ
Where can I bet on sports?
How do you legally bet on sports?
What is the best way to bet on sports?
How does a sports bet work?
What is the most popular sport to bet on?
What are the easiest sports to bet on?
Can I use a VPN to bet on sports?