In this guide, we're going to look at how to bet on sports. If you're new to sports betting, then there are several areas that you need to be aware of before placing your first bet, such as the sport, the types of markets you're betting on, and how they work.
We've designed this to be a "101" type article that covers all aspects of the basics of placing a bet for the first time. Included is information on different markets, how to sign up and place a sports bet, where to bet, and how to find the best odds.
How to Sign Up to a Sportsbook and Place a Bet
We want to cover how to bet on sports in more detail by looking at creating a betting account and placing a simple bet. This process will use the BetMGM sportsbook, but the process is very much the same for most betting sites, so should be a good guide to see how to bet on sports online.
1. Open BetMGM (Betting Site)
You need to start by opening the BetMGM site and then clicking on the "Register" button at the top of the page. This will allow you to start the registration process which will take no more than a couple of minutes to complete.
2. Enter Email and Create Password
The first step is to use an email address and create a password for your account. BetMGM allows you to register using existing PayPal and Yahoo Sports accounts, which will save time but is not necessary.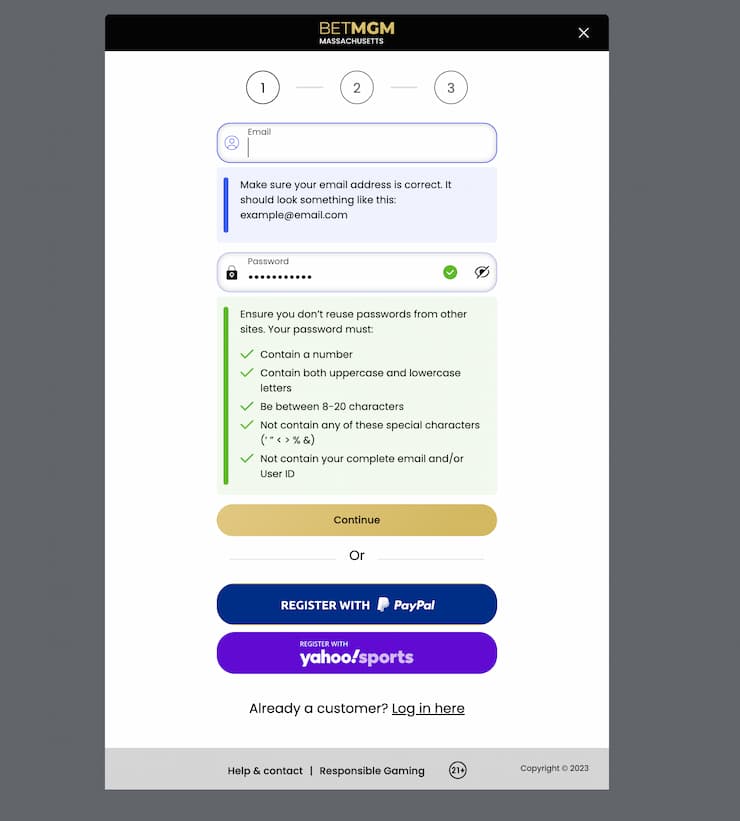 3. Personal Info and SSN
You now need to enter your name, date of birth and last four digits of your social security number. The inclusion of the SSN is now by law for US betting sites.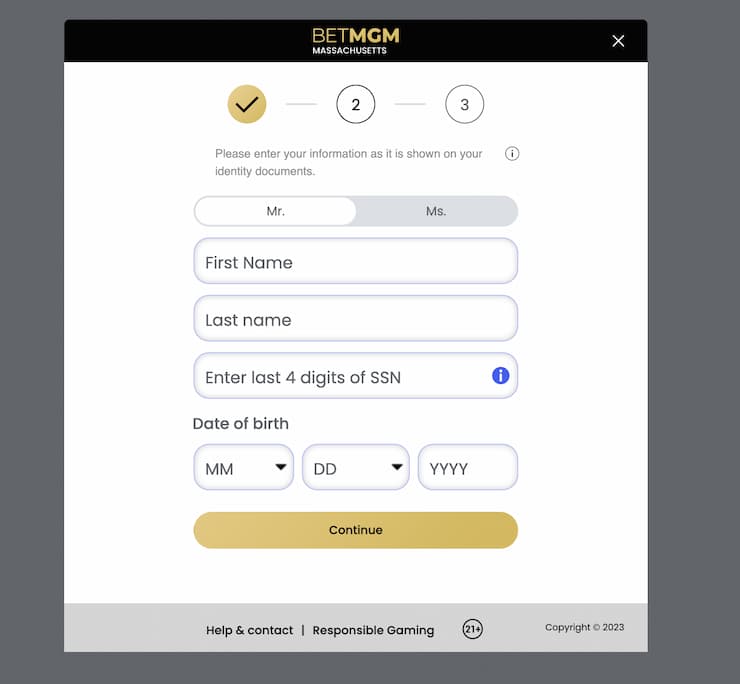 4. Enter Address and Phone Number
The next step is to enter your address and mobile phone number. You can do this manually if the system does not automatically know it. Then you need to confirm all the terms below and create your account.
5. Deposit and Place a Bet
Once the account has been verified and is set up, head to the cashier to make your first deposit. When this has cleared, head to the sportsbook and place your first bet. We go into this process more in the next section.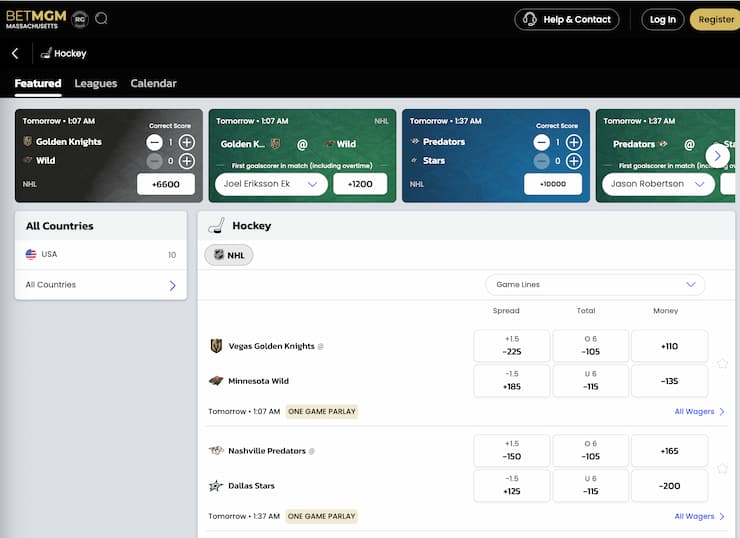 How to Place a Bet
Following on from the process of creating an account, we want to take the time to show you how to sports bet within a real sportsbook. Again, we've used BetMGM as our guide, but the same applies to all betting sites.
1. Deposit Funds into Your Account
You need to start with a funded account. Head to the cashier to see the deposit options available and work through the process as it appears on the screen.
2. Pick Your Sport
Head back into the main sportsbook and use the menu section to navigate to the sport you want to bet on. Most sites have a back button if you want to jump back to the homepage or click on the logo at the top.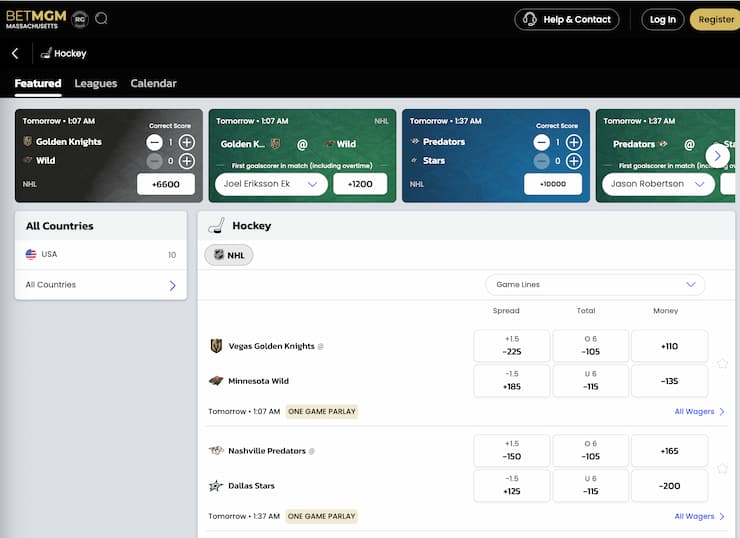 3. Choose Your Bet
Click on the game of choice to open additional betting markets. Each game will come with a HUB that includes all the betting markets for the game. As you can see, our example between the Nashville Predators and the Dallas Starts in the NHL has dozens of bets you can place.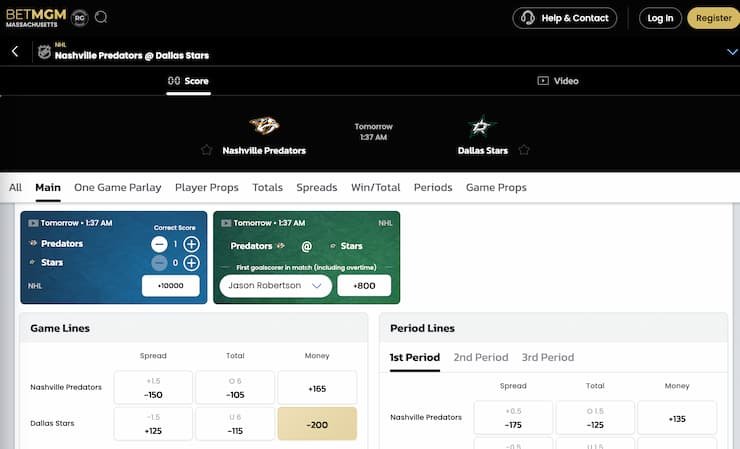 For this process, we're going to keep it simple and bet on the moneyline for Dallas to win. To add bets to your bet slip, click on the odds. Once it's been selected it will turn gold and will automatically be placed in your bet slip.
4. Using the Bet Slip
The bet slip will now highlight your pick, along with the odds on offer. You need to double-check that the market and the bet are correct and note the odds that you're getting for your pick. You can add and remove selections by clicking the blue box with the tick-in.

Confirm your stake in the "Total Stake" box and below it will tell you how much you will win if your pick is successful. Confirm the odds, and the stake, and then place the bet.
5. Track Your Bets
You can track bets using the accounts section. There will be an option to see all open and live bets and if you're able to cash out, you will see the price here as well.
Where to Bet on Sports – Best Betting Sites 2023
In this section, we're going to look at where to bet on sports. The sportsbooks below are some of the industry's best betting sites right now and are all excellent additions as a collective. You'll notice that BetMGM, which we've used for our example of how to bet on sports online are number one.
How to Bet on Different Sports Betting Markets
Online sportsbooks will come with a range of markets that you can bet on. They each will target a certain aspect of the game, such as the result or points scored. In this section, we've included an outline of the most popular bets and how to bet on them.
Moneyline
The moneyline is generally the most popular market. This is where you bet on the outcome of the game or match. You need your pick to win the game overall for the bet to pay out.

We've used an example from an upcoming MLB game between the New York Mets and the Milwaukee Brewers. As you can see, the odds for the Mets to win the moneyline is +100 and the odds for the Brewers to win is -120.
If you bet on the Mets and they win the game, by any score line, then your bet wins.
Spreads
The spread is essentially a handicap that is applied to one team based on your pick. It's been designed to cover the advantage that one team has over the other and to get the odds as close to even money as possible.
The example above is from a college basketball game between San Diego State and Connecticut. If you first look at the moneyline odds, then you can see that Connecticut is strong favorite priced at -375.
A spread of +/- 7.5 points has been set for the game. The favorite – in this case, Connecticut – has points removed from the final score while the underdog – San Diego State – has points added to their score.
You need to choose if you want to take the team that gets points added or removed from the total. You need to choose which will have the best chance of covering the spread.
Totals (Over/Under)
Totals bets are all based on the number of points scored in the game by both teams combined. This market simply requires the punter to choose the over or under on that line.
These markets can include whole and half numbers. For example, the line might be set at 9 or 9.5. If a line is a whole number and the total number of points falls exactly on that number, the bet will be a "push" and stakes will be returned. If it's a fractional number such as 9.5, there will always be a winner or loser.

The example we've used above is from an upcoming NHL game between the Vegas Golden Knights and the Minnesota Wild. You can choose to bet on the over/under 6 goals for the game, with the odds at -105 for over 6 and -115 for under 6.
Live Betting
Live betting is where you bet on games that are currently running. Most sportsbooks will have a live betting feature and it allows you to react to markets based on what's happening within that game.
The example above is from a basketball game based in China. As you can see, the markets on offer still include the spread, total, and moneyline, but the odds are changing all the time based on how the game is going.
A key thing to note with live betting is that there is a slight delay in your bets being accepted. This allows the sportsbook to react to real-time events that might have changed the odds and can take anywhere up to 10 seconds before your bet is accepted.
Futures
Futures betting is where you bet on events that are going to start sometime in the future. The exact amount of time can be anywhere from 24 hours or more before the market will close.
Common futures bets include betting on the Superbowl winner, NBA Championship winner, Stanley Cup Winner, World Cup winner (soccer), and high-profile horse races, such as the Kentucky Derby.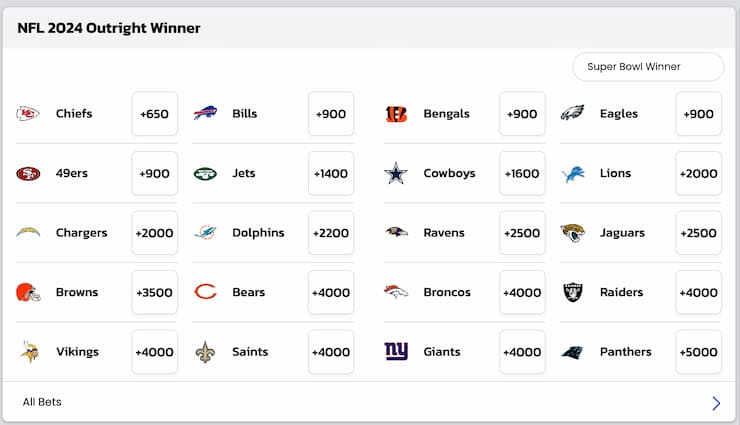 The example above shows a futures market for the 2024 Superbowl winner. All you need to do to place the bet is click the odds and take the price. It will be paid once the market has been settled (someone has won the Superbowl, in this example).
Parlays
A parlay bet is essentially a combination bet, made up of multiple singles. The concept behind this is that you include two or more singles to create a single bet. You need all the selections to win for the bet to win. If just one pick losses, the whole bet losses.
The beauty of these bets is that you're able to win large sums of money for a relatively small stake. You can add in as many picks as you like, and the odds will continue to increase with each pick.
Betting odds are calculated based on the price for the individual odds. It's easier to work with decimal odds for this. An example would be four even money picks at 2 x 2 x 2 x 2 = 16.0.
The real-world example includes four MLB teams winning on the moneyline. These are the Giants, Phillies, Nationals, and Pirates. The total odds are +3043 giving a payout of $314.36 for just a $10 stake.
You can read more about how these bets work in our parlay betting guide.
Prop Bets
Prop (Proposition) bets are "everything else" when it comes to sports betting. These aren't necessarily markets that are linked to the result and instead are based on events that might take place throughout the game.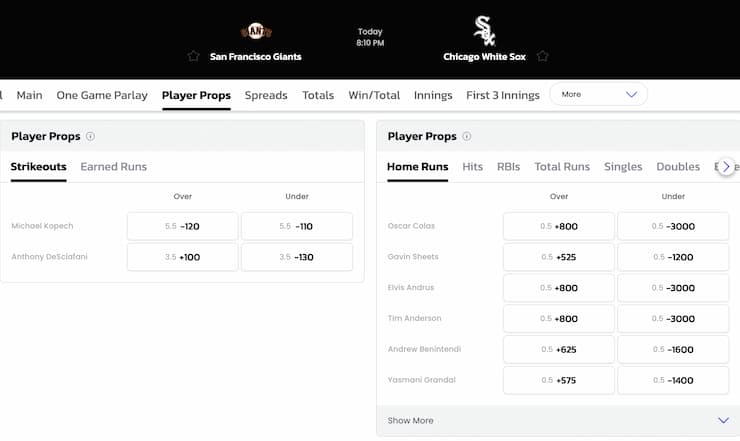 The example above is taken from an MLB game between the San Francisco Giants and Chicago White Sox. The tables include player props for the game, such as over/under on home runs, hits, RBIs, total runs, strikeouts, earned runs, singles, and doubles.
Mobile Bets
Mobile bets are where you can be using your mobile phone. Most betting sites have either a dedicated betting app that you can download via app stores or a mobile betting site you can access via a mobile browser.
The popularity of mobile betting is now at such a level that every sport and market that is online, can be wagered on mobile. Most betting sites take more bets via mobile than online, with the industry taking a mobile-first approach to sports betting.
How to Find the Best Odds
Now we know how to bet on sports, it's important to know how to find the best odds. A key thing to note here is that not all betting sites will be the same price. The goal is to get the largest odds for the bet that you want to make to increase your returns.


A real-world example of how this looks comes from an MLB game between the San Francisco Giants and the Chicago White Sox using BetMGM and FanDuel sportsbooks. If we compare all three markets, there are times when FanDuel is the best price and times when BetMGM is the best price.
The totals spread is the only market of the three that is the same, with a line of 8 and odds of -110. However, if you wanted to bet on San Francisco at +1.5 or on the moneyline, you'd be better with FanDuel. If you want to oppose both those bets, then you'd be better with BetMGM.
Learning how to sports bet often comes down to finding the best odds. You can use the list of the best betting sites in the section above to compare odds and as a result, ensure you get maximum value from your bet.
How to Read Sports Odds
Every market that's on a betting site comes with odds. The odds show the payout that you'll get for each result based on the betting site's implied probability that the result will happen.
For example, if a coin flip were to take place, then the odds would be even money as there is a 50/50 chance for it to be heads or tails.
When we talk about how to bet on sports you need to be aware that odds can be represented in three different formats, as outlined below.
American Odds
American odds are represented by positive and negative numbers. Generally, the negative will be the favorite and the positive will be the underdog.
Negative odds highlight how much you need to stake to make $100 profit. So, if the odds were -180, you would need to stake $180 to make a $100 profit.
Positive odds highlight how much you will win from a $100 bet. So, if you bet $100 at odds of +500, you make $500 profit plus $100 stake back, for a total return of $600.
Fractional Odds
Fractional odds are more popular in the UK and contain two numbers. An example would be 5/1.
In this case, the number on the left highlights how much you will win if you wager the number on the right. So, odds of 5/1 would mean that you win 5 units for every 1 unit staked.
Decimal Odds
Decimal odds are used across Europe and around the world. This is simply a decimal number that represents your total return and includes the stake.
For example, odds of 3.25 means that for every 1 unit you wager, you get 3.25 units. If you were to bet $100 at these odds, your total returns would be $325 for a profit of $225.
Decimal odds are best when creating parlay bets due to them being easier to work out the overall price.
Favorites v Underdogs
Each game or market will have a favorite and an underdog. When you start to learn how to bet on sports you need to be aware of the difference between the two.
A favorite is the lowest market price, and any other result is technically an underdog.

In the upcoming MLB game between the Tampa Bay Rays and the Washington Nationals, you can see that on the moneyline, the Tampa Bay Rays are the shortest price at odds of -175, which would make them the favorite to win compared with the Nationals at +145.
How do Betting Sites Create Sports Odds?
Betting sites create odds based on probabilities. Without initially considering too much about the amount of money that's being staked a team will sit down and work out the chances of each market occurring and then odds are generated off the back of this.
Betting odds are subjective and even though a lot of the leg work these days is done by computers and data, there are no guarantees about how accurate the odds are prices, which is where value is created.
The table below highlights some common odds and the actual probabilities of those odds.
| | | | |
| --- | --- | --- | --- |
| Fraction | Decimal | American | Implied Probability |
| 1/4 | 1.25 | -400 | 80% |
| 1/3 | 1.33 | -300 | 75% |
| 4/6 | 1.67 | -162.5 | 61.9% |
| 1/1 Evens | 2 | +100 | 50% |
| 7/5 | 2.4 | +140 | 41.7% |
| 2/1 | 3 | +200 | 33.3% |
| 4/1 | 5 | +400 | 20% |
| 10/1 | 11 | +1000 | 9.1% |
How Old Do You Have to Be to Sports Bet?
Most betting sites in the US require players to be aged 21 and over to place a sports bet. There are some exceptions to this rule, but this is mainly linked to lottery and casinos for residents who are 18 and over.
Outside the US in places like Europe (UKGC) and Asia, you only need to be 18 or over to place a bet online.
FAQ
Where can I bet on sports?
How do you legally bet on sports?
What is the best way to bet on sports?
How does a sports bet work?
What is the most popular sport to bet on?
What are the easiest sports to bet on?