Tennis is one of the few sports running throughout the year, with short breaks between the seasons. It's covered by multiple tours, which means the volume of games you can bet on is substantially larger than most. In this guide, we're going to show you how to bet on tennis and have included betting tips and strategies to help you win more.
How to Bet on Tennis
To bet on tennis, you need a funded betting account. Later in the guide, we've included a list of the best online tennis betting sites, and each of them comes with a range of features that is going to suit the sport.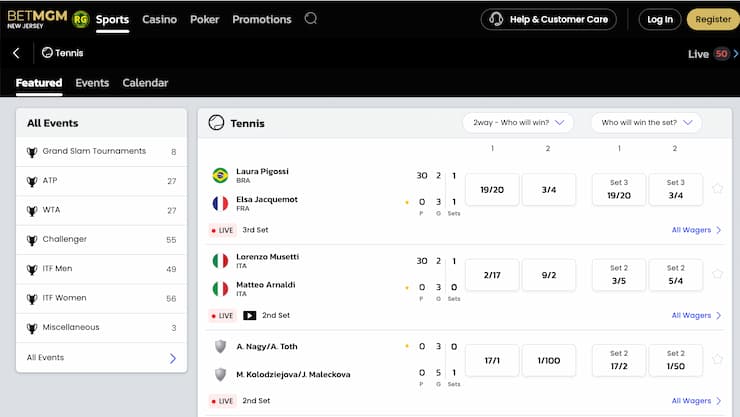 1. Choose a tournament
To start with, you're going to want to choose a tournament to bet on. The highlights of the year are the four majors: Wimbledon, the US Open, French Open, and Australian Open. However, main tours such as the ATP World and WTA Tour run more frequently and are likely better starting points.
2. Pick a tennis match
Next, you're going to need to choose a match from the tournament in question. Most of the best sports betting sites have dozens of games every day from tours around the world. Use the strategy guide further down to help pick a game and find some value.
3. Place your bets
Once you've made your pick, you then need to choose how much you want to stake. This is going to vary depending on your bankroll, but if you're new, then we highly recommend that you start small, if only to see how markets work and then react once live.
Real-World Example of a Tennis Bet
We've included a real-world example of how it might work to highlight how to bet on tennis. The sportsbook we've used is BetMGM, but there are plenty of sites that you can use that will cover the same games at slightly different odds that might create value.

The game in question is between Jordan Thompson and Aleksander Kovacevic at the ATP Newport in the USA. For the purpose of this bet, we're going to use the match-winner market, but as you can see, there's a huge range of tennis betting markets that you can alternatively use.
The odds on the match winner are as follows:
Jordon Thompson: -300
Aleksander Kovacevic: +220
With American-style odds, the negative number is the favorite, and this shows the amount of money you need to wager to make a $100 profit. The positive number is the underdog, and this shows the profit you will make from a $100 bet. In this example, Thompson is a strong favorite to win the game.
We're going to place a $100 bet on the favorite for the game, which is Thompson. If he were to go on to win, we would make a profit of $33.33, based on odds of -300.
Step-by-Step Guide on How to Bet on Tennis
To highlight how to bet on tennis online, we're going to walk you through a step-by-step process of creating an account through to placing your bet. The sportsbook we've used for this is BetMGM, but you're going to find the process to be very similar regardless of which betting site you use.
1. Create an Account

You need to start by opening an account, which you can do by clicking on the "Register" button. This will open up the registration process, where you will create your account by entering personal information, such as name, address, telephone number, email, and social security number (SSN).
Once your account is set up, you then need to verify it. To do so, the sportsbook will prompt you to upload documents showing proof of your ID and address. This usually takes around 24-48 hours to complete.
2. Deposit and Claim the Welcome Bonus
Once your account is live, you can head to the cashier to deposit. If you're asked to opt-in to the welcome bonus, do so, but most sites won't require this.
With BetMGM, new accounts can claim a $1,000 second chance bet, which means that if your first bet loses, it will refund the stake up to $1,000 in bet credits. This offer can be used with most tennis games and betting markets.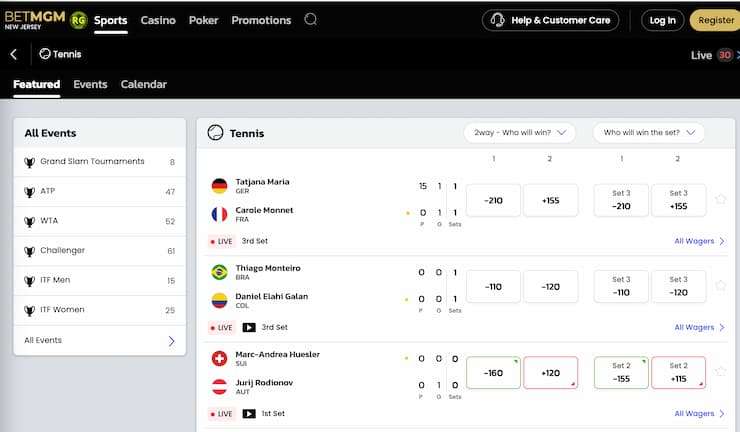 When you click on the tennis betting section of the sportsbook, you're going to be greeted with a wide range of tennis games to choose from. Use the menu on the left to navigate to the tournament you want to bet on, or simply pick from the long list of games on the page.
4. Choose Your Market
Each of the games is going to have a wide range of markets to choose from. If you're new, we recommend sticking with the match winner to familiarize yourself with how it works. However, if you've got a specific bet you want to place, use the menu at the top to navigate markets.
5. Place Your Bet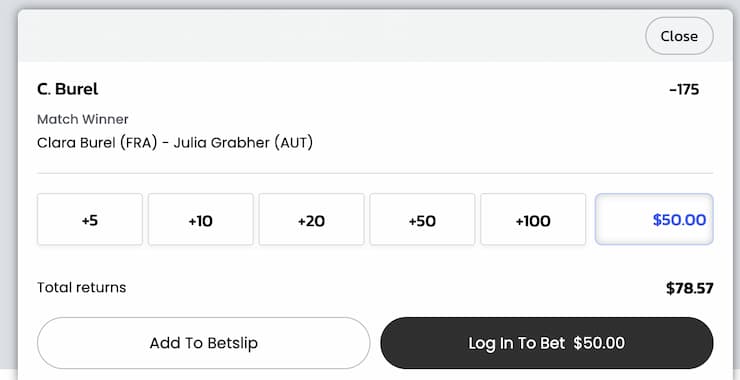 Click on the odds to add your pick to your bet slip. Once added, choose your stake, confirm that the bet and market is correct, and then place your bet. You can keep track of open bets within your account.
Types of Tennis Betting Markets
The best tennis betting sites will have a huge range of markets to choose from. The bigger the game, the more options there are. For the fullest range, target games from any of the majors as these have the biggest coverage and some interesting prop bets.
In this section of our guide on how to bet on tennis, we've included a range of markets below, along with information about how each of them works.
Outright Winner (Tournament)
The outright winner market refers to predicting the player who will win an entire tournament or championship. Rather than betting on individual match outcomes, you select a player to emerge as the tournament's overall winner.
This market offers a long-term perspective, typically available before the tournament begins and until a certain stage. The odds for outright winner bets vary based on the player's current form, rankings, historical performance, and the competitiveness of the tournament.
Match Betting
Match betting is where you bet on the winner of each individual match. This is the most common bet in tennis, with dozens of matches held every day. It's a simple enough bet in that you need to choose the winner of the match, regardless of the score.
Odds will reflect the chance that each player has of winning. In tennis, there can be a lot of games where odds are heavily weighted in favor of one player over the other, especially in the early rounds, so you need to work hard to find value.
Set Betting
Set betting is where you need to predict the game's final score in terms of sets and the correct result. For example, if you bet 2-1 in sets to Player A, the scoreline must be exact for the bet to win. If they lose the game or win by any other scoreline, the bet will lose.
This market offers more specific wagering options, allowing bettors to capitalize on their knowledge of players' strengths, weaknesses, and performance in different sets. The odds for set betting are higher than match betting due to the increased complexity and accuracy required in predicting the specific set outcomes.
Handicap Betting
Handicap betting involves giving one player a virtual advantage or disadvantage in terms of sets or games before a match begins. The purpose is to level the playing field and provide more balanced odds.
For example, a -1.5 set handicap means the favored player must win by at least two sets for the bet to win, while a +1.5 set handicap means the underdog player can either win the match or lose by just one set for the bet to win. This market allows bettors to find value by adjusting the perceived skill gap between players and offers alternative betting options beyond outright match winners.
Over/Under Betting
The over/under market involves predicting whether the total number of sets or games played in a match will be higher or lower than a specified number set by the bookmaker.
For example, if the over/under line is set at 21.5 games, you can bet on whether the total number of games played will be over or under that threshold. If you bet on the over and the match ends with a total of 23 games, your bet is successful. Over/under betting allows bettors to focus on a match's overall intensity and duration rather than predicting the match winner.
In-Play Betting
In-play betting, also known as live betting, allows bettors to place wagers on matches while the game is in progress. It offers the flexibility to react to changing match dynamics and adjust strategies accordingly.
For example, during an in-play bet, you can bet on the next game winner, the total number of games in a set, or even the outcome of the current point. In-play betting provides an interactive and dynamic experience, enabling bettors to analyze the flow of the match, player performance, and other factors to make informed betting decisions in real time.
Parlays
A parlay, also known as an accumulator or combo bet, combines multiple individual wagers into a single bet. To win a parlay bet, all the individual selections within the bet must be correct.
For example, you could combine three match winners into a parlay. If all three players win their respective matches, your parlay bet is successful. Parlays offer the potential for higher payouts as the odds of each selection are multiplied together. However, if any of the individual selections within the parlay are incorrect, the entire bet is lost.
Futures
Futures are wagers placed on long-term events that will be determined in the future, typically beyond the immediate tournament or match. These bets are commonly placed on outcomes such as tournament winners, Grand Slam champions, or year-end rankings.
Examples of futures markets in tennis betting include betting on the Wimbledon Men's Singles champion before the tournament starts, predicting the year-end world number one ranked player, or wagering on which player will win the upcoming US Open. Futures bets offer the opportunity for significant payouts, but they require a longer-term investment as the outcomes are determined over an extended period.
Pros and Cons of Tennis Betting
Pros:
Wide Range of Betting Options – Tennis offers various betting markets, including match winners, set betting, over/under, handicaps, and more, providing ample opportunities for bettors to find value.
High Frequency of Matches – Tournaments are held year-round, providing a consistent stream of matches to bet on, from small-scale tournaments to prestigious Grand Slam events.
Individual Sport – As an individual sport, it makes it easier to analyze player performance, form, and historical data to make informed betting decisions.
Live Betting Opportunities – Tennis matches often offer live betting options, allowing bettors to place wagers in real time based on the changing dynamics and momentum of the game.
Accessibility and Coverage – Matches receive extensive media coverage, making it easier to gather information and follow the sport closely, including player news, injuries, and performance updates.
Cons:
Unpredictability – Upsets and unexpected outcomes are common, making it challenging to predict results accurately and increasing the risk of losing bets.
Player Injuries – Injuries are prevalent, and sudden player withdrawals or limitations can significantly impact match outcomes and create uncertainty for bettors.
Limited Tournament Depth – Some smaller tennis tournaments may have limited data and coverage, making it harder to accurately assess player performance and form. This can make betting on lower-tier tournaments more challenging.
Top Tennis Tournaments to Bet on
When it comes to tennis betting, certain tournaments stand out for their prestige, competitiveness, and betting opportunities. These top tennis tournaments attract the world's best players and offer exciting matchups. From the Grand Slam events to the elite ATP and WTA tournaments, let's explore the top tennis tournaments that provide a thrilling backdrop for tennis betting enthusiasts.
Wimbledon
Wimbledon is the oldest and most prestigious tennis tournament in the world. It is one of the four Grand Slam tournaments held annually in London, England, since 1877. Known for its grass courts and iconic traditions, Wimbledon attracts global attention.
The tournament has seen legendary players like Roger Federer, Rafael Nadal, and Serena Williams claim numerous titles. Swiss great Roger Federer holds the record for the most men's singles titles with eight, while Martina Navratilova holds the record for the most women's singles titles with nine.
US Open
The US Open is one of the four Grand Slam tennis tournaments and is held annually in New York City. Dating back to 1881, it has a rich history and is known for its hard courts.
Some of the most decorated players at the US Open include Serena Williams, who holds the record for the most women's singles titles in the Open Era with six, and Roger Federer and Pete Sampras, who share the record for the most men's singles titles in the Open Era with five each.
French Open
The French Open, also known as Roland Garros, is another of the Grand Slam tennis tournaments. It takes place annually in Paris, France, and has been played on clay courts since its inauguration in 1891.
Some of the most successful players in the history of the French Open include Rafael Nadal, who holds the record for the most men's singles titles with 13, and Chris Evert and Suzanne Lenglen, who each won the women's singles title six times.
Australian Open
The Australian Open has been running since 1905 and is the youngest of the four majors. It's traditionally held in January and signals the start of the main tennis season.
Games are played on hard courts, with notable winners that include Novak Djokovic, currently holding the record for the most men's singles titles with nine, and Margaret Court, who holds the record for the most women's singles titles with eleven.
ATP Finals
The ATP Finals is an annual men's tennis tournament that serves as the season-ending event for the top-ranked singles and doubles players on the ATP Tour. It features the top eight singles players and doubles teams competing for the title.
The tournament employs a round-robin format, with the participants divided into two groups. The top two players from each group advance to the knockout semifinals, followed by the final. Notable winners of the ATP Finals include Roger Federer, Novak Djokovic, Rafael Nadal, Pete Sampras, and Ivan Lendl, among others.
WTA Finals
The WTA Finals, also known as the WTA Tour Championships, is the season-ending event for the top-ranked players on the WTA Tour. Like the ATP Finals, it brings together the top eight singles players and doubles teams to compete for the title.
Notable winners of the WTA Finals include Serena Williams, Martina Navratilova, Steffi Graf, Chris Evert, and Martina Hingis.
Tennis Betting Strategy
As part of our guide on how to bet on tennis, we wanted to show you some betting strategies that you can incorporate to become a more successful bettor.
Match Winner Betting – This strategy involves betting on the player you believe will win the match. It's a straightforward approach that's suitable for beginners, focusing on predicting the overall outcome rather than specific details.
Head-to-Head Analysis – Researching head-to-head records between players can provide valuable insights. Consider patterns, such as player dominance or favorable matchups, when making betting decisions.
Surface Specialization – Different tennis players excel on different surfaces. Familiarize yourself with players' preferences and their performance on different surfaces (grass, clay, hard courts). Betting on players with a strong record on a particular surface can be useful.
In-Play Betting – Monitor matches live and identify momentum shifts, injuries, or player performance fluctuations to capitalize on changing odds. In-play betting allows you to react to the evolving dynamics of a match and find valuable opportunities.
Statistical Analysis – Utilize advanced statistics, such as player serve percentages, return of serve efficiency, and break point conversion rates. Analyzing detailed statistics can provide a deeper understanding of player strengths and weaknesses, aiding in more accurate predictions.
Value Betting – Look for discrepancies between your calculated odds and bookmakers' odds to find value bets. Based on your research and analysis, assess the probability of outcomes and compare it to the odds offered. Betting when the odds provide value can yield long-term profits.
Best Online Tennis Betting Sites
The list below includes the best gambling sites for golf betting. With each, we've included a little more about why they rank where they do.
Affiliate Disclosure: Techopedia may receive advertising commissions for visits to a suggested operator through our affiliate links, at no added cost to you. However, all our recommendations are unbiased and follow a thorough review process. Players must be a legal gambling age and located in a regulated US gambling state. Gambling can be addictive, please play responsibly.
FAQs
What are popular tennis bet types?
How do tennis betting odds work?
Are there any strategies for successful tennis betting?
Can I bet on tennis live during matches?