As the first of the four golf majors to run each season, knowing how to bet on the Masters is an important skill in the golf betting calendar. What makes this tournament unique is that it's the only golf major to run at the same course annually – the Augusta National Golf Course in Georgia.
With this in mind, there are some Masters-specific betting strategies to learn, and knowledge you can gather, to help maximize your profits. In our guide on how to bet on the Masters, get an in-depth look at everything you need to know about the tournament.
How Does Masters Betting Work?
The process of betting on the Masters is relatively straightforward. To start, you need to head to the golf section of your chosen online sportsbook. As for how many Masters golf betting markets are available, it will depend on how long you have until the tournament begins, or if it's already started.
At the time of writing, we were still quite a few months away from the Masters in April – because of this, only the 'tournament winner' market was live. But as the time draws closer, the range of markets continues to expand.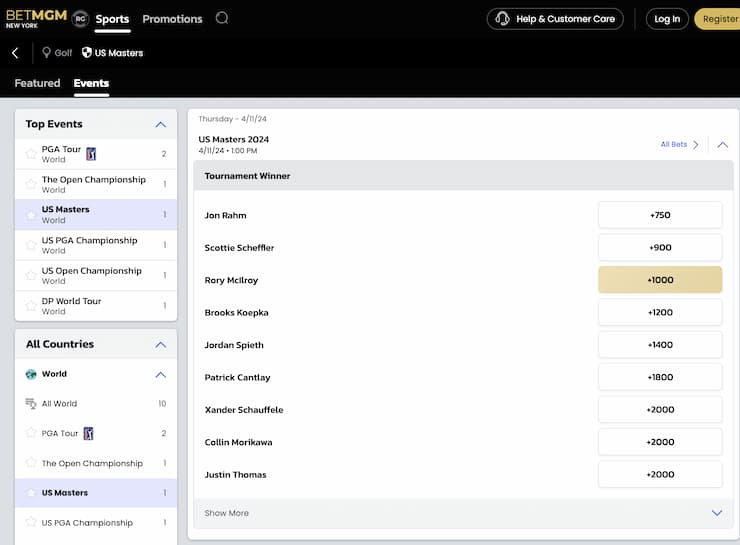 In the golf events section, find the 'US Masters', where you'll then see the list of markets. Then it's a case of making your pick. In this example, we've decided to bet on Rory McIlroy as the tournament winner at odds of +1000.
If you're betting on McIlroy to win, +1000 odds state that to make a $1,000 profit, you would need to wager $100.
This market will only pay out if the player wins. There is no 'place' or 'each-way' betting option in this market, just the outright win, which includes if they win via a playoff. Outright win is one of, if not the, most common and popular markets for Masters betting.
How to Bet on the Masters Golf Tournament
To show you how to place a Masters bet, we're using the BetMGM sportsbook for our example. But the general process doesn't differ too much, no matter which betting site you choose. BetMGM is a safe, reputable sportsbook and a fantastic choice for golf major fans, especially Masters.
1. Create a sportsbook account
Follow the link via the 'Register' button at the top-right of the BetMGM homepage or mobile app to open an account.

2. Enter personal information
You will be asked to fill in some information before you can make a deposit and place a Masters bet. This includes your name, address, phone number, and social security number. You'll also need to upload documents to verify your identity.
BetMGM allows you to register with an existing PayPal or Yahoo Sports account, which might save some time if you have one of these already. This is quite a rare feature in comparison to most other online sportsbooks.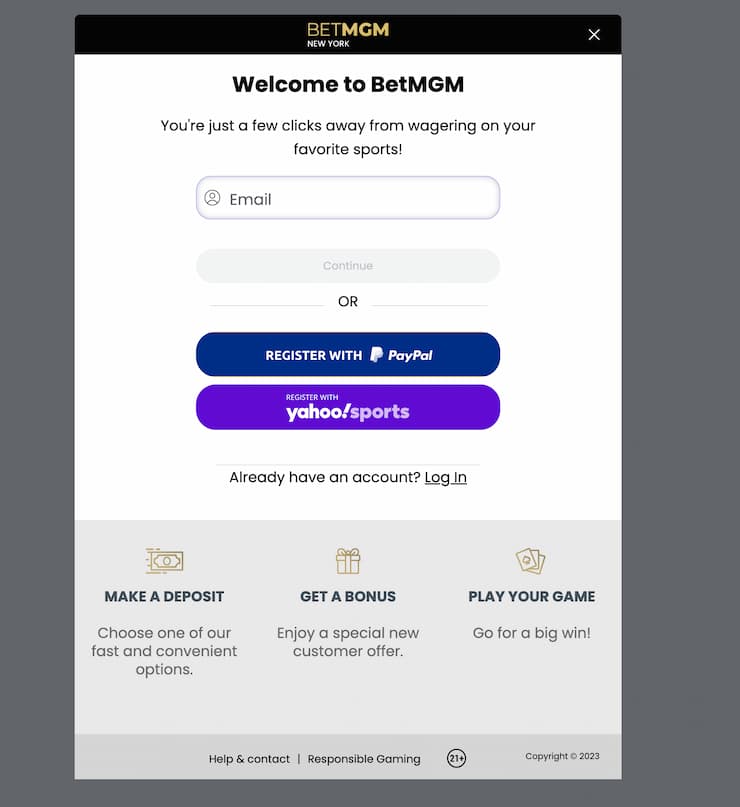 3. Find the sportsbook's golf markets
Use the main sportsbook navigation menu down the left to find the golf betting section. You'll then find a list of major tournaments, from which you can select US Masters.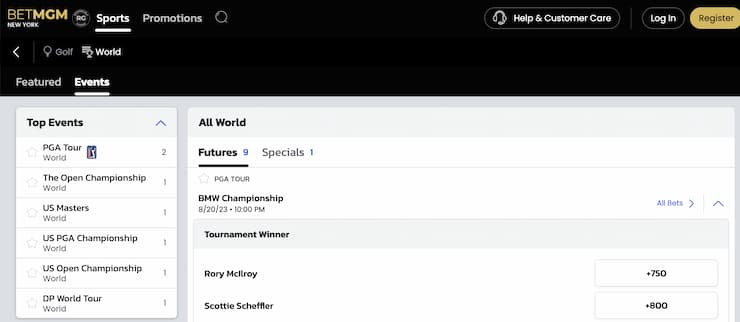 4. Choose your bet type
Choose the type of bet, or market, that you want to bet on. In our example, we've selected the 'tournament winner' market with Rory McIlroy to win at odds of +1000. Click on the odds to add the bet to your bet slip.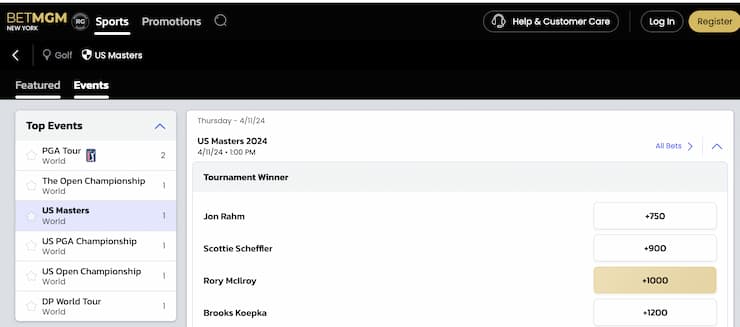 5. Place your Masters bet
In the bet slip, confirm that your selection is correct and then enter your stake. The slip will then highlight how much you're set to win if your bet is successful. Once you've confirmed everything, place the bet. After it's confirmed, you can track the bet in your BetMGM account.
Types of Bets for the Masters Tournament
The US Masters is arguably one of the most important events on the men's golf calendar. As a result, the buzz around this tournament is rivaled by few, with sportsbooks keen to take advantage. Online betting sites often create more diverse market coverage for the Masters than most PGA Tour events.
Outright Winner of the Masters
Betting on the outright winner of the Masters is a classic and straightforward option. You select the golfer you believe will emerge as the tournament's victor.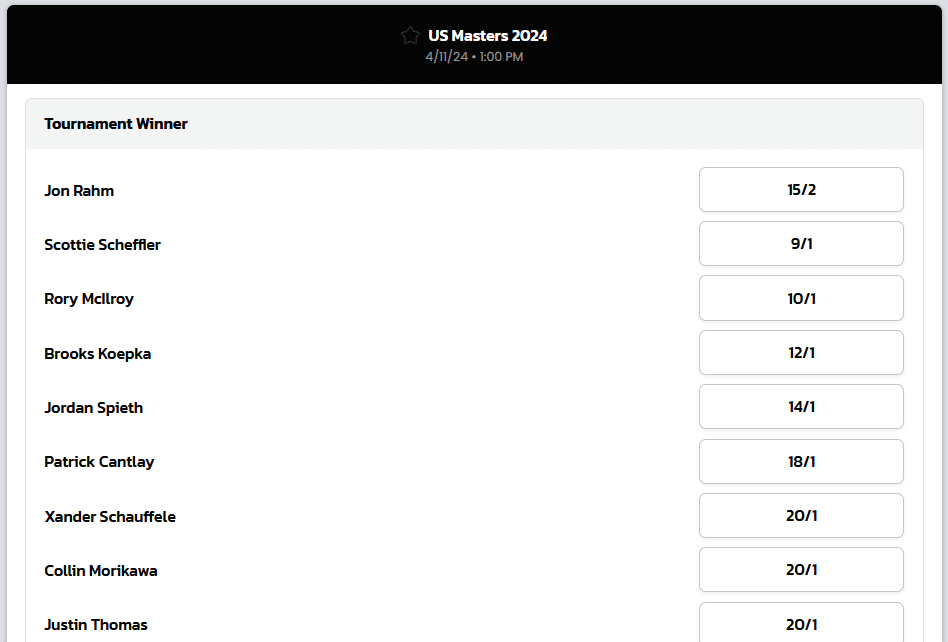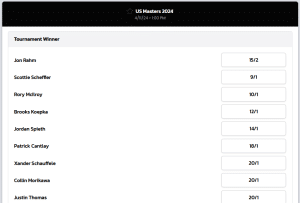 Each player is assigned odds reflecting their perceived chances of success. Your bet wins if your chosen golfer finishes the tournament with the lowest score. Remember that odds may shift during the tournament based on player performance.
As per our example from BetMGM above, you might sometimes see fractional odds instead of moneyline (American) odds. You can change these settings in your account.
Top 5, 10, or 20 Finish
This Masters betting market involves predicting whether a golfer will finish within a specified range – either the top 5, top 10, or top 20. It doesn't matter which ranking they place within the range you choose to bet on, as long as they finish within it.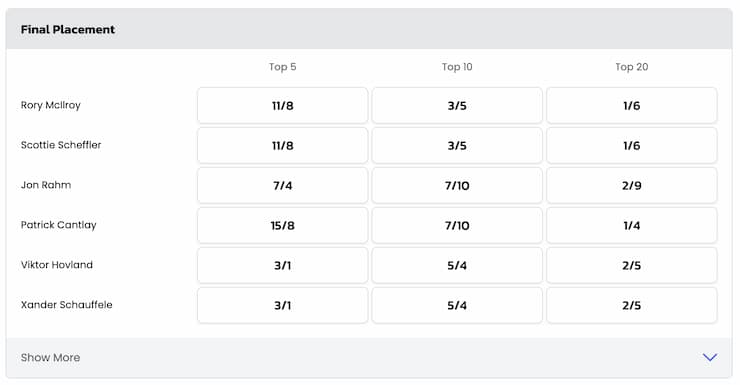 Head-to-Head Matchups
In head-to-head matchups, you're betting on the performance of one golfer relative to another. Choose which golfer you believe will do better in the tournament in comparison to another, regardless of their overall ranking.
For example, if you bet on John Rahm to have a lower score than Max Homa, then the only two scores that count for your bet are the scores of these players. It's not about where they finish in the final standing, but John Rahm must place higher than Max Homa for your bet to win.
Group Betting in the Masters
Group betting lets you predict which golfer among a specified group performs best. You choose the player you believe will outshine the others within the group, offering a fresh way to engage with the tournament's dynamics.
First Round Leader
Predicting the first-round leader involves selecting the golfer who will hold the lowest score after the opening round of the Masters. If your chosen golfer emerges as the leader, your bet is successful.
In-Play Masters Betting
In-play betting during the Masters lets you place wagers in real-time as the tournament progresses. Bet on outcomes like the winner, hole-by-hole performance, and more, all based on the play unfolding as you keep placing bets.
Parlay Bets
A parlay bet combines multiple individual Masters bets into a single wager. To win a parlay, all your chosen bets within it must prove correct. Parlays offer higher potential payouts, but each additional bet increases the overall risk.
Futures Bets
Futures bets involve long-term predictions, such as selecting the winner well before the tournament begins. The odds on future bets can change as the Masters draws closer.
How to Place Live Bets on the Masters
Live betting is extremely popular in golf due to the length of rounds and the overall tournament. It allows for a more measured approach, especially compared to basketball or football.
Our step-by-step guide explains how to place a live bet on the Masters using BetMGM:
Log in or sign up for an account. If you're new to BetMGM, create an account on their website or app. If you're an existing user, log in using your usual credentials.
Navigate to golf betting. Once logged in, find the 'Sports' section and select 'Golf' to access Masters betting options.
Choose 'Live Betting'. Within the golf Masters section, select 'Live Betting' to view real-time wagering opportunities for the Masters. This will of course only be active when the tournament is on.
Select a live bet type. Browse through the available live markets of the Masters. Choose the ongoing market you want to place a bet on.
Place your live bet. Once you've decided on a specific live betting market, click on the corresponding odds. A bet slip will appear, allowing you to enter your wager amount. Confirm your bet, and you're set.
Masters Golf Live Betting Example
Live betting offers real-time opportunities to place and adjust your bets as events unfold during a tournament. To explore live betting in the Masters golf tournament, our example uses Rory McIlroy as a potential bet for the overall winner.
Let's assume you're watching the Masters in its final round and want to place a live bet on the potential winner.
At the beginning of the tournament, McIlroy's odds to win were set at +800. This means betting $100 on McIlroy winning would make you an $800 profit, along with the return of your initial stake (meaning $900 total).
As the tournament progresses, McIlroy's performance during the final round means he is only a couple of strokes behind the leader, making him a strong contender to win. Live betting markets now state that McIlroy's odds have shifted to +450.
With this shift in odds, the adjustment reflects the changing situation – you now have increased chances of McIlroy securing victory. At these updated odds, a $100 live bet on McIlroy would make you a profit of $450, along with your initial wager (meaning $550 total).
Understanding Live Betting Factors
The shift in McIlroy's odds in the final round can be attributed to several factors:
Performance. McIlroy's consistent and strong performance throughout the tournament has heightened his probability of winning. As he climbs the leaderboard, sportsbooks adjust the odds to reflect his improved position.
Leaderboard changes. As other players' performances make them move up and down the leaderboard, McIlroy's position becomes more crucial. If his rivals fail, his odds of winning improve.
Course conditions. Depending on changing weather conditions, the Augusta National course difficulty may vary, potentially favoring certain players' playing styles. McIlroy's adaptability to certain conditions affects his odds.
Momentum. McIlroy's momentum during the final round sees him playing well, which suggests he will likely go on and shoot a low round.
Market demand. Live betting odds are influenced by the betting patterns of other gamblers. If a significant number of bets are placed on McIlroy during the final round, odds might shift accordingly.
In this live betting example, you can capitalize on McIlroy's favorable odds to win the Masters. It can also go the other way, where you end up losing more on a bet if a favorite becomes less likely to win during live betting adjustments.
Remember that odds can change rapidly, so quick decision-making is critical.
Betting Strategies for the Masters
The Masters is unique as it's the only golf major played on the same course every year. This creates quite a different dynamic compared with other majors, as it allows bettors to dive deep into stats linked with the course, and with previous Masters tournaments at Augusta National.
In this section of our guide on how to bet on the Masters, we've added some ideas for a betting strategy that will help you to quickly find winners, year after year.
Greens in Regulation
Greens in regulation is a stat that has moved down the pecking order thanks to the emergence of 'strokes gained'. It's quite an easy statistic to measure, but it's key at the Masters.

Augusta averages around 60% for GIR for the field, but over the last 15 years, the winners have been north of 70%. Your goal in this betting strategy is to look at players who have either:
Great GIR statistics leading up to the tournament
A strong record for this metric in previous Masters appearances
Look Out for Longer Hitters
The phrase "grip it and rip it" certainly applies at Augusta National. Length off the tee is important in any tournament, but at Augusta, it's a significant advantage. The course measures around 7,500 yards, the 7th longest on the PGA Tour. But the undulation across the course can make some holes feel much longer than they are.
Don't worry too much about accuracy, as there is little to no rough. The penalties are bunkers, giant pine trees, and a little water. The PGA Tour released stats in 2022, based on if the player was in the fairway or not, that stated a difference of less than 10% in birdie or better rates.
Choose the Best Approach Players
'Strokes Gained Approach' is one of the biggest metrics that you need to consider. Wide fairways and little to no rough means that the course is very much a second-shot shootout for lots of players. Those who can control their approaches to the green will fare the best.

To put this into context, since 2017, five of the last six winners have all featured in the top five for Strokes Gained Approach. Most notably, Jordan Spieth leads all players in these statistics from 2015, gaining 1.17 strokes per round with approach play alone.
Par 5 Scoring is Key
The par 5s at Augusta are key to low scoring. The par 3s and 4s are generally long, fraught with danger, and can be card wreckers. This makes it imperative to make scores on the easier par 5s on the course.
Most players will do the majority of their scoring on the par 5s, so your goal in this strategy is to find players with a low-scoring average on these holes. Longer players will always have an advantage here, but don't discount wedge players who can hit it close in three and remove any risk of going in two.
Players like Patrick Reed, Jordan Spieth, Danny Willett, Sergio García, and Hideki Matsuyama are far from 'long' hitters. Still, they have incredible iron/short games, the platform for all their successes.
Players Who Know the Augusta National Course
The Masters has only ever had three debut winners: Horton Smith in 1934; Gene Sarazen in 1935; and Fuzzy Zoeller in 1979. Players don't simply show up and win for the first time as they might at other majors or even PGA Tour events.
For the US Masters, golfers need to know the course well before they can break out. From a betting perspective, stay away from rookies or players who are still new to the course. A great strategy is to target 'each way' or 'place' bets for past winners. You will be surprised to see how many knock on the door as they come down the stretch on a Sunday afternoon.
Masters Dead Heat Betting Rules
In golf betting, 'dead heat' refers to a situation where two or more players finish a tournament with the same score, resulting in a tie for a particular position. Dead heat rules come into play when multiple players in the Masters share the same finishing position, affecting the calculation of payouts.
This scenario is relevant to various betting markets, including predicting the tournament winner, top finisher, or match betting. Dead heat rules ensure fairness and accurate payouts when multiple golfers achieve the same finishing position in tournaments like the Masters.
Masters Dead Heat Betting Example
You place a bet on Golfer A to finish in the top 5 at the Masters. The sportsbook offers you odds of +300 for this outcome. A dead heat situation occurs when Golfer A finishes tied for 4th place with one or more players.
Let's say you had wagered $50 on Golfer A at +300 odds. In this scenario, your potential profit – if they finished in the top 5 without a dead heat – would be calculated as follows:
$50 bet × +300 odds = $200 payout = $150 profit
However, the dead heat rules are then applied since Golfer A is sharing 4th place with another player. Your payout is adjusted based on the number of players involved in the dead heat.
How do Adjusted Odds Change My Profit?
As two golfers are tied for 4th place, the adjusted stake for the dead heat would be calculated as follows:
Adjusted stake = Original stake ÷ Number of dead heat players
Adjusted stake = $50 ÷ 2 players
Adjusted stake = $25
Your new profit amount, taking dead heat rules into account, would be calculated using the adjusted odds:
Adjusted profit = Adjusted Wager × odds
Adjusted profit = $25 bet × +300 odds
Adjusted profit = $100 payout = $75 profit
It's important to be aware of these rules when placing bets, as they can impact your potential winnings based on the specific circumstances of a tied outcome.
Most Successful Masters Winners in History
The Masters has crowned some of the greatest names in golf. In this section, we've included the top 5 most successful players of the tournament.
1. Jack Nicklaus
Affectionately known as the 'Golden Bear', Jack Nicklaus is synonymous with Masters greatness. Nicklaus boasts an astonishing six Masters victories, his first triumph coming in 1963 and his last in 1986 at the age of 46, making him the oldest winner in Masters history. His strategic approach, powerful drives, and impeccable iron play contributed to his unmatched success.
2. Tiger Woods
Tiger Woods' aura at the Masters is undeniable, captivating audiences with his sheer dominance and artistry. Woods secured his first Masters victory in 1997 with a record-breaking performance, winning by 12 strokes. He clinched four more green jackets in 2001, 2002, 2005, and 2019. Woods' dynamic play, remarkable recovery shots, and clutch putting have solidified his status as a Masters legend.
3. Arnold Palmer
Arnold Palmer, the charismatic 'King' of golf, left a real impression on the Masters. With four titles (1958, 1960, 1962, and 1964), Palmer's swashbuckling style and go-for-broke attitude made him a fan favorite. His remarkable comeback wins and huge following helped popularize the Masters and elevate it to international prominence.
4. Phil Mickelson
A fan favorite and master of creativity, Mickelson has earned three Masters victories (2004, 2006, and 2010). Known for his daring shots, Mickelson's short-game prowess and fearless approach have been crucial to his Masters success. His thrilling victory in 2004, highlighted by his unforgettable approach shot on the 18th hole, remains one of the tournament's iconic moments.
5. Sam Snead
The enigmatic Sam Snead claimed three Masters titles (1949, 1952, and 1954), each showcasing his timeless elegance and smooth swing. Snead's victories spanned different eras of golf and emphasized his remarkable adaptability. His skillful play and magnetic personality made him a beloved figure in Masters lore.
Masters Golf Betting FAQs
How do I bet on the Masters?
What types of bets can I place on the Masters?
Can I bet on the Masters online?
How do I understand betting odds for the Masters?
What is live betting during the Masters?
How can I pick the right golfer to bet on for the Masters?
Can I bet on specific match outcomes at the Masters?
Is betting on the Masters legal?