The men's soccer World Cup is one of the most watched sporting events in the world, with a staggering $35 billion wagered at the 2022 tournament alone. It's a highlight for online sportsbooks, and with it comes a range of boosted odds, promotions, and unique betting markets.
In our guide on how to bet on the World Cup, we've included a step-by-step process of how to place a bet, an overview of the different bet types, and an overview of betting strategies you can adopt. We've also outlined what we consider to be the best World Cup betting sites, along with bonuses linked to each.
How to Bet on the World Cup
Starting with the right sportsbook to bet on the World Cup is imperative. There are dozens to choose from, with most top sites providing comprehensive coverage in terms of both markets and promotions.
Once you've created your account, you must choose which games and markets you want to bet on. If you're new, the range might seem a little overwhelming, so our advice would be to keep it simple by betting on countries you're familiar with and choosing the match result.
As you get more comfortable throughout the tournament, you can apply betting strategy and data to expand this range of markets. The goal is to find value bets, essentially saying that the sportsbook has priced a particular outcome too high.
You'll know the opening round of fixtures several weeks before the tournament starts, so this will allow you to plan your bets accordingly. However, it's imperative that you react to external factors such as form, player lineups, injuries, and suspensions, especially in the later rounds.
Finally, take advantage of betting promotions throughout the tournament. Most sites will offer a welcome bonus of sorts, and some will alter this to betting on the World Cup specifically. Odds boosts, parlay boosts, and insurance are examples of promotions you can claim throughout.
Example Bet
As part of our guide on how to bet on the World Cup, we wanted to show you an example bet on how it might work. At the time of writing, we find ourselves several months away from the competition proper, but that doesn't mean there aren't betting opportunities, such as the overall winner, which is a futures bet.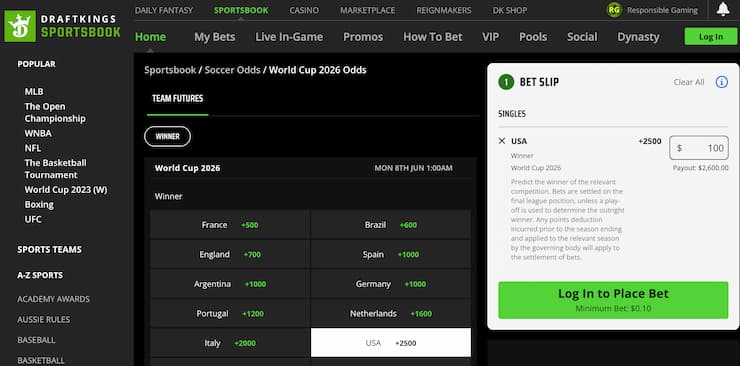 For this example, we've used the Team Futures market from one of our top-ranked sportsbooks, DraftKings. This is for the 2026 World Cup outright winner that allows you to bet on a host of nations, most of which have not qualified yet.
The bet we've picked is for the USA to win the tournament outright at odds of +2500. As you can see from the bet slip, our $100 bet would return $2,600 (including the original stake) if it were to win.
This market will be settled once the tournament finishes or the USA is knocked out. It's worth noting that bets placed on futures markets for nations that don't qualify will be void, and the original stake will be returned. The bet only goes live if the USA qualifies for the World Cup.
Step-by-Step Guide to Placing a Soccer World Cup Bet
We will show you how to bet on the World Cup by including a step-by-step guide to place a bet. This bet has been placed with the DraftKings Sportsbook, but the process will be similar, regardless of the site that you use.
1)   Open a New Account

If you don't already have an account, you will need to open one. Click on the "Log In" button at the top of the page to get started. You must enter personal information such as name, address, and email before verifying your account.
2)   Make a Deposit
Once the account has been set up and verified, head to the cashier within the account section and choose a payment method. Choose the amount you want to deposit and then confirm.
It's worth noting that new accounts with DraftKings are eligible to claim a deposit bonus worth up to $1,000. This promo is a 20% match on your first deposit of $5 or more.

World Cup betting markets are in the "Soccer" section of the sportsbook. Once here, scroll down and find "World Cup." The women's World Cup will be highlighted with a "W" next to the name.
4)   Add to Bet Slip
To add a bet to your bet slip, click on the odds. This will highlight that bet in white. To remove, click on the odds again, and the odds will be deselected.
5)   Place Your Bet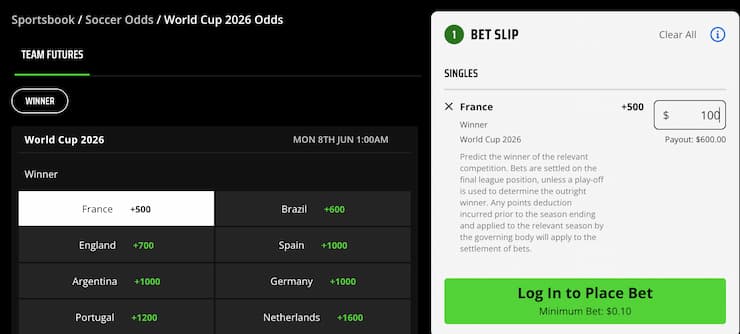 Use the bet slip to confirm the bet and then enter your stake. The sportsbook will show the amount you will win based on the stake you've placed. This amount will include the original stake and the profit from the bet. Double-check that everything is correct and place the bet.
Types of World Cup Bets
World Cup betting markets are similar to soccer betting, at least regarding the types of bets you can place. In this section, we've outlined these bets and how they work.
Outright Winner
Outright winner is where you bet on the overall winner of the tournament. It's one of the most popular markets for the World Cup and is often used before the first game and after the group stages.
For this market, you bet on the team that you think will the World Cup. The market leads itself well to cash out betting as the pre-tournament odds are generally high. As teams progress, the odds drop dramatically, meaning you can cash out and lock in a profit without waiting until the tournament ends.
Match Result
The match result market will vary based on the sportsbook you use. Some sites will run it as a moneyline, where you bet on either team to win, and if it's a draw, the bet will be a push.
The more traditional method is via a 1×2 market. This is a 3-way bet where you can bet on either to win or the draw. Generally, this is the most common market for World Cup betting, but US sites may offer both.
Spread Bets
Spread bets are where you bet on the total number of goals scored in the game. The sportsbook will set a line that you must choose the over or under for. Some betting sites will include Asian lines with half and quarter-goals.
Handicap Bets
Handicap bets are where the sportsbook will apply a handicap to one of the teams. The favorite to win the game outright will have goals removed, and the underdog will add goals. Asian lines are accessible in this market as well, which include half and quarter goals, removing a tie, and ensuring a result regardless of the scoreline.
First to Score
The first to score can apply to a team or player market. For the team bet, you must pick the team you think will score the game's first goal. For the player bet, you need to choose the first player score. The match result in both markets won't affect how this market is played out.
Correct Score
Correct score is where you need to choose the exact score at full time. In the World Cup, this market is applied to the 90-minute result and does not include extra time or penalties unless otherwise stated.
Futures
Futures are bets placed before the start of the tournament and can include markets such as the tournament winner, golden boot, golden boot, and place bets, where you bet on teams to reach a particular round of the World Cup.
Specific World Cup Prop Bets
The World Cup differs from standard soccer betting, creating markets you wouldn't otherwise get in a standard league or cup match. As part of our guide on how to bet on the World Cup, we've included a range of prop bets exclusive to the tournament.
Golden Boot
The Golden Boot is the award for the player with the most goals throughout the tournament. If more than one player is tied at the end, it goes to the player with the most assists. If this is also a tie, the award is given to the player with the best goals-per-minute ratio.
Golden Glove
The Golden Glove is awarded to the best goalkeeper in the World Cup. This is not based on the most clean sheets, and it's awarded solely based on performances by a panel selected by FIFA.
Golden Ball
The Golden Ball is given to the best player throughout the tournament. There isn't a strict criterion for this in terms of goals or assists, but instead, it's usually given to the player with the most significant impact.
FIFA Young Player Award
The FIFA Young Player Award is given to the best player aged 21 or under. It's worth noting that the player only needs to be 21 or under at the start of the calendar year that the World Cup is running in.
Regular Time/ Extra Time
We wanted to highlight that in World Cup betting, most markets are linked to events that take place in regular time. Markets such as correct score, match result, first-to-score, and handicap bets will be settled after 90 minutes. If the game goes to extra time and penalties, original bets will not carry over unless the market has expressly stated otherwise.
Penalties
If the game goes to a penalty shootout, then you can bet in-play with markets that include the next player to score, the next player to miss, and if the goalkeeper makes a save (a miss may involve the player missing the target, which is why this market exists). These markets will be available live, but you can bet pre-game on the method of victory, which can include penalties.
How to Bet on the Women's World Cup
The Women's World Cup occurs every four years, just like the men's, and is an excellent betting opportunity. Most of the major sportsbooks will include a dedicated section related to the tournament, with all the bets you would find within the men's game.

You need to start with a sportsbook that will offer in-depth coverage. There are plenty about, with the likes of DraftKings, FanDuel, and bet365 having excellent coverage.
If you've not already got an account, you must create one. Most of the betting sites we've outlined on this page will come with a welcome bonus, and you can find out more about what you can claim as part of our World Cup betting guide below.
Once the account has been set up, log in and head to the main sportsbook. Most betting sites will have quick links to the games since the Women's Soccer World Cup is a major tournament. However, if this is not the case, head to the main soccer betting section and find the tournament.
Browse through the list of games and choose the one you want to bet on. Most will have comprehensive market coverage, so there will be lots of options to choose from. If you're new, stick with the main bets, such as match result, draw no bet, and moneyline.
To place a bet, click the odds to add the selection to your bet slip. Once in the bet slip, check that the bet is correct, confirm your stake, and place your bet. You can track your live bets within your account.
Pros and Cons of Betting on the World Cup
Betting on the World Cup comes with a range of pros and cons. We've outlined these below to highlight why you want to bet on the tournament and why you may want to avoid it.
Pros:
High Entertainment Value: Betting on the World Cup can enhance the excitement and enjoyment of watching the matches, especially if you have a personal stake in the outcome.
Vast Betting Options: The World Cup attracts a massive audience, leading to a wide range of betting markets and options, from simple match outcomes to more complex prop bets.
Research and Analysis Opportunities: Analyzing teams, players, and statistics for the World Cup can be fun and intellectually stimulating. It provides an opportunity to delve deeper into soccer analytics.
Global Event: The World Cup brings together teams from various countries, providing a unique opportunity to bet on international matches and experience different soccer styles and cultures.
Promotional Offers and Bonuses: During major sporting events like the World Cup, many sportsbooks offer special promotions, bonuses, and enhanced odds, providing added value to bettors.
Cons:
Highly Competitive: The World Cup attracts many bettors, including experienced ones. This high competition level can make finding favorable odds and value bets challenging.
Unpredictability: Soccer is inherently unpredictable; upsets can happen in any match. Betting on the World Cup involves significant luck, making it difficult to make profits consistently.
Emotional Bias: During the World Cup, emotions can influence betting decisions, leading to impulsive and irrational bets based on national pride or favorite teams rather than sound analysis.
World Cup Betting Strategy
In our guide on how to bet on the World Cup, we wanted to add betting strategies that will enable you to win more. In another guide on how to bet on soccer, we've included basic, intermediate, and expert betting strategies that can be applied to all soccer games. Make sure you take the time to go and check these out.
For this guide, we've included a quick-fire strategy section covering soccer betting basics.
Research Teams and Players: Before the tournament, gather information about the participating teams, key players, their recent form, and any injuries or suspensions. Knowing the strengths and weaknesses of each team can help you make better predictions.
Understand the Format: Know the tournament format, including the group stages, knockout rounds, and rules for extra time and penalties. Different formats can impact team strategies and player performance.
Analyze Historical Data: Study past World Cup performances, including team head-to-head records. Look for patterns and trends that could inform your betting decisions.
Keep Up with Current News: Stay updated with the latest news and developments during the tournament. Injuries, lineup changes, and off-the-field incidents can significantly impact a team's performance.
Manage Your Bankroll: Set a budget for your World Cup betting and stick to it. Never bet more than you can afford to lose. It's essential to manage your bankroll carefully to avoid significant losses.
Diversify Your Bets: Instead of placing all your bets on a single outcome, diversify your bets across different matches, teams, and bet types. This spreads your risk and increases your chances of winning on some bets.
Consider Live Betting: Live betting allows you to place bets during the game, reacting to real-time developments. This can provide opportunities to capitalize on favorable odds or momentum shifts.
Shop for the Best Odds: Sportsbooks may offer slightly different odds for the same bet. Compare odds from various bookmakers and choose the one offering the best value for your bet.
Avoid Emotional Betting: Don't let your emotions dictate your bets. Stay objective and avoid betting based on your favorite team or players.
Bet Responsibly: Remember that sports betting is for entertainment, and there are no guaranteed wins. Only gamble with money you can afford to lose, and if you find yourself developing a gambling problem, seek help.
Consider Advanced Metrics: For a more data-driven approach, you can delve into advanced soccer metrics like Expected Goals (xG), possession percentages, and defensive records. These can provide insights into a team's performance beyond just goals scored.
Stay Disciplined: Stick to your strategy, even if you face some losses. A disciplined approach will help you in the long run.
FAQs
What is the World Cup, and how can I bet on it?
Is online betting on the World Cup legal?
How can I choose a reliable sportsbook for World Cup betting?
What types of bets are available for the World Cup?
How can I manage my betting budget during the World Cup?
Can I bet on the World Cup live during the matches?
What strategies can I use to improve my World Cup betting success?
Are there any special promotions or bonuses for World Cup betting?