Since the first main event back in 1993 that kicked off the MMA phenomenon that delights sports bettors today, the UFC has reigned supreme. As betting is bigger than ever now, our experts have created the ultimate guide on how to bet on UFC fights.
Our UFC betting guide will teach you how to bet on MMA and provide insights into using some of the best UFC betting strategies that have served sharp bettors for years. It doesn't even matter if you know your guillotines from your triangles, our guide will provide the tools to bet on the UFC today.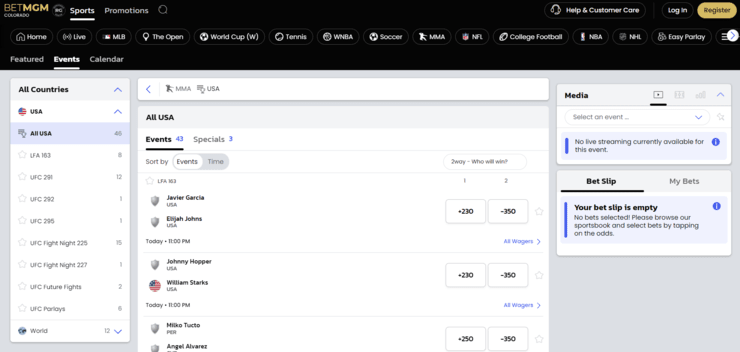 How to Bet on UFC Fights
The UFC is the biggest mixed martial arts promotion in the world and has dominated the sport for more than 20 years. Featuring a clash of different fight styles, numerous weight classes, and both men's and women's competitions inside a caged octagon, you'll need to consider many factors when determining which fighter will have their hand raised in the center of the Octagon.
In the US, you can choose from two different ways to bet on the UFC. You can either head to your local retail sportsbook located in sports bars or casinos or choose to bet at one of the top online sportsbooks, like BetMGM. You will need to be in a state that offers a regulated sports betting market.
How UFC Betting Works
So, if you're a novice, you'd probably like UFC betting odds explained in further detail. To begin, a UFC bout can only end in one of the three ways – fighter one wins, fighter two wins or the bout is a tie. The most likely outcome of those three options will receive the lowest odds while the least likely outcome will have the highest odds.
The higher the odds, the higher the payout. Furthermore, numerous other markets related to specific aspects of a fight – such as the "way of victory" – also receive odds based on how likely each outcome will be.
Examples of bets
To make understanding how to bet on UFC fights a little easier, we've provided a few examples. These are real betting markets available at BetMGM.
For example, BetMGM thinks that Dustin Poirier will beat Justin Gaethje. You can tell that because Poirier has the lower odds of -125 compared to Gaethje who is priced at +105. The payout for Gaethje winning is $2.50 more from a $10 bet than Poirier.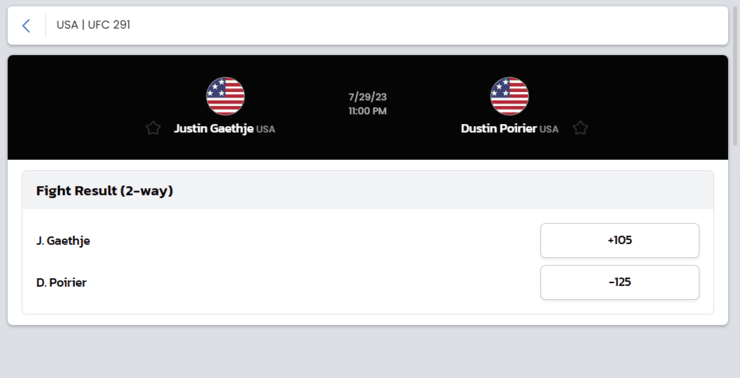 Or you could place several bets. For example, you could bet on Marcin Tybura to beat Tom Aspinall as one bet and another wager could cover the "Fight to go the distance market". To win both bets, you would need Marcin Tybura to win via decision.
UFC Betting Tips
We've got the hottest UFC betting tips to prepare you for success. It doesn't matter if you're betting on the undercard or the main event, the following tips ring true, regardless of the fight you are choosing to bet on.
Bet live for the best odds: There are unique odds advantages to betting live rather than pre-fight. Oddsmakers approach live odds differently and you'll often receive far better in-play odds for the same markets you would have covered before the fight began.
Don't always bet big on the favorites: Upsets are not uncommon in the UFC. It happens all the time. Don't just put a large bet on a heavy favorite thinking you can make a big profit by betting large. Bet with your head, not the odds.
Think strategically: Consider factors such as age, reach, stance, and fight styles. Think about how each fighter will try to put the other on the defensive. For example, when Anthony Pettis dominated with an insane kicking game, Clay Guida smothered him by keeping him on the mat in the Ultimate Fighter 13 final.
Don't be biased: Modern-day fighters are genuine characters and it's hard not to want your favorites to win. However, you can't let your personal biases impede your judgment when betting. If all signs point to your favorite losing, either bet against them or choose not to bet at all.
Always consider the location: Travel can wreak havoc on a fighter and the conditions in particular climates are important too. At UFC 188, Fabricio Werdum tapped out a gassed-out Cain Velasquez who turned up in the high altitude of Mexico City a day before the fight while Werdum had set up his camp there and had acclimatized.
UFC betting strategies
Knowing how to bet on the UFC is one thing, but being armed with genuine MMA betting strategies is quite another. There are numerous factors to consider when betting on MMA and there are several tried and tested strategies that frequently apply to betting on the UFC.
Follow the camps: Knowledge of a fighter's training camp can provide crucial insights into an upcoming bout. Watch to see if a fighter going up in weight class appears slower. See if a green fighter is struggling during sparring. Perhaps a fighter suffered a concussion during the camp. These are all factors that predict future performance.
Note the cage size: The UFC does use two cage sizes and while the differences in size are subtle, the statistics don't lie. Data shows that the smaller cage has seen a 12% higher finish rate than the typical larger UFC Octagon. It's important to consider when betting on UFC Fight Night events, which have often used the smaller cage.
Watch the weigh–in: Look for factors such as poor weight cuts where fighters appear sluggish or unwell. But most importantly, make sure to check the weight each fighter usually fights at and their off-season weight. Some fighters can cut tremendous amounts of weight like it's nothing while others seem to lose all their punching power when they do so.
Look for signs: Live bettors will look for signs faster than the odds can keep up. A fight might look even by the second round, but keen bettors can notice the underdog exposing a weakness in the favorite that could be capitalized upon in the final round while the underdog is still highly-priced.
How to Place a UFC Bet
Follow this UFC betting guide and you'll be betting on the biggest fights like a pro in no time. It's incredibly easy to bet on the UFC and sportsbooks are so intuitive that even first-time bettors won't have a problem finding their ideal market. We've provided a five-step guide on how to bet on UFC fights online in the US.
Step 1: Sign up and deposit
Choose a top UFC betting site like BetMGM and complete the registration process. Be sure to enter a promo code if you have one. Next, make your first deposit by choosing a payment method and following the prompts to fund your betting account.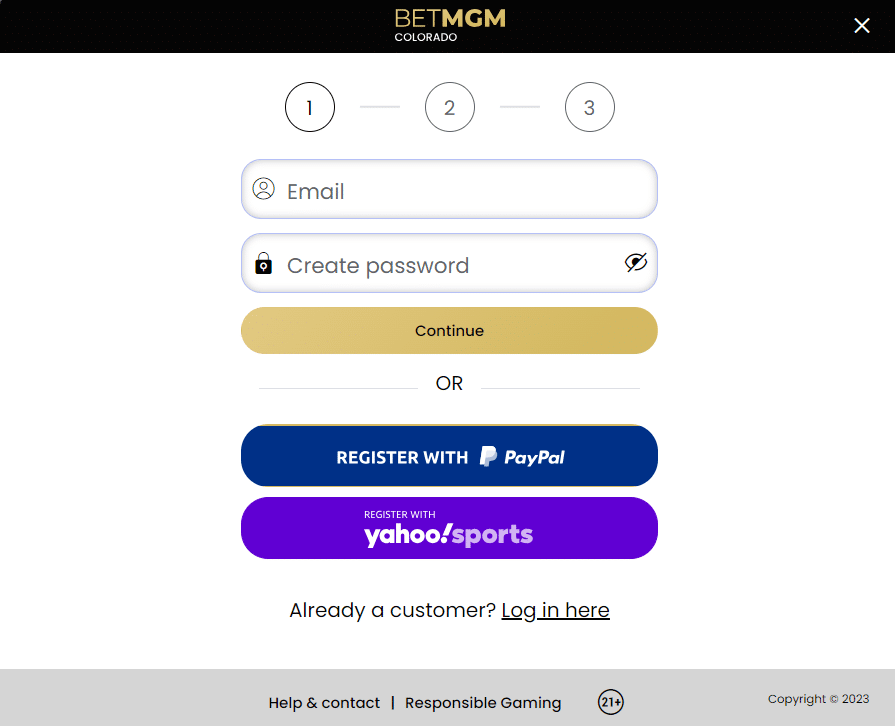 Step 2: Watch the markets
Head to the sports section and locate a UFC fight. You'll find a variety of markets including moneyline, round betting, and more. Make a selection to send it to the bet slip.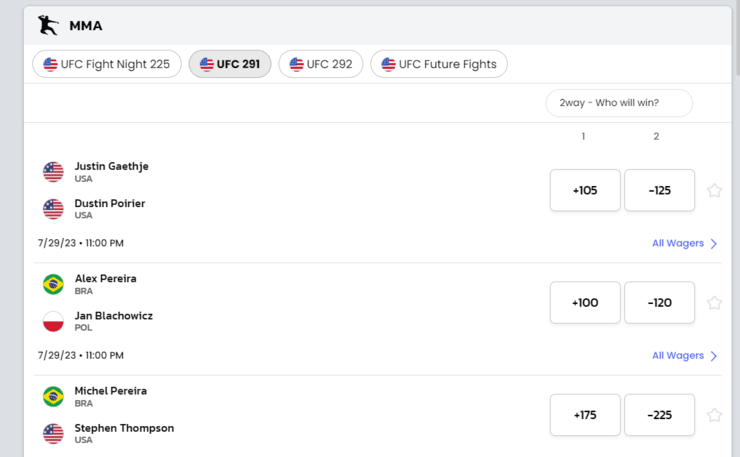 Step 3: Complete your bets
Enter your preferred stake and you'll see the payout of your proposed wager. Complete the bet by clicking the "Place Bet" button. Sportsbooks typically don't allow same game parlays (SGPs), so you'll need to place individual bets.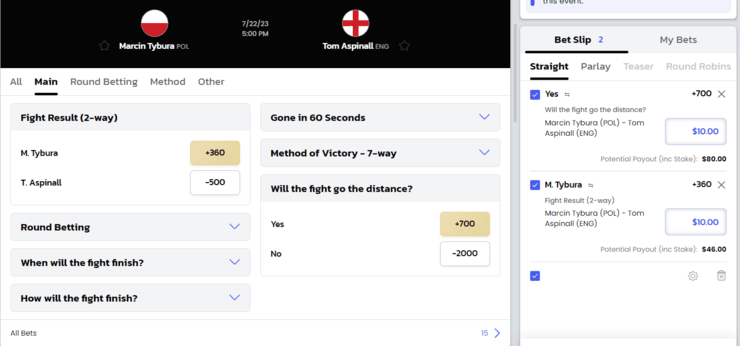 Step 4: Enjoy the fight
Next, simply watch the fight to see if your bets will be winners. Additionally, you can place live UFC bets during the bout.
Step 5: Withdraw your winnings
Make sure you've cleared any play-through requirements if you used bonus bets while betting on MMA. Next, ensure your account is verified by completing the KYC process. Then, head to the cashier, choose to make a withdrawal, and follow the prompts to complete the transaction.
Types of Bets
To truly know how to bet on UFC fights, you'll need to understand the different types of bets available to you. Here we explain the most popular ones available at sportsbooks in the US.
Moneyline
The classic moneyline bet is simply a choice on which fighter will win. Most sportsbooks offer this market as a 2-way selection, so a tied bout would result in a stake push. So, you'll get your money back if there is no winner.
Round betting
This is a simple bet on which round will conclude the bout. It doesn't matter how the fight ends. You simply need to select the correct round regardless of whether the fight ends in a knockout, decision, disqualification (DQ), or submission.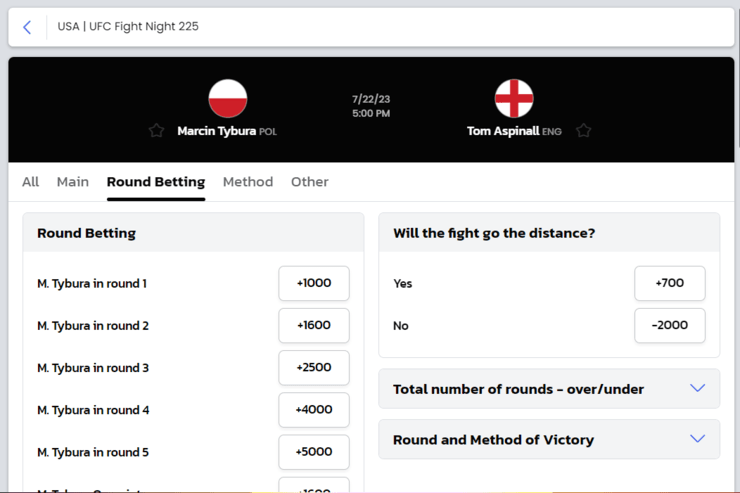 Futures
Futures bets for the UFC entails placing a moneyline-like wager way in advance of an actual fight. You can get some great early odds this way but it can be risky considering there is plenty of time for fighters to get injured or have a bad training camp.
Prop bets
These are bets on specific fight outcomes that are not related to the final outcome of the fight. For example, "Points to be deducted during the fight" is a prop bet as the result of the fight is irrelevant.
Method
This form of betting allows you to choose the method of victory in a single fight. For example, in the UFC you can choose from KO/TKO/DQ, submission, or decision. You can boost the odds by placing a multi-way method bet by choosing which fighter will win and/or which round the victory will come.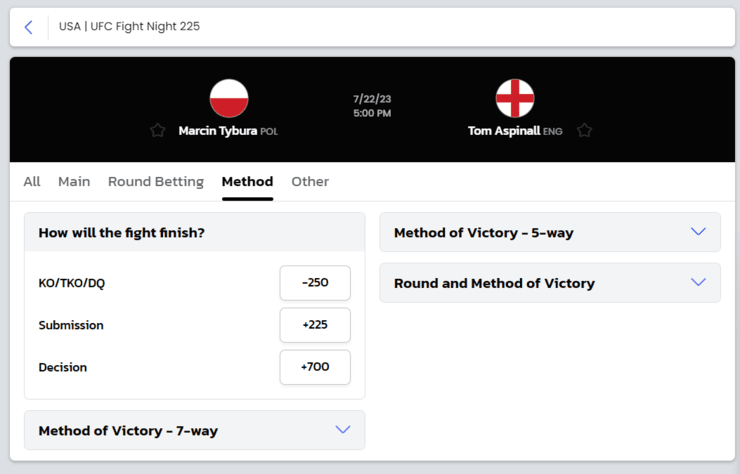 Parlays
A parlay is a bet in which multiple single selections are pooled together in a single bet with multiplied odds. Each selection must win for the bet to be successful. SGPs are rarely offered but you can always place a parlay on different fights from the same card.
Totals
Besides betting on which round the find will end on, you can also bet on how many rounds will take place. For example, an over 2.5 rounds bet would mean the fight would need to reach the third round for the bet to be successful.
Spreads
You can bet on point spreads based on the judge's allocation of points when the bout goes to a decision. For example, say a split decision leaves Jon Jones on 144 points and Ciryl Gane on 141.
A +4.5 bet on Gane would be a winner since he lost by less than six points but a -4.5 bet on Jones would be a loser since he needed to win by at least five points.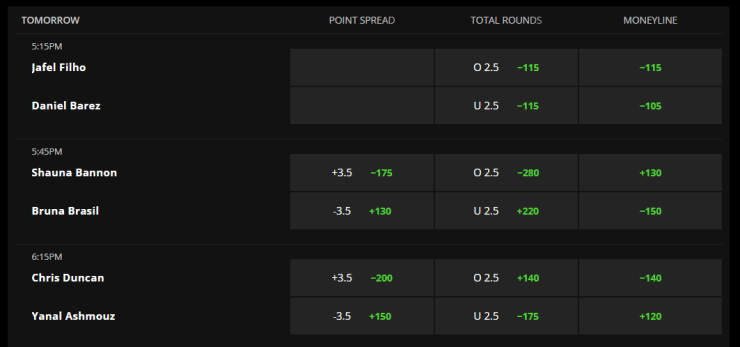 Types of MMA Events
There are numerous MMA promotions out there and each features a roster of immense talent. Local US sportsbooks only cover the UFC and its chief competition, Bellator at this stage. However, these promotions provide loads of MMA events throughout the year.
UFC: The numbered UFC pay-per-views (PPV) are the pinnacle of MMA main events. These cards often feature at least one title fight and showcase the highest-ranked fighters in the promotion.
UFC Fight Night: Showcasing bouts almost every week, UFC Fight Night features clashes between lower-ranked fighters who are often a little rawer and less polished than the flashy grapplers of the big PPV fights.
Bellator: This promotion also has a numbered PPV event that is fairly similar to UFC. The bouts share similar rules but the fights are in a circular ring rather than the famed UFC Octagon.
Legacy Fighting Alliance: This Houston-based promotion has produced 160+ major fighting events and has featured big-name UFC fighters such as Holly Holm.
How to Live Bet on the UFC
MMA fights are often available for live betting. Live betting allows you to bet on a fight in real-time, rather than having to place bets before the bell rings. The odds shift dynamically as the fight continues and reflect the state of the fight.
For example, if live betting was available during Brock Lesnar vs Cain Velasquez at UFC 121, the odds would have been reasonably even one minute into the bout. However, the moment Lesnar was knocked down to the mat twice, his price would have skyrocketed, and Velasquez's odds would have shrunk to be the strong favorite.
Many of the same markets you would see during pre-fight and available for live betting. This includes moneyline, round betting, way of knockout, and some prop markets too.
Advantage of MMA Live Betting
Not only is in-play – or live betting – the most exciting way to bet on the UFC, but it also holds many advantages over pre-fight betting. Live odds are determined by algorithms and live traders which often fail to see the bigger picture. The odds are focused on what is immediately happening in a fight and often don't consider technical aspects that only keen MMA bettors can pick up on.
For example, a fight that is reasonably even on points will likely still have the underdog priced quite high. However, MMA bettors might notice that the underdog has been working a single body part ahead of the final round. In this instance, the underdog could slip in a submission or a devasting blow and take victory in an instant.
An early bet backing the underdog in the second round when the odds were high could result in a big payout. This is an advantage that pre-fight betting cannot provide.
FAQs
How does UFC betting work?
Can I legally bet on UFC fights?
How can I bet on the UFC fights?
How do you bet on UFC fights online?