Hedge betting is an advanced sports betting strategy where players can limit exposure by placing bets covering all market outcomes. Done correctly, it's one of the most effective ways to lock in profits and limit losses. Our guide on how to hedge a bet will cover examples, the process of hedging a bet, the best time to do so, and how it works across various bet types.
What is a Hedge Bet?
A hedge bet requires multiple bets on the same market to mitigate risk. This can be done by guaranteeing a profit on the market, limiting exposure, or even limiting loss.
To hedge a bet, you need to place more than one bet. When the market moves, you place a second bet to lock in a profit, ideally at lower odds. It's not an easy betting strategy to implement, given how sharp betting lines are, but it's incredibly effective when used correctly.
One of the biggest benefits of hedge betting is that it can be used across a wide range of sports and betting markets. You can even work scenarios where you cover bets across different markets that will create a profit regardless, such as betting on the moneyline and hedging using the points spread or totals.
Hedge Betting Example
As part of our guide on how to hedge a bet, we will walk you through an example of how the process works.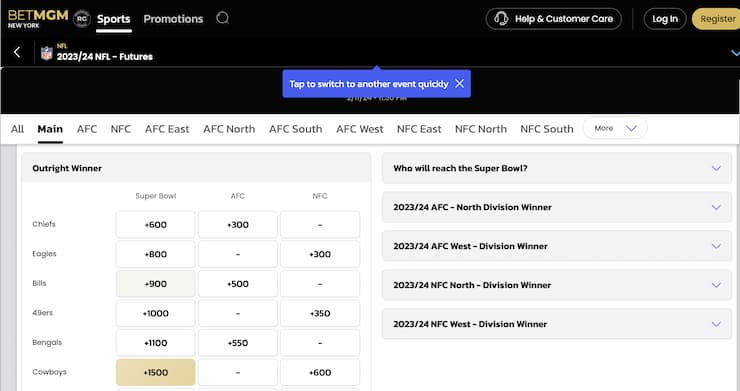 For this example, we will use a futures bet placed on the Super Bowl winner. Let's assume we place our bet before the season starts on the Dallas Cowboys to win the Super Bowl at odds of +1500.
We place a $100 bet on the market, which means that if they were to go on and win, we would make a profit of $1,500.
The Cowboys play exceptionally well and make it to the Super Bowl. They are playing against the Kansas City Chiefs, with the moneyline market being as follows:
Cowboys to win @ +160.
Chiefs to win @ -190.
Even though this market is a moneyline bet, it will essentially settle the futures market for the overall Super Bowl winner we placed at the start of the season. We can now use these odds to hedge our bet.
At this point, we've several options for approaching our hedge. We can make the secondary bet large enough to guarantee the same returns on all possible results, or we can alter bet sizing to favor one side over the other.
There are only two possible results here. Either the Chiefs win the Super Bowl, or the Cowboys win the Super Bowl. Given that we've already backed the Cowboys, we need to back the Chiefs. If we were to get the same returns on both results, our bet would look like this:
Original bet = +1500 * $100 = $1600.
Hedge odds (Chiefs to win) = -190.
Hedge bet on the Chiefs to win = $1,048.28.
Total Wager = $1,148.28 (includes original Cowboys bet).
Guaranteed profit = $451.72.
The easiest way to calculate what you need to bet is to use a hedge betting calculator. With this, you just need to enter the original wager, original odds, and then the hedge odds, and it will tell you what you need to stake.
To surmise, we've used potential profit from the Cowboys bet to essentially place a bet that covers the Chiefs to win as well. We're now at a point where regardless of who wins, we have made $451.72 in profit from the game.
One of the best things about hedge betting is that you can move the line when it comes to exposure. So, in our example, if you think the Chiefs have a better chance of winning, you can increase your stake to make more profit on that result over the Cowboys' result. You could plausibly move the needle as part to say that you want to break even on the Cowboys and bank all profit on the Chiefs.
Step-by-Step Process of Hedging a Bet
BetMGM is one of the best betting sites for hedge betting, as they have very competitive betting lines. Our step-by-step guide on how to hedge a bet will follow a bet placed on the winner of the NBA Championships.
1. Get Started

Click on the "Register" button at the top of the sportsbook to start the registration process. This should, in total, take no more than a couple of minutes.
2. Create an Account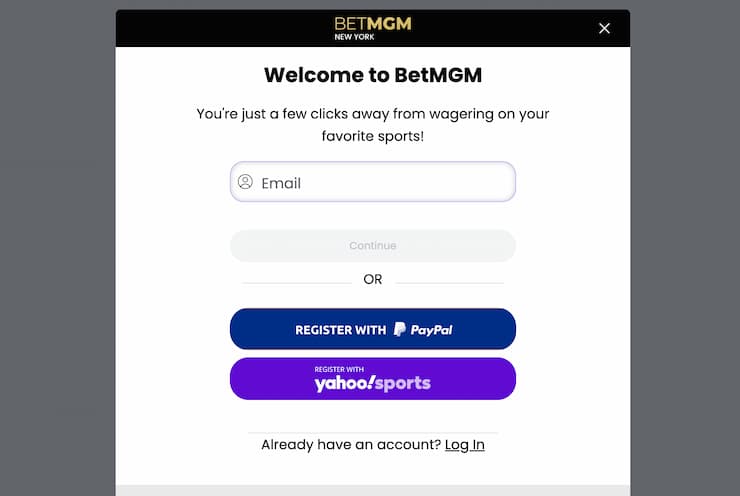 Use your email address to get started in creating your account. You must enter your name, address, phone number, and Social Security number. However, you can also register with existing PayPal and Yahoo Sports accounts if you've already got one.
3. Log in and Deposit
Once your account is set up, you need to log in. Head to the cashier and then choose the payment method of choice. Make your deposit, and you're set to go.
4. Head to NBA in the Sportsbook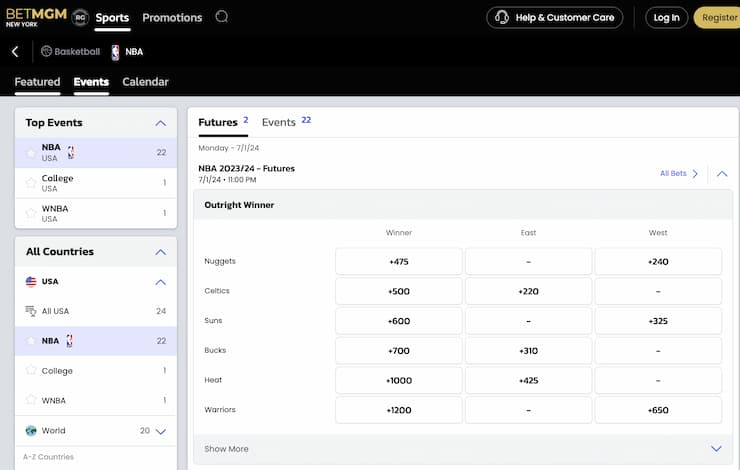 Find "NBA" in the navbar down the left. Click "Events" and choose the "Outright winner" market for the NBA finals. Just click on the odds to add your selection to the bet slip. They will turn gold once selected.
5. Place Your Bet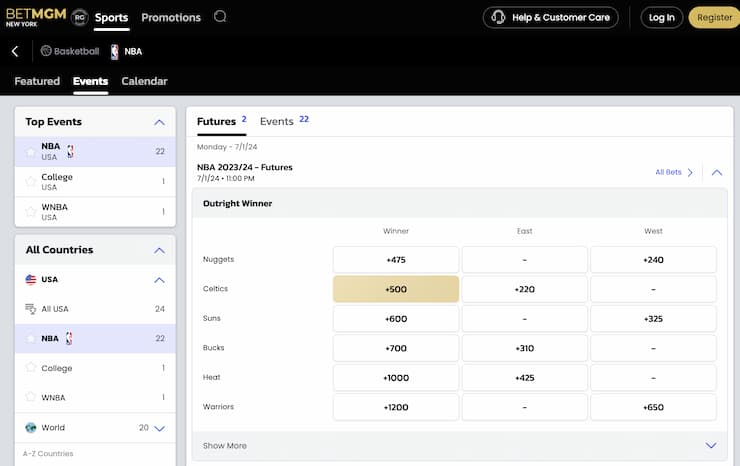 Use the bet slip to confirm that the selection is correct. Enter your stake and then place the bet. For this example, we've placed a bet on the Celtics to win overall at odds of +500.
6. Hedge Your Bet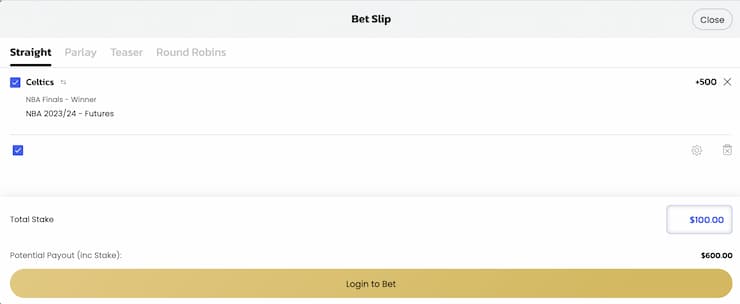 Once the opportunity arises, it's time to hedge. The best time to do this is in the final game using the moneyline market. Use a hedge betting calculator to see what you need to bet in order to hedge successfully, then place the bet on the opposing team. In this case, that would be the Celtics' opposition.
When is the Best Time to Hedge a Bet?
When to hedge a bet will vary massively based on the type of bet and the implications the hedge will have. Given that each situation will be different, it's hard for us to give an exact time when you must or mustn't hedge your bet.
Instead, we've given you some pointers below about factors you need to consider. At least one of them will likely apply to the bet you place, allowing you to make a more informed decision about the timing.
Hedging to lock in profits – The most common hedge is to lock in profits. The system allows you to manipulate bet sizing to favor one bet over the other, or you can create equal payouts on all results.
Change of game circumstances – It might be that you've placed a bet, and external factors have changed since placing that bet. This could be because a player is injured or the team isn't in great form, so you decide to hedge. Remember, hedging is not only effective at locking in profits but also limiting losses.
In-play hedging – In-play betting means you can react live to circumstances within a game. For example, if you've placed a moneyline bet in an NFL match and your team scores early to go 7-0 ahead, you may decide to back the opposing team to hedge your bet.
Limiting losses – One of the most underrated reasons people hedge bets is to limit losses. Knowing when the writing is on the wall for your bet is a skill, and having the confidence to hedge a bet and take the "L" can save a lot of money over the season.
Hedging future bets – Future bets are some of the most common bets to hedge. Before a tournament or league starts, teams are usually at their longest odds, so hedging as they progress when the odds shorten makes a lot of financial sense.
Hedging parlay bets – Hedging a parlay bet works great when you've only one result. For example, if you've got a 5-game parlay and four bets have won, you could hedge the last game to cover all results and lock in a profit.
How to Hedge a Futures Bet
A futures bet is one of the most common markets that we see bettors try and hedge. One of the main reasons for this is that you can get long odds at the start of an event and see them drastically reduce as that team progresses.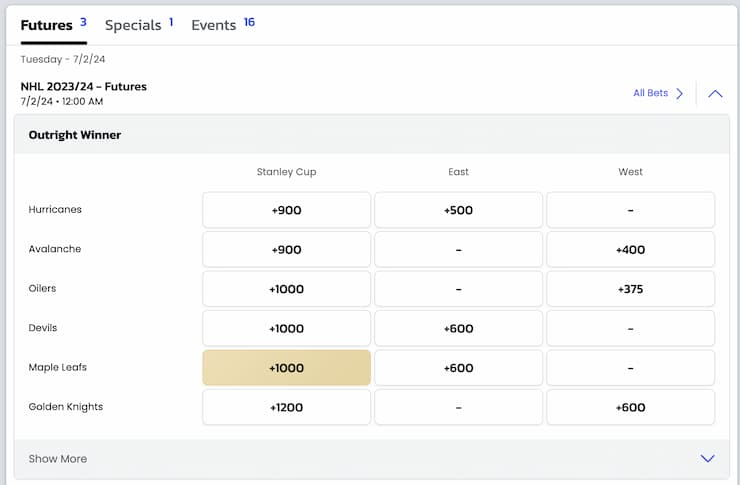 Our example will use a futures bet on the NHL Stanley Cup winner. We'll bet on the Toronto Maple Leafs, priced at +1000, to win outright. A $100 bet will return $1,000 in profit if we win.
Let's assume we've placed this bet before the season starts, and the Maple Leafs make the final. They play against the Edmonton Oilers, and the odds to win the game, and essentially the Stanley Cup, are as follows:
Maple Leafs to win = +165
Oilers to win = -200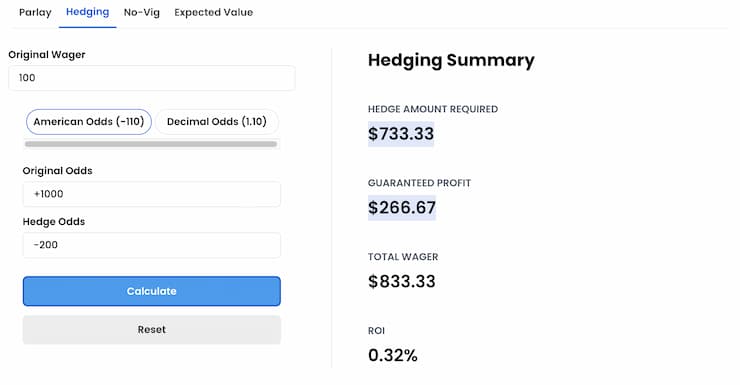 We know from the odds that Maple Leafs are outsiders to win. However, they are much shorter odds than our initial bet of +1000, so we hedge the bet and aim to get the same payout on both results. It would look something like this:
Original bet = +1000 * $100 = $1,100.
Hedge Odds (Oilers to win) = -200.
Hedge bet stake on the Oilers to win = $733.33.
Total wager = $833.33.
Guaranteed profit = $266.67.
As you can see, we now lock in a profit of $266.67 regarding who wins the Stanley Cup. As ever, you can change the amount you stake on the opposing side of your bet to alter the returns for each result.
How to Hedge a Parlay Bet
Parlay bets are another popular hedging option. These bets usually come with high rewards for a small stake, but the more selections you include, the harder they become to win. Hedging a parlay bet removes some of the unpredictability of the outcome.
One of the most common ways people hedge a parlay is to stagger the initial picks. For example, if you were betting on an NFL game, you might have the Thursday night game, three games from Sunday, and then the Monday night game for a 5-team bet. This allows breaks between each game and means you can hedge a lot easier.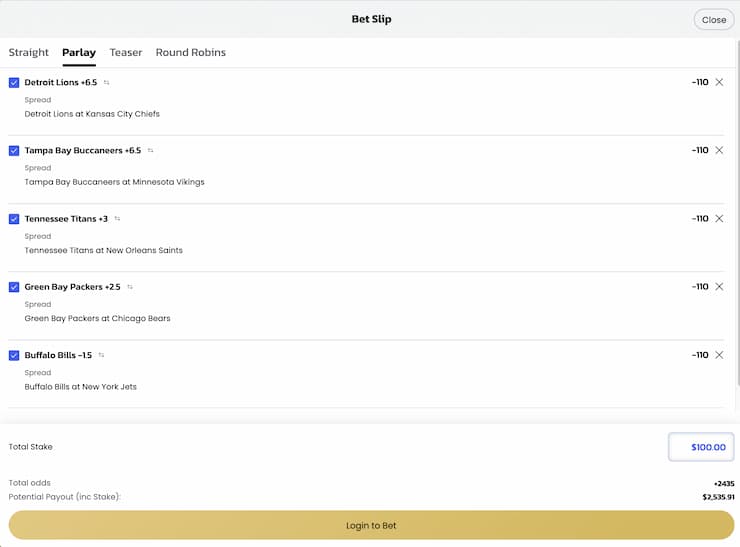 For our working example, we're going to use exactly that. We've taken five NFL games, one from Thursday Night, three from Sunday, and one from the Monday Night games. All bets are on the points spread, and our $100 wager is at odds of +2435, profiting $2,435.91 in total if we win.
Let's assume that the Lions, Buccaneers, Titans, and Packers all win, leaving us with one Monday night game, the Bills. We want to cover some of our exposure, but not all, as we're confident that the Bills can still get it done.
We need to bet on the Jets +1.5 on the spread to oppose the Bills, also priced at -110. If the Bills win, we know we'll take home $2,435.91, so we will use some of this equity for the Jets bet.
Our bet is going to be $500 on the Jets. This would profit us $454.55 for a total return of $954.55. Let's show you how each scenario would work based on the assumption that we make this bet.
If the Bills win = $2,435.91 – $500 (hedge stake) = $1,935.91 profit.
If the Jets win = $454.55 – $100 (original parlay stake) = $354.55 profit.
To surmise, we're risking around 20% of our profit from the original bet to guarantee a profit on all results. As with all hedge bets, you can increase or decrease the cover bet to dial in your returns.
How to Hedge a Live Bet
Live betting adds a different dynamic to hedging a bet. It happens much quicker, and you need to be on the ball, as the odds are always changing. But it's not impossible, and many bettors use the quick pace market to their advantage.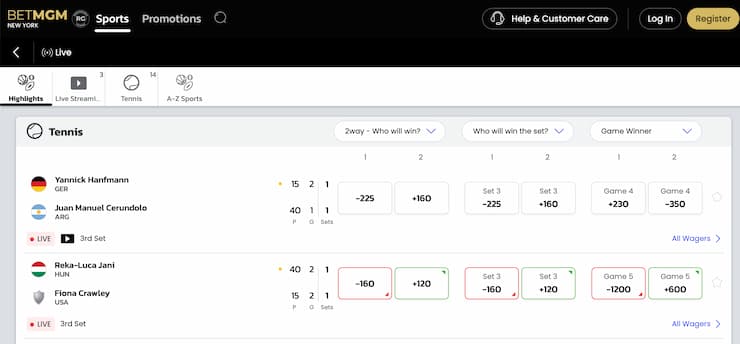 To hedge a live bet, you need to start by doing some research. The chances are that you've placed a bet before the game starts, and you want to take on the live betting markets to hedge. Now, if your team goes behind, the odds will likely not be favorable to hedge, albeit not impossible.
But if your pick looks strong, you can jump in and hedge when in play. It's best to try and anticipate how the odds might change and what that means for your bottom line.
Let's assume you've placed a moneyline bet on an NFL team to win at odds of +180. If successful, you've staked $100 on the bet and are set to profit $180.
However, you know this will be a tight game, and you'd be happy to lock profits early, given that the opposition finishes strong. Let's assume you'd be happy with winning $100 from the bet to cash out at halftime.
We can use a hedging calculator to determine what odds we need the opposition to get us to a profit of $100. From our starting bet of +180, we can wait until the opposition drifts to +250 and wager $80 to guarantee a $100 profit on all results.
Live betting markets allow us to track and see how our bets can be hedged in play. But you must start with a background on how the changing odds affect the market you want to bet on and the stake.
Using Multiple Sportsbooks to Execute a Hedge
To successfully hedge, you need to have access to multiple sportsbooks. Betting lines can differ massively between markets, especially bets outside of moneyline, spread, and totals markets.
We recommend that you create a portfolio of up to five different sportsbooks. Our recommendations are BetMGM, BetRivers, FanDuel, DraftKings, and Caesars. These five are the best in the business regarding betting lines, and using one of the five will allow you to get the best, or very close to, odds.
You don't need to use the same sportsbook to hedge, either. You could, for example, place your initial bet with BetMGM and then the hedge bet with FanDuel. The bottom line is the same, but the money is in different accounts.
Hedge Betting Strategy – When Should You Hedge a Bet?
As part of our guide on how to hedge a bet, we want to include some strategies that will allow you to make the most money possible from this system. Use the section below and apply these to your next bets, which will undoubtedly increase profitability with hedging.
1. Choose the Right Markets
Futures are one of the easiest and best markets for hedge betting. They allow you to bet early and get a price that will almost always drop as the team progresses. You'll likely get the biggest margins with this, and you'll be able to structure your hedge a lot easier.
Game betting is more demanding but possible. Moneyline, spread, and totals are good markets to bet on. It would be best to place pre-game bets with a look to get in on the live betting markets to hedge out.
Although, it's possible to hedge before a game even starts. Lines often drift, especially when you use multiple sportsbooks, meaning you can lock in profits without a kick or a pass being made.
2. Compare Betting Odds
We've highlighted this already, but it's imperative that you compare betting odds across multiple sites before you bet. The main reason is that you're always able to get the best price this way and, therefore, lock in bigger profits when you hedge.
As a side to this, however, sometimes you may find markets that allow you to hedge before the game. If the lines are wide enough, this might be possible.
3. Balance Your Bets
Hedge betting doesn't always need to be about making the same profit on all results. This is one of the biggest mistakes that we see, and by hedging like this, you will limit the amount of profit you take from the bet.
You need to consider the odds and the likelihood of the result. You can use a hedge to cover as little as the initial stake, or you can make it so that the result pays the same for all results.
For example, if you've backed a team to win the Super Bowl at the start of the season and by the time they get there, they are massive favorites to win the game, to maximize EV, you want to have the most amount of exposure on the favorite. Use the implied probability of the result for each team as set by the sportsbook and then adjust your exposure accordingly.
The amount you balance will change with each game. It could be that covering your stake is best, or it might be a smarter move to hedge for around a 75/25 split on the favorite. Don't fall into the trap that you need to get an even payout on all results.
4. Don't be Afraid to Limit Losses
Most people associate hedge betting with locking in profits, but it's not the only way that this system can be successful. You can use a hedge to limit losses on certain bets that you think might be lost causes of an initial bet.
For example, let's say you've bet on the Dolphins to win on the moneyline, and they're tied at halftime. But their star quarterback has left the game due to injury, giving the opposition a strong advantage.
The betting lines reflect this, but you can still oppose the Dolphins in this scenario to limit a loss. The chances of them winning from here have reduced, so the initial odds, even though the scores are tied at halftime, have lengthened.
5. Use with Parlays
Parlays are tough bets to land, but when they do, they can be highly lucrative. The best way to use a hedging strategy with parlays is to stagger games across a game week. You don't want them starting at the same time, as this makes it difficult to know exactly where you need to be.
For example, if you're betting on the NFL, you can choose games that take place at different times throughout the Sunday, or you can spread them across the Thursday and Monday night games as well.
We're looking to get to a point where we're waiting on the last result for the parlay to cash. It can be done waiting on two or more picks, but you increase the risk and lower your margins.
Let's assume you've got a four-team parlay bet on the points spread, and you've got three games that have won while waiting on the last to kick off. You could place a bet to oppose the spread with the opposition of the last pick. This means you've covered all possible outcomes and can lock in a healthy profit.
What is the Difference Between Hedge Betting and Arbitrage Betting?
Hedge betting and arbitrage betting are similar but have a couple of key differences. Hedge betting is generally placed on markets after the event has started, whereas arbitrage is betting on markets before the event has started.
The principles are the same in that you're trying to lock in a profit on all results.
With arbitrage, it's much more difficult as you're essentially looking for discrepancies in lines across multiple sportsbooks. You need the odds to differ enough that you can bet both sides of the market, covering all outcomes and locking in a profit.
For example, let's say you were betting on an NBA game and found that Team A to win was priced with one bookmaker at odds of +105, and the other betting site had Team B at odds of +100.
Team A – Bet $100 at +105 = $105 profit.
Team B – Bet $100 at +100 = $100 profit.
So, in this example, Team A would give you a $5 profit if that team won, and Team B would break even if they won.
Arbitrage betting is tough as betting lines are generally very similar amongst online betting sites, especially for popular markets such as the moneyline, spread, and totals. It's not impossible, however, and if you look hard enough these opportunities are accessible.
Do I Need a Betting Exchange to Hedge a Bet?
Betting exchanges work exceptionally well for hedge betting as it allows you to initially lay a bet instead of having only to back the bet as you would at a traditional sportsbook. It also makes it easier to see how much you need to bet in order to lock in a profit, as it does the calculations for you there and then.
However, access to legal betting exchanges in the US is limited, and it's absolutely not essential to hedge bet with one. The process is the same for the most part, and our opposing bets would simply be a lay bet on an exchange. The only difference, as we've outlined, is that you can't initially lay to then back.
FAQs
Why would I need to hedge a bet?
How does hedging work in betting?
What is the best time to hedge a bet?
How do I calculate the amount to hedge?
Can I hedge bets in live betting?
What are the potential outcomes of a hedge bet?