If you want to learn how to play bingo, you've come to the right place. This guide introduces you to the ins and outs of playing bingo, from the rules of bingo to how to play online.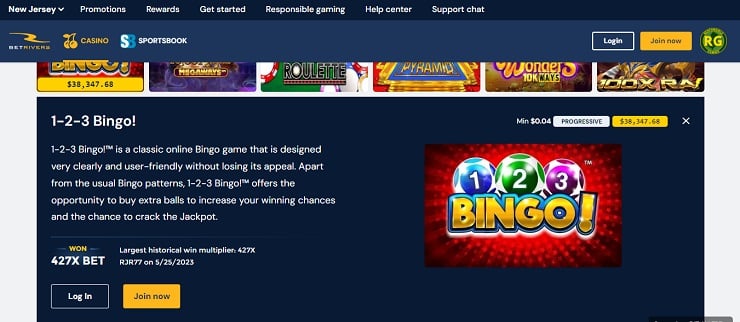 How to Play Bingo
Learning how to play bingo is quick and easy. It's especially easy online, as the computer does most of the work for you. Below, we take you through the necessary steps so you know what to do next time you want to play bingo online.
Launch your chosen online casino.
Search for the bingo games offered and choose the one that most appeals to you.
Click on the game you want to play and input your bet value.
Set the game to auto-daub if the option is provided (this means you won't need to track the numbers yourself).
Click "Place Bet" and the computer will randomly generate a number.
Since you have set the game to auto-daub, the computer will automatically daub off any numbers on your board that match the called number.
Keep playing until you reach five numbers in a line, either vertically, horizontally, or diagonally.
You will then have won bingo, and you can reset and play again.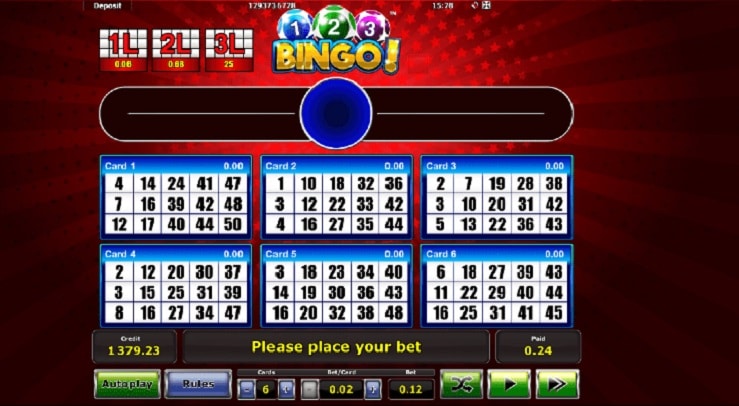 Basic Bingo Rules
The rules of bingo are relatively straightforward. Players will find that the same bingo rules apply to in-person and online games. Having a firm grasp of the game's rules and way of playing makes it much easier to follow and win. So, let's look below at the basic online bingo rules:
Bingo Rules 1: The Cards
Players learning how to play bingo will find they can play using one or more bingo cards. Each card has the word "BINGO" spelled out across the top, with each letter corresponding to a column of five numbers. The numbers and letters have corresponding values:
B features numbers 1 – 15
I features numbers 16 – 30
N features numbers 31 – 45
G features numbers 46 – 60
O features numbers 61 – 75
Bingo Rules 2: The Numbers
Each card has 25 numbers in total. These numbers are randomly ordered. For example, in the "B" column, you will find five numbers, say 14, 8, 3, 9, and 6. In the center of these numbers is a single blank square labeled "Free Space." Each bingo card has a unique selection of numbers, and no two cards are the same, ensuring a fair shot for all players.
Bingo Rules 3: Daubing
When the caller (the person or computer calling out the chosen bingo numbers) calls a number that a player has on their bingo card, they must mark it off, this is called "Daubing."  If players are using more than one bingo card, they must check each of their cards for the called number and daub it off all the cards they have. If you're playing online, we'd recommend using the 'auto-daub' feature so you don't miss any numbers.
Bingo Rules 4: Calling Bingo
Once a player has daubed off all the numbers on their cards, they must call "Bingo!" In an instance where players are enjoying the game at a brick-and-mortar casino, they will need to call "Bingo" out loud and then take their card to the caller to check. Only once this has been verified, will they have won bingo.
In contrast, online bingo is much simpler, and the computer will automatically know when a player has won bingo and will highlight this on the screen.
How it Works – A Quick Bingo Tutorial
This wouldn't be a bingo guide if we didn't look at how the game actually works. Players will discover it is quite easy when learning how to play bingo.
The first thing you'll need to do is decide on which bingo game you want to play. There are several variations that land-based and online casinos offer. Some games have more numbers, like 90-ball bingo, which means the game will typically take longer to play.
Next, you'll need to choose how many bingo cards you want to play with. Once you have done this and you're ready to play, the caller will begin selecting the numbers. How these numbers are chosen depends on whether you are learning how to play bingo online or in person.
When the caller has selected the first bingo number they will announce it to the players. You will then need to check your bingo card to see if you have that number. If you do, you can daub it (mark it off) on your card. If you have the number on more than one card, you can mark it off on all the cards it appears on.
However, if the called number does not appear on your board, you can wait until the next number is called to see if you have that one. Not every number called will appear on your bingo card.
When playing bingo, the in-person and online bingo rules state that there are several ways you can win bingo:
Four Corners – Daub off the numbers in all four corners of your bingo card.
Line – Daub off a horizontal, vertical, or diagonal line of five numbers.
Two Lines – Daub off two horizontal lines of five numbers.
Full House – Daub off all the numbers on the card.
Once you have reached one of these outcomes on your bingo card you can call out "Bingo!" The caller then checks the player's board to see whether they do, in fact, have bingo. If they do, all players clear their cards, and a new game begins.
It is important to remember that different games, both live and online, may have unique rules in terms of what a winning card may be. For example, not all online games may count the four corners as a win.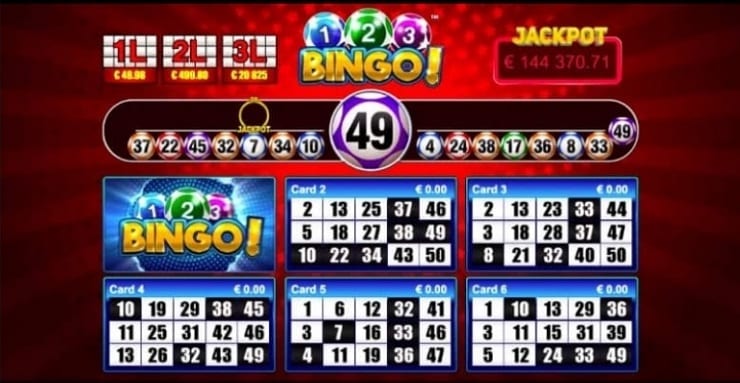 How to Play Bingo at a Casino
Another aspect we want to cover in this bingo guide is how to play bingo at a casino. Like most other table games a brick-and-mortar casino offers, there are several small differences when players experience bingo online.
Firstly, players learning how to play bingo at a casino typically sit in a bingo hall. Here, there are rows of tables that players sit at. At the front of the room is usually a stage or raised platform where the caller stands.
Once players have received their bingo cards they find a seat at one of the tables, and the game begins. Depending on the type of bingo game played the caller will have a spinner or enclosed metal wheel filled with a specific number of bingo balls. These look much like lottery balls, and each one has a number and a letter, for instance, B7.
The caller will turn the spinner to jumble up the balls and randomly select one from the spinner. Then, the caller will call the number on the ball they have chosen. If this number is on your card, you would daub it off.
When a player (there can be more than one player to call bingo at a time) has five numbers in a row daubed off their board, they call "BINGO!" out loud. The caller stops selecting bingo balls and checks to see if the player has indeed won bingo. All players clear their boards if there is a winner, and a new game begins.
How to Play Bingo Online
Players learning how to play bingo online will find the online version differs slightly from the game played at a brick-and-mortar casino. While a live dealer game of bingo is much the same, an online game against the computer differs considerably. One of the key differences is that the computer acts as the caller, and in most cases, there is only one player: you.
When playing bingo online, you have the option to play with one or several bingo cards. Additionally, some games offer cards with fewer than 25 numbers. For instance, some games on 1-2-3 Bingo offer cards with 15 numbers only.
Once you have chosen your options, you can begin playing. Here, you will need to set your bet value before pressing "place your bet." Each new number revealed is considered a bet, but you win back credits for every number you daub off your bingo boards.
Since the computer acts as the caller, there is no actual caller. However, the systems used by the best online casinos use random number generation (RNG) software to generate completely random outcomes, offering fair play. Here, the computer will display the called number, which will then be automatically crossed off your boards.
Once you reach bingo, a new game will load.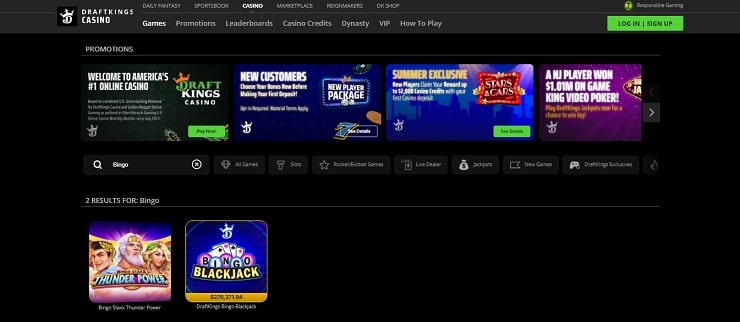 Types of Bingo
There are a multitude of bingo variations. Next in our online bingo guide, we introduce you to several of these options and provide more detail on how they work and what they involve.
75-Ball Bingo
This is the most common version of bingo played in the US. Here, players have bingo cards with a 5×5 grid configuration. The game plays relatively quickly and is fun for players of all ages. To win 75-ball bingo, players must get five numbers in a row, either horizontally, vertically, or diagonally.
90-Ball Bingo
This variation is more popular in the UK, although many online and brick-and-mortar casinos also offer this option in the US. Since there are more balls involved, there are more numbers on the cards and the game takes a little longer to play out than 75-ball bingo. The cards here feature 15 numbered squares and 12 blank spaces.
Here, the number-letter configurations work as follows:
B – covers numbers 1-20
I – covers numbers 21 – 40
N – covers numbers 41 – 60
G – covers numbers 61 – 80
O – covers numbers 81 – 90
Here, you need a line, two lines, or a full house to win.
30-Ball Bingo
Players looking or a quick game may want to try 30-ball bingo. Here, you'll have a playing card with a 3×3 grid format. To win this game of bingo, you'll need a full house.
Bingo Billions
This wouldn't be an accurate online bingo guide if we didn't consider some of the more popular online bingo options. Since online bingo allows for a lot more variation in style, online casinos provide several bingo games that come with a unique twist.
One option is Bingo Billions, which sees a cross between a slot game and traditional bingo. Players must line up matching bingo balls and cards along paylines to win big.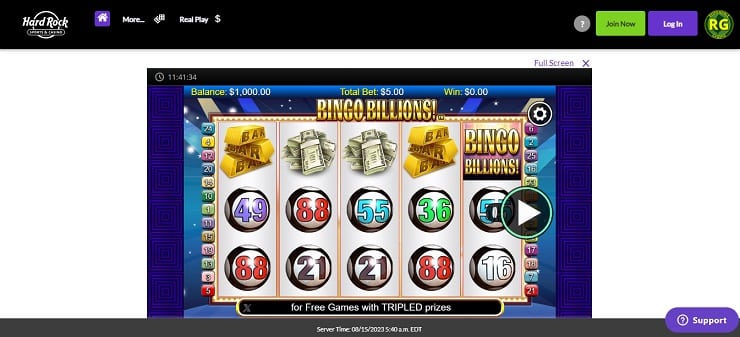 1-2-3 Bingo
Another popular online version of bingo is Greentube's 1-2-3 Bingo. Here, players can enjoy a more traditional game of bingo that allows them to set their bet value and choose their card types.
Slingo
This game is a cross between online slots and bingo, and is only offered at online casinos. Here, players are given a bingo card with a 5×5 grid with 25 numbers. Instead of a caller calling a single number at a time, the player spins the reel below the bingo card. A set of five random numbers is generated.
If that number then appears in its corresponding row on the bingo card, the computer daubs that number on your card. Players must get all five numbers in a horizontal, diagonal, or vertical row to win Slingo.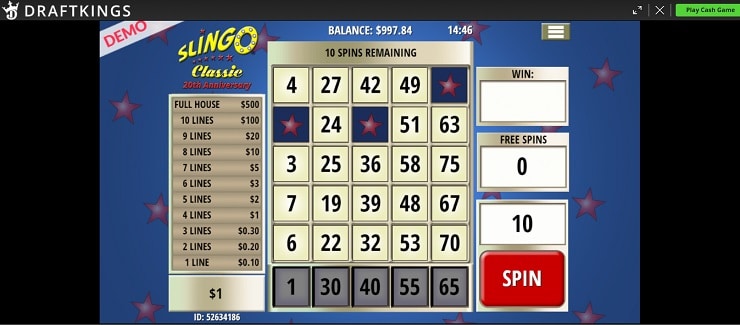 Types of Bingo Bets
When playing bingo at a land-based casino, there aren't really any bets you can make. Instead, you simply purchase bingo cards, and if you win, you win a prize.
However, those learning how to play bingo at an online casino will find that the bets are quite similar to slot machines.
Each time you want to generate a new number or bingo ball, you must place a bet. You can pre-select your bet value or play a game that has a set bet value. You then place your bets by spinning the spinner to receive a new bingo number. Often, a number crossed off the board results in winning a credit value based on the original bet value. If you get bingo, you then win the game and earn credits.
How to Place a Bet on Bingo
Before you can start playing bingo online, you'll need sign up with a reputable online casino (like BetMGM), claim a bonus, and deposit funds into your account.
Below, we take you through the steps in our online bingo guide:
1. Launch BetMGM
Begin the process by launching the BetMGM website. You can do this by searching for the casino's website in your internet browser or taking a shortcut and clicking one of the handy links provided in this bingo tutorial.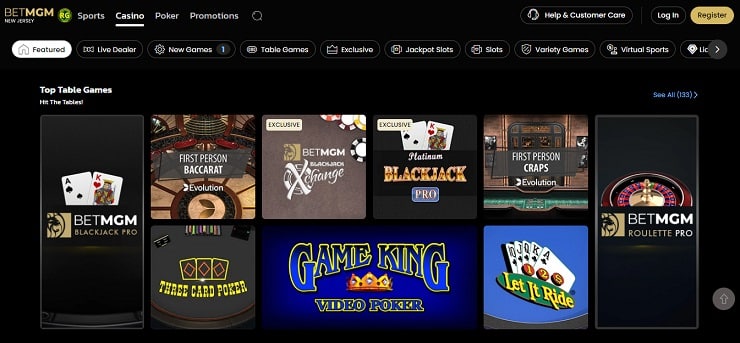 2. Set up a Profile
Once BetMGM's home page has launched and loaded, click on the gold "Register" button to view the registration page. Here, fill in the required details to set up a new account with the online casino. Alternatively, if you don't want to create an entirely new profile, you can sign up with BetMGM using your PayPal or Yahoo Sports accounts.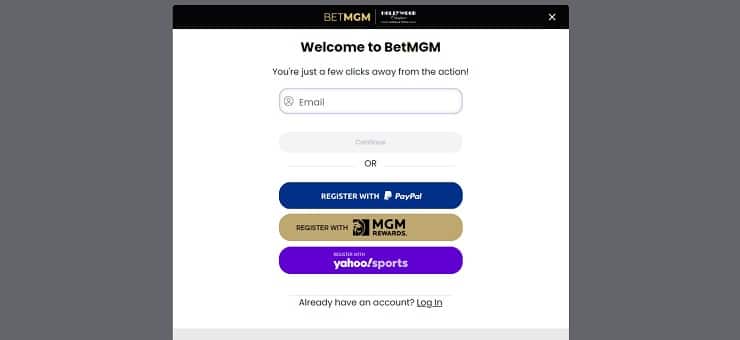 3. Verify Your New Account
If you have chosen to set up a new profile, you will need to verify it. BetMGM offers the option of mobile or email verification. If you choose mobile, you will receive a text that you must input the code from. In contrast, if you selected email, you will need to click the link in BetMGM's mail. Once you have verified your account, use your new credentials to sign in to your BetMGM profile.
4. Deposit Funds into Your Casino Account
Next, you'll need to fund your online casino account. So, open the cashier page by clicking the button on the home page. Then, select your preferred payment method and fill in the amount you wish to deposit. Make sure this amount covers the required minimum welcome bonus deposit if you wish to collect on that.
Then, follow the prompts to complete your payment. Since BetMGM automatically awards the welcome bonus to your account following a successful first deposit, you won't need to input a BetMGM promo code.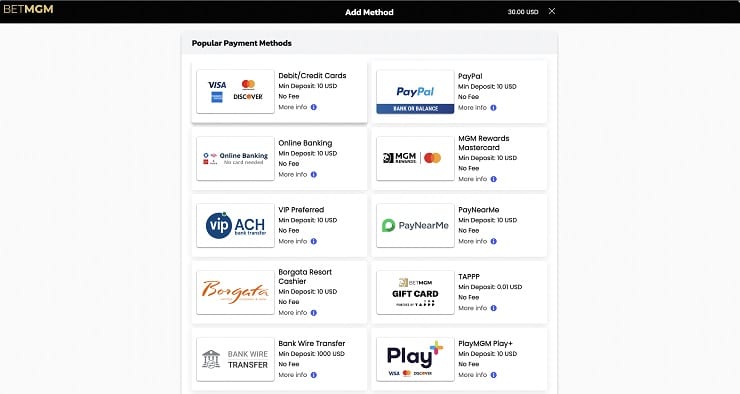 5.  Choose a Game of Bingo
Now you can get to the fun part and begin playing bingo online. So, click on BetMGM's casino tab. When the casino has launched, use the search bar to seek out the bingo games provided. BetMGM has several options to choose from. Then, select, the bingo game you want to play by double-clicking it. Input your bet value, and click "Place Bet" to begin.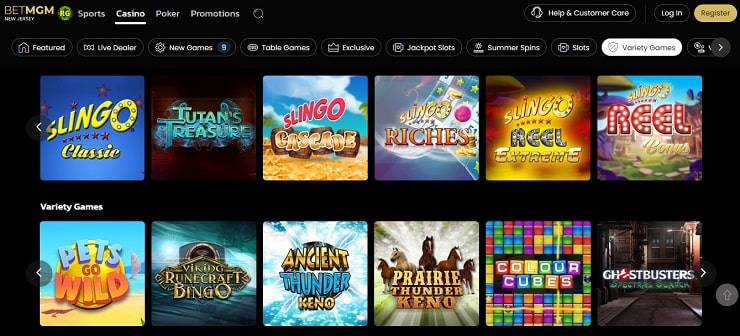 Tips & Strategy – How to Play Bingo and Win
Another aspect we want to cover in our online bingo guide is the best bingo strategies. Although bingo is a game of chance rather than a game of skill, there are several things you can do to boost your chances of winning. Below, we offer you several tips to help put you on the path to winning bingo.
Tip 1 – Play With Multilple Bingo Cards
We recommend playing a game using several bingo cards. The more cards you have, the greater your chances of winning.
Only buy as many as your budget will allow, though, and always play responsibly.
Tip 2 – Use the Auto-Daub Feature
Checking up on numbers on more than one bingo card can be tricky, and it becomes easy to miss a number. So we suggest using the auto-daub feature that many online bingo games offer. Here, the computer automatically daubs off any numbers on your board for you.
Tip 3 – Start Off Small
If you're learning how to play bingo, it's always best to start small and only have one or two bingo cards in front of you. Once you have mastered the art of the game, you can increase your number of cards.
Tip 4 – Play Games With Fewer Players
The more players there are playing a live bingo game, the longer the game will take and the lower your chances will be of winning.
We recommend choosing a game that has only a small number of players so you can get through a game more quickly, have a greater chance of winning, and are less likely to split the rewards with other winners.
Tip 5 – Play Responsibly
Playing bingo online can be a lot of fun. However, not adhering to responsible gambling practices can lead to gambling addiction. If you or someone you know has a problem with gambling, take a look at our responsible gambling guide for access to resources that can help.
FAQs
What are the rules to play bingo?
Is there any skill in bingo?
What are the most common numbers in bingo?