Learn how to play blackjack in a casino before you even step through the doors with this handy guide. Put simply, this is a step-by-step guide to playing 21. We cover everything from the rules of blackjack to casino etiquette. As well as explaining the basics of playing blackjack in a land-based casino, we reveal the secrets of playing online.
From the different types of blackjack you can play to the bonuses you can claim, we'll show you how to get more from your time online. So, if you want to look like an expert at the table, regardless of whether it's in the physical world or online, scroll down for our comprehensive blackjack guide.
Live Gaming: How to Play Blackjack at a Casino
Blackjack is one game but, since the advent of online casino gaming, it's been divided into two distinct parts: live and digital. Live blackjack goes down in land-based casinos, such as the Wynn Las Vegas. It's played on felt-topped tables with decks of cards and chips you can riffle.
Digital blackjack takes place online. We'll explain the nuances of online blackjack in the second half of this guide. Before we do that, here's an overview of blackjack's basic rules and how it's played inside land-based casinos around the world.
Enter exclusive blackjack tournaments today – sign up at Wild Casino.
Playing Blackjack
If you are already familiar with the blackjack rules but aren't comfortable playing in a brick-and-mortar casino, we will go through the entire process in more detail.
First of all, you have to be of legal age to enter a casino, which is 21 in most states. Some Indian casinos can allow customers who are at least 18 years old, but these establishments aren't allowed to serve alcohol. You will have to provide an ID to get it.
Buying Chips
Once you are inside the casino, you can buy chips at the casino cage or directly at the blackjack table, for most establishments. Before you take a seat, however, make sure to check the table limit. This is generally displayed on a small plate on the table. For example, the table limits can be $1 – $1,000, which represents the maximum bet for one round.
If you are buying chips directly at the blackjack table, take a seat and wait for the hand to be over. Then, place the amount of money you wish to turn into chips on the table. Don't hand the money directly to the dealer as he will not take it due to casino policy. He may ask you which chip denominations you prefer, based on what bets you plan on making.
After he counts the money and the chips clearly on the table, the dealer will push the chips towards you. Each one has the respective value on it and different denominations will have different colors. Now, you can handle the chips and set the amount you wish to bet.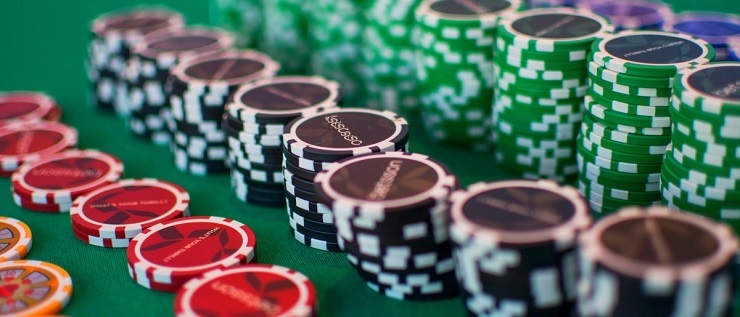 Placing a Bet
You can place a bet by putting chips in the designed area on the table. This is usually a fairly big rectangle or a circle. Once you place the chips down in this area, you are no longer allowed to take them back. That is the bet for the current round.
For side bets, you will have to place the chips on the corresponding positions next to the main betting area.
If the other seats aren't taken, you can also place bets on the other positions and play multiple hands at the same time. This is available in most casinos, but some establishments may ask you to reduce the number of hands if there are people waiting.
Dealer Deals the Cards
You don't have to worry about how to deal blackjack since the dealer takes care of everything. Each player who placed a wager will receive two cards, usually facing up. The dealer also gets two cards, but only one of them is facing up.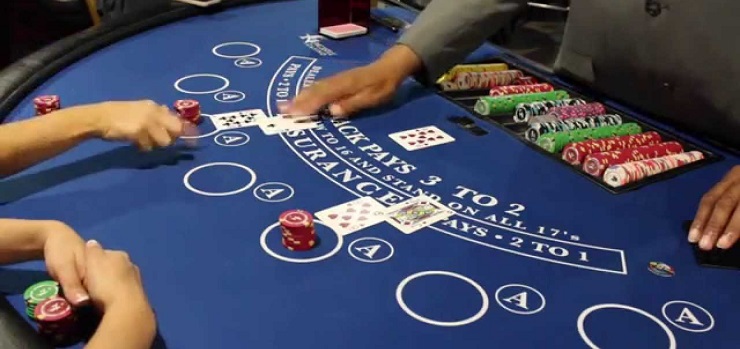 Playing the Hand
The dealer will then go from his left to right and allow each player to play the hand. When it's your turn, you can say the preferred moves out loud. However, there are also some gestures here that can make you feel more comfortable and will show the table that you know how to play casino blackjack.

Hit – Tap the table next to the cards or scrape the table towards you.
Stand – Wave the hand over the cards while being parallel to the table.
Double Down – Place another bet equal to the initial one, next to it, and place one finger out.
Split – Place another bet equal to the initial one and place two fingers out, signaling two hands.
Insurance – Place half of the initial bet on the insurance line on the table, when the dealer starts with an Ace.
Dealer Plays the Hand
After all the hands on the table are set, the dealer will play his own hand according to blackjack dealing rules. Most tables require the dealer to draw to 16 and stand on 17 or higher. Once set, the dealer will compare his hand to the player's hands and pay out accordingly.
A standard winning hand in blackjack pays even money, or 100%, while Blackjack pays 150%. If you win, the dealer will put the chips next to the bet amount and you can take them back to your stack. A new round is now ready to begin.
Looking for a unique variant of blackjack? Head to Bovada.
Casino Etiquette – Dos and Don'ts at the Blackjack Table
In addition to the standard blackjack plays, you will also need to be familiar with the casino etiquette. These are the guidelines for what to do at the blackjack table in order to not bother the staff or the other players. Let's go through the main points that you should follow when learning how to play blackjack at a casino.
1. Dress to Impress
The dress code will depend on the gambling establishment and most casinos don't require customers to be very elegantly dressed. Still, you may be denied access in some casinos if you are wearing flip flops or something too casual. It is best to dress somewhat nice when going to the casino or at least check the recommendations on their site.
For those who want to play blackjack in a bathrobe, check out the best real money online casinos.
2. Don't Stay on Your Phone
Most casinos will not allow customers to take video or photos, especially if these include other players. However, going even further, it is best not to stay on your phone while at the blackjack table. If you want to use a blackjack strategy and follow the chart from your phone, make sure to ask the dealer in advance if this is allowed.
3. Don't Drink Too Much
Drinking is allowed in most casinos throughout the US and many establishments will even offer free drinks if you play for long enough. They want you to have a good time and enjoy the game. There is however a limit where drinking becomes an issue at the table. Plus, you should try to stay sober in order to make the best decisions in blackjack, see how to play the hand, and win more.
4. Buy In and Cash Out Properly
Don't rush to the table if you are just becoming familiar and learning how to play blackjack in a casino. See what the table limits are and choose the one that best fits your bankroll. Then, wait for the current round to end before you buy in. Once you are done, ask the dealer to change the chips into bigger denominations before you stand up.
5. Tip the Dealer
On the topic of cashing out properly, casino etiquette often dictates that players should tip the dealer. You can do this after a winning hand or a winning streak, and also when leaving the table. The average amount at regular blackjack tables is around $5-$10 at the end of a session, but this can greatly depend on your profits.
6. Don't Ask the Dealer for Tips
You should know the rules of the game and how to play blackjack before you sit down. Don't ask the dealer for advice on what to do for your hand since this can create an awkward situation. If he tells you something and you lose, it doesn't look great. For the best casino etiquette, we recommend making your own decisions. The only exception is at dedicated tables for beginners where the dealer can provide extra tips and advice.
7. Don't Tell Other Players What to Do
Also, on the subject of advice at the blackjack table, you shouldn't tell the other customers how to play. If you take a look at their hand and you know what blackjack basic strategy dictates, don't just tell them if they don't ask for help. Try to stick to your own hand and only look at the other hands to see the cards for a loose count of the high cards.
8. Follow Card Etiquette
In most blackjack games, players are not allowed to touch the cards and the dealer will give you a warning if you break this rule. Even at blackjack tables where players can handle the cards, there is a clear etiquette to follow. You should be gentle with the cards and don't bend them too much. Don't put your drink on them and definitely don't put them under the table.
9. Don't Keep Your Belongings on the Table
You generally aren't allowed with bags or other big items in the casino. Moreover, when playing blackjack, make sure not to put your belongings on the table. Things like your phone, car keys, wallet, or other personal items should stay in your pockets. Even your beverage shouldn't be on the table but in the included cup holders that can prevent spillage.
10. Have Fun!
The most important aspect of playing blackjack in a casino is having fun. Make sure you gamble responsibly and enjoy your time at the table. Don't be afraid to celebrate some big bets that are successful or a nice blackjack hand. Of course, this doesn't mean screaming "winner winner, chicken dinner" every time.
Digital Gaming: How to Play Blackjack Online
If you learn how to blackjack in a land-based casino, you can switch to a digital gaming platform without any problems. However, just because you know the basics, it doesn't mean you'll get maximum value each time you play blackjack online.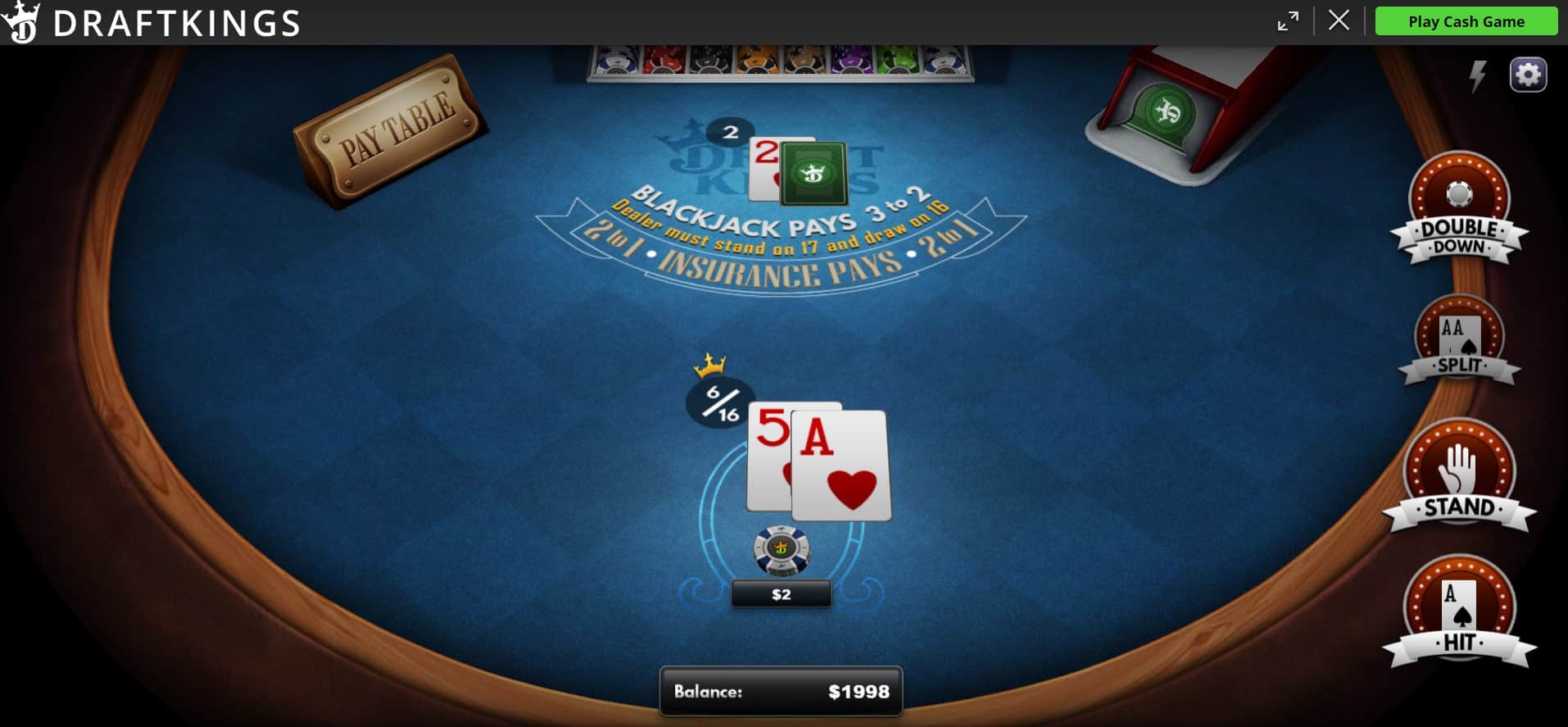 We're not saying you need to treat the live and online versions of blackjack as two completely separate entities. But, if you want to get the most from your time online, it pays to know the differences. So, in this half of our guide, we've recapped some fundamental concepts and used them to explain the many unique qualities of online blackjack.
Practice Makes Perfect
If this all seems a bit overwhelming, the first step should be to practice the game so that you are familiar with the rules and mechanics before you go to the casino. This is best done online and you can find blackjack at many of the best gambling sites in the US.
Plus, you can even practice for free, in demo mode, at most of these casinos online, a feature which is not available in land-based casinos. As a result, you can learn how to play online blackjack from the comfort of your own home. Then, when you are comfortable with the game, it is much easier to take those skills to a brick-and-mortar casino.
Ready to play with a dealer? Enjoy live casino blackjack at Everygame.
The Differences Between Live and Online Blackjack
There are clear similarities between live and online blackjack, but there are also some differences. The table below shows how the game differs in each medium and what you need to consider before you play.
| | | |
| --- | --- | --- |
| | Live Blackack | Online Blackjack |
| Speed | Isn't as fast in terms of how quickly hands are dealt. However, the counter to this point is the action is more immersive | Games are fast because the digital dealer can work faster than humans. The good thing, however, is that you can make decisions in your own time |
| Betting Limits | The average minimum blackjack bet in Las Vegas is $5-$10 | Play blackjack online and you can ante up for less than $1 per hand |
| Side Bets | Two main side bets: 21+3 and perfect pairs. The progressive jackpots for these bets often reach higher amounts than online casinos because games take longer which, in turn, means it takes longer for someone to hit the winning combo | 21+3 and perfect pairs side bets. You can also play variants such as All Bets Blackjack which offer alternatives, such as Buster and Lucky Lucky |
| Bonuses | The world's largest live casinos have rewards schemes that allow you to earn comps by playing real-money games | Online casinos also have loyalty reward schemes but they also offer ongoing promotions that get you bonus bets for games such as blackjack |
| Variants | Land-based casinos typically offer Las Vegas and Atlantic City rules blackjack. They may also have a house game but, in general, you'll be playing on tables with classic rules | A mixture of classic and modern blackjack games. The freedom of the internet means developers can add bonus features, enhanced payouts, and side games |
| Interactive Elements | Live blackjack is tactile. You get to touch the chips and feel the table's felt. You're also conversing with a dealer, so it's a much more interactive experience | Less interactive. However, with mobile casino games giving you the ability to tap and play, there's still an element of interaction |
Popular Types of Blackjack Online
OK, so you now know what the best online casinos have to offer in terms of games, bonuses, and features. You should also have an appreciation of why online blackjack is slightly different from its live counterpart. Before we leave you with some handy blackjack tips, let's talk about your options online.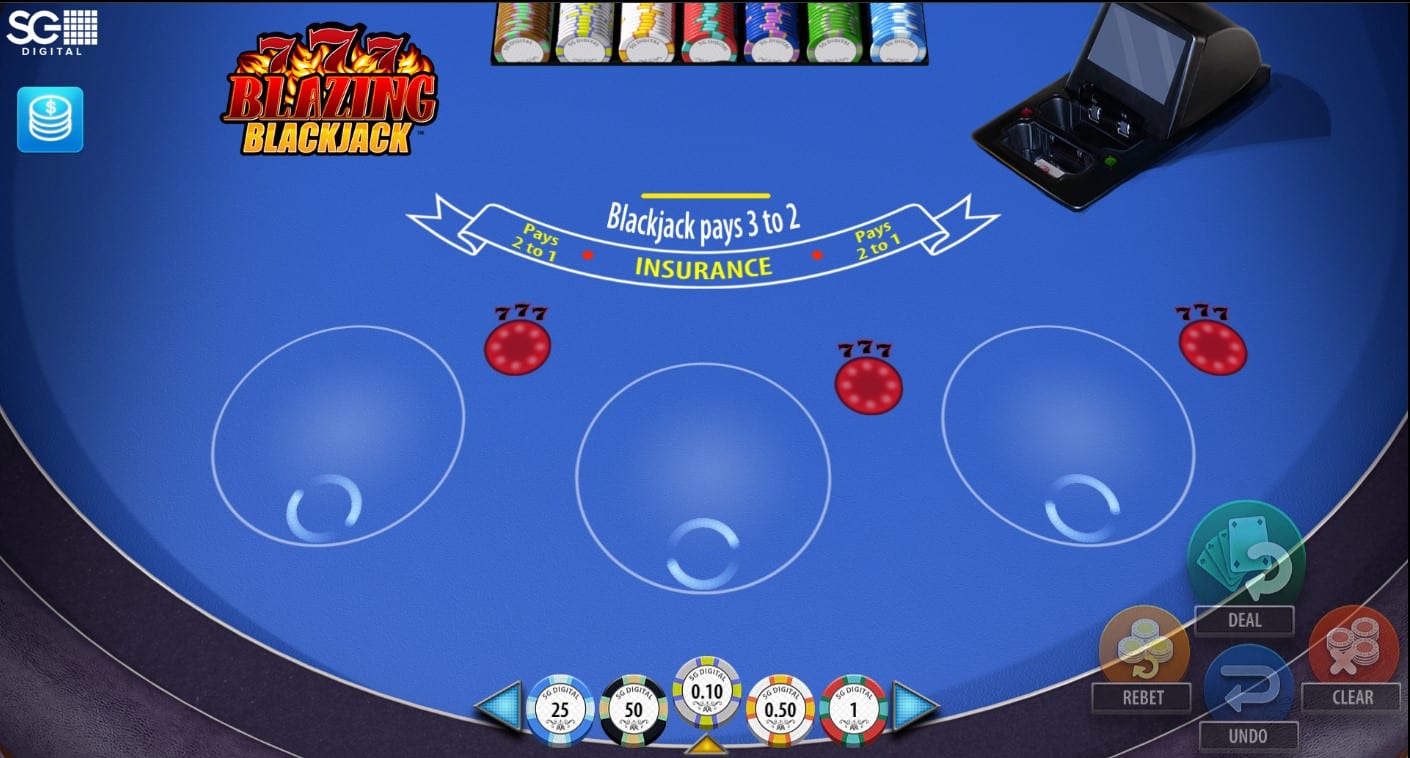 Although each offshore online casino has its own selection of games, there is a certain amount of consistency among the top-rated platforms. This means you can try our recommended casino sites and get access to demo and real-money versions of these innovative blackjack variants:
Blackjack Player's Choice – you have more power in this game. It starts with five hands being dealt face-down and you get to decide which one you play.
All Bets Blackjack – anyone who enjoys placing side bets will love this variant. Why? Because it allows you to place six different side bets, including Buster, Top 3, and Lucky Lucky.
Blackjack Xchange – this variant sees you start with two separate hands and the ability to switch (exchange) the top cards from each hand to make better hands.
Blackjack Super 7s – seven is the magic number in this blackjack game. Place a side bet and the more sevens dealt during a hand, the bigger the bonus prize will be.
Blackjack Fortune Spinner – place an optional side bet and hit blackjack in this game and you'll be allowed to spin the Fortune Wheel in an effort to win prize multipliers.
Blackjack Millionaire Pro – make standard blackjack bets as well as an optional side bet that pays out bonuses worth up to 200,000X based on the number of consecutive blackjacks you hit.
Blazing 777 Blackjack – this bonus-based variant allows you to win a progressive jackpot if your first two cards, plus the dealer's face-card, are three sevens.
Bingo Blackjack – Bingo Blackjack allows you to win payouts topping 100X if your hand matches one of the random bingo numbers generated at the start of each round.
Lightning Blackjack – Lightning Blackjack applies prize multipliers to certain cards and, if you win with those cards, you get a boosted payout.
The Crossover: When Live and Online Gaming Collide
There is a dividing line between live and online blackjack, as we've said. However, thanks to the wonders of modern technology, crossovers are possible. Specifically, you can now play live dealer games online.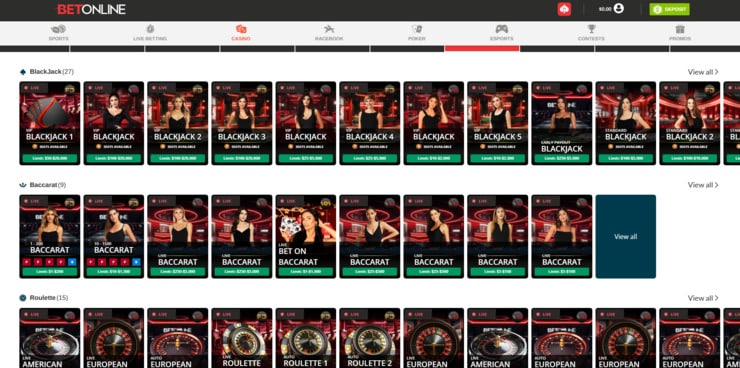 Live games take place in a remote gaming studio with a human dealer overseeing the action. Webcams stream the action, while trackers on the table record what's happening in a central database.
You get to watch the action via a computer or mobile and place bets. Therefore, it's a crossover experience. You get the convenience of playing online but the interaction of live gaming. All of our recommended online casinos offer live dealer games, including the ever-popular Lightning Blackjack.
How to Play Blackjack at a Casino Tips
The skills you need to play online blackjack are the same as those required in the live gaming arena. Therefore, we can leave you with a few handy blackjack strategy tips that are applicable in all settings. However, for all the crossover skills you need, there are some nuances to playing online. These nuances take into account the features, services, and resources available at the leading online blackjack casinos. The list below starts with two tips that work live and online. After that, we've brought this blackjack guide to a conclusion with some advice on how to get more from your time online…
Learn the Game – Learn how to play the game on online casinos and gaming sites. Practice for free online and then try out some of the hand gestures at home to feel more comfortable at the casino table.
Use Basic Strategy – You will have more fun if you know the game and how to win. With basic strategy, you can lower the blackjack house edge to around 0.5% and have a better chance to make a profit.
Online Blackjack Strategy Tips
Become a Blackjack Bonus Hunter – the online casino sector is a competitive place for operators to play, which is why they fight hard to get noticed. One of the best ways to get noticed is by offering players more value which, if you're a blackjack player, means bonus bet offers. Keep tabs on the latest online blackjack bonuses by reading our promo updates. You can also join our recommended online casinos and log into your account to see the latest offers.
Mix It Up – blackjack in a land-based casino comes in one, two and, possibly, three different forms. Switch to your computer or mobile and there will be dozens of different ways to play blackjack. We always recommend starting with the basics, which means getting used to the rule of blackjack by playing Vegas or Atlantic City rules games. But, once you know how the game flows, don't be afraid to mix it up. Variants such as Blackjack Switch and Lightning Blackjack contain unique features that allow you to employ different strategies and, potentially, win bigger prizes.
Play Responsibly – Set the playing budget before you leave for the casino and stick to it. Don't use money that you can't afford to lose in an attempt to win back your losses. Staying in control is easy when you play blackjack online because all licensed casinos offer responsible gambling tools. These tools include personalized deposit and betting limits. You can also limit the amount of time you're allowed to play in a given session. And, if you're feeling lost, you can take a timeout or close your account. Blackjack is meant to be enjoyable in every setting. The moment it becomes stressful or a threat to your finances and health, stop.
Each online casino has its strengths and weaknesses with regards to blackjack, so it's a good idea to spread your interests. In other words, we recommend joining multiple online casinos so you can get access to the great number of games and bonuses.
FAQs
How do I start playing blackjack at a casino?
What are the hand signs in casino blackjack?
Do I need to tip the dealer when playing blackjack at a casino?
Does online blackjack have the same rules as casino blackjack?
How do I cash out when I play blackjack at a casino?
Is online blackjack safe?
Can I get bonuses playing blackjack online?